If you're wondering How to Hard Boil Eggs Perfectly Every Time, you're in the right place! Hard boiled eggs are a versatile and delicious way to boost your protein intake. This new method for hard boiling eggs is simple, especially when you know the easy tricks.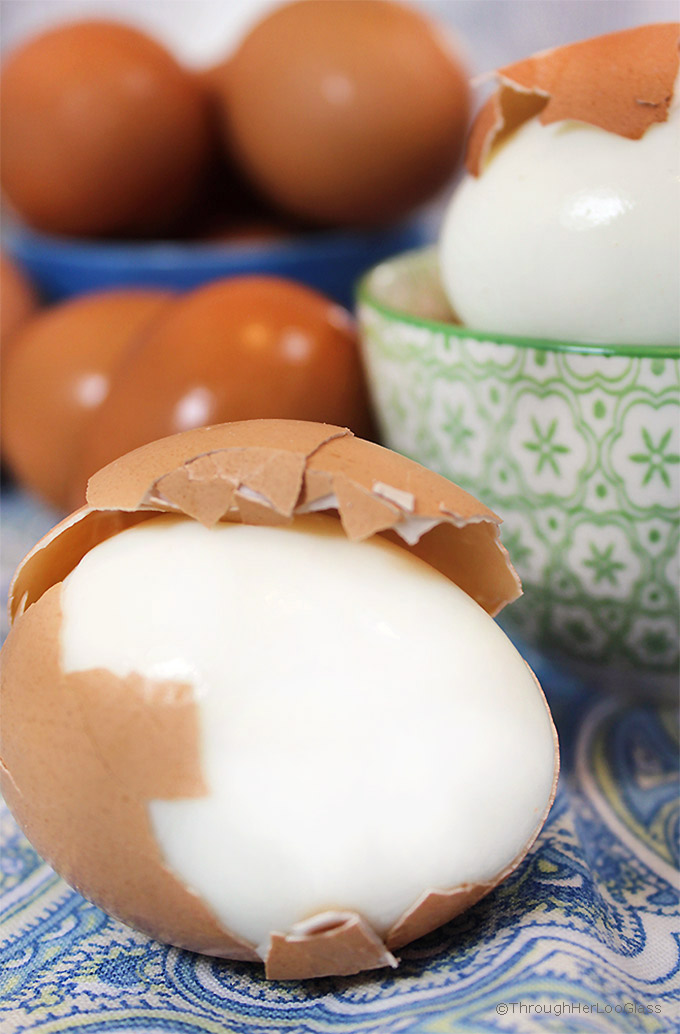 We love hard boiled eggs at our house and there are so many ways to enjoy them! Peel and dip in salt and pepper for a quick and easy portable breakfast, lunch or snack. (Did you know that one large hardboiled egg has six power-packed grams of protein?)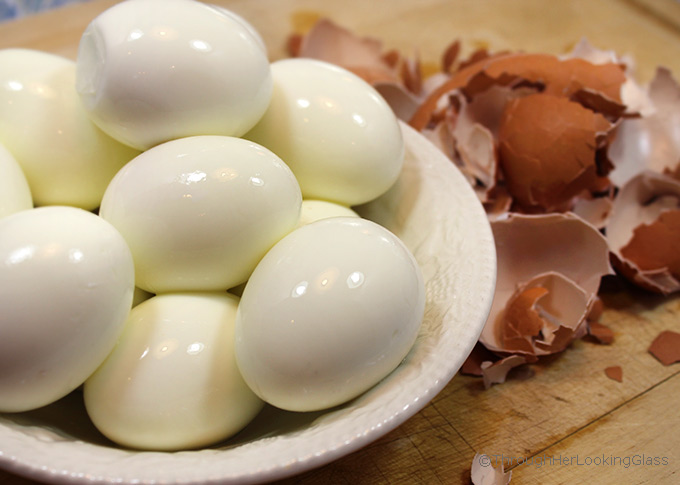 Slice hardboiled eggs and add to a green salad, like my scrumptious Maple Warm Bacon Dressing Spinach Salad. Or transform hard boiled eggs into deviled eggs or a lovely egg salad! These are just a few of our favorite ways to enjoy hard boiled eggs.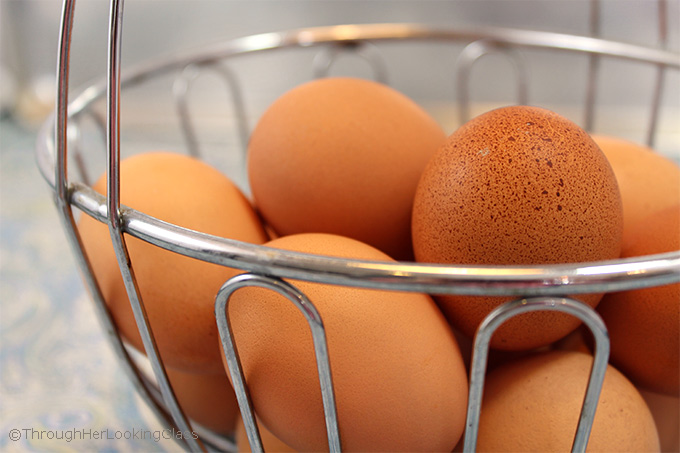 We had a big brunch and decorated gingerbread houses over the winter break with Jon's extended family. There were several baked goods and fresh fruit salad on the breakfast buffet, along with a basket of these hard boiled eggs.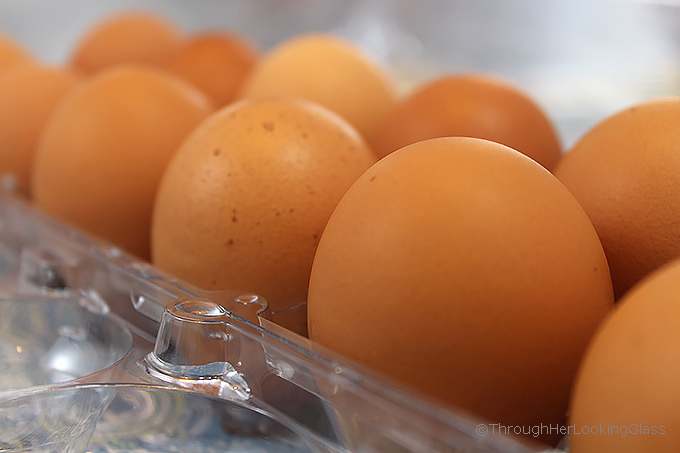 My husband's family is English and apparently the English love their eggs hard boiled! Who knew. I had no idea what a hit the eggs would be, but I'm so glad. They peeled beautifully and disappeared fast.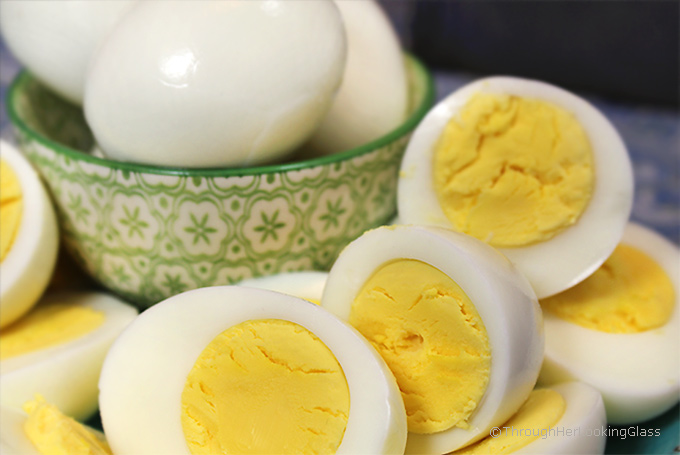 But How to Hard Boil Eggs Perfectly Every Time? There's a new method in town and it's so easy to do. Just steam them. You heard me. STEAM! But why steam?
When hard boiling eggs with the traditional method, it's hit or miss as to whether or not the eggs will cook consistently. Or they might overcook and have that greenish gray colored ring around the yolk. Ick!
But steaming eggs guarantees a consistent heat temperature for all the eggs all the time. That consistent temperature creates the perfect hard boiled egg!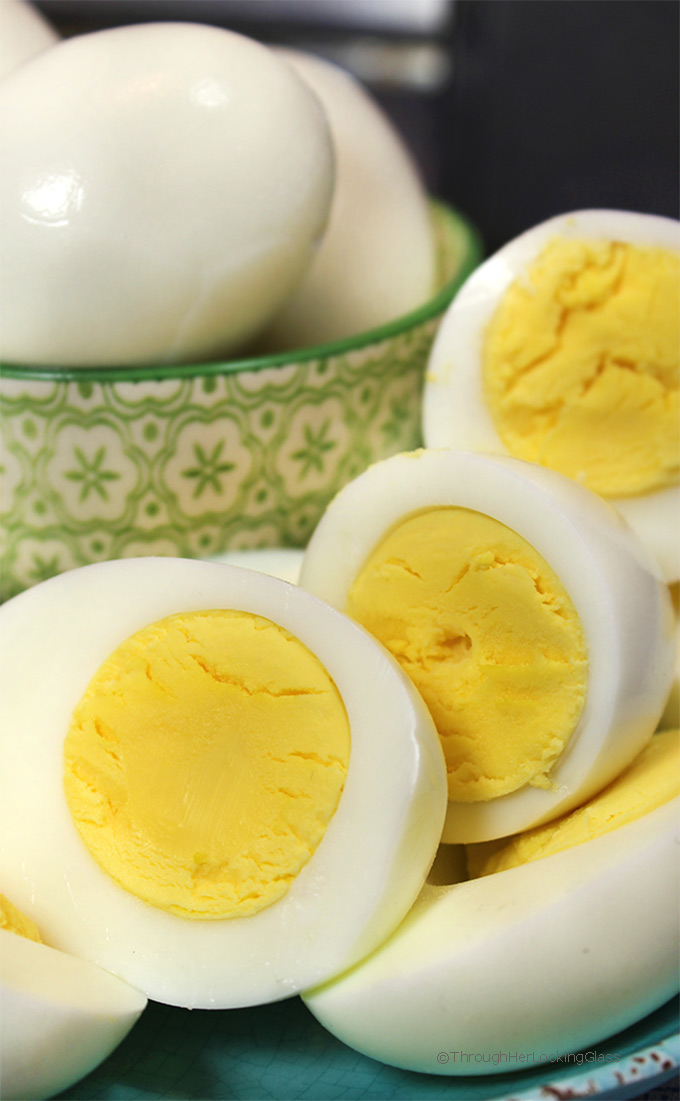 Step by step: How to Hard Boil Eggs Perfectly
#1 – Add an inch or two of water to a large frying pan or stock pot that has a lid, and place a metal steamer basket over the water. Water level should be just below the level of the steamer basket. (Optional: add a tablespoon of white vinegar to the water.) Make sure you have enough water that it doesn't boil dry!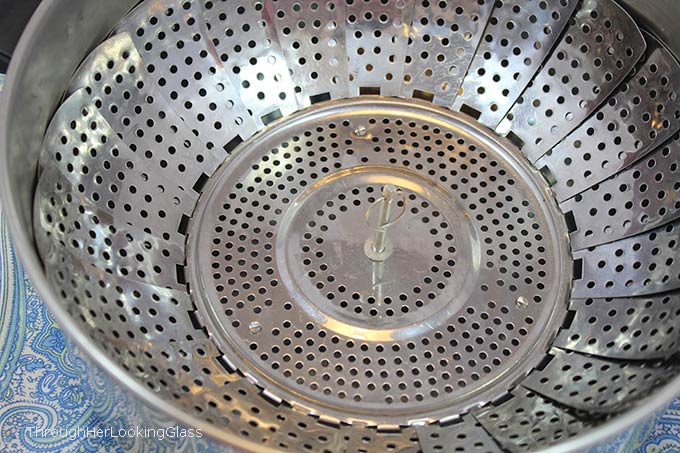 #2 – Bring water to a boil over hight heat on the stovetop.
#3 – Add eggs to the steamer basket and immediately cover tightly with the lid. (Water should not be touching the eggs.)
#4 – Continue boiling the water for 13 minutes over medium high heat, then remove from the heat.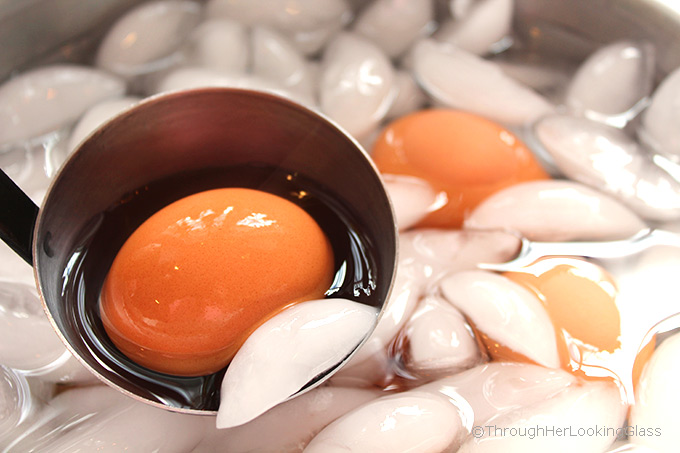 #5 – Immediately transfer eggs to an ice water bath. (A ladle or slotted spoon works great!)
#6 – Cool eggs completely, then crack and peel for use in your favorite recipes.
See more tips below about how to hard boil eggs perfectly every time!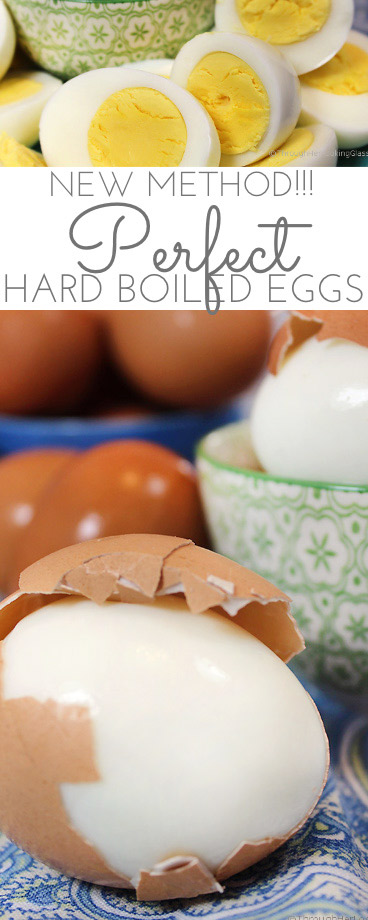 Tips on How to Hard Boil Eggs Perfectly
Fresh eggs can be more difficult to peel, so try using older eggs.
Be careful to have enough water below the steamer basket so it doesn't boil dry.
I prefer organic eggs because they have more nutrients, taste better and have a vibrant color.
So this is fun. To center the egg yolk of a hard boiled egg, always store tip-down (wide side pointed up!) in the egg crate. Best to arrange them this way at least a day before you hard boil your eggs.
Steam eggs when they're at room temperature as opposed to straight from the fridge. This will make them less likely to crack while cooking, allowing the white to seep out. (This can be a nightmare for peeling later.)
If you don't have time to wait for the eggs to come to room temperature, place your cold eggs in a bowl of hot tap water for about 5 minutes before hard boiling them.
Add a tablespoon of vinegar to the water for easier peeling.
Some people swear by pricking the wide end of each egg with a thumbtack before cooking. This is supposed to release the inner pocket of air and prevent the egg shells from cracking while cooking. I've tried it myself, and sometimes it works and sometimes it doesn't.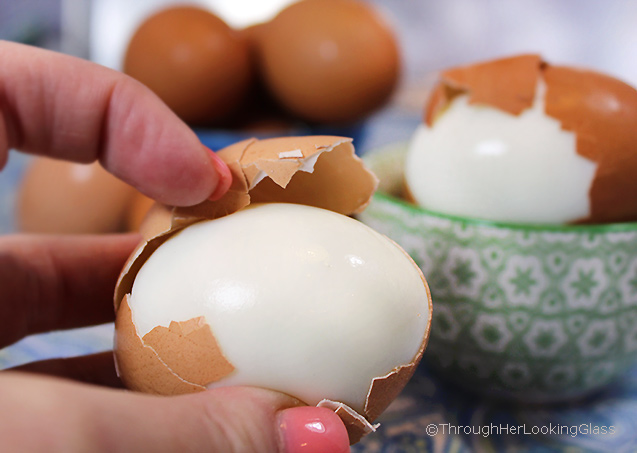 Hard boiled eggs are easiest to peel right after they're cooked, so peel as soon as they are cool.
Steam eggs for exactly 13 minutes for a fully cooked, yellow center. Cook 10-11 minutes for a softer center.
I use a stainless steel vegetable steamer basket with metal feet on the bottom. (Eggs should not touch the water.)
While the eggs steam, prepare an ice cold water bath by adding ice and cold water to your kitchen sink or a large mixing bowl.
It's easy to transfer hot, hard boiled eggs one by one to the ice bath with a ladle, slotted spoon or ice cream scoop.
The best way to keep hard boiled eggs fresh: leave the shell on and store in the refrigerator that way for up to several days.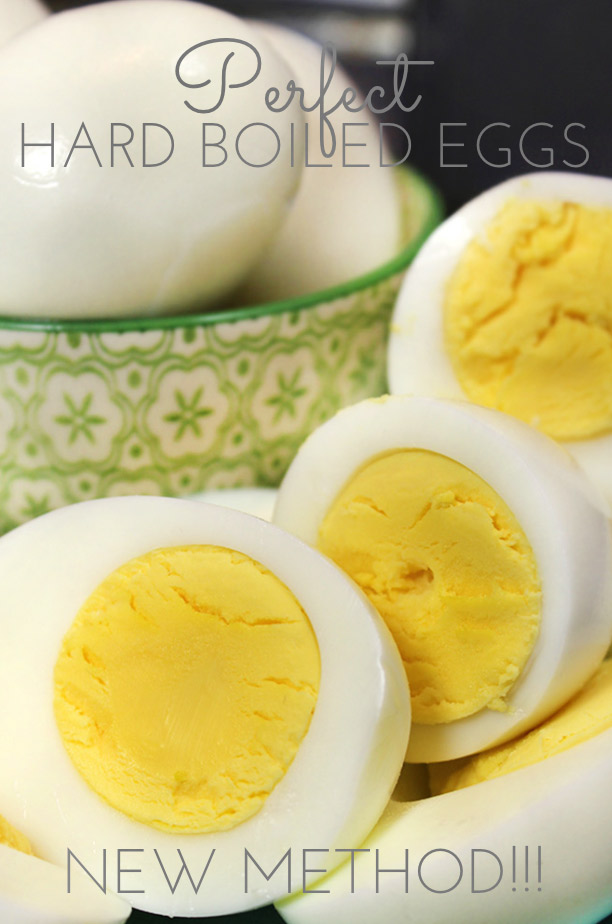 Other ways to savor hard boiled eggs: Perfect Instapot Hard Boiled Eggs, Easy Classic Egg Salad and 22 Fantastic Recipes for Leftover Hard Boiled Eggs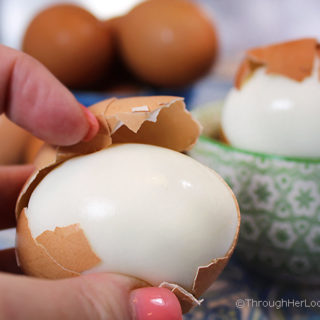 Print Recipe
(New Method!) How to Hard Boil Eggs Perfectly
Ingredients
1

dozen eggs at room temperature

preferably not fresh

water

optional: 1 tablespoon white vinegar
Instructions
Fill the bottom of a stock pot with several inches of water. (Make sure you have a lid for your pot.)

Optional: add a tablespoon of vinegar to the water. (for easier peeling)

Bring the water to a hard boil over high heat.

Place stainless steel basket (or metal colander over the boiling water.)

Water should be below the level of the boiling water.

Add eggs to the colander. (Eggs should not be touching the water.)

Place cover on the pot.

Continue boiling the water for exactly thirteen minutes.

While eggs are steaming, prepare an ice bath in the kitchen sink or in a large mixing bowl.

At the thirteen minute mark, remove eggs from the stainless steel basket and add to the ice bath.

Cool eggs completely, about 15 minutes.

Crack and peel!
You may also like: How to Bake Bacon in the Oven