Sweet maple syrup and sauteed shallots combine with crispy bacon in this Maple Warm Bacon Dressing Spinach Salad. Eating your greens never tasted so good!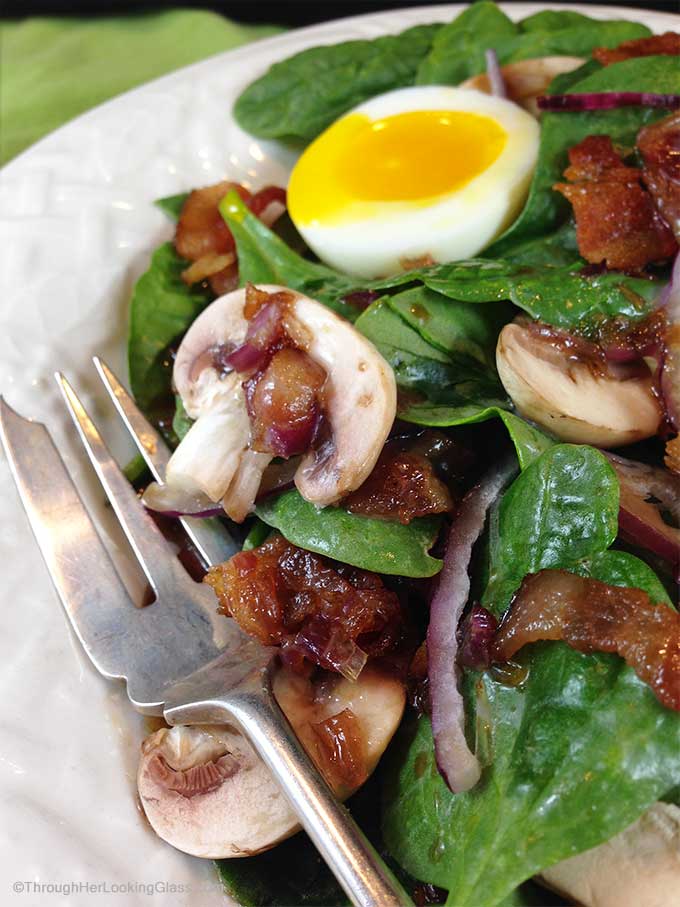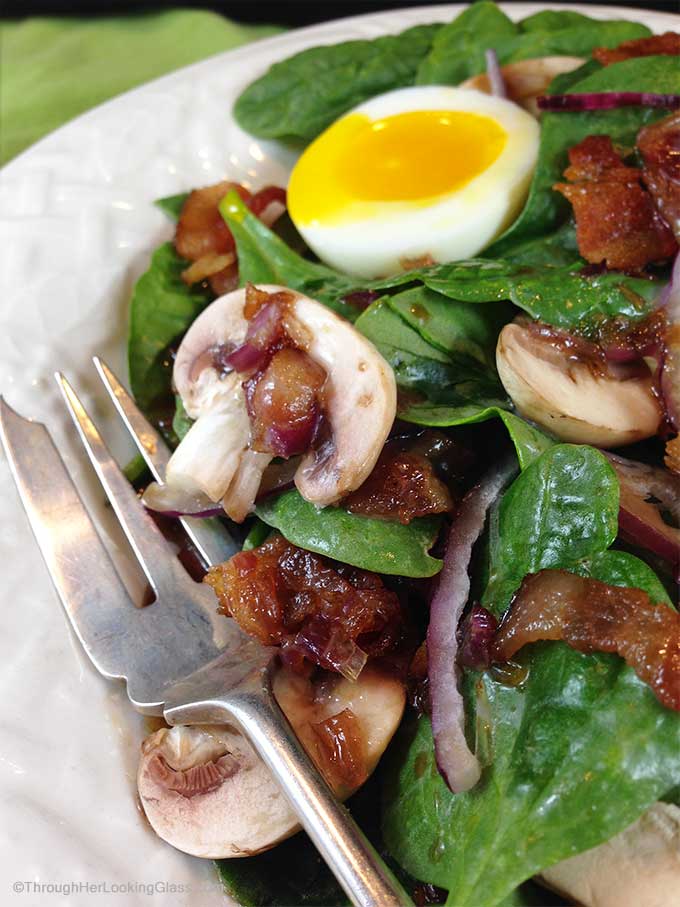 We spent spring vacation in Vermont just a few weeks ago and visited Ben & Jerry's Factory in Waterford and Cabot Cheese and Goodrich Maple Farm in Cabot.  Everywhere we went, pure golden maple syrup.
Vermonters are serious about their maple syrup. So many creative uses. (And I'm not complaining.) Maple sugar, maple butter, maple cream, maple pecans, maple candy, maple dressing. The list goes on and on, and this New England girl loves all things maple.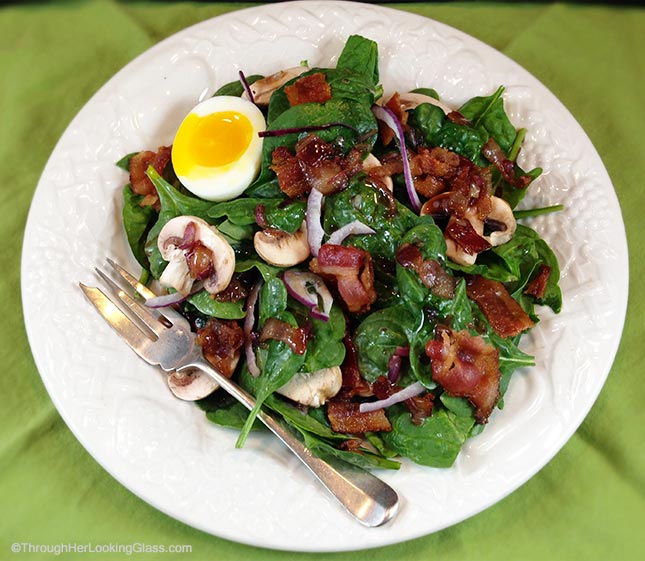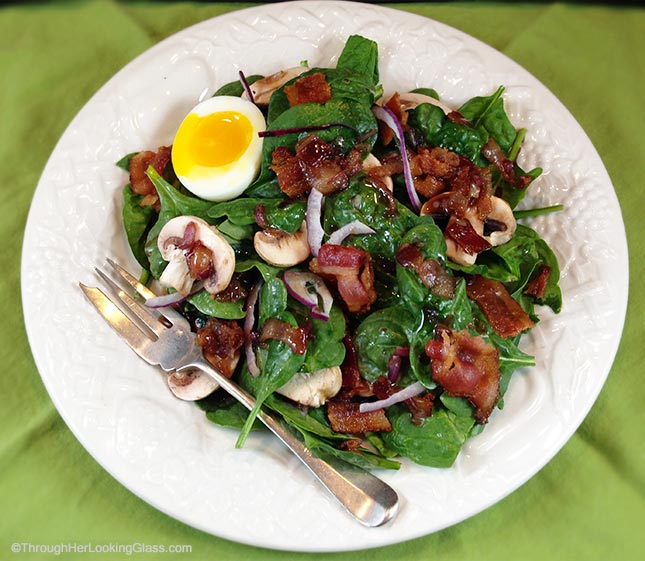 In fact, I used to help collect the sap growing up. Yep, helped my retired next door neighbor, Mr. Peck, tap the trees on his hundred acres in Rhode Island. He sported a white mustache and an engineer's hat atop a shock of white hair and was happily married for more than half a century to…drumroll please… Mrs. Peck.
He drove the John Deere tractor, and I, at six, had the very important task of riding on the trailer behind and dumping the contents of the sap buckets on the trees into the huge 40 gallon barrels. Then Mr. Peck and I headed to to the sugar house by the pond with the covered bridge to boil it down for the good stuff.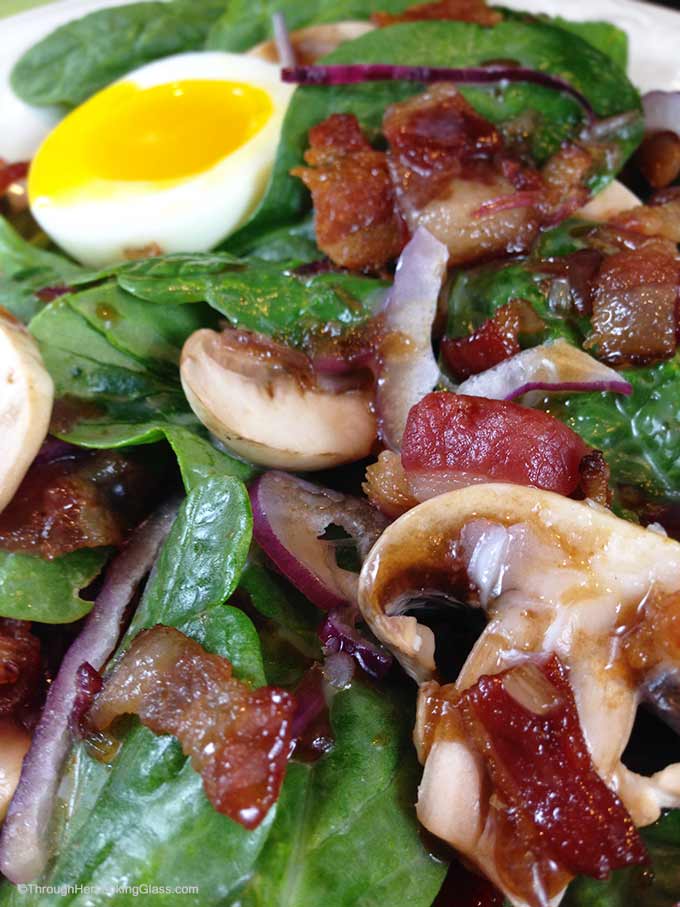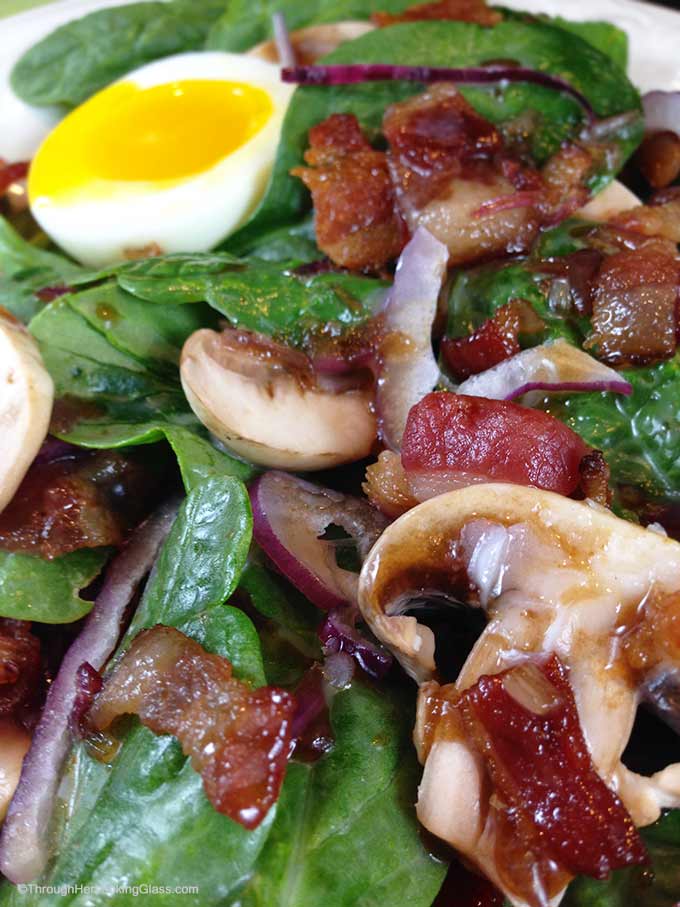 So we came home from spring break a few weeks ago with a gallon of pure golden deliciousness, and now I'm inspired to get cookin'! Hope you like maple syrup because you'll definitely be seeing more maple syrup recipes here!
This Maple Warm Bacon Dressing Spinach Salad is such a treat. I can't think of a better aroma than bacon crisping together with minced shallot in a hot skillet.
Except for bacon crisping together with minced shallot in a hot skillet and pure maple syrup. That takes it up a notch! Can you almost smell the sweetness? GAH!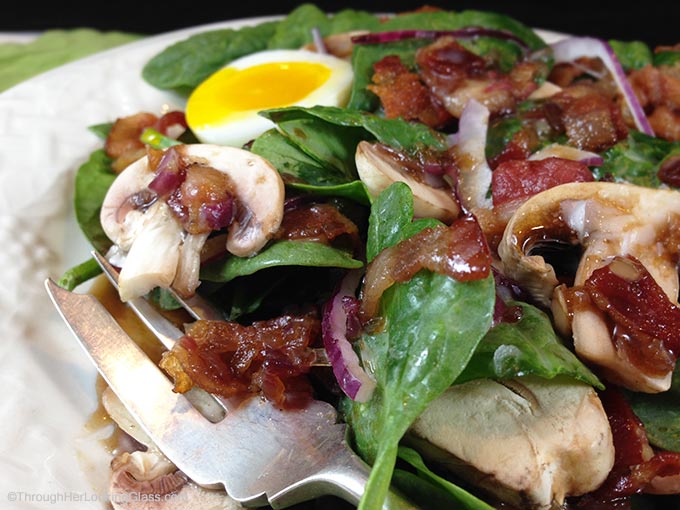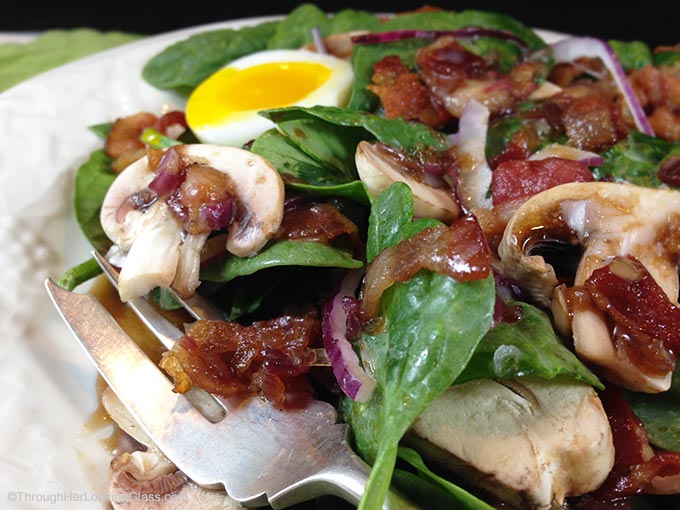 The crisp bacon, shallots and pure maple syrup combine with dijon mustard, oil, balsamic vinegar and seasonings. Spoon the warm dressing onto baby spinach greens and fresh mushrooms. Garnish with red onion slivers and soft or hard boiled eggs.
Hope you love this delicious salad as much as we do!
*This recipe adapted from Robert's Cafe Provence in Brandon, Vermont.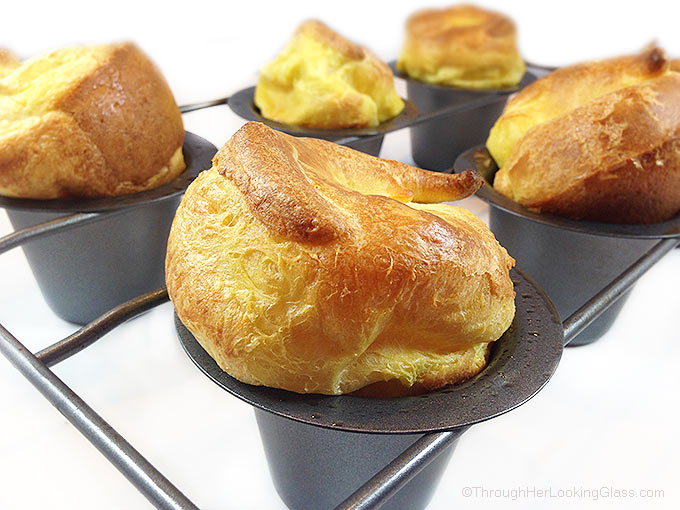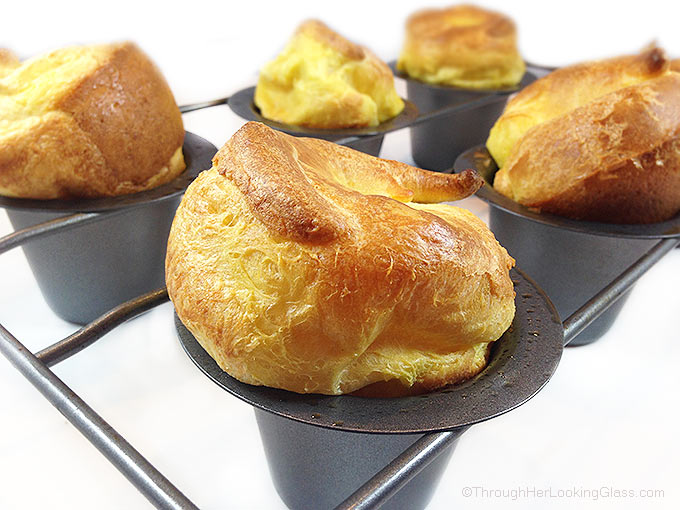 Try pairing with Jordan Pond House Popovers for an extra special treat.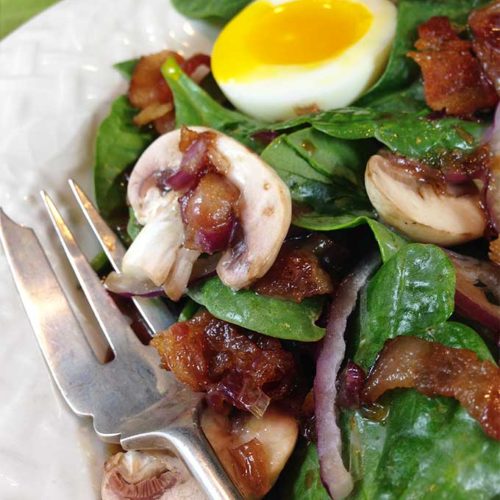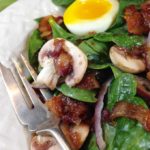 Print Recipe
Maple Warm Bacon Dressing Spinach Salad
Plate lickin' good! Maple Bacon Dressing served warm atop spinach greens for a deliciously addictive main dish salad.
Ingredients
Warm Bacon Dressing:
4

ounces

sliced bacon

chopped

2/3

cup

maple syrup

1

shallot

minced

2

tablespoons

balsamic vinegar

3/4

cup

vegetable oil

1 1/2

teaspoons

dijon mustard

salt and pepper
Salad:
8

ounces

mushrooms

washed and sliced

3

soft or hard boiled eggs

halved

1/4

red onion

sliced thin

11

ounces

fresh baby spinach

washed and dried

Optional: extra bacon bits for garnish
Instructions
Cook chopped bacon over medium heat in large, hot skillet on stovetop until nearly crisp.

Add minced shallot and cook with bacon until translucent.

Remove skillet from heat.

Stir in maple syrup, balsamic vinegar, and Dijon mustard.

Blend well.

Stir in oil, and salt and pepper to taste.

In large serving bowl, combine spinach leaves and sliced mushrooms.

Spoon warm bacon dressing over all and toss.

Garnish with soft boiled eggs, red onion slivers and optional additional bacon crumbles.


You may also like: Vanilla Bean Maple Syrup