This Mini Mocha Chocolate Chip Cookie Ice Cream Sandwich is the perfect little something sweet to beat the heat. If you're a coffee and chocolate lover, you'll love this homemade mini treat! And so will the kids.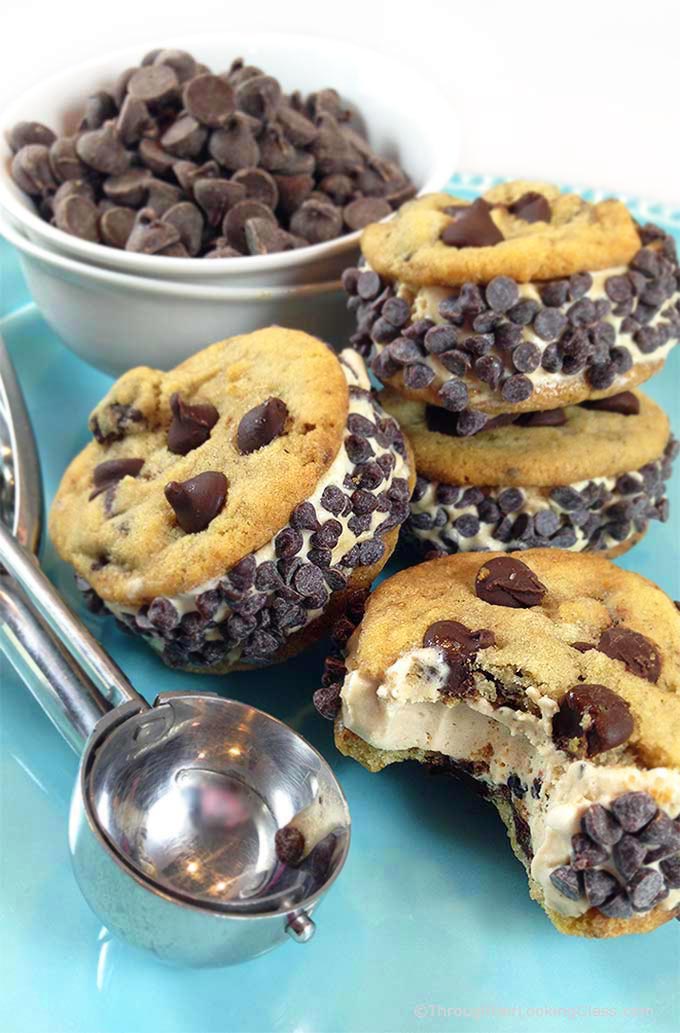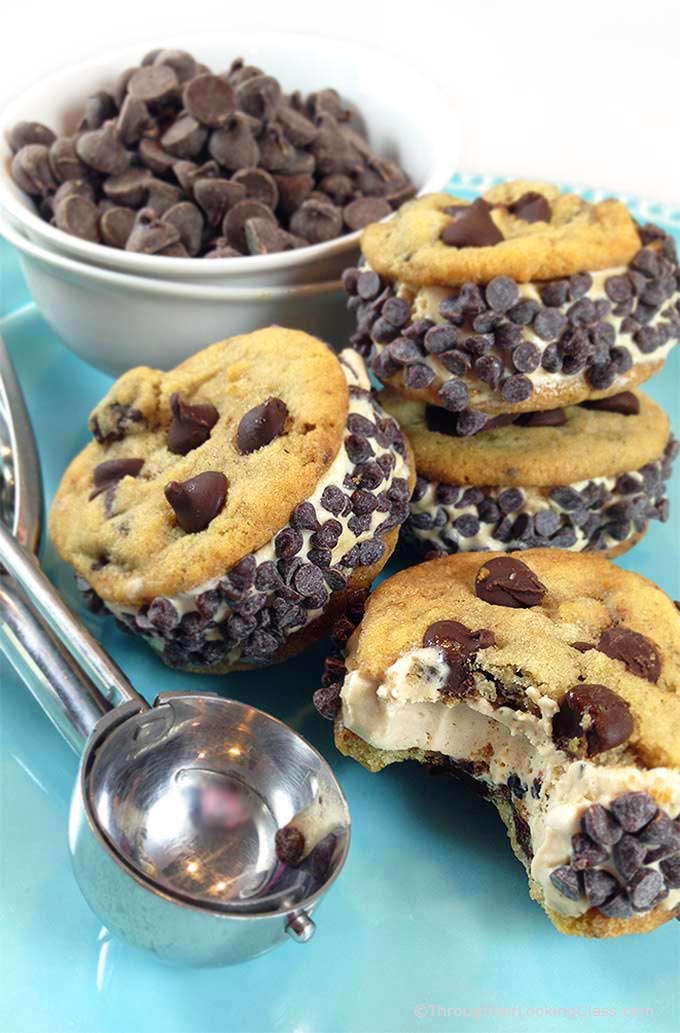 Hey friends, summer's almost upon us. Yippee! says this formerly house-bound New England girl. We've had our snowy winter days and now it's time to play. The lilacs are blooming, the birds are singing and it's time for all things summer and outdoors.
When I think summer in New England, I think gardens. Sprinklers. Fresh cut grass on the village green. Planters cascading with ivy and trailing flowers.
Beach-side picnics and waving flags at the July 4th parade. Iced tea, iced coffee and fresh squeezed frozen lemonade. Drippy ice cream cones!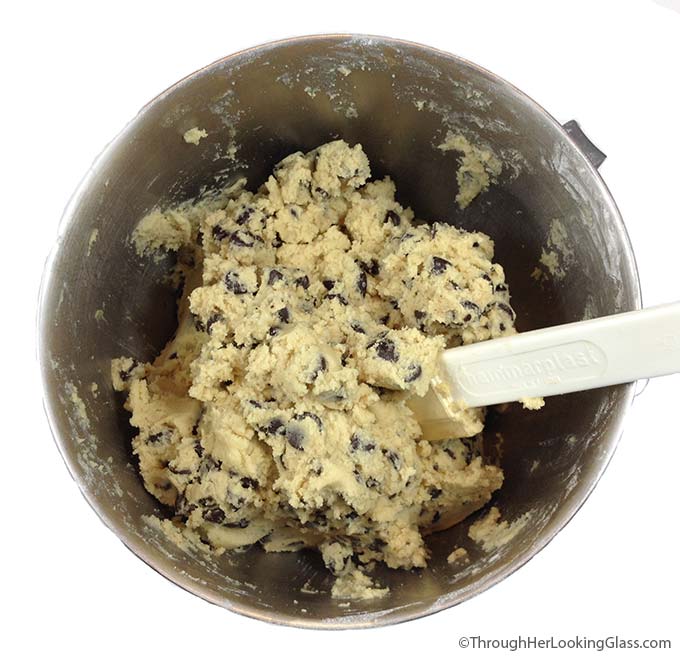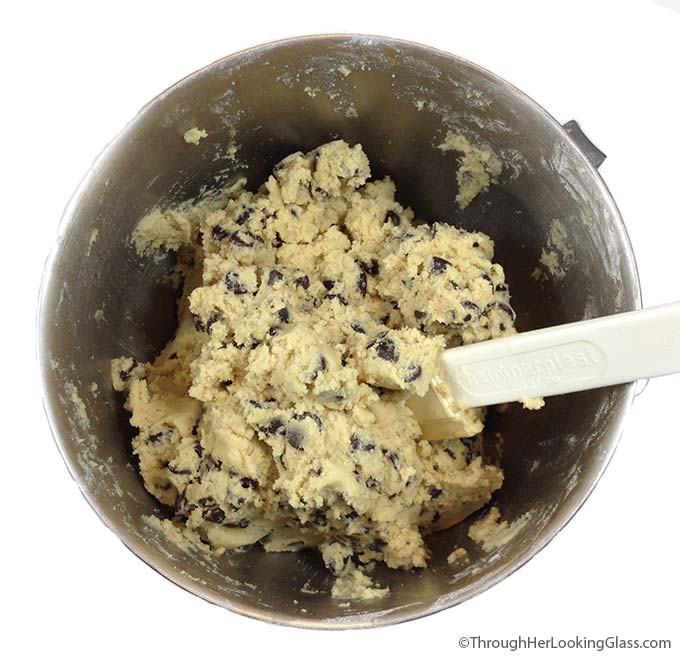 I especially love creamy coffee ice cream in summer. How 'bout you? Rhode Island, the biggest little state in the union where I grew up, is home to Autocrat, manufacturer of the world's best coffee syrup. IMHO. Maybe that's where my coffee love affair began…
You might think summers aren't so hot in New England, but you'd be wrong on that. Our summers can get blistering, especially when it's humid.
And if you don't have AC like so many here, well then you're plum out of luck! When it gets hot and humid like that, we call it the dog days of summer.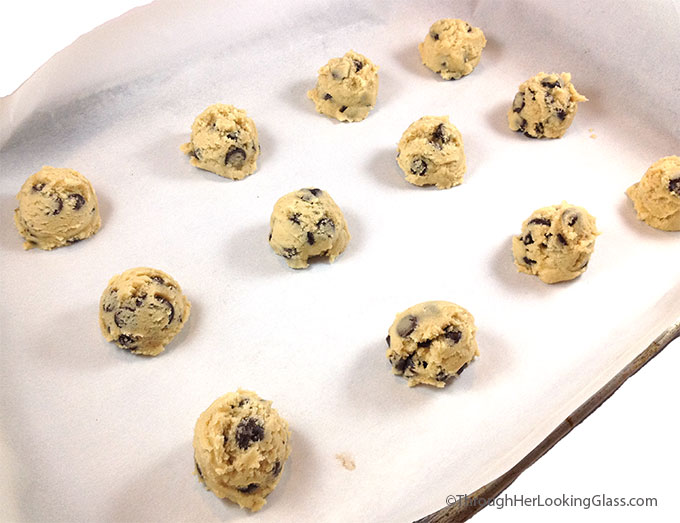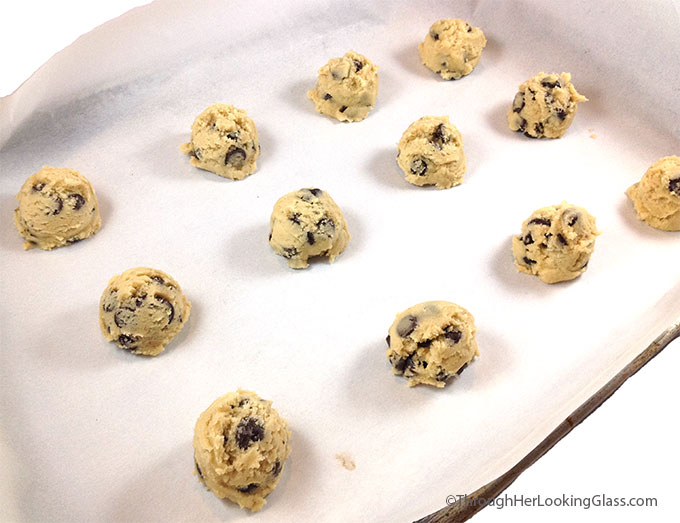 We didn't have AC in the 1754 farmhouse where I grew up as kid, and sometimes the August nights were downright sweltering just lying there sweating, waiting for elusive sleep.
But it was just too hot to sleep. On a few such occasions, I was summoned from bed for an impromptu adventure.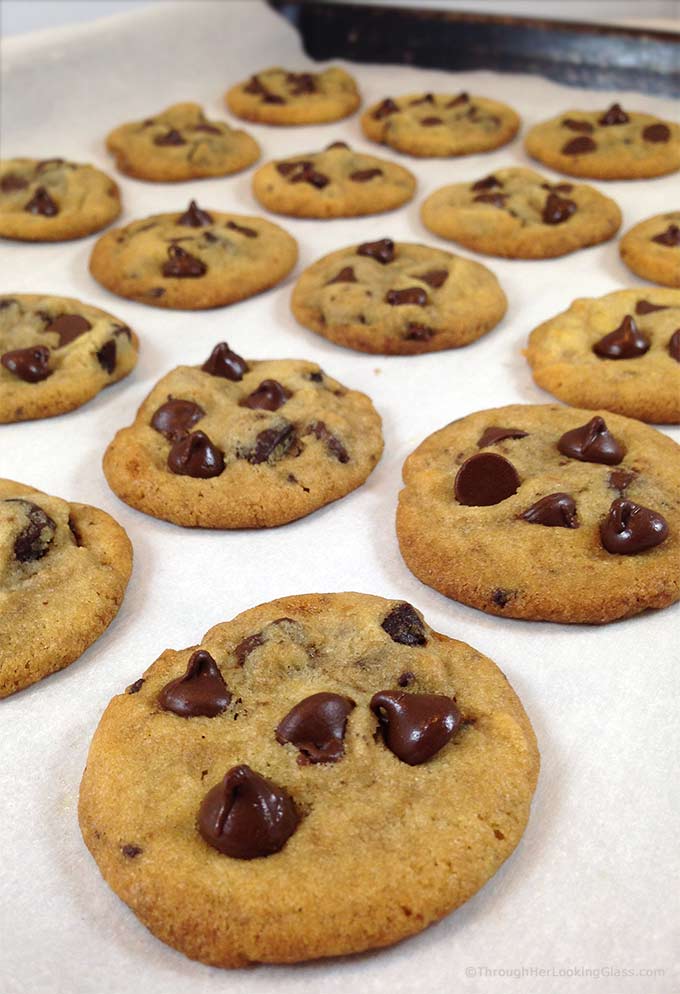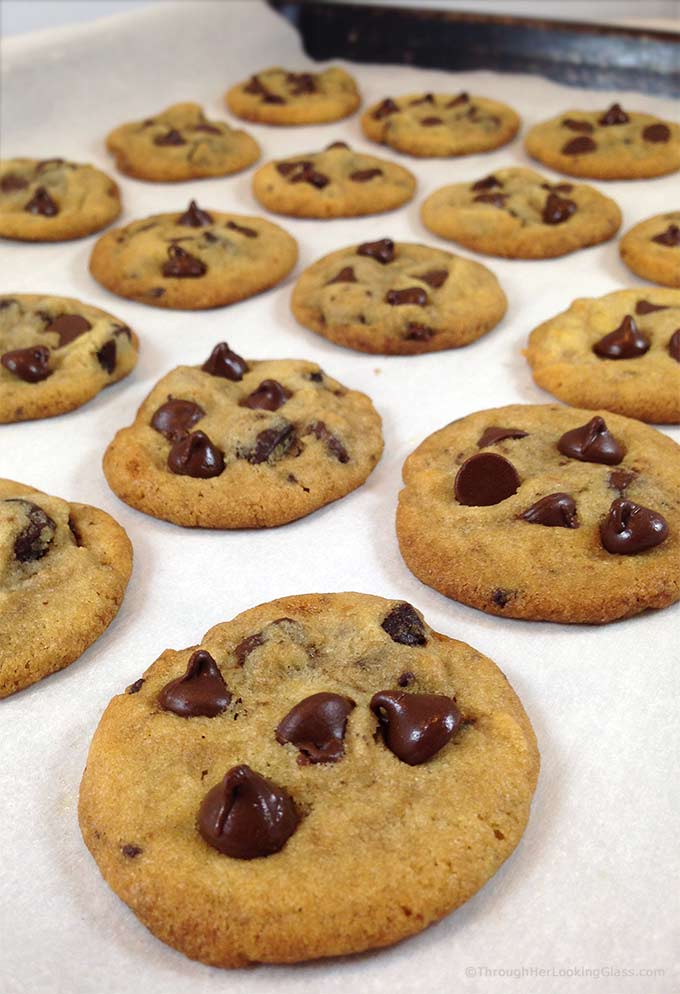 All five of us pajama-ed little kids piled into the back of the old GMC Malibu station wagon. (The dogs too.) We headed over the river and through the woods to the closest Baskin Robbins. Which wasn't so close since we lived way out in the country.
Dad took everyone's ice cream orders and handed them in through the car window one by one. Seeing as we were in our pj's and all.
What a heavenly treat it was licking an unexpected ice cream cone in pajamas on a sweltering night. And coffee was one of my favorite flavors.
I was thinking about that coffee ice cream today while making these ice cream sandwiches.
Creamy coffee ice cream is sandwiched between crispy-edged, chewy-centered homemade chocolate chip cookies. The edges are rolled in mini chocolate chips. Such a refreshing treat on a hot summer day. (These ice cream sandwiches would also be yummy with my easy Chocolate Chip Oatmeal Cookies.)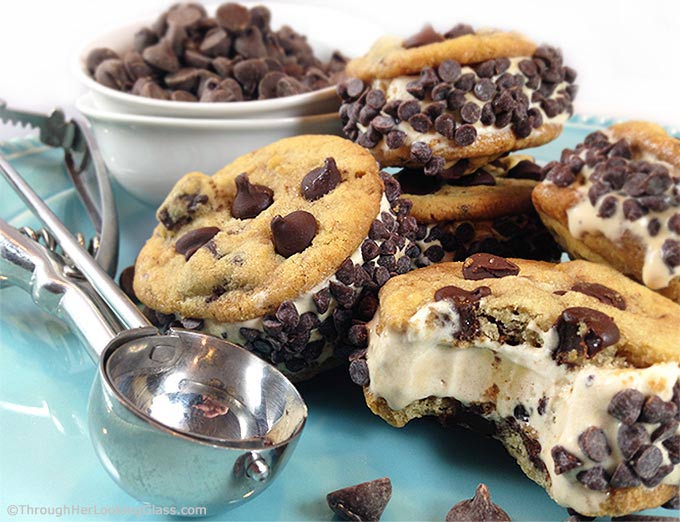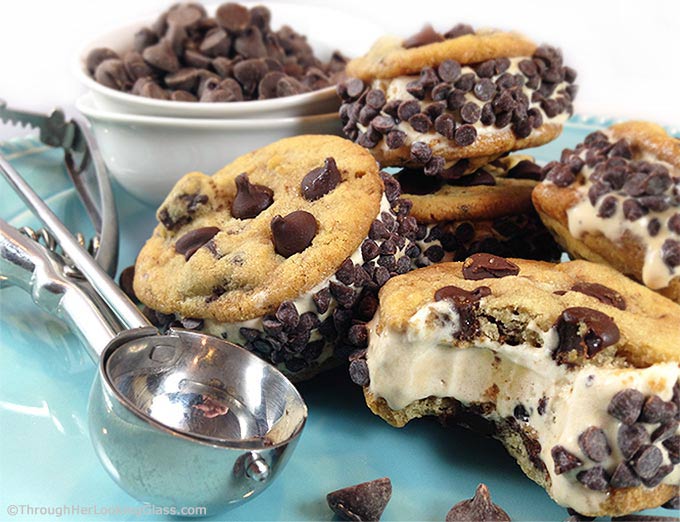 These ice cream sandwiches are mini, because who doesn't like mini? Fun to hold. Fun to eat. Just 2″ across, these are the perfect little ice cream sandwich treats for kids and kids at heart.
Even better, they are easily made ahead, wrapped tightly in foil, at the ready for the sweltering dog days of summer!
Tips to make the perfect Mocha Chip Chocolate Chip Cookie Ice Cream Sandwich:
Use one heaping teaspoon of cookie dough to bake a 2″ cookie.
If you really like chocolate chips (who doesn't?) press in a few extras on top just after the cookies come out of the oven.
Cool cookies completely before stuffing with ice cream. (I chilled mine in the refrigerator for a few minutes.)
Soften ice cream before stuffing cookie sandwiches.
Use a small drinking glass to flatten ice cream before adding the top cookie. (This makes a level surface to keep the top cookie from breaking.)
Freeze ice cream sandwiches hard before rolling the edges in mini-chips.
*This cookie recipe adapted from the King Arthur Flour Chocolate Chip Cookie recipe.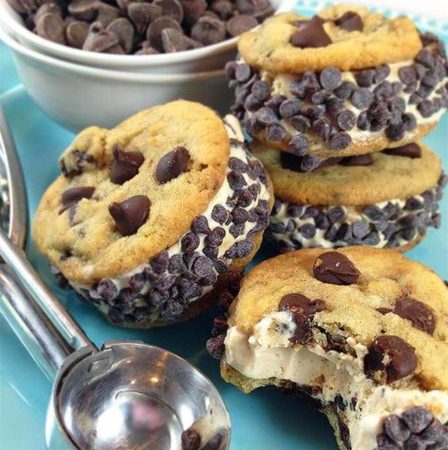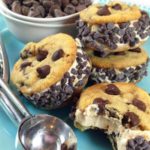 Print Recipe
Mini Mocha Chocolate Chip Cookie Ice Cream Sandwich Recipe
My favorite KAF homemade chocolate chip cookies made mini and sandwiched with coffee ice cream and rolled in mini-chocolate chips.
Ingredients
2/3

cup

light brown sugar

firmly packed

2/3

cup

granulated sugar

1/2

cup

unsalted butter at room temperature

1/2

cup

vegetable shortening

1/2

teaspoon

salt

2

teaspoons

vanilla extract

1/4

teaspoon

almond extract

1

teaspoon

vinegar

cider or white

1

teaspoon

baking soda

1

large egg

2

cups

King Arthur unbleached all purpose flour

2

cups

semi-sweet chocolate chips

1/2

cup

mini chocolate chips

1

quart

coffee ice cream

softened
Instructions
Preheat the oven to 375°.

Lightly grease (or line with parchment) two baking sheets.

In a large bowl, combine the sugars, butter, shortening, salt, vanilla and almond extracts, vinegar and baking soda.

Beat until smooth and creamy.

Beat in the egg, beating until smooth.

Scrape bottom and sides of bowl with a spatula to make sure all is thoroughly combined.

Mix in the flour, then the chocolate chips.

Drop by rounded teaspoonfuls onto prepared baking sheets, leaving 1" between them on all sides, they'll spread.

Bake cookies for 7 minutes or more, til' edges are chestnut brown and tops are light golden brown.

Remove from oven and cool on a baking rack. (Chill in refrigerator if you're in a hurry.)

Repeat with remaining dough.

Spoon softened coffee ice cream onto a cookie, then press down with a small drinking glass to flatten.

Top with another chocolate chip cookie.

With spatula or butter knife, scrape off extra ice cream around edges.

Place in freezer and freeze ice cream sandwich until hard.

Roll edges in mini chocolate chips.

Repeat with remaining cookies.

Serve immediately or wrap tightly in foil and freeze.


You may also like: Fudgy Grasshopper Ice Cream Pie