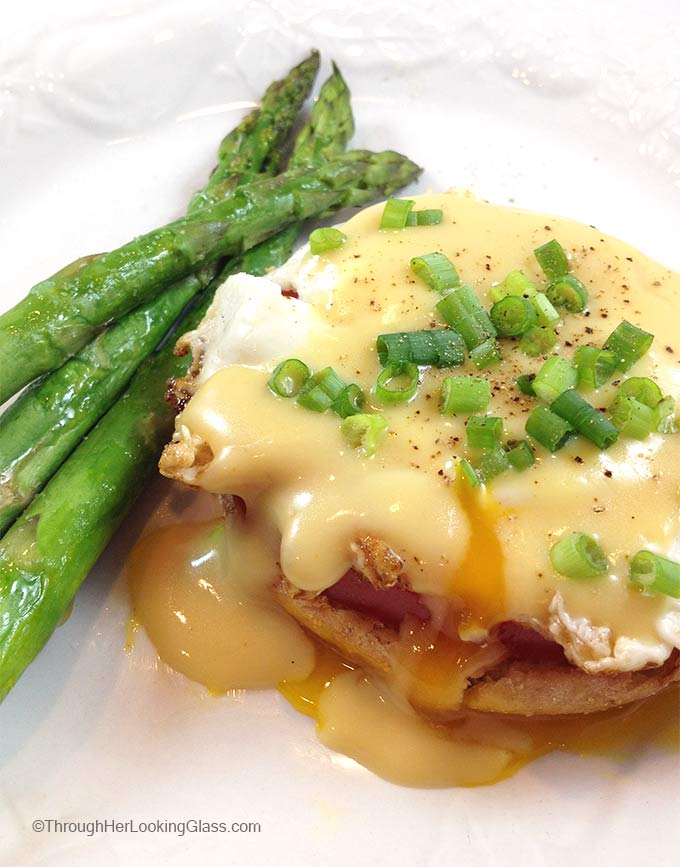 Met a dear friend in California last summer to attend a conference. Following, tacked on a few delightful days visiting my lovely cousin. Among other fun activities, she and her family treated me to a coastal brunch at Wilma's Patio on Balboa Island in Newport Beach. She and I ordered Eggs Benedict and weren't disappointed. Such a wonderful treat.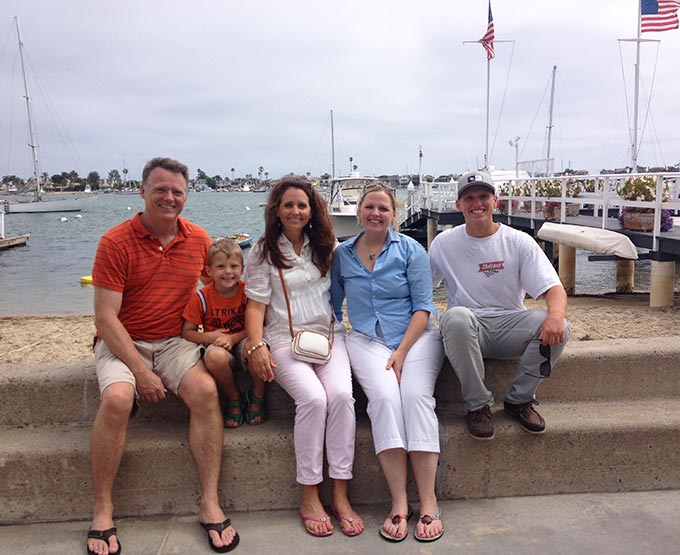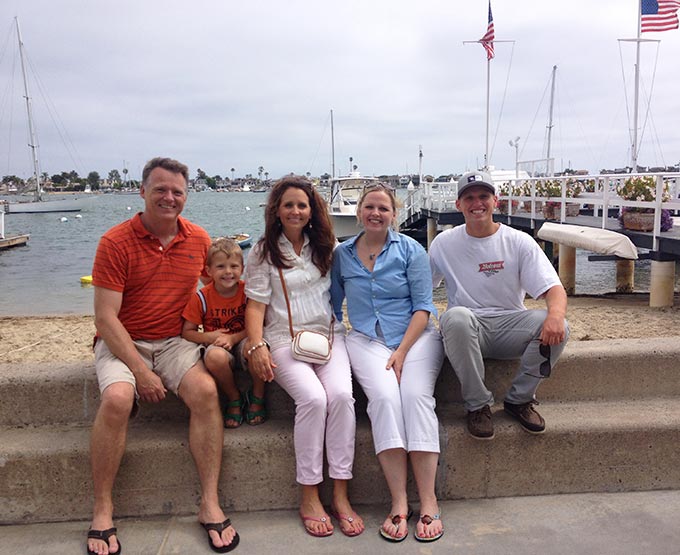 After brunch, we strolled the boardwalk,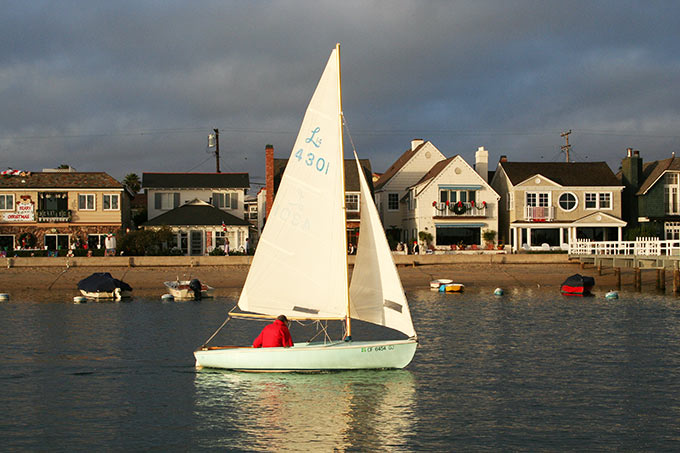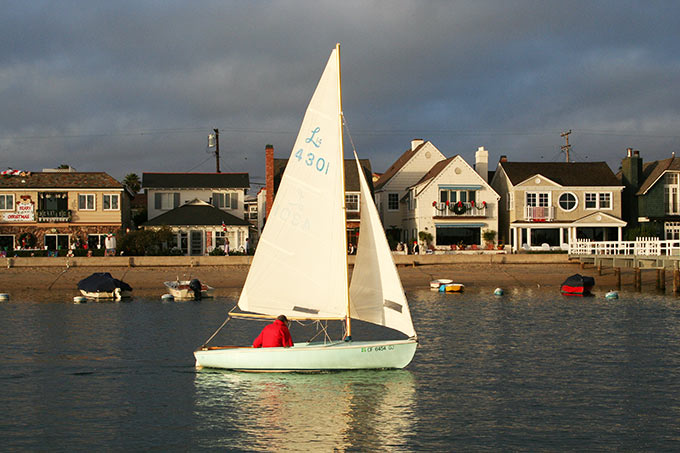 Saw beautiful sights on the water,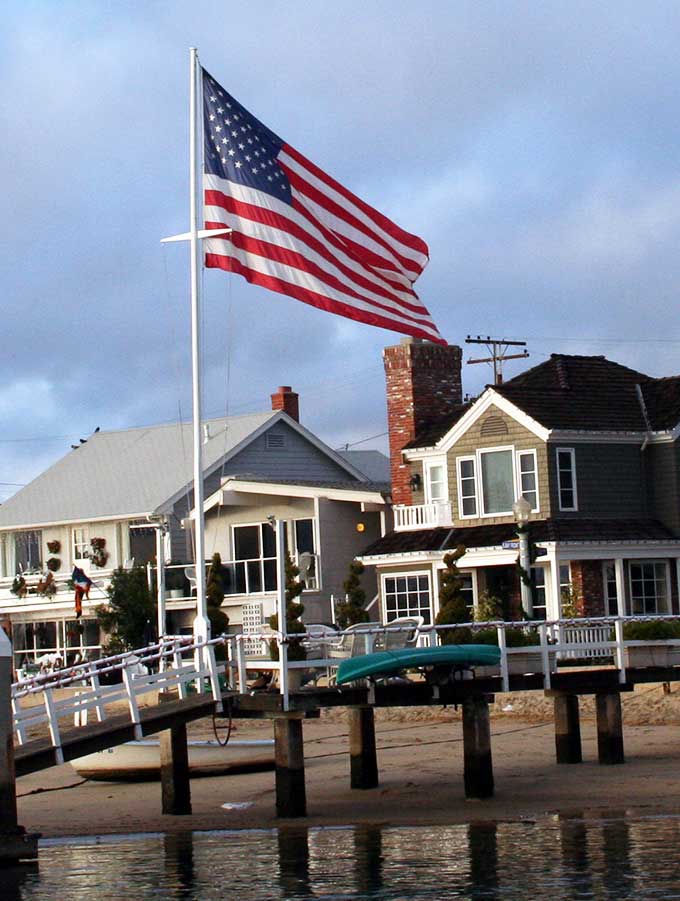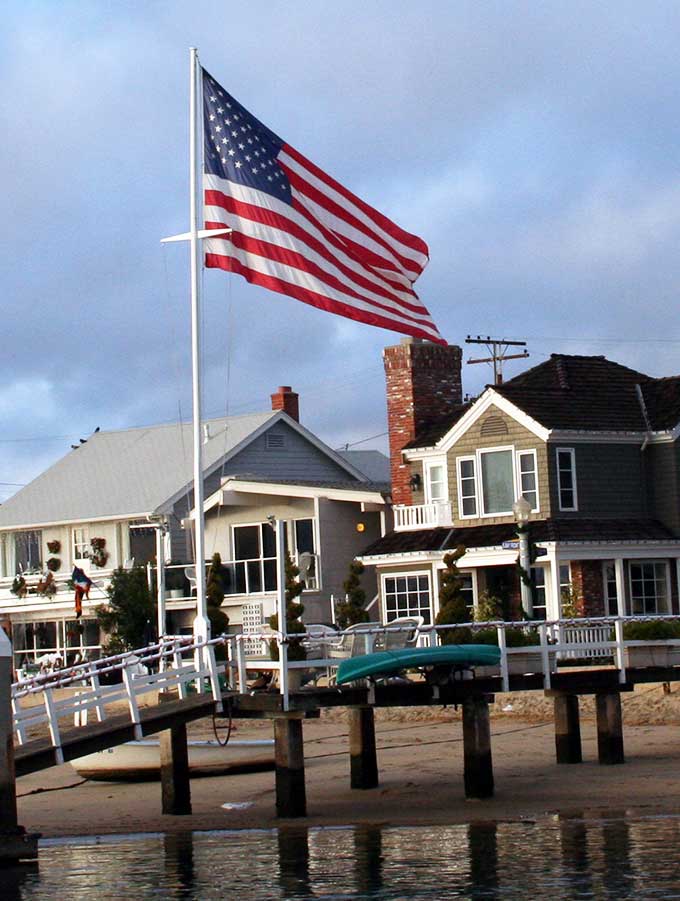 Admired the quaint, charming homes along the boardwalk.
Well just last week, the King Arthur's Baker's Catalogue arrived in my mailbox. So what's on the cover, but Eggs Benedict. The feature recipe was for homemade english muffins, but the pictures reminded me of the fabulous dish we savored at Wilma's Patio last summer.
There's something elegant about Eggs Benedict, even the name. It's fare for royalty. (Perfect for the likes of you and me!) I did a little research, and there's apparently great speculation on the origin of the original Eggs Benedict recipe, which dates back to the 1800's. Don't know who gets the credit, noone really knows. I'm not so interested in that, just the next delicious forkful! So for the first time ever, I bought the simple ingredients this past weekend, tried my hand at making eggs benedict. It was fast and easy, worthy of breakfast, brunch, lunch, even a light dinner. My only regret is I didn't make it earlier in my "career." Jon loved it too.
Eggs Benedict is a simple dish, consisting of a toasted english muffin, layered with ham or bacon, then a poached or soft-cooked fried egg. Drench with hollandaise sauce, and garnish with chopped scallions. There are many eggs benedict versions, the one I made was meatless. I used a thick tomato slice in place of ham or bacon, and served with a side of roasted asparagus. Store bought english muffins and a hollandaise sauce mix kept it simple. It was also delicious! We had it for dinner. (Even lit the candles.)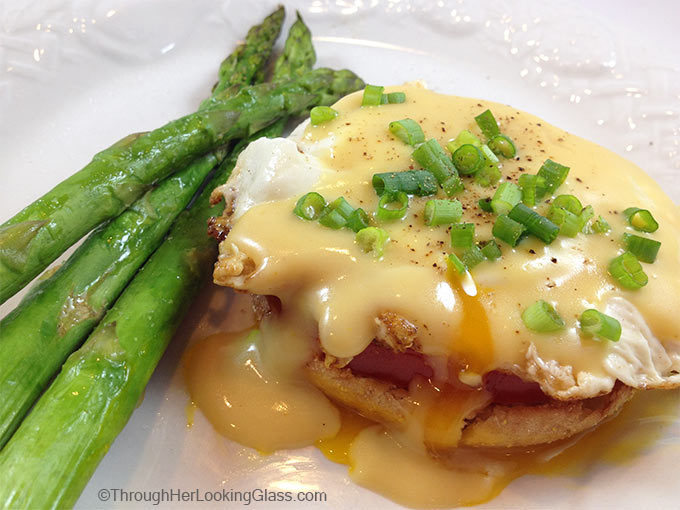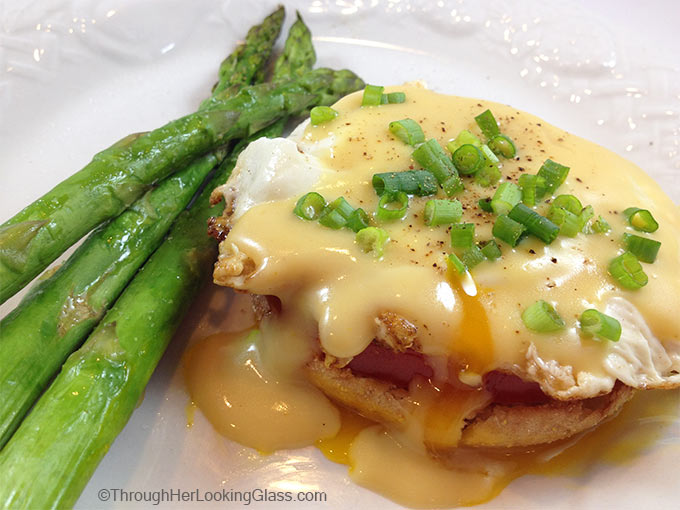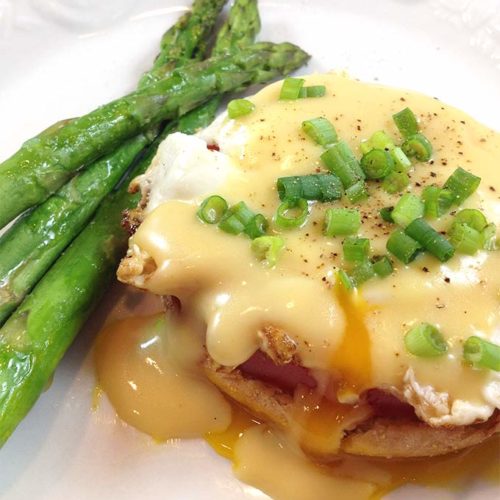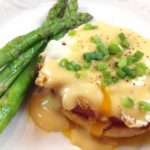 Print Recipe
Simple Eggs Benedict
Simple Eggs Benedict: delicious and worthy of breakfast, lunch or dinner. Serve with a side of roasted asparagus.
Ingredients
4

english muffins

split

8

eggs

poached or fried over easy

1

packet hollandaise sauce mix

prepared

butter or mayonnaise

2 to

matoes

sliced into rounds

salt and pepper

optional: 8 slices pre-cooked ham or bacon

optional: chopped scallions for garnish
Instructions
Prepare hollandaise sauce according to package directions.

Cover, keep warm on stove.

Toast english muffins.

Lightly spread toasted muffins with butter or mayonnaise.

Place tomato slices (or ham or bacon) on hot toasted muffins.

Sprinkle tomatoes lightly with salt and pepper.

Place poached or fried eggs on top of tomato rounds.

Drench with warm hollandaise sauce.

Garnish with chopped scallions if desired.

Serve immediately, or keep for a short time in a warm oven.
Notes
So many excellent variations on Eggs Benedict. I recently saw Eggs Benedict topped with slices of ripe avocado. Yum!