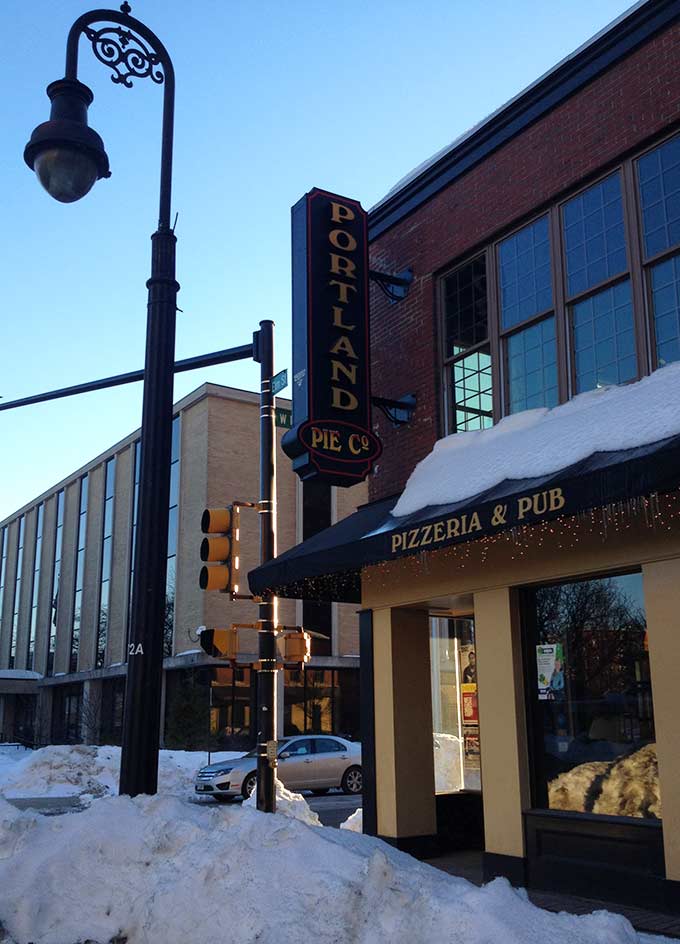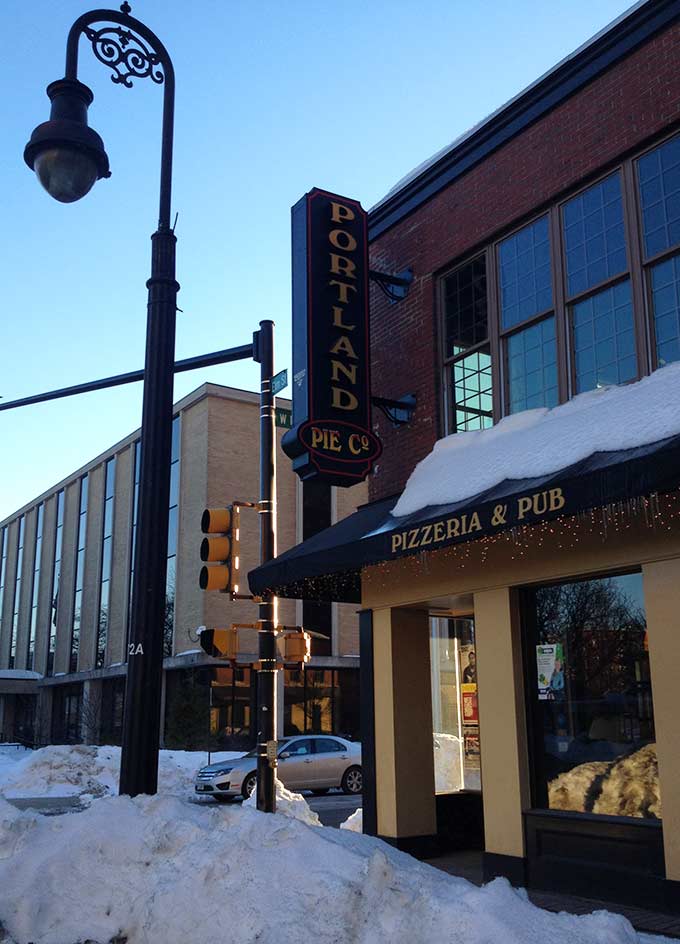 It was very exciting around here last weekend. My nephew's high school basketball team won the regional championship for their division on Saturday afternoon. The first quarter started off as a nail biter, with his team down 12-0. Then they got their feet underneath them in the second quarter. And when they did, boy did they ever. We were all so proud of the hard work that got them to that final game, and then to see them win the championship was over the top exciting. (Proud auntie here.)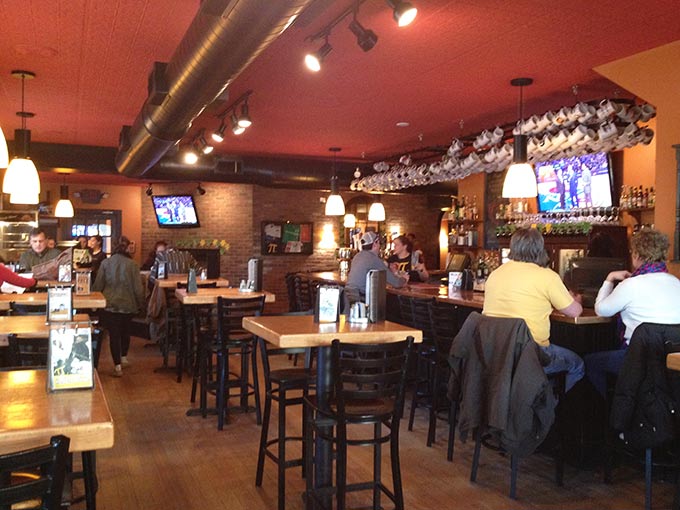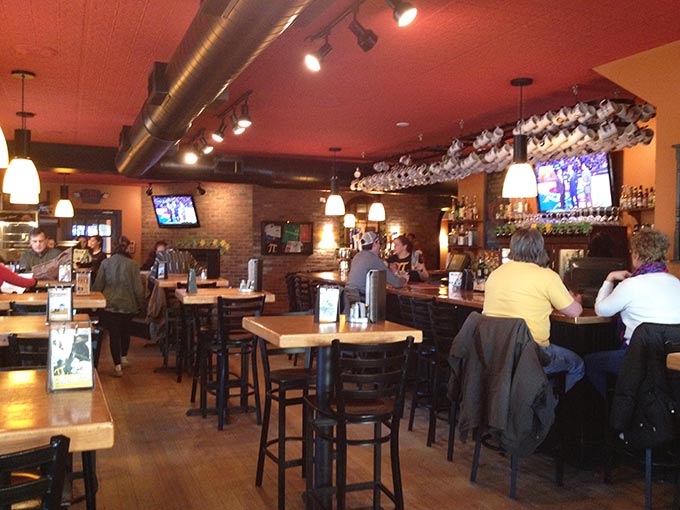 After the game, we all went out to Portland Pie in downtown Manchester, NH to celebrate the victory. The building formerly housed the famous Merrimack Restaurant, where "every four years, the red vinyl booths of the Merrimack Restaurant served as the backdrop for aspiring presidential candidates as they mingled with the people of New Hampshire."  –Boston Globe
Portland Pie Company started in 1997 in Portland, Maine. Now with seven locations, "Portland Pie Company offers premium gourmet pizzas, appetizers, salads, pastas, and sandwiches along with a full bar to its customers. Portland Pie set deep roots in Maine for the first 15 years, establishing locations in Portland, Scarborough, and Westbrook, Maine, and has expanded the restaurants to different states including Manchester and Nashua, New Hampshire as well as Reading, Massachusetts."  – Portland Pie Company
If you've never been to a Portland Pie Pizzeria and Pub, I highly recommend it. We had excellent pizza and service in an unhurried, family friendly atmosphere.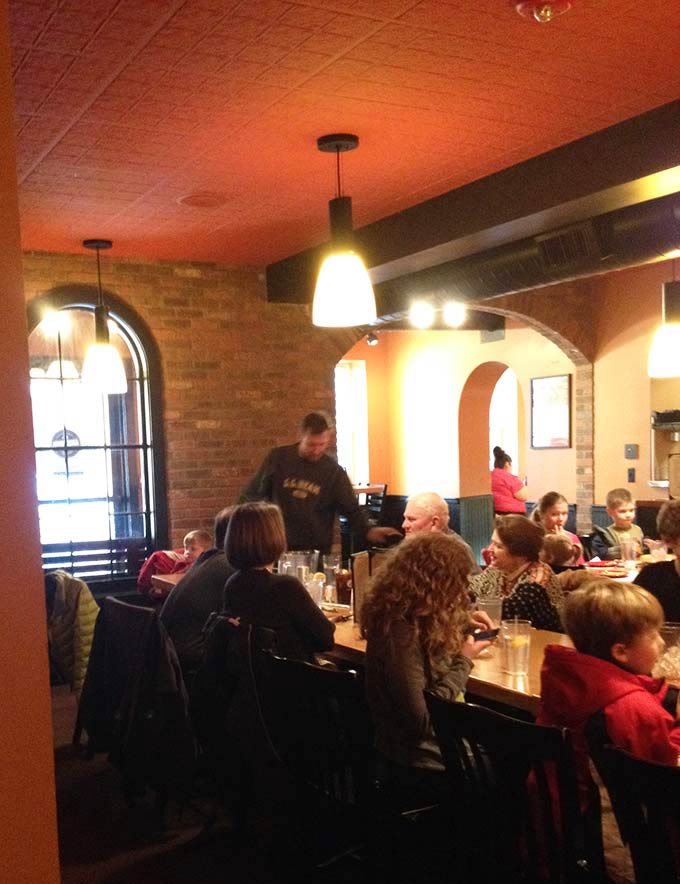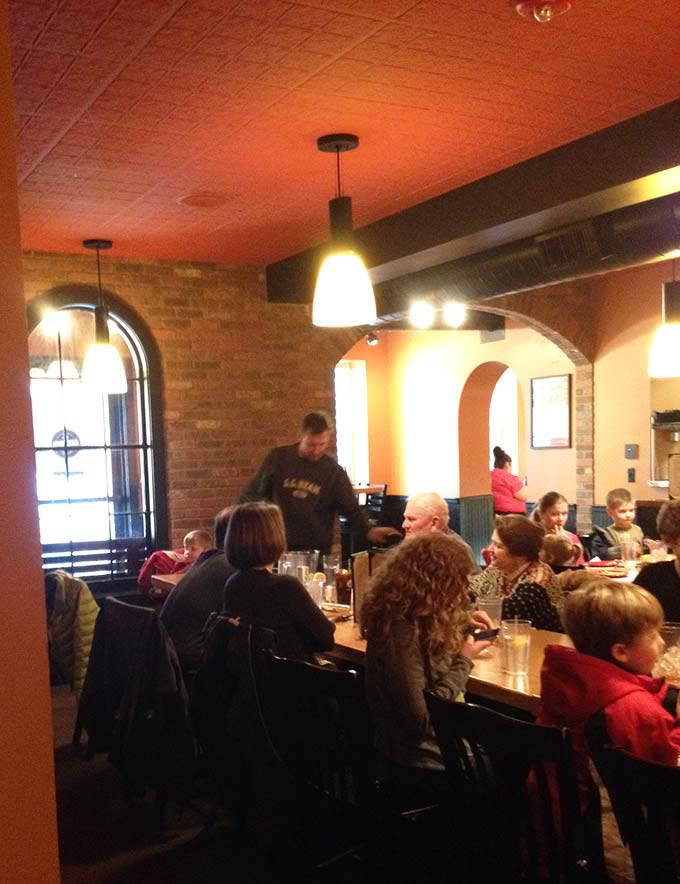 The dining room was cozy, comfortable. Brick walls, tin ceilings and mood lighting added to the ambience. The excellent staff took care of our every need. The manager was friendly, checked in on us.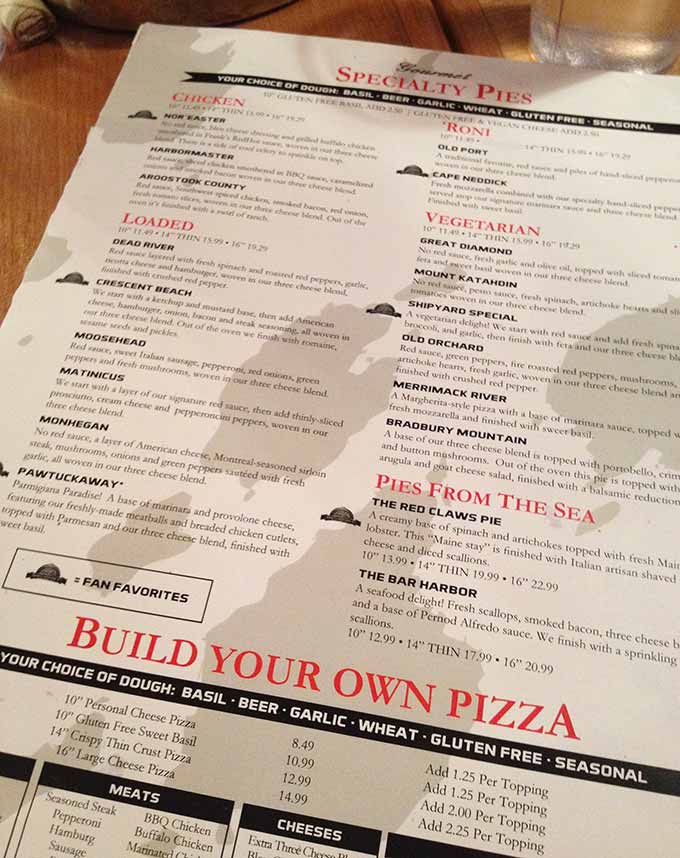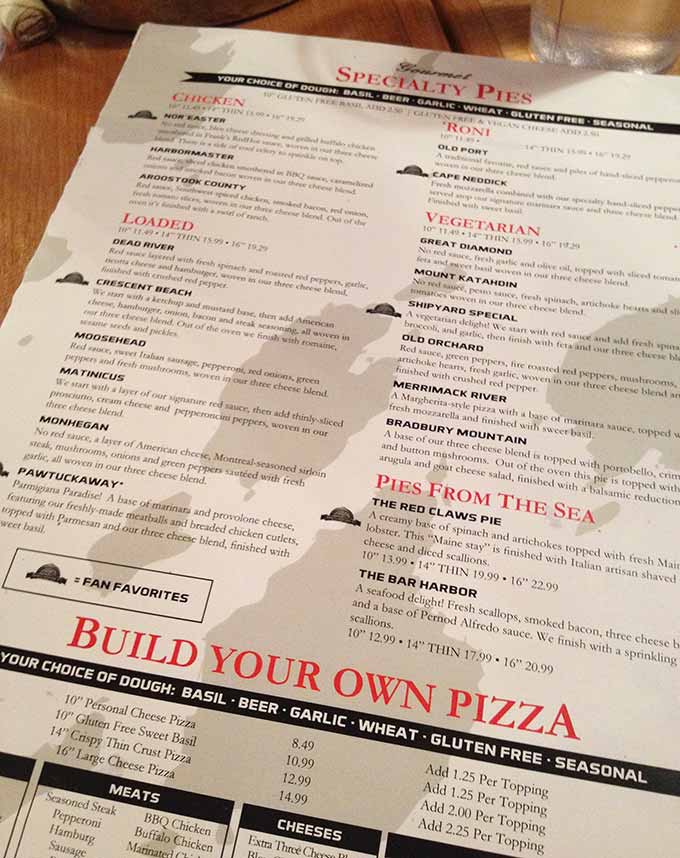 So many colorful, local specialty pies to choose from!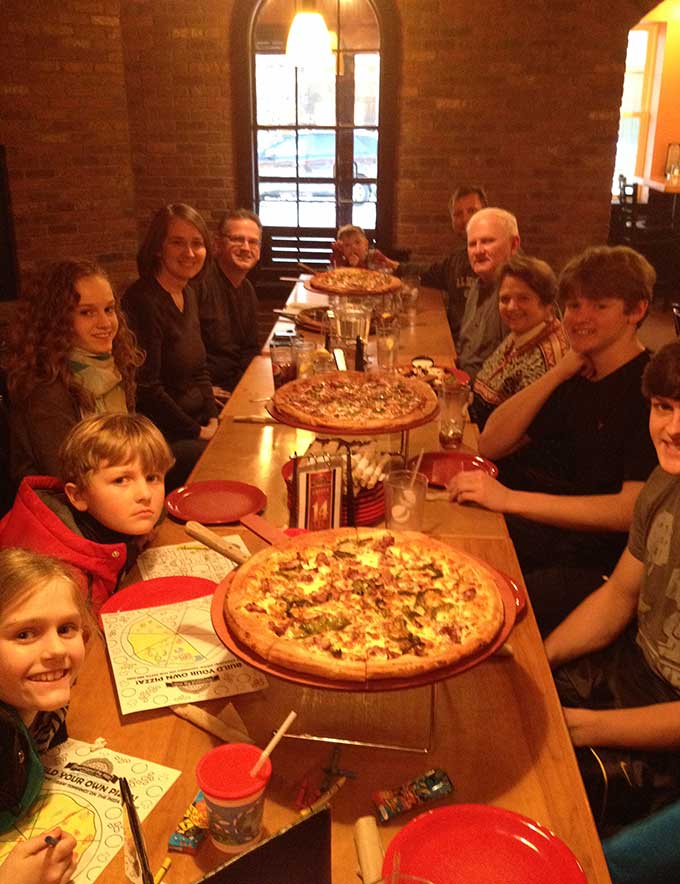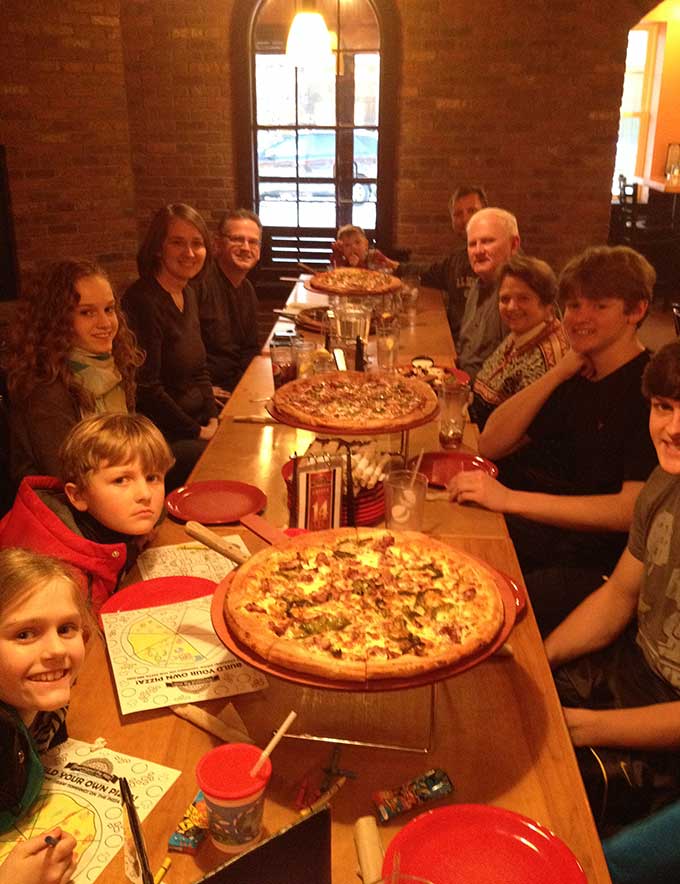 Almost all cheerful faces around the table ready to dig in. Almost.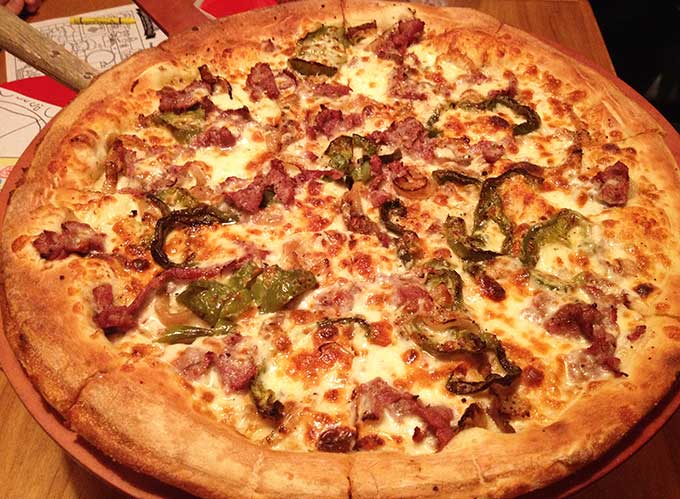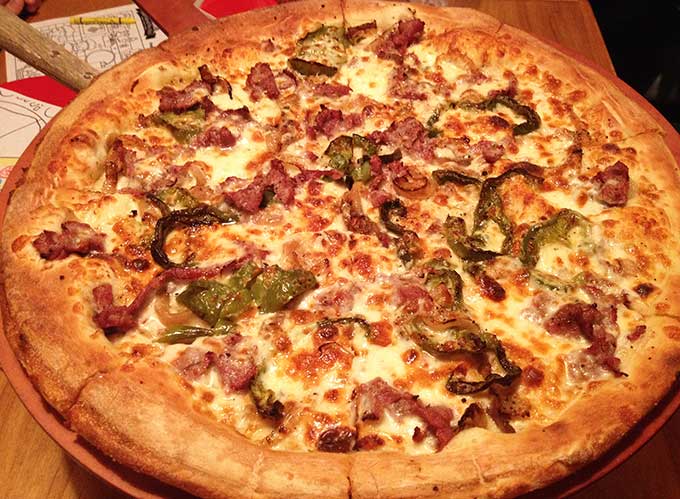 You're checking out the Monhegan: "no red sauce, a layer of American cheese, Montreal seasoned sirloin steak, mushrooms, onions and green peppers sautéed with fresh garlic, all woven in a three cheese blend."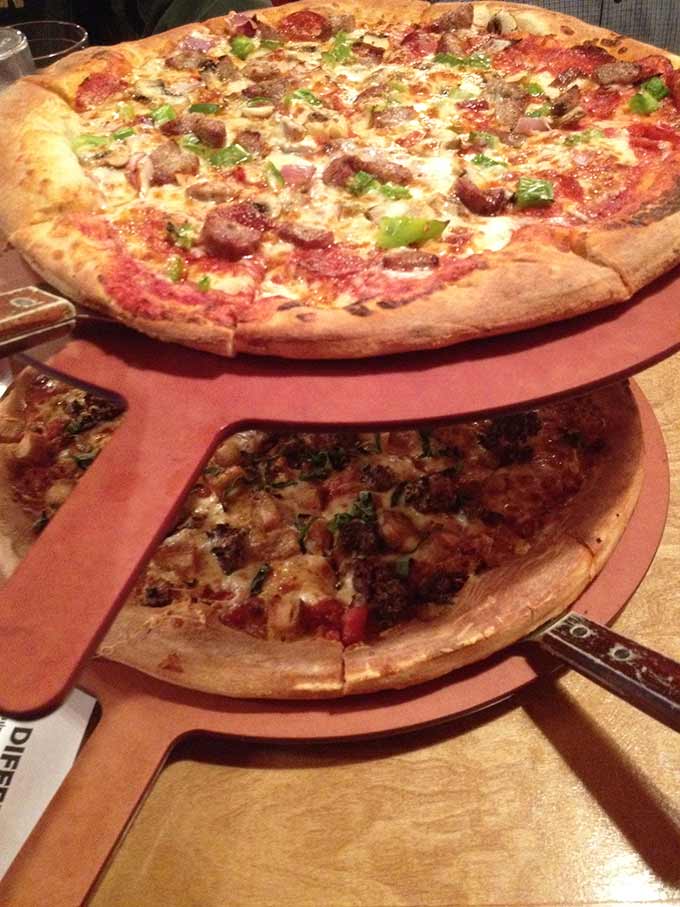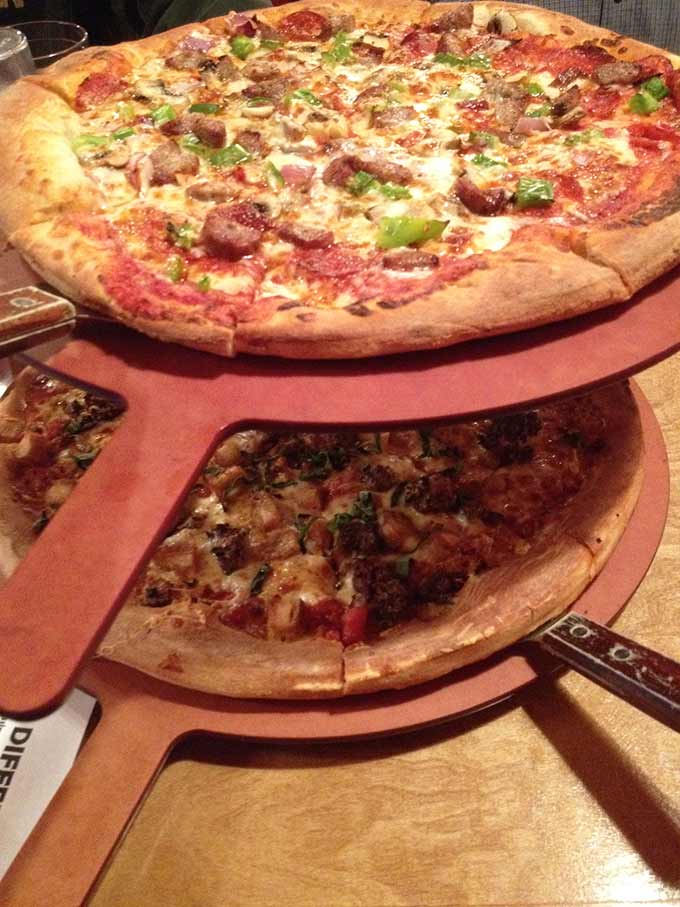 Thank goodness for double-tiered pizza stands! We'd never have fit those five pizzas on the table otherwise. Pictured above are the Moosehead (top) and Pawtuckaway pizzas.
Portland Pie specializes in flavored crusts. Following are the choices listed from the Portland Pie Company menu:
BASIL: Made with Sweet Egyptian Basil, slightly sweet and the perfect compliment to our uniquely seasoned pizza sauce.
WHEAT: Not just the healthy choice, made with our custom mix of white and wheat flours with a hint of honey.
GARLIC: Dense and flavorful, made with fresh chopped garlic, gives your favorite pie a little kick.
BEER: Made with Shipyard's famous Export Ale, aromatic and perfectly aerated, with the slight twang of a good sourdough.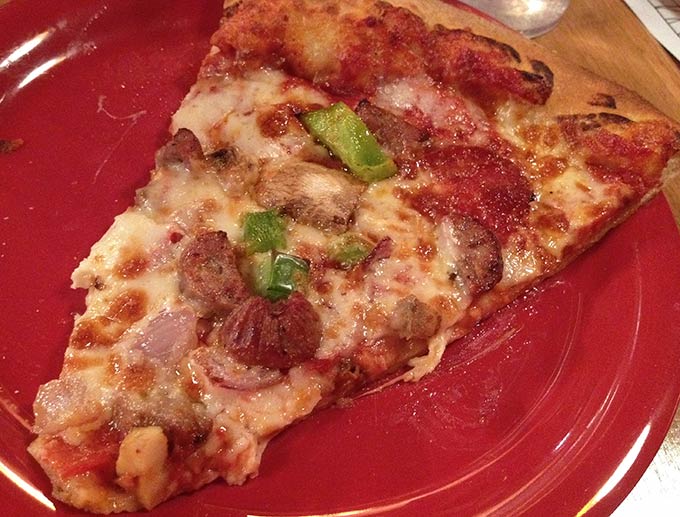 A  delicious slice of Moosehead pizza: "red sauce, sweet italian sausage, pepperoni, red onions, green peppers and fresh mushrooms, woven in our three cheese blend" on a beer crust. Scrumptious.
Hope you'll have opportunity to experience Portland Pie Company one day soon, you won't be disappointed. Quote of the night, overheard at our table: "There's no other restaurant in this state I'd rather be at than Portland Pie Company." (The Merrimack Restaurant may be history, but there's an endorsement for you.)
You may also enjoy: Bedford Village Inn