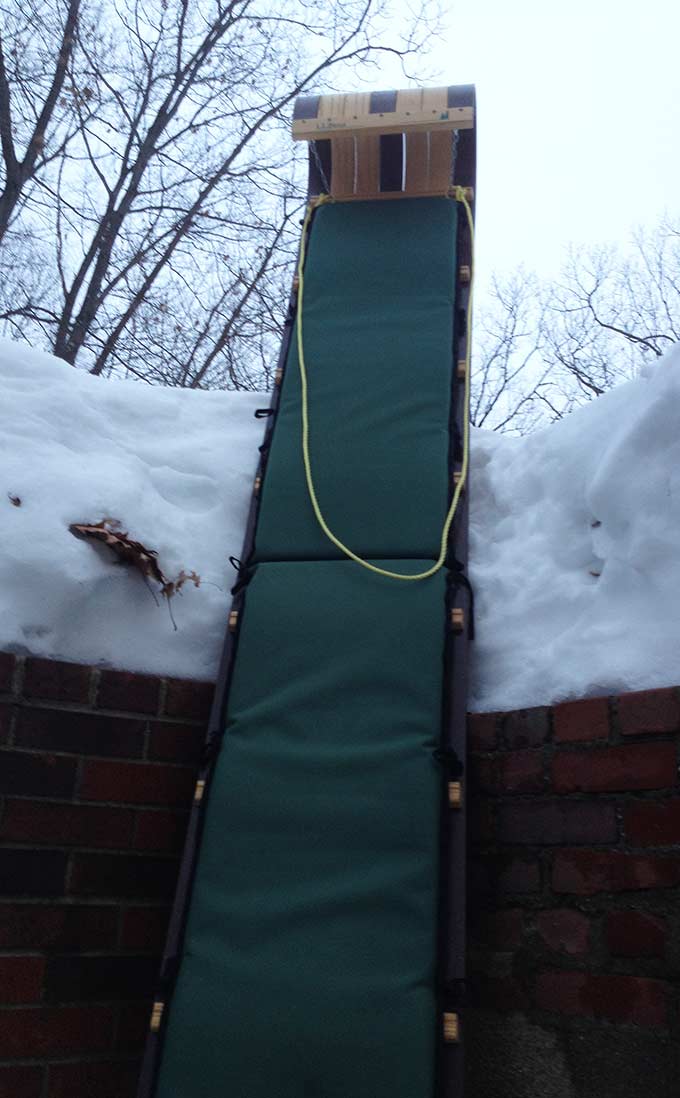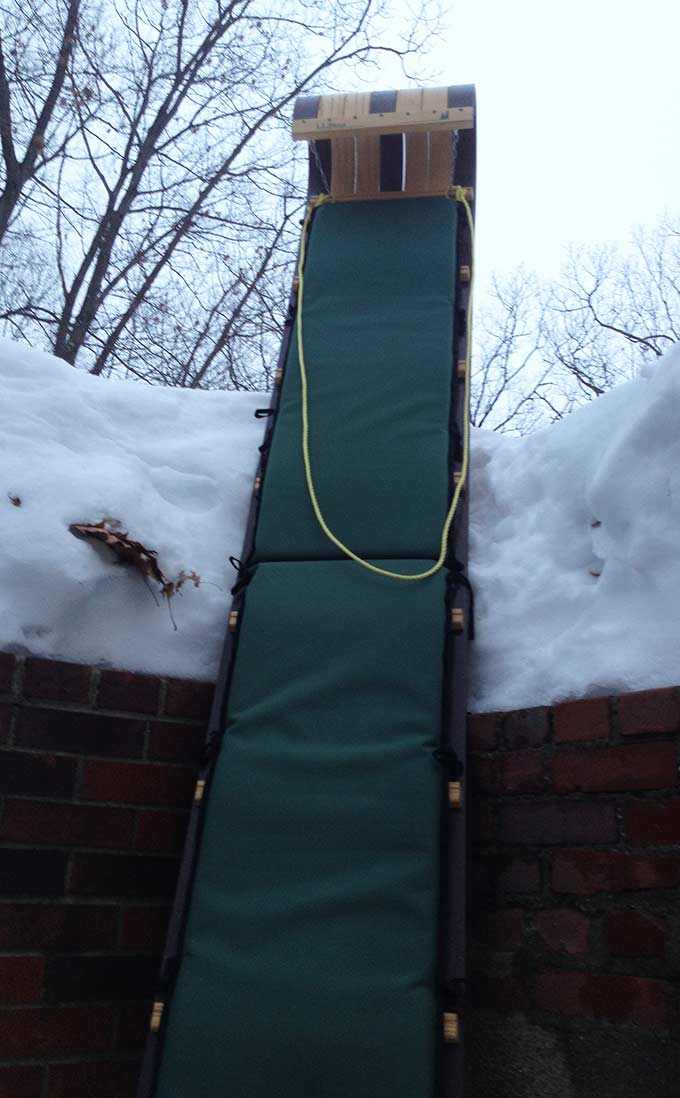 Hi friends, hope all is well in your neck of the woods, wherever that may be. Perhaps green shoots are coming to life, pushing up from the earth, trees are blooming. I hope so, and how nice for you! (I do mean that sincerely, I can't wait for spring to arrive.) Here in New England, we're still waiting for Old Man Winter to calm down. I've been asked what I did to tick him off. My reply: If only I knew, I'd stop!!!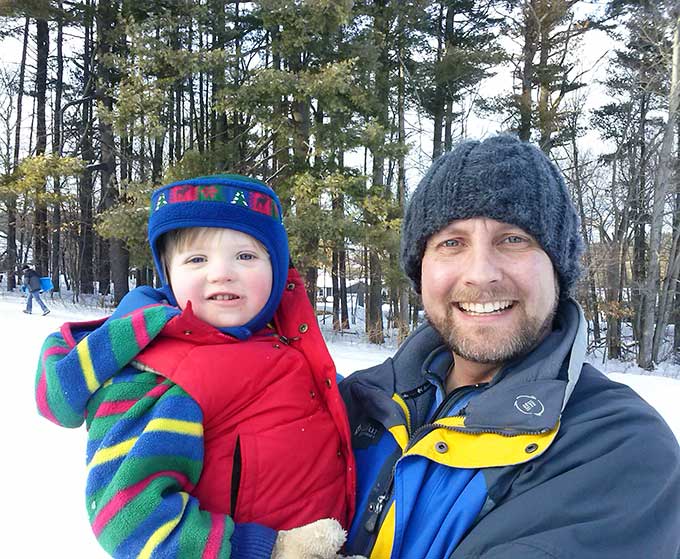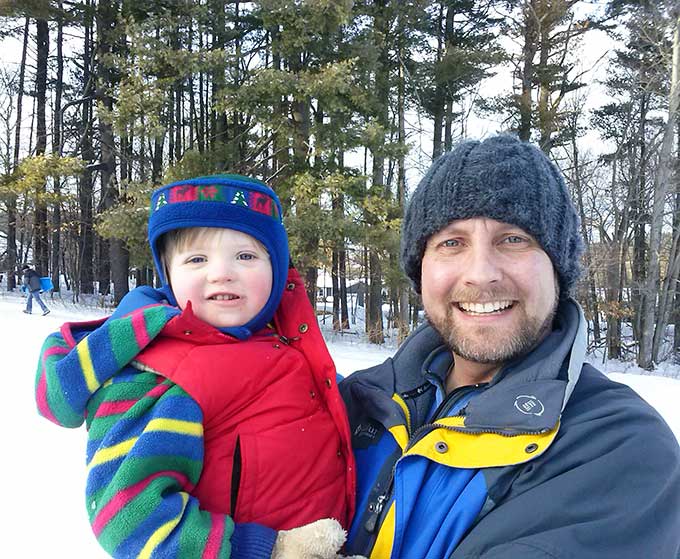 Hudson and Jon 
It's March, and things are still cold, snowy, wintry and icy here. Last night 3-5″ of snow was forecasted. We did get some snow, but it turned into an icy mix overnight. Thankfully it was above freezing this morning, so the roads were fine.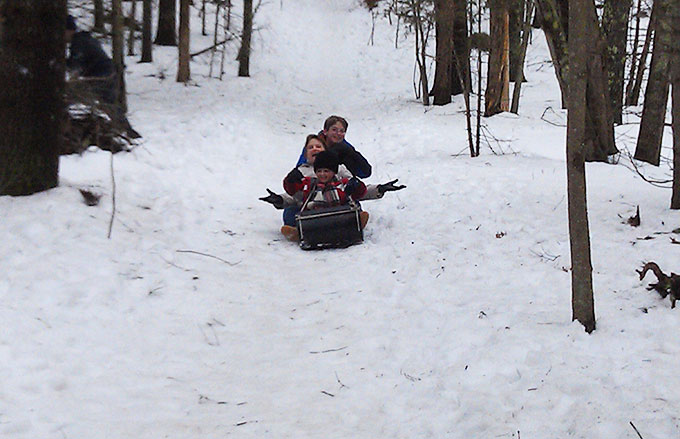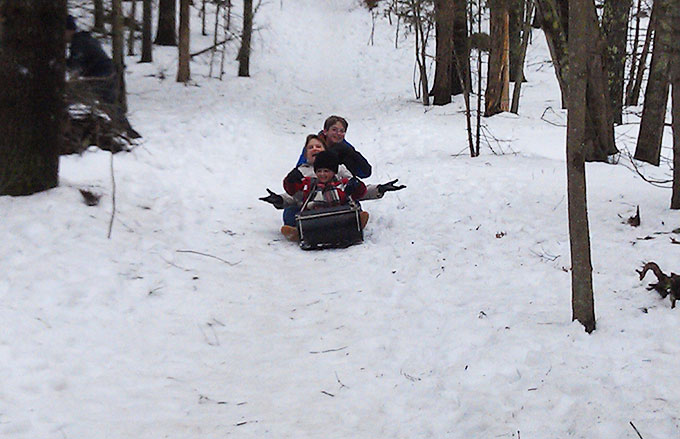 Jacob and Charlie tobogganing with Gigi in Rhode Island
So I've been thinking that some of you probably didn't get to toboggan this year, maybe didn't even get a sledding run in. That's too bad. Tobogganing is such a fun memory of mine. I remember tromping through the woods (lovely, dark and deep) as the littlest kid with my big brothers and sisters, climbing up the interminably long toboggan run, then racing down lickety-split. It's a pretty long run, and fast. And now as a parent, I wince thinking of all the trees and branches we flew by without incident. Our guardian angels were definitely working overtime.
The Christmas after we moved back to New England in 2004, I went to the local L.L. Bean Outlet to see if they had any wooden toboggans. Lo and behold, they did! I was thrilled, bought one for the boys for Christmas. Back then there were just three boys. Now five. (Yeah, I'm counting Jon.) All they had in stock were eight footers, so I jerry-rigged it into our old Volvo wagon, and it hung out the back window. I felt like Santa Claus on his sleigh. (Or Mrs. Claus.) It's been a lot of fun these many years!
Following are two short clips so you can get in a virtual toboggan run before Spring arrives officially. Have fun, scream all you want. (My boys sure did.)
Take two: here's Jonathan….
Would love to hear your fun sledding/tobogganing stories and memories today…
You may also enjoy: Baby It's Cold Outside