Fresh basil is my favorite herb to cook with. Peppery and sweet, basil is a member of the mint family. Check out these amazingly flavorful Fresh Basil Recipes and tips here on the blog.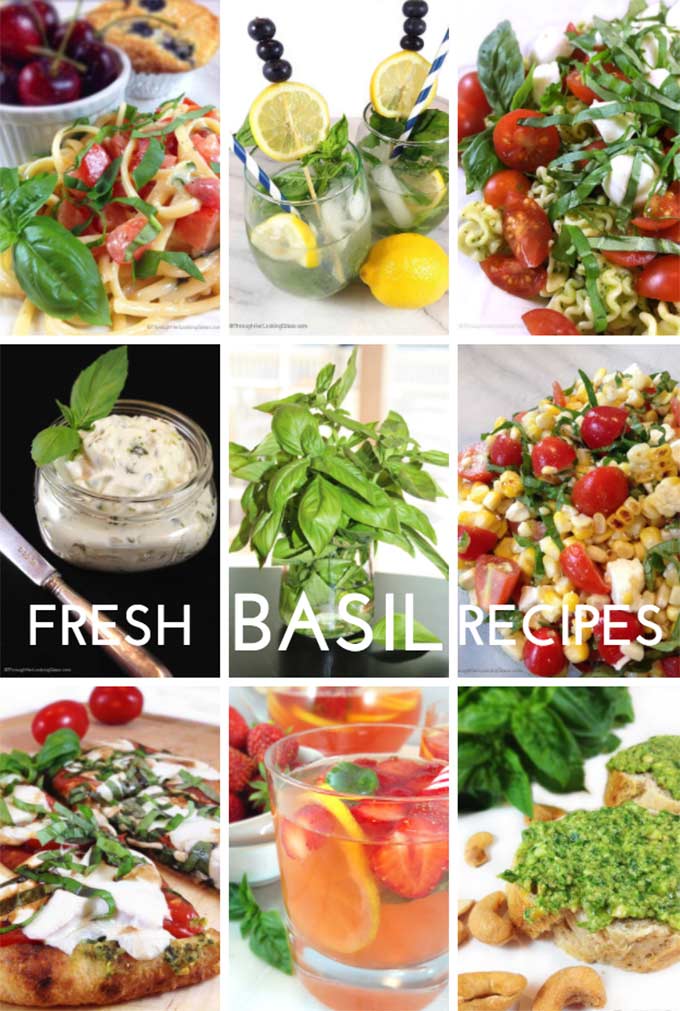 Fresh basil is aromatic with the scents of pepper, anise, and mint. Sweet tasting but savory too, it smells peppery with a hint of mint!
So here I am in the middle of a kitchen remodel, sans oven, stovetop and kitchen sink or dishwasher. The crockpot's getting old, as is the electric griddle and microwave. We're making do, but I'm looking forward to having appliances and running water in the kitchen within the week. You don't realize what an incredible blessing running water is until you don't have it. Isn't that the way it always is.
It's the beginning of March and a Nor'easter just made its way up the East Coast and is hitting us hard right now. 12-18″ of snow is expected. And here I am dreaming of garden fresh basil and delicious spring and summer recipes. The nice thing is, fresh basil is available year round in the grocery store these days. So if you've got running water and a stove top or oven (lucky you!), no need to wait on summer for fresh farm to table eats.
Fresh Basil Drinks: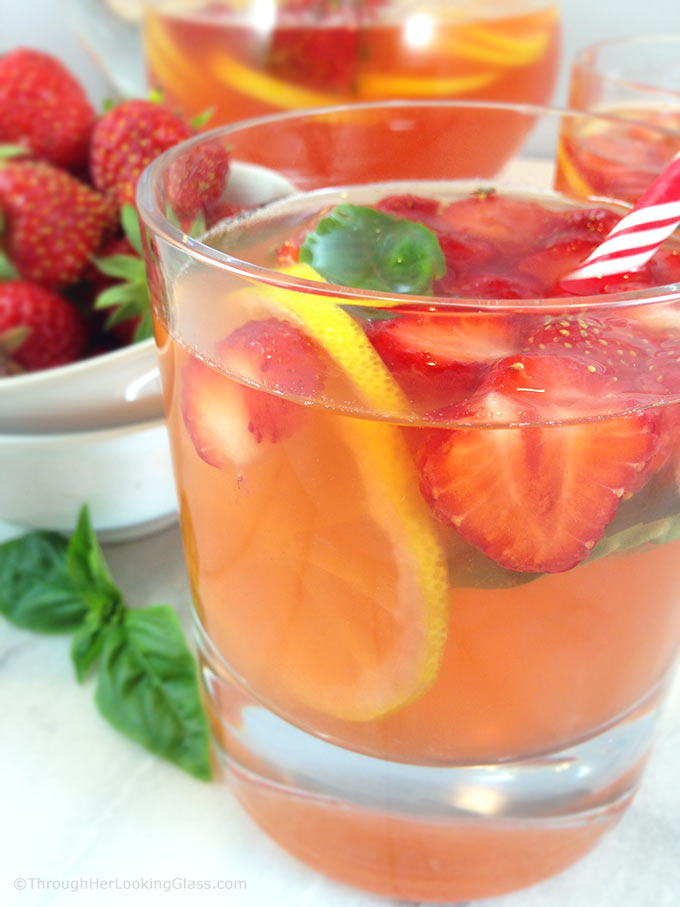 Refreshing Strawberry Basil Lemonade is the perfect summer mocktail that everyone can enjoy at picnics and barbecues. Basil leaves steep in fresh strawberry simple syrup for an unusually delicious sipper! This recipe makes a gallon, but you can easily halve it to make two quarts.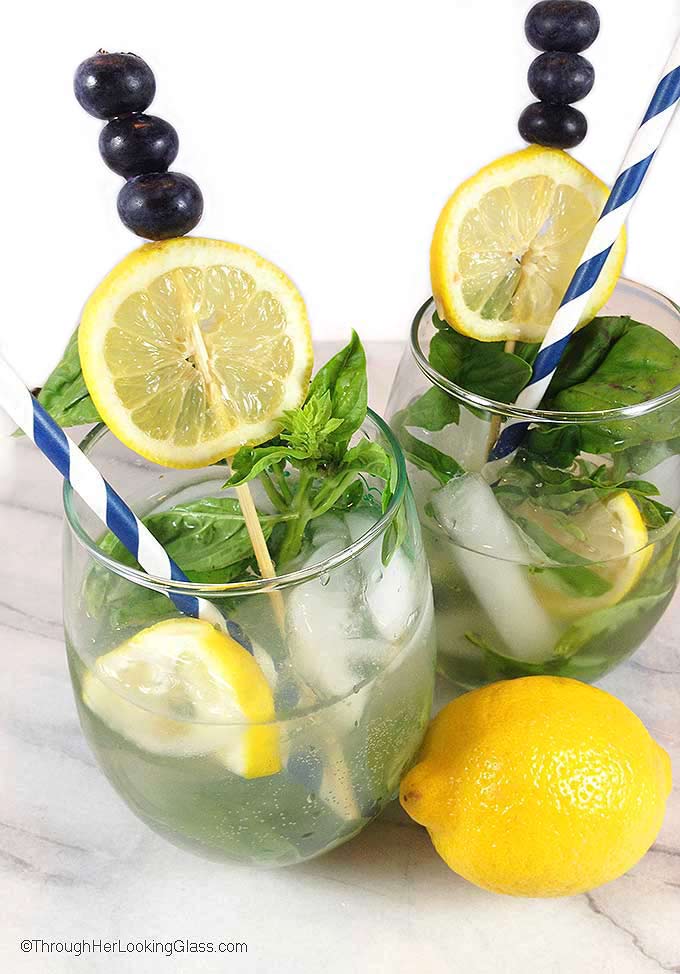 I first experienced this Blueberry Basil Mojito cocktail at one of my favorite downtown Manchester restaurants Cotton. (More about Cotton here.) So beautiful and tasty, slightly sweet and so refreshing.
Fresh Basil Sides: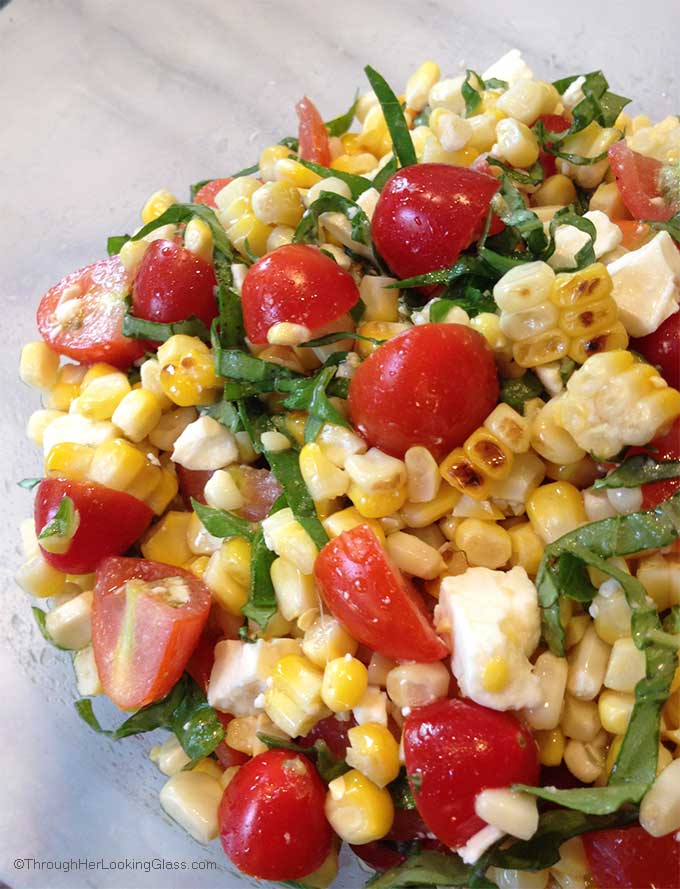 Grilled Corn, Basil and Tomato Salad
This is one of the most popular recipes on the blog during spring and summer. This Grilled Corn, Basil & Tomato Salad w/feta brings fresh and summer straight to your next picnic, barbecue or luncheon.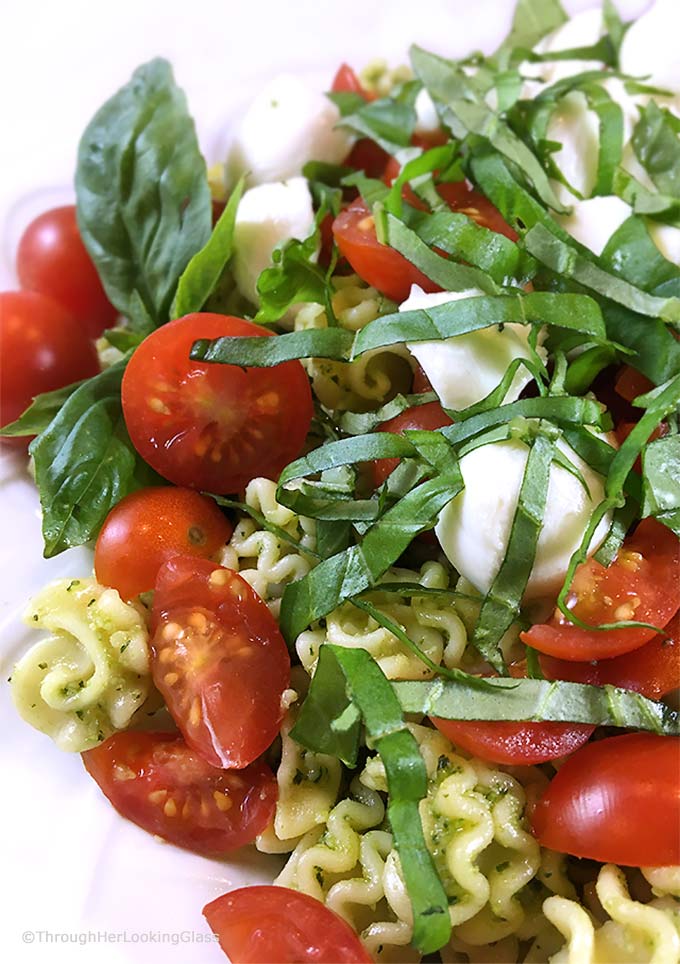 This Caprese Pasta Salad Recipe incorporates all the sweet and peppery garden basil! Fresh basil pesto combines with pasta, sun-ripened garden tomatoes and fresh mozzarella. Make a big bowlful, because this one goes fast.
Fresh Basil Appetizers: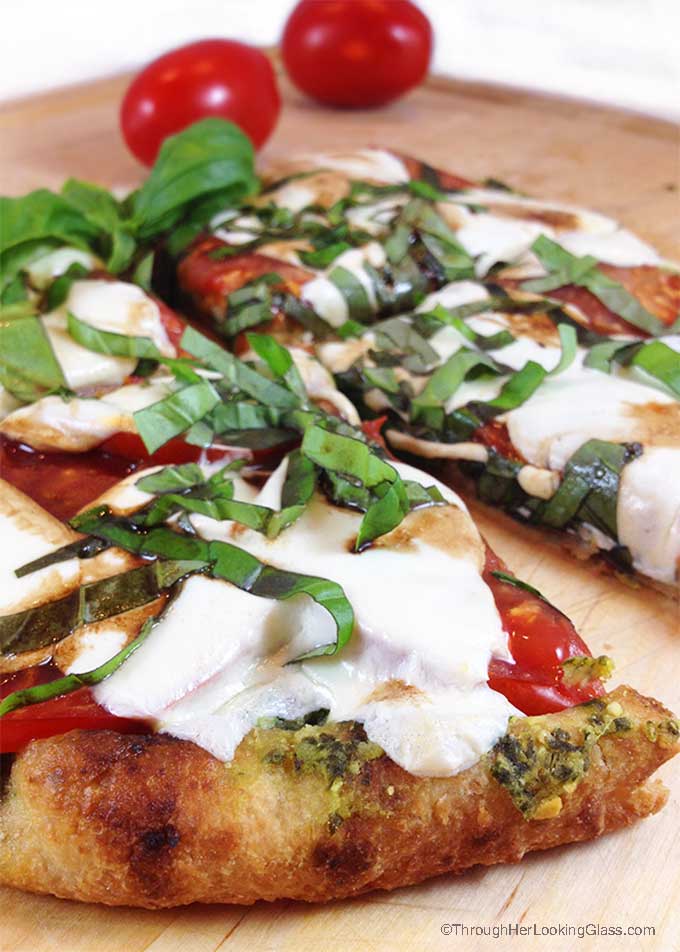 Caprese Pesto Flatbread: garden fresh basil pesto, tomatoes, fresh mozzarella and drizzle of balsamic vinegar top a purchased flatbread for an easy & flavorful flatbread pizza.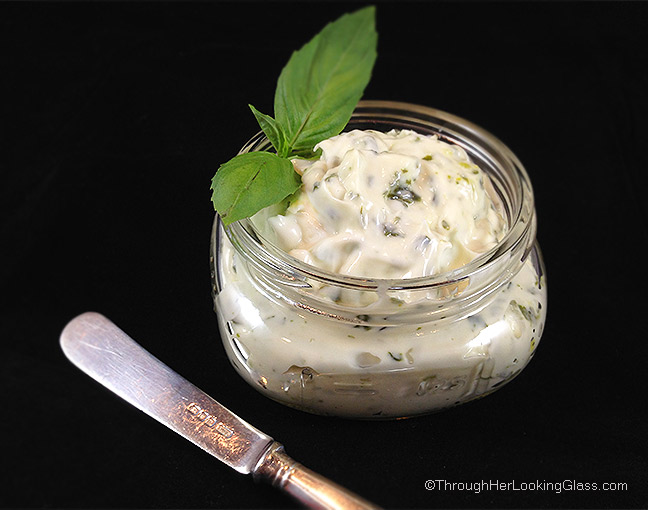 Basil Pesto Mayonnaise. An easy way to jazz up lunch, inspired by a gourmet BLT sandwich at Stonewall Kitchen in York, ME.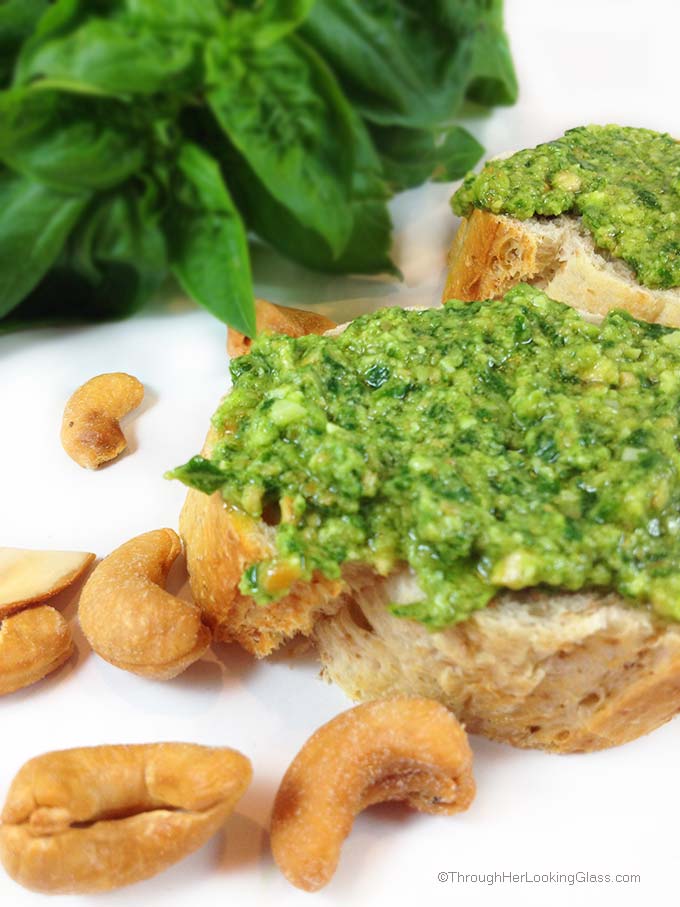 Cashew Basil Pesto: a fresh and flavorful spread using fresh basil leaves, cashews and olive oil. Slather on crusty bread, in sandwiches or toss with pasta. Delightful fresh and nutty flavor. So easy to make!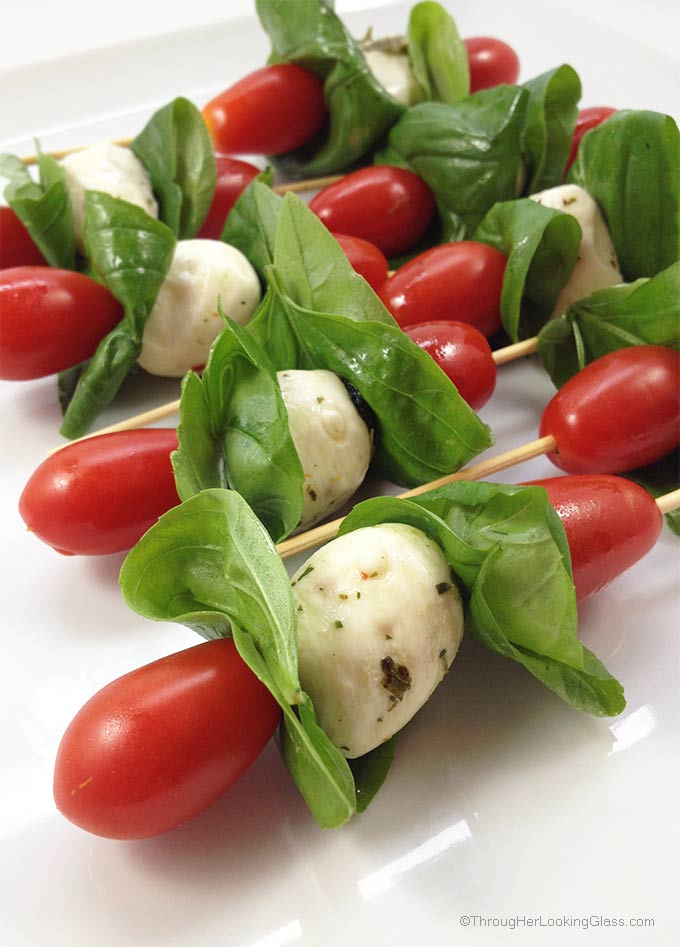 So quick and easy to make, these Caprese Mini Kabobs are a great accompaniment to burgers off the grill. Equally at home on a fancy luncheon buffet. Portable and self-contained for picnics, cookouts and barbecues. Perfect side or appetizer.
Fresh Basil Main Dish: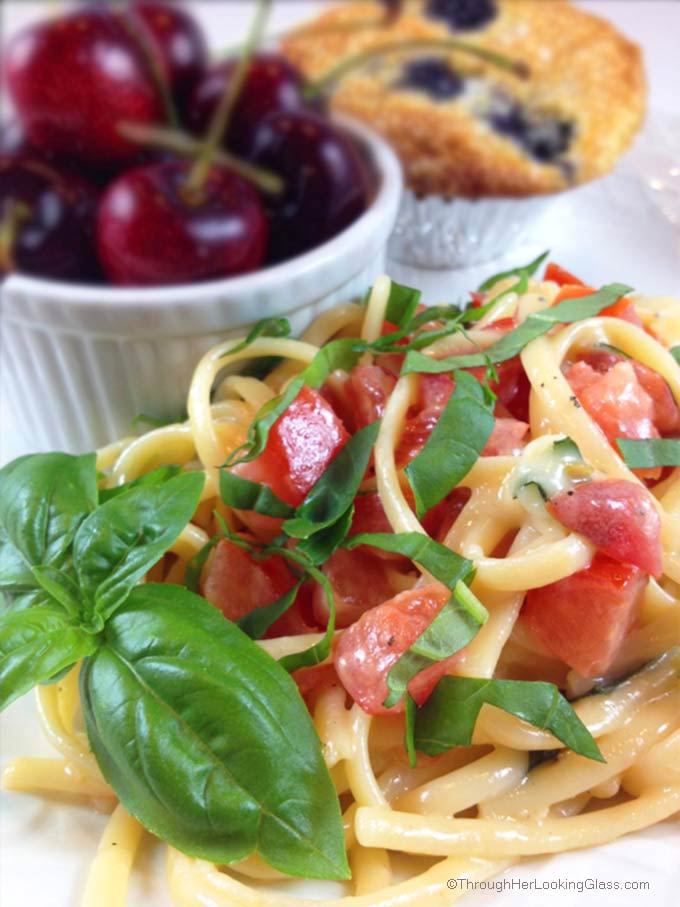 If you love brie, you'll be smitten with this easy dish. Marinated Brie Tomato & Basil Linguine comes together like no other. The hot linguine melts the brie, making its own fabulous rich, cheesy sauce. EASY! The fresh tomatoes retain their vibrant color.
How to Store Fresh Basil: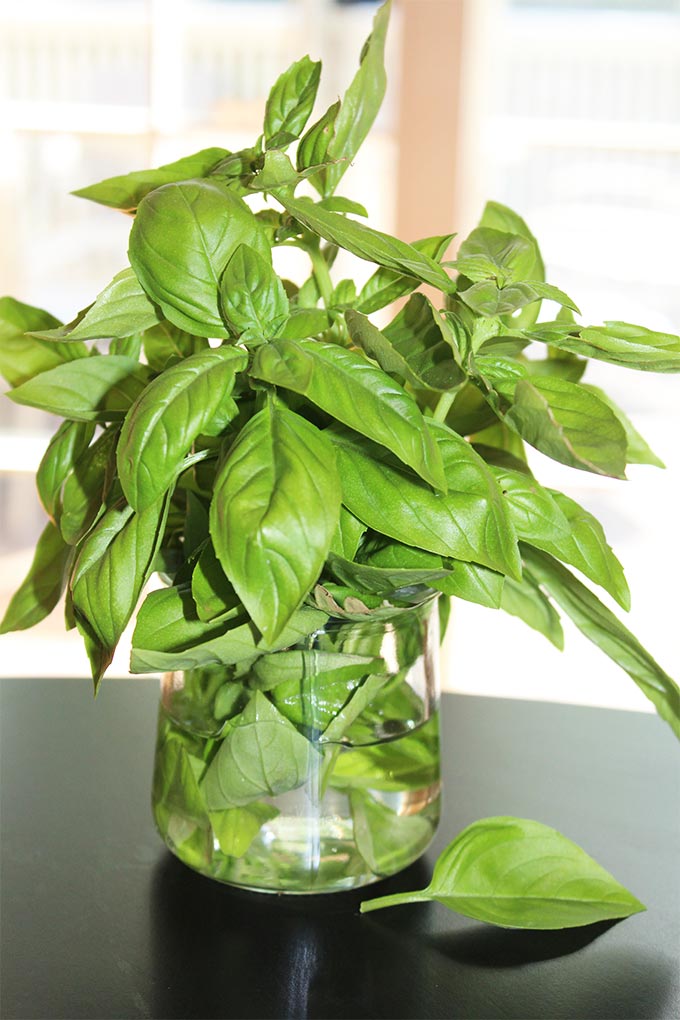 Fresh basil is my all-time favorite green herb for snipping into spring and summer dishes. But how to store basil to keep it fresh for longer than a day or two? Learn easy storing tips so it lasts for a week or longer!

If I had to pick a favorite of all these basil recipes, it's a toss up between the Marinated Brie Basil Linguine or the Grilled Corn, Basil and Tomato Salad. So much flavor pop.
Enjoy these delicious Fresh Basil Recipes and bookmark them for future!