Cashew Basil Pesto: a fresh and flavorful spread using fresh basil leaves, cashews and olive oil. Slather on crusty bread, in sandwiches or toss with pasta. Delightful fresh and nutty flavor. So easy to make!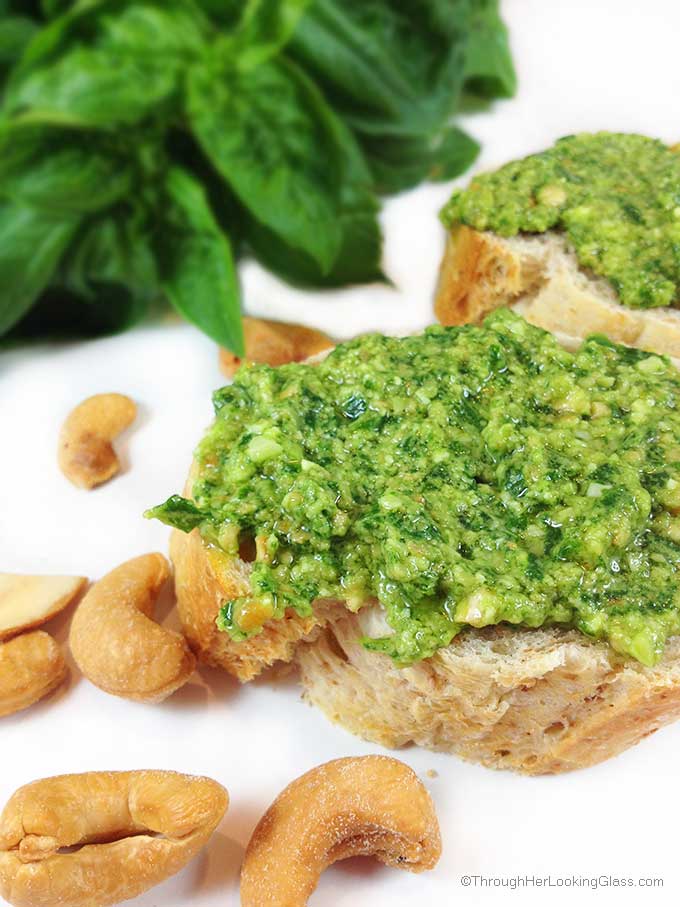 Spring has sprung in New England as of just a few days ago. That's not to say it feels one bit springy out. The ground is covered with frozen white stuff and the wind has been howling around the house for days now.
Fresh herbs can make it feel like springtime inside, even if the weather won't cooperate. That's why I'm whipping up a batch of this creamy and delicious cashew and herb pesto today.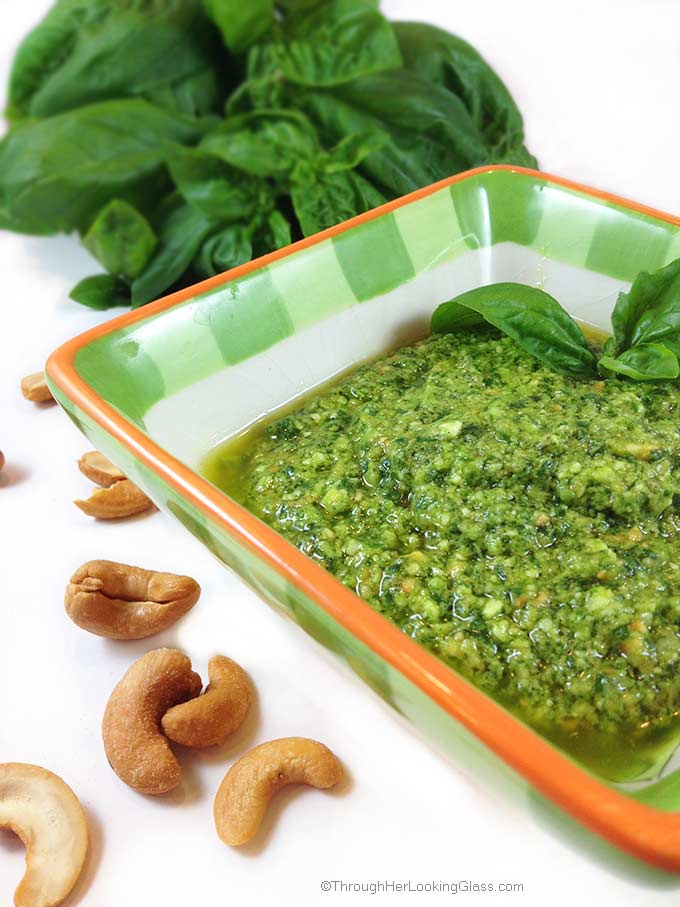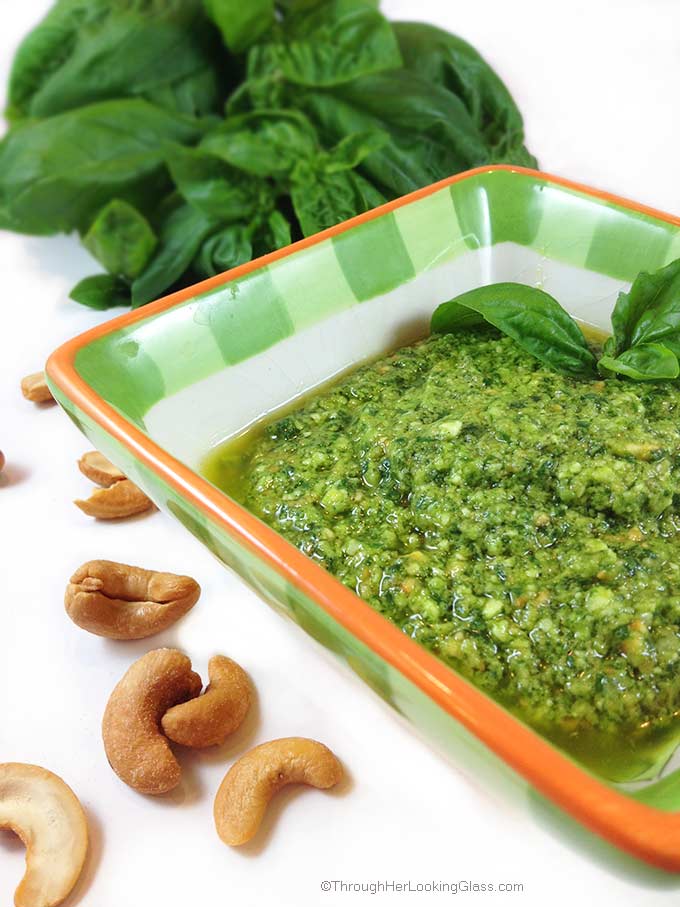 So why the cashews? Typically basil pesto is made with pine nuts. For starters, I've never been a big pine nut fan. And besides, I have a friend who's allergic to pine nuts. Her pine nut allergy causes a metallic taste in her mouth that lasts for weeks. So now I'm paranoid too.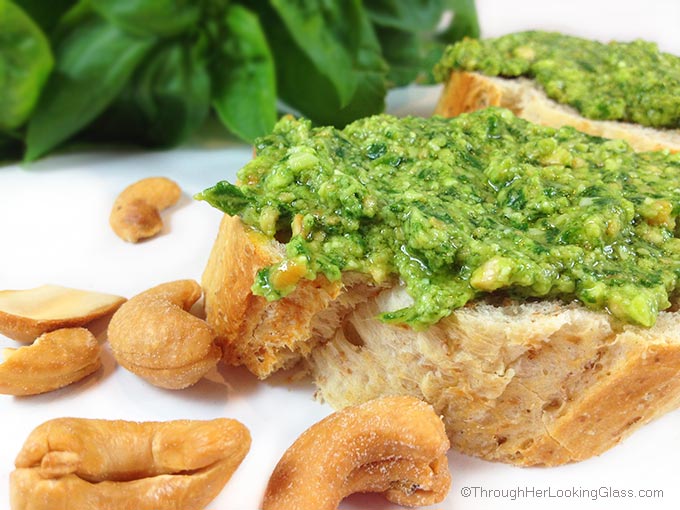 I mean, what if I'm allergic too? 
Don't want all my potential spring and summer good eats ruined.
Just can't take that chance. Can't risk it.
And besides. I love cashews. And I've been wanting to use them in a recipe. The taste of this creamy pesto with cashews is absolutely scrumptious. So cheers to this Easy Cashew Basil Pesto.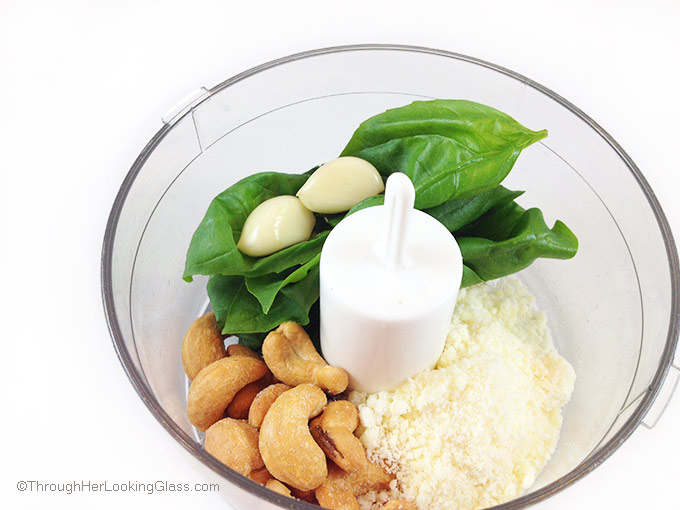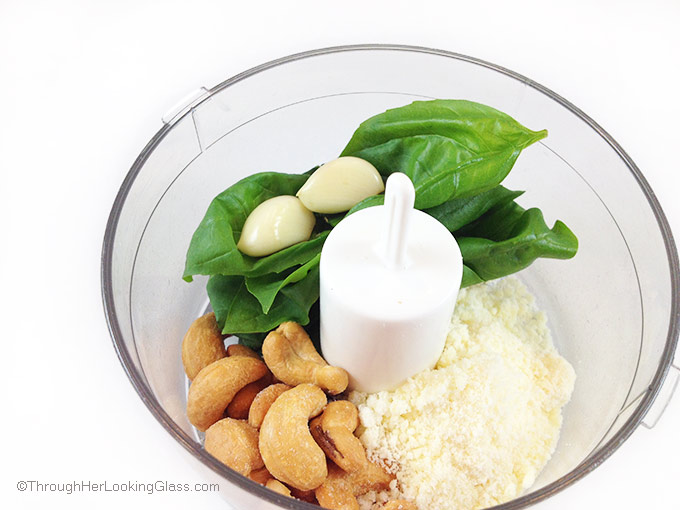 I was thrilled to utilize my bumper crop of basil making this pesto last summer. Waste not want not. Yup. It's in the Bible.
(Oh wait. It's not.)
Easy Cashew Basil Pesto is so versatile. Slather it on slices of parisian or european crusty bread for a fabulous appetizer. Toss it with pasta for an easy main dish. Spread it on a Naan. How 'bout pizza? Or a burger? Or wrap.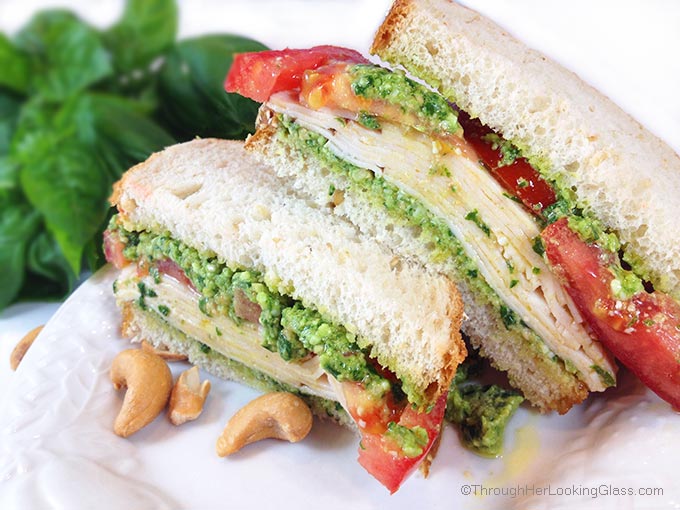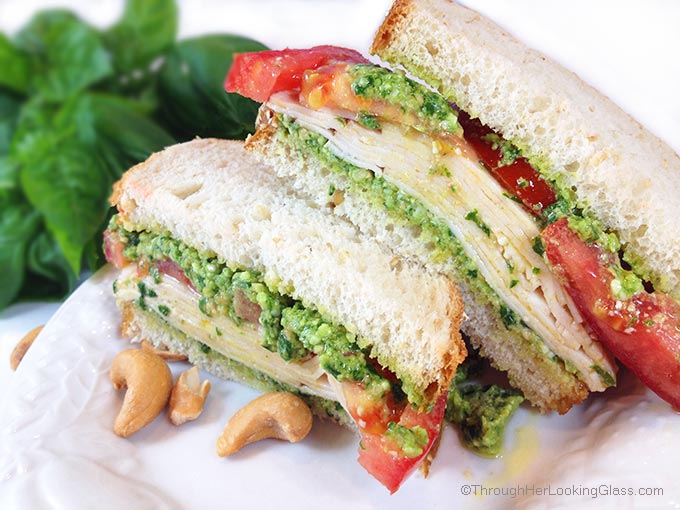 Think outside the (lunch) box. Add Easy Cashew Basil Pesto to a deli sandwich for a memorable lunch. Or savor it by the spoonful. So many creative possibilities for this easy and yummy pesto. Sure hope you love it as much as I do.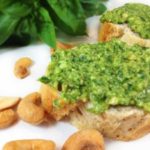 Print Recipe
Easy Cashew Basil Pesto
Creamy pesto and easy to make. Tastes fabulous slathered on crusty bread, tossed with pasta, on a pizza or Naan.
Ingredients
1

cup

freshly grated parmesan cheese

2/3

cup

olive oil

or more for consistency

1/2

cup

Diamond cashew halves

2

good sized garlic cloves

or more to taste

4

cups

clean basil leaves

salt & pepper to taste
Instructions
Place basil leaves, garlic cloves, cashews and parmesan cheese in food processor.

Pulse until pieces are small.

Scrape down sides of food processor with a spatula.

Continue processing while slowly drizzling olive oil into the mixture.

Add more olive if needed until desired consistency is reached.

Serve on crusty bread, pasta, pizza or a deli sandwich.

Store in the refrigerator for up to a week.
Notes
This recipe easily halves to make one scant cup.
I used salted cashews and didn't need to add additional salt.
You may also enjoy: Avocado Lime Black Bean Dip