Pain Au Chocolat (Chocolate Croissant Recipe): Light, flaky, chocolate-filled buttery croissants with chocolate drizzle. Impressive bakery-style pastries. Easily made with store bought croissant dough (in the tube) in the refrigerated case. (Use chocolate sticks from King Arthur Flour or chocolate chips.)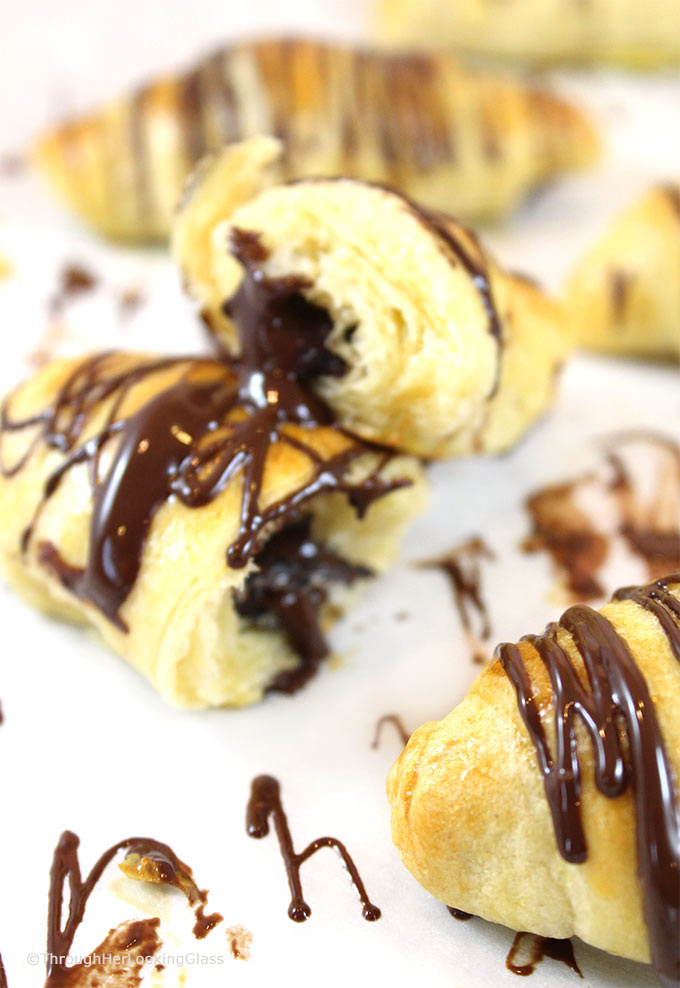 As I sit inside, cozy and warm, musing on this dreary late March Monday morning, the rain drops are pelting down hard outside. Drum, drum, drumming on the windows and rushing out the down spouts. It's bone chilling cold out today, and I'm thankful it's only rain, because it snowed all day on Saturday.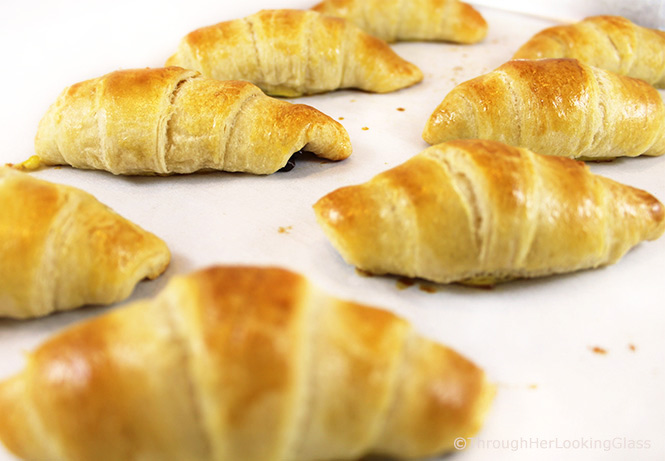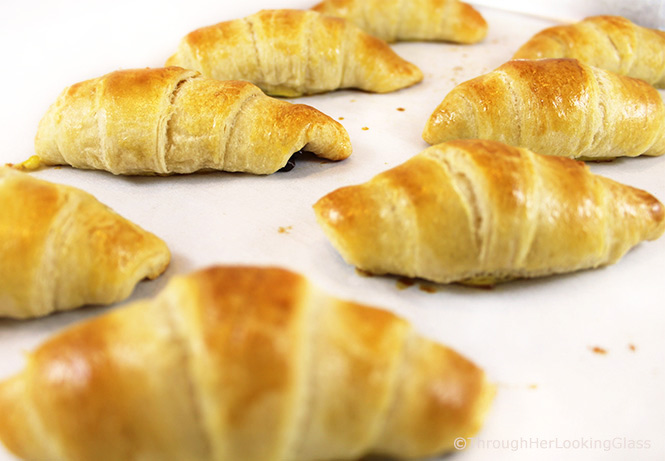 I've had this Pain au Chocolat on my mind to make for quite some time, and this morning just seems right. The overcast sky is dark and foreboding. And while the calendar says spring, shouldn't there be a fifth season, between spring and winter? Because it's not quite winter and it's definitely not spring. In the Northeast we call this raw. A wet, raw day like today needs a bright spot. This Chocolate Croissant Recipe fits the bill.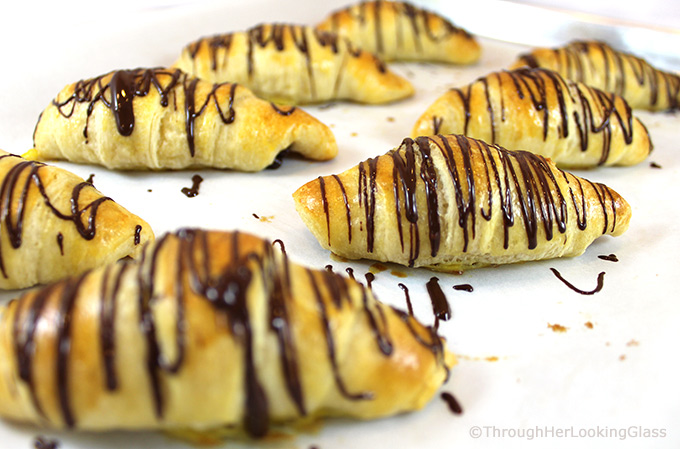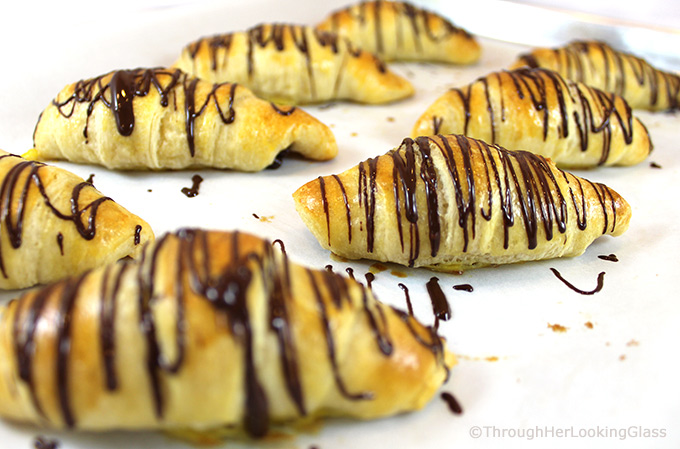 Pain Au Chocolat is the French way of saying chocolate bread. So I'm not getting all fancy on you, pinky promise. I studied French in high school and college, but only a few key words and phrases still stick. (Let's not mention that to my professors, s'il vous plaît.) I clearly remember 'bonjour' (hello). And 'bon voyage' (have a great trip). And 'merci' (thank you).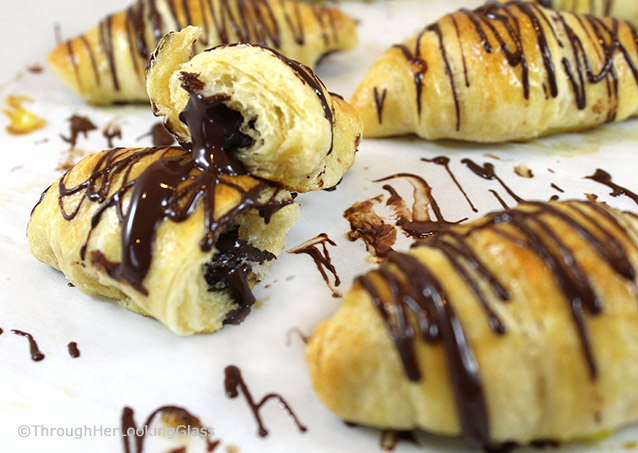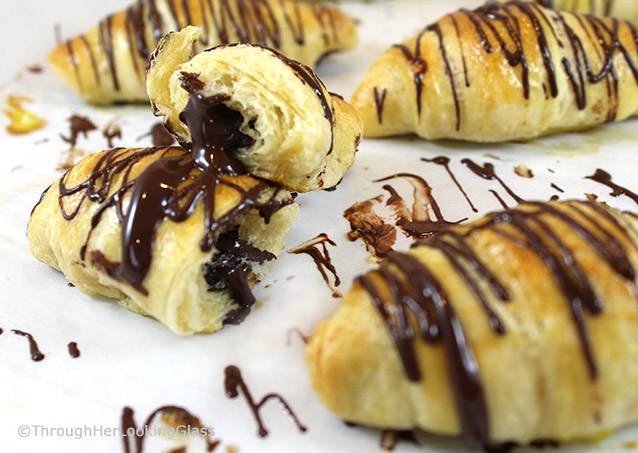 And then there are the crucial words like 'pain' (bread). And 'chocolat' (chocolate). Very important words indeed. In fact, just north of us in Concord, NH is a lovely pastry shop on Main Street, Bread and Chocolate! Such a magical place. You can only imagine the tantalizing aromas when you slip inside and view the vast array of scrumptious pastries behind the glass.
This Chocolate Croissant Recipe is one of the easier and more impressive recipes I've shared. I'm needing easy about now because we're in the middle of moving across town to a new home. The boxes are everywhere, pictures are down off the walls and we're sorting through the mountains in the attic and basement with 'give', 'yard sale' and 'toss' piles everywhere. We're simplifying! And with spring on the horizon, it feels good.


And this recipe is simple too. Use store bought croissant dough (in the tubes, by the biscuit tubes) in the refrigerated case. Wrap the dough around a chocolate stick or two. (Chocolate chips work fine also). Brush lightly with a simple egg wash and bake! Drizzle with melted chocolate. This Chocolate Croissant Recipe makes a wonderful treat for dessert, tea or an indulgent breakfast with a steaming mug of coffee. Light and flaky chocolate-filled croissants: bake a scrumptious batch today!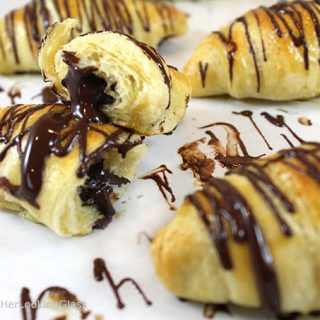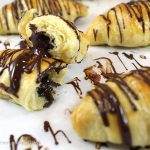 Print Recipe
Pain au Chocolat (Chocolate Croissant Recipe)
Ingredients
1

package refrigerated croissant dough

16

pain au chocolat sticks

or 1/2 cup chocolate chips

1

egg

beaten with a pinch of salt

1/3

cup

chocolate chips

melted
Instructions
Preheat oven to 375°.

Pop open can of croissant dough.

Unroll the dough and smooth it flat.

Separate into triangles.

Place 2 chocolate stick (or a line of chocolate chips) at the wide end of the triangle and roll up in the croissant dough, ending with the narrow end.

Lightly brush with egg wash.

Bake on a parchment-lined baking sheet at 375° for 9 -12 minutes until just turning golden brown.

Cool, then drizzle with melted chocolate.
You may also like: Brick Street Chocolate Cake