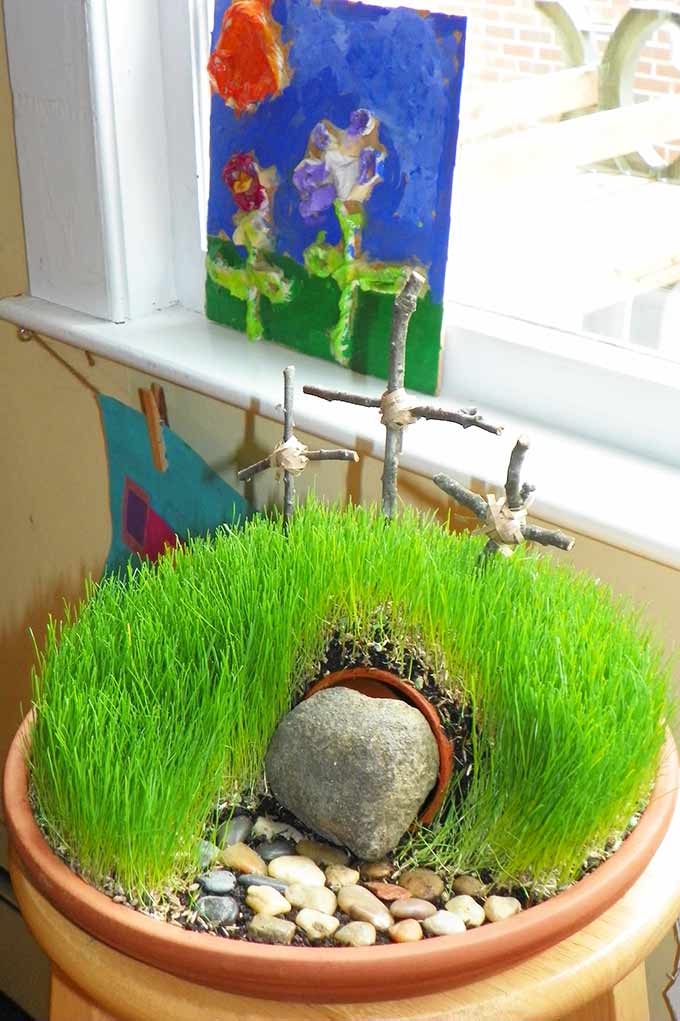 Easter's not so far away. For me, Easter brings thoughts of new life and hope…green shoots poking through the ground after a seemingly interminable winter of snow and ice. The anticipation of spring and new growth, so welcome after a hard winter. The empty tomb in the garden symbolizes hope. Several years ago, a friend shared the idea for this DIY Easter Mini Garden. So sweet, easy to do, this garden brings days of anticipation and wonder for kids 1-99 as the garden sprouts just in time for Easter. This is a great project for a Sunday school class. Would also bring cheer to a nursing home or sick room.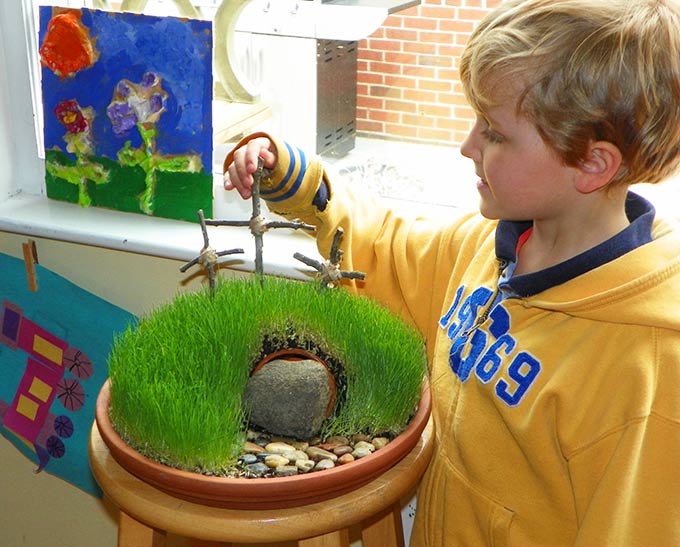 Build it together with your kids, grandchildren or other special children in your life. Charlie and I planted a DIY Easter Mini Garden several years ago. First we went on a nature walk, hunted for just the right rock, stones and twigs before planting the garden.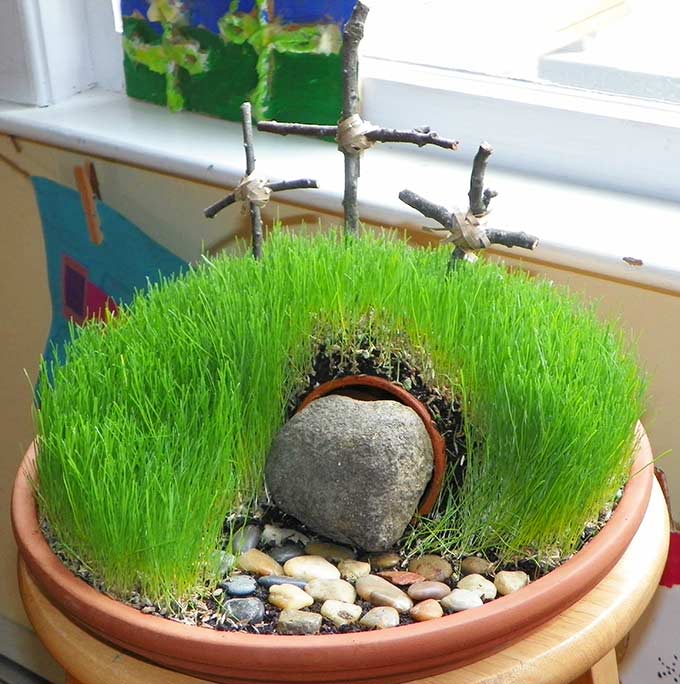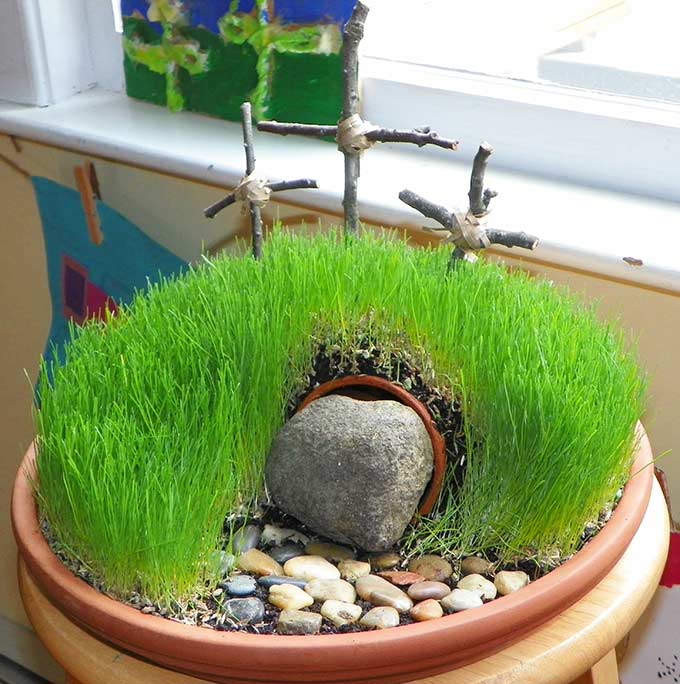 You'll need about two weeks from planting 'til it's ready. Plant the grass seed about about three weeks before Easter to enjoy it before and after Easter. When the grass is thick and lush, a few snips with scissors or kitchen shears keep it in nice shape.
Materials list:
large terra cotta pot saucer (12″ worked well) for base
small terra cotta pot (3 1/2″ worked well) for tomb
Soil
Small, flat stones
Grass seed (rye works well)
Rock (the size of the mouth of the "tomb")
Twigs and raffia to make crosses
Directions:
Place the small terra cotta pot on its' side in the the saucer.
Fill the big terra cotta saucer with soil to the lip, anchoring the small pot (the empty tomb.)
Mound dirt over the planter, leaving the mouth open. (Will need wet dirt to make it "stick")
Place the stones into the soil in front of the tomb.
Mist the soil well, so it's ready to receive grass seed, then press grass seed thickly all over the soil.
Place the rock in front of the tomb.
Use raffia or string to tie together twigs to make rustic crosses, add them to the garden.
Mist the grass seed several times daily and watch for your garden to sprout!
Water daily.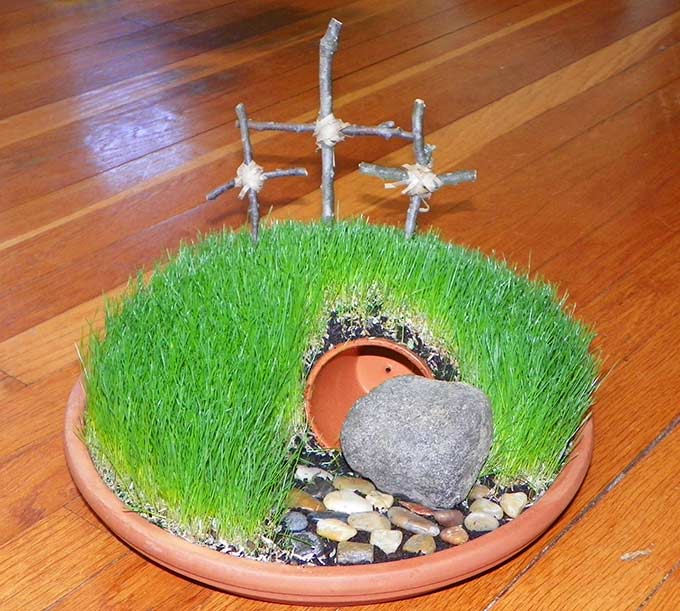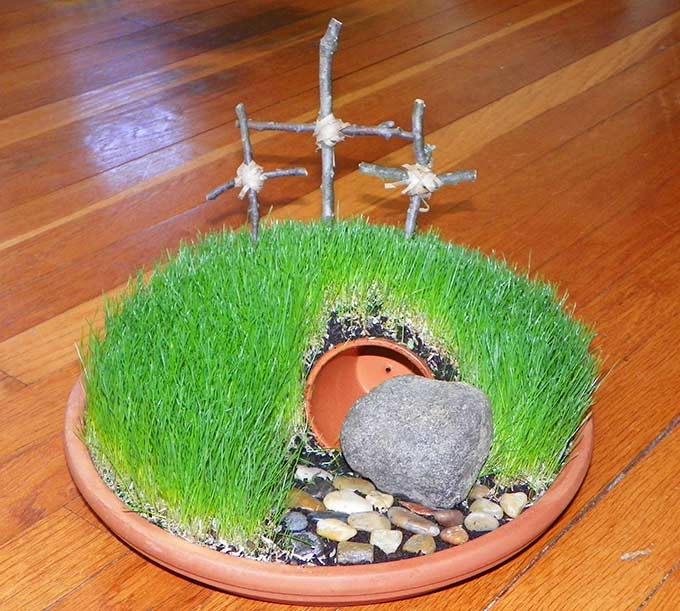 Hide a few speckled eggs in the grass Easter morning!
Related post: DIY Spring Monogram Wreath