Hello friends, and happy weekend! Hope you're out tooling about, enjoying fun Christmas activities today. Exciting things are going down at Through Her Looking Glass this weekend!
Several years ago, on a frosty December morning, I came down and discovered this sweet scene…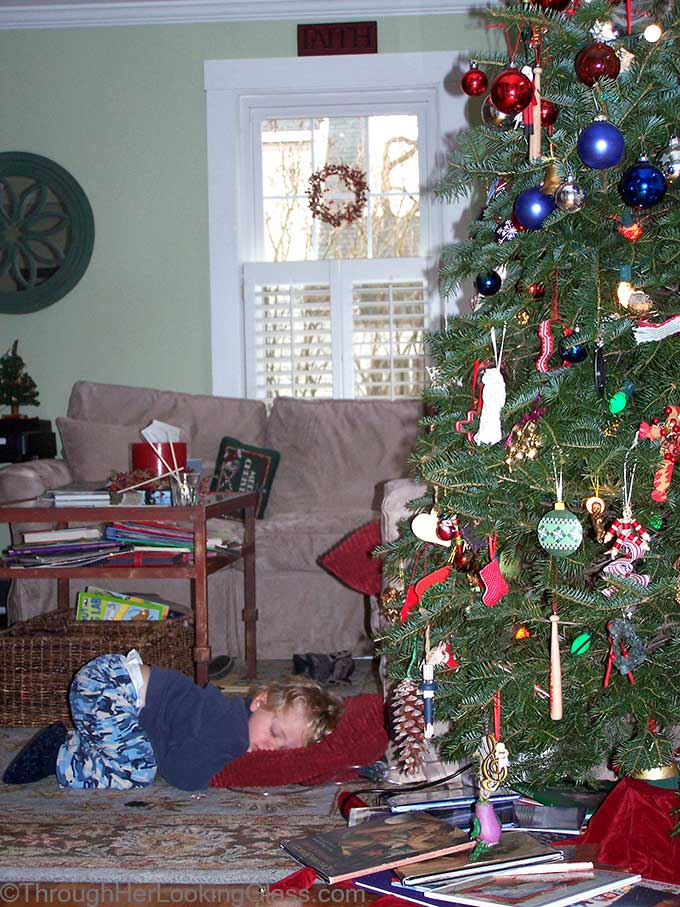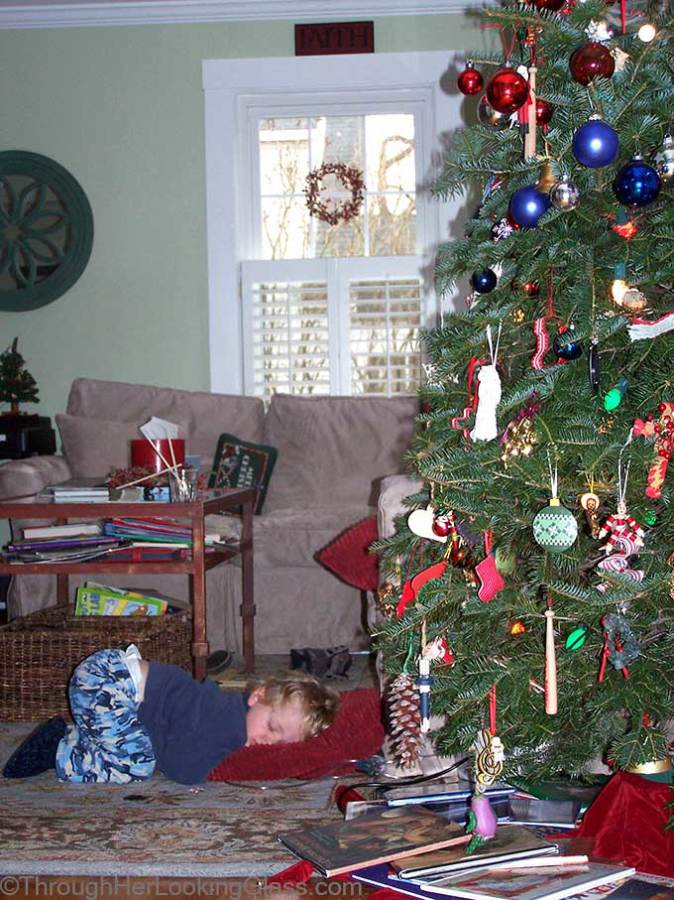 So we're having a fun Christmas Photo Caption Contest  for the above picture, complete with an awesome prize pictured below: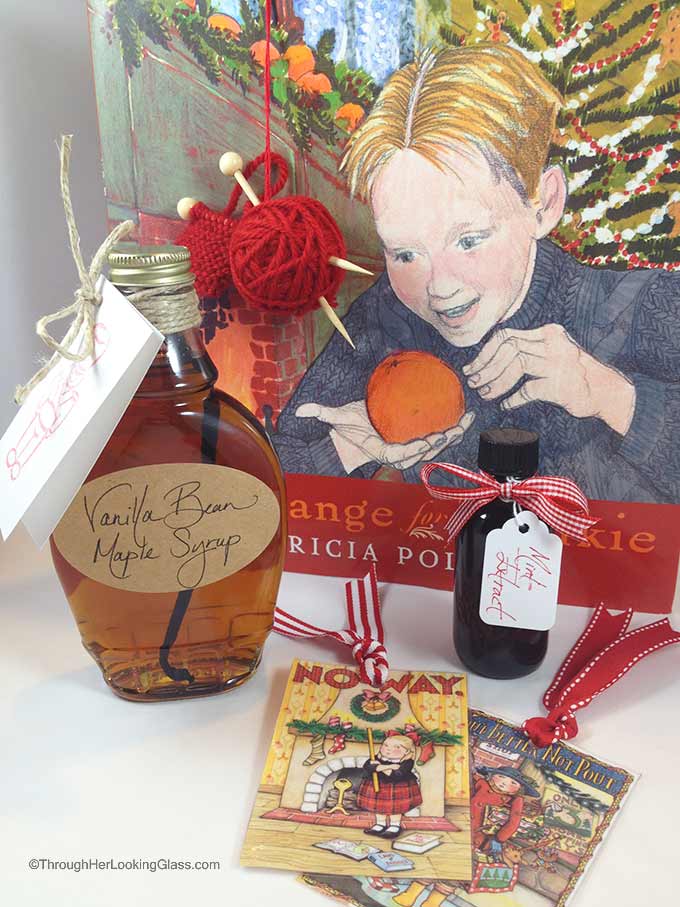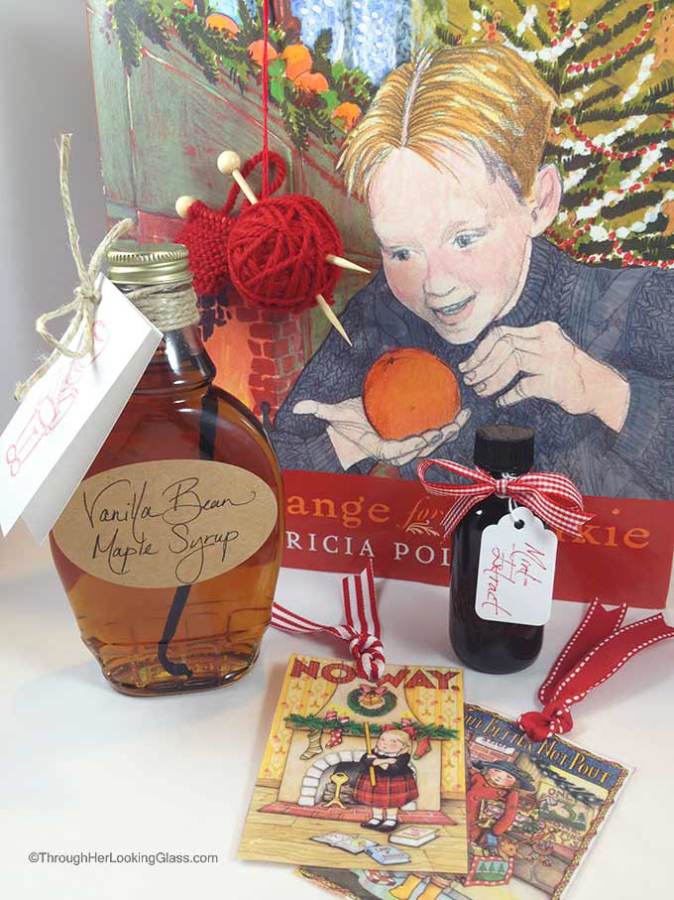 Christmas gift package from Through Her Looking Glass:
CHRISTMAS PHOTO CAPTION CONTEST Rules:
(Yup. We got rules. Just like "Always (!) Follow the Rules". Did you miss that funny post? Click here…  http://throughherlookingglass.com/?p=1076 )
The Christmas Photo Caption Contest runs from the publish of this post, Saturday, December 6th until Sunday, December 7th, 2014 at midnight. Entries after Sunday night midnight don't count.
You may enter twice per person. (Additional entries after the second don't count.)
My hubby Jon will be the impartial judge. He'll judge all entries, but won't know who authored them.
A winner will be announced on Monday, December 8th, 2014 on the Through Her Looking Glass blog post. Also on Facebook. The winner will also be notified by e-mail.
My immediate family (my five guys) may submit entries, but are disqualified from winning the prize. (Sorry guys, I'll bake you a cake or something. Or peppermint bark?)
Other relatives can participate. (Why should you be penalized just 'cuz you got stuck in my gene pool?)
The only entries that count are comments listed here underneath this post, in the order they are received. (Facebook comments, e-mails and Tweets don't count.)
Don't be grinchy, share the fun! Let your friends and family join in on this Christmas Photo Caption Contest. Share this on e-mail, FaceBook, Twitter and Pinterest. Get in the Christmas spirit, the more the "merrier"!
Can't wait to see your clever captions! AND GOOD LUCK!!!
Update:
Many thanks to all who took time to think of so many fun, creative captions for the Christmas Photo Caption Contest this past weekend, December 6-7, 2014.  It was so entertaining to see your entries come in.
Big congratulations to Linda (pictured with husband Jack) for her winning entry:  "I'll just close my eyes for a minute…"