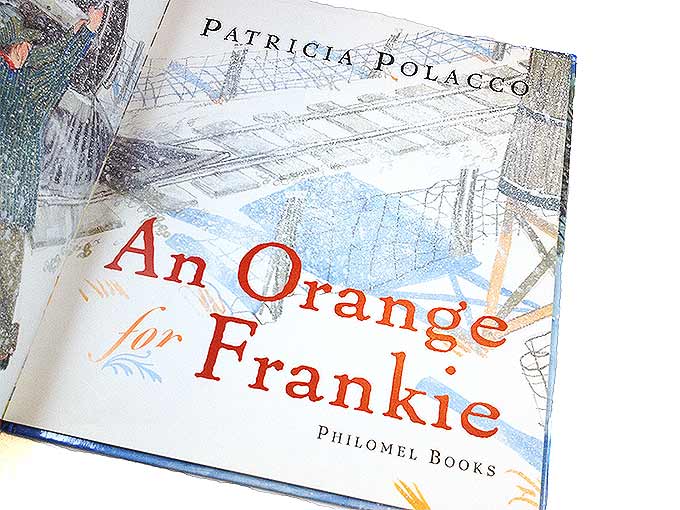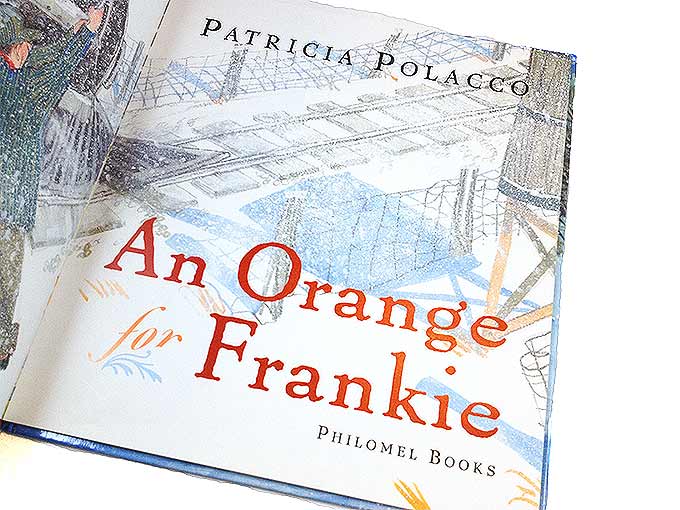 "Mommy, why aren't you reading?"
"Mommy" (staring very hard at close range) "are your eyes wet?"
"Mommy, why are you stopping again?"
"Mommy, there are tears running down your cheek."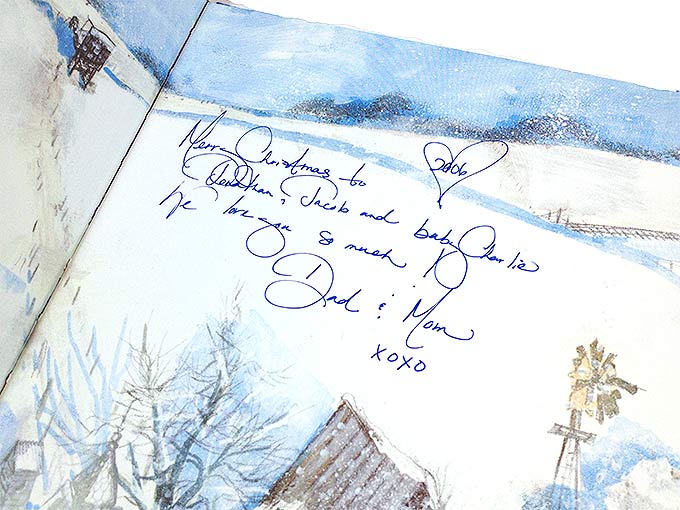 Questions and observations from my boys at nearly every teary reading of An Orange for Frankie since 2006.
An Orange for Frankie by Allie Taylor
I adore this children's Christmas picture book. And I want to tell you about it so you can share it with your children and grandchildren this Christmas. Every Christmas season I love choosing a new Christmas picture book for our family. We've amassed quite a collection now. But An Orange for Frankie is my all time favorite. Patricia Polacco is an amazing children's author. She's right up there with Jan Brett in my book.
An Orange for Frankie is a true and poignant story about a real family, the Stowells, who lived in Michigan in the 1800's. Frankie was the author's great uncle, the youngest of nine children. Not a wealthy family, the Stowells generously cooked a daily breakfast for the hobos that gathered behind their home at the train station each morning. One frosty morning, little Frankie is deeply moved that one of the old hobos is shivering in the cold. He runs to his room, retrieving his prized Christmas sweater knitted by sister Stella.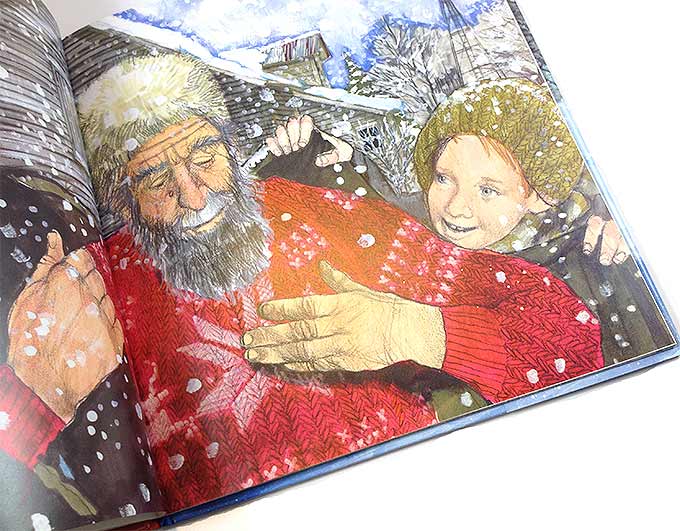 Secretly, he gifts the sweater to the old man.
As Christmas approaches, there is great excitement in the Stowell household as they prepare. Pa has driven a several day trip with the horse and buggy to get supplies and the prized Christmas oranges for the mantelpiece. The oranges are the highlight of Christmas for the children. But it's Christmas Eve, and Pa's still not home yet. Heavy snow could mean no oranges for Christmas, and even worse… no Pa!
Patricia Polacco writes:
"Every time I peel an orange and inhale the scent of it and feel the mist that sprays from its skin, I think of a very special Christmas and a flaxen-haired boy who lived many years before I was ever born.
That boy was Frankie, my grandmother's youngest brother.
Whenever my grandmother spoke of him, her eyes would soften and I could feel how much she loved him. He was the youngest boy of nine children in the Stowell family. My grandmother Stella was the oldest, and felt that she had helped raise them all.
Frankie was the heart of the household – especially at Christmas. That was when the whole family came together to celebrate and gather boughs of greens to put on the mantel. Then they placed apples, dried flowers, cookies and nuts in the green, and finally, as the crowning touch, the oranges. Nine of them! One for each of the children born to the Stowell clan. Precious rare oranges that their father had driven horse and buggy all the way to Lansing to fetch back home for Christmas."
My eyes are glistening now, a lump in my throat. (And I'm only on the second page.) Because I know about the precious oranges gotten at great sacrifice by Pa in the snowstorm. And I know that one orange of nine gets lost by a dear little boy who plays the angel in the Christmas pageant on Christmas Eve. And I know that orange is never found. And furthermore, I know that the rest of the Stowell family demonstrate love and grace in a beautiful, tangible and unforgettable way. The generous, tender hearts of Frankie and his family live on, a legacy for us all.
I'm a wreck now. Really. A growing pile of tissues by my keyboard. Because I'm so overcome by the grace, kindness and love in this book. And I also know what happens to their dear little Frankie the following year.
Please get this book and share it with your family. How about reading it at Christmas breakfast? It will bring joy and delight in your home, and give your family a beautifully different perspective on Christmas this year. http://www.amazon.com/Orange-Frankie-Patricia-Polacco/dp/039924302X/ref=sr_1_1?s=books&ie=UTF8&qid=1417689723&sr=1-1&keywords=an+orange+for+frankie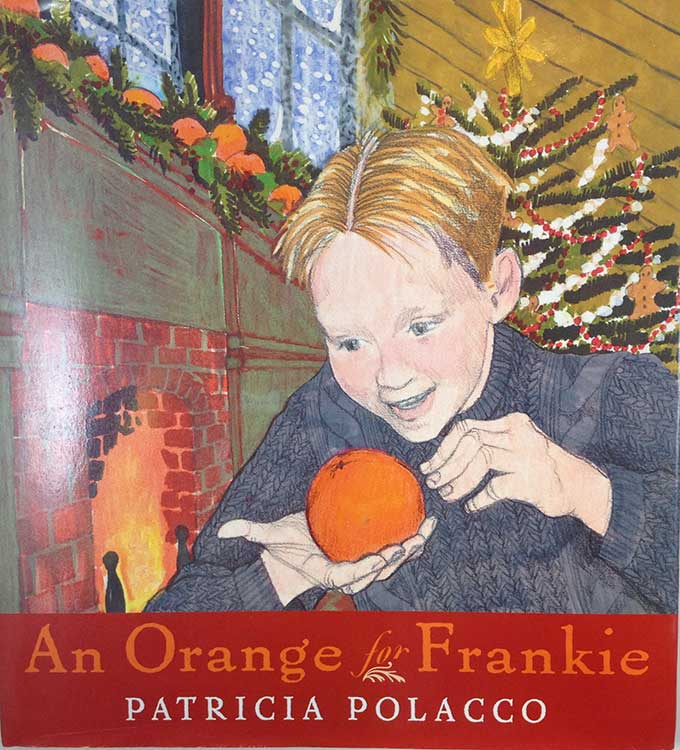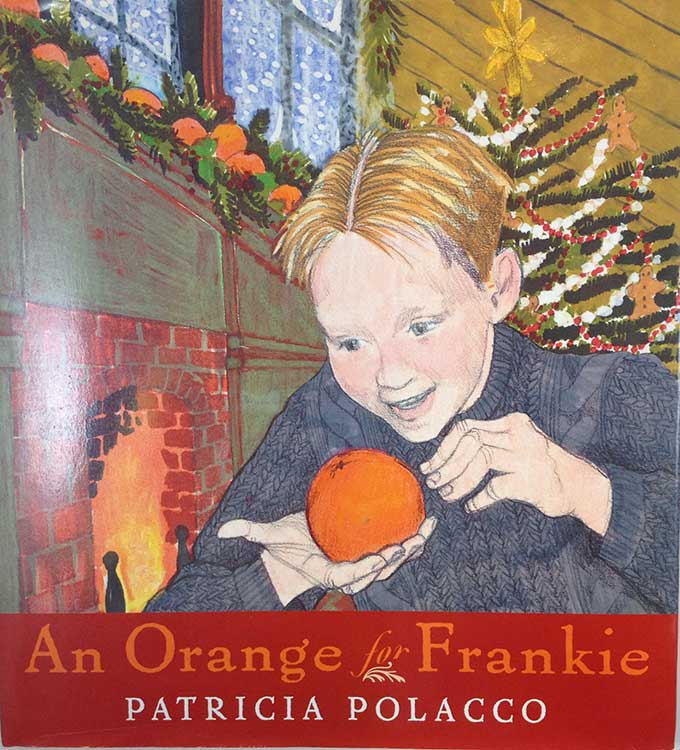 An Orange for Frankie
 What is your family's favorite Christmas picture book?  Please comment below and tell us about it!