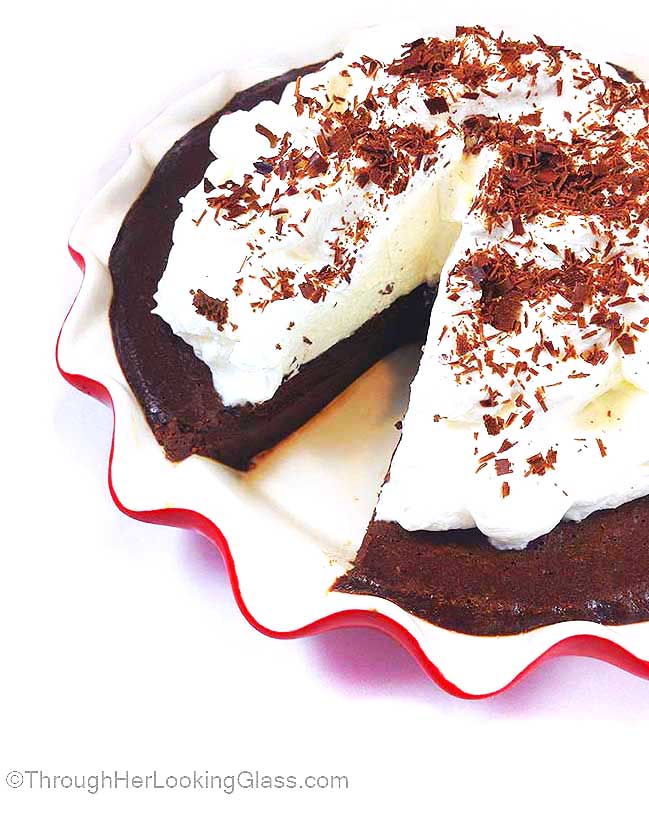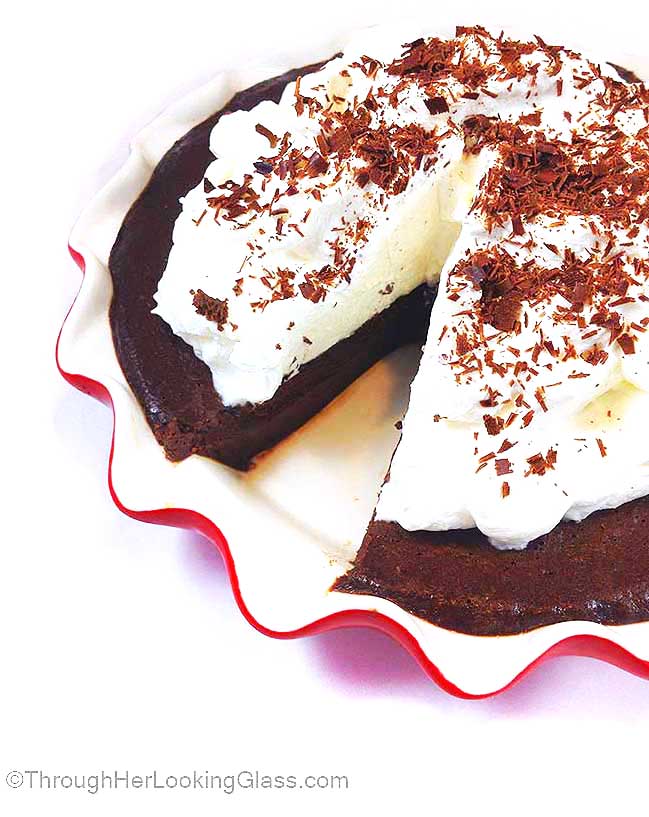 Yesterday I was writing the DIY Clementine Wreath post (http://throughherlookingglass.com/?p=1612) and talking about dark chocolate. It's been on my brain ever since. So here's a rich dark chocolate cake for you. It has no flour. The consistency is similar to fudge, just a little lighter. LOL! There are only six ingredients in this recipe. If you love dark chocolate, this will put you over the top. I got this recipe from a friend who eats gluten-free. She, her mom and sisters are all excellent cooks. They have mastered the tricky art of gluten-free baking, making the lone man of the house one lucky guy.
This recipe would be an especially good one for Christmas Day because you can easily make it several days ahead and it keeps just fine. (Just hold off on the whipped cream 'til serving day.)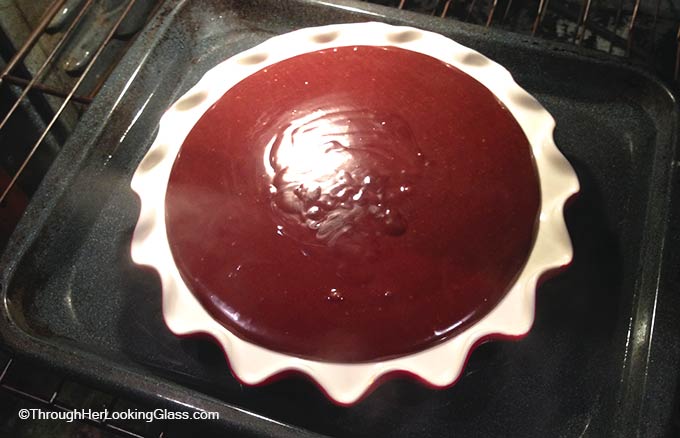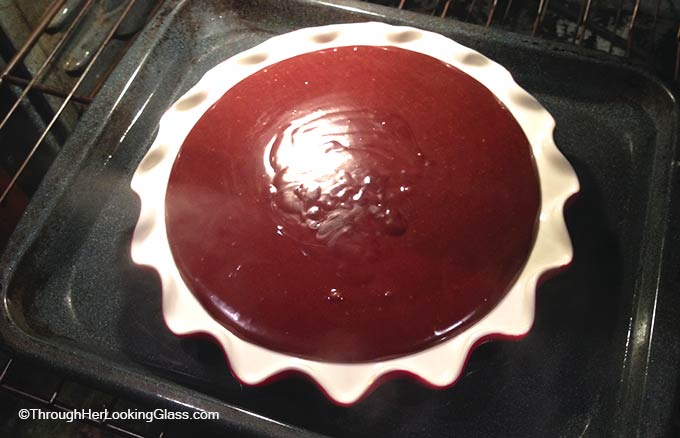 You bake this cake in a hot water bath. Yup. A Saturday night bath. Whether it needs it or not. (Trust me. It does.)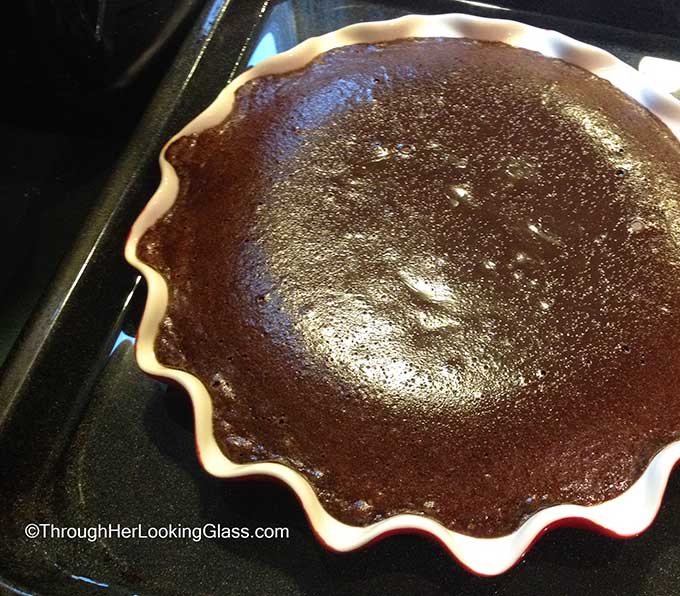 The center will look slightly wet and be a little wobbly when it's ready to exit the oven. Have faith! It'll firm up in the refrigerator.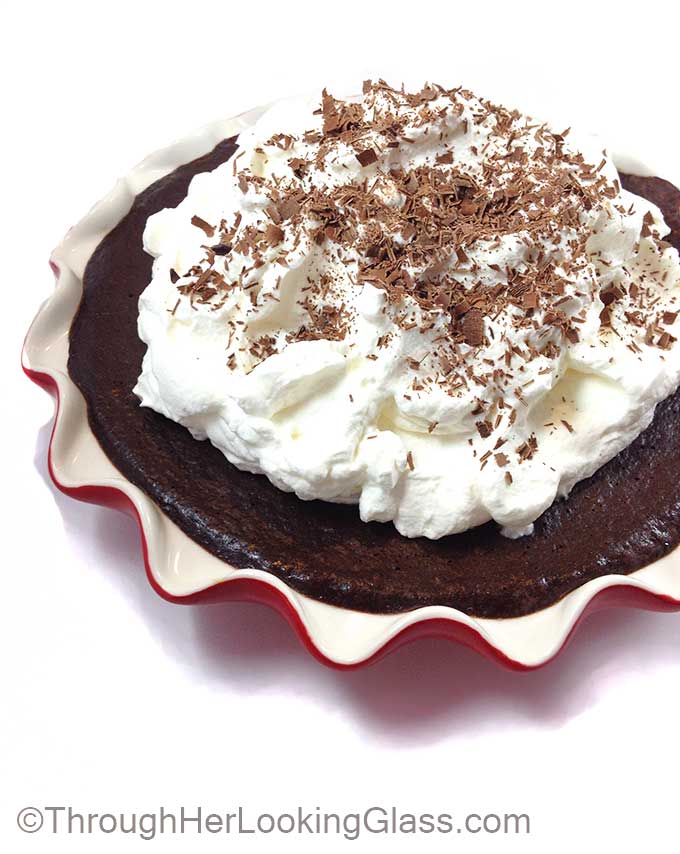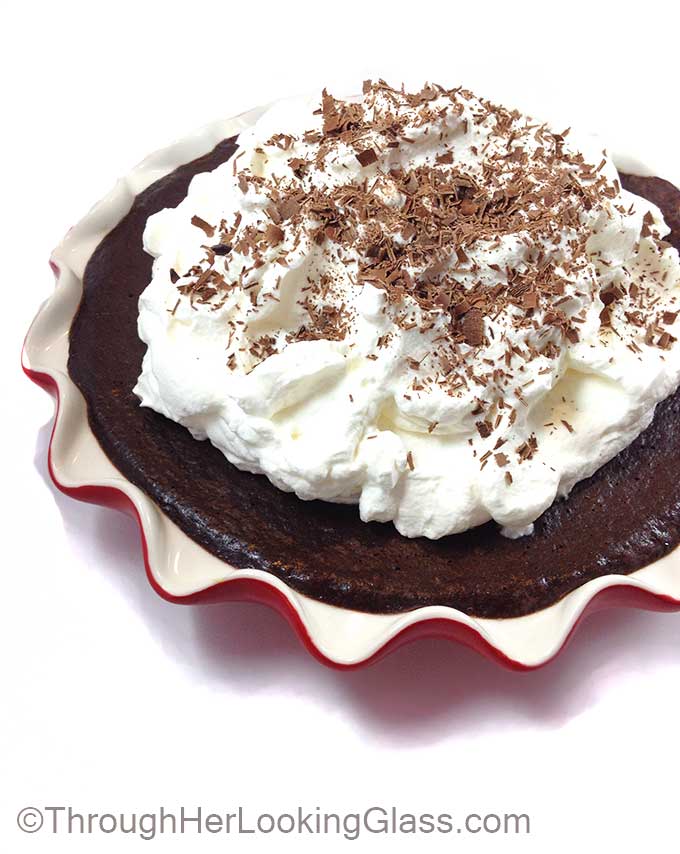 After coolin' and chillin' you can top with whipped cream. And grated chocolate if you please. Yum! Enjoy every bite.  You deserve it.  (Surely you've done something worthy!)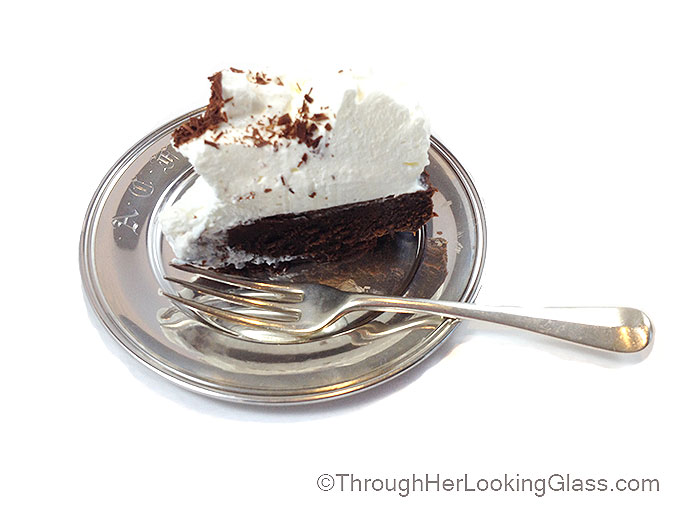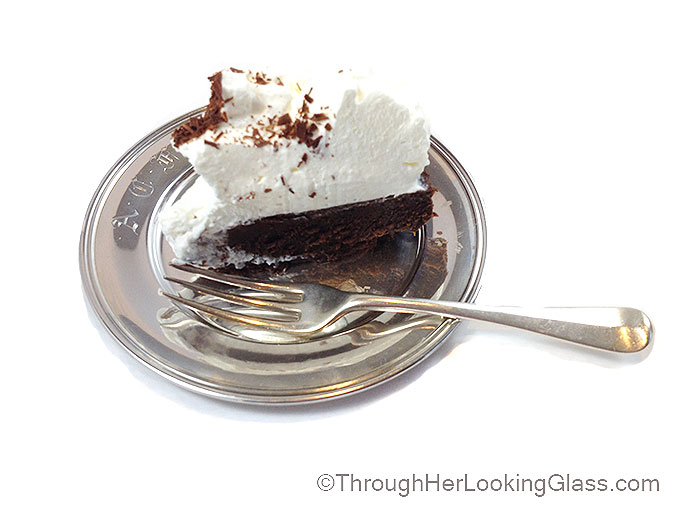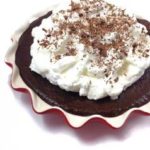 Print Recipe
Indulgent Flourless Dark Chocolate Cake
Indulgent Flourless Dark Chocolate Cake. Decadent and fudgy. Gluten-free. Easy to bake. Only six ingredients! This is a winner.
Ingredients
1/2

cup

water

1/4

teaspoon

salt

3/4

cup

white sugar

1

cup

butter

18

ounces

dark chocolate chips

6

large eggs
Instructions
Preheat oven to 300 degrees.

Grease a 9 1/2 inch deep pie plate. Set aside.

Separately, heat hot water in a kettle. (You will be baking the cake in a hot water bath.)

In saucepan over medium heat combine water, salt and sugar until completely dissolved.

Add in chocolate, stirring constantly until completely melted.

Remove from heat.

Cut butter into small pieces and stir into melted chocolate until completely melted. (You may need to return to heat for a minute.)

Beat in eggs one at a time.

Pour the batter into the prepared cake pan.

Place pie plate in a larger pan. (A roasting pan works nicely.)

Carefully pour hot water 1/2 way up the sides of pie plate.

Bake cake in water bath at 300 degrees for 45 minutes. Center may still look slightly wet after 45 minutes. That's ok, it will firm up.

Cool, then chill cake overnight.

Serve with vanilla ice-cream or whipped cream and chocolate shavings. Or plain.
Notes
This is gluten-free!
Make your own whipped cream. Use 1 Tablespoon powdered sugar for every 1/2 cup of whipping cream, then beat 'til stiff.
Grate dark chocolate for garnish.
Make this a day ahead so it can chill.
Grease pie pan well before baking.
Chill thoroughly before cutting.