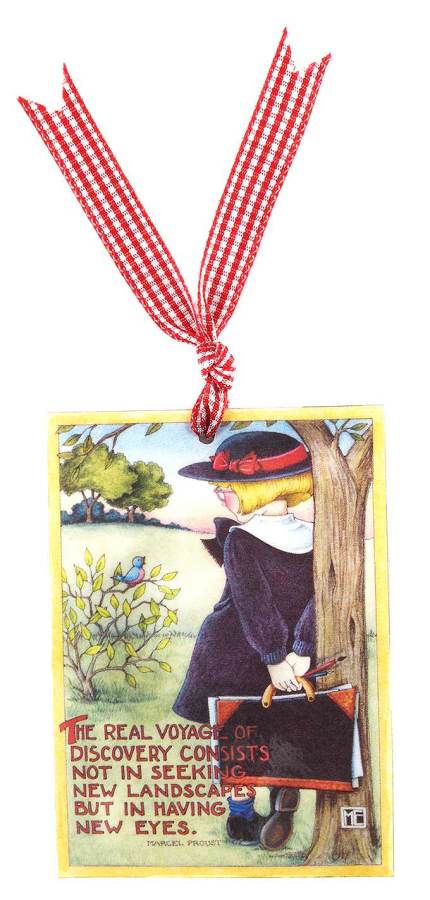 Don't you love these whimsical DIY Bookmarks? A perfect dose of cheer, they make me smile. I've been making, using and gifting them for years. The receivers seem to appreciate and use them too. There are many uses besides holding a book page. Here's how I use mine, I'm sure you can add to the list.
Gift tag for wine bottle
Party favor
Luggage tag
Stocking stuffer
Gift tag
Diaper bag tag
Attach to a wooden skewer in a flower arrangement or plant
Party place setting
Care package
Stuffed in a card/letter
Christmas ornament
Refrigerator magnet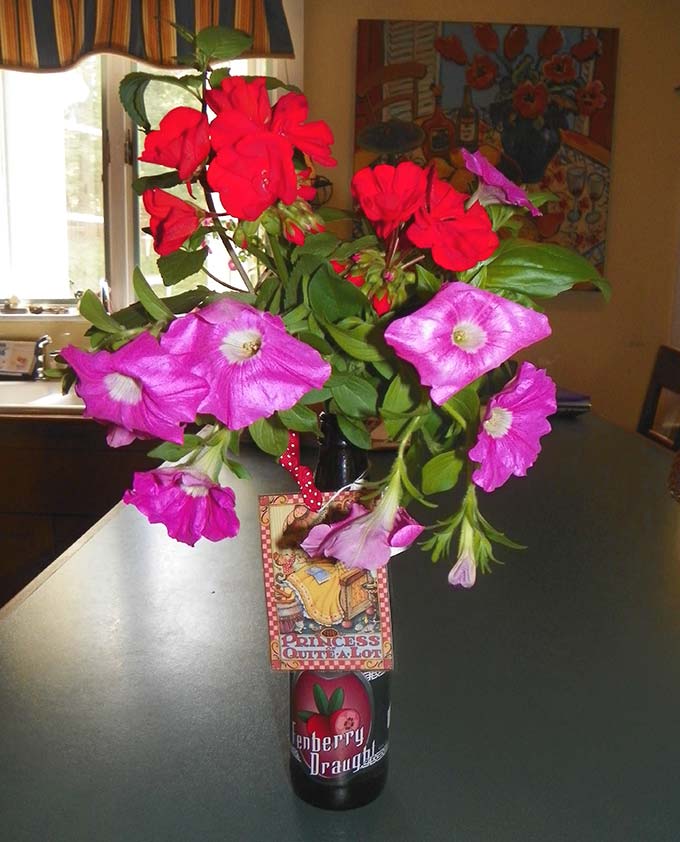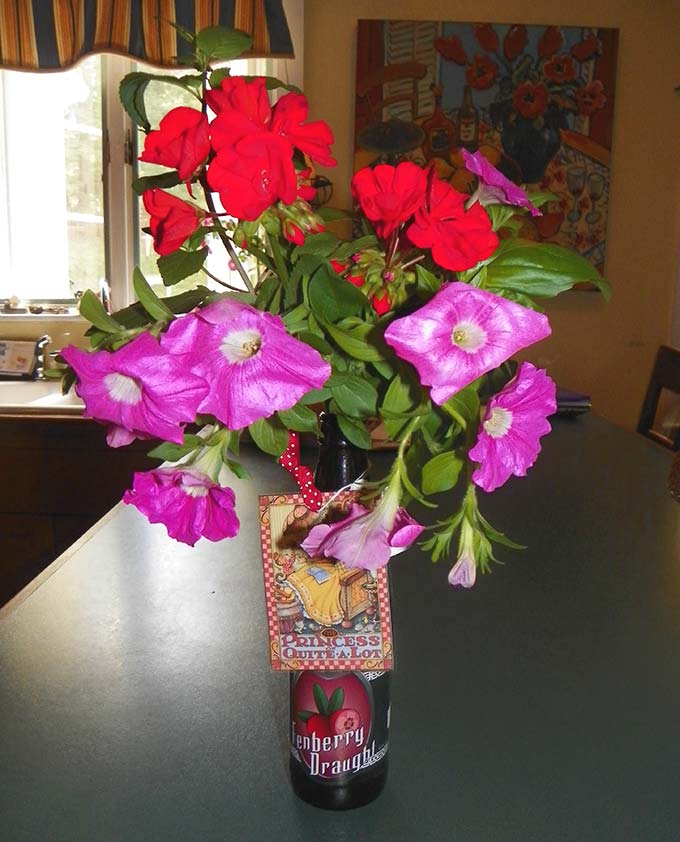 Here's the best part: I use my day to day calendar as the source of the artwork/quotes, saving my favorites as the days pass. Every so often I spend a few hours, make bookmarks in bulk, and keep a pile ready to add to cards, meals, gifts, etc. A small calendar works great because there are so many seasonal scenes, holidays and quotes. I usually have a book mark on hand for any occasion.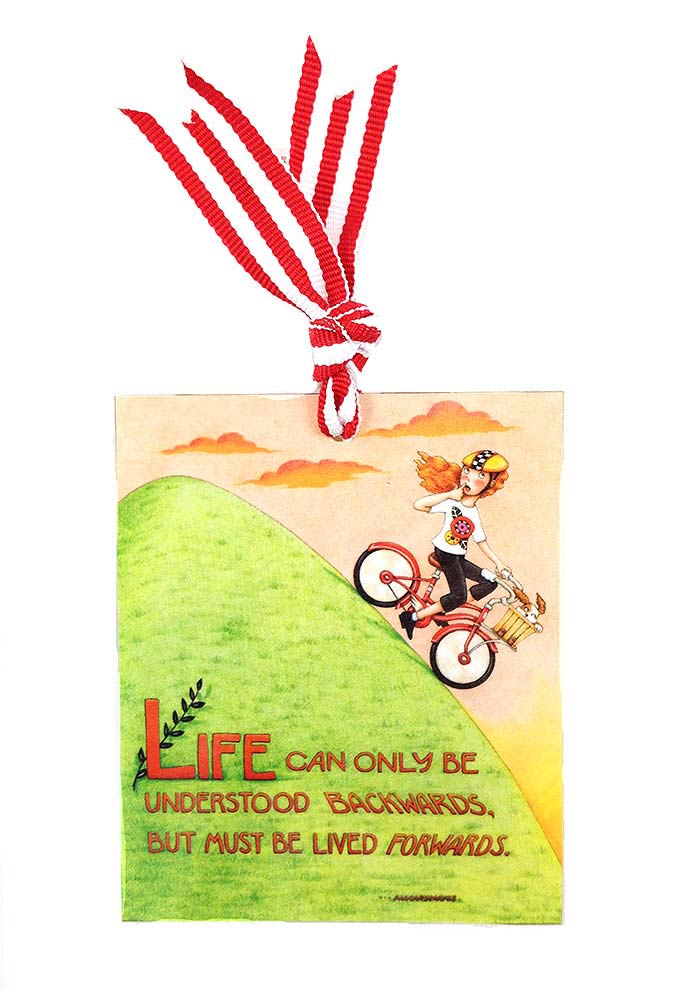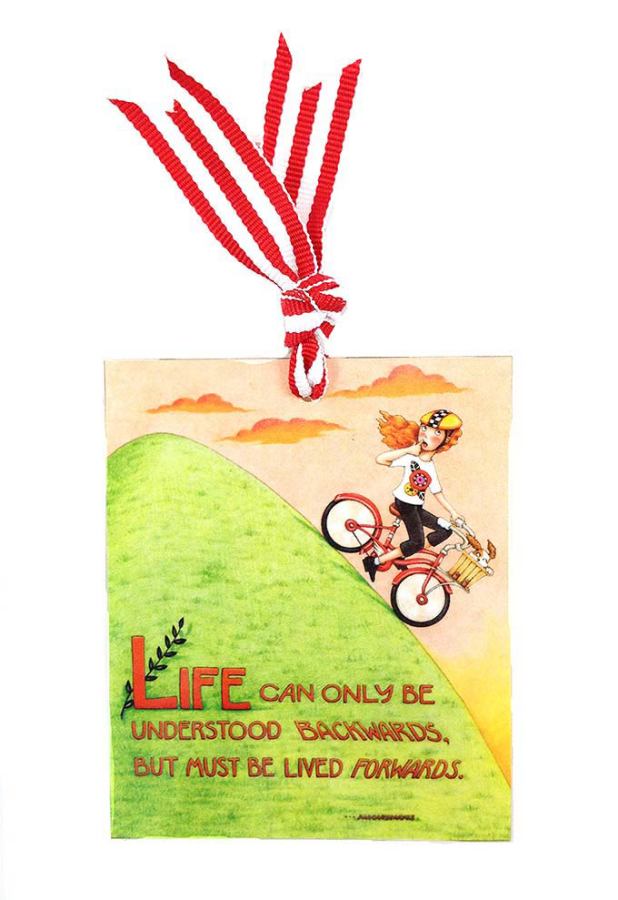 MATERIALS:
• A small day-to-day tear off desktop calendar
(I love Mary Engelbreit – fun artwork, whimsy & great quotes http://www.amazon.com/Mary-Engelbreit-2014-Day-Calendar/dp/1449428509) or other artwork or day-to-day calendar of your choice
• Gros grain ribbon (8-9") that coordinates with colors
• Laminator and laminating sheets
• Hole punch
• White all-purpose glue, small paint brush
DIRECTIONS:
Trim your calendar page to the desired bookmark/tag size. (If you want to personalize or add a name/address on the back, do it before laminating, or use a sharpie pen afterwards.)
Place in a laminating pouch, and run through the laminator following manufacturer's instructions. (I can usually get 6-8 bookmarks out of one 8½ X 11" laminating sheet.)  If you don't have a laminator, you can go to an office supply store like Staples or Office Depot.  (Our local UPS store laminates.)
Cool, then trim plastic evenly around each bookmark.
Punch hole in the middle at the top.
String 8-9" of gros-grain ribbon through the hole. Tie a knot. (I keep both ribbon ends together, make a loop, and pull both ends through that loop to make a tidy knot.) Play with the knot 'til it's to your liking. Leave tails long or short.
Angle the ribbon ends or cut a "V".
Using a small paint brush, dab white glue on the cut edges of ribbon and set aside to dry. (The glue dries clear and keeps the ribbon from fraying.)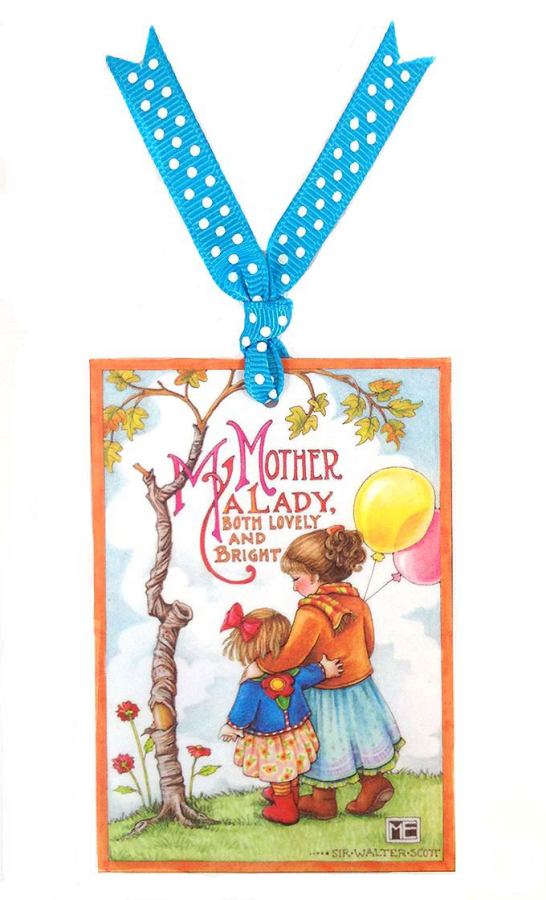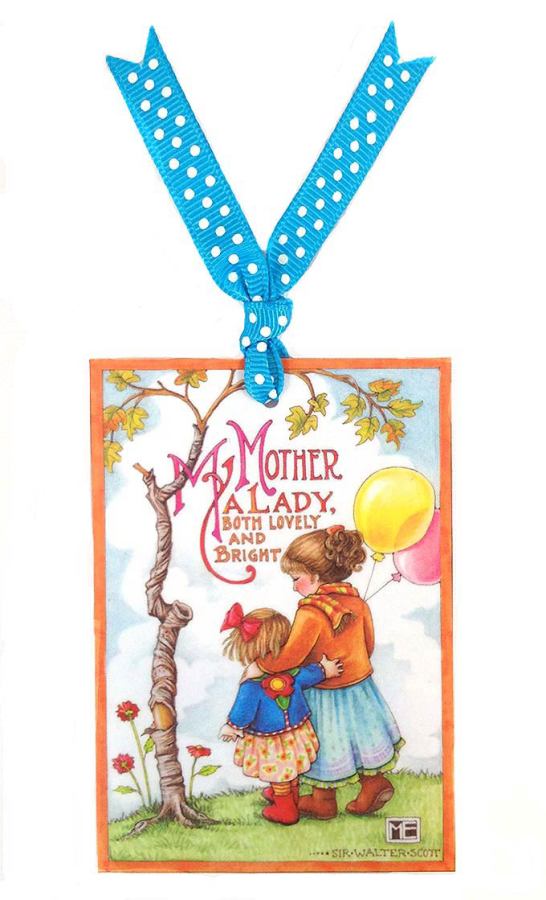 (In honor of my mom!)
TIPS:
• I use and gift these bookmarks often, so it was a no brainer to invest in an inexpensive laminator and laminating sheets. I've never regretted it.
• If you don't have a laminator and don't want to buy one, go to your local shipping or office supply store that laminates.
• If you're on a shoestring budget, consider neatly applying clear packing tape to both sides of your artwork, carefully matching seams. Then trim and finish off following directions above.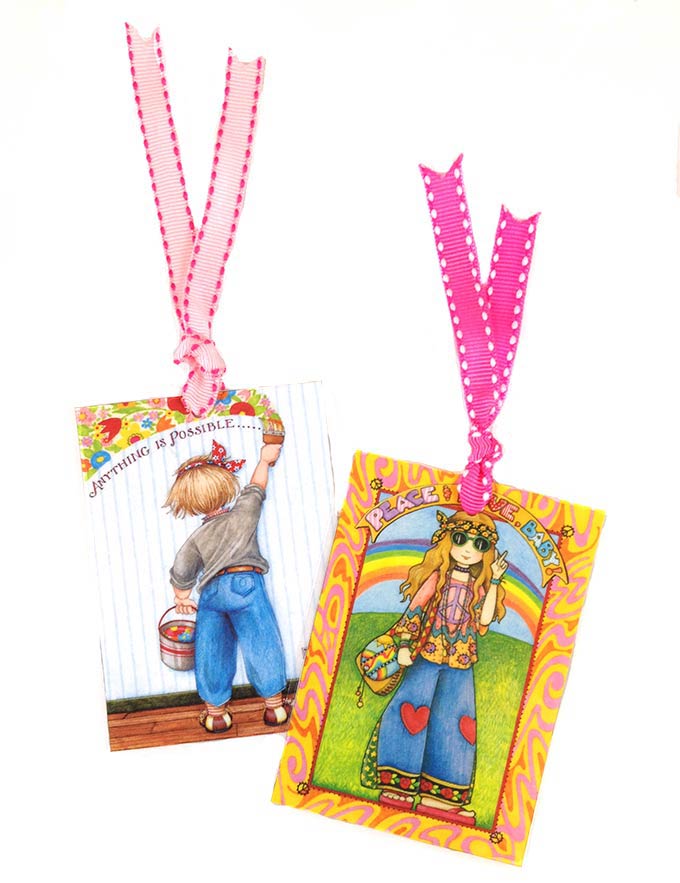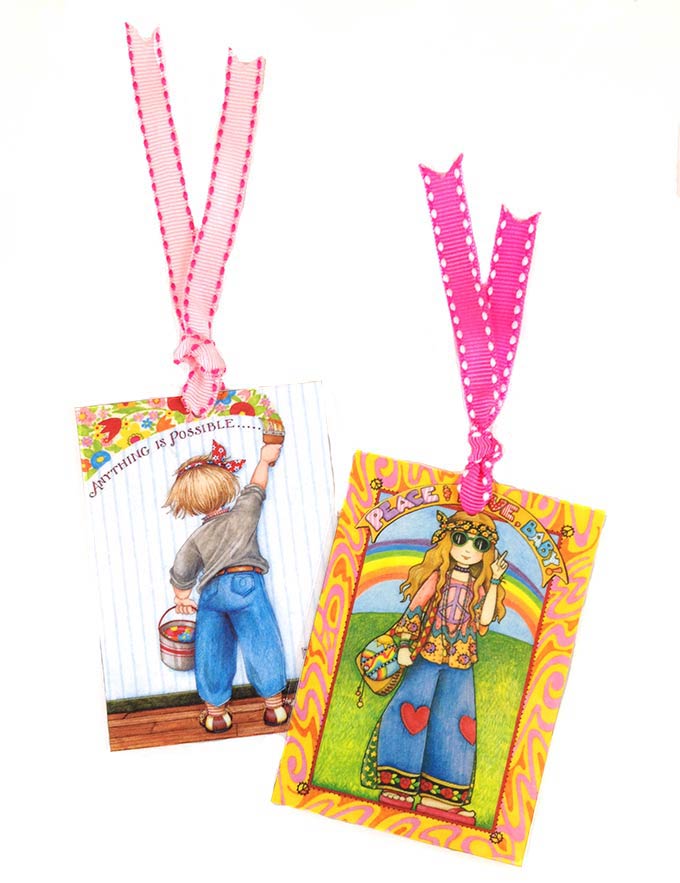 Have fun making, using and gifting these bookmarks/gift tags. Let me know how you use yours!