Gourmet Vanilla Bean Cream Cheese Frosting Recipe: Light and fluffy cream cheese frosting, flecked with yummy vanilla bean specks. Cream cheese and butter combine for a gourmet cream cheese frosting that's a showstopper on cakes and cupcakes alike!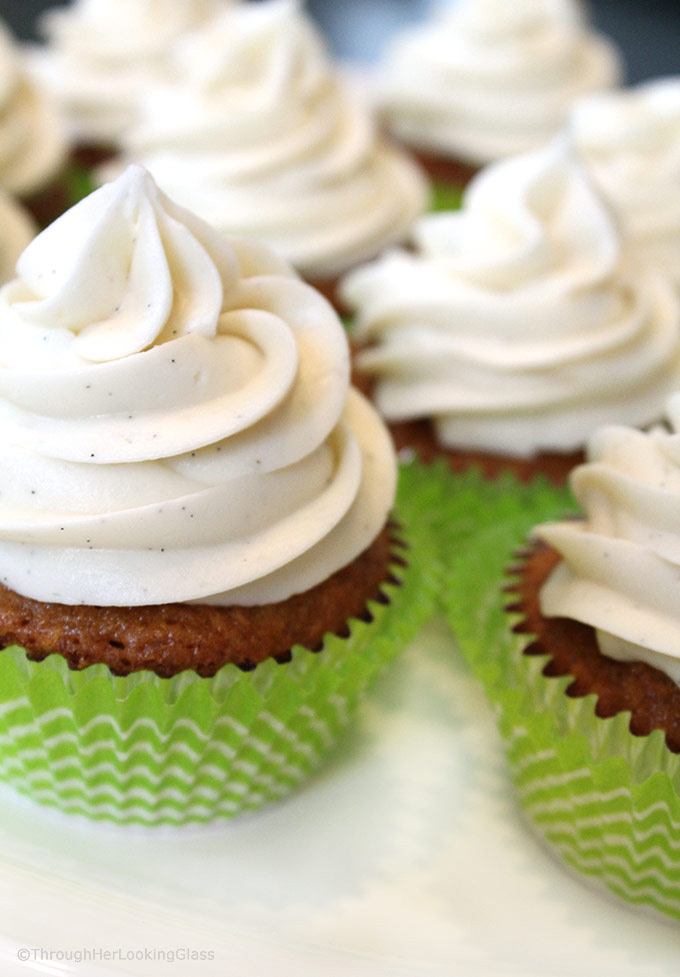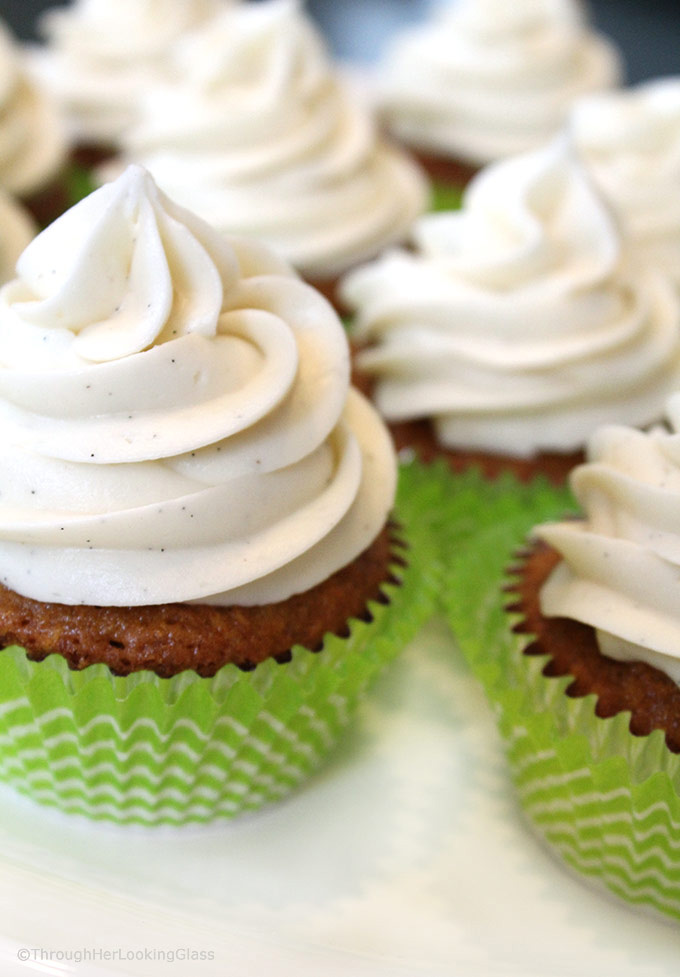 If you're a cream cheese frosting lover, this simple recipe is for you. A few weeks ago I made Carrot Cake Cupcakes frosted with this Vanilla Bean Cream Cheese Frosting Recipe for Jon's birthday. We toted a picnic late on a Sunday afternoon to one of our fave spots by the wooden boardwalk along the Merrimack River in Newburyport, MA.
Well it was springtime and windy, and after walking and exploring for a bit, we ended up tailgating with his cupcakes in the back of our suburban. That was so the candles would stay lit just long enough so he could blow them out again. LOL. The cupcakes were excellent, but it was this vanilla bean flecked cream cheese frosting that everyone raved about.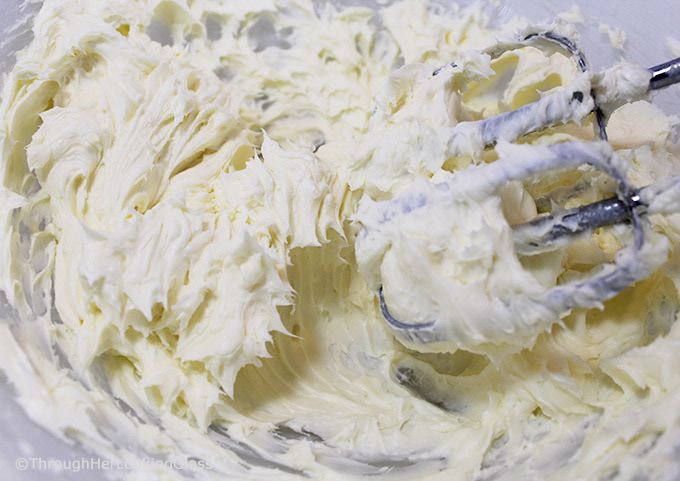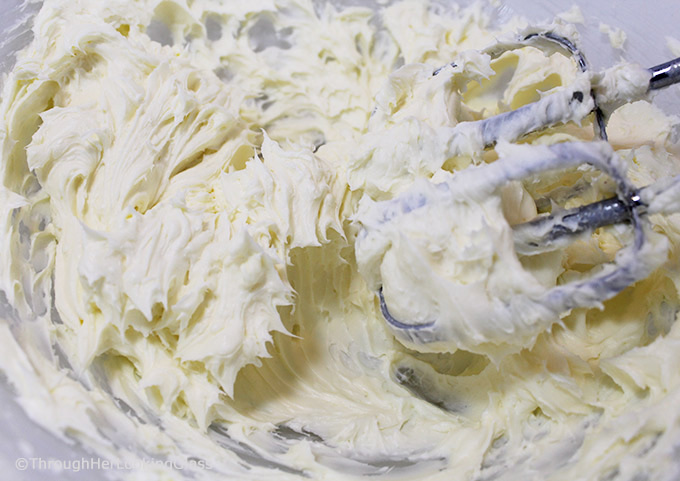 Beat the butter and cream cheese together until creamy.
Tailgating with Jon's cupcakes was a cozy, fun memory and reminds me of another time a few summers ago when we walked a couple blocks from the house to get homemade ice cream cones to celebrate my birthday.
It wasn't until we were standing in line at the ice cream window ordering that we noticed the ominous clouds rolling in fast. We ordered our cones lickety-split and began the speed walk home.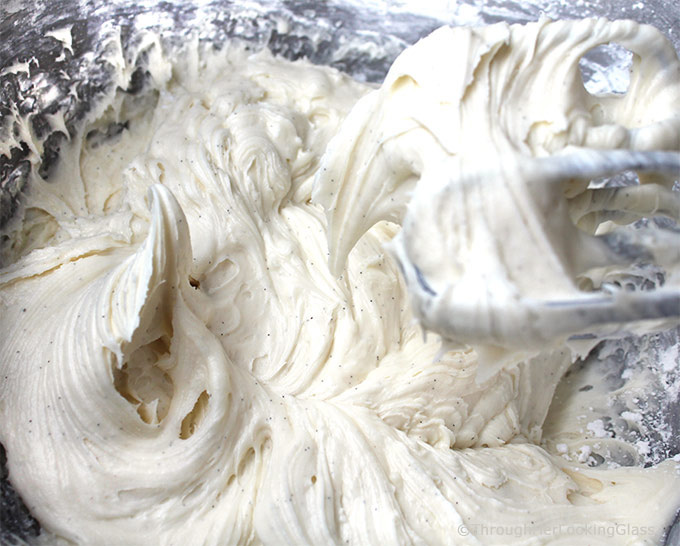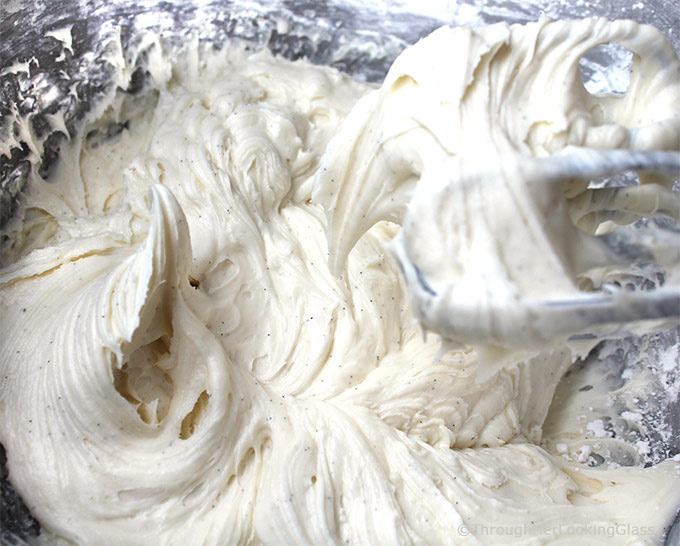 The sky darkened and thunder rumbled in the distance. Then suddenly, it was not so distant. (!) As we rounded the corner and raced up the driveway to the screened porch, the bottom dropped out. A deluge! Raindrops pelted like hail on the porch roof, thunder cracked and lighting flashed.
The stormy winds whipped around our cozy little breezeway as we sat in a circle licking our cherry truffle and almond joy ice cream cones. My boys sang happy birthday to me, and there never was a sweeter impromptu stormy birthday celebration.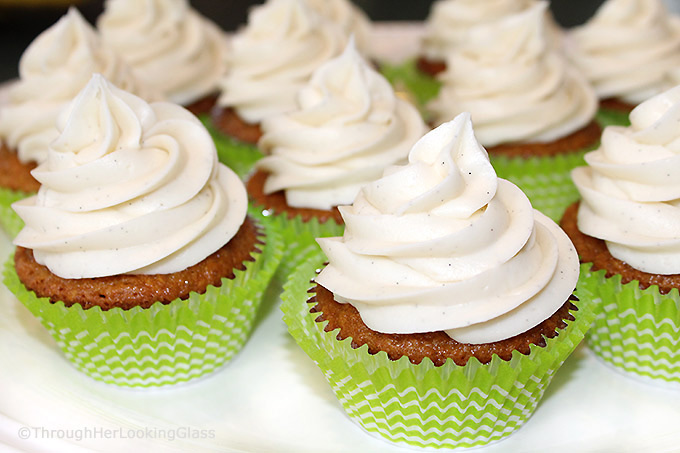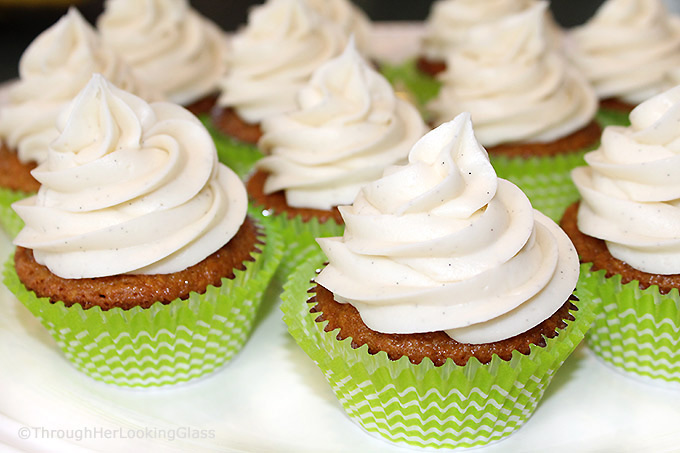 Well that was a bunny trail for sure, and thanks for hanging with me. Hop hop. But back to this Vanilla Bean Cream Cheese Frosting Recipe.
The vanilla bean flecks give wonderful, gourmet vanilla bean flavor to this creamy frosting. The easiest and most inexpensive way I know to get this great vanilla bean flavor is to use vanilla bean paste. It comes in a small plastic jar with a cap, and is thick like honey. I buy Nielsen Massey vanilla bean paste at my local grocery store in the baking section. (You'll find it with the vanilla extracts.)
This creamy and luscious Vanilla Bean Cream Cheese Frosting Recipe elevates cakes and cupcakes, but also transforms the humble graham cracker into a spectacular treat! Mmmmm, and delish.


Vanilla Bean Cream Cheese Frosting Recipe Tips:
Make sure your butter and cream cheese are at room temperature before whipping together with an electric hand mixer until light and creamy.
Add the powdered sugar very gradually.
Use vanilla bean paste to get that gourmet taste! (Or substitute pure vanilla extract if you don't have vanilla bean paste on hand.)
Looking for fantastic homemade chocolate frosting? You'll find a great recipe here!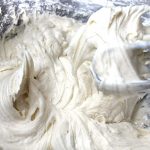 Print Recipe
Gourmet Vanilla Bean Cream Cheese Frosting Recipe
Ingredients
softened 8 oz. package cream cheese

1/2

cup

butter

softened

4 1/2

cups

powdered sugar

2

teaspoons

vanilla bean paste
Instructions
Beat softened cream cheese and butter together until fluffy and there are no lumps.

Slowly beat in 4 1/2 cups powdered sugar until smooth.

Stir in vanilla bean paste.

Tightly cover and refrigerate leftovers.
Notes
*Substitute pure vanilla extract in place of vanilla bean paste if needed.
*To restore creamy consistency to refrigerated frosting, allow to come to room temperature first. Then whip with electric hand mixer. Add a small amount of milk or cream if needed to restore consistency.
You may also like: Fresh Red Tart Cherry Compote