These King Arthur Chocolate Chip Cookies are my favorite chocolate chip cookies ever. They're buttery and crispy on the outside and chewy in the center. They have two ingredients that will surprise you. These chocolate chip cookies tuck in lunch boxes beautifully and make delightful after school snacks. Why not make a batch this weekend!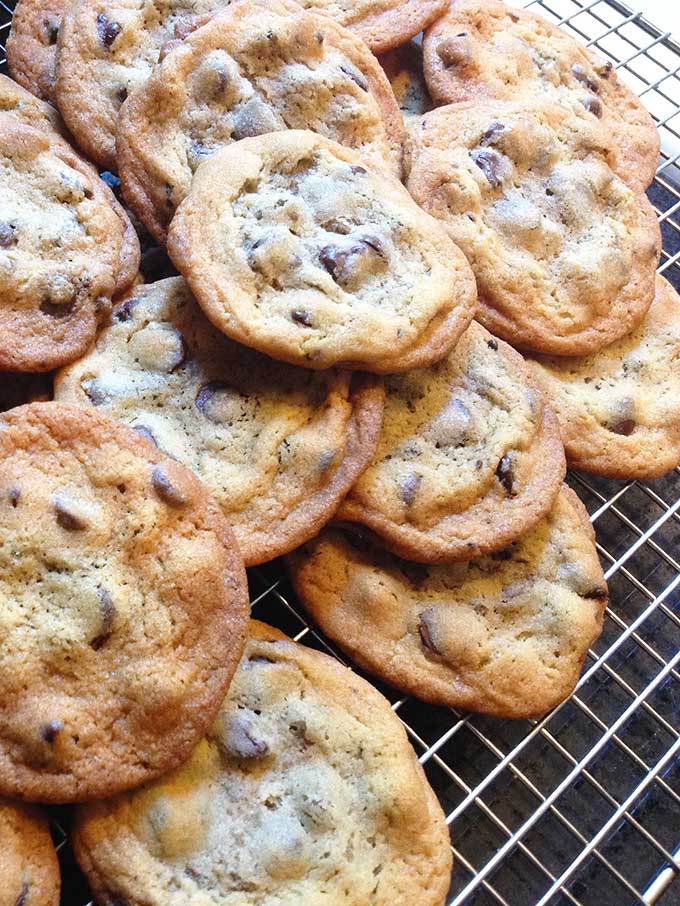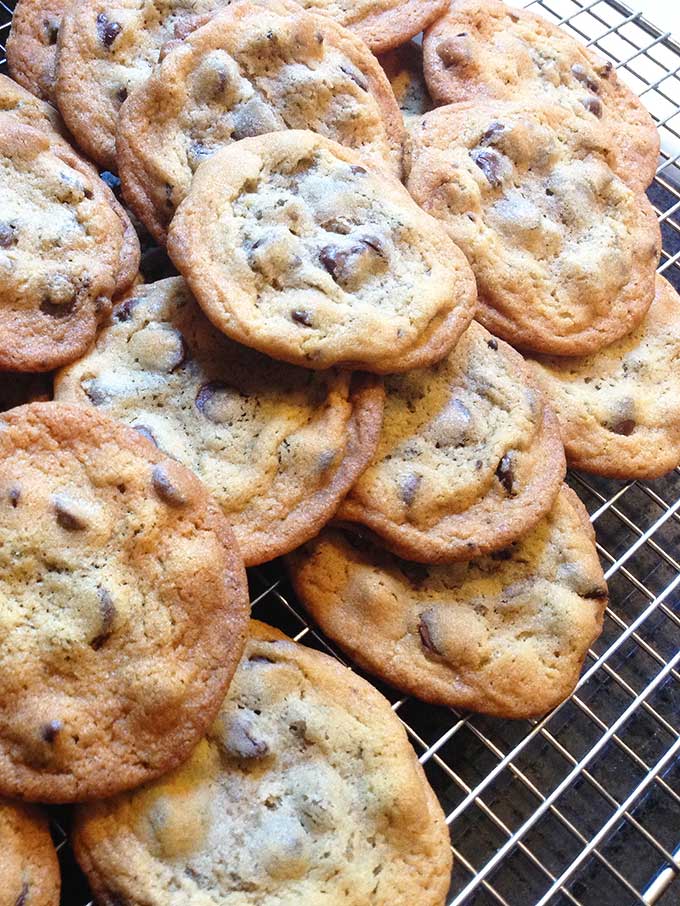 Wouldn't today be an awesome day to bake chocolate chip cookies? Dust off your superhero cape, cuz' you're gonna need it after baking these King Arthur Chocolate Chip Cookies.
You might get a kick out of a funny story that happened to me regarding a chocolate chip cookie recipe. It might get you in a cheery baking mood.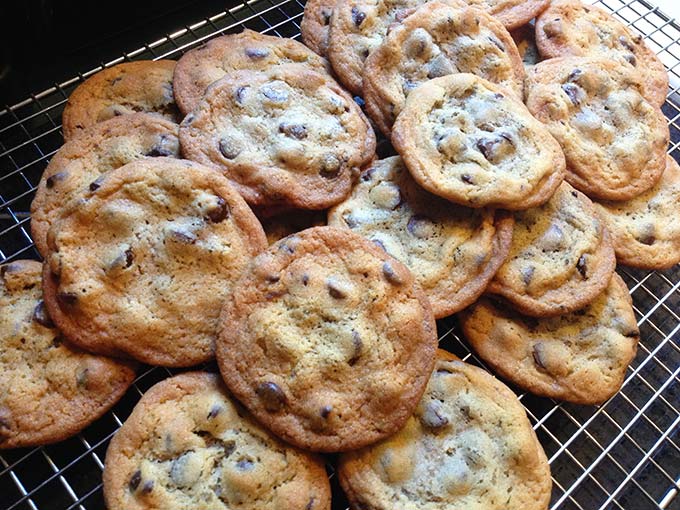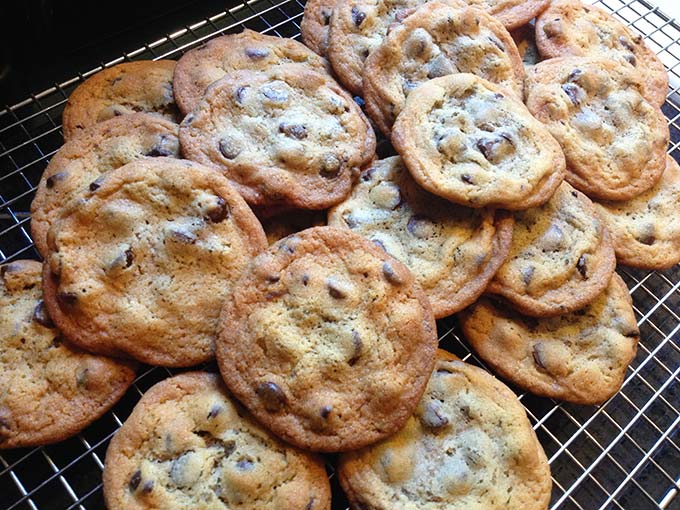 So everyone in our house loves warm chocolate chip cookies with a tall glass of ice cold milk. This King Arthur Chocolate Chip Cookies recipe is our favorite.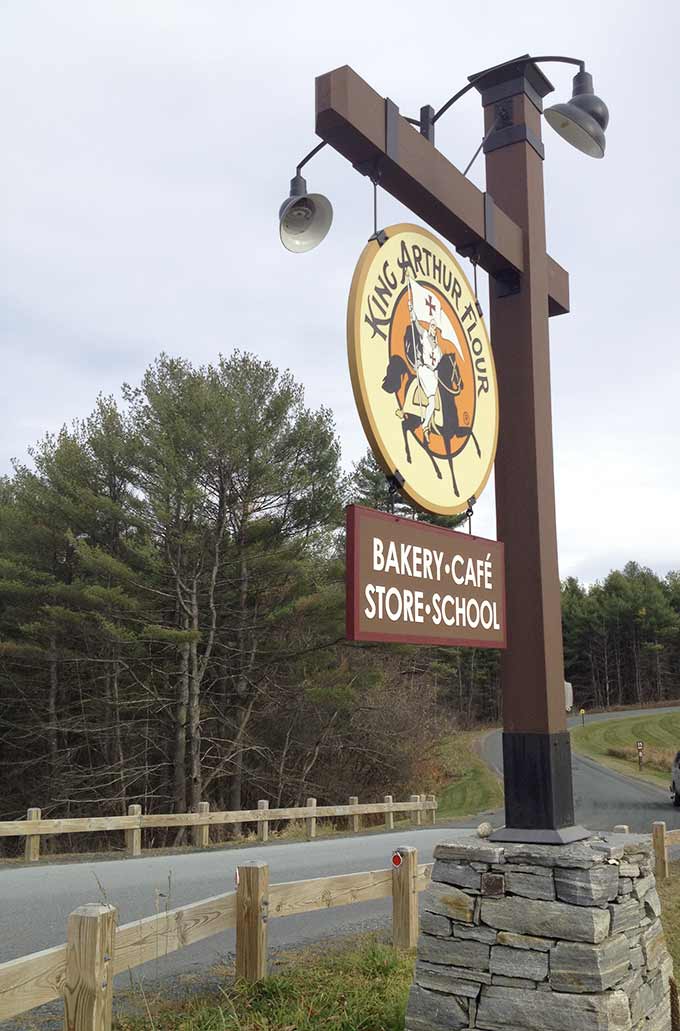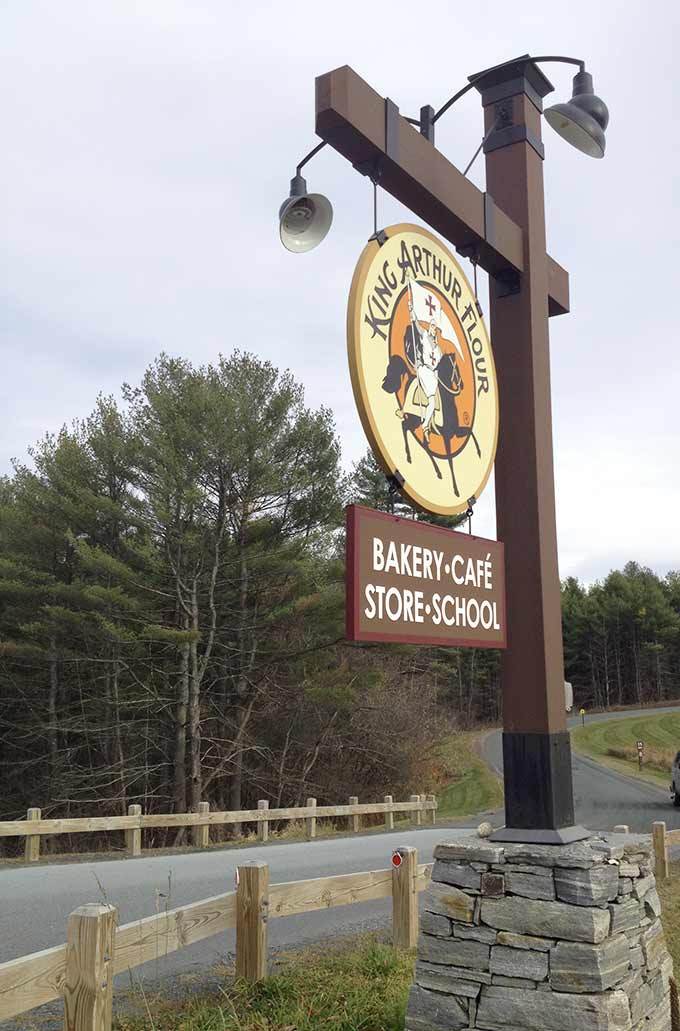 Any excuse I get, I traipse up to the King Arthur Store in Norwich, Vermont. I was just there last weekend. And I drag whoever's game to come along. We've spent lots of time with specialists for our son Hudson up at Dartmouth Hitchock in Hanover, NH, and King Arthur's not far from there.
In fact, I can get to the King Arthur Store from Dartmouth without even using my GPS, which is really saying something. (If you want to go on a King Arthur THLG blog field trip and experience the magic, click here!)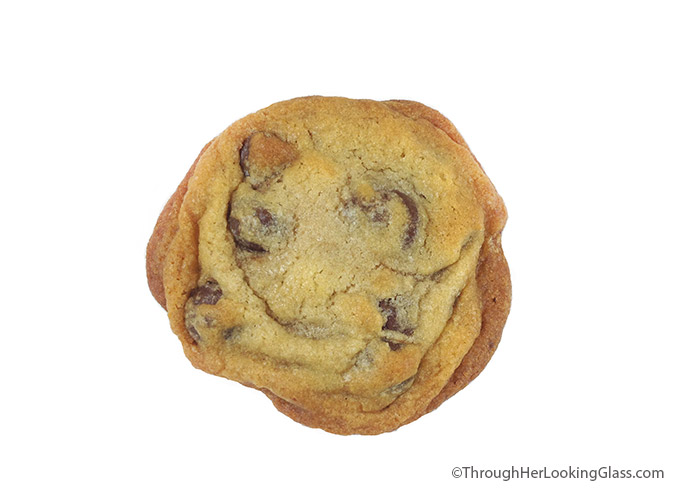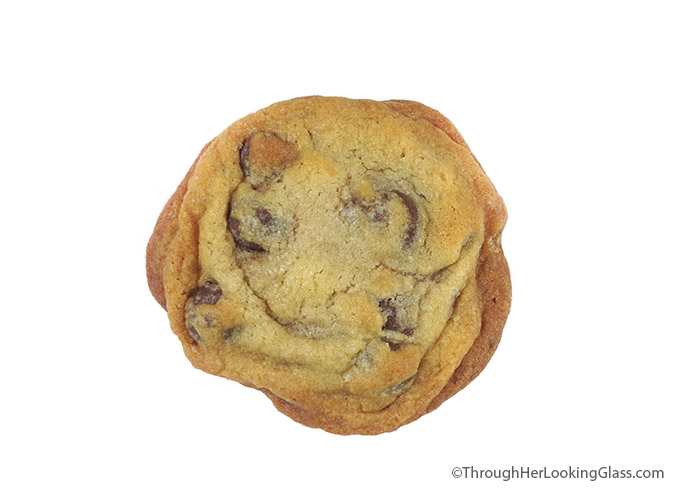 Today we're talking about a wonderful recipe for King Arthur Chocolate Chip Cookies! This is my all time favorite chocolate chip cookie recipe because the cookies are crispy on the outside, chewy on the inside, with old-fashioned buttery flavor.

There are two unusual ingredients in this recipe that will probably surprise you: almond extract and vinegar. Yup, vinegar. Isn't that nuts?
But I don't ask questions. I just follow the recipe, and we all love the cookies. If you want a little gourmet, sprinkle sea salt on top of the cookie dough balls before baking. I tried it, loved it. (My kids? Not so much.)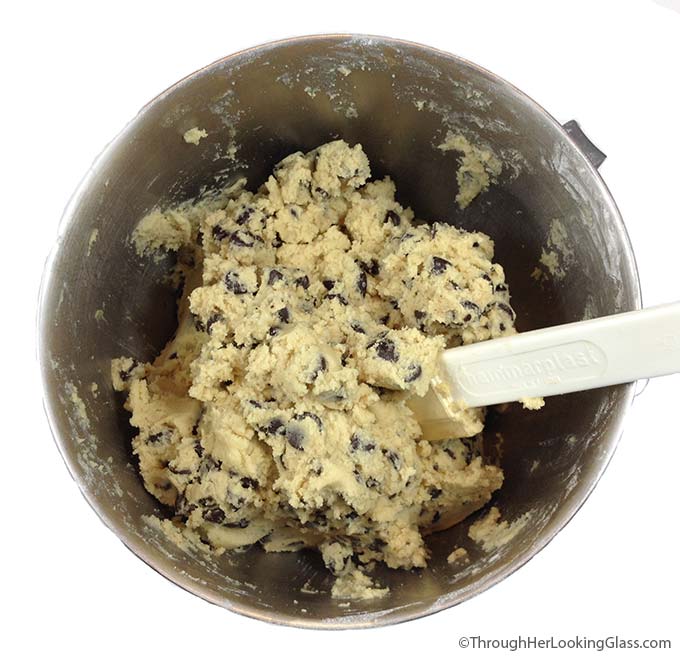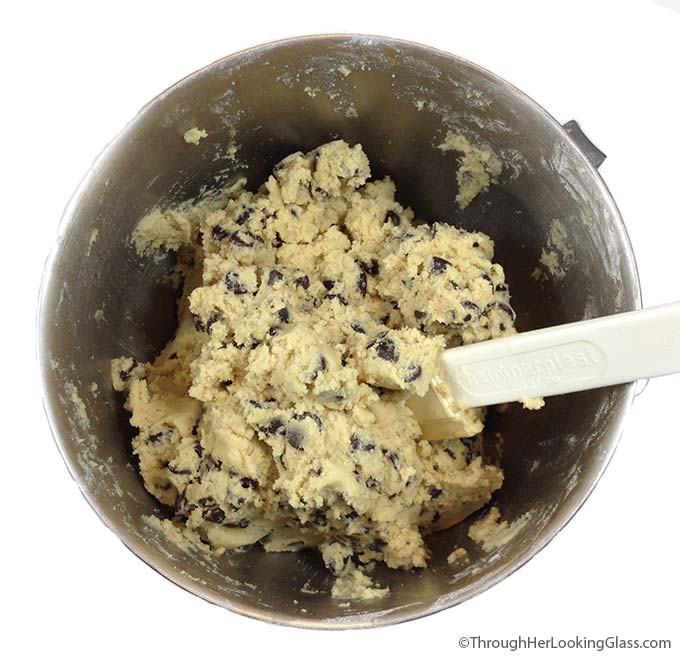 Your biggest challenge when making these cookies: hiding the cookie dough (from your kids of course!?!?) so you can bake the cookies.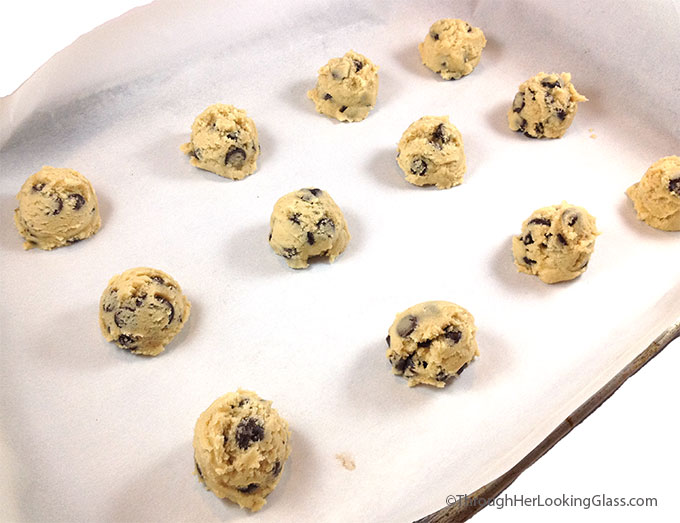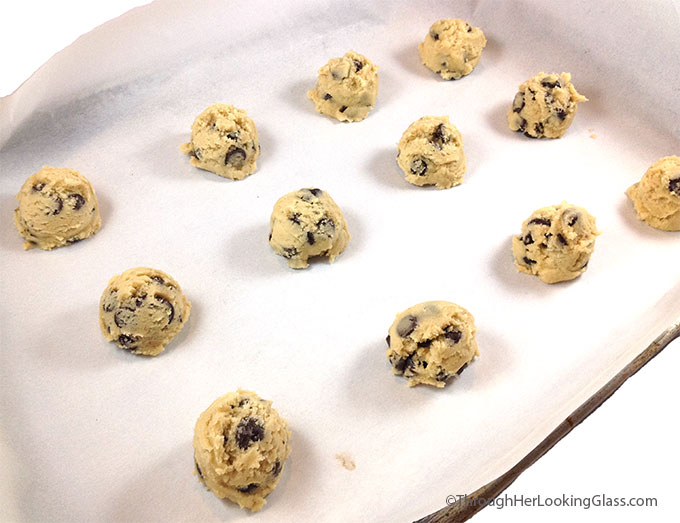 Scoop 1 1/4 inch cookie dough balls onto parchment lined baking pan.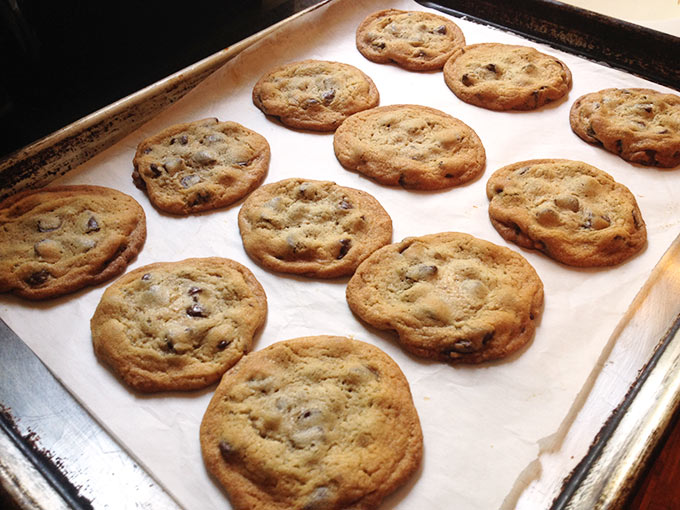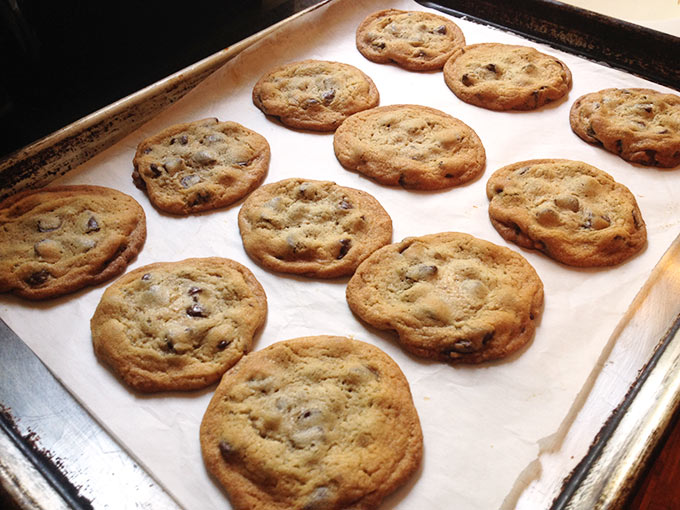 Oh my, but these are lovely warm and fresh from the oven…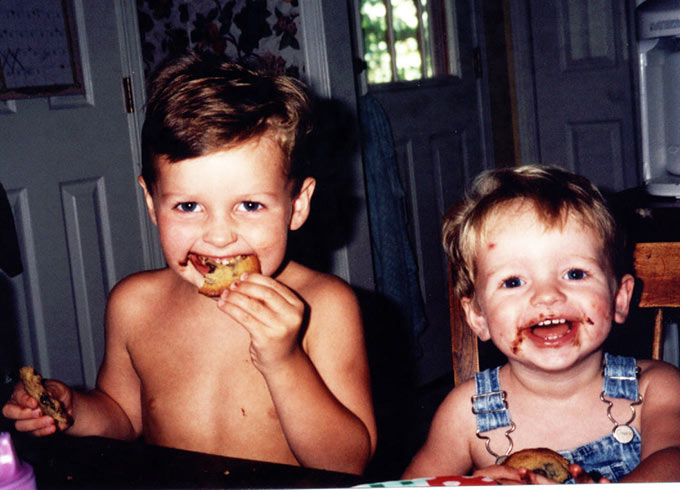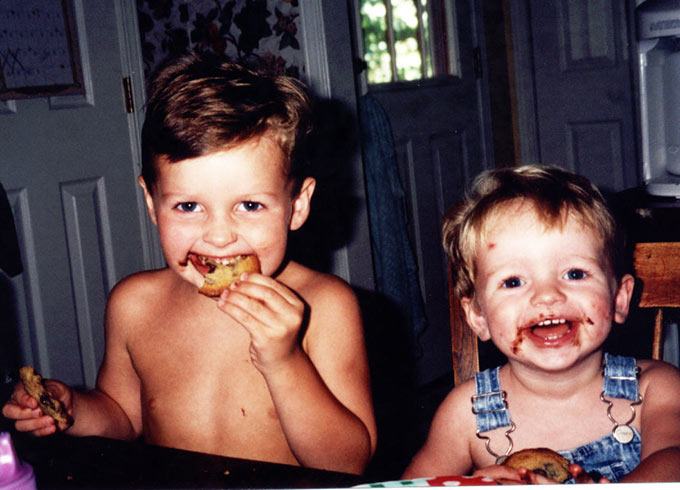 And a little throwback…two of my fun lovin' little boys enjoying these cookies many years ago…(circa 2003)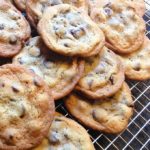 Print Recipe
King Arthur Chocolate Chip Cookies
Love these King Arthur Chocolate Chip Cookies: crispy on the outside, chewy and bendy in the middle.
Ingredients
2/3

cup

light brown sugar

firmly packed

2/3

cup

granulated sugar

1/2

cup

unsalted butter at room temperature

1/2

cup

vegetable shortening

1/2

teaspoon

salt

2

teaspoons

vanilla extract

1/4

teaspoon

almond extract

1

teaspoon

vinegar

cider or white

1

teaspoon

baking soda

1

large egg

2

cups

King Arthur unbleached all purpose flour

2

cups

semi-sweet chocolate chips
Instructions
Preheat the oven to 375 degrees.

Lightly grease (or line with parchment) two baking sheets.

In a large bowl, combine the sugars, butter, shortening, salt, vanilla and almond extracts, vinegar and baking soda..

Beat until smooth and creamy.

Beat in the egg, beating until smooth.

Scrape bottom and sides of bowl with a spatula to make sure all is thoroughly combined.

Mix in the flour, then the chocolate chips.

Use a spoon or a tablespoon cookie scoop to scoop 1 1/4 " balls of dough onto prepared baking sheets, leaving 2" between them on all sides, they'll spread.

Bake cookies for 8-9 minutes, till the edges are chestnut brown and the tops are light golden brown.

Remove from the oven and cool 'til they're set.

Move to a baking rack.

Repeat with remaining dough.
Notes
For a gourmet touch and wonderful flavor, sprinkle sea salt on top of cookie dough balls before baking.
 Related Post: King Arthur Flour (Retail store, Cafe, Bakery and School in Norwich, VT)