Gorgeous frosted Christmas Sugar Cookies all season long without stress? Yaaaasss! With a little planning and these handy tips, you can too!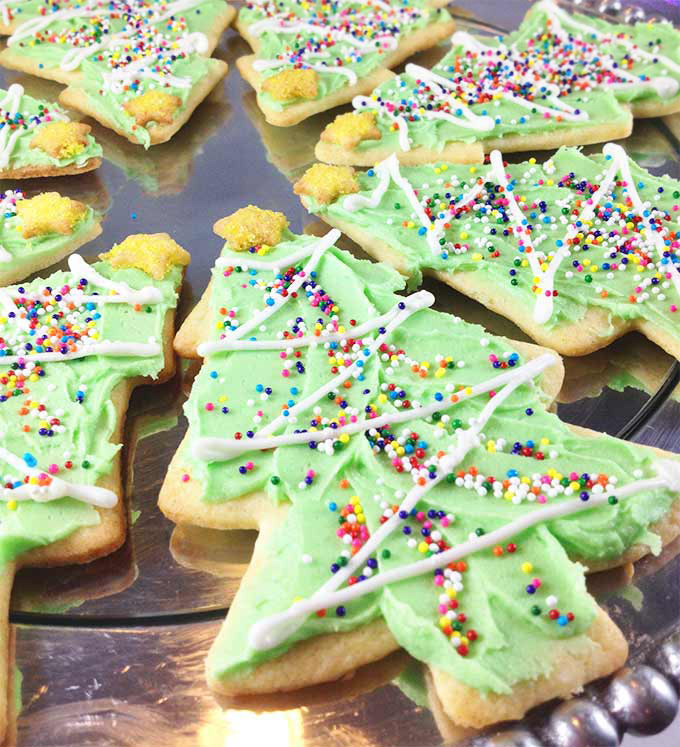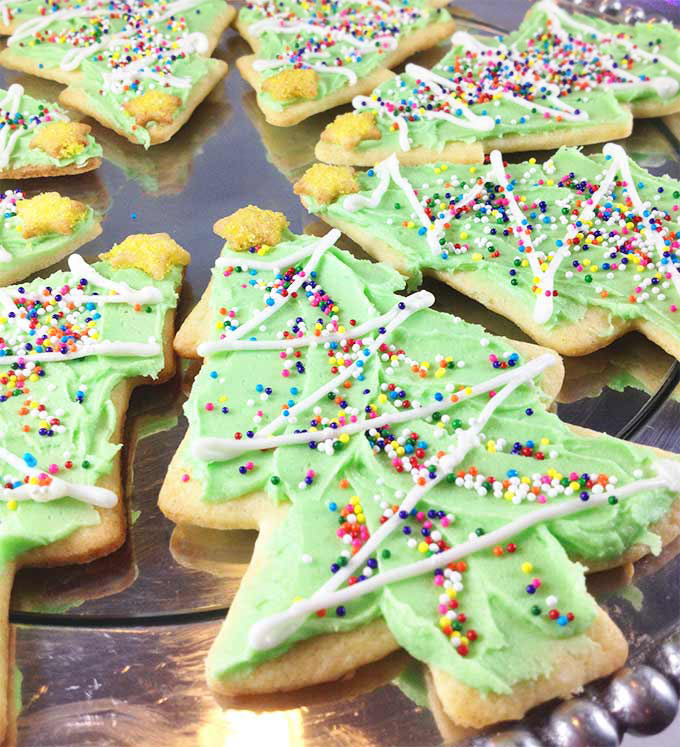 I've made these light buttery roll-out cookies for decades. These are hands down the best Christmas Sugar Cookies I've tasted. They're light and delicate, crunchy and pair perfectly with buttery frosting. Divine with coffee! (Warning: these are addictive!)
Say goodbye to thick, heavy roll-out cookies. These taste every bit as good as they look. Change up the cookie cutter and they work for any holiday. Individually wrapped, these cookies make a beautiful party favor.
Here are some baking tips that work for me: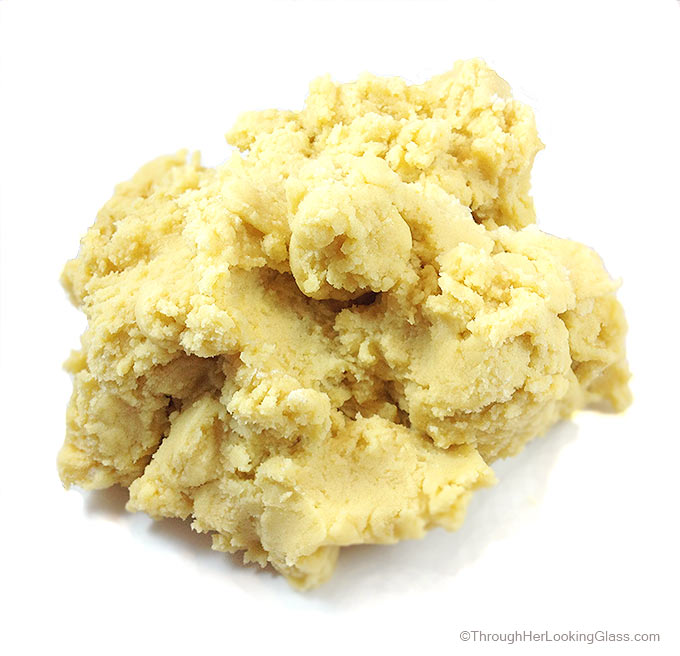 Mix dough.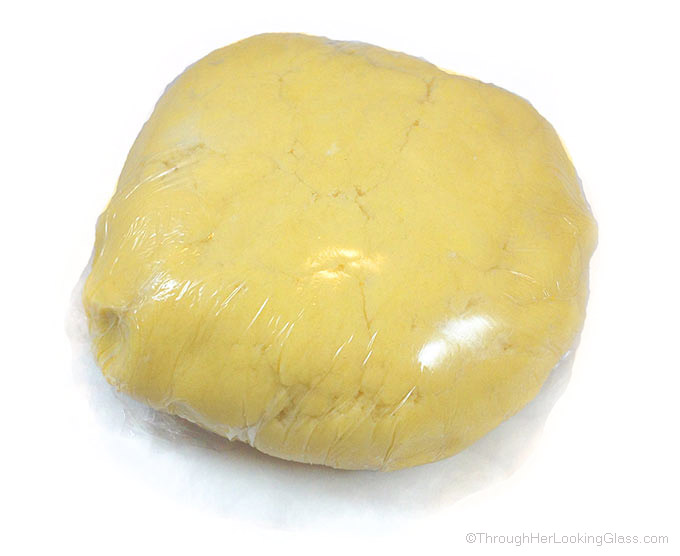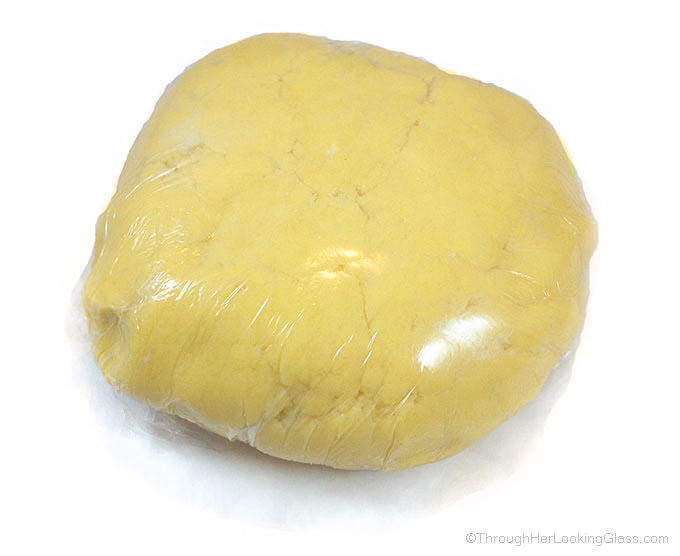 Chill in refrigerator for an hour, tightly wrapped in plastic wrap.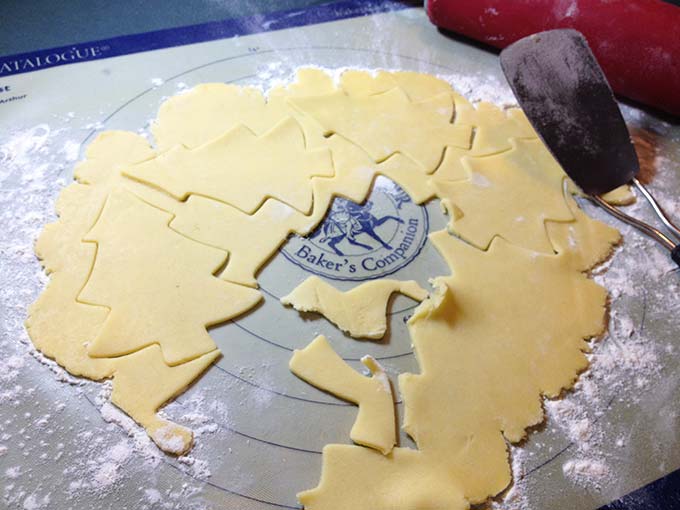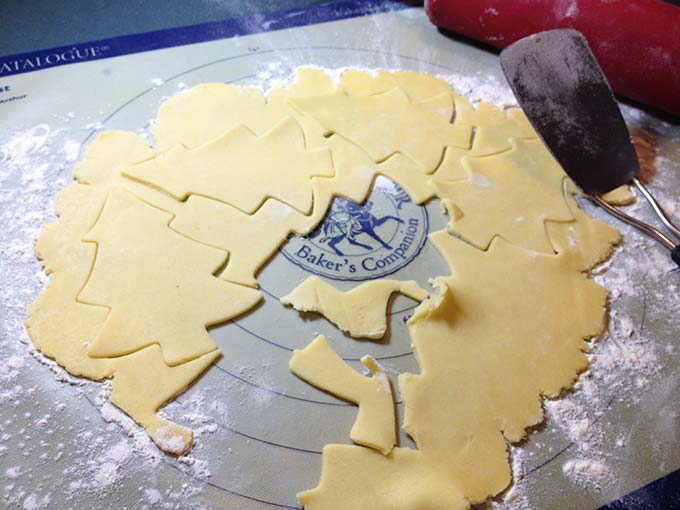 Roll out and cut with just one cookie cutter. (I chose Christmas trees because they fit nicely on a round platter and need only two frosting colors.) Use plenty of flour on your rolling mat so they won't stick.
Once rolled, dough should be thin, but not translucent. (If too thick, they'll puff and lose shape. If too thin, they over brown.) To give you an idea, the cookies in above picture should be rolled just a tad thinner.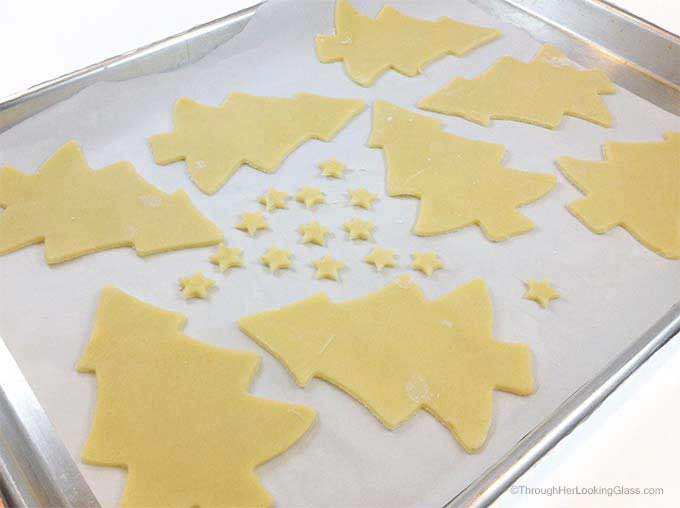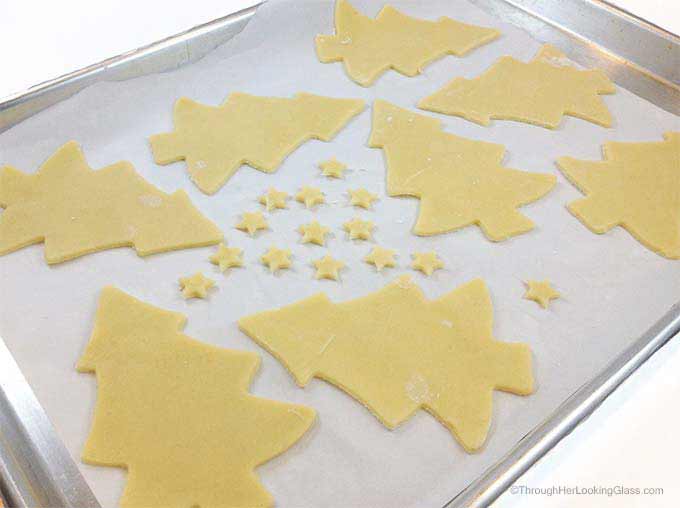 Use a very thin metal cookie spatula to carefully transfer cut-outs onto parchment lined baking sheet. Space adequately as they do spread some. Very important: Each pan of cookies should be refrigerated for  5-10 min. before baking. (This helps butter cookies retain their shape while baking.)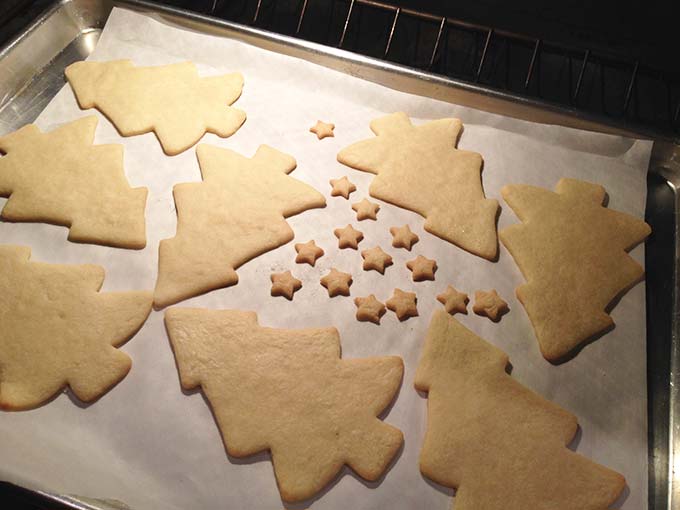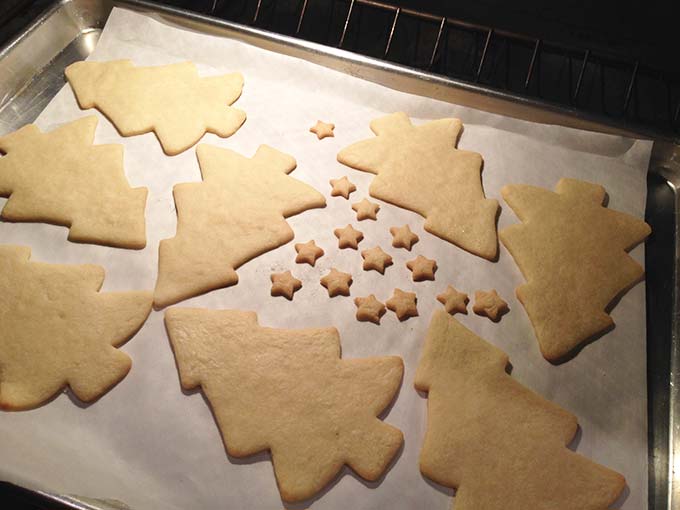 Watch closely at the six minute mark, they can over brown in seconds. Bake until edges are just browning.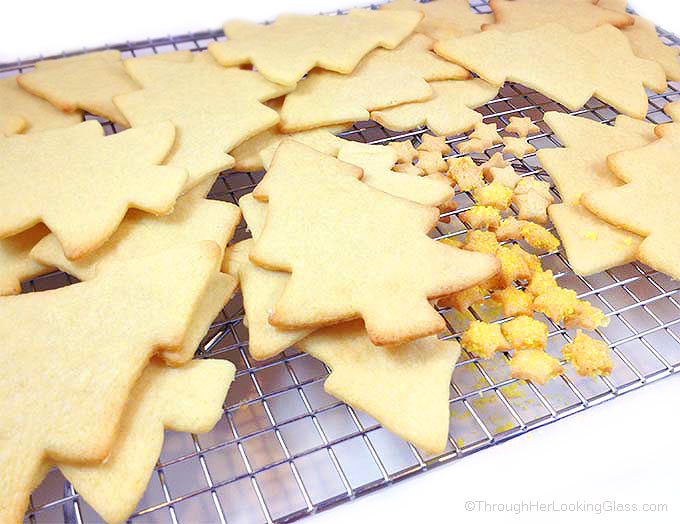 Bake a pan of tiny embellishment cookies to decorate with. For tree toppers, I sprinkle baby stars with colored sugar before baking so I won't have to frost later. (Yep, I like sparkle.)
Cool and freeze unfrosted cookies in airtight containers. I put cookies in stacks to minimize breakage. (I don't freeze in plastic bags, the cookies are too fragile.)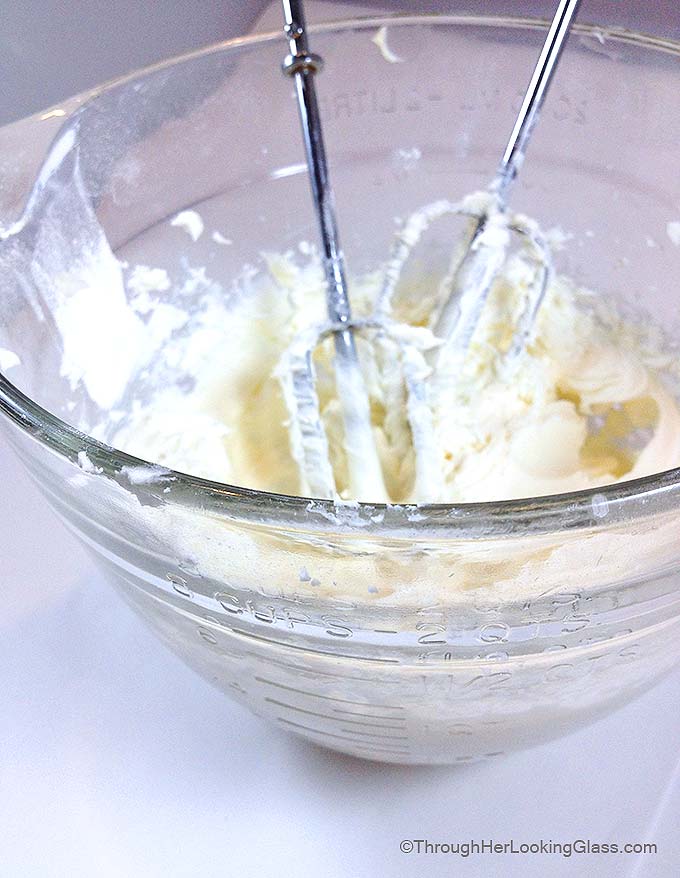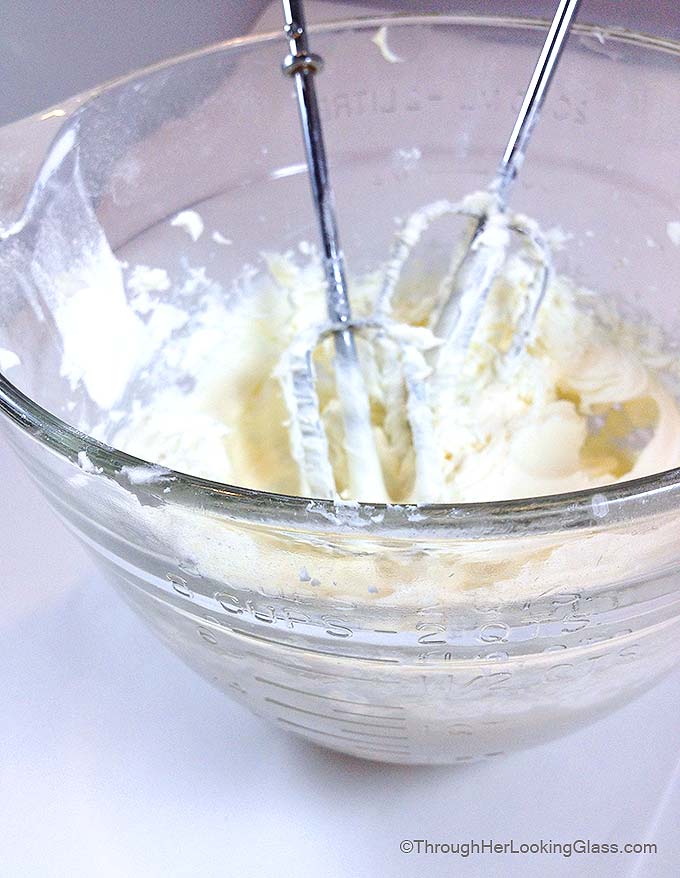 Make frosting. Divide and color frosting to coordinate with your cookies. (Less is more in the food coloring department.) Store in the refrigerator 'til use. For best results, use at room temperature with a decorating bag and tip.
Pull cookies from the freezer individually and frost for cookie platters as needed all season. They're more fragile when frozen, but thaw in just minutes.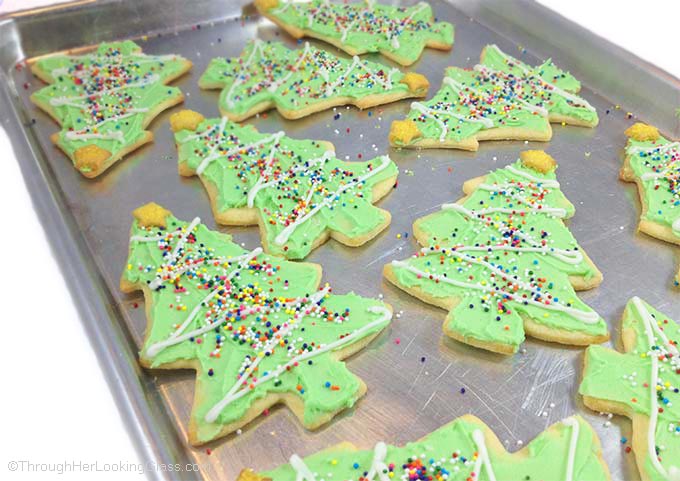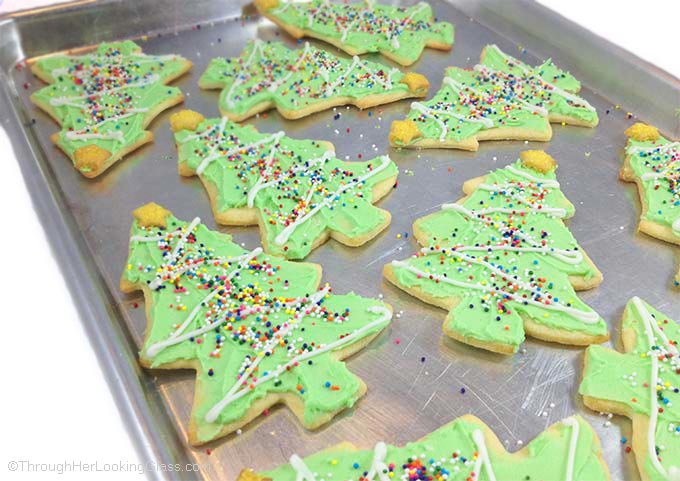 Decorate on large cookie sheet to minimize mess. Experiment and perfect your frosting technique on one, then repeat the design. The repetition on the cookie platter is stunning. (Once you've mastered a design, you can frost mindlessly and concentrate on more important things…. singing Rudolph and composing your naughty/nice list!)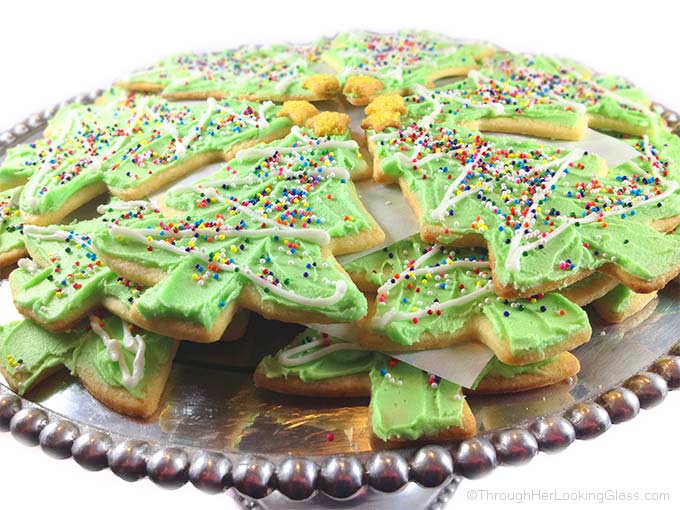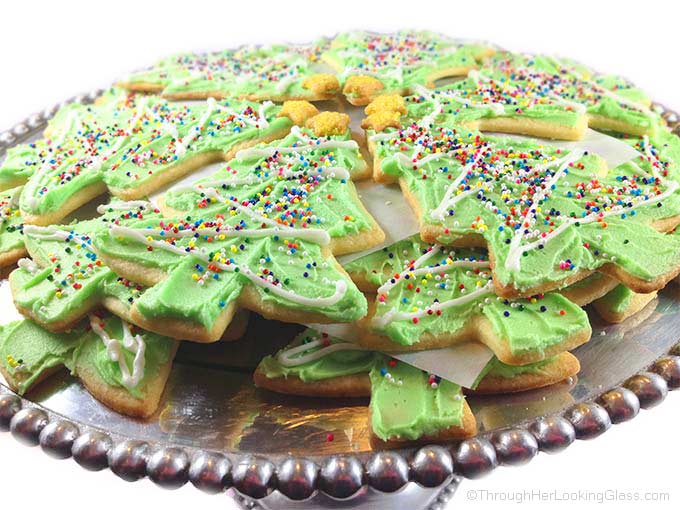 Transfer cookies to serving platter. Once frosting sets, add more cookie layers, with parchment paper in between.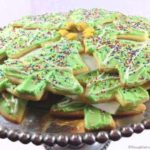 Print Recipe
Decorated Christmas Roll Out Cookies
The perfect Christmas Roll Out Cookies. Light, crisp and buttery. Only seven ingredients. Taste these and you'll never make a different recipe. They will disappear fast!
Ingredients
Cookie Dough:
1/2

cup

butter

room temperature

3/4

cup

sugar

1

large egg

1/2

teaspoon

vanilla

1 1/2

cups

flour

1

teaspoon

baking powder

1/4

teaspoon

salt
Butter Cream Icing:
1/8

cup

butter

1/8

cup

vegetable shortening

2

cups

powdered sugar

1

teaspoon

vanilla

2-3

tablespoons

cream or half and half
Instructions
Cookie Dough:
Cream butter.

Add sugar to creamed butter.

Beat in egg and vanilla.

Sift flour with baking powder and salt. (Or mix well with a fork like I do!)

Stir dry ingredients into creamed ones.

Chill dough, tightly wrapped in plastic wrap, for 1 hour.

Roll out thin.

Transfer cut out cookies to parchment lined baking sheet.

Refrigerate pan of cookies 5-10 minutes before baking.

Bake for 6-8 minutes at 350 degrees, until just browning on the edges. Watch closely at the six minute mark.
Butter Cream Icing:
Cream butter.

Add in powdered sugar, 1 cup at a time.

Mix in vanilla and cream, 'til it's the consistency you want.

Use a decorating bag and frosting tip for fine details.
Notes
I usually triple or quadruple this cookie dough recipe.
Refrigerate cookies on baking pan 5-10 minutes before baking.
You may also like: Gingersnaps