This hearty Ham and Cheese Soup is a favorite around here. Perfect recipe for leftover dinner ham, or use a ham steak. This creamy soup is chock full of celery, carrots, potatoes, onions, ham and cheese.  You can have this main dish soup on the table in thirty minutes! Score.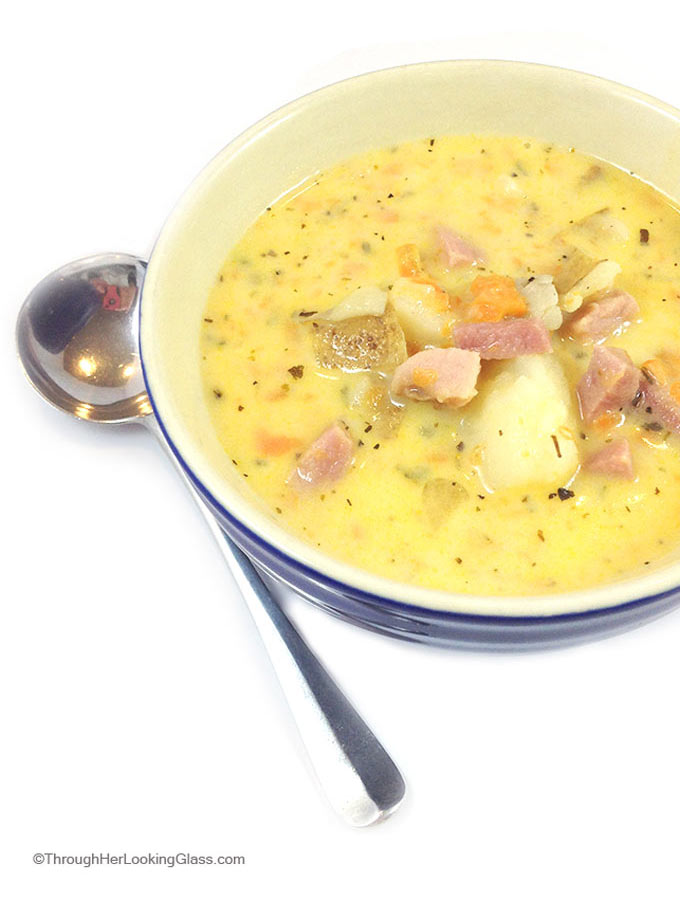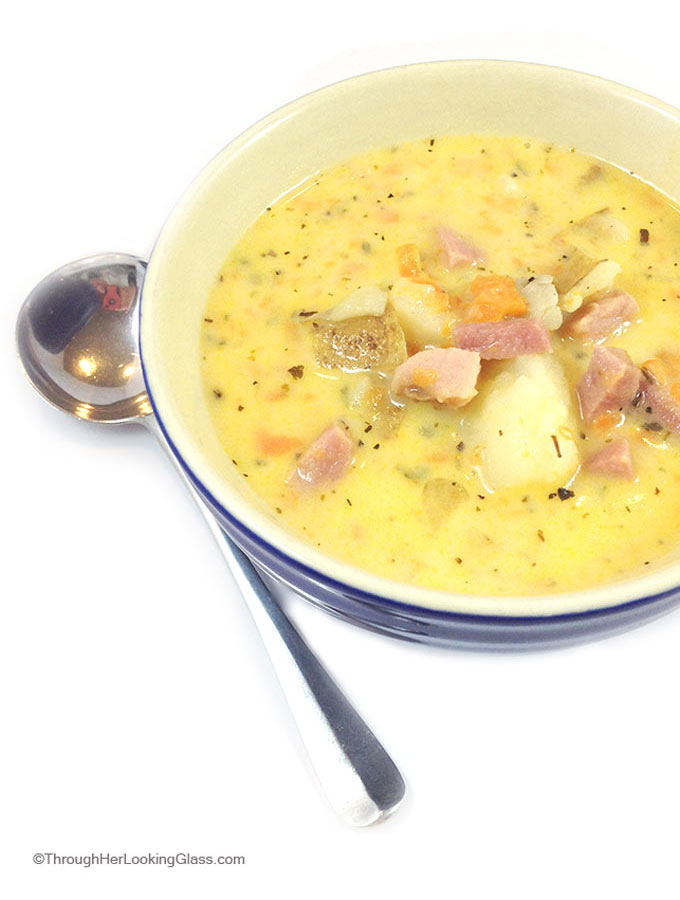 On the menu today: soup. And a laugh.
Was delighted to have my extended family in from Rhode Island recently.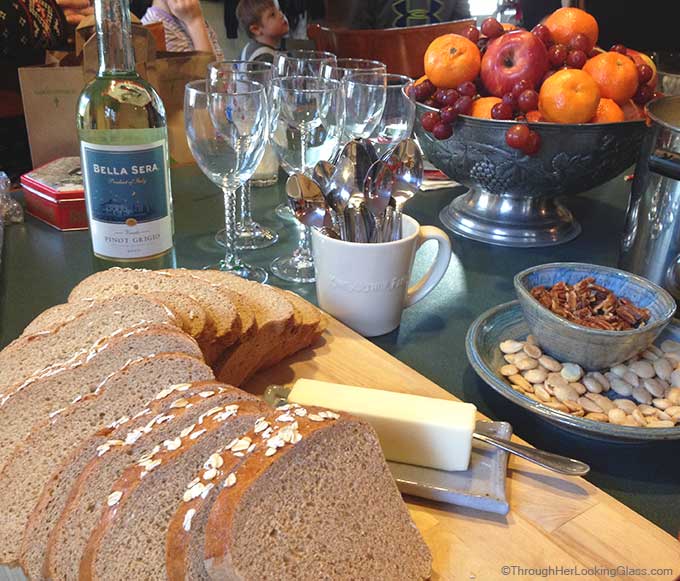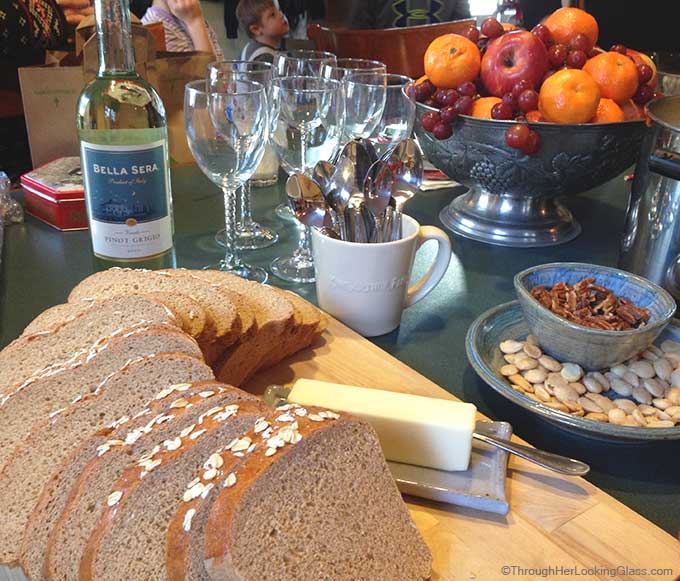 I made what I always make when the gang comes up: homemade soup and homemade bread. Soup's easy, feeds a crowd, and holds well for latecomers. (Important!) We had this best ever creamy and cheesy Ham and Cheese Soup.
Everyone loves this soup and it's easy to make. Even the littlest kids don't realize it's chock full of veggies: onions, celery, potatoes and carrots. (And we don't mention it!) This soup tastes even better the next day as the flavors meld.
So we got chatting around the table about Jerry, George and the Soup Nazi. Then I had to go and watch this short clip. And now I'm laughing and maybe you are too.
I do serve bread with my soup, no extra charge or intimidation. (Sure hope Soup Nazis don't live at your house or "No soup for you!")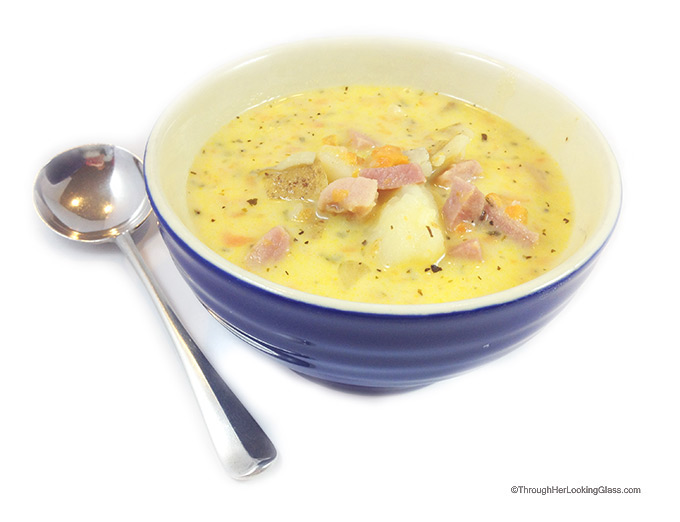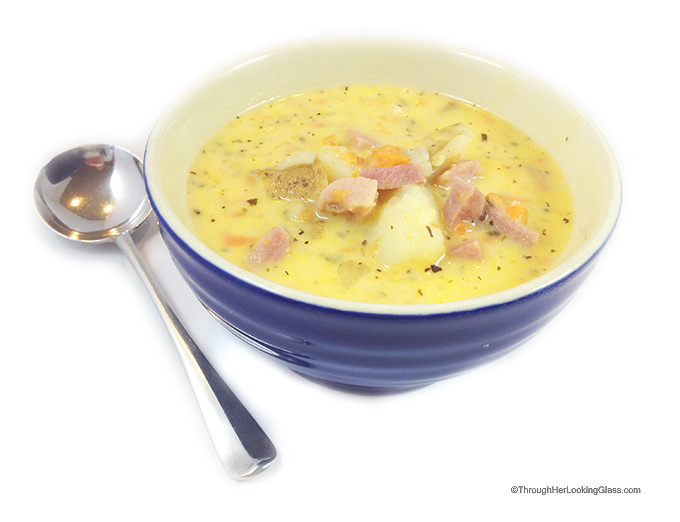 Nothing better than a steaming bowl of thick and hearty soup on a cold day. The temps have been dropping like a rock around here, so that means it's time to start making this delicious soup again.
The rich, creamy flavor of this perfectly seasoned main dish soup is wonderful. Ham and cheese is a great combination and this is the best and easiest soup ever. Hope you'll try this soup recipe and can't wait to hear how you like it!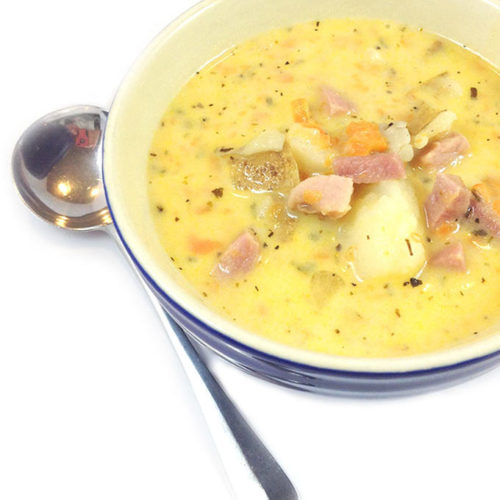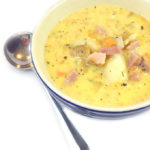 Print Recipe
Hearty Ham and Cheese Soup Recipe
Ham and Cheese Soup: a staple at our house in the fall and winter. Creamy and flavorful, this is a main dish soup everyone will love.
Ingredients
8

oz.

chopped ham

3/4

cup

chopped onions

3/4

cup

shredded carrots

approximately 2

3/4

cup

diced celery

1

teaspoon

dried basil

1

teaspoon

dried parsley

1

tablespoon

butter or olive oil

3

cups

chicken broth

4

cups

diced potatoes

approximately 4

1/4

cup

flour

1

tablespoon

melted butter

8

ounces

American cheese or Velveeta

cut in small pieces for easy melting

1 1/2

cups

milk

3/4

teaspoon

salt

1/2

teaspoon

pepper

1/4

cup

sour cream
Instructions
Saute onion, carrots and celery in 1 tablespoon butter or 1 tablespoon olive oil.

Stir in basil and parsley.

Add chicken broth and diced potatoes.

Cook over medium heat until potatoes are tender, 10-15 minutes.

Separately, mix melted butter and flour together with a fork and add to soup.

Bring to a boil and mix well.

Turn heat down, then add ham, cheese, milk, salt and pepper.

DO NOT BOIL AFTER ADDING MILK AND CHEESE.

Blend in 1/4 cup sour cream.
Notes
Very important! Absolutely do not boil the soup after the cheese and milk are added. (It will curdle and ruin the texture.)
I don't peel the potatoes in this recipe for two reasons: nutrition and laziness. The potatoes are just fine with the skin on.
Easy: use a ham steak for the chopped ham.
This soup doubles and triples great.


You may also like: Simon Pearce Vermont Cheddar Soup