This sweet Lime Avocado Black Bean Dip w/Feta disappears fast, so I always make a double batch for parties! Has all my favorite ingredients – creamy avocado, black beans, feta, crisp corn and fresh squeezed lime juice.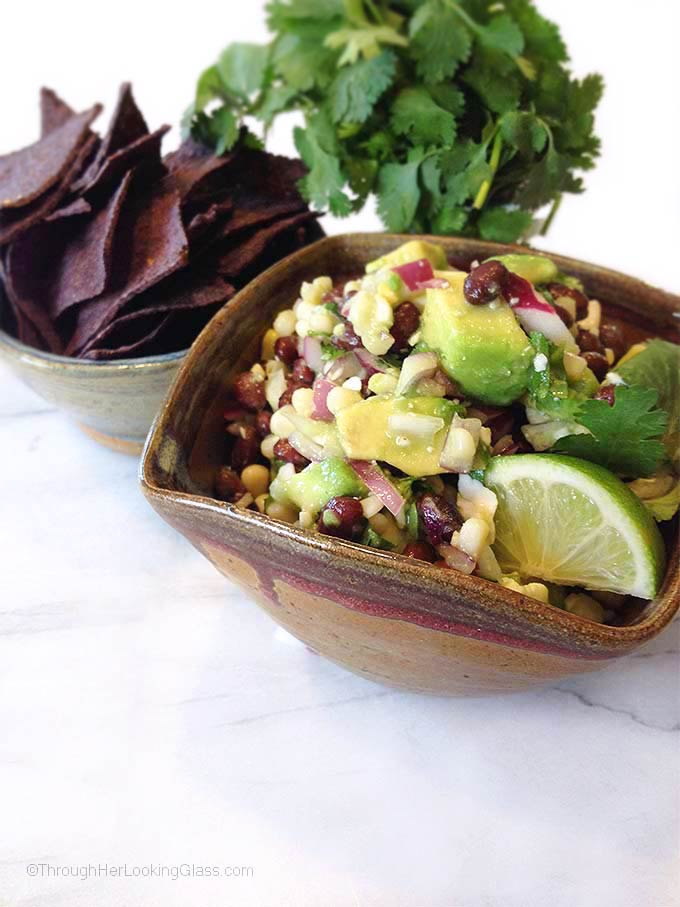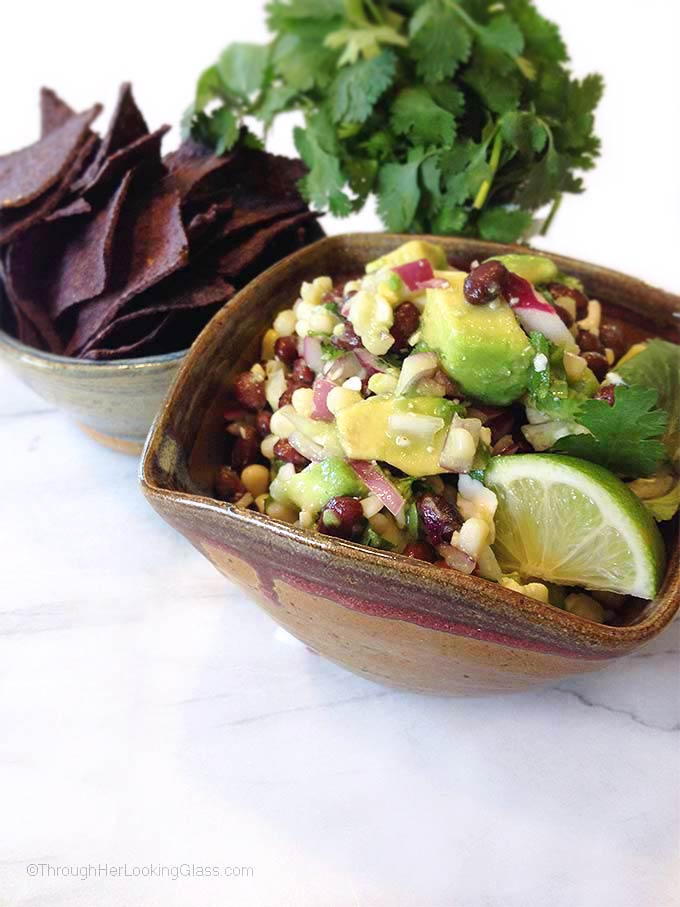 So things are a little cattywampus at our house this week. (Had to google for the spelling on that.) Haven't heard that funny word in forever and an age.
So have I mentioned I'm re-doing my home office? Well I am. And Jon was hanging shutters in there this week.
"Things are a little cattywampus," I heard him mutter. 🙂
(Thankfully they un-cattywampused before he finished. Ha ha.)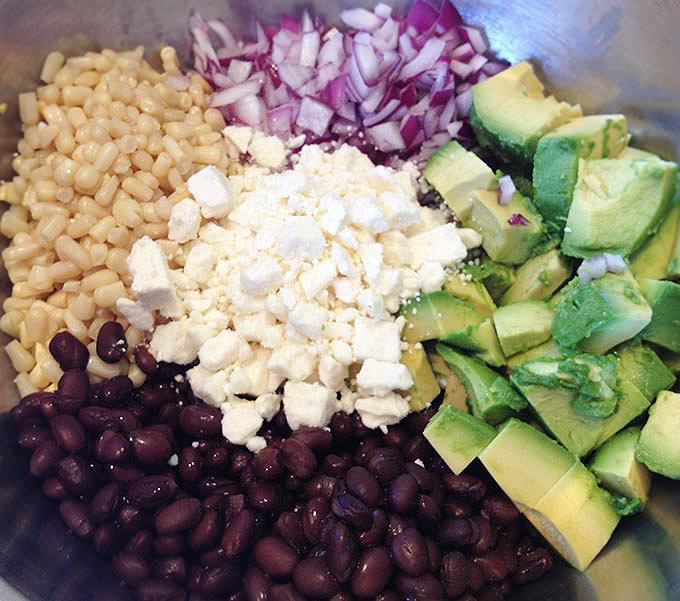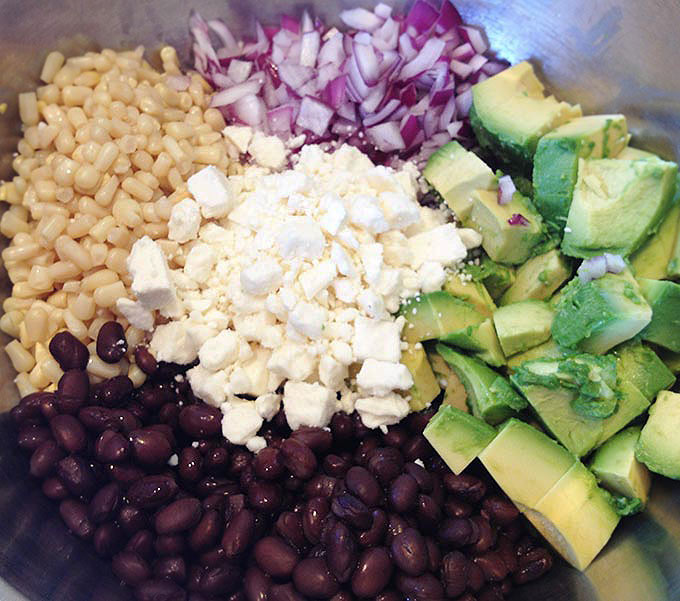 So things are cattywampus crazy around here with the last week of school. Multiple awards programs for multiple kids for sports, academics, etc. And my oldest son Jonathan graduates high school on Saturday. Yep, my baby. It's a bittersweet time and I'm traveling down memory lane at every turn.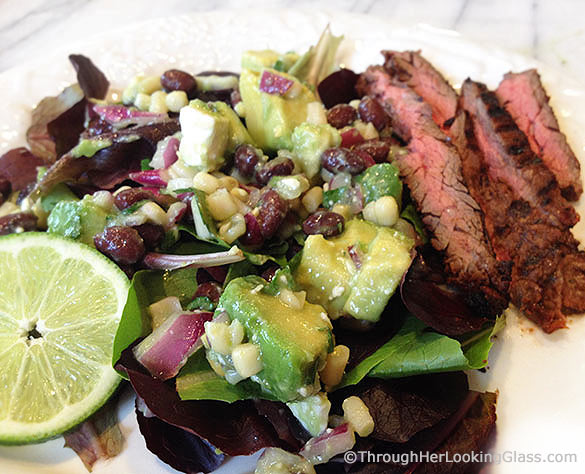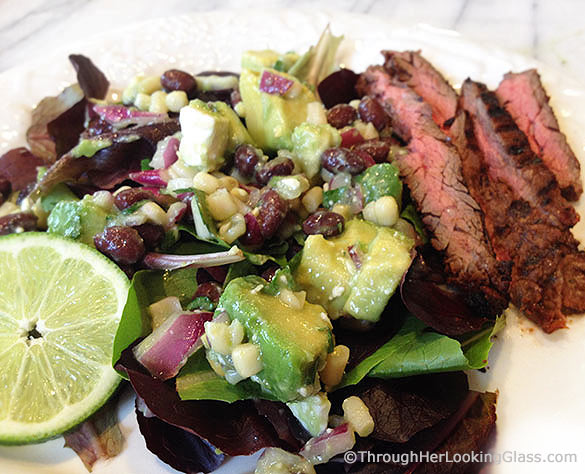 Sweet memories and I can't believe his graduation day is finally here. As in, this week. The summer will fly by as it always does, and then he'll be zooming off to college in a flash. Just like that. (Sniff.) Thankfully he has little brothers.
So I'm getting the menu and the eats ready for his grad party this weekend and I'm making six recipes of this Lime Avocado Black Bean Dip. No joke. It's what people want, so that's what I'm making. It was nearly ten years ago when I first sampled this yummy dip and we've been inhaling it for years now.
It has everything to love: avocados, crisp sweet corn, black beans, feta, red onion, all tied together with a refreshingly sweet and light fresh lime juice dressing. Add chopped cilantro if you're a cilantro lover. (I am.)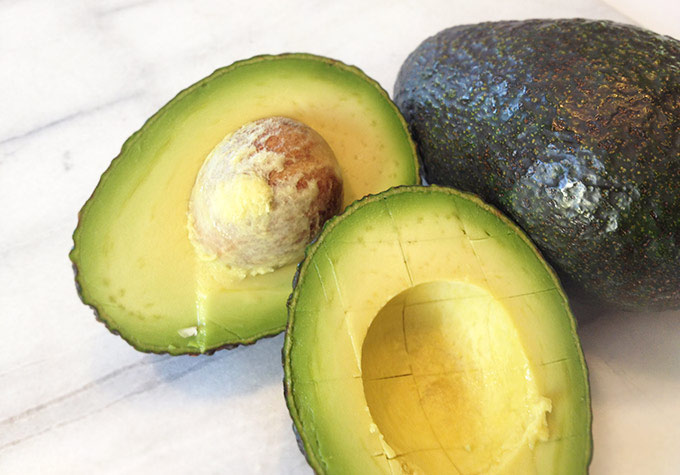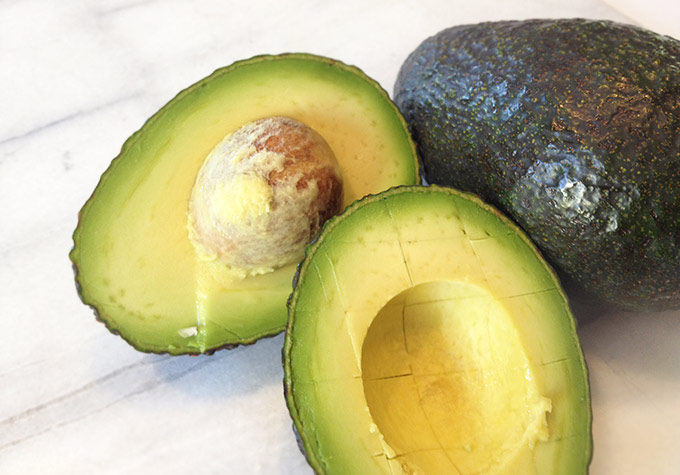 You know how to chop an avocado, right? A girlfriend taught me this easy trick years ago. Leave the skin on, slice it in half oblong around the pit. Pry out the pit.
With a paring knife, dice vertically and horizontally through the avocado (all but the skin) and scoop out with a spoon. Pick an avocado that's soft (not mushy) when you press on it lightly, and a deep purply greenish color.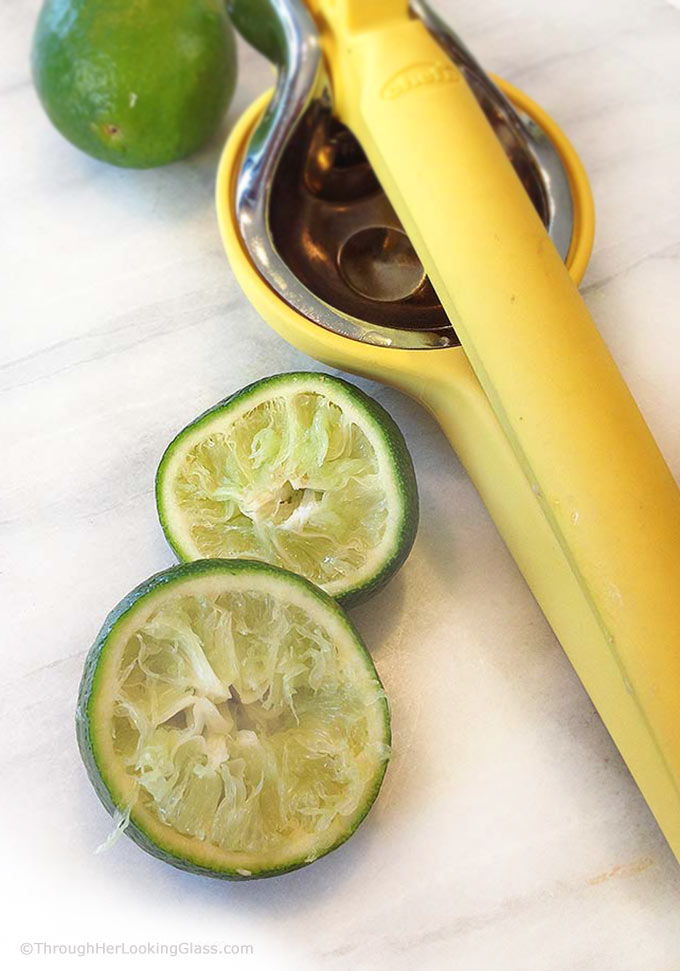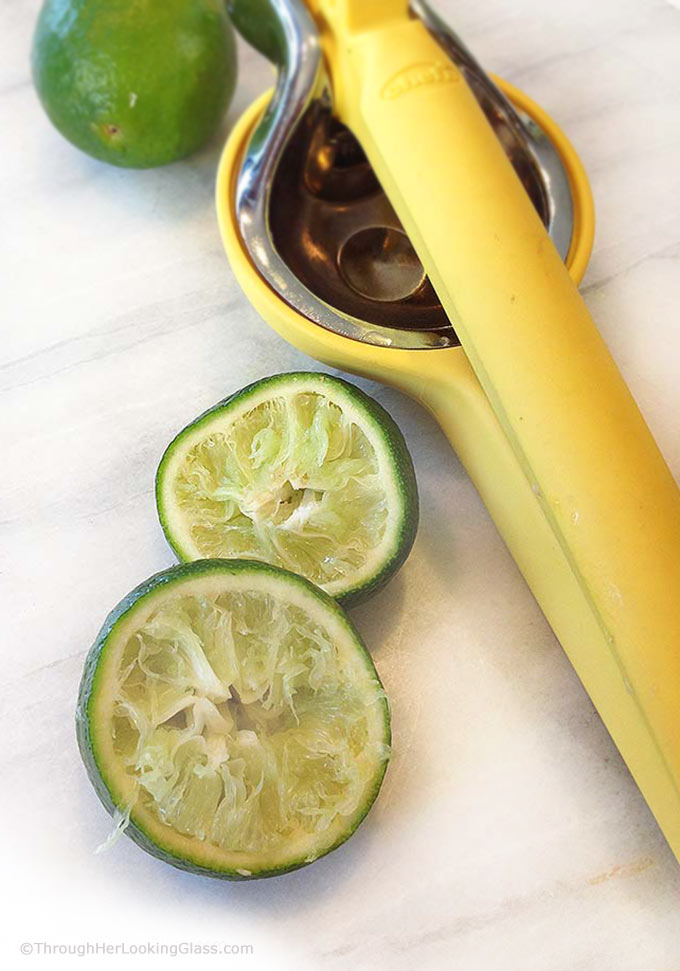 It's extra nice using fresh squeezed lime juice for this recipe, but bottled will do in a pinch.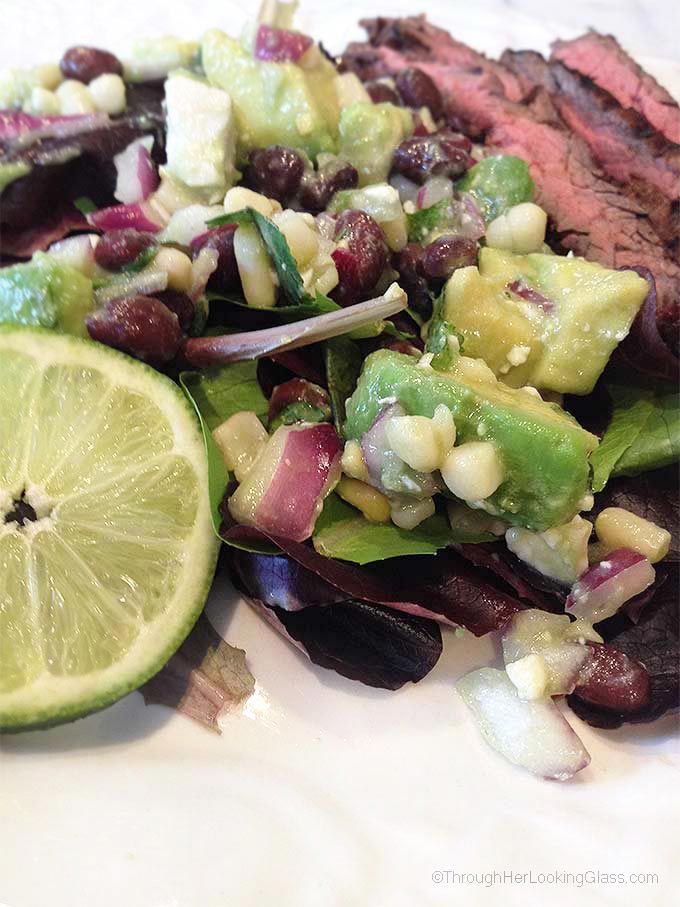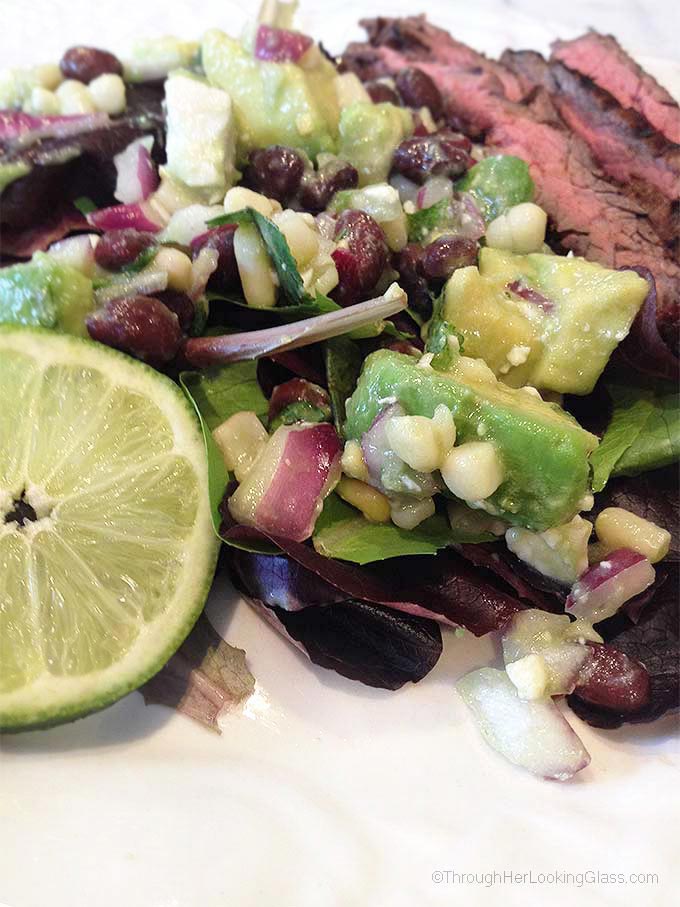 This is such a versatile recipe. Enjoy as a dip with organic blue chips. Or spoon onto a bed of leafy greens and serve with a side of steak tips.
Wrap this Lime Avocado Black Bean Dip in a tortilla with shredded chicken and lettuce for a fabulous and flavorful wrap. Serve as a side salad. There are so many great ways to enjoy this incredibly yummy dip! (Sorry, there won't be leftovers.)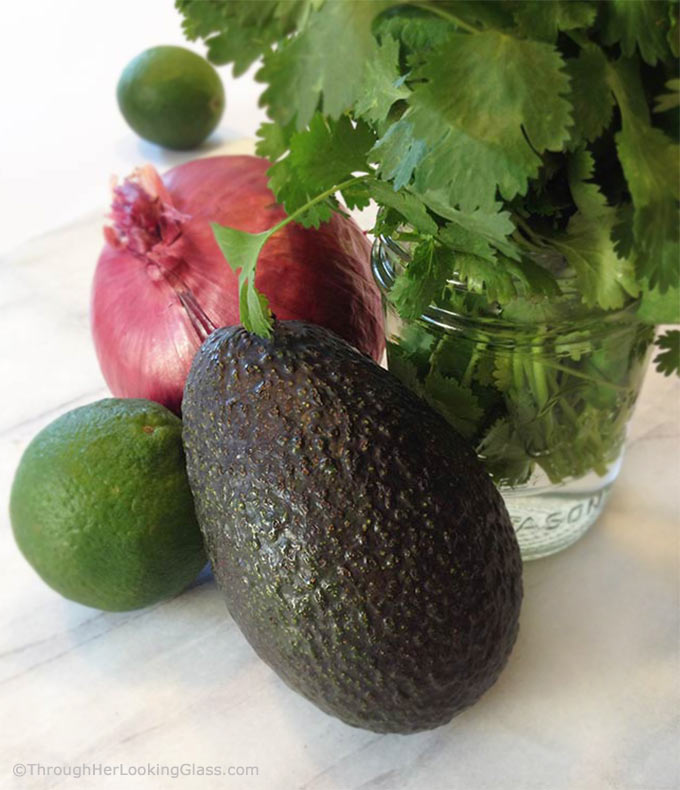 Love all these fresh ingredients!
This Lime Avocado Black Bean Dip is by far my most requested recipe. Last year I gave it to my girlfriend who works at the local hospital. I didn't charge her a dime. Then again she didn't charge me for her amazing 29 Minute Decadent Chocolate Sheet Cake recipe either. So now we're even, and thanks Allison.
Gotta love girlfriends. Don't know what I'd do without 'em. Probably be hungrier. (And lighter.) Allison's a pharmacist. Lots of times she'll bring in treats to share with her co-workers. She tells me that staff from other floors of the hospital regularly call her department now asking for this recipe.
Folks: they're not calling in a prescription.
They're calling for a recipe. People she doesn't know, hasn't met.
They haven't even tasted it yet, they've just heard about it through the grapevine.
Word, it travels. She's got a lot of new friends at the hospital now, and all over this Lime Avocado Black Bean Dip. It's that good.
In fact, I always make at least a double batch because there's just never enough. This is a healthy recipe your family and friends are sure to love. Great for picnics and barbecues. Hope you make it soon and let me know how you like it!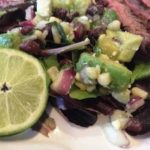 Print Recipe
Lime Avocado Black Bean Dip w/Feta Recipe
This sweet lime Avocado Black Bean Dip disappears fast, so I always make a double batch for parties! Has all my favorite ingredients and so versatile.
Ingredients
1

can white corn

drained

1

can black beans

drained and rinsed

3

ounces

crumbled feta cheese

1/2

red onion

diced

2

ripe avocados

chopped

2

tablespoons

fresh lime juice

scant 1/4 cup sugar

2

tablespoons

olive oil

2

tablespoons

white vinegar

optional: 2 tablespoons chopped cilantro

or more
Instructions
Combine all ingredients and serve immediately. Or cover tightly and refrigerate.


You may also like: San Francisco Avocado Layer Dip