Something sweet happened today. Very sweet. I know I told you I pressed the pause button on my weekend musings this summer, but I'll just tell you. Real quick.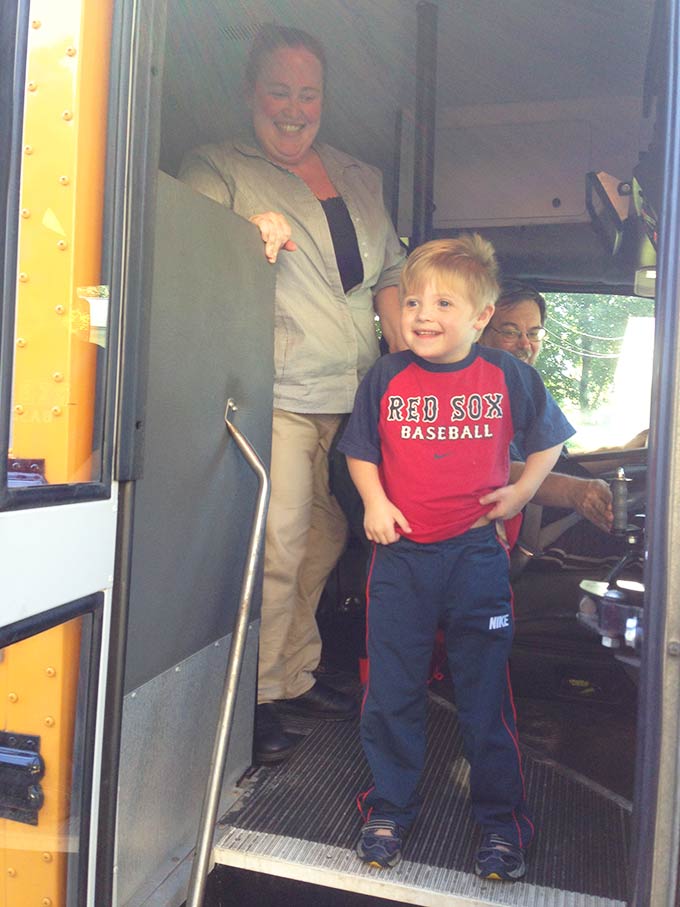 So today (Thursday) is my Hudson's last day of school. (Hudson is six years old, youngest of four boys, has Down syndrome.) The truth is, I didn't even know it was his last day of school. I thought tomorrow (Friday) was. But this morning, Hudson's morning bus driver kindly tells me to have a great summer. And it sounds so final.
Confused, I say "You too, will I see you in the morning?" And sadly, that's how I learn it's the last day. Ouch.
(Yeah, so I won't get Mother of the Year award.)
That afternoon, the Little Yellow School Bus for special needs children arrives to drop off Hudson. And as the double doors swing open wide, the afternoon driver, she smiles. But she's different today. Her eyes, they're red and wet. And as Hudson slowly makes his way to the front, I see the big hot tears roll down.
"Are you ok?" I ask. Because she worries me.
"Don't mind me," she mumbles. "I've been like this all day." Pause. "I'm really going to miss these kids."
Now I'm the teary one. Speechless. Me. Well, almost. And husky-voiced, I whisper, "Thank you. God bless you for loving our children."
Read on to learn more about Hudson, his beloved Little Yellow School Bus and a few of the very wonderful people that spin his world.
Dear friends, I know many of you like to stay updated on our little Hudson. I haven't filled you in since the cardiology Heart Hudson post nearly a month ago. Last spring I'd hoped to write about Hudson and the Little Yellow School Bus but it didn't happen. He just started back to school again. A big boy, in kindergarten this year.
So last fall Hudson started pre-school. The pre-school's only ten minutes away, but with the school bus traffic and car line, etc. it morphed into a forty-five minute drive there and back. So driving it twice for drop-off and pick-up, I was driving an hour and a half for him to be at preschool for two and a half.
Come January, I started thinking perhaps I should consider letting Hudson ride on the special needs bus to pre-school. It's a Little Yellow School Bus operated by Easter Seals of NH with a chaperone on board for the children. My concern about him riding the bus is that he's mostly non-verbal.
Not only can't he tell me how his day went at school, he can't fill me in on the bus ride either. As my chauffeuring continued through the fall, I thought more and more about what a few extra minutes in my schedule might mean. (Guaranteed shower? Flossing my teeth twice a day?? Ha.) Swallowing my fears, I finally signed him up to ride the bus one way to school.
The big day finally arrived after Christmas break, Hudson's first time riding the bus. If you don't know Hudson, anything new is a significant challenge. Food, sippy cups, car seats, videos, people, music, books, places.
You name it, any change is tough for Hudson and he cries often. So I was apprehensive about how he would do getting on the bus the first time.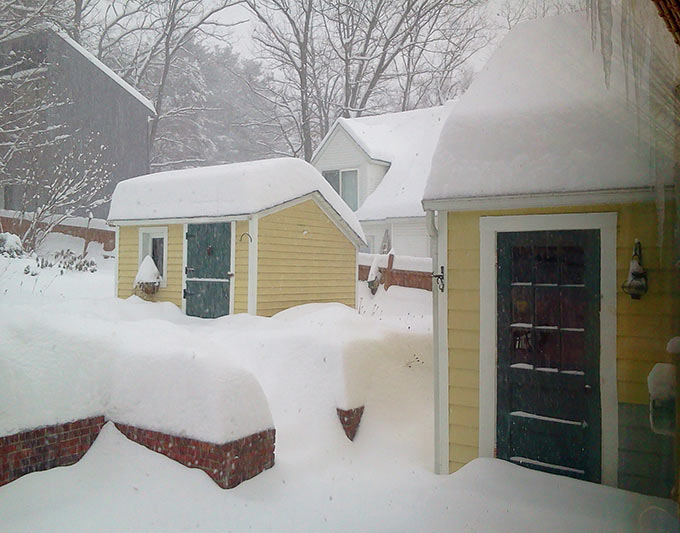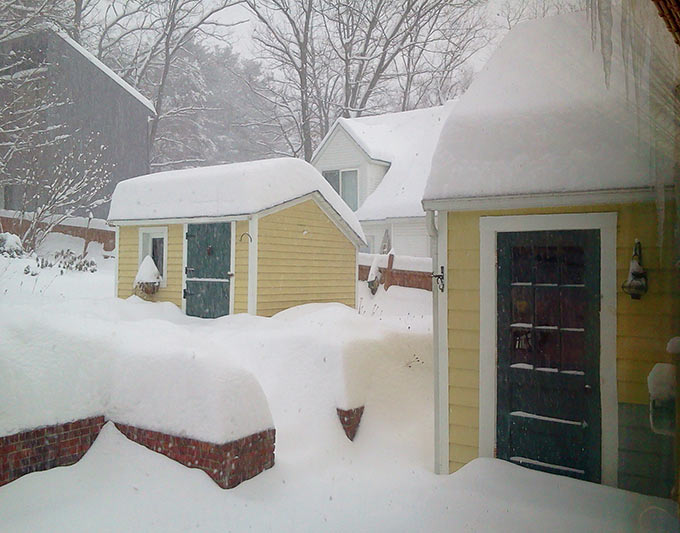 Unfortunately it was a frigid day. (And what January day isn't around here?) The snow piled three feet high on either side of the driveway, as tall as Hudson. Just a narrow single file passage to squeeze by the suburban.
The bus was supposed to arrive at 12:15, but at 12:00 I heard a honk outside. Oh no, the bus. Early. They told me they'd honk and wait up to 3 minutes, then drive on.
Well first of all, Hudson does NOT like putting a coat on. Period. Doesn't like to be hurried either. They say every person has a correlating animal.
Hudson's is a cat.
Rush him, and he plants himself, plugs his mouth with a thumb. Ignore him, and he'll be your best friend. (Incidentally, he also loves unwinding yarn balls…)
Back to the bus and the honk. So I rush around grabbing Hudson's hat, coat, mittens, boots etc. His backpack. The elusive mittens are nowhere to be found.
By now, Hudson, sensing the hurry, has firmly planted himself on the kitchen floor. Refuses to budge or be rushed. Throws off the ski hat not once or twice, but three times. Tick tick tick….how many minutes have gone by?
Finally I give up on the mittens, pull his long coat sleeves down, tuck his little hands up inside, pull on his hood. Hoist my little eskimo and walk through the mudroom, out the door, and down the steps.
Setting him down outside, thankfully he decides he'll walk. But in retrospect, I really wish I'd just slowed down.
Because the world would've kept turning had we missed the bus that day.
As we squeeze between the suburban and the snow bank, Hudson slightly behind me but hand in hand, he trips. Falls directly into that mile high snow bank. Snowy bare hands, snowy overalls. Tears. (Hudson, not me.) Poor little guy. (And of course I feel like the worst mom ever.)
I hurriedly brush him off and we keep walking down the driveway. The bus assistant, a cheerful older man, is waiting at the end:
"Heya Hudson! How ya doin' there buddy? Do you like the yellow school bus?" he bellows.
At that moment, Hudson's not doing so well. Pink nosed, teary eyed and sniffling. Not to mention a suspicious look for the bus assistant.
And my thoughts : "Oh. No. This man's too loud. Too scary. This will never work long-term for Hudson."
Well somehow, Hudson climbs the stairs of the bus with Charlie that day. He looks unsure, nervous. But he goes. And he's not crying. And that, to me, is nothing short of a miracle.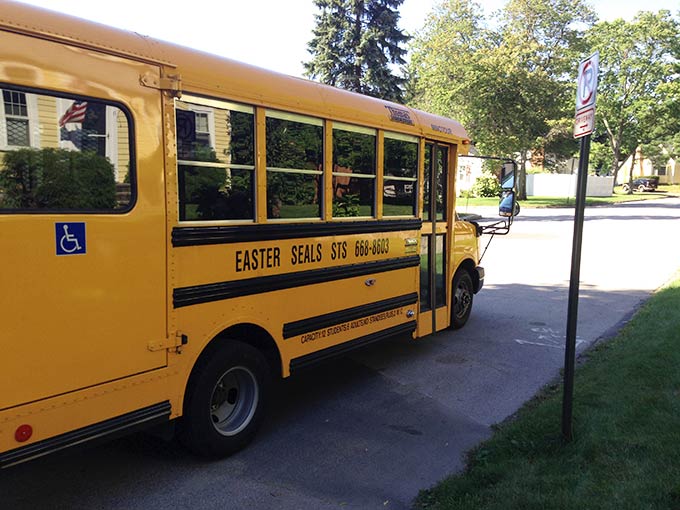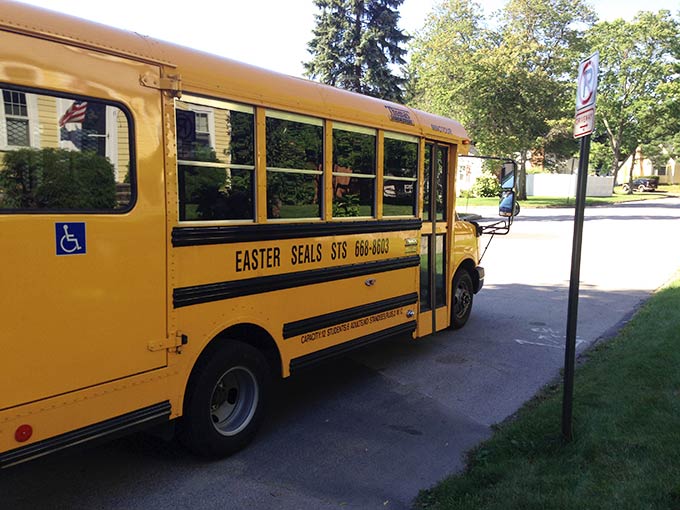 Over the next few months, Hudson came to look forward to the school bus arriving. It didn't happen overnight, it took weeks. But I think it was mostly that he loved seeing that gregarious Charlie.
And every time we'd come out the door to get on the Little Yellow School Bus, Charlie would shout up a noisy greeting. Patiently wait as we carefully navigated the door and stairs. Meet us halfway, carry Hudson's booster seat and backpack.
And Hudson would beam. Absolutely BEAM!!!! He loved that man. Despite my fears, Charlie turned out to be a beautiful gift.
Over the summer Hudson attended a morning pre-school during the month of July. Charlie golfed every chance he could summers, so he didn't help on the bus route anymore.
Seems there were always different drivers and helpers. And while Hudson got on the bus without tears, there wasn't anyone quite like Charlie. We'd come out of the house, and I could tell by Hudson's expectant face, that he was looking for Charlie. He truly loved Charlie.
So last week it was time to get back on the school bus again. This year Hudson's a bigger boy, riding both ways. And it's a brand new Little Yellow School Bus with tinted windows. The drivers and helpers have been so kind. The first morning we go out to the bus, and a lovely older lady introduces herself as Gigi.
Well that works perfectly, because Hudson's grandmother is Gigi. He climbed the stairs happily, and I wave goodbye.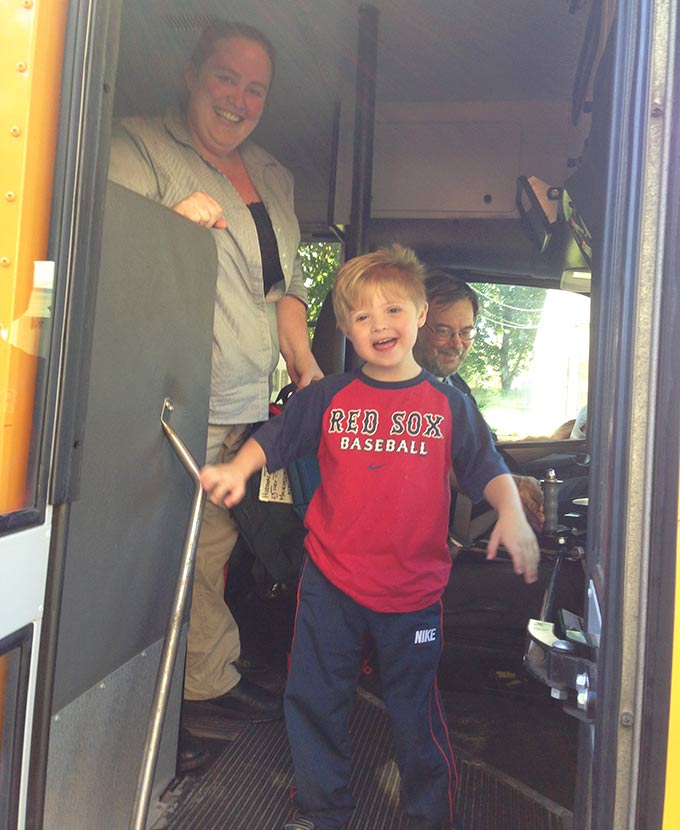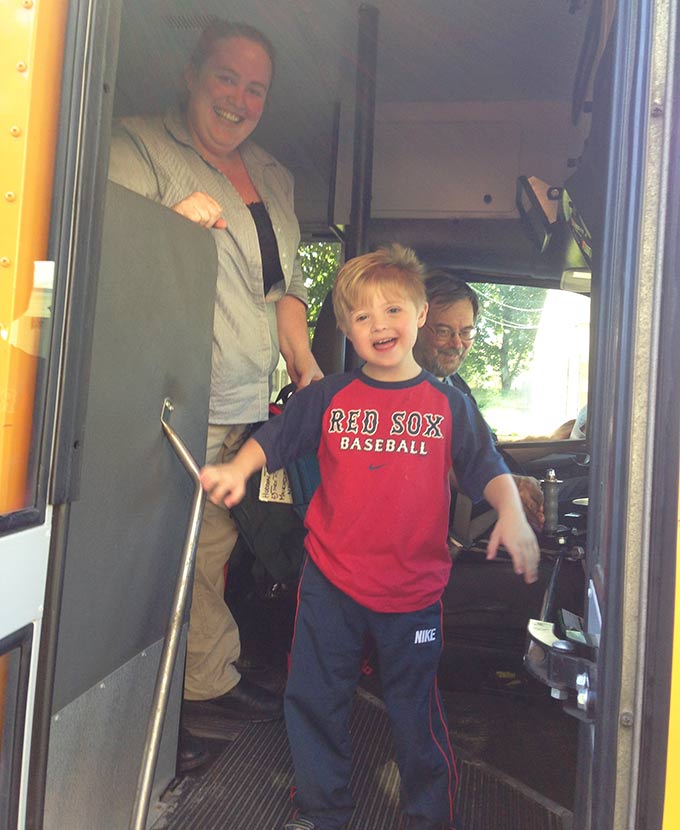 Several days later, the bus comes to drop him off after school. I wait and wait at the bus door for Hudson to get off. The sweet bus assistant, a different lady from the morning route brings him up.
"He gets so excited to see you through the window. Smiles and waves. It's hard to get him out of his seat because he's so focused watching you through the window. He's absolutely adorable."
I just can't see all the joy because of those tinted windows…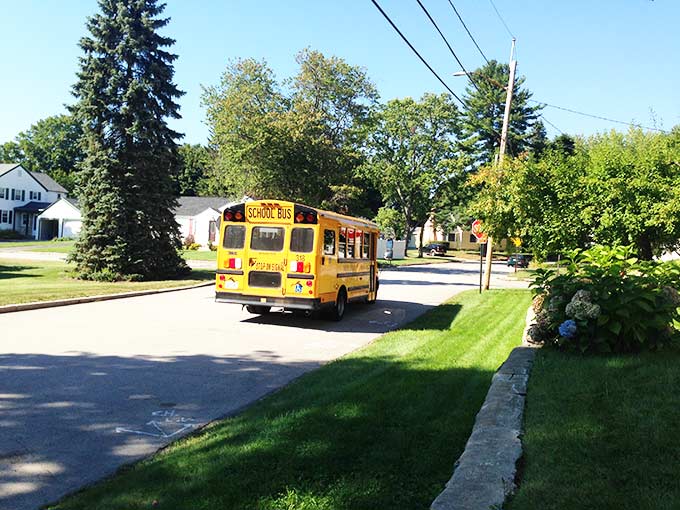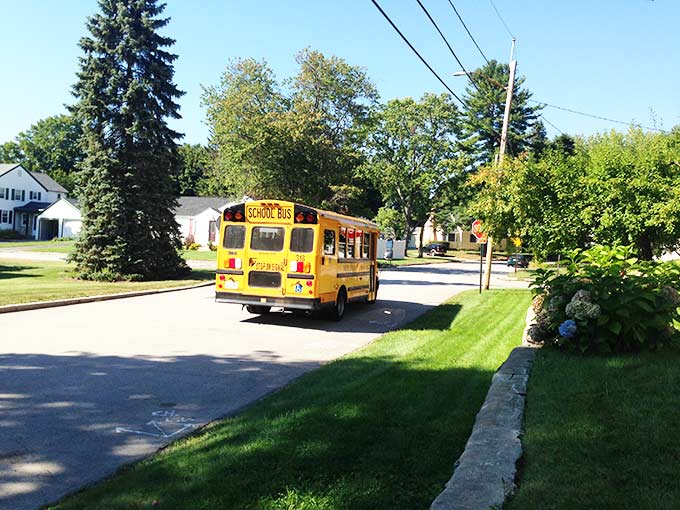 Hudson has a little ritual he began over the summer. He stands in the driveway, watches as the bus drives away. Waves and waves 'til it rounds the bend and he can't see it anymore. Then clearly says two words:
"Bye bus."
(That counts as a sentence, don't you think?) And then he's happy to go inside.
This past Tuesday morning Hudson is all dressed to beat the band, ready for school. There's still fifteen minutes before the bus arrives. All on his own, without prompting or mention of the bus, he races to the door, yells, "Bus, bus!"
I'm telling you, he loves that Little Yellow School Bus. I click on Curious George to pass the time. Fifteen minutes comes and goes and still the bus doesn't show. Finally I call Easter Seals to see what's up, if they're coming.
"No school in Manchester today," she says. "It's voting day for the local primaries."
Right. I knew about the primary, but somehow missed the no school memo. Then Hudson comes back in the kitchen, looks for the bus again. And I have to tell him no bus today. He plants himself on the kitchen floor. Tears and thumb.
Know what? Those tears make this mama very happy. Because they tell a story my little boy cannot: that he's happy, loved and well-taken care of on that Little Yellow School Bus.
Tears of joy. (Me.)
You may also enjoy: Glimpse of Sunshine