Following is a wonderful, easy recipe for Vanilla Bean Maple Syrup. It's a great treat for breakfast and brunch or makes a gourmet gift. (If you can part with it.) Keep in mind it takes two weeks to "cure", so now's the perfect time to make a few bottles for holiday gifts!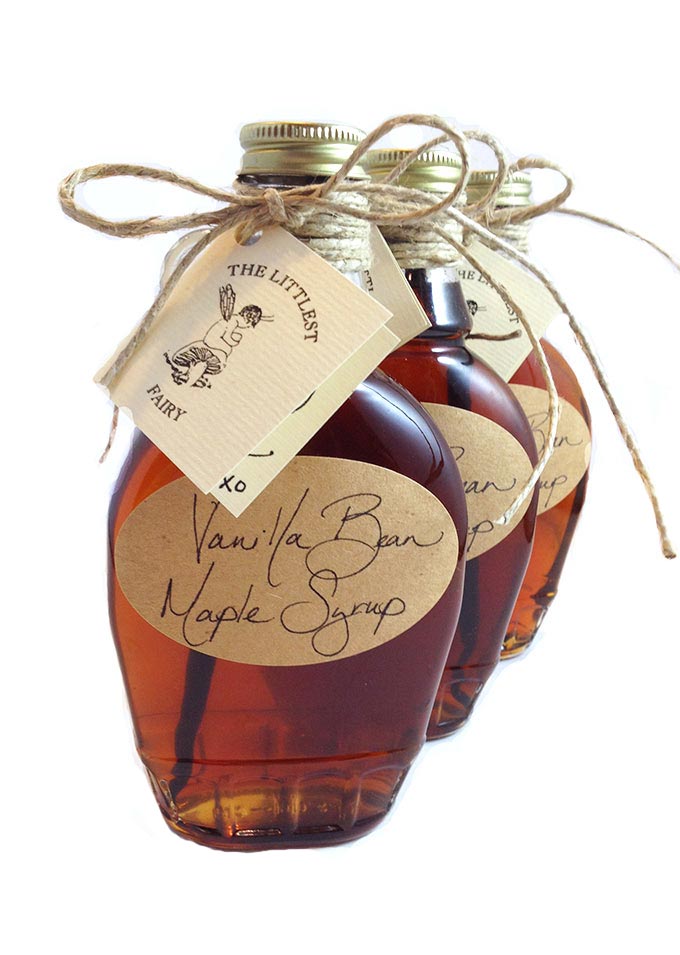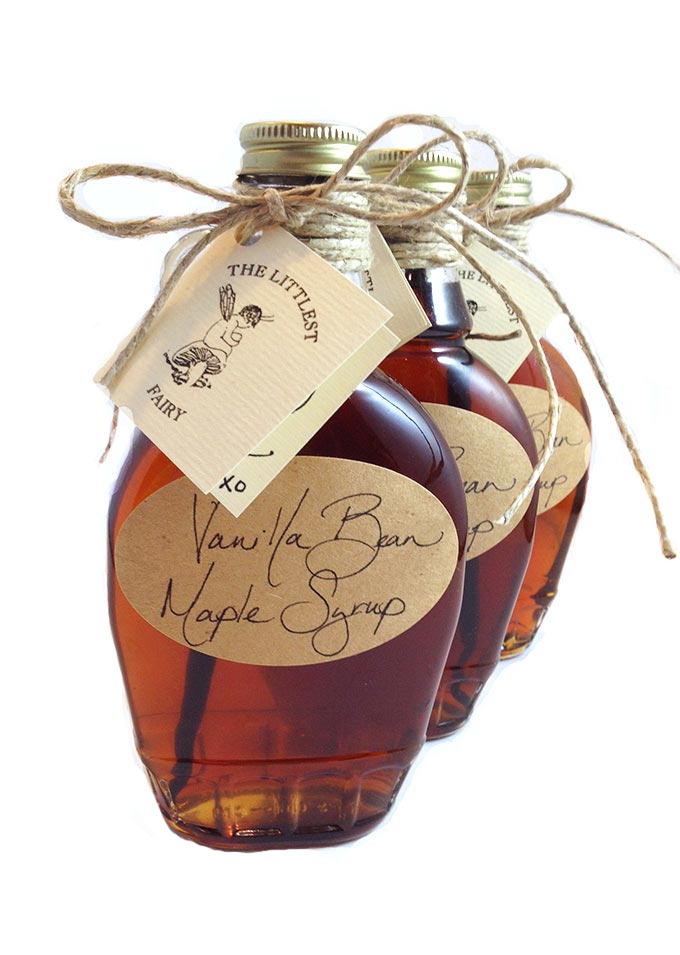 My Mainer grandfather knew a good thing. Most nights after dinner he treated himself to a large bowl of vanilla bean ice cream doused in a river of pure maple syrup. Other nights he poured himself a bowl of maple syrup, slurped it straight up, spoonful by golden spoonful. Like I said, he knew a good thing.
Last spring I tasted Vanilla Bean Maple Syrup for the first time at the Cabot Cheese store near where I was staying in Smuggler's Notch, Vermont.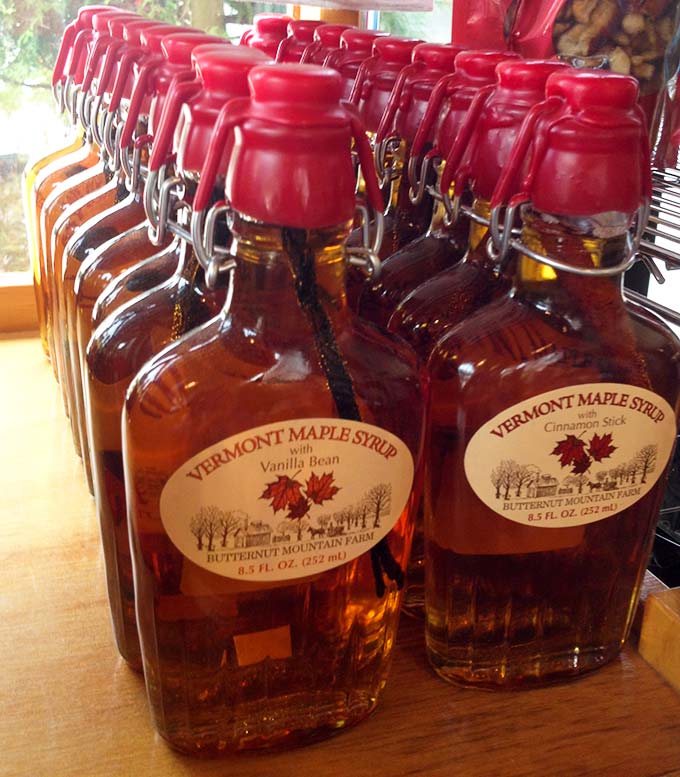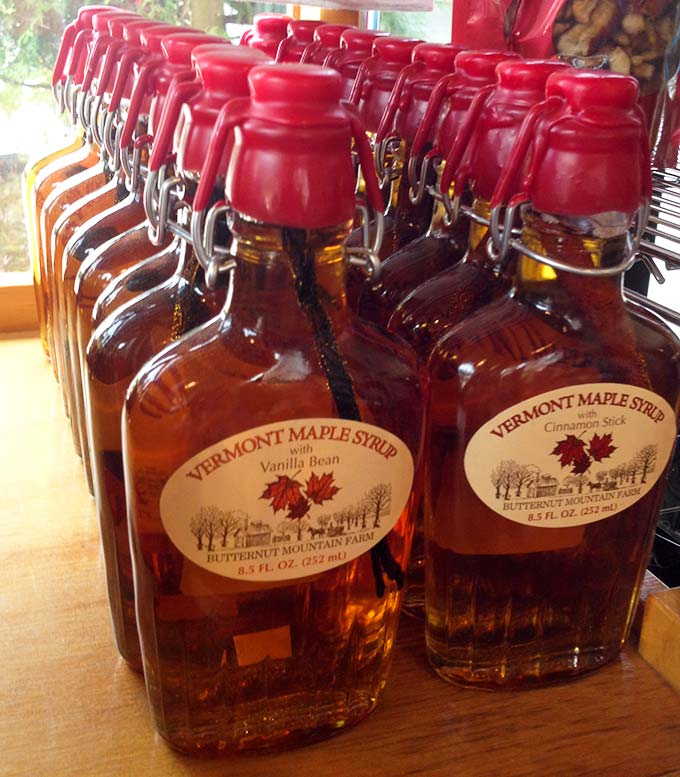 I know a good thing too. Vanilla Bean Maple Syrup is out of this world, seriously the best thing I've ever tasted. I took a taste from the tiny spoon at the sampling counter. And then another. And yes, another. I had to stop. I knew it was unethical to down an entire sample bottle. I might get arrested and carted off to jail. That day I bought a precious bottle of Butternut Mountain Vanilla Bean Maple Syrup. My boys and I finished it off in mere days.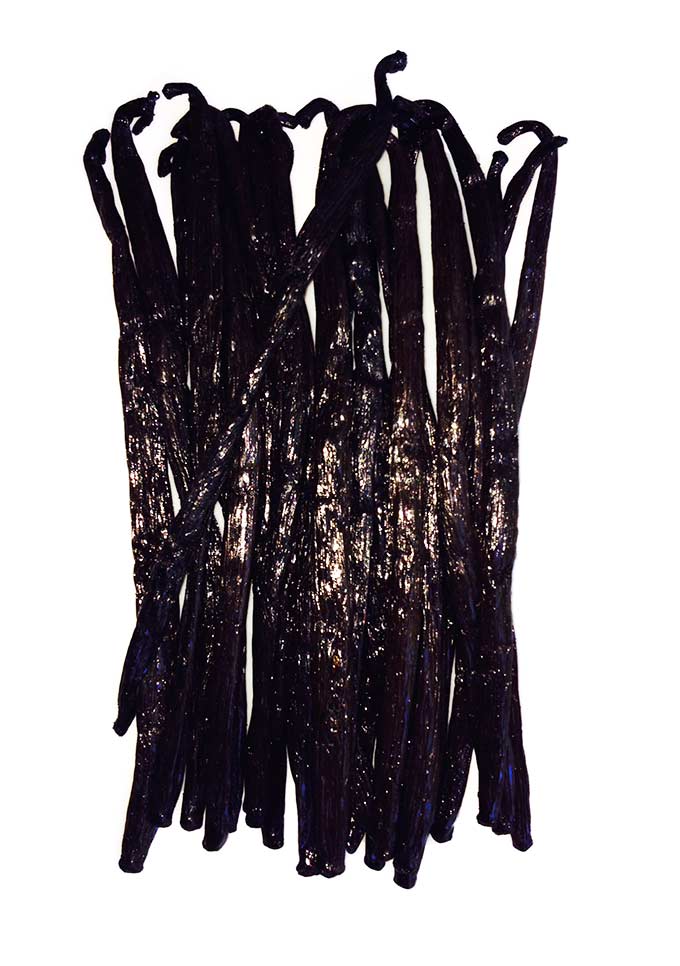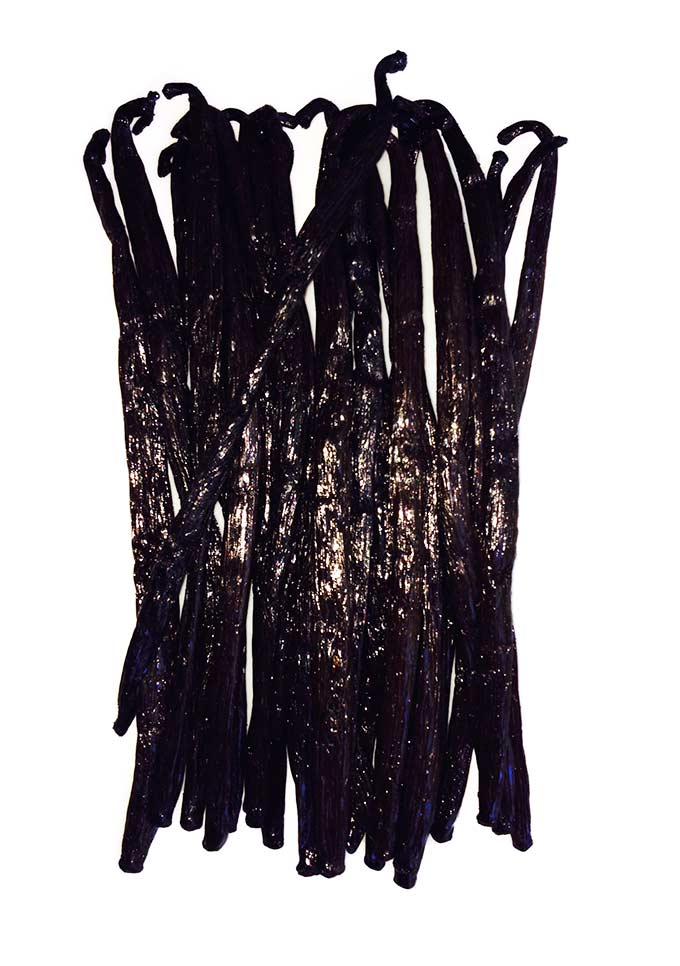 So I did a little experimenting and I'm SO excited to share this recipe with you! You're gonna love it. It's simple to make with guaranteed great results. I gifted it for Christmas last year, birthday gifts too. If you like the syrup flasks I used, here's the best deal I found ordering in bulk on-line:  Container and Packaging (They sell the screw-on caps separately, don't forget to buy those too.)
I bought four gallons of pure Vermont maple syrup from Collins Tree Farm and Sugarhouse in Putney, Vermont. Martin and Jean Collins couldn't have been more accommodating and gracious, gave me excellent service, shipped it straight to my door. I love supporting local family businesses.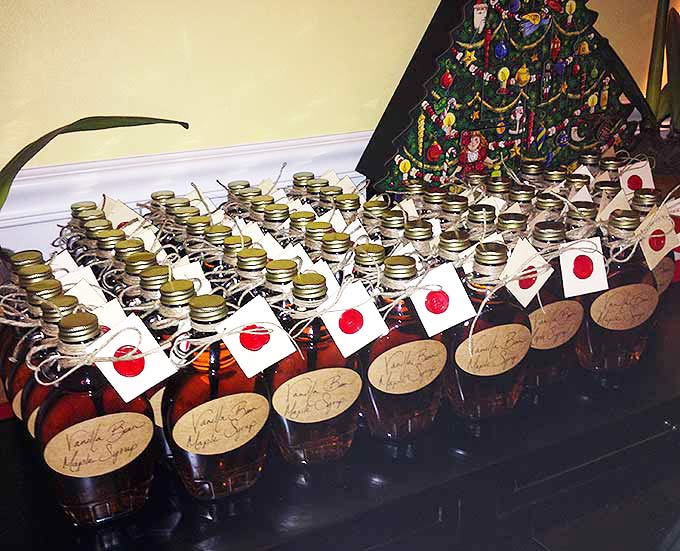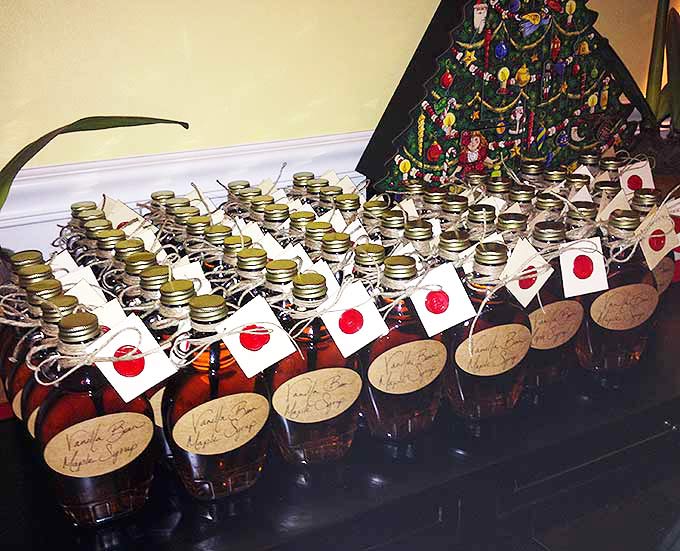 Yeah, so I made lots of  Vanilla Bean Maple Syrup last year! Lots of happy campers on Christmas morning…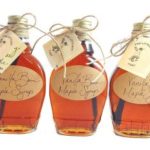 Print Recipe
Vanilla Bean Maple Syrup
Simple recipe, Vanilla Bean Maple Syrup is wonderful on everything from ice-cream to pancakes. But mostly, straight from the spoon. Warning: highly addictive.
Ingredients
8

oz.

pure maple syrup

1

teaspoon

vanilla bean paste

1

vanilla bean pod
Instructions
Slit the vanilla bean lengthwise.

Place vanilla bean in a sterilized 8 or 8.5 oz. jar or flask.

Bring the syrup to a near boil.

Gently stir in 1 teaspoon vanilla bean paste.

Using a funnel, carefully pour the hot syrup over the vanilla bean into the jar.

Screw on the cap, then cool.

Refrigerate for two weeks 'til ready.

ENJOY!!!

(Keep refrigerated.)
Notes
I made four gallons of vanilla bean maple syrup. Initially, I refrigerated it for two weeks, then moved it to the chest freezer to pull out individually for Christmas gifts.
Did you know? Maple syrup doesn't freeze solid. (It's the high sugar content.)
I bought excellent quality Madagascar Bourbon Vanilla Beans from Amazon.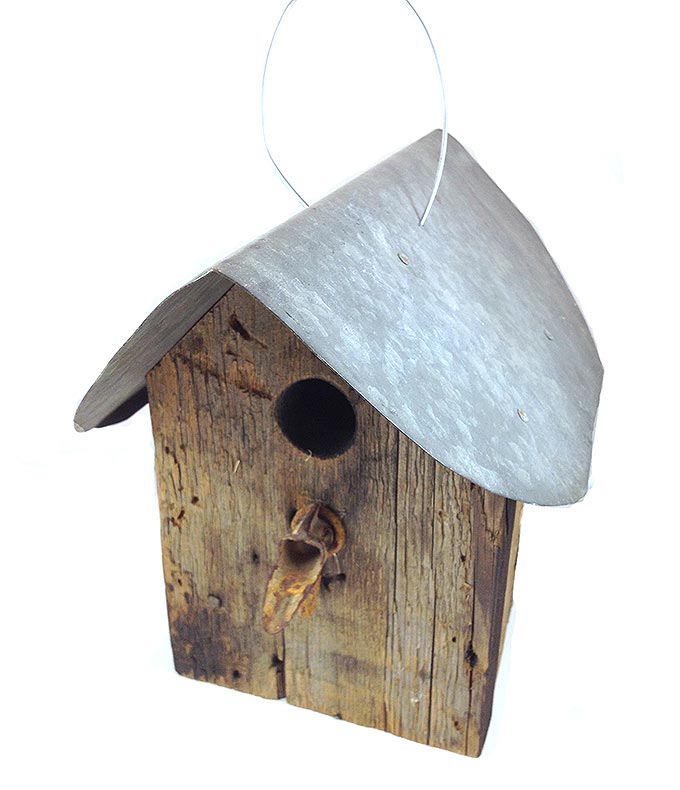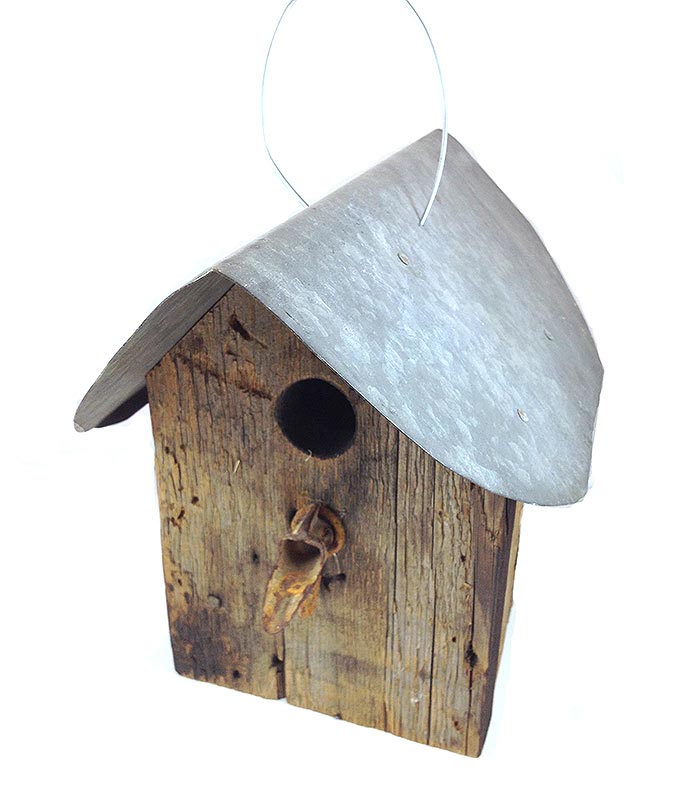 And isn't this the cutest little maple syrup bird house ever?  Eighty-three year old Vermonter Bob Gelineau of Stone Soup Creations created this unique and genuine "Vermont Birdhouse" by using  boards from a 19th century barn. The roof is a sap bucket cover and the perch, a spout used to harvest maple sap in the Vermont Maple sugaring tradition. I recently found this little bird house at a lovely boutique Country on the Common  in Chester, Vermont.
Do let me know if you make this awesome Vanilla Bean Maple Syrup and tell me how you like it!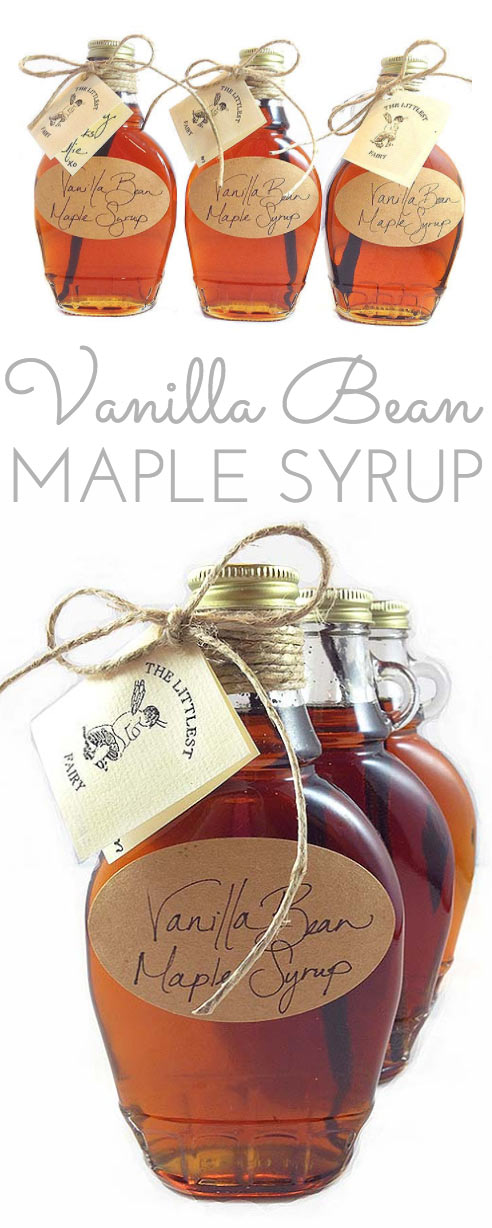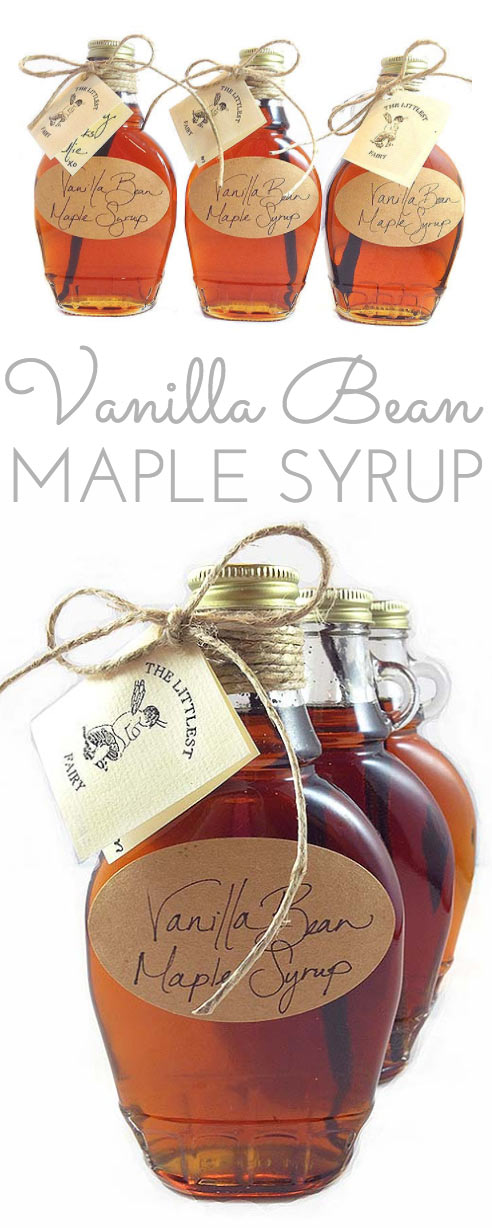 Related Post: Cheese and Maple Syrup sampling at Sugarbush Farm in Woodstock, VT