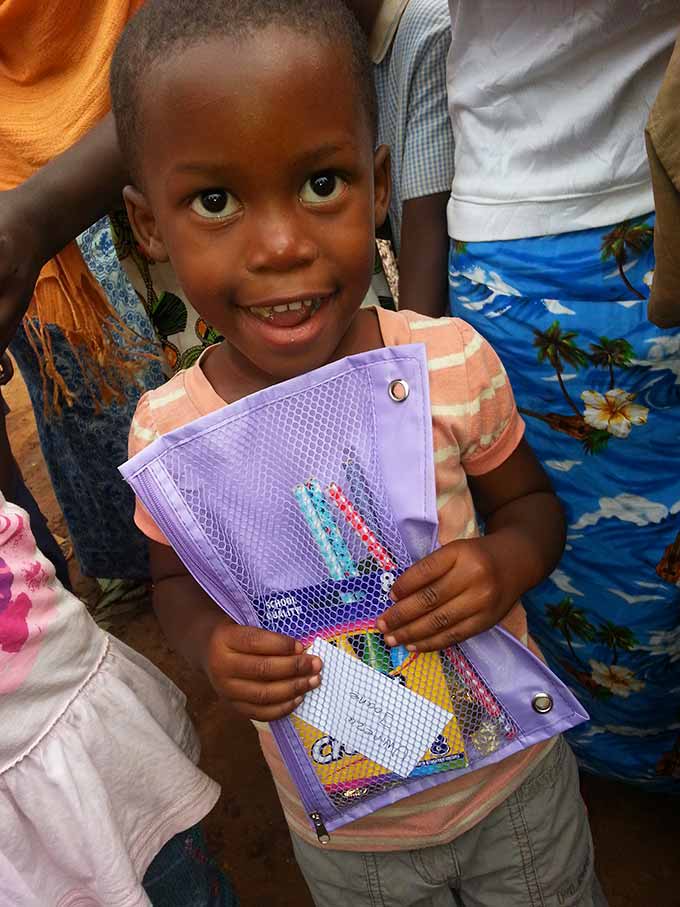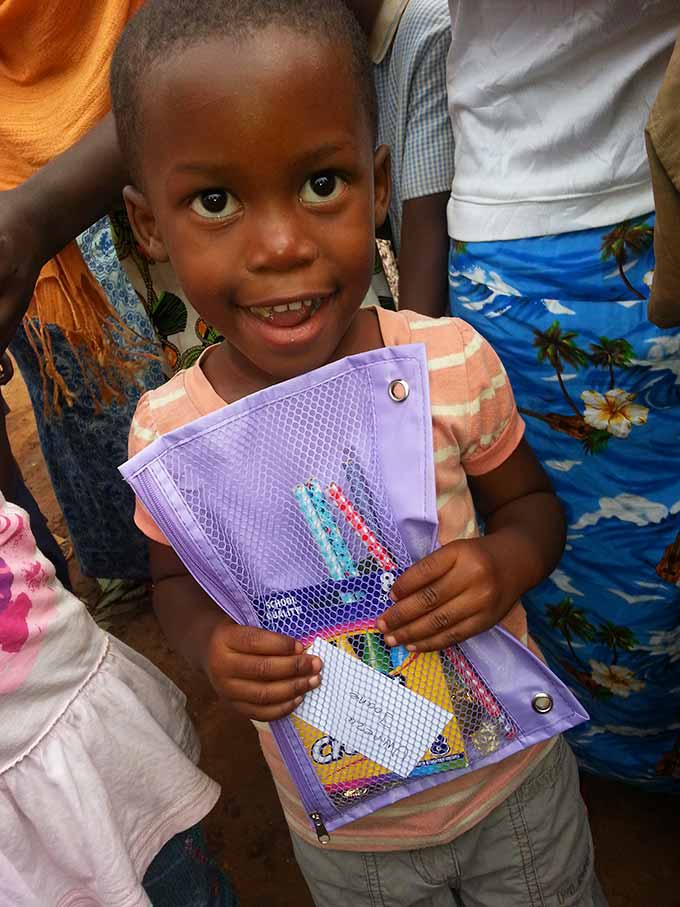 Well happy weekend to you friends! Been wanting to share something very near and dear to my heart with you for some time now. Wasn't sure when the timing was right. Well last Friday morning I woke up with a tickle in my throat. Went about my business as usual and that tickle, it grew. And grew. Into the full-blown flu. I've never had the flu before, and after the past week I've had, I don't recommend it. So only one THLG post this past week, and now you know why. Sincerely hope you can avoid IT this season. Very unpleasant, and the worst of it… a painful, lingering headache.
So I've been wanting to tell you about Little Gems. And when the following poignant post from Little Gems arrived in my inbox this week, I knew now was the time. Leslie and her family have been close friends for nearly 25 years now. She hails from Chicago, has a heart of gold…fitting for her line of work.
Says Leslie:
"LittleGemsUSA is a jewelry company I started in 2013 so that women can look stylish and also make a positive impact in the lives of others. 50% of profits are given to charities that help women and children at risk. Currently we have fashion jewelry as well as gemstones set in sterling silver.
A couple years ago I had my eyes opened to the fact that so many people around me are experiencing immense pain. For some people just meeting physical needs of food and housing are almost impossible.
I looked around and thought,"Why isn't somebody doing something about this?"
I wanted to see big corporations that have big money help fix the problems. I justified myself in thinking….
I can't change the world.
I'm only me. I'm just one voice.
Then I realized, "What if I helped just one person?"
If I was that person praying in desperation, wouldn't I want someone to at least try?"
So Leslie followed her love of sparkle in her quest to help at risk women and children. This past summer, through the purchases of its customers, Little Gems was able to provide sewing machines for deserving Rwandan women. Upon completion of a sewing course, the women were given a sewing machine as a tool to help provide incomes for their needy families.
Following is just the latest example of how Leslie and her Little Gems are making a difference in our world.
In her own words:
"So….it's September…the month AFTER I was supposed to do a Back to School post.  I have a lot of excuses of course, but I guess when it boils down to it, I really don't like Back to School. It represents so many things I do not care for….say for instance….school. I never wanted to go back to school. I did fine and was a fairly good student, but blech…it meant the end of summer, freedom and great weather. As an adult it seems it has the same effect on me. I have to listen to all those people that say they love fall.
PEOPLE AFTER FALL COMES WINTER!!! (Okay, got that out of my system.)
So, yes it's past "back to school" and I know very few kids that are excited about that. None of the ones related to me are happy about it. I do however know of a few kids that are super excited about it. They happen to live in Rwanda. We are spoiled. They are not.
They don't enjoy the same amenities in life and going to school for them is a special privilege not a right. How do I know they love school? They told me so (future post).
Earlier this summer my sister Linda saw a Facebook post from Love Alive International that mentioned founder Laura would be traveling back there for a visit and anyone wanting to send gifts for their sponsored child could send it along with her.
So I went shopping. BUT….I could not figure out what they'd want. When you think about someone who has very little, everything seems so trite and not what they really need. Should I be buying them a toy when they might need socks?? Laura assured me that anything I got them they'd love.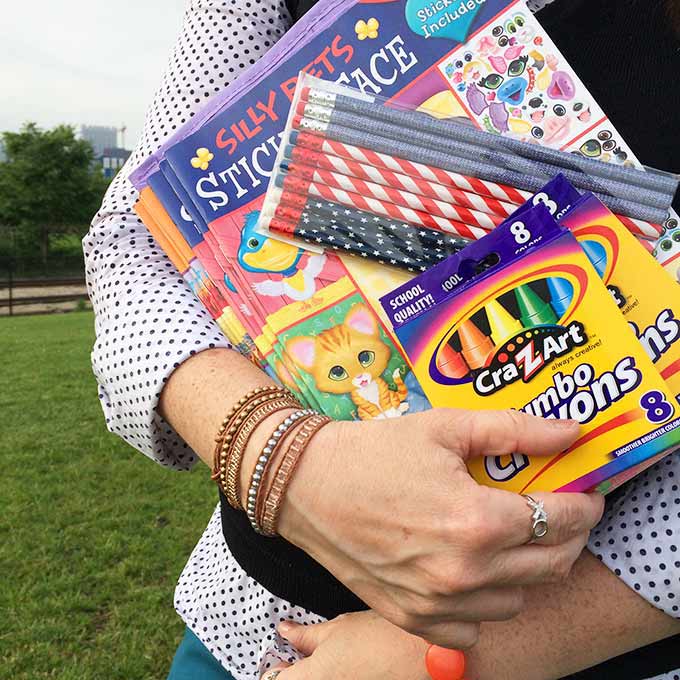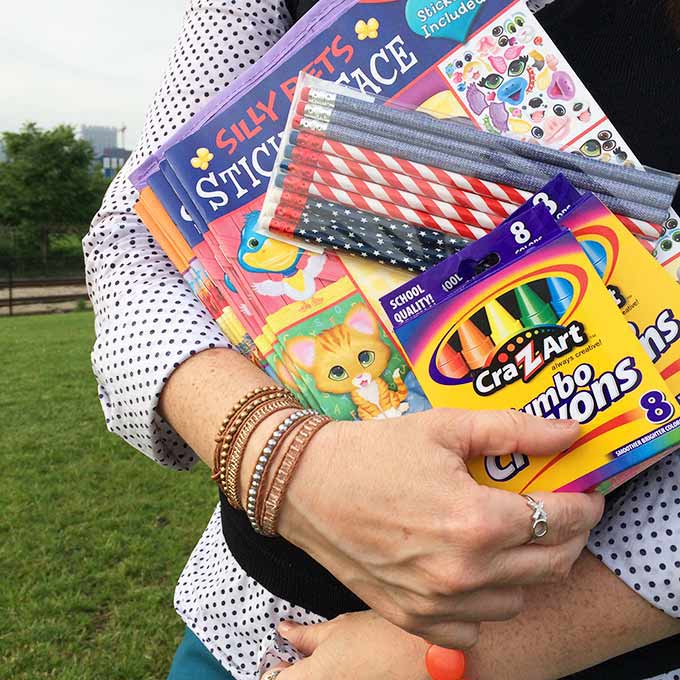 Sending my hugs & kisses – xoxo
So I got some basics: crayons, pencils, coloring books and a pencil case to hold all the stray supplies once opened.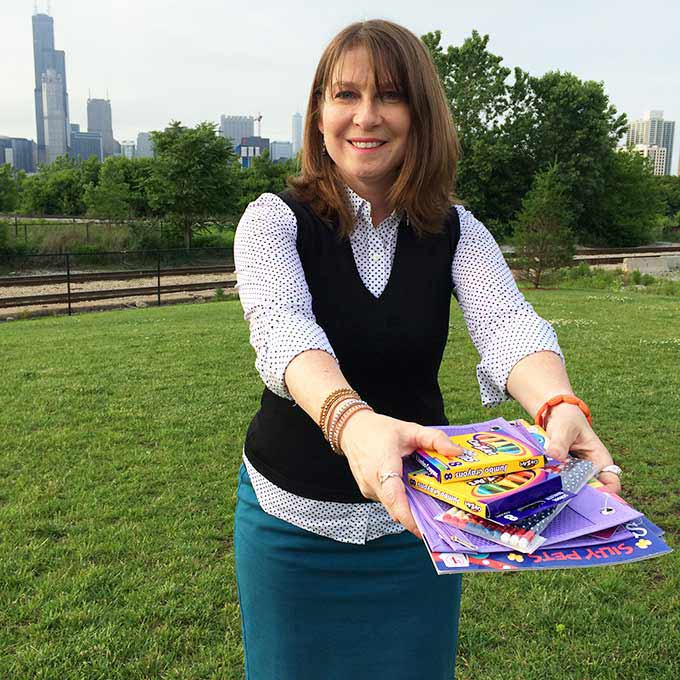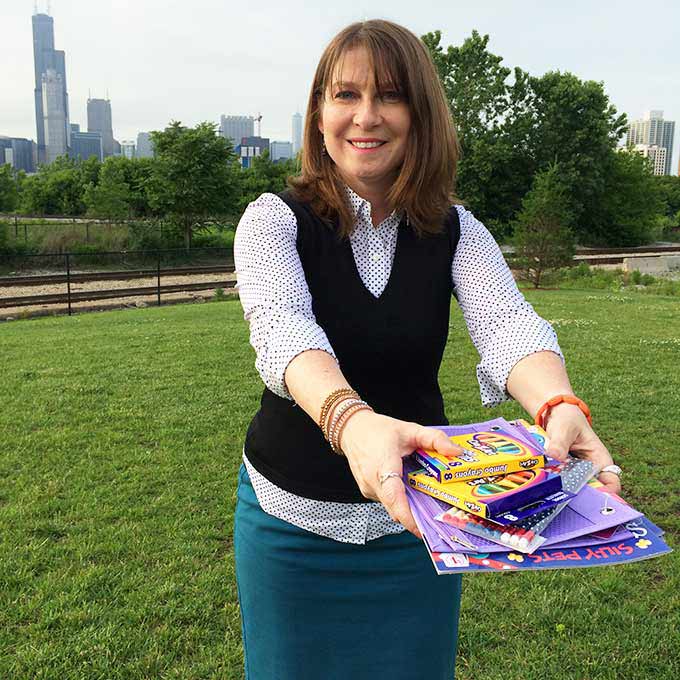 Sears… yes Sears Tower
I also figured I'd let them know a little bit about me so I had Linda take a picture of me holding the supplies in front of the skyline. I wanted them to see this fantastic city. (Maybe it's silly. I don't know…maybe I'll come to you guys for ideas next time.)
Off it went to Africa. It's interesting to think about a stack of items that were once in your kitchen are now on another continent.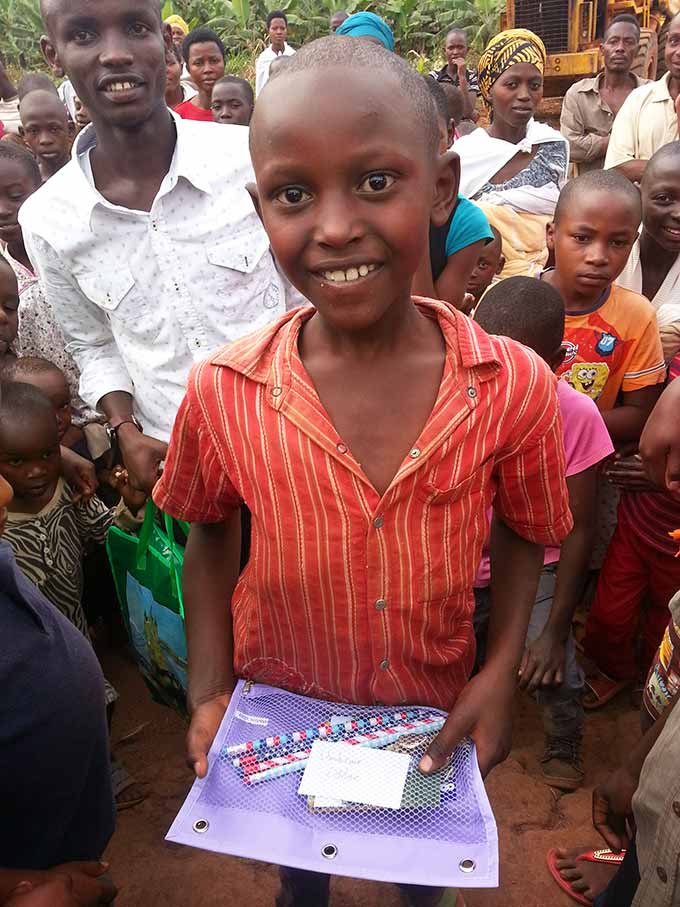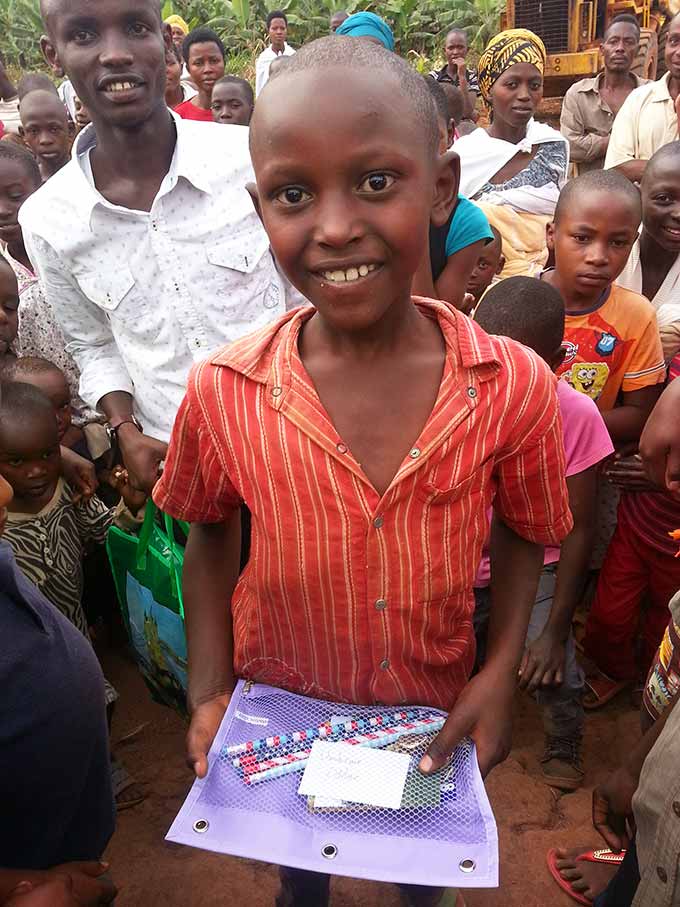 I know the gifts made it because I received back these photos.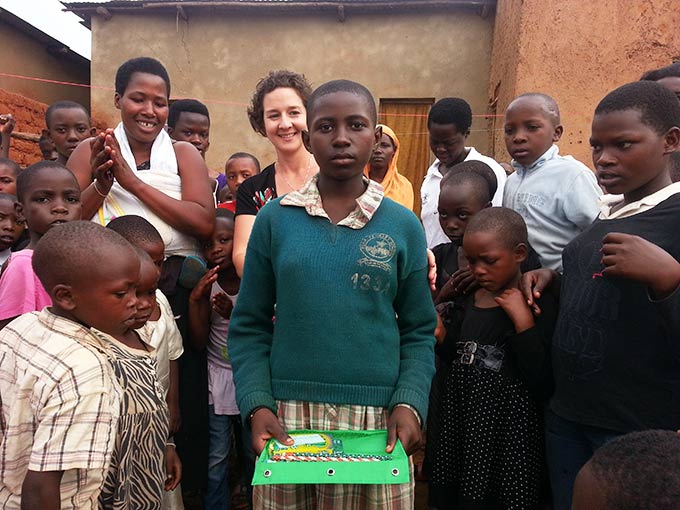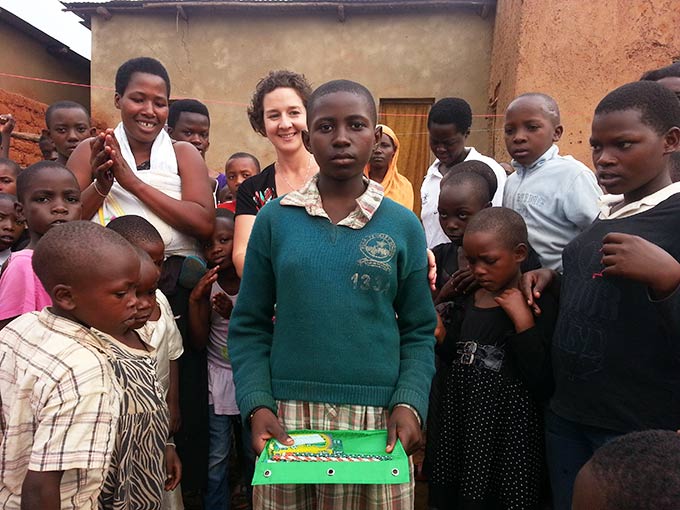 Most of them were pretty happy to receive the gifts. I am assured this not-smiling little girl is happy, but it's not in her nature to smile for the camera.  (FYI Laura from Love Alive International is standing behind her.)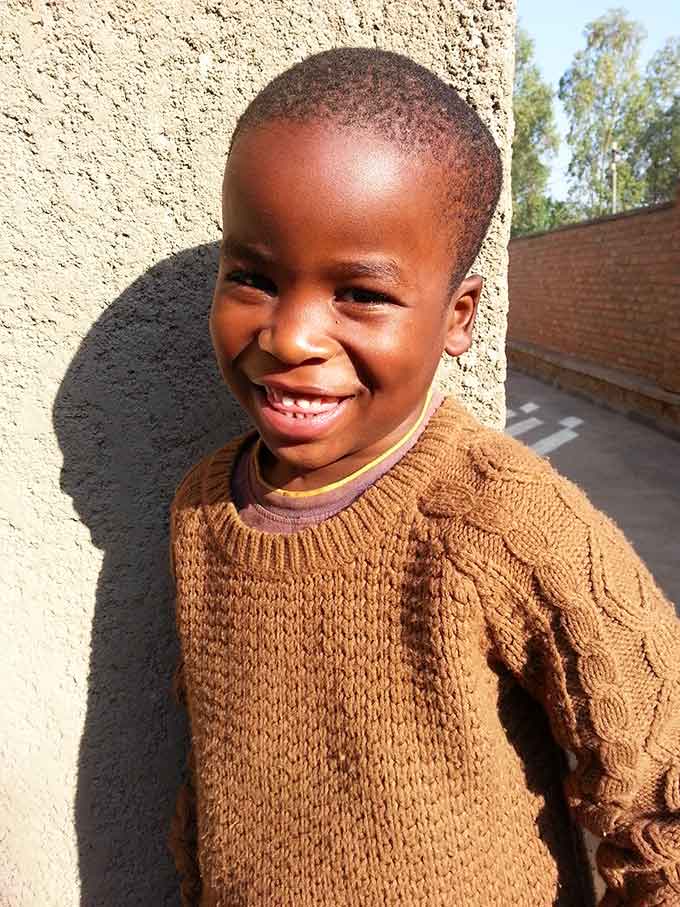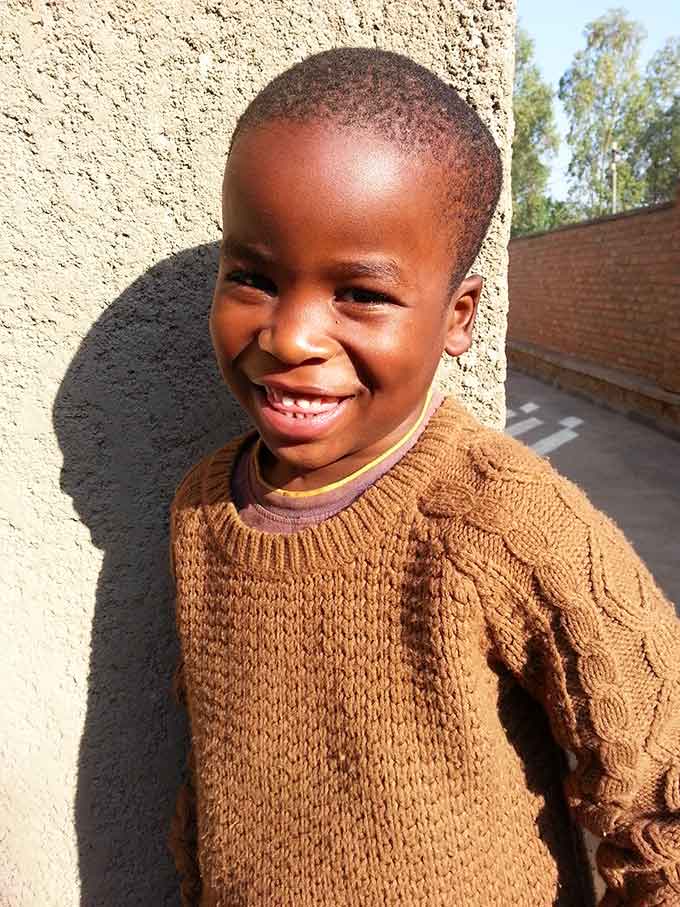 Oh that grin!
I don't like to think about it, but end of year is fast approaching. With that comes the opportunity to give to others. Please keep us in mind for Christmas gifts for your friends and family. We have quite a few years ahead of us of schooling that we need to sponsor for these sweet kids. Supporting non-profit organizations and charities is why we exist so please shop our store ."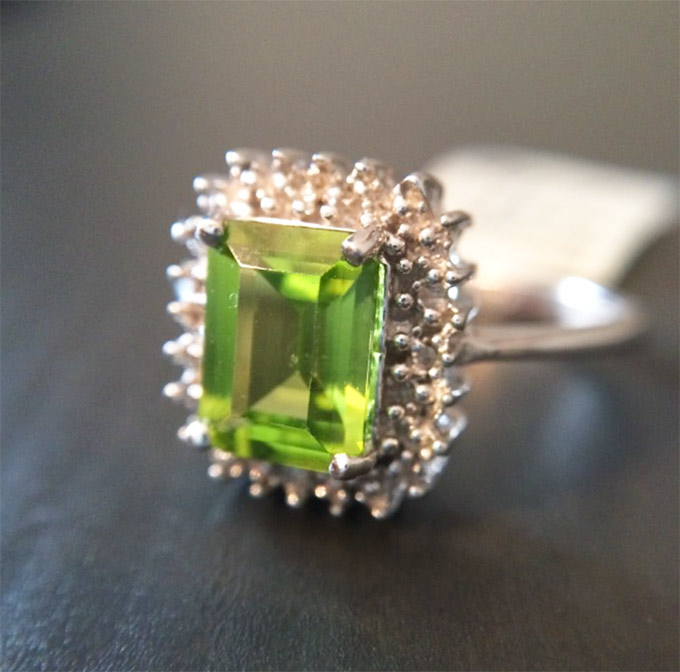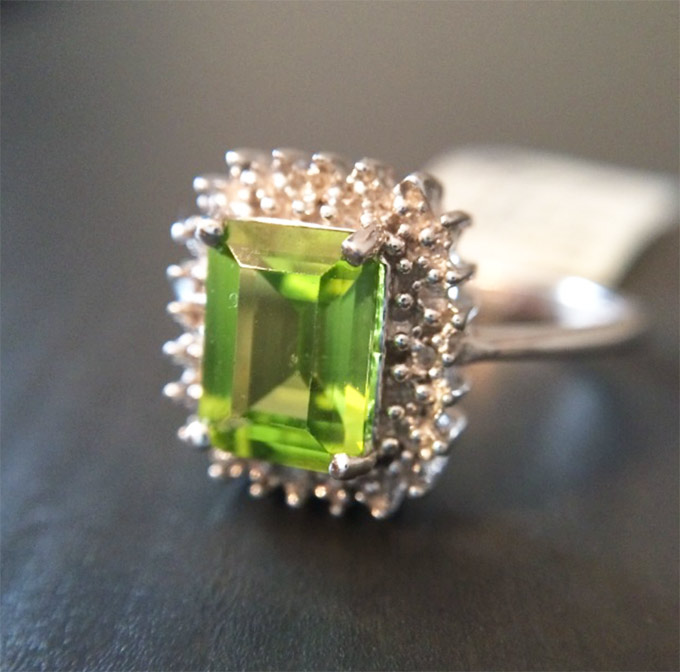 A lovely sterling silver peridot ring  – The main stone is an excellent size and has small diamond accents surrounding it. -$46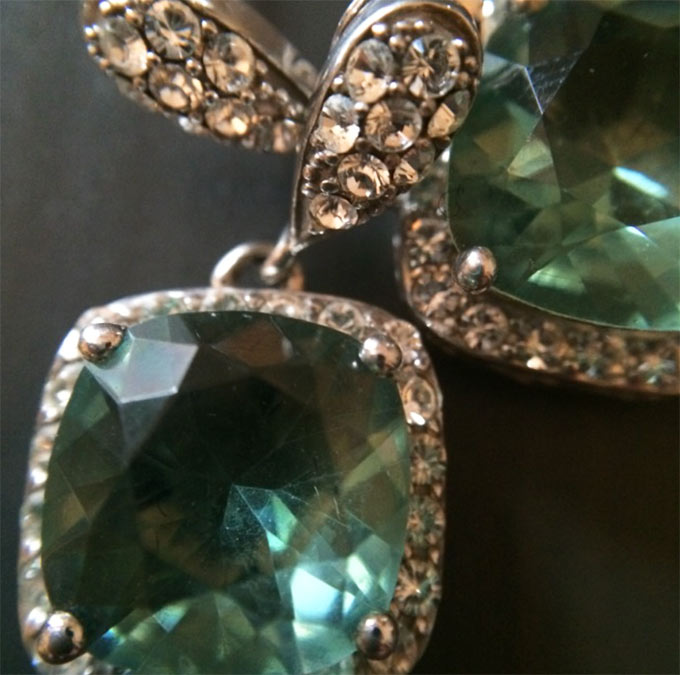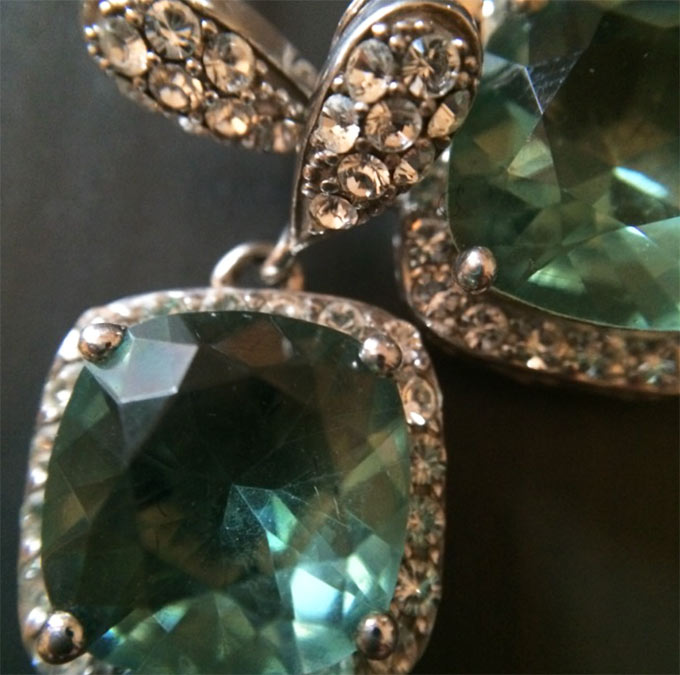 Swarovski Sterling Silver Erinite Earrings – blue/green. Erinite is an informal name, stirring up dreams of Ireland. Large main stones are cushioned in beautifully detailed crystal encrusted setting. -$36
Hope you'll visit Leslie's Little Gems on-line store and browse! The jewelry is stunning and surprisingly affordable. (I'm the proud owner of a beautiful Little Gems blue topaz ring.) If you love jewelry and helping others, it's a win-win!
Have a wonderful weekend everyone!
XOXO,
allie