Tried and true family recipes are the best, and this Irish Potato Chowder Recipe doesn't disappoint! Try a steaming bowl of rich, creamy potato chowder that uses real ingredients: potatoes, butter, milk, vegetables and herbs. Easy to make, comforting chowder for frigid winter days.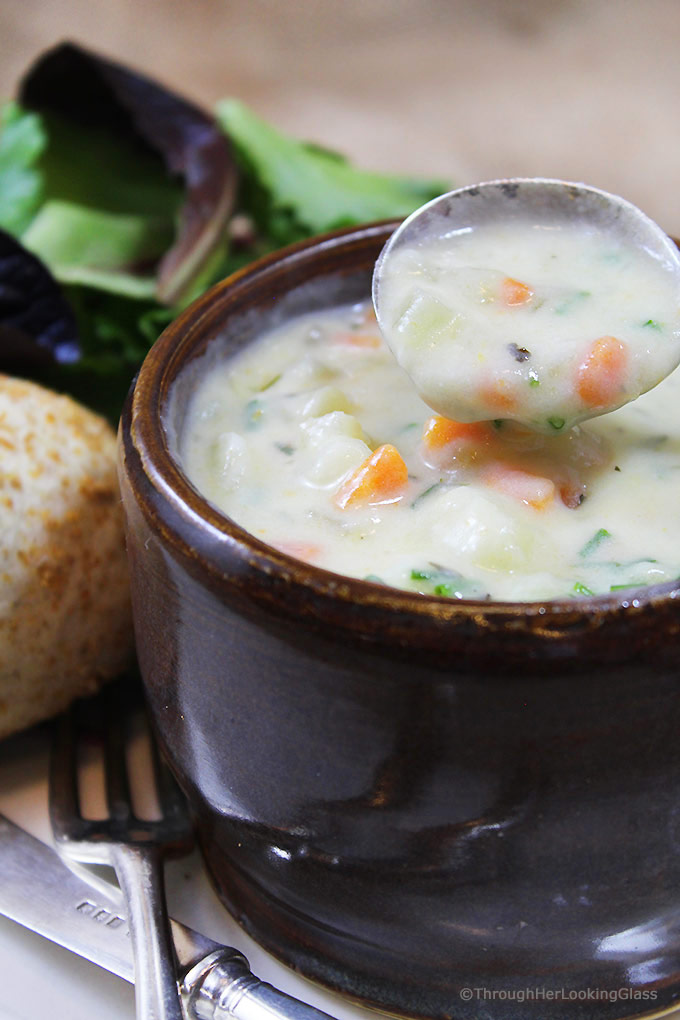 *Newsflash: my Charlie (11) made the soup crock you see above in his pottery class at the Currier Art Center. It was thrown on a wheel, glazed, fired and displayed at his art show. And finally it arrived home so we can fill it with delicious homemade soups and chowders!
So we've had a cold snap around here for the last few weeks or so. It's been SO cold. The bone-chilling kind of cold that freezes your nose hairs when you peek out the door to see if the bird feeder needs refilling. Eek!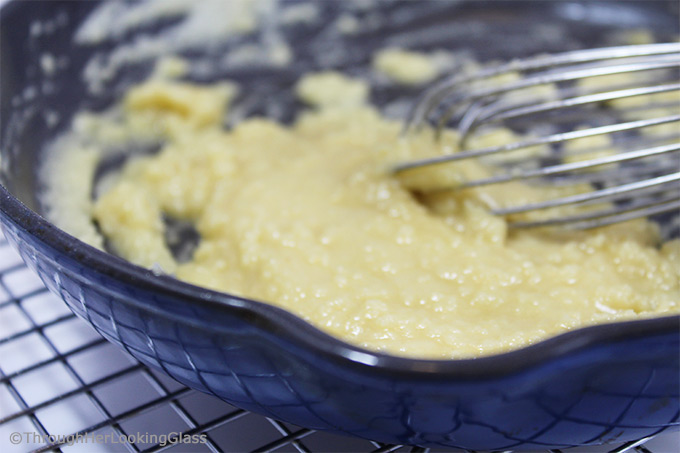 Separately on the stovetop, slowly cook a roux (butter and flour)… then set aside.
But the kind of cold we're feeling now, with temps in the teens, is nothing like the Arctic frigid we experienced up in Quebec City over New Year's weekend. Oh. My. Stars. Now that was cold.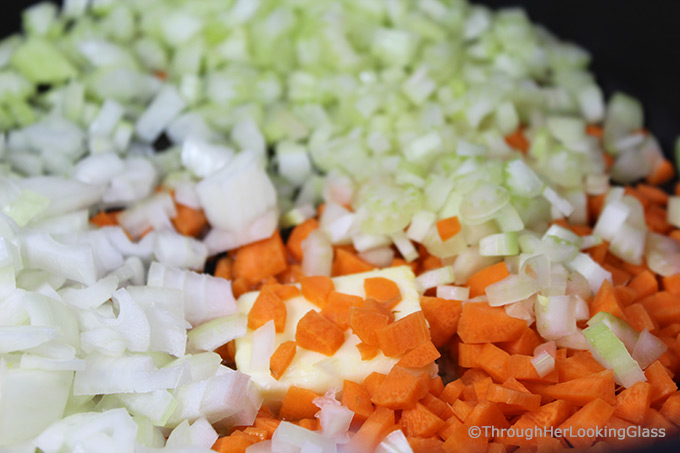 Thankfully Jon checked the forecast ahead of time and got face masks for all of us before we headed north. It was serious business. And while there we saw more full length fur coats, face masks and fur boots than ever. (You may remember Jon and I went to Quebec a couple years ago in the winter time.)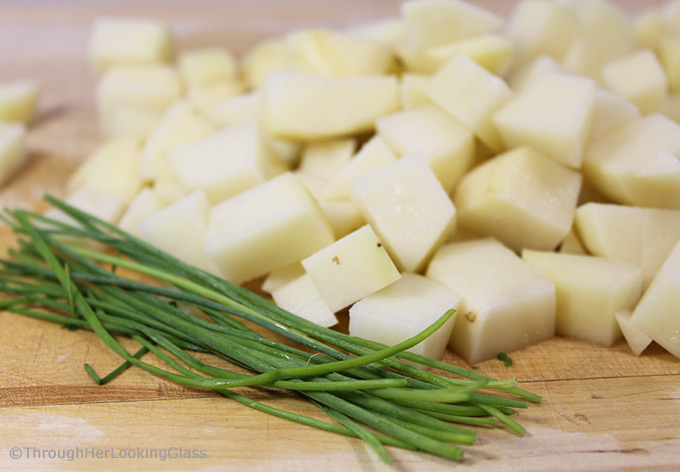 It was such a great trip and we vowed we'd take the kids back the next time. Quebec City is like a little Europe. Just a days drive from NH and French is spoken in all the little cafes and creperies.
The exchange rate works in our favor and especially in the off-season, it's a great deal for a genuine European experience.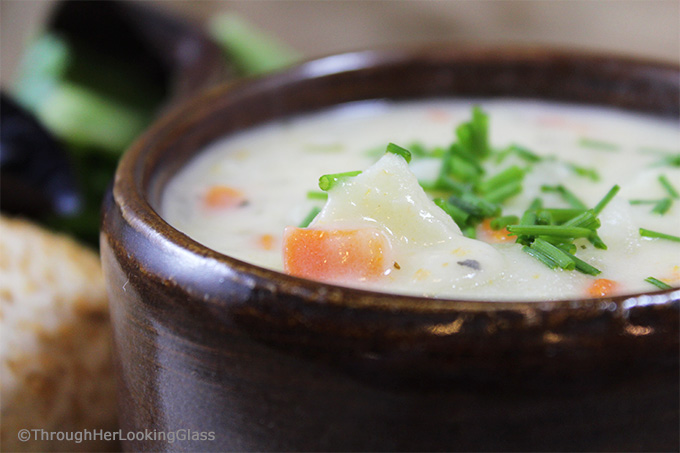 So all that to say, baby it's cold outside. And just a few weeks ago, New England experienced yet another big N'oreaster. Hurricane winds and significant snowfall contributed to what some forecasters called a bomb cyclone or a bombogenesis. (It has something to do with the rapid drop of the storm's central air pressure. That's all I know – I'm not a weather forecaster.)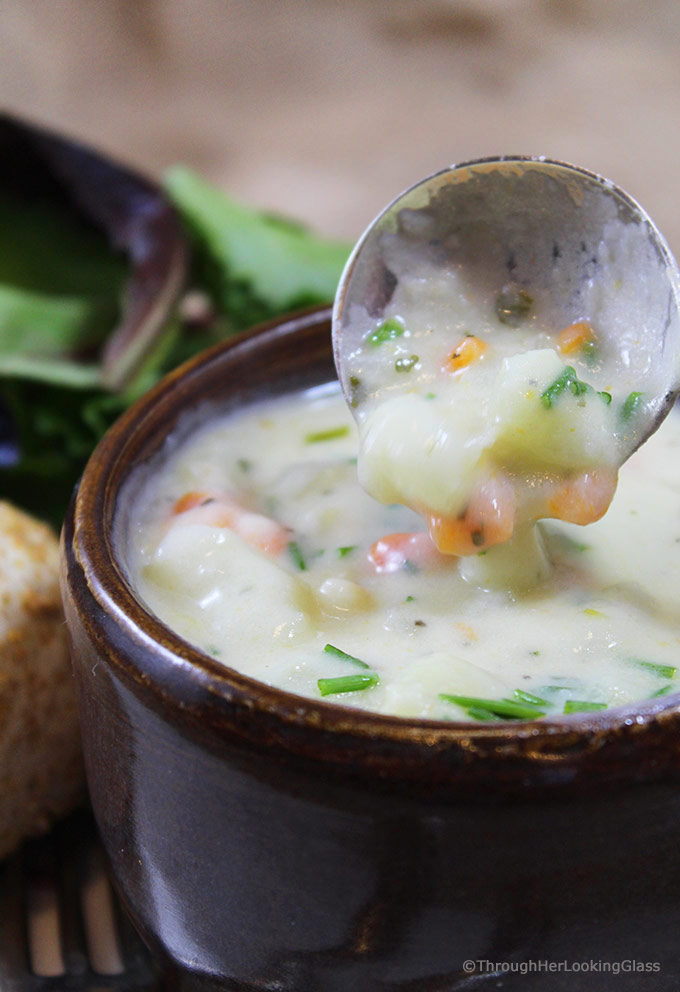 Bomb cyclone and bombogenesis are terms I'd never even heard before. But no matter what you call it, when it gets blustery cold and blizzardy outside and the window panes rattle, all I want is cozy. And a steaming bowl of chowder like this Irish Potato Chowder Recipe is just that.
So this is the chowder I made the night we got back from Quebec City. So rich, creamy and comforting – steaming in the bowl. It tasted even better the next day.

Tips for making Irish Potato Chowder Recipe:
Use your food processor to quickly dice the carrots, celery and onion. (A good husband (or wife) works great too!)
I used 2% milk, but use the milk of your choice.
This recipe calls for making a roux of butter and flour separately in a saucepan, then adding it to the soup later. The key to making a good roux is to keep the burner temperature low and stir often. A roux helps thicken the soup and makes it extra rich, creamy and flavorful. Here are more tips from Pioneer Woman Ree Drummond on making the perfect roux.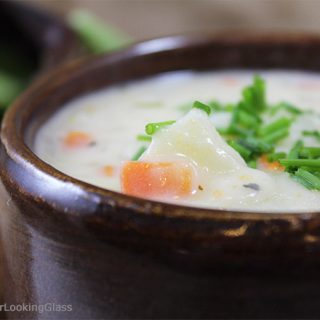 Print Recipe
Irish Potato Chowder Recipe
Ingredients
7

tablespoons

butter

divided

7

tablespoons

flour

1

cup

chopped onion

2/3

cup

diced carrots

2/3

cup

diced celery

1

teaspoon

dried basil

1

teaspoon

dried parsley

1

teaspoon

freeze-dried chives

4

cups

vegetable or chicken stock

5

cups

peeled. diced potatoes

3

cups

milk

1/2

cup

sour cream

1/8 - 1/4

teaspoon

hot pepper sauce

salt and ground white pepper to taste

Optional: fresh herbs for garnish

I used copped chives
Instructions
Make a roux by melting 5 1/2 tablespoons of butter in a small saucepan.

Stir in flour until well blended.

Cook over low heat, stirring often, for 3-5 minutes.

Remove from heat and set roux aside.

Melt remaining 1 1/2 tablespoons butter in a soup or stock pot..

Add diced onions, carrots, celery, basil, parsley and chives.

Cook diced vegetables and herbs about ten minutes.

Add stock and potatoes.

Cover and simmer until potatoes are tender, about 15-20 minutes.

Stir in milk.

Return to simmer and whisk in roux until liquid is thickened and smooth.

Simmer ten more minutes, stirring occasionally.

Stir in sour cream and hot pepper sauce.

Season to taste with salt and white ground pepper.

Optional: garnish with fresh chopped herbs, like chives
You may also like: Arroz Caldo (Filipino Chicken Rice Soup w/Fresh Ginger)