Dear friends: A very Merry Christmas and a Happy New Year to you and your family! I had great intentions of delivering these holiday wishes before the New Year arrived. And since it's still the first week of the New Year (barely!), that's all well and good with the New Year's wishes. Unfortunately I'm a bit Fashionably Late regarding Christmas….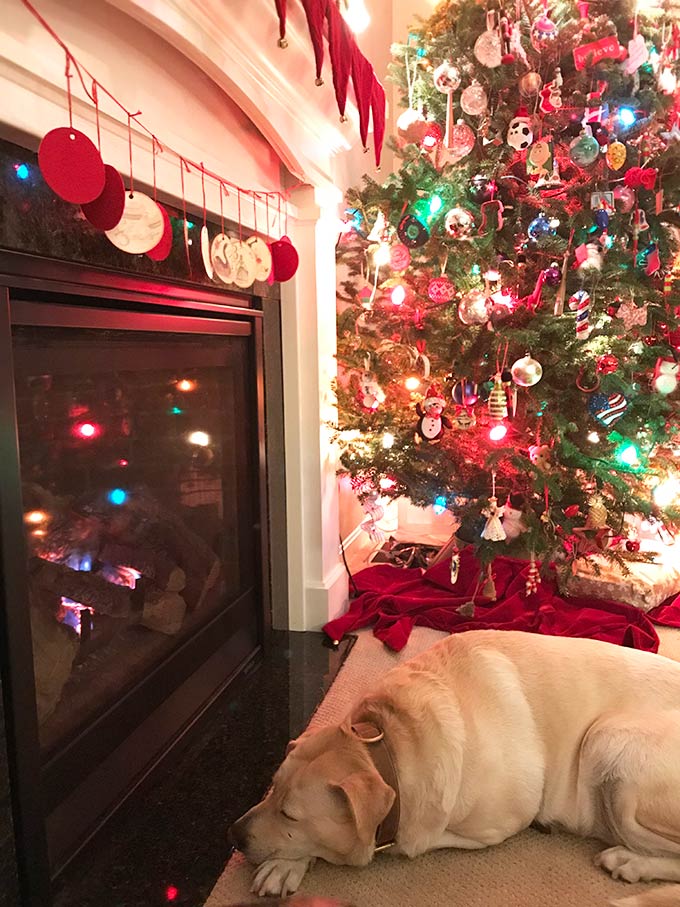 If you're new around here, I mostly post recipes. But occasionally update you on what's going on behind the scenes too. My last personal update here was in September and quite a bit has happened since. So grab a latte and cozy up while I fill you in.
Our youngest, Hudson, was headed to Boston Children's Hospital for an evaluation in late October. Hudson is seven and has Down syndrome. He was also diagnosed with autism at that October appointment. We suspected for some time that he had autism, and it was positive to receive official confirmation of his diagnosis.
So now we can move forward seeking appropriate treatments and therapies and we're muddling through that process now. Hudson is our littlest love who has many difficult/unusual behaviors that don't always win friends and influence people….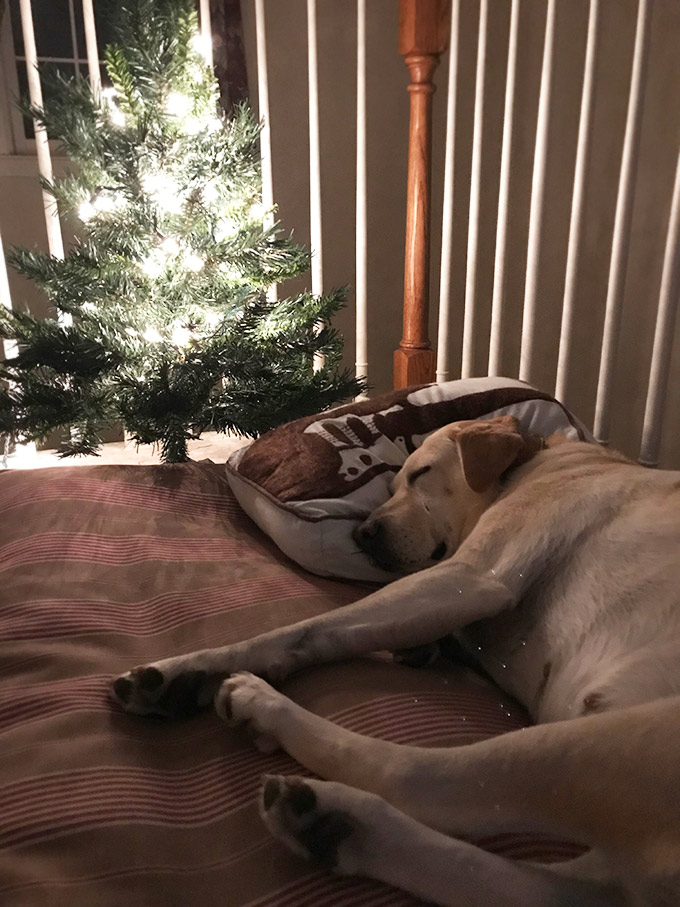 I also mentioned we were looking for a very special dog for Hudson. Hudson has always been petrified of dogs, and since most of our friends and family have them, there were stressful moments. Sometimes if you can't beat 'em, join 'em. So we started looking in earnest for a special dog.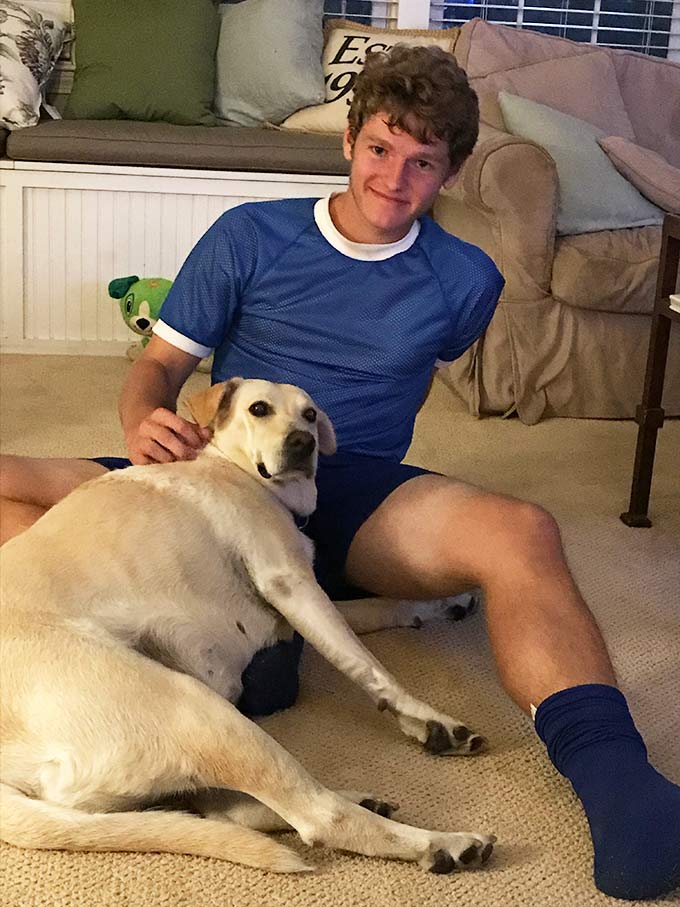 Jacob welcoming Chloe on her first day in her forever home. (One of the boys saw this pic. and immediately remarked "Get that boy some longer shorts!" But he'll have to take that up with his soccer coach. Out of my control… 🙂 )
Chloe joined our family mid-October. She's a 5-7 year old golden labby girl from MS. We had a great experience adopting her from Canine Commitment rescue in New Boston. And this is her first time in the snow. She's so funny. Inside the house, she's the quintessential southern lady. All she needs is a string of pearls, that's what I say.
But get her outside in the white stuff, and she just THROWS herself into the snowdrifts with utter abandon! Burrows her snout into the white, puppy-like. Rolls in the middle of the snow-covered street, tummy skyward – paws waving for emphasis. This furry southern lady is loving the north! And while we initially found her for Hudson, she has each of us tightly wrapped around her little paw. We're so lucky to have her.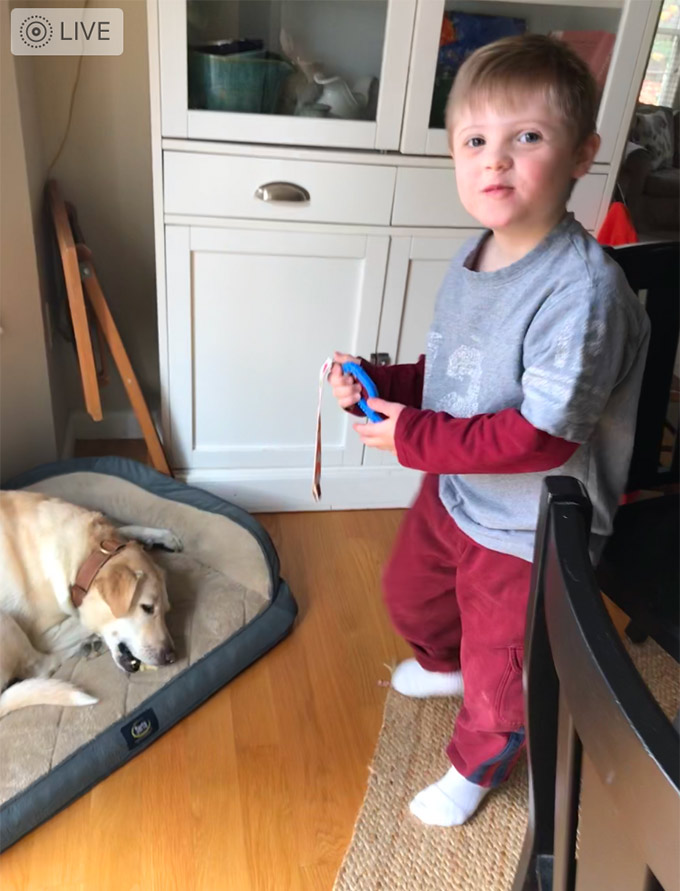 Hudson feeding Chloe her afternoon snack…
Each day when Hudson gets home from school, first thing he heads straight to the treats drawer to get Chloe her after school snack. Happy Hudson, happy Chloe. She has been such a kind, quiet, gentle, patient addition to our family.
A few days before Christmas I went to our local butcher shop and told them I needed something fabulous for a special dog who has been very, very good this year! And they pulled out a large smoked bone, a meaty tendon and several freshly smoked pig ears. So that's what Chloe got in her stocking. (She was pleased on Christmas morning.)
I finally got my brain in gear to begin decorating our new (to us) house in November. You may remember we moved in July. For the longest time I had a mental block a mile high. I don't know why. Maybe it was selling our previous house by owner, moving twice (June and July) and that Romanian missions trip sandwiched in between. That could do it to you in a hurry.
Anyway, it took a few months for the cobwebs to clear and the gray matter to kick into gear, but finally…. FINALLY, it happened. And it's starting to feel just a little bit more like home around here. Snug and cozy, just in time for the fierce arrival of Old Man Winter.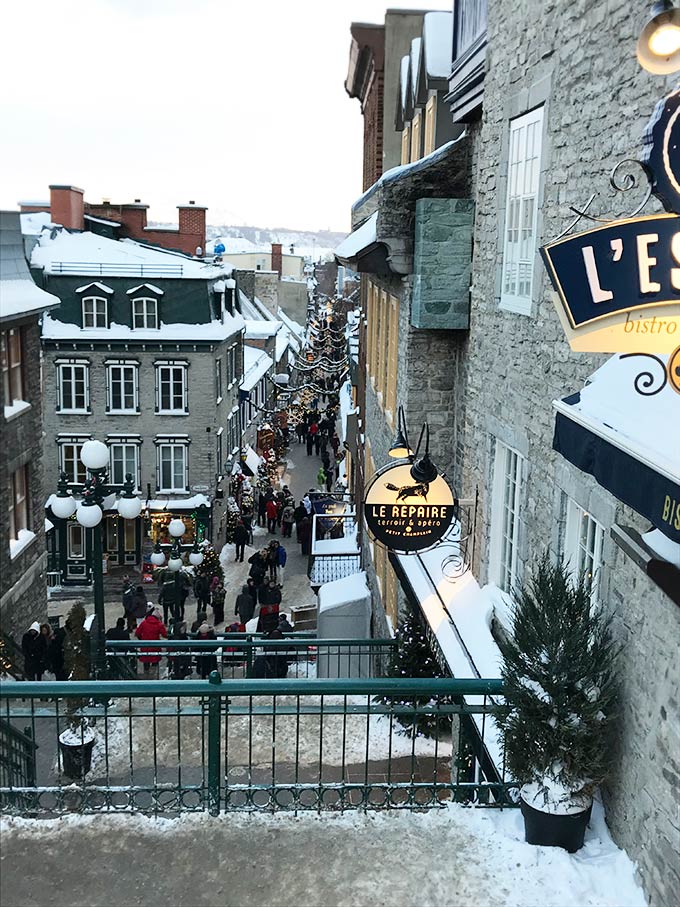 Our three older boys are all doing well. We had a nice weekend trip with them to Quebec City over New Years. You may remember we've visited Quebec City before and I've blogged about it here. What an enchanting city! I highly encourage you to visit. It's like a little Europe and not so far away if you live in New England. The exchange rate works out great for Americans.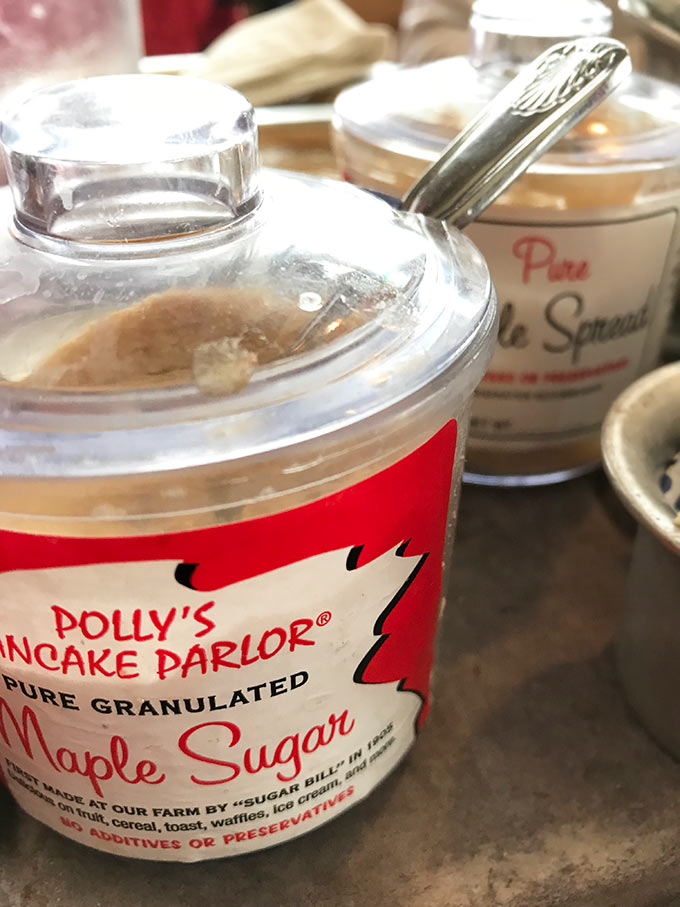 This pure maple sugar (and maple butter too!) was on each table at the famous Polly's Pancake Parlor in Sugar Hill, NH where we stopped for breakfast on our way north to Quebec City. What an incredible find, definitely visit if you're in the area. Side note: I learned something interesting while waiting in the gift shop to be seated at Polly's. Here's what I learned about the phrase "I'll be there with bells on…"
"In the early New England days of horse drawn sleighs, owners would decorate their horses with bells. Each family took pride in the unique sound their bells made. With the roads being windy and narrow, you could hear if another sleigh was approaching. If you broke down and another sleigh stopped to help, it was customary to give the good Samaritan your sleigh bells, for their assistance. Hence the saying "I'll be there with bells on" means you expect a happy and trouble-free arrival." 
I know many of you don't live nearby, but maybe think about visiting Quebec City if you'll be in New England. It's only five and a half hours north from our front doorstep (NH) and is an authentic European experience steeped in history, complete with beautiful architecture, creperies, cozy cafes and French! We fell in love all over again. (See more Quebec City pictures here.)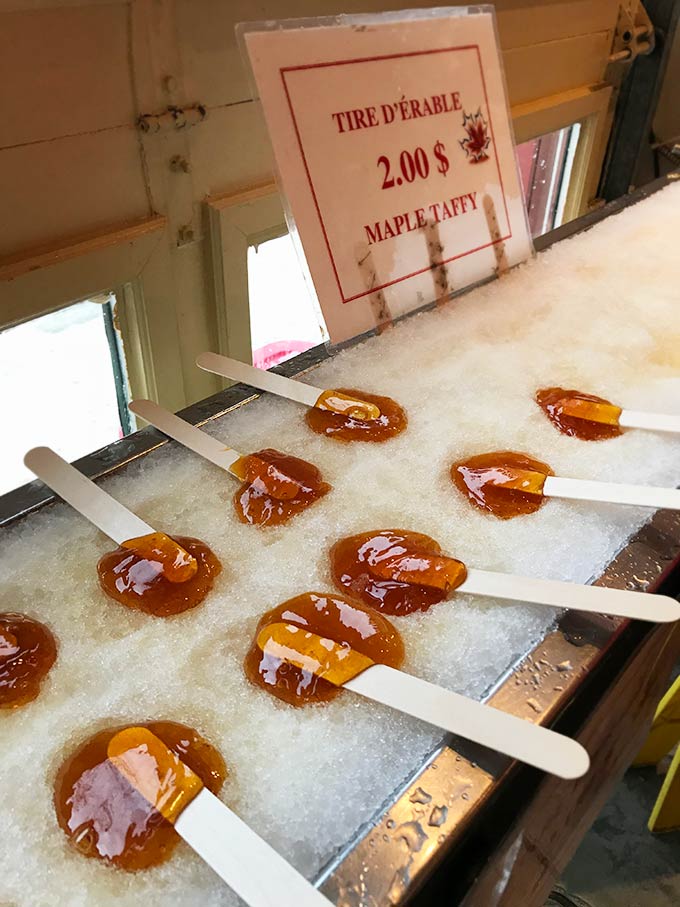 Maple taffy pops cooling on the snow…
My only regret is that we didn't tour Hotel de Glace. Yes, a hotel made completely out of ICE. I've always wanted to visit (not stay!) but we wimped out. Too cold!!!!
The tough thing about the trip was that it was Arctic cold. Like -24°. We came ultra prepared with face masks, scarves, hats, down coats, gloves and heavy duty boots. And still, IT WASN'T ENOUGH!!!! Thankful to still have a nose. Wish I'd brought those hand warmers we take for skiing. I've never been hit by cold so hard and fast that it felt like a brain freeze. You know that feeling when you inhale your ice cream cone too fast. That fast, sharp, brain freeze pain right in the middle of your forehead. Ouch. (We survived.)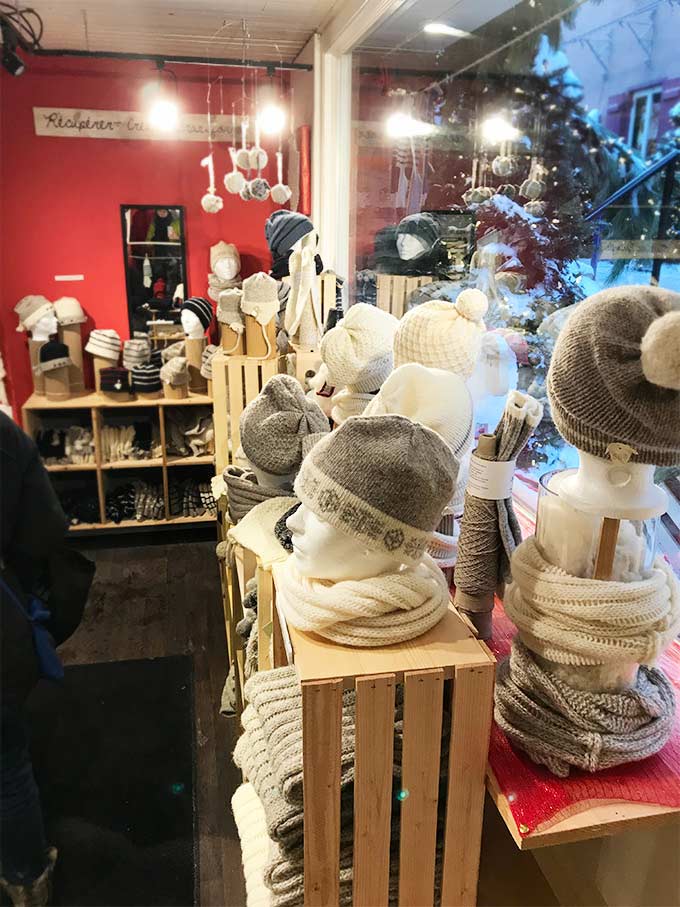 Great shopping in Quebec City…. so much wool at Charlevoix Laine. Beautiful shop.
And one more thing… we got detained at the border coming back into the states. Jon apparently has an evil twin with the same name in California who is "wanted" on larceny charges, and it holds him up at customs all the time. Thankfully they let us back in. And SO GLAD. Because I don't think I could have survived one more day of the -24° temps up there.
On another note, we're gearing up for our kitchen remodel in the next few months! So if you're into that kind of thing, stay tuned! I'll be sharing before and after pictures once we get the ball rolling. So many decisions ahead and I'm getting excited! I ordered the first light fixture today.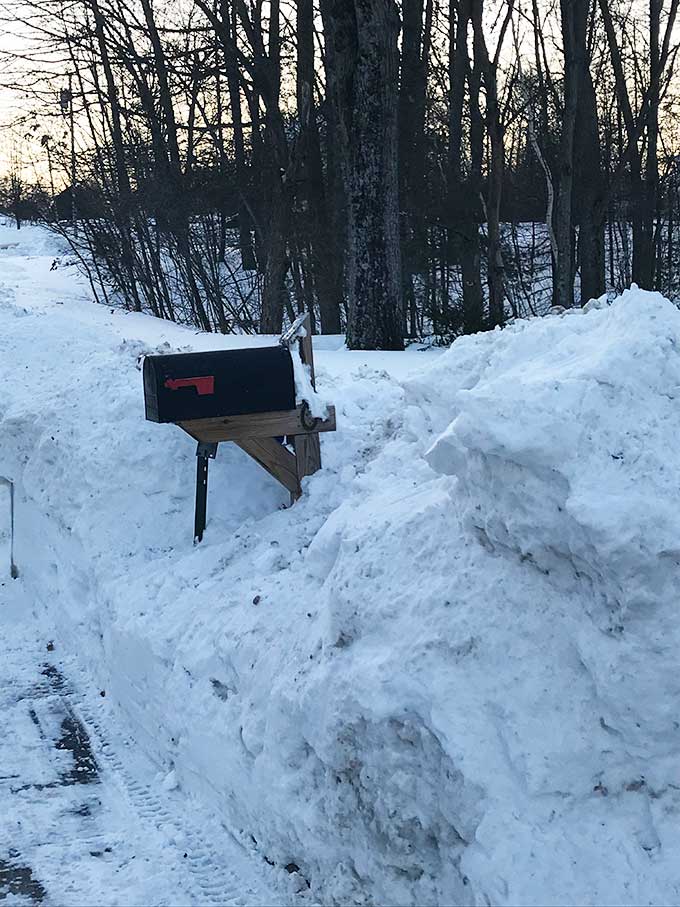 The aftermath of the latest "bomb cyclone/bombogenesis" in NH. We had to dig out the mailbox. (Who wants to be the mailman during a bomb cyclone?)
I know it's Arctic temps out there this weekend. (Up and down the East coast at least.) So wishing you warmth and sunshine, joy and kindness in the coming year. But mostly peace. Peace that lets you inhale and exhale deeply. So you sleep like a baby each night in your cozy bed. And have sweet dreams to boot. Wouldn't that be a gift.
I love hearing what you're up to as well, so don't be shy. Drop me a line or two, fill me in.
I look forward to sharing more delicious recipes and thoughts here in 2018. Have a super weekend and stay warm if you can!
XOXO, 
Allie