This Mandarin Orange Salad is a scrumptious salad combining almonds, sweet red onion, mandarin oranges and red leaf lettuce. The sweet and tangy salad comes together with a zippy dressing that has a few drops of hot pepper sauce in it. Hold me back!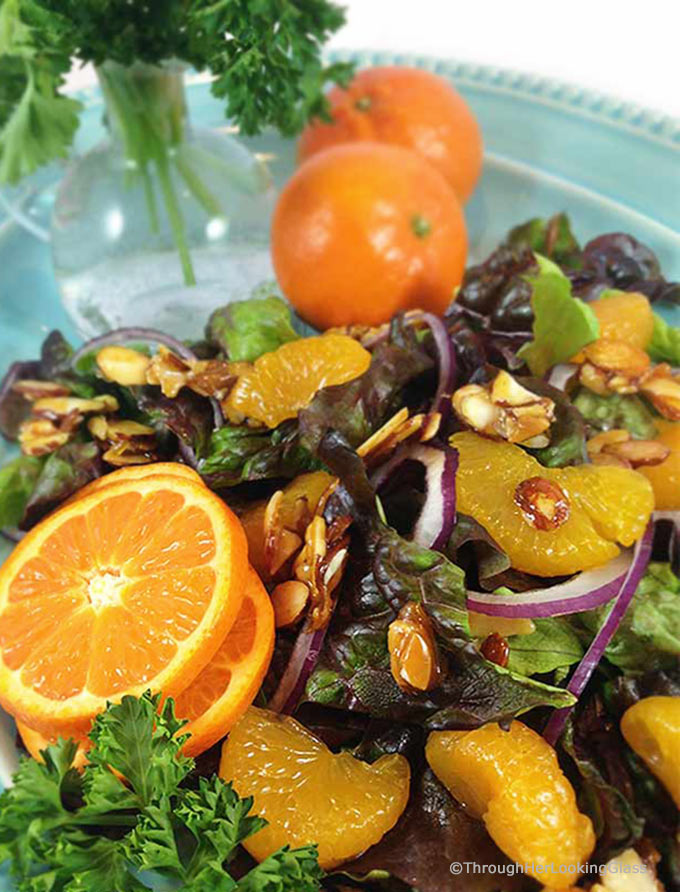 There's something magical about citrus fruit in the dead of winter. We're thankful to have friends who very kindly send us a box of fresh Florida oranges and grapefruit each Christmas. Such a treat and an immune booster besides!
Citrus in winter is good! And we're most definitely still in the dead of winter around here in New Hampshire. The ground is snowy and icy, and the temperature has fluctuated as much as forty degrees in the last week.
Like me, Mother Nature just can't make up her mind. And today she says winter. While it's very cold here in NH right now, two weekends ago we were up in Quebec City for a long weekend  exploring, and it was absolutely frigid. As in -24 cold. Thankfully we were prepared!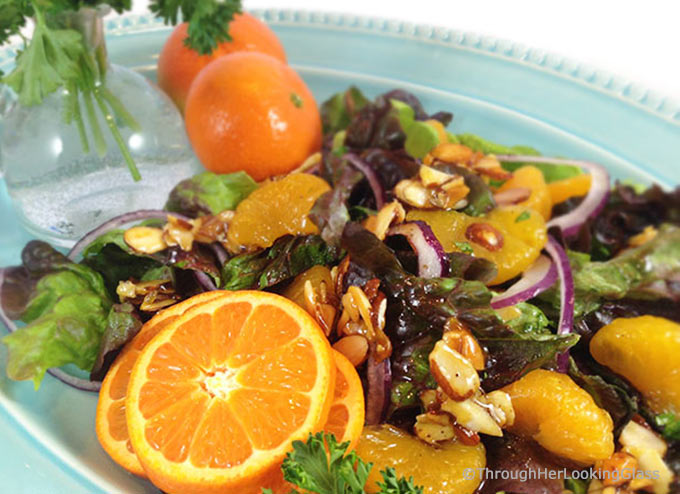 So last week in the grocery store I noticed big bags of fresh mandarin oranges in the produce section. They got me thinking about this fabulous Mandarin Orange Salad, a staple in our house growing up.
Just a few star ingredients in this addictive salad: candied almonds, mandarin oranges, sweet red onion, red leaf lettuce and the sweet, homemade hot pepper dressing.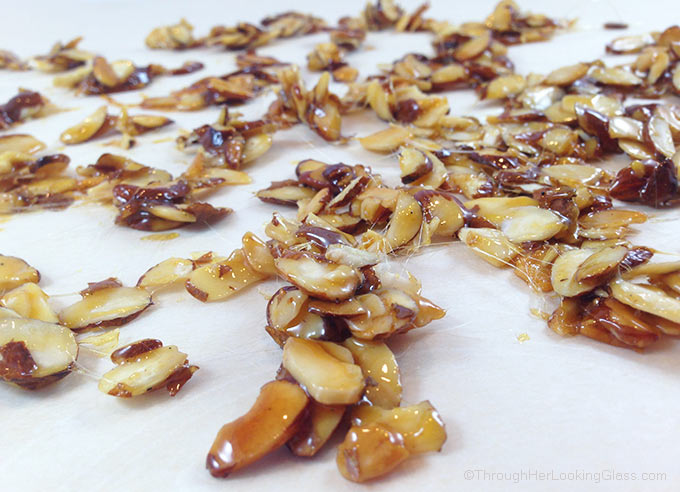 Toast slivered almonds or easily make candied almonds on the stovetop. Melt a few tablespoons of sugar in a skillet and stir in the almonds to coat. Carefully spread on parchment paper to cool. Break into small pieces and set aside for this Mandarin Orange Salad.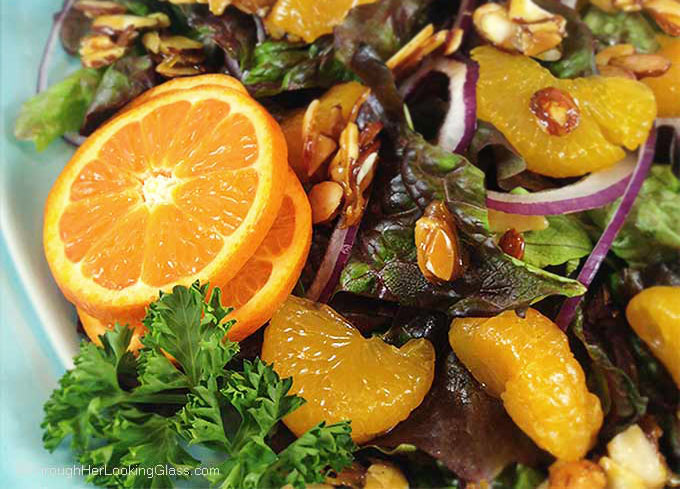 Make the sweet, zippy dressing in a mason jar. Just add all the ingredients and shake well to combine. Hot pepper sauce mingles with sugar, vinegar, vegetable oil, fresh parsley and spices.

Gently pour the dressing over the Mandarin Orange Salad, lightly toss and serve. We love this dressing so much I usually make a double or triple batch to keep on hand for other salads. I also make extra candied almonds for other uses. (Like sneaking them for snacks!)
Have a super weekend, it's almost here. And stay warm if you can!
Tips to Make this Mandarin Orange Salad:
Red leaf lettuce tends to go bad quickly, so get yours fresh right before making this salad..
Toast the sliced almonds lightly in the oven or make candied almonds according to my recipe.
Add some shredded chicken and this makes a great main dish salad.
Use fresh or canned mandarin oranges.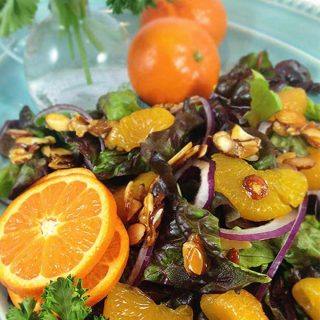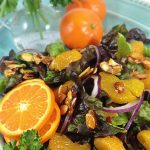 Print Recipe
Mandarin Orange Candied Almond Salad
Candied almonds combine w/sweet mandarins, red onion & a sweet spicy dressing for a delicious, colorful and addictive salad. This disappears fast!
Ingredients
Candied Almonds
3

tablespoons

sugar

1/2

cup

slivered almonds
Dressing
1

tablespoon

sugar

or honey or maple syrup

1/4

cup

vegetable oil

2

tablespoons

vinegar

1

tablespoon

fresh

minced parsley

1/2

teaspoon

salt

1/8

teaspoon

ground pepper

1/8

teaspoon

hot pepper sauce

Tobasco, etc.
Salad
1

bunch red leaf lettuce

torn into bite size pieces

1 - 11

ounce

can mandarin oranges

drained

1

small red onion

sliced thin
Optional garnish:
Fresh mandarin slices or parsley sprigs
Instructions
Candied Almonds
In small skillet, heat 3 tablespoons sugar over low heat until completely melted.

Add almonds, stirring until well coated.

Transfer to parchment paper to cool.

Break candied almonds into small pieces and set aside.
Dressing
In small mason jar, combine vinegar, parsley, salt, pepper, hot pepper sauce and sugar. (or maple syrup or honey)

Shake jar well to combine.
Salad
Just before serving, combine torn lettuce, mandarin oranges, red onion and candied almonds in large serving bowl.

Shake dressing well and pour over salad.

Toss and serve immediately.
You may also like: Grilled Steak & Asparagus Salad w/raspberry dressing