Ben & Jerry's Coffee Heath Ice Cream: creamy, strong coffee ice cream studded with crunchy chunks of Heath toffee bar. Big treat if you're a coffee lover like me!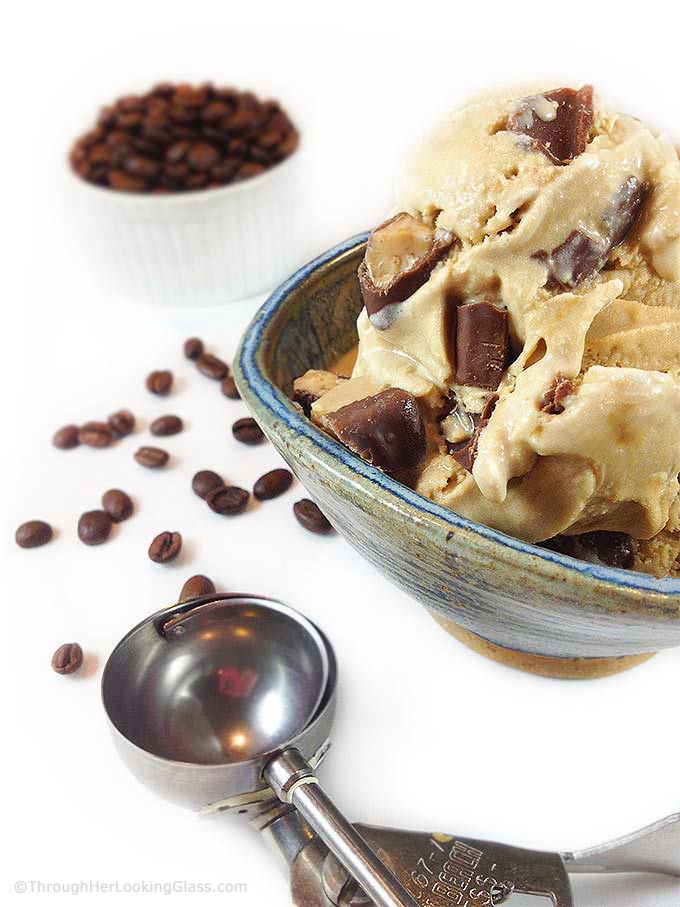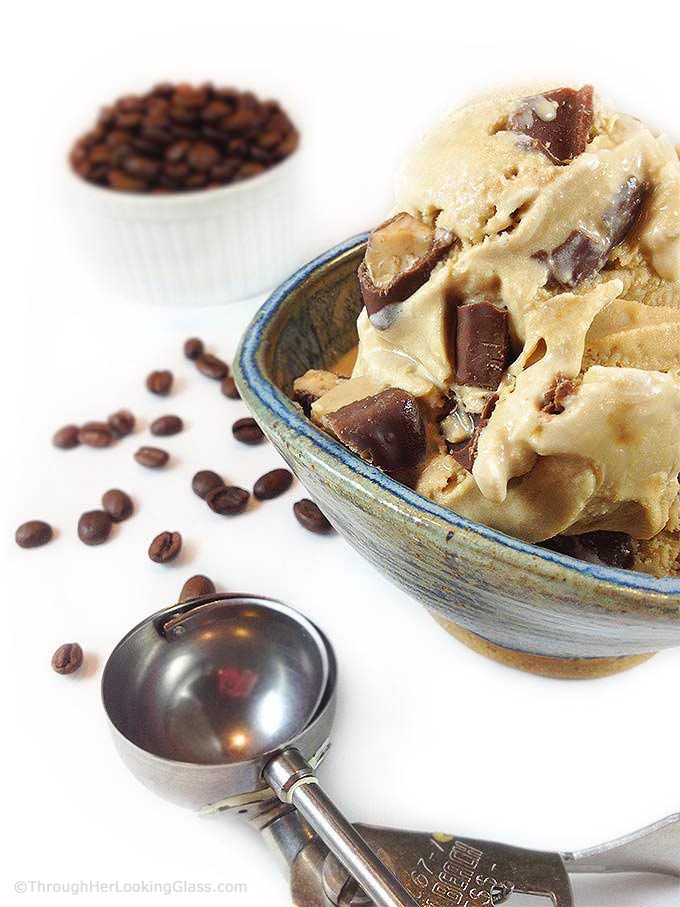 This Rhode Island born girl has always had a fascination for all things coffee. I was recently telling a friend about Autocrat coffee syrup from Lincoln, RI . He'd never even heard of Autocrat coffee syrup.
Excuse me? And whaaaaattt????
Yep. Coffee syrup is definitely a Rhode Island thang. And in Rhode Island, we actually grew up drinking coffee milk instead of chocolate milk. Go figure. You should give it a whirl sometime.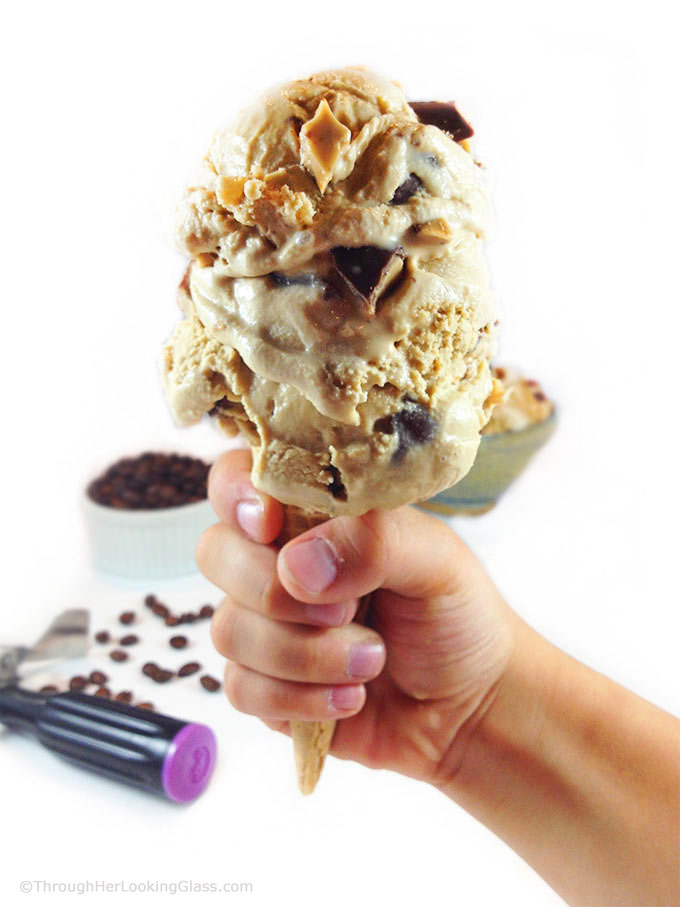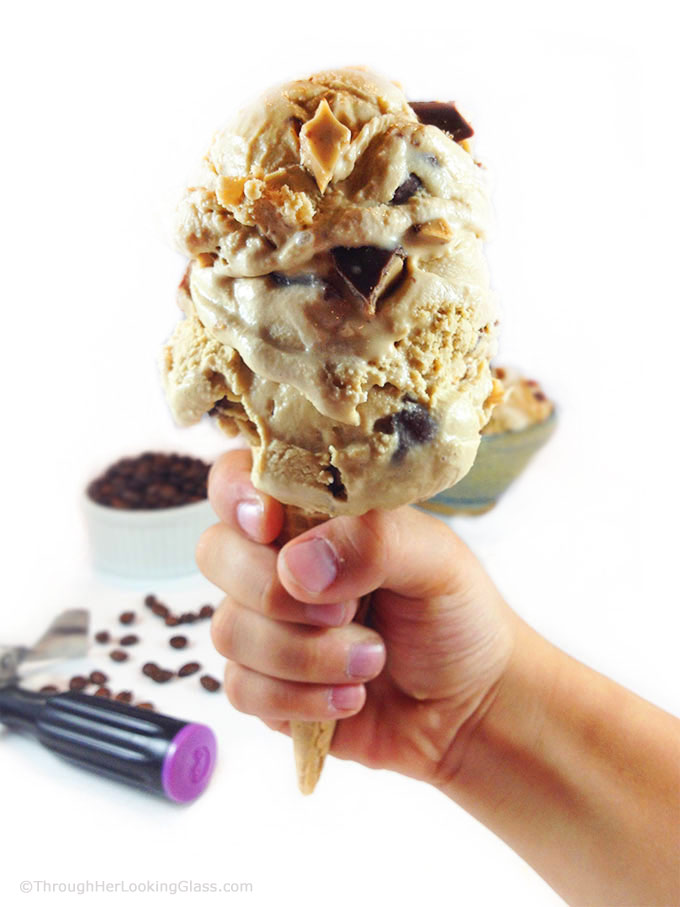 So the first time I tried Ben & Jerry's Coffee Heath Ice Cream I thought I'd died and gone to heaven. Creamy, strong coffee ice cream studded with crunchy Heath Bar chunks. Definitely a match made in heaven.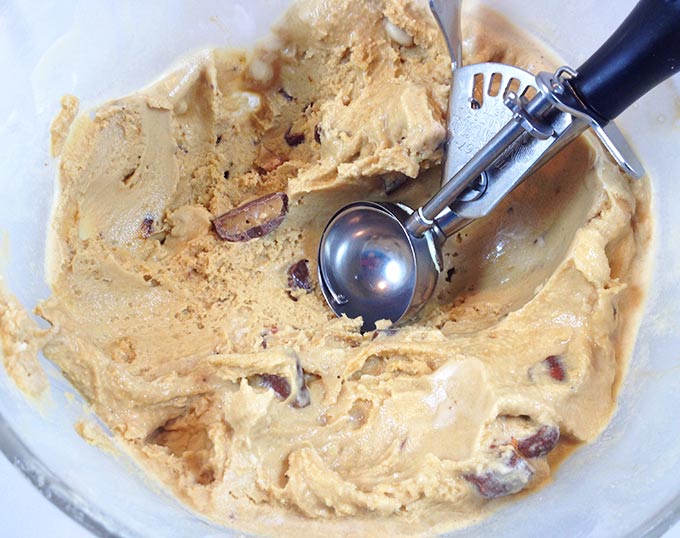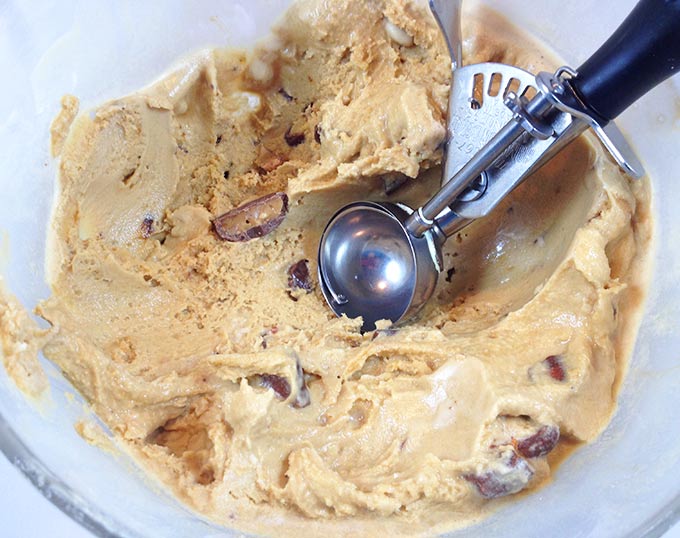 And here's a funny excerpt from the Ben & Jerry's Homemade Ice Cream & Dessert Book about how Jerry prepared toffee pieces for Coffee Heath Ice Cream back in the old days: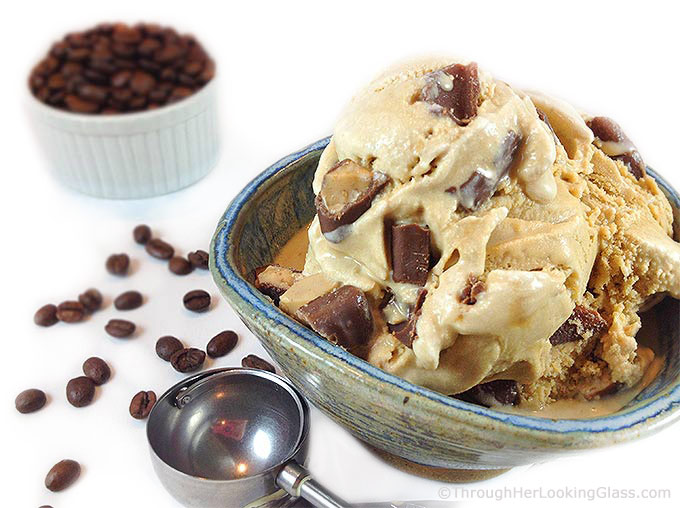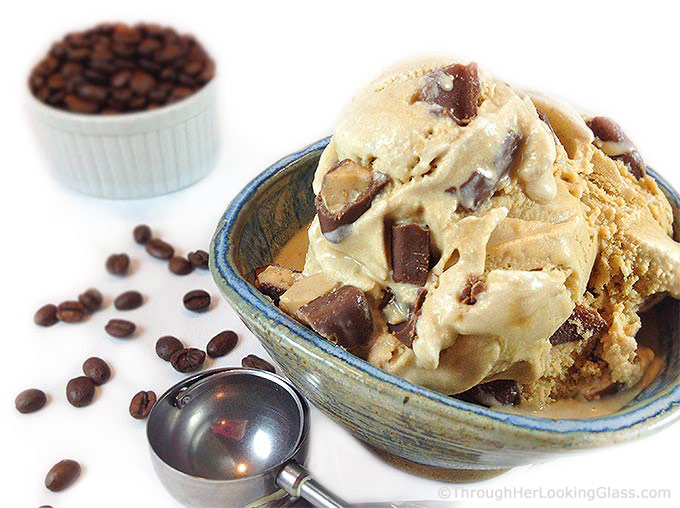 Says Jerry:
"Since Ben had been experimenting with candy and ice cream combinations from the age of five, I was not surprised when he suggested we try an ice cream with Heath Bars. The concept was good – it was the execution that challenged us.
We started buying individual bars, and it became my job to cut them, two at a time, into thirds. I chopped away on a plastic cutting board, using a grid as my guideline. As the demand for the flavor grew, we began buying the bars in twenty pound boxes. At first, I continued to cut each one by hand, the old fashioned way.
Then one day, out of sheer frustration at spending the better part of my life chopping Heath Bars, I threw a box down onto the floor, shattering the bars inside. That worked pretty well, both for the candy and my frustration. Next we tried smashing the box with a plastic mallet. Finally, though trial and error, we discovered that a frozen twenty pound box of Heath Bars dropped from a six foot stepladder cracked to the perfect size."
Genius.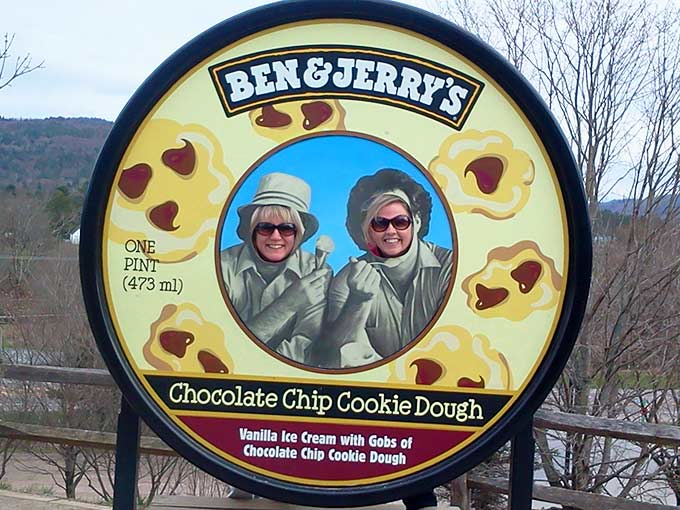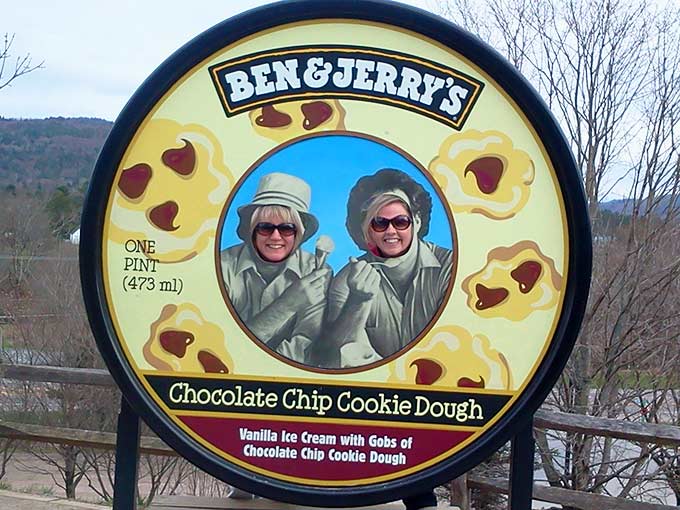 We always enjoy visiting the Ben & Jerry's Factory in Waterbury, Vermont. This is my friend Tracy and me impersonating Ben & Jerry. Who's Ben and who's Jerry? I don't know, I'm just bummed she got the waffle cone!
Sure hope you enjoy this ice cream and have fun making it too!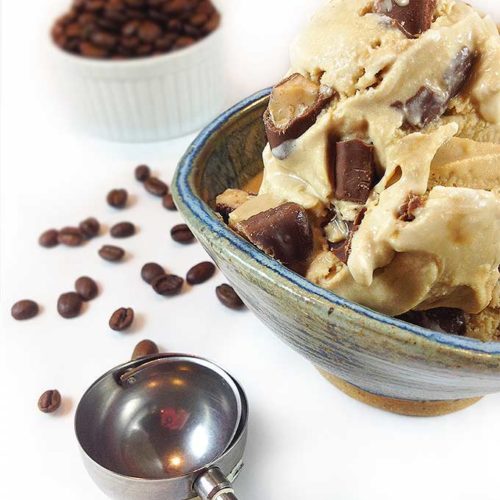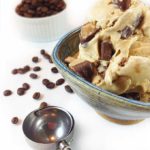 Print Recipe
Ben & Jerry's Coffee Heath Ice Cream Recipe
Ingredients
8 - 1.4

ounce

ounce Heath bars

4

large

pasteurized eggs

1 1/2

cups

sugar

4

cups

heavy or whipping cream

2

cups

milk

6

tablespoons

good quality freeze-dried coffee
Instructions
Using a sharp knife, cut the candy bars into 1/2 to 1 inch chunks.

This should give you about two cups.

Place the Heath Bar chunks in a bowl, cover and freeze.

Separately, whisk the eggs in a mixing bowl until light and fluffy, 1-2 minutes.

Whisk in the sugar a little at a time.

Continue whisking until completely blended, about a minute more.

Add the cream, milk, and 4 tablespoons of the coffee and whisk until just blended.

Optional: Chill ice cream mixture in the refrigerator until very cold, several hours.

Transfer the mixture to an ice cream maker and freeze following the manufacturer's instructions.

After the ice cream stiffens (about 2 minutes before it's done), add the candy and remaining 2 tablespoons coffee.

Continue freezing until the ice cream is ready.

Serve immediately soft, or freeze 6- 8 hours until hardened
Notes
Here are directions if you can't get pasteurized eggs and are concerned about consuming raw eggs.
Mix cream and milk together in a saucepan and heat over medium-low heat.
Meanwhile, separately, whisk eggs in medium mixing bowl 'til light and fluffy.
Slowly whisk the sugar into the egg mixture, a little at a time until it's thoroughly combined, then 1-2 minutes more.
When the cream/milk mixture reaches 140°, remove from heat.
Very slowly add in about 1/3 of the hot cream/milk mixture to the egg/sugar mixture, whisking quickly the whole time 'til blended.
(This "tempers" the eggs so they don't scramble when added.)
Once thoroughly blended, add in the remaining cream/milk mixture.
Return custard to sauce pan and heat on medium low heat until the mixture reaches 175°.
(This kills off any harmful bacteria.)
Chill throughly until mixture is a minimum of 40°.
(You want it very cold so it freezes well in the ice cream maker.)
Freeze in ice cream maker following manufacturer's directions.


You may also enjoy: Ben & Jerry's Cherry Garcia Ice Cream