Fresh Dill Bell Pepper Salad: julienned red, orange and yellow bell pepper matchsticks mingle with garden dill and a light lemon vinaigrette. A bright and colorful veggie salad with crunchy snap. Quick and easy summer side, perfect alongside grilled chicken or fish.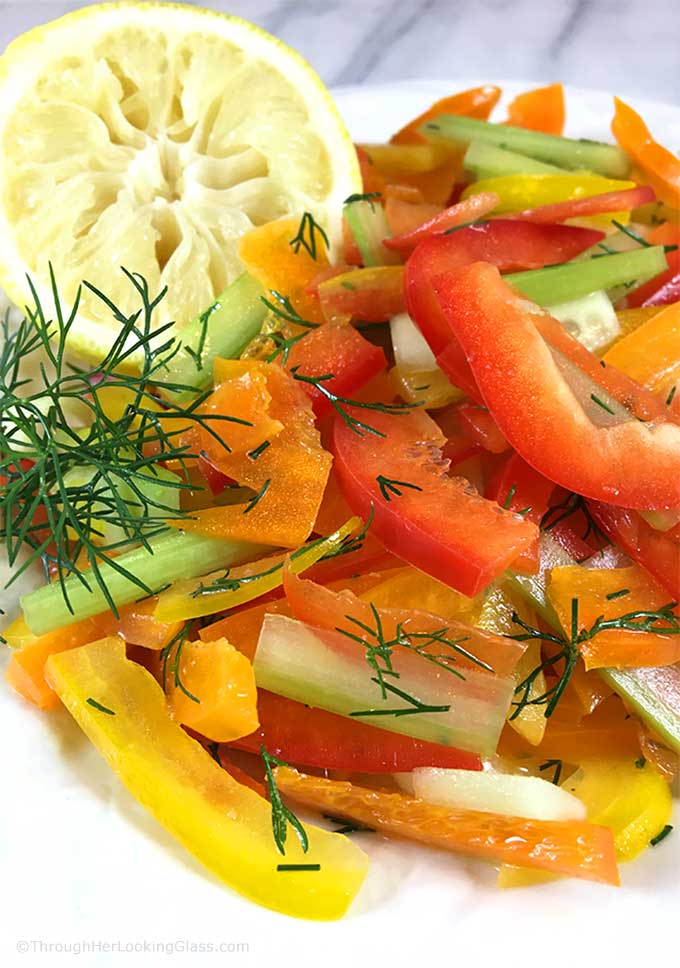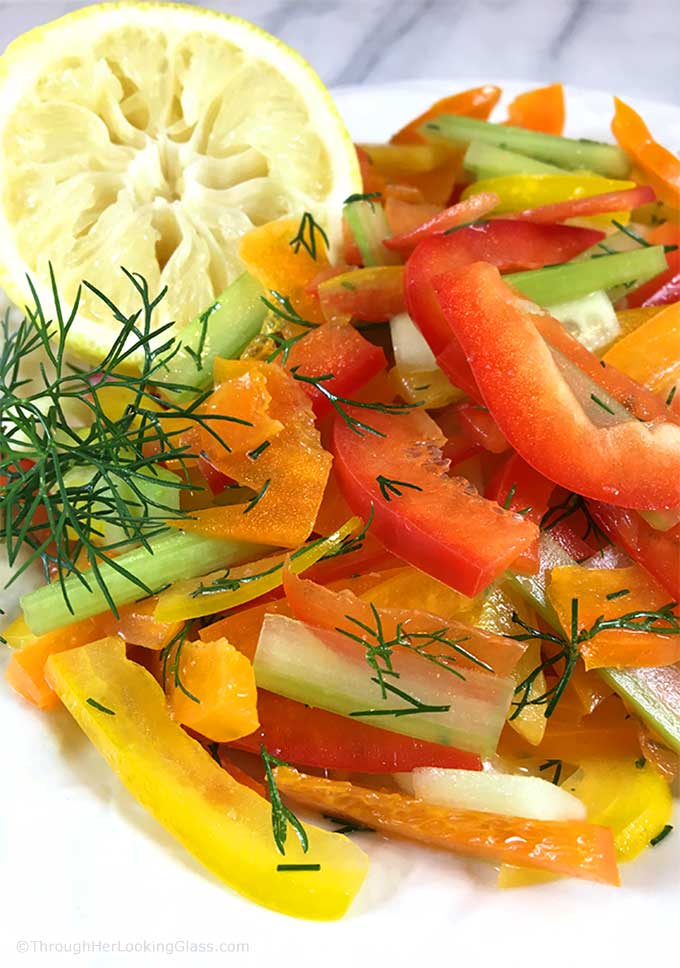 Hope you're having a fantastic summer so far! I'd like to tell you I put together this matchstick veggie salad with all the abundant produce from my prolific garden. That's what I'd like to say. Ha.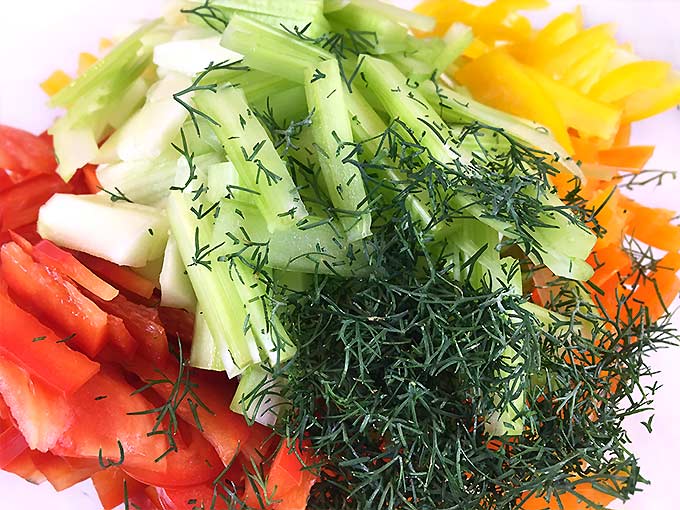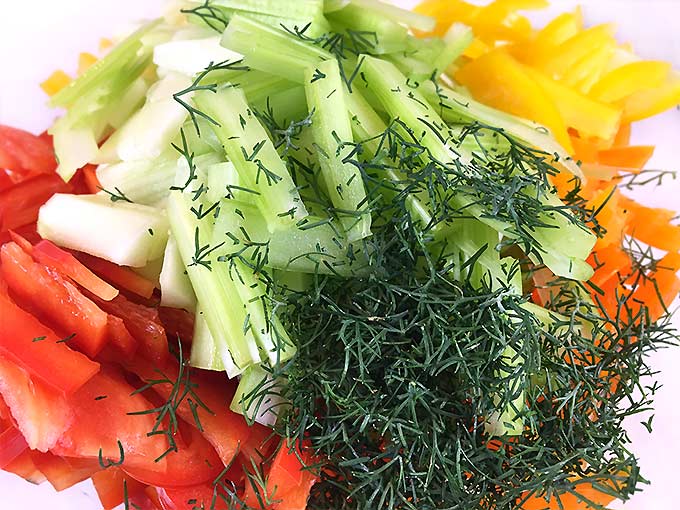 I do have a garden, but not exactly prolific. So far it has produced baseball bat sized zucchini, bitter lettuce and green tomatoes. Also a few small green peppers, jalapenos and one particularly ugly and crooked cucumber.
I posted a picture of it on Facebook with this caption: "If this cucumber is an indication of my green thumb, I'm doomed." Then a knowledgeable gardening friend commented that she thought it was a kind of Japanese cucumber. I'd never even heard of a Japanese cucumber, but apparently I'm growing one!
My herb pots are faring better than the raised beds — there's plenty of lemon thyme, thyme, rosemary, basil, dill and sage.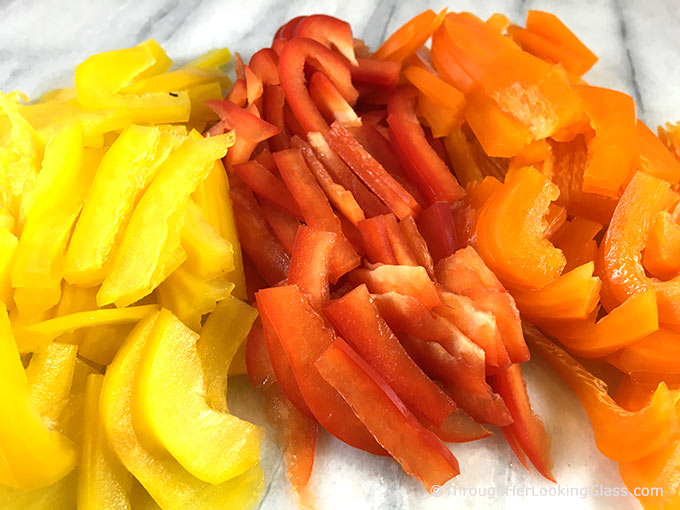 We were a little worried about the garden the other night. The forecast predicted severe thunderstorms and we'd been watching the storm on the radar. It was a fast moving system with every threatening color on the screen and the possibility of hail.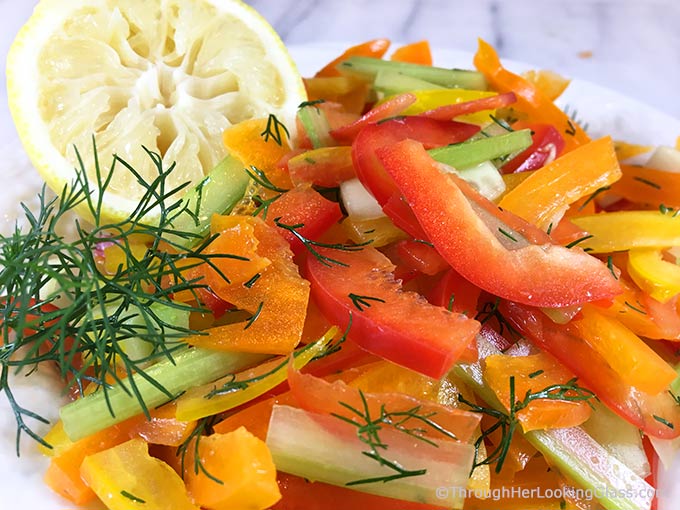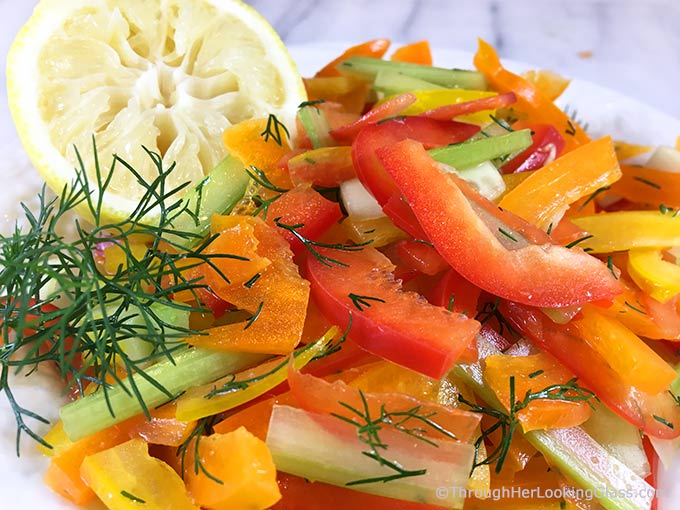 Jon went out to grill some dinner quick later that afternoon and within just minutes the sky darkened and it got super windy. The trees were swirling, and small branches started flying. He was hurrying back into the house with the grilled hamburgers when the lights went out.
Folks, this was (insert Boston accent) "a wicked big summah storm." 
So we fumbled around for matches and had dinner at the dining room table by candle light. Just like Little House on the Prairie. Sort of. (Minus Laura. And Michael Landon. And the prairie.)
The problem was, that we were heading off on vacation to the Cape early the next morning — still had packing and laundry to do. In fact, there was a load already going in both the washer and dryer. Timing is everything.
So we tried to pack as best we could in the dark, but it was sweltering with no AC, and most of the beach towels and clothes were still piled high in the laundry chute. Finally, at elevenish, the lights flicked back on and we were able to get going on the laundry. Phew. There wasn't a whole lot of sleep in our house that night, mostly laundry and packing.
And the garden fared ok in the storm. A few of the tomato cages blew over, but we didn't lose any plants. And most importantly, we never did get the predicted hail.
Then when got back from vacation, the herb pots were just spilling over, the dill in particular. That's why I made this Fresh Dill Bell Pepper Salad to go with our grilled chicken tonight.
The dill complements the bell pepper, cucumber and celery matchsticks perfectly. The light lemon juice vinaigrette ties it all together. But the key to this delicious and sophisticated summer salad? Slice the veggies very thin and use lots of aromatic freshly chopped dill! This salad is so easy to make and accompanies grilled fish and meats perfectly. Also packs well in a picnic basket.
So tell me: how does your garden grow? Had any wicked summah storms at your house lately?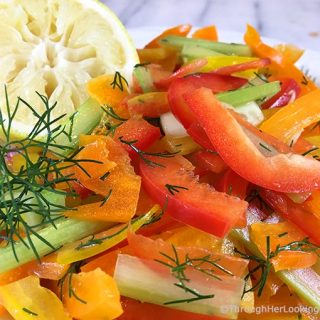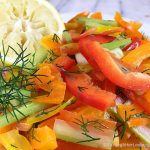 Print Recipe
Fresh Dill Bell Pepper Salad Recipe
Ingredients
1

red bell pepper

1

yellow bell pepper

1

orange bell pepper

1 -2

ribs celery

washed

1

medium cucumber

peeled and seeds removed

2

tablespoons

fresh squeezed lemon juice

1

tablespoon

rice vinegar or white vinegar

2

teaspoons

olive oil

¼

teaspoon

garlic powder

¼

teaspoon

salt

¼

cup

chopped fresh dill
Instructions
Julienne peppers, celery, and cucumber by cutting into very thin strips;

Cut strips into one inch length.

Place all vegetables in a serving bowl.

Combine juice, vinegar, oil, salt and garlic powder in a separate bowl.

Whisk to blend well.

Pour dressing over cut vegetables.

Add the chopped dill.

Mix well.

Chill to blend flavors.

Refrigerate leftovers.

You may also like: Crunchy Asian Salad