As I type, we're on a road trip. Heading home after dropping our son at college in the south. First time for everything. I'll fill you in more on that later. The air's been soupy, hot and muggy this week and I've found myself wishing for a soft spring rain. A soft summer rain would be fine too. Enjoy this piece I wrote several springs ago.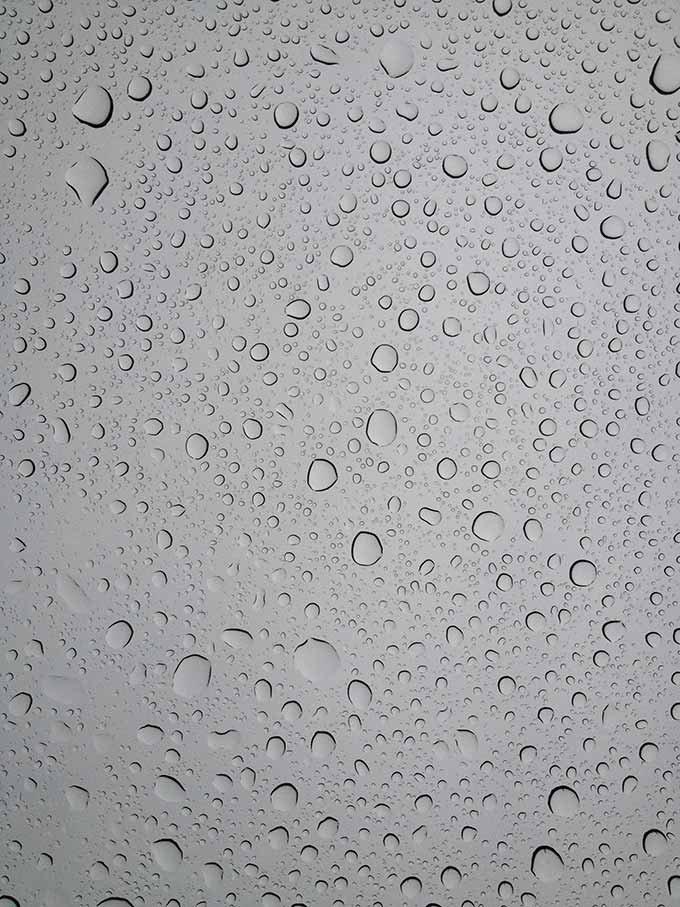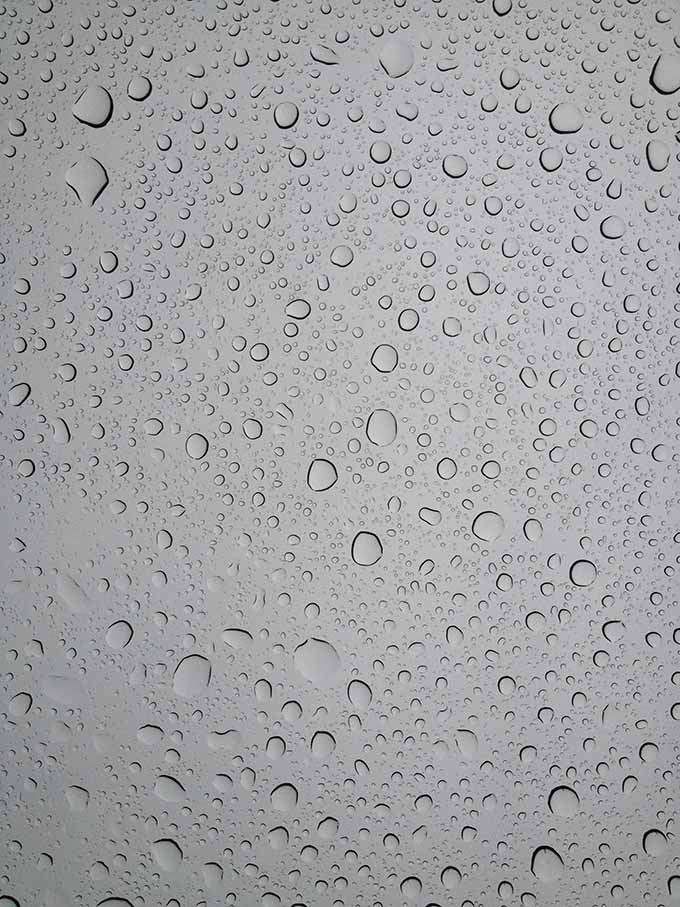 Today's been beautiful in so many ways, and I'm not just talkin' weather. You know what we say in New England: if you don't like the weather, wait an hour. Works in reverse too. (Bleh.)
Soft Spring Rain
The sky dawned blue-eyed, crystal clear this morning. Fresh, spring-like. Low forties feels like summer after what we've endured this past winter. A strange week weather-wise, that's for sure. Started with snow early on, graduated to hail mid-week. Then bright, sunny and clear this morning.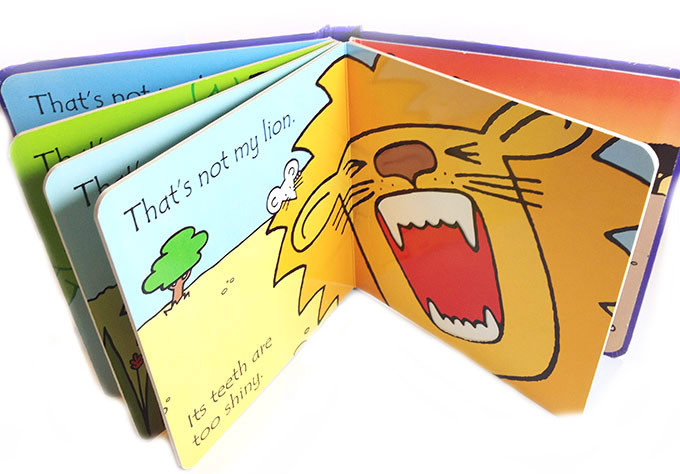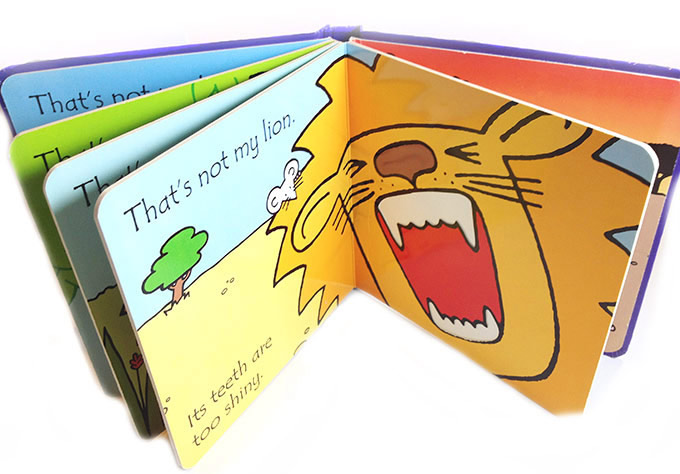 Hudson and I head to music therapy mid-morning. (Hudson, our little boy with Down syndrome.) He's faithfully, energetically practiced his lion roar about six months now.
An old Rich Mullins CD quietly plays. The lyrics: "and the children keep learning, how to grow up big and strong, how to grow up big and strong." And Hudson, he "sings", growls along. Barely squeezes in the last syllable of each phrase. Roars out the "ig" and the "ong" right on cue. Love this little boy.
Slowly making his way in this world, learning to grow up big and strong. His way, his time-table.
"Promise me you'll always remember: you're braver than you believe, stronger than you seem, and smarter than you think."
-A.A.Milne
I love that quote.
Later he heads out on the bus to afternoon pre-school. By now the sky's dark, overcast. Ominous and foreboding. I stack toys, wash dishes, then head out to pick up boys from school.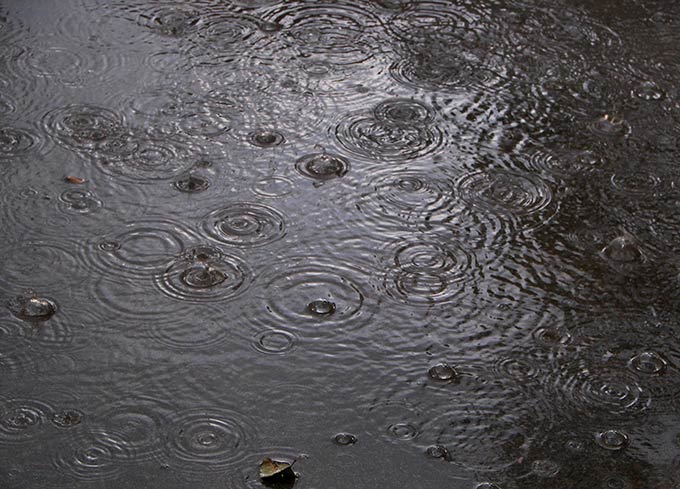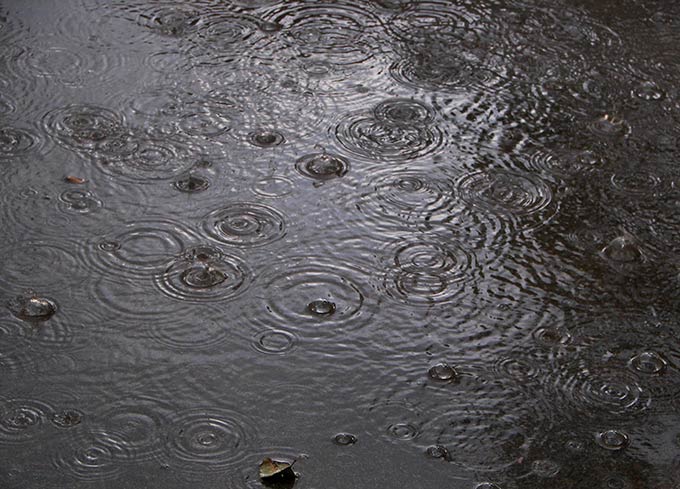 It's pouring a Soft Spring Rain now. Haven't seen, felt rain in months. Snow only. (Snow, snow and more snow.) Almost forgot what a spring rain feels like. Fresh. So much water coming down. And so soft.
I think of that little kid in the spring rain. Donning the rain boots, rain slicker. Heading out alone. Excited. Nearly quivering. Me. To the winding gravel driveway.
Finding that long stick. Digging the shallow paths, converging and diverging paths in the dirt. Manufacturing streams and rivers, canals and moats. Lakes and oceans. The water moving. Constantly moving, mesmerizing.
Like staring into flames. Always changing, ever the same. Cozy. Dry. Feeling that delicious rain beat through the slicker.
Oh for a stick, a gravel driveway, a yellow slicker, shiny red rain boots.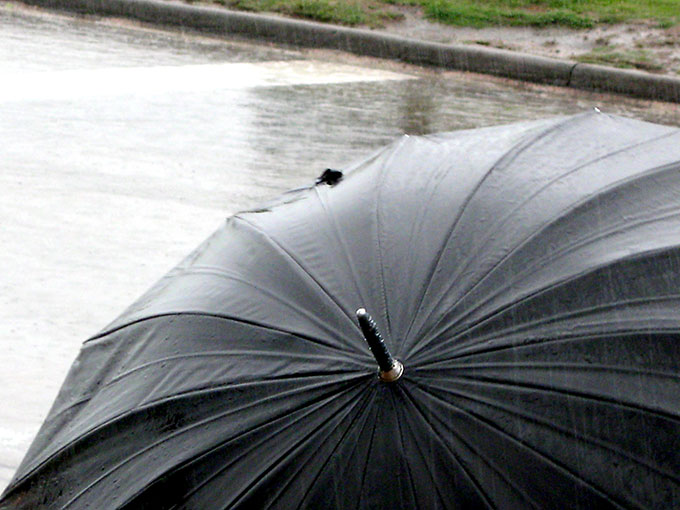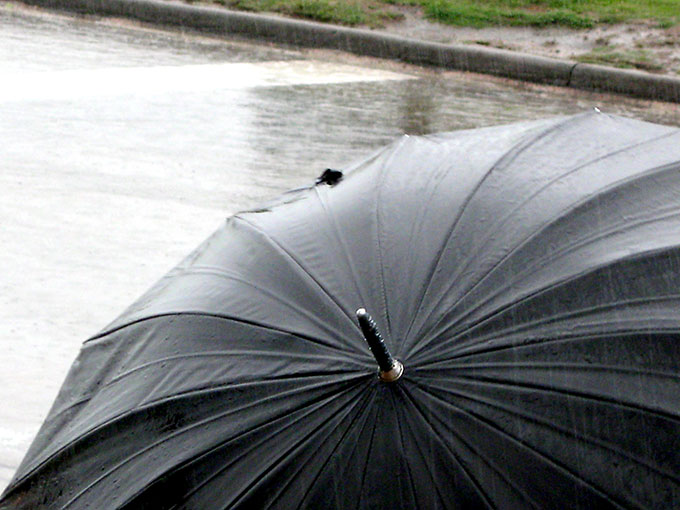 Grabbing the umbrella, I pick up Charlie first. Doesn't want space under the canopy. He wants wet. (Boys.)  On to the next school for Hudson. We arrive early, wait the few minutes in the car.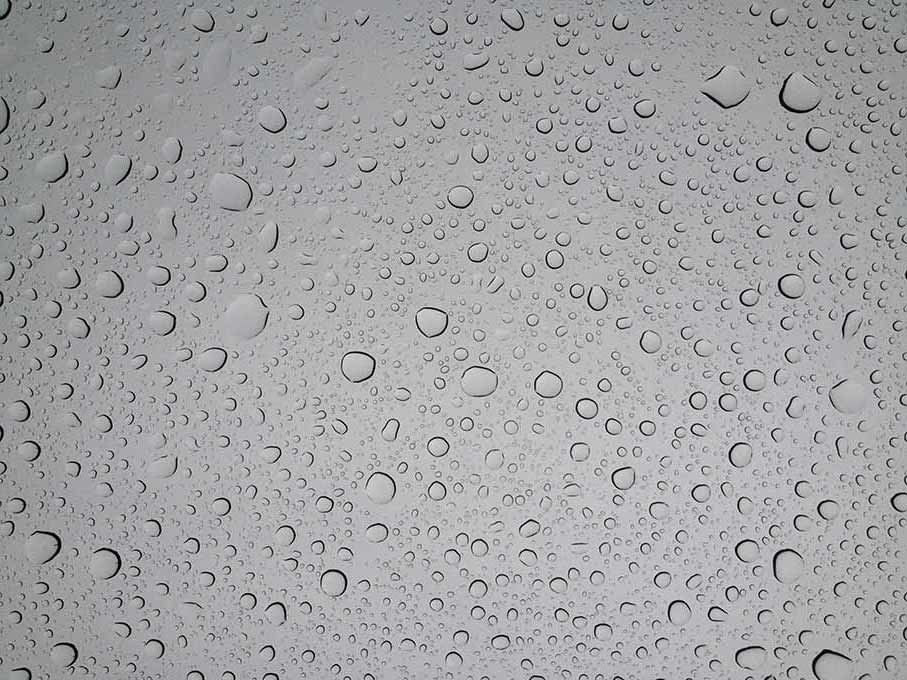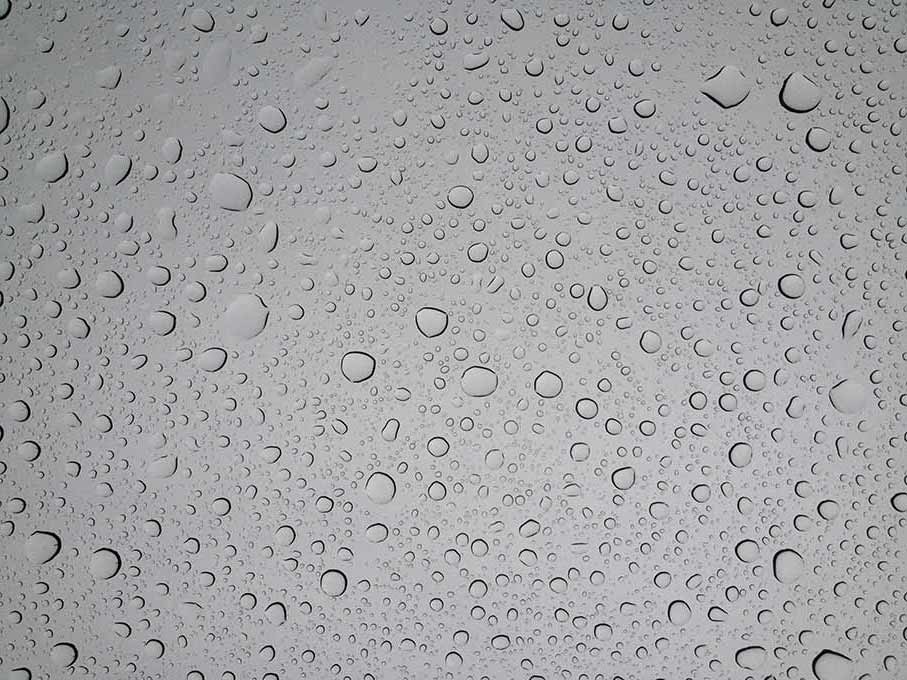 I look up. Straight up. Overcast, smoky gray sunroof canvas. Rain beats, straight down. Droplets join droplets, collect. Form rivulets.
Charlie, he watches too. Mesmerized. The beads, they collect, grow, attract one another, join other larger rolling beads. Wander off. New ones form. So mesmerizing, riveting. Like flames.
Hudson, he comes out of school baffled by the rain. He's forgotten what rain feels like, but so happy to join me under the umbrella. We snuggle in close, buckle up then drive home.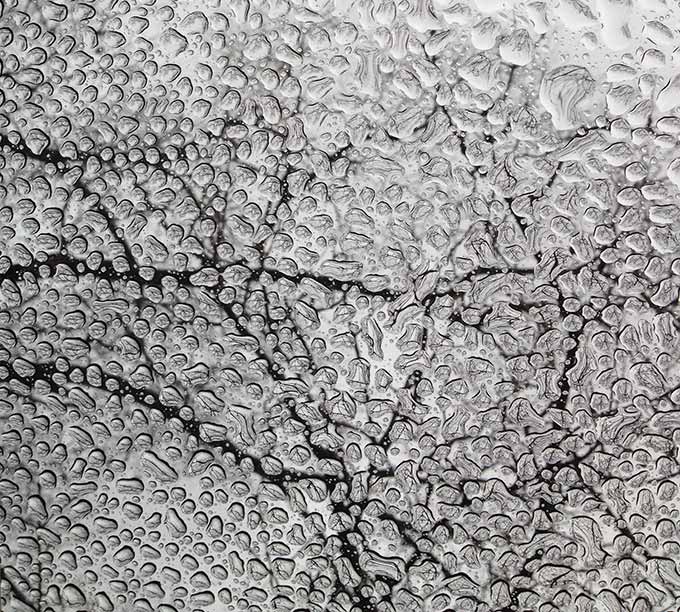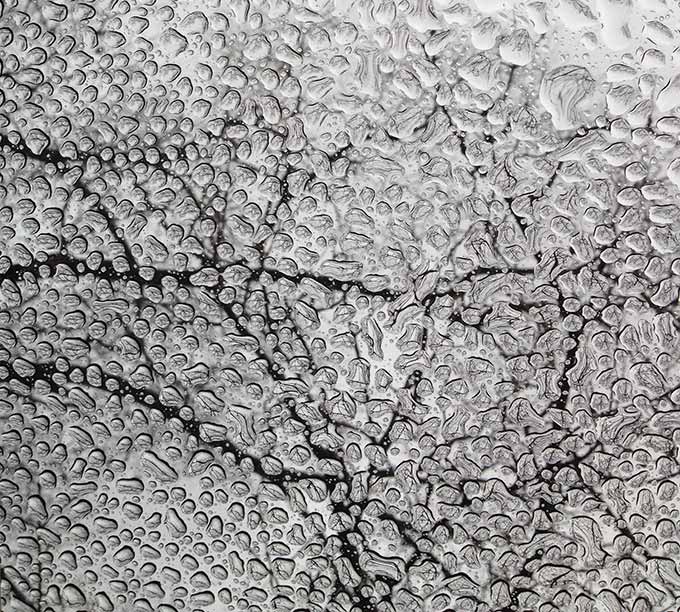 Parked in the driveway, we stare skyward again. Oak branches tower, beads collect. A thousand magnifying glasses, prisms.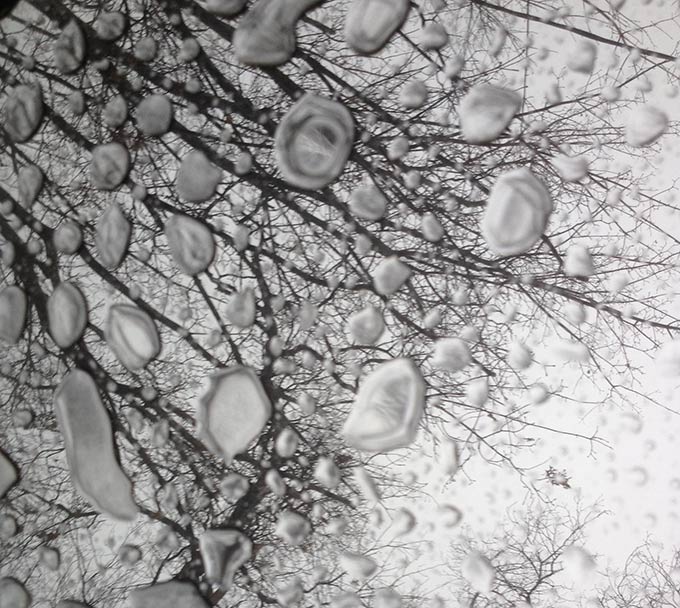 Rain drops, they fall relentlessly. Surface tensions break, bead by bead. We could sit here for hours, not move a muscle. I whisper that aloud.
Five minutes later the phone vibrates. Jolts me back to reality. I slowly remove the key, collect the backpacks.
"But you said we'd sit here for hours," says Charlie. (My literalist.)
I said we could. And truly, I'd love that.
That, and a stick, a gravel driveway, a yellow slicker, shiny red rain boots.
(P.S. Snow forecasted this week.)
You may also enjoy: They Didn't Know