Salted Caramel Pecan Turtles are delicious candy that is so much easier to make than it looks. You'll need ten minutes. And no candy thermometer and no boiling sugary syrups. Use store bought caramel candy (or block caramel), toasted pecans and dark chocolate disks for a quick and easy gourmet treat to gift to your loved ones at the holidays!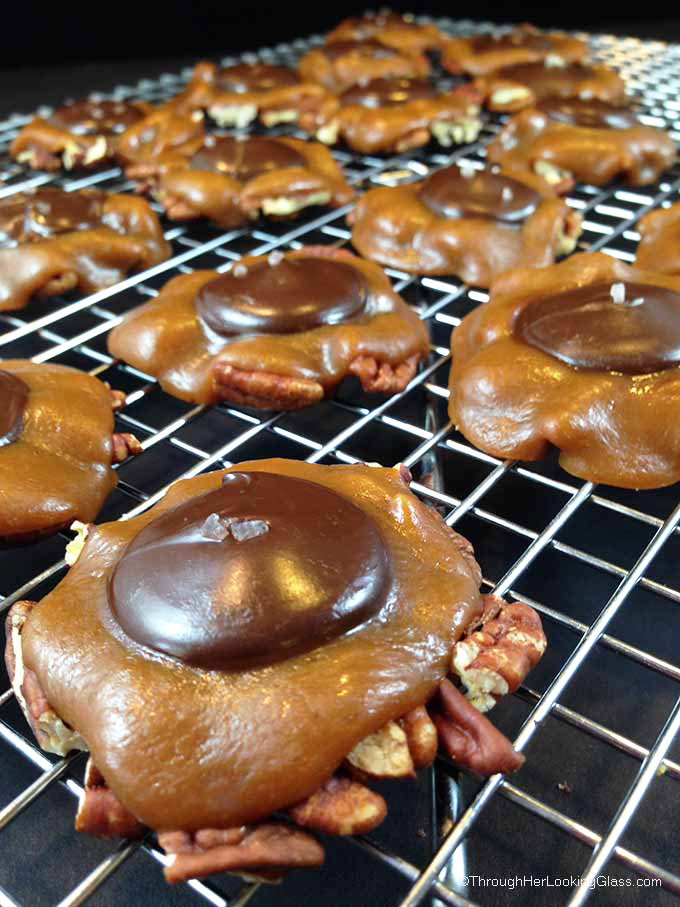 Ever strolled by the homemade candy or fudge shop when they're making the pralines? GAH!!! Just that sweet, buttery aroma wafting out to the sidewalk is enough to send me over the edge. There are other delights behind the glass case, and I happen to love homemade Salted Caramel Pecan Turtles.
So there's a big white elephant in the room and let's just get it out of the way now.
How do you say pecan?
PE-can? Or pe-KAHN. Growing up in the north I always heard it PE-can. But then I lived in the south for years and there it was always pe-KAHN. So now I live back in the north again. In a state of utter confusion. Ha.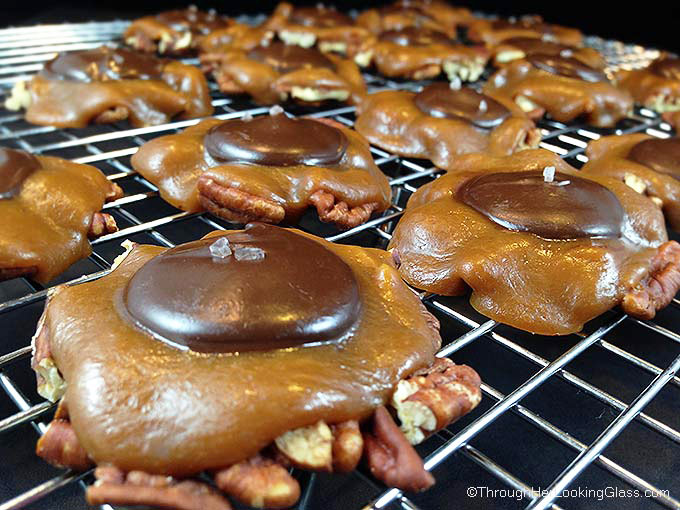 No matter how you say it, Salted Caramel Pecan Turtles make such a beautiful presentation. (And they don't taste half bad either.) Perfect in a candy box or on the dessert table.
The toasted pecans and sweet caramel complement each other perfectly. Top with bittersweet chocolate and it's oh-my-word over the top. Sprinkle on a few sea salt flakes for a sophisticated palette. Or not. Either way, divine!
So have you ever made Salted Caramel Pecan Turtles at home? Honestly, they're one of the easiest candies ever to make. And beloved by all. No candy thermometer. No stirring. No mixing.
These are the perfect little homemade Valentine's Day or Christmas stocking treat for all the special people in your life: teachers, co-workers, friends and family. So quick and easily made ahead.

The recipe I'm sharing today makes two dozen turtle candies. You can easily halve or double the recipe as needed.
How to make Salted Caramel Pecan Turtles:
Lightly toast the broken pecan halves on a parchment lined baking sheet in the oven.
Then arrange toasted pecans in separate little piles of about 2 teaspoons each.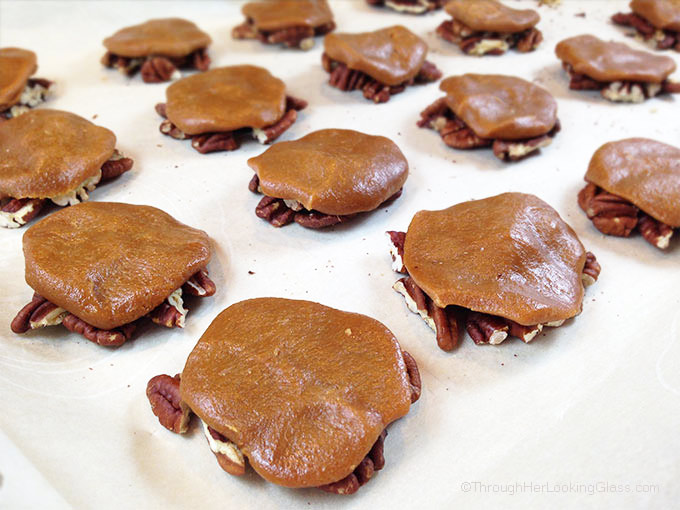 Top each pecan pile with a flattened caramel candy (or block caramel cut in pieces and flattened) and bake for 2-3 minutes at 325° until caramel melts.
Remove from oven and turn it off.
Press one bittersweet chocolate disk on top of each pecan caramel cluster.
Return to oven.
Close oven door and let sit for about 30 seconds until chocolate melts.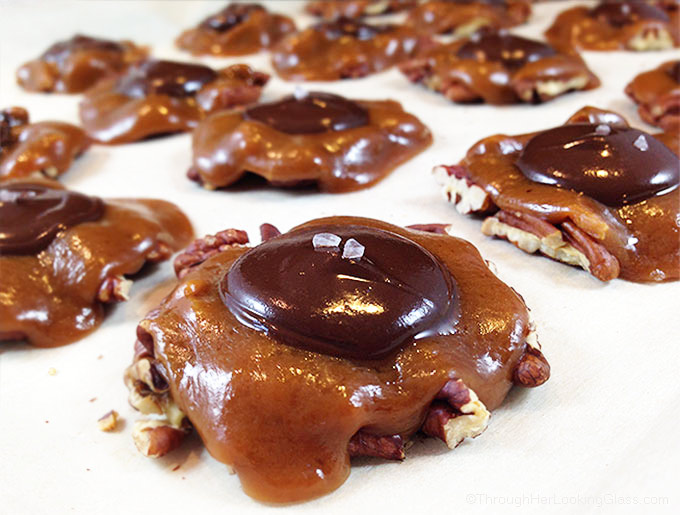 Quickly remove from oven.
Garnish with a few flakes of sea salt if desired.
Let sit at room temperature for several hours until caramel and chocolate harden.
Note: I used bittersweet chocolate disks I purchased from King Arthur Flour. Also block caramel I purchased from King Arthur Flour.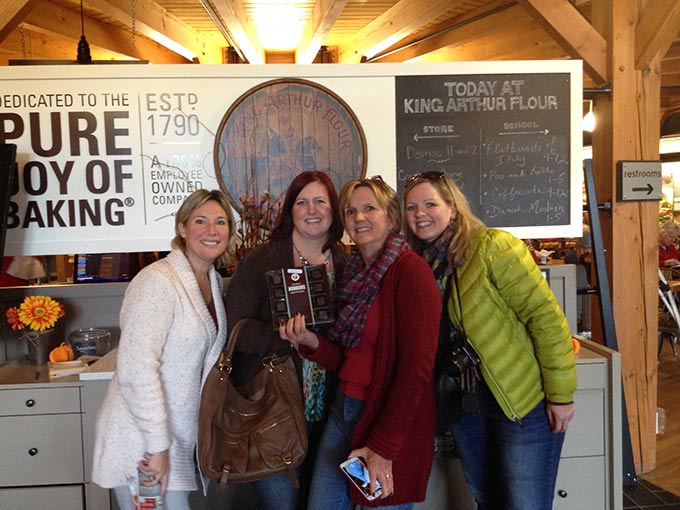 See this post for more information about King Arthur Flour in Norwich, VT. I love the King Arthur Flour Store and will use any excuse I can drum up to run up to Norwich.
They have a lovely cafe with homemade soups, breads and every kind of scrumptious pastry imaginable. Delish!
The bittersweet chocolate disks and block caramel I used for this recipe may also be available at your local grocery store, craft or candy making store.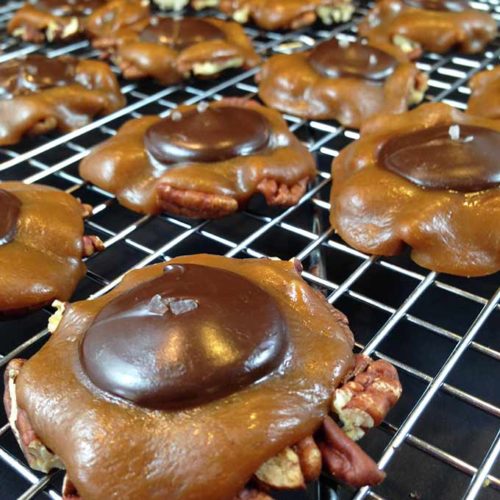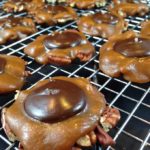 Print Recipe
Salted Caramel Pecan Turtles Recipe
Toasted pecans meet caramel and chocolate for the easiest homemade candy you'll ever make. No stirring, no mixing, no candy thermometer. Gorgeous presentation.
Ingredients
1 1/2

cups

roughly broken pecan halves

24

soft caramel candies

or 6-ounce block caramel cut into 24 equal pieces

24

bittersweet chocolate disks

sea salt flakes
Instructions
Preheat oven to 400°.

Lightly toast broken pecan halves on parchment lined baking sheet for 5 minutes.

Remove from oven and reduce oven temperature to 325°.

Arrange pecans into 24 piles (about 2 teaspoons each) on parchment lined baking sheets.

Shape caramel candies into flattened circles. (about the size of a half dollar)

Top each pile of pecans with a flattened caramel disk.

Bake in the oven for 3-4 minutes until caramel melts.

Remove from the oven and turn oven off.

Top each caramel covered nut cluster with a bittersweet chocolate disk, pressing in firmly.

Return pan to warm oven for about 30 seconds until chocolate is nearly melted.

Remove from oven

Garnish with a few flakes of sea salt if desired.

Let candies cool and harden for several hours at room temperature to set.

Store in an airtight container.
You may also like: Sugared Pecans