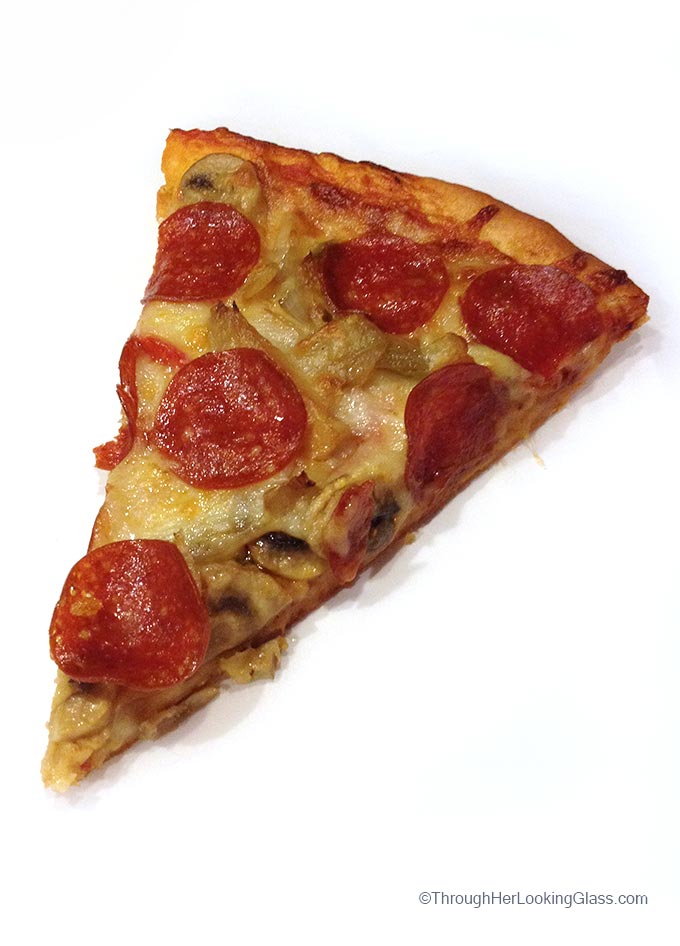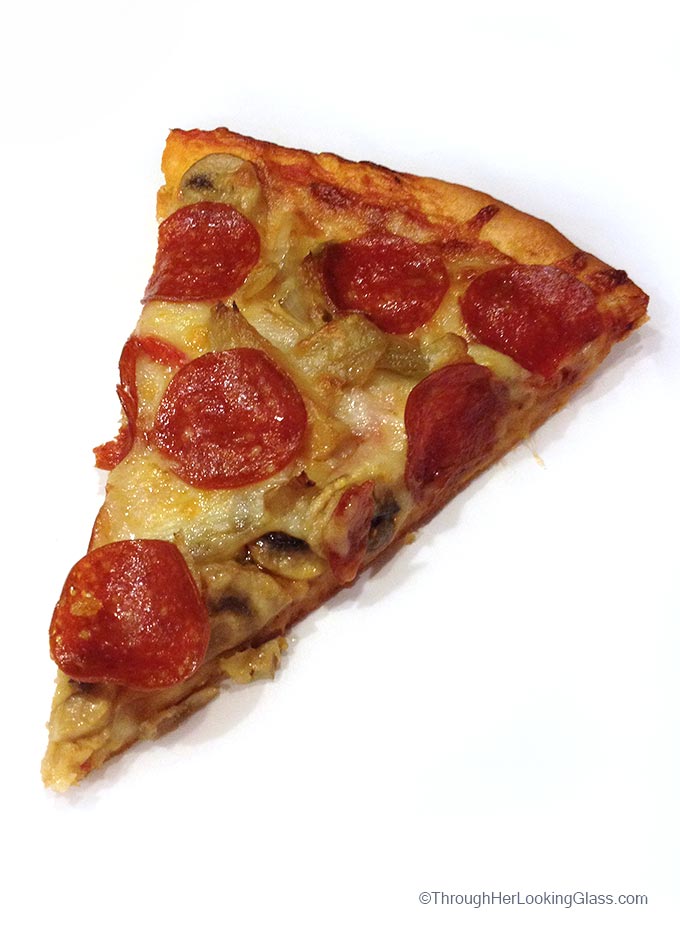 I get the same repeat question in my house day after day, by multiple interested parties. You probably do too. "So what's for dinner?" And when I say Homemade Pizza, there's great rejoicing. Everyone in our house loves Homemade Pizza, and we often have it on Friday nights. While it takes more time to make than ordering in, it's not the huge all afternoon project I once imagined it to be. This recipe is so simple, tastes fabulous and is also significantly cheaper. You'll need about an hour and a half from start to finish. Mixing and kneading the dough takes about 10 minutes. (I use a stand-mixer for kneading, but a video is included below for hand kneading instructions.)
(Optional: Check out King Arthur Pizza Dough Flavor. It adds cheese and garlic to the crust, a little extra Italian boost. I often add 4 teaspoons to this dough recipe.)
A pizza stone in the oven is helpful. It helps achieve a crispy bottom crust that stays chewy on the inside. But a pizza stone isn't necessary. I've made homemade pizza for years before I had the stone. Following is the basic recipe for both the pizza dough and sauce. (Note: you'll have extra pizza sauce.) Make it unique: add your own cheese and topping combinations. Our favorite toppings are mushrooms, peppers, onions and crumbled Italian sausage. I top it off with mozzarella or a pre-packaged four cheese pizza blend I get at the grocery store.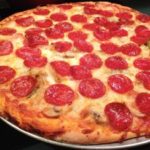 Print Recipe
Homemade Pizza Recipe
Easy homemade pizza crust and sauce recipe. Add toppings to make it your own.
Ingredients
Dough:

2

teaspoons

sugar

2

teaspoons

salt

2

tablespoons

vegetable oil

2

cups

very warm water

1

packet instant dry yeast

or 1 tablespoon instant dry yeast

6

cups

flour

optional: 4 teaspoons King Arthur Pizza Dough Flavor

4

cups

shredded mozzarella cheese

or more!

Sauce:

1

large 28 ounce can tomato sauce or crushed tomatoes

1 1/2

teaspoons

oregano

2

teaspoons

salt

1

clove

garlic

5

tablespoons

vegetable or olive oil

Topping suggestions:

olives

artichokes

spinach

mushrooms

peppers

onions

Italian sausage

pepperoni

hamburger

bacon
Instructions
Dough:

Mix sugar, salt, vegetable oil, warm water and instant yeast.

Stir in six cups flour (and optional king Arthur Pizza Dough Flavor) until dough ball forms.

Knead for 3-5 minutes on floured surface.

Place dough in a large greased bowl, covered, in warm area 'til dough doubles in size, about an hour.

Preheat oven to 475 degrees.

Punch dough down and divide in half.

Roll out into two 16" circles and place on 16" greased round pans.

Sauce:

Combine all sauce ingredients in saucepan on stovetop.

Simmer, covered, for 10 - 15 minutes or longer.

To make pizza:

Spread sauce on top of prepared dough.

Top with vegetables, cheese and meat toppings of your choice.

Bake at 475 degrees on the lowest oven rack, begin checking at 8 minutes.

Watch closely and remove from oven when it's just how you like it.
Notes
To create a warm (not hot!) place for the dough to rise, turn your oven on to the lowest setting for just a few minutes, 'til it's warm. Then TURN THE OVEN OFF and open the door, letting some of the heat out. Cover the dough in the greased bowl, shut the oven door, and let it rise inside the warm oven. (The trick is to remember to REMOVE the rising dough before preheating the oven to 475 degrees for baking.)
Knead dough for 3-5 minutes (or use a heavy-duty stand mixer), then let rise in a warm place 'til it doubles in size.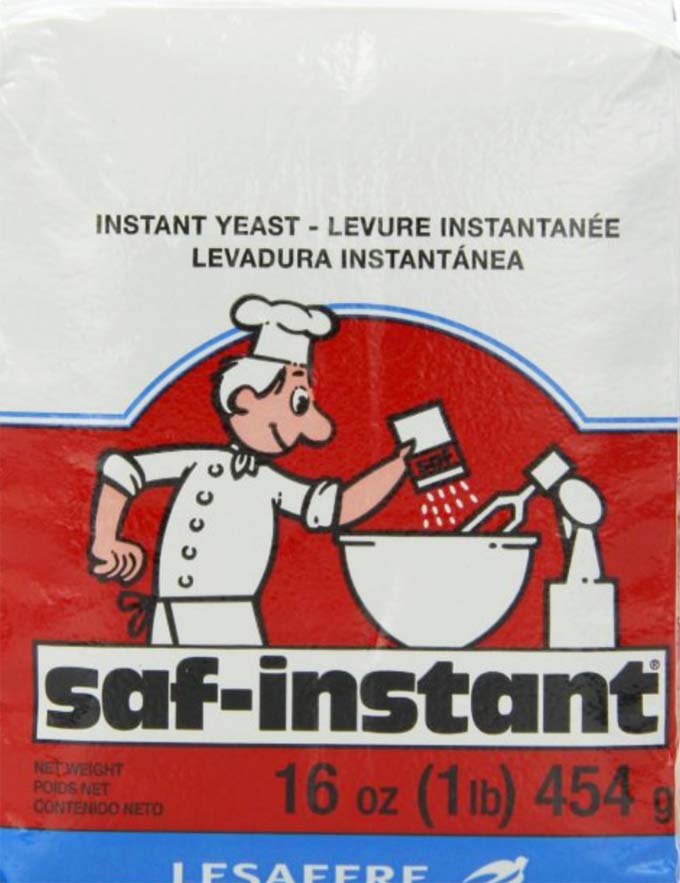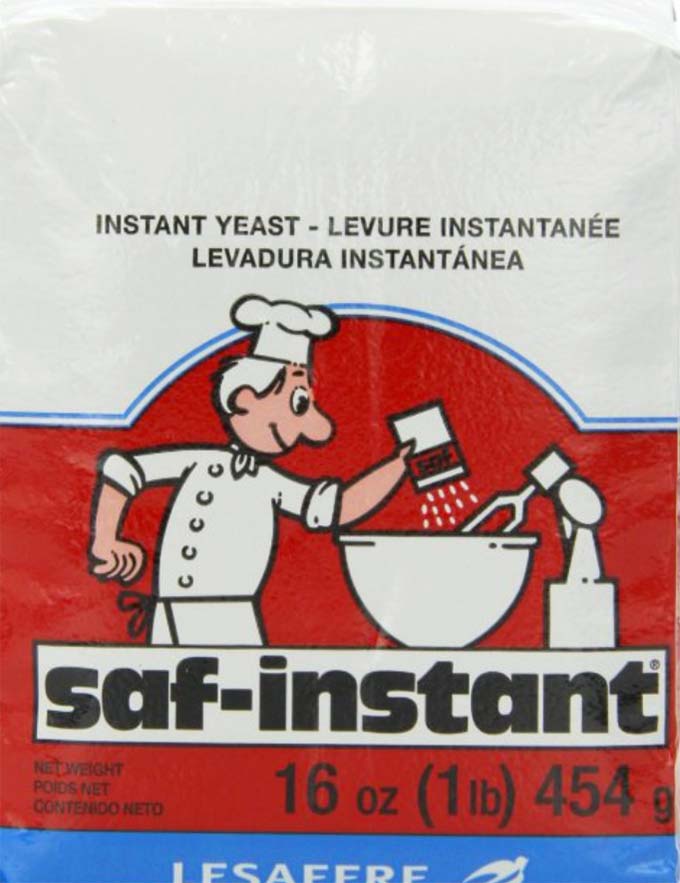 FYI, this is the kind of yeast I use. I keep it in the freezer in an airtight container, and it keeps several years that way. (I bought mine at BJ's.)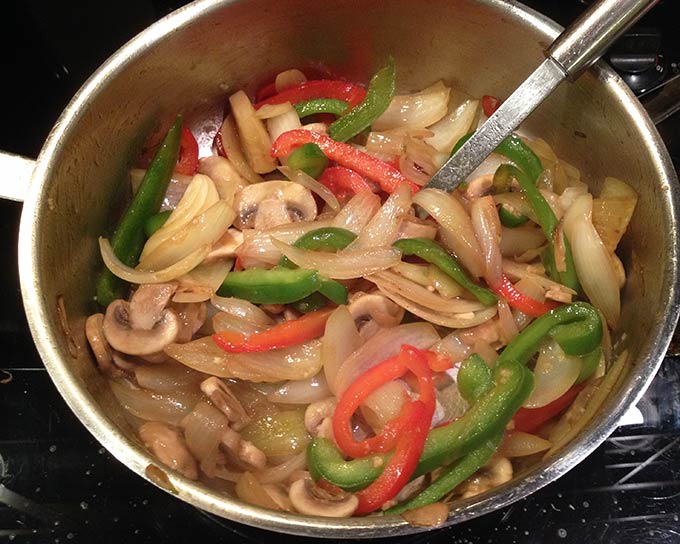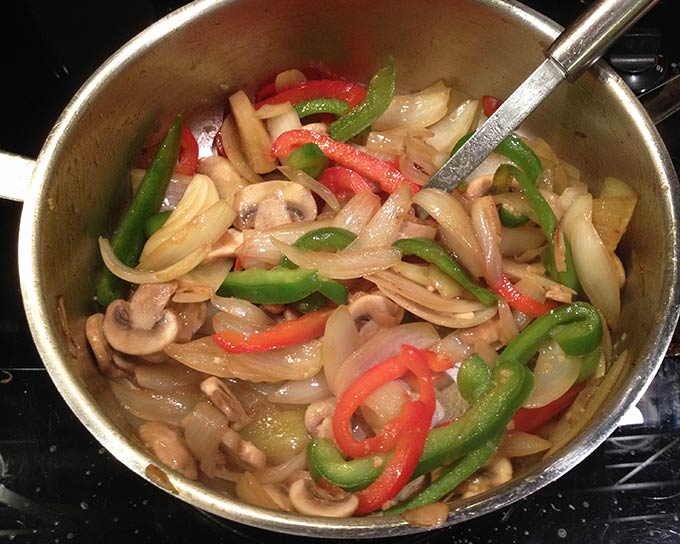 As the dough rises,  prepare your vegetable toppings. I like to sauté veggies with a little olive oil, salt and pepper. They taste great sautéed  and the water content reduces, keeps the crust from getting soggy later.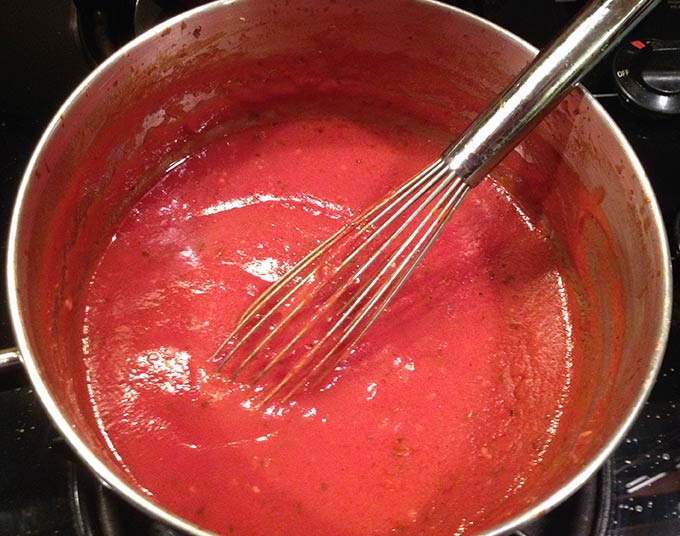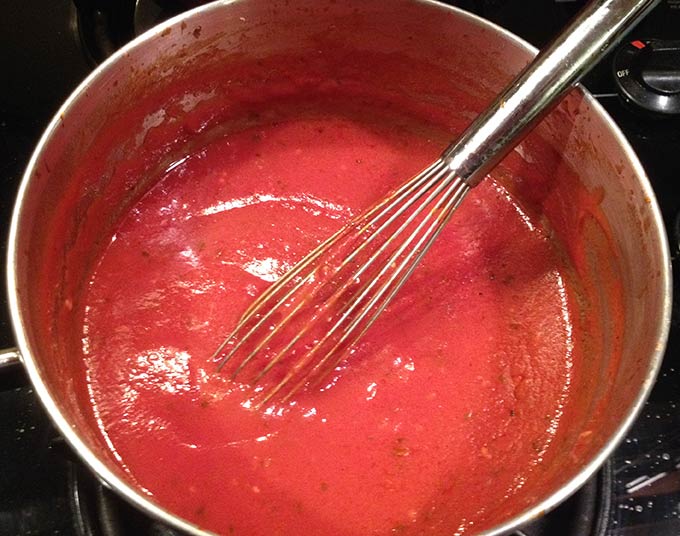 Simmer the homemade sauce.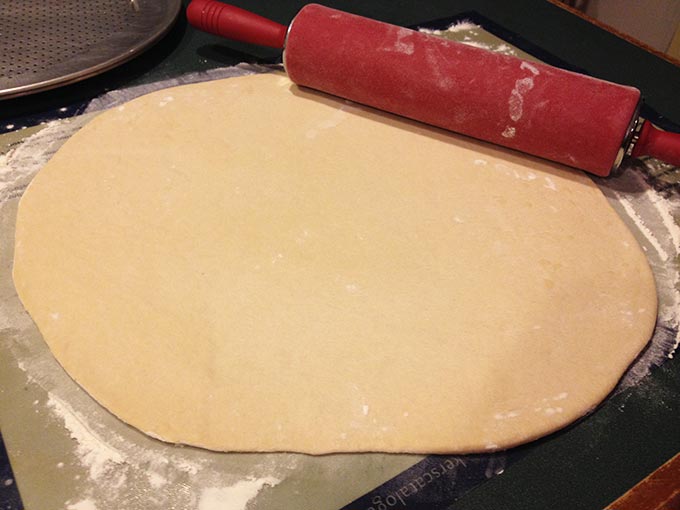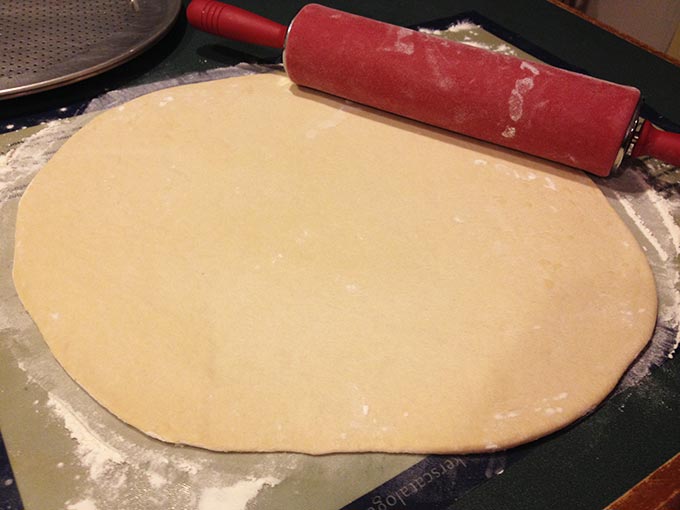 Punch down the dough, divide in half, then roll out.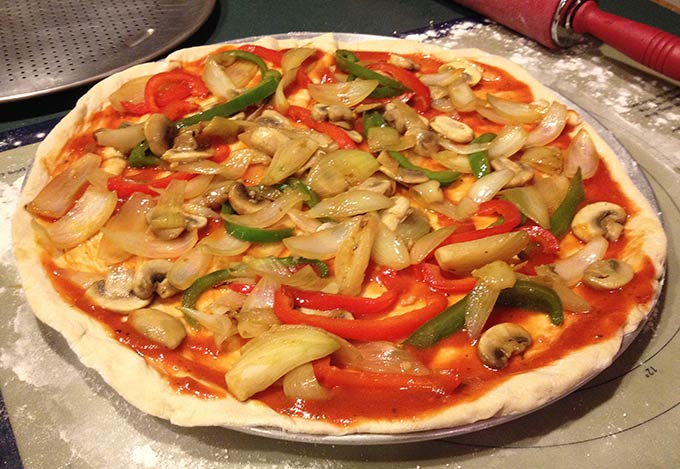 Spread the sauce, top with veggies if you like. Be creative!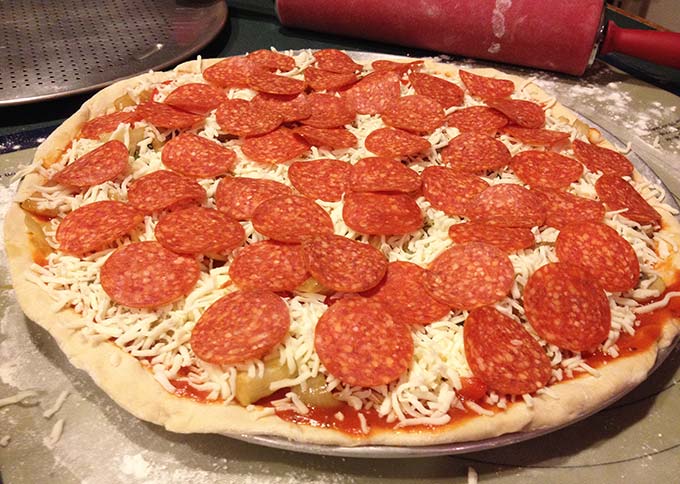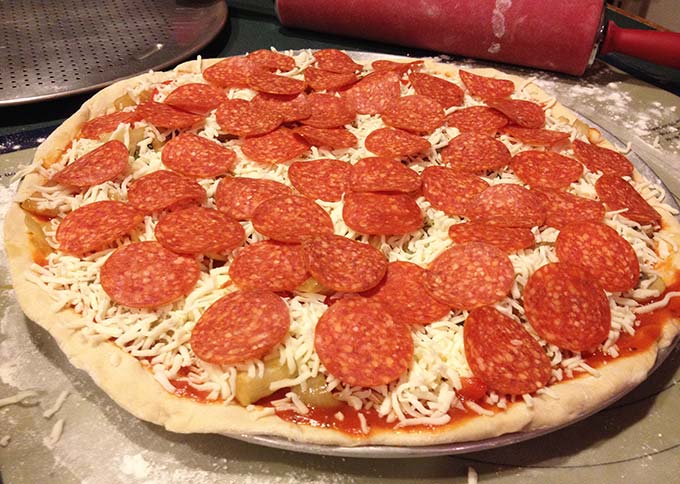 Top with your choice of meats and cheeses and bake on the lowest rack in your oven.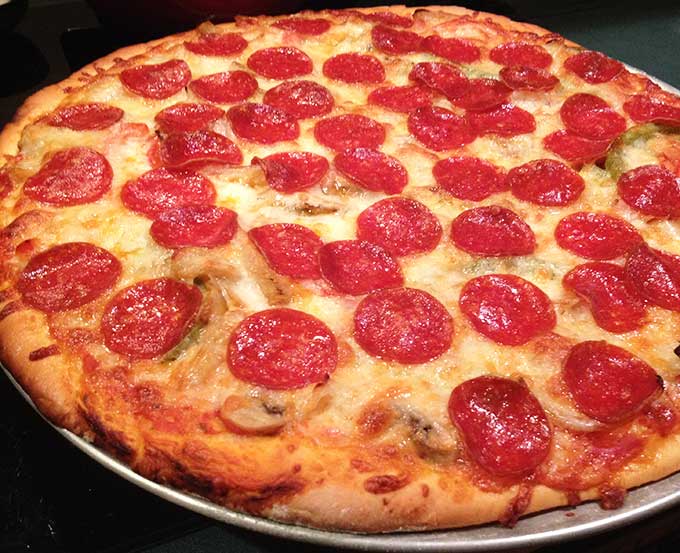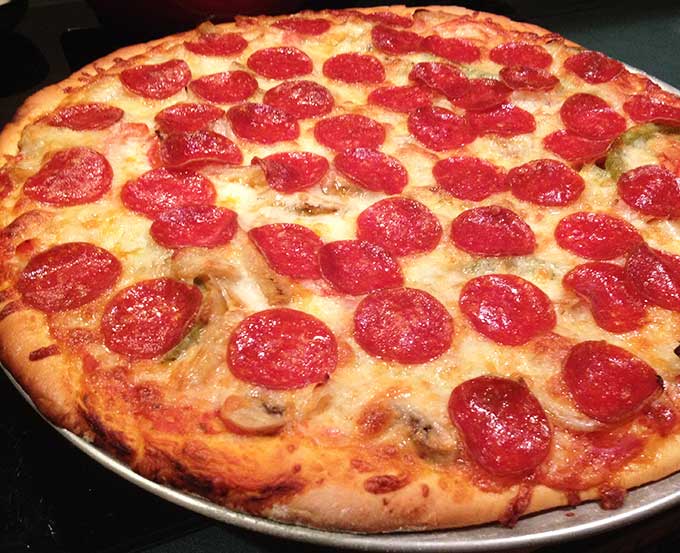 Nothing beats homemade, hot pizza fresh from your own oven!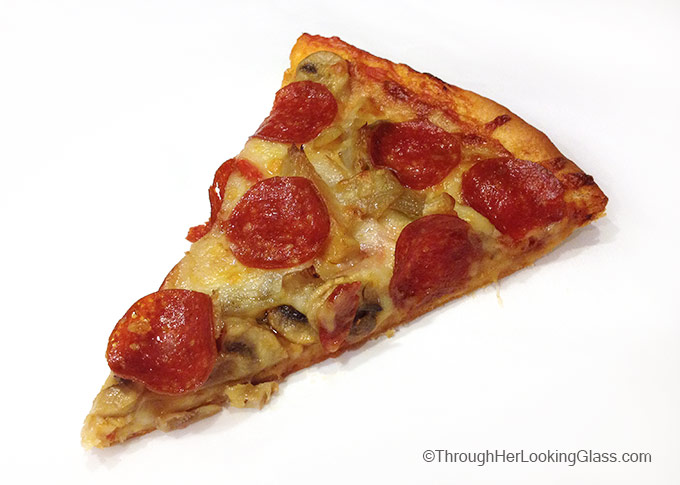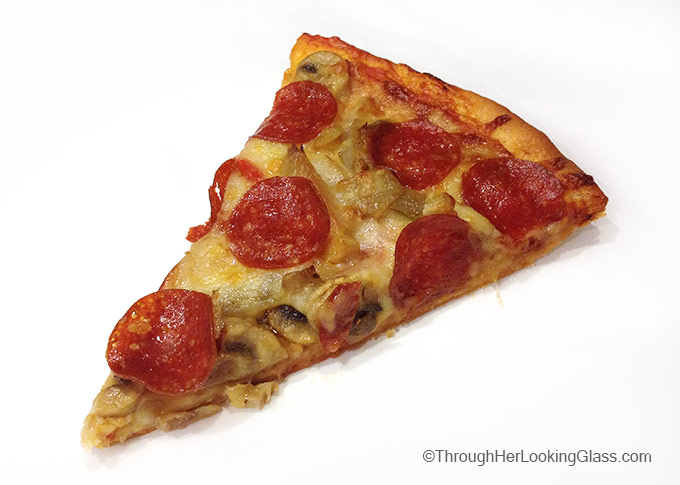 Mmmmmm…enjoy every bite.