Crackle Top Gingersnaps are spicy and sweet, a treat with afternoon tea or tucked in a lunchbox. This cookie dough stirs together easily. Form into dough balls, roll in sugar and bake. Gingersnaps are the most requested cookie at my house!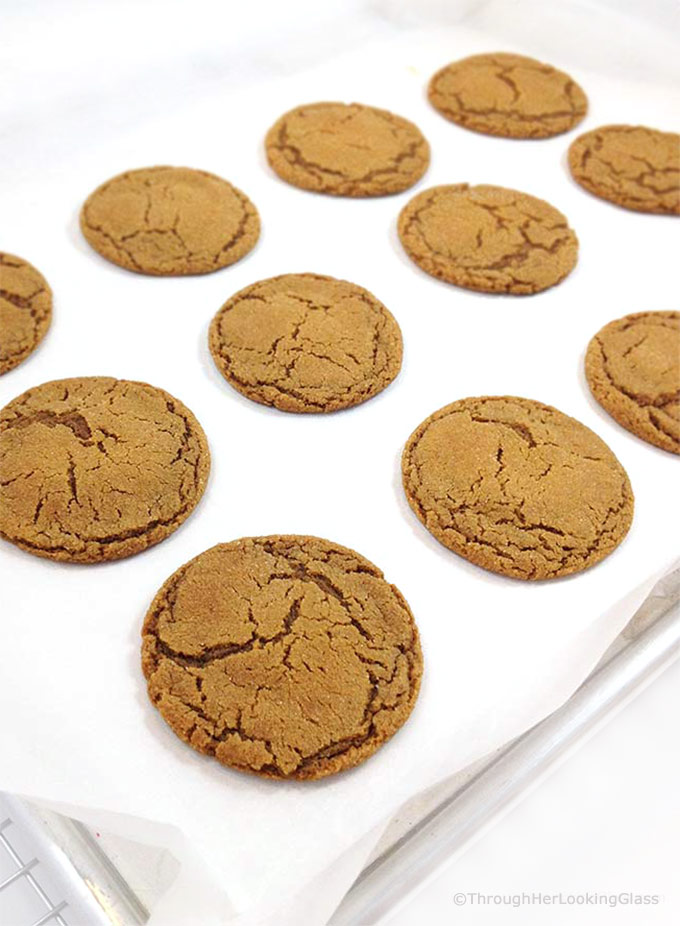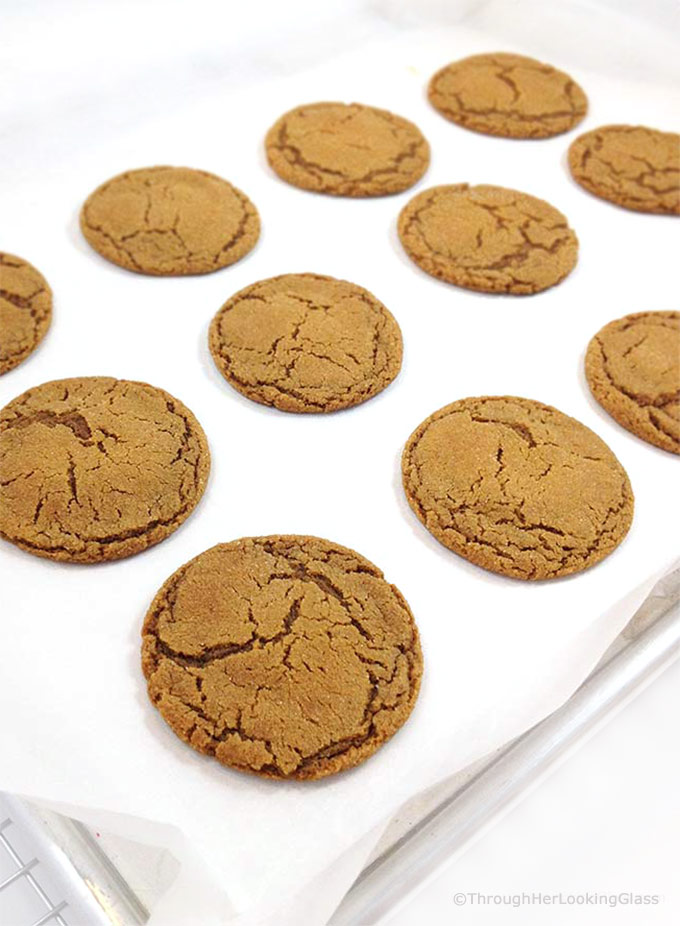 It's winter vacation week at our house. That means no school, later bedtimes and not setting alarm clocks. Also more movies, games, puzzles, reading and extra baking with everyone home this week. I mentioned a few weeks ago here that our house is on the market right now. We've been needing a little more space for a while.
We had our first open house last Saturday and these Gingersnaps were out on a plate in the kitchen with a pitcher of lemonade. It was so interesting. Almost all the folks that came through the house said "no thank you" when offered a cookie. And I was thinking, "Oh my word people, you don't even know what you're missing. But, ok."
Then the last lady that toured the house about 3 o'clock chatted with me for a while in the kitchen. I offered her a cookie and she accepted. I was so happy. We kept chatting, she had another. Then another. Ha ha. She loved them. And when the kids got home after the open house they were pretty excited there were still some left. So I guess it all worked out in the end.
So these may be the best Gingersnaps you've ever tasted. (Hard to know, 'cuz I don't know what you've tasted. Ha!) These yummy Gingersnaps are beautifully crackly and crunchy on the outside, slightly chewy in the center, rolled in sugar before baking. Oven warm, they're the perfect companion to a tall glass of icy cold milk. In winter…. a steaming mug of spicy chai tea. Mmmm…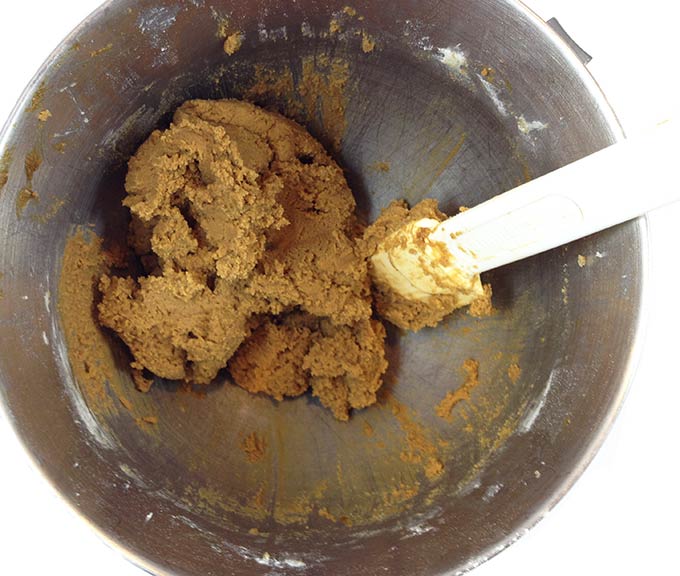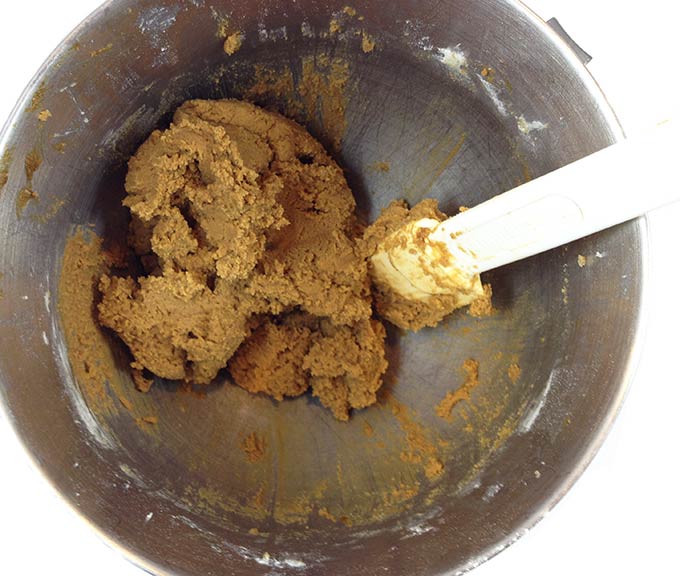 The dough mixes together in five minutes…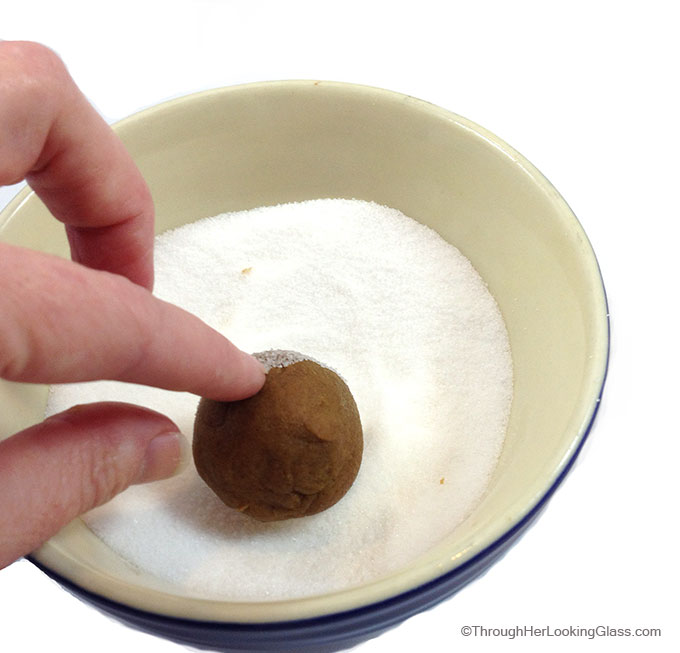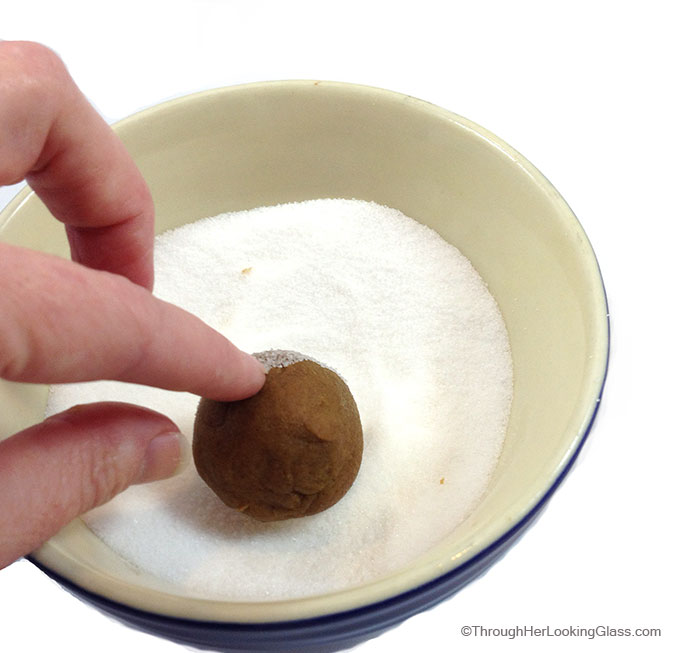 Form cookie dough into 1  1/2 inch round balls, then roll in sugar….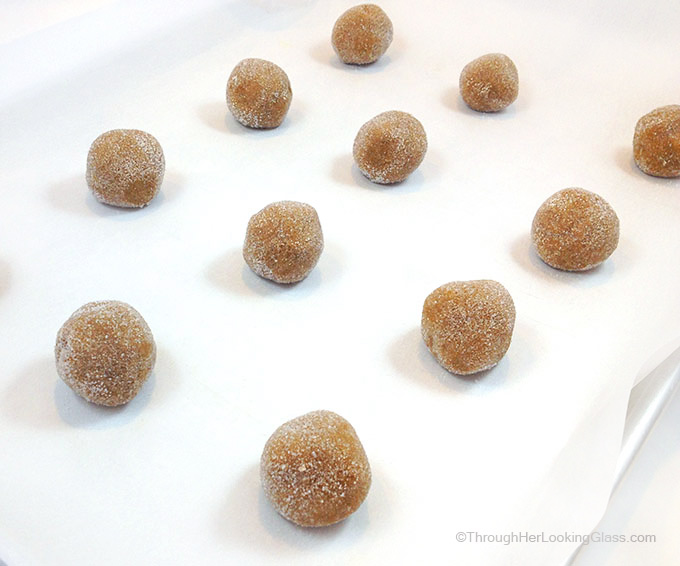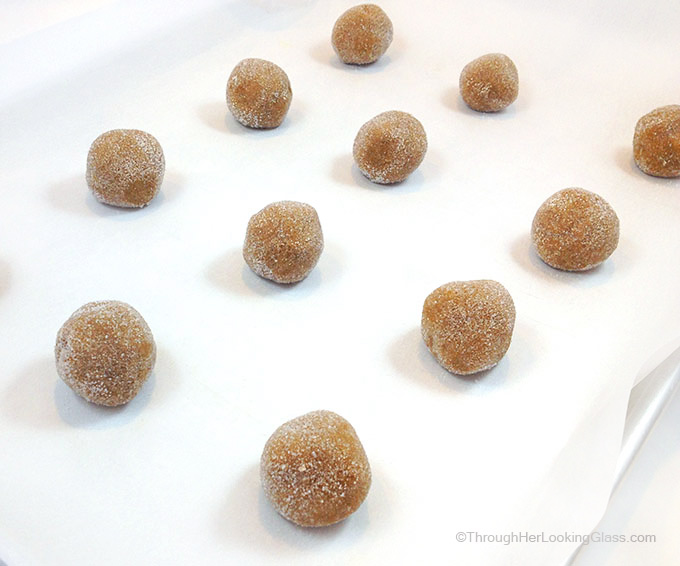 Place 2 inches apart on an ungreased cookie sheet or parchment paper, then bake.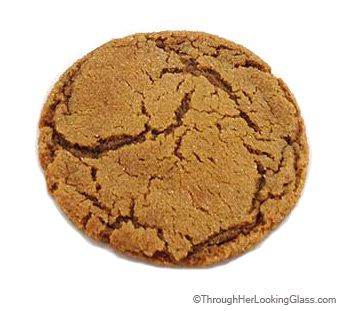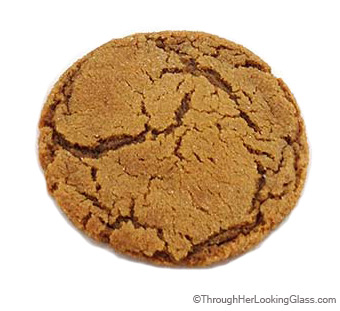 Winter is the perfect season for Gingersnaps. Spicy and sweet, they're an extra special treat for after school snacks on wintry days. All my boys (especially Jon) love these cookies and request them regularly. Simple to make, the recipe calls for butter!
You won't be disappointed by these scrumptious Gingersnaps!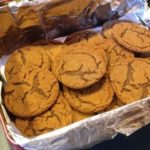 Print Recipe
Gingersnaps Recipe
Best Gingersnaps ever. Sugar rolled. Crackly on the outside, chewy on the inside.
Servings:
2
dozen cookies
Ingredients
2 1/8

cups

flour

1

tablespoon

ginger

2

teaspoons

baking soda

1

teaspoon

cinnamon

1/2

teaspoon

salt

3/4

cup

unsalted butter

room temperature

1

cup

white sugar

1

large egg

1/4

cup

molasses

extra white sugar

for rolling dough balls before baking
Instructions
Beat butter with mixer 'til creamy.

Mix in sugar gradually.

Add in egg and molasses.

Separately, sift together (or mix well with a fork): flour, ginger, baking soda, cinnamon and salt.

Stir flour mixture into wet ingredients.

Form into 1 1/2 inch round balls.

Roll in extra granulated sugar.

Place 2 inches apart on ungreased baking sheet or parchment paper.

Bake 8 minutes @ 350 degrees or 'til tops are round and cracked. They might still be slightly puffy.

Remove from the oven and whack the pan hard on the counter or stovetop. (Yup.) The middle will fall and they'll be flat and crackly. Just like a good gingersnap ought to be.
You may also like: King Arthur Chocolate Chip Cookies