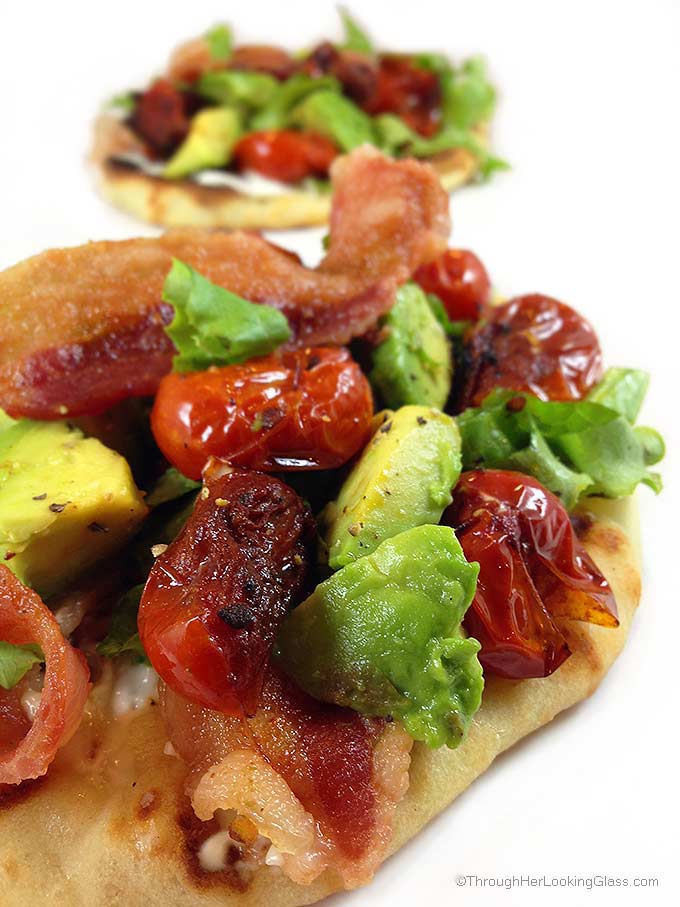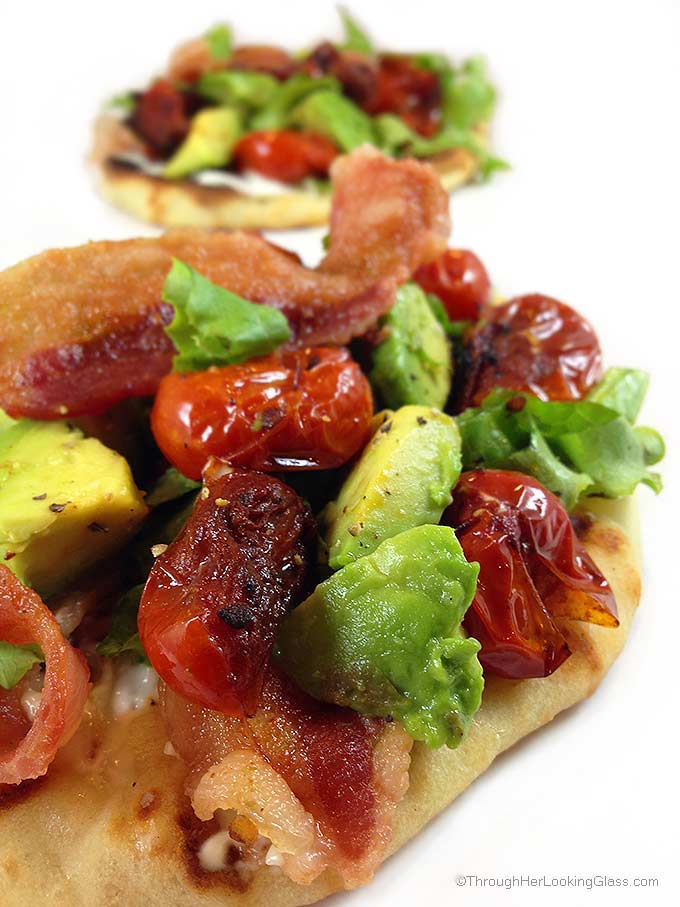 Disclosure: Stonefire Authentic Flatbreads provided me with product samples for this recipe post. All opinions are my own.
So let's talk Blistered Tomato BLT Avocado Flatbread today. I know the calendar says "almost fall" and lots of folk have already transitioned to all things apple, pumpkin and all that jazz. I love fall, apples and pumpkins. As a matter of fact, growing up we used to pick apples several miles from our 1754 farmhouse in Rhode Island. Yup. And the lovely orchard where we picked had a log cabin type lodge chock full of lovely apple-y things to eat. Mostly cider, cider donuts and apple pie. But the best thing was the player piano in the loft. Climb the stairs, insert the music scroll, settle into a quaint wooden booth. Savor apple pie with a slice of sharp cheddar as the piano serenades.
However.
The tomatoes are still ripe on the vine at my house. Lots of juicy red ones. And basil too. And I just happen to be one of those frugal waste-not, want-notters. And as long as I've got the goods, I'm gonna use 'em, not waste 'em. And I'm guessing you might have some tomatoes at your house too. Hope you're game for a quick and delicious, tasty main dish recipe using my favorite Stonefire mini-Naan flatbreads. The size of these mini-flatbreads are just perfect for a single serving, side or lunch portion.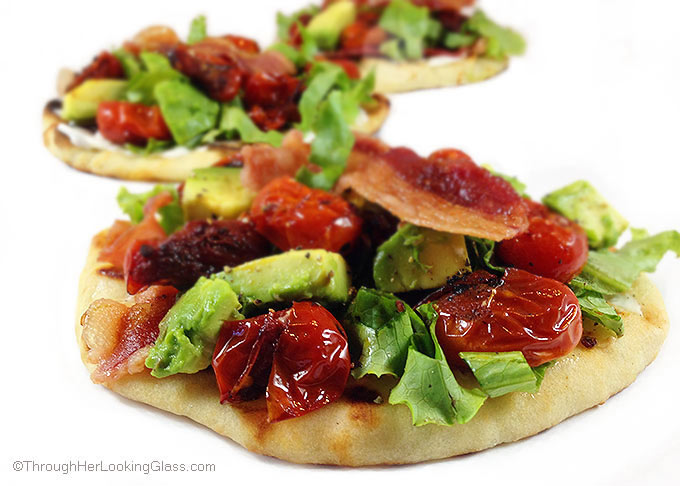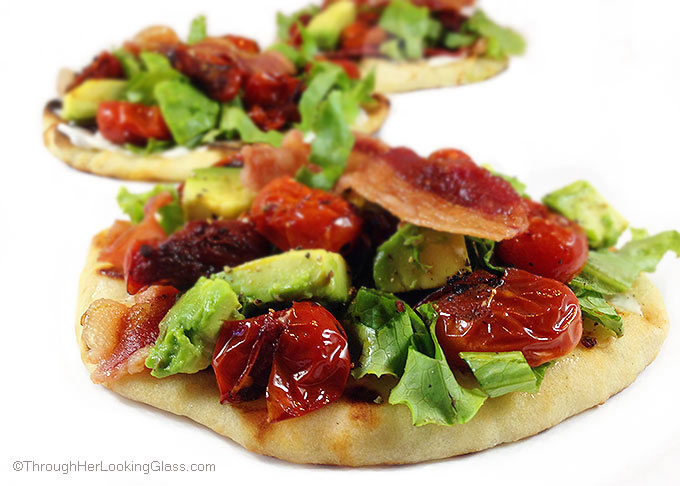 Some summers I have a BLT nearly every day for lunch. Guess what? I didn't have the first BLT this summer. Don't know why. So I've suddenly been craving one before the garden tomatoes are gone. And when Stonefire kindly sent me their lovely new mini-Naan flatbreads, I knew exactly what I'd make: Blistered Tomato BLT Avocado Flatbread.
They say don't mess with a classic. And a BLT is definitely a classic. But I just couldn't resist blistering the tomatoes and adding chopped avocado to this delicious flatbread. Glad I put my earplugs in, didn't listen to them.
Because the results were phenomenal.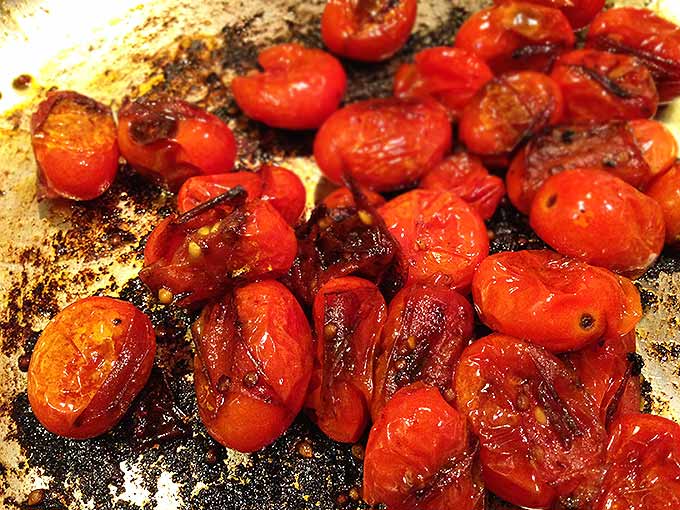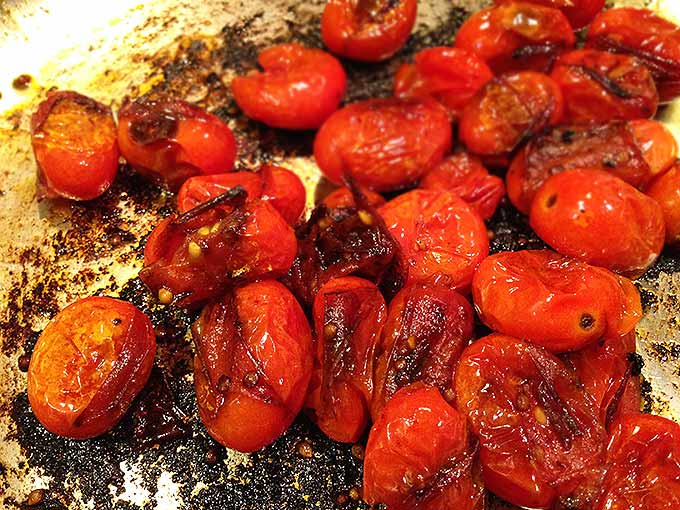 The blistered tomatoes add sweet. The toasted flatbread, crunch. And we haven't even gotten to the bacon word yet. Need I say more? These were so awesome that last Saturday night, when I was photographing these beauties, Jon opted for Blistered Tomato BLT Avocado Flatbread instead of the burger he'd just grilled. Yeah. These are fast, quick and easy. A healthy and flavorful lunch or dinner for any day of the week.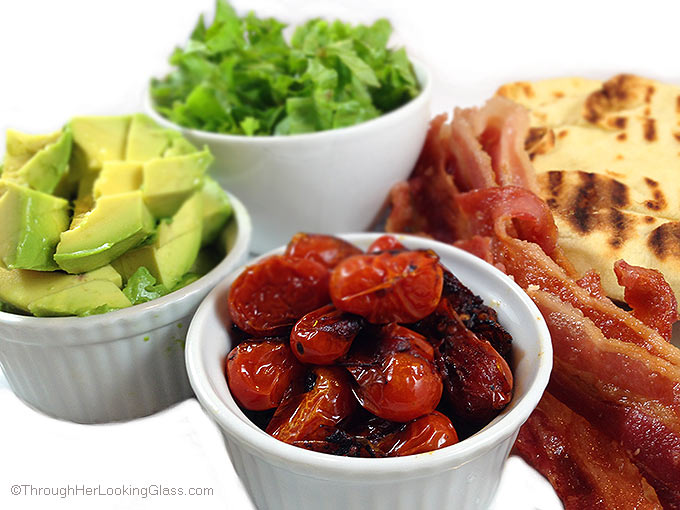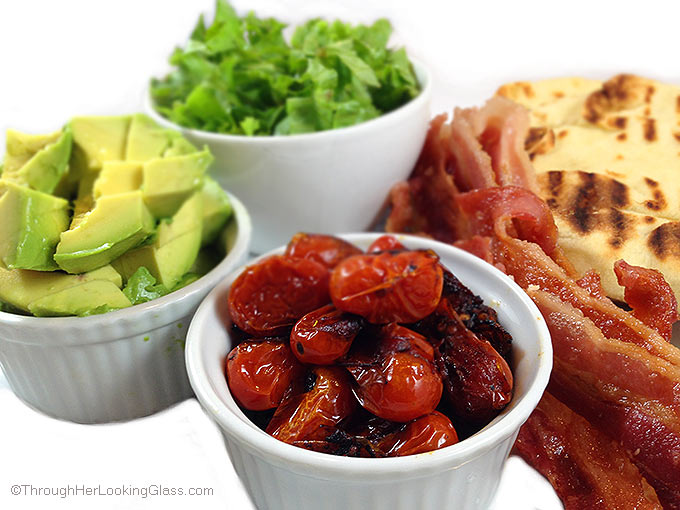 Set up a station and let everyone make their own!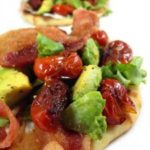 Print Recipe
Blistered Tomato BLT Avocado Flatbread
Blistered tomatoes give sweetness. Flatbread, crunch. Now add bacon. Delicious!
Ingredients
1

package Stonefire mini-Naan flatbreads

4 mini-flatbreads

1

avocado

chopped

1

pint

cherry or grape tomatoes

6

slices

cooked bacon

broken in half

shredded lettuce

mayonnaise

1

tablespoon

olive oil

salt and pepper to taste
Instructions
Heat olive oil in skillet over high heat.

(Watch carefully so you'd don't burn the oil)

Add grape tomatoes and cook for 2-3 minutes.

Stir and cook for 3-5 minutes more 'til blistered.

Remove from heat, salt and pepper to taste.

Set aside.

Lightly toast min-Naan flatbreads in a toaster oven, under the broiler or on a stovetop griddle.

Cool, then lightly spread with mayonnaise.

Add 2 bacon strips (2 half-strips)

Top with shredded lettuce, blistered tomatoes and avocado.

Top with a half strip of bacon.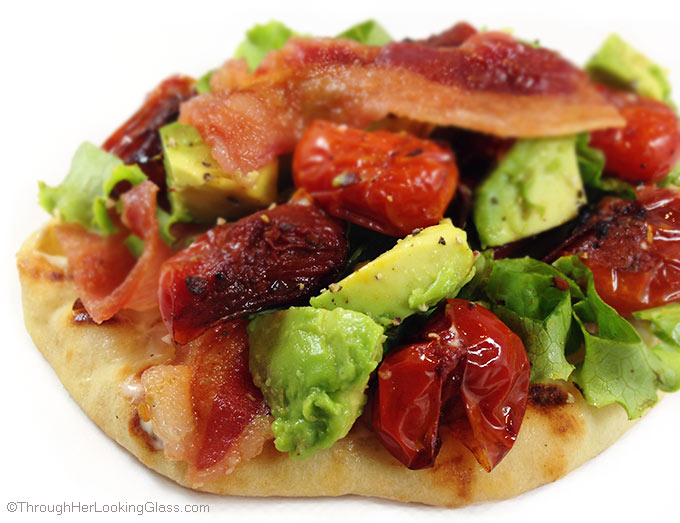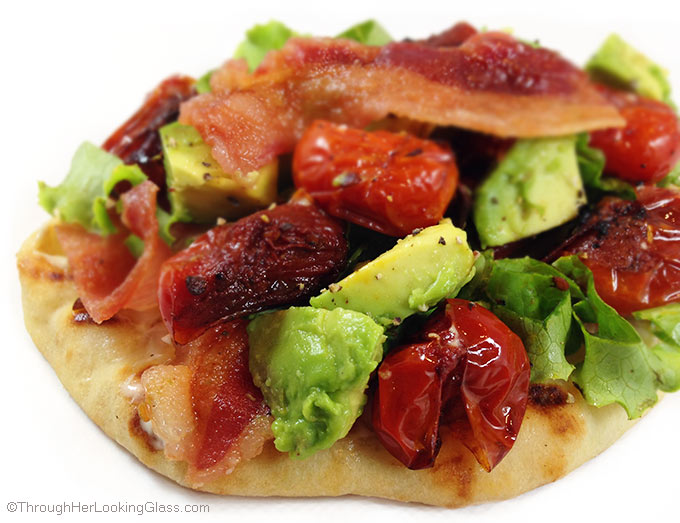 Blistered Tomato BLT Avocado Flat Bread
You may also enjoy: Caprese Pesto Flatbread