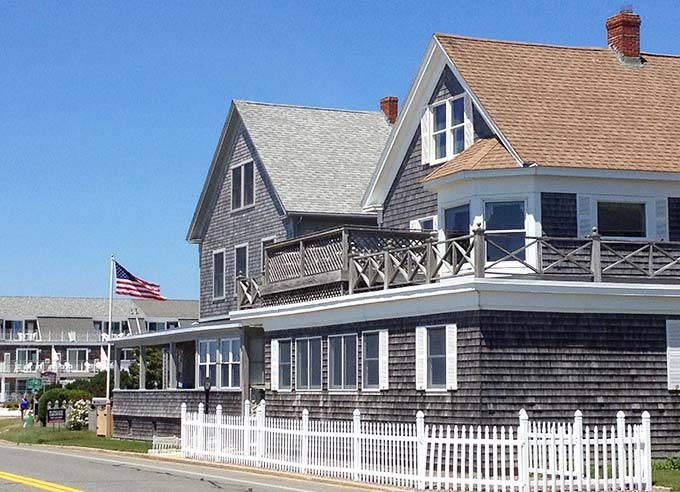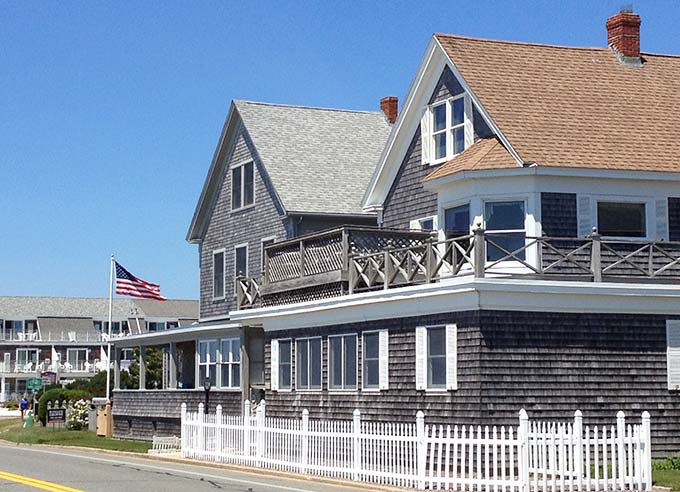 Hey friend – how are you today? Hope you're having a great weekend.
(Are you?)
So let's go on a field trip to The Cape today. You in?
I've had a love relationship with Cape Cod for many years now. I know when it started. Years ago (more than I like to think!) my family vacationed there for a couple weeks most summers. I nearly always celebrated my July birthday there. We rented a cottage near a little beach in Chatham at The Farmer in the Dell. If I remember correctly, the cottage had a mother-in-law suite on the back. We kids stayed in the front part and my mom and dad stayed in the suite. There were five of us kids. And as a mother of four now, I can imagine what a wonderful arrangement that would be. A little time and space is a wonderful thing, and my mom and dad had a good thing going.
Sadly, The Farmer in the Dell is no longer there. It was razed to make room for condos. Wish I could take my kids there now, show them the little cottage and beach where we stayed.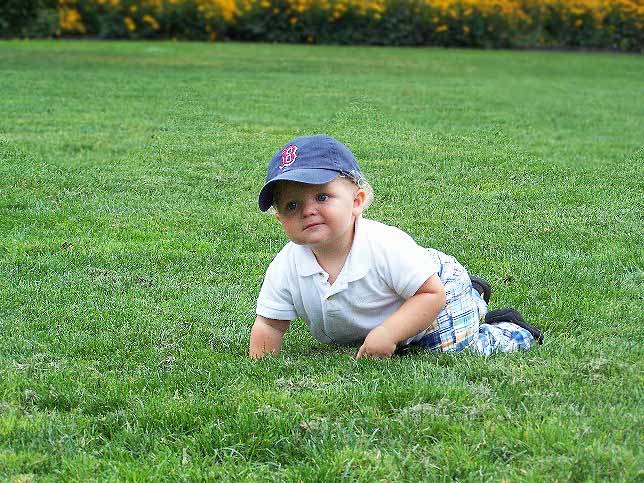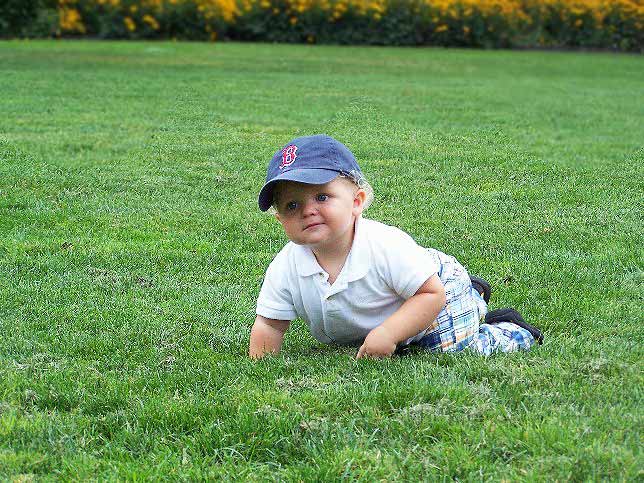 My little Charlie crawling the Hyannisport green in 2007.
After moving back to New England in 2004, we visit The Cape whenever we can. We've had a few lovely vacations there and were stoked to visit just a few weeks ago.
There are so many things about The Cape I adore. Salty air. Cape style houses. Weathered shingles. Manicured lawns. Seafood. Blue hydrangeas. Coastal charm. Rocky coast. Anchored sailboats. Lighthouses. Saltwater taffy. Seafood. Homemade ice-cream. Awesome thrifts shops. Yeah. Seriously, I could go on and on.
(And on.)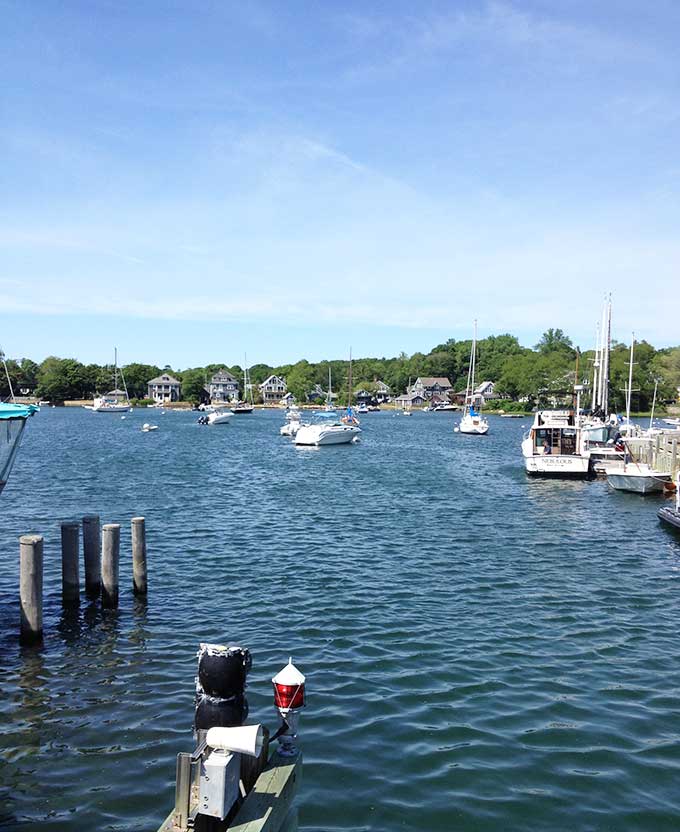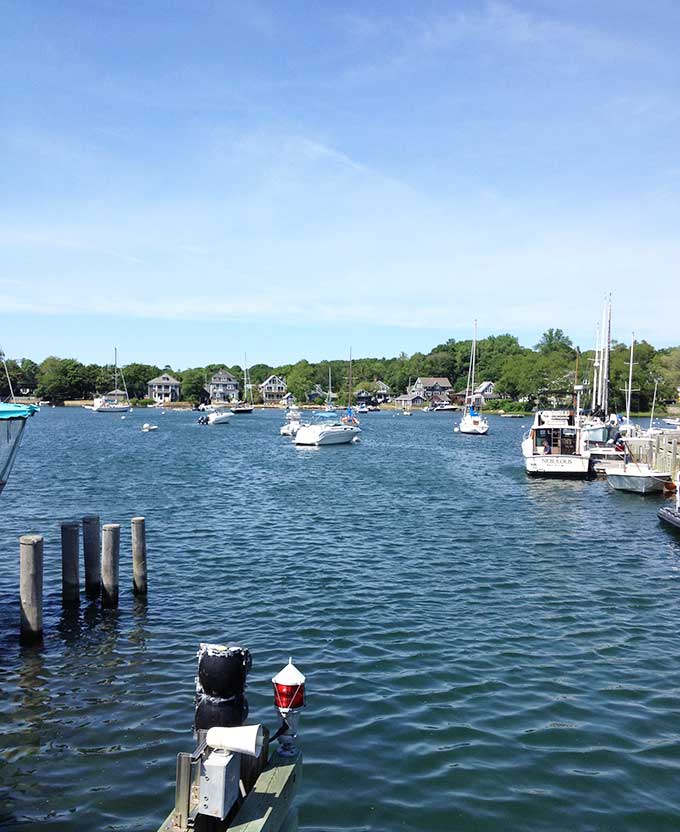 A lovely little cove in Woods Hole.
I get this funny feeling every time I drive across the Bourne Bridge onto Cape Cod. Butterflies. That little kid anticipation of wonderful things to come.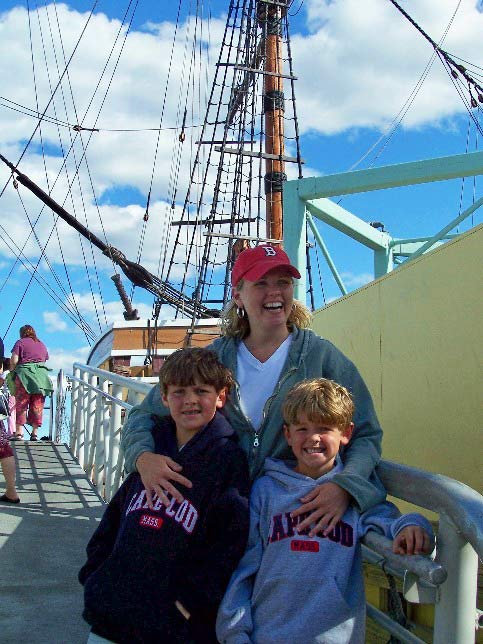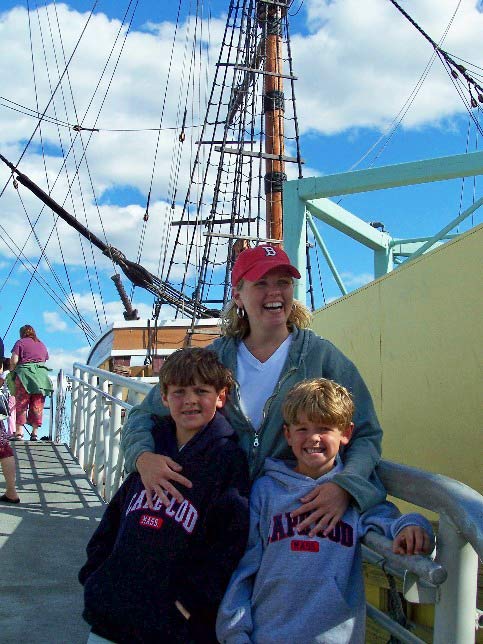 Something must have been pretty funny that day on the Mayflower II in Plymouth. (Apparently no one clued in my boys.)
So we spent some time on The Cape just a few weeks ago. I had lots of ideas beforehand about what I'd write about for you here. Hoped to visit fun places, show you the best of the Cape. Things didn't quite work out that way. Jon was working that week and I was too. Hudson had a rough week being out of his element. (Hudson's five, has Down syndrome.) So a lot didn't go as planned. Don't get me wrong, we had a great week. It just wasn't what I'd pictured in my mind's eye.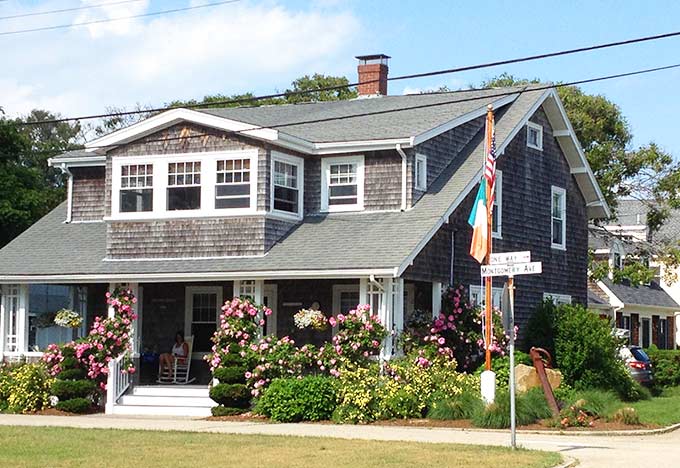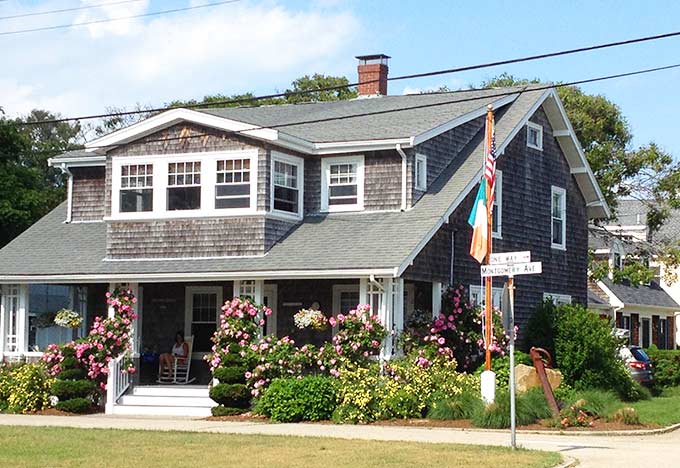 Fell in love with this beach house in Falmouth. I think it was the roses and the porch.
So I thought, maybe I'll go for a walk from the cottage, scout out some fun sights to share with you. Well Hudson has a lot of rules. And he's been trying to teach us those rules for years now. And we just aren't catching on so well. One of his rules is the stroller can't stop rolling. And when it does, he's ticked. And he yells.
Like, really yells.
So it was tough trying to take pictures on the walk. The first ones came out blurry. So I took him on a second walk the next day, tried to catch some fun shots. I didn't get many not to mention my little peanut gallery was in fine form. Thankfully on that second walk he finally fell asleep and I was like YAY! Now I can get some pictures.
Until I remembered that when he's sleeping and the stroller stops he wakes up. And yells. Another of his rules. It's a real catch. Catch 22. Yup, Hudson has a lot of rules. I've been meaning to write a post and catalog some of them here…that will come.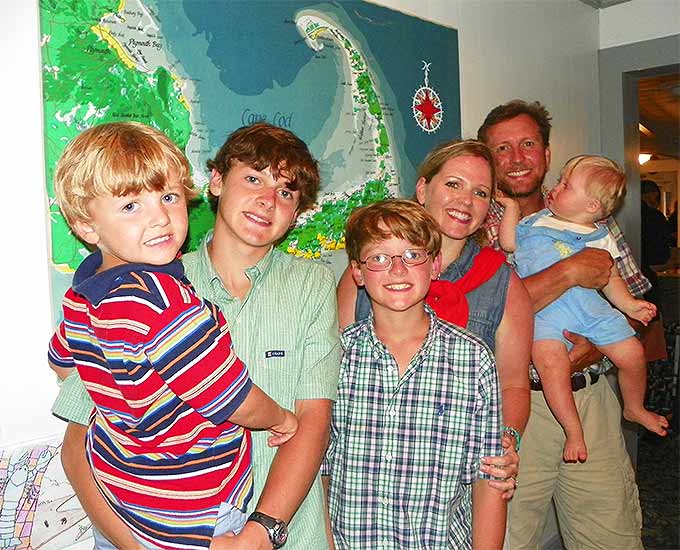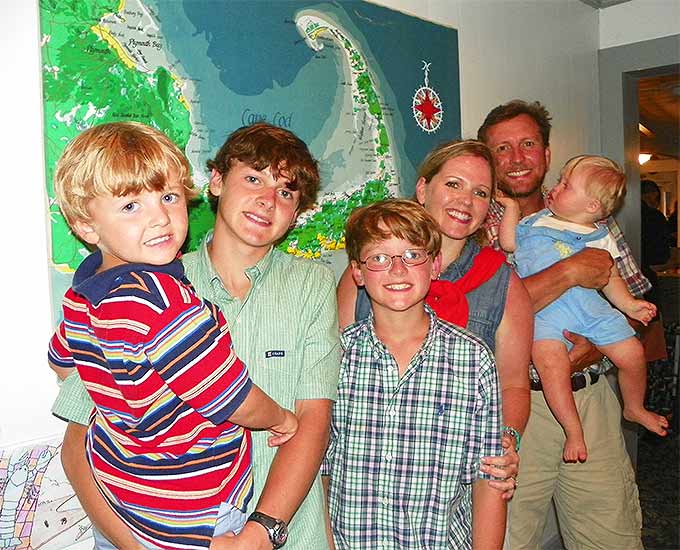 Taylor family on the Cape in 2011 after seafood….
So I'm dying to tell you about one of my favorite finds ever on the Cape. It was at a thrift store, Trash 'n Treasures in the lower level of the West Dennis Community Church six or seven years ago.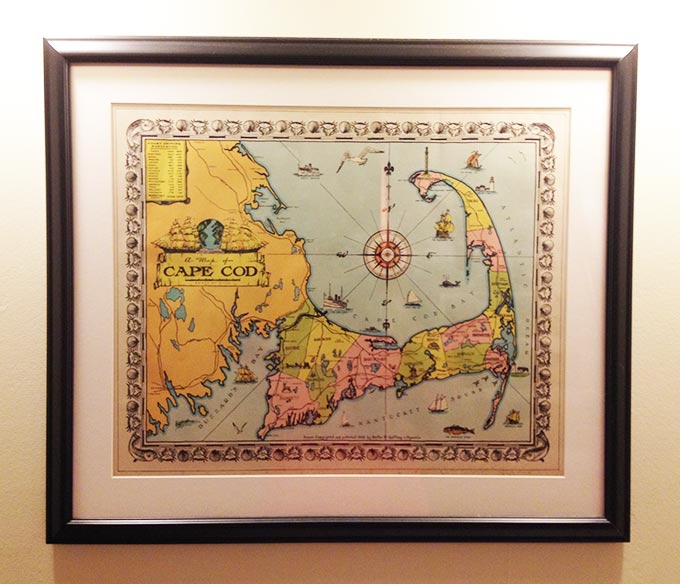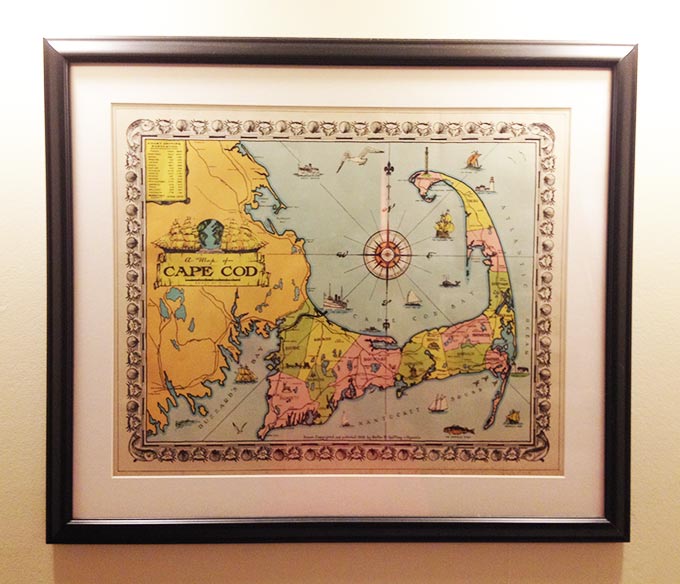 I found a whole pile of these amazing, whimsical and detailed maps from 1932 in a box on an upper shelf. They were $6 each. $6 folks.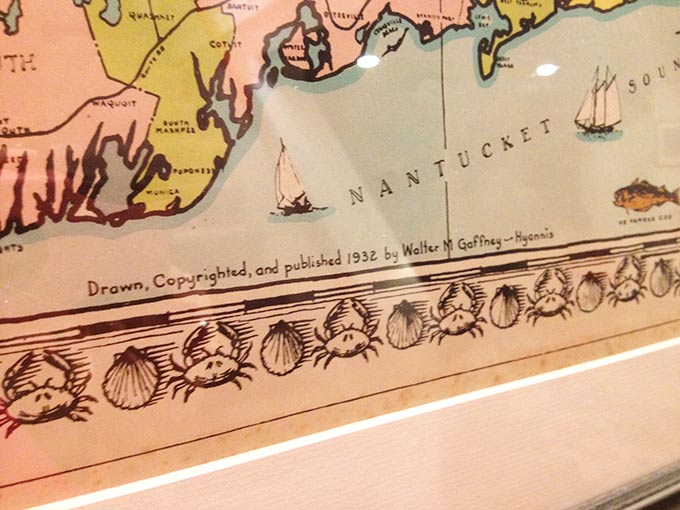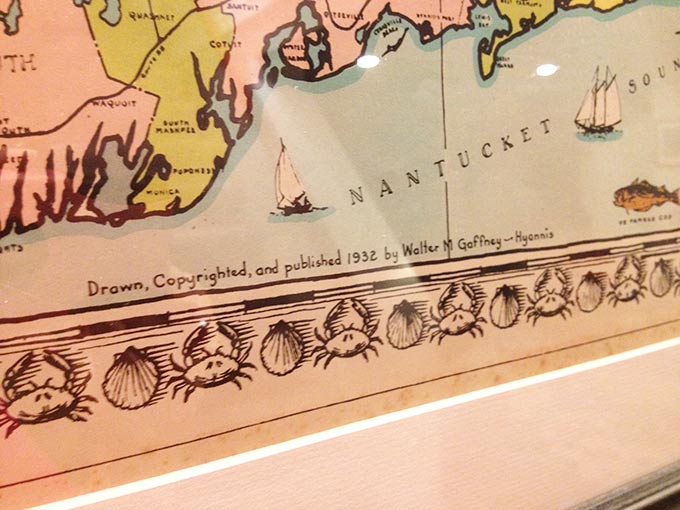 Apparently drawn by a famous architect of the day, Walter M. Gaffney of Hyannis. The girl at the register told me more details of the story, and sadly most of them escape me now. But honestly, I could KICK myself. Because I bought one copy. Yeah, one. Things were tight and our vacation budget was already spent. Seriously wish I'd bought the whole lot. Because if you're a Cape lover (and who's not?) you'd kill for a copy of this awesome map. It would've made a great Christmas gift for friends and family. I've been regretting not buying that box of maps for years now. I got ours framed and smile every time I walk by. Reminds me of so many great memories over the years.
(FYI, there's a pamphlet entitled Touring the Thrift Shops of Cape Cod available at all the Cape Cod visitor centers if you like that sort of thing.)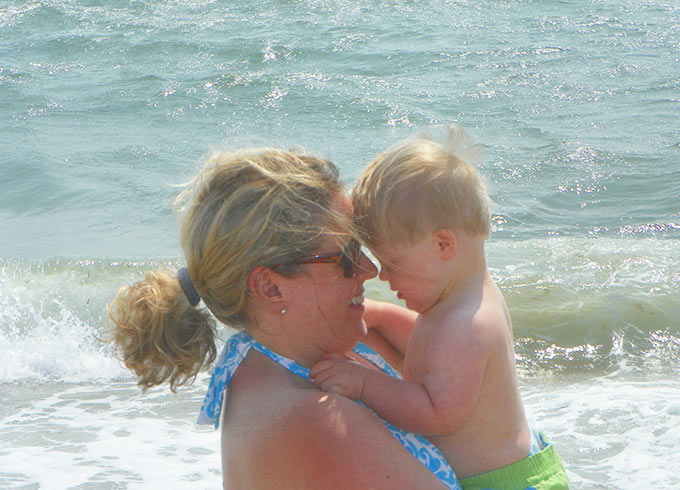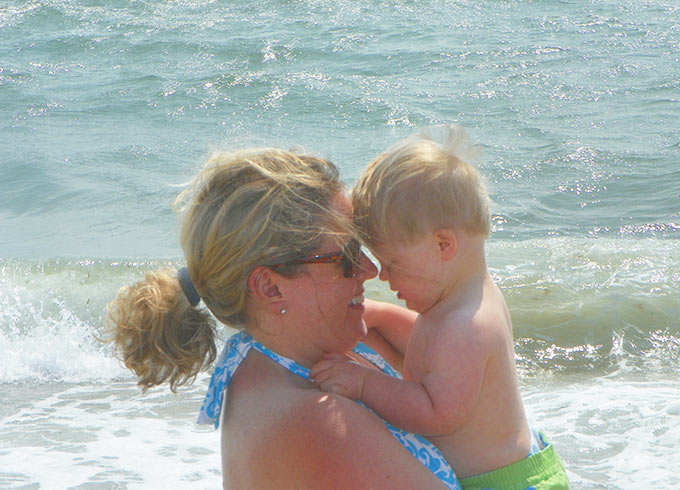 Hudson and me enjoying a little nose to nose at the beach.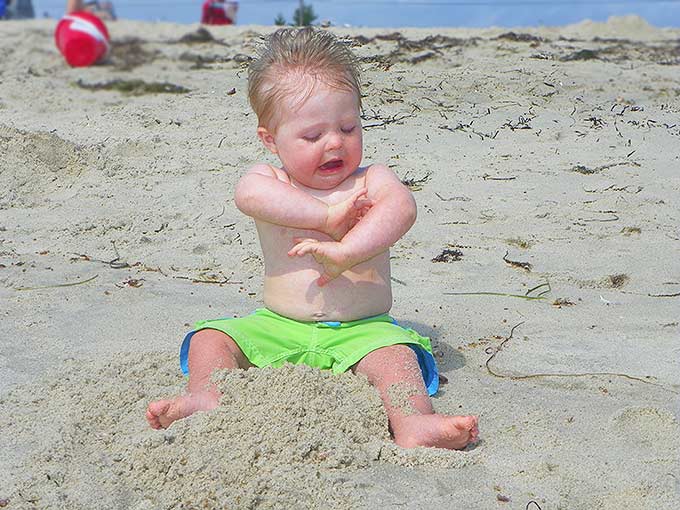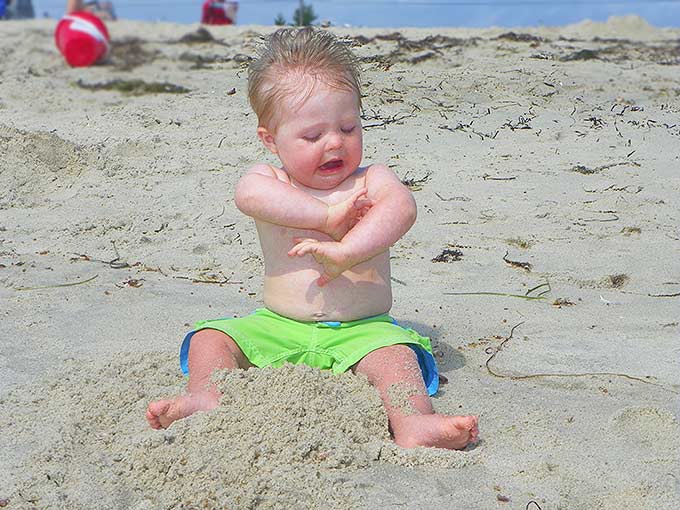 Hudson begins his troubled relationship with beach sand (Read more: Stalker) on a Dennis beach in 2011. (I get a charge out of this picture.)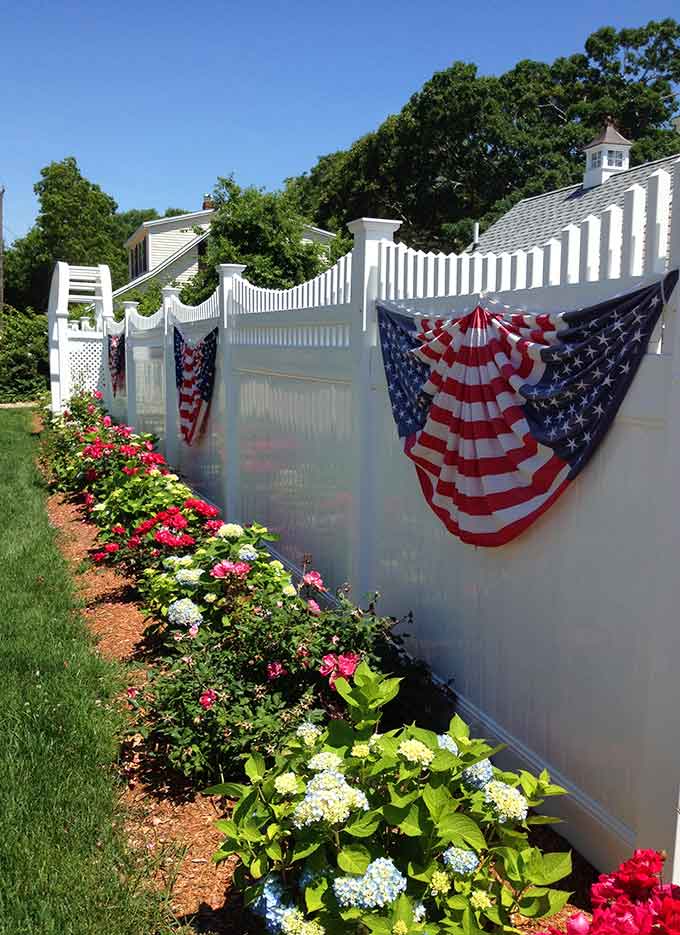 Sure do love this patriotic hedge….
Thankful for kind friends who loaned us their beautiful beach cottage in Falmouth several weeks ago, and hope you enjoyed these delightful little glimpses of Cape Cod in summer….
If you ever get the chance to visit The Cape, JUMP! JUMP HIGH! You won't regret it.
Hope you're having a great weekend. Would love to hear your fun Cape memories. Or what you're up to this weekend…
You may also enjoy: She Picked Up Her Pen