This Sugared Pecan Maple Pumpkin Roll Recipe is a dream fall dessert if you happen to love maple syrup, sugared pecans and spiced pumpkin cake like I do. Such a pretty cake for the holiday table, make it with toasted pecans if you prefer.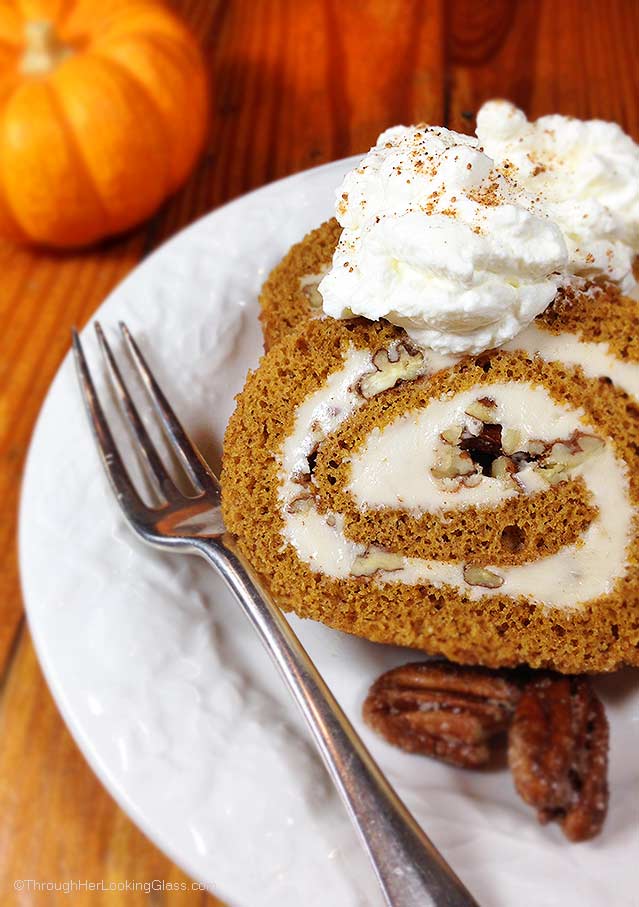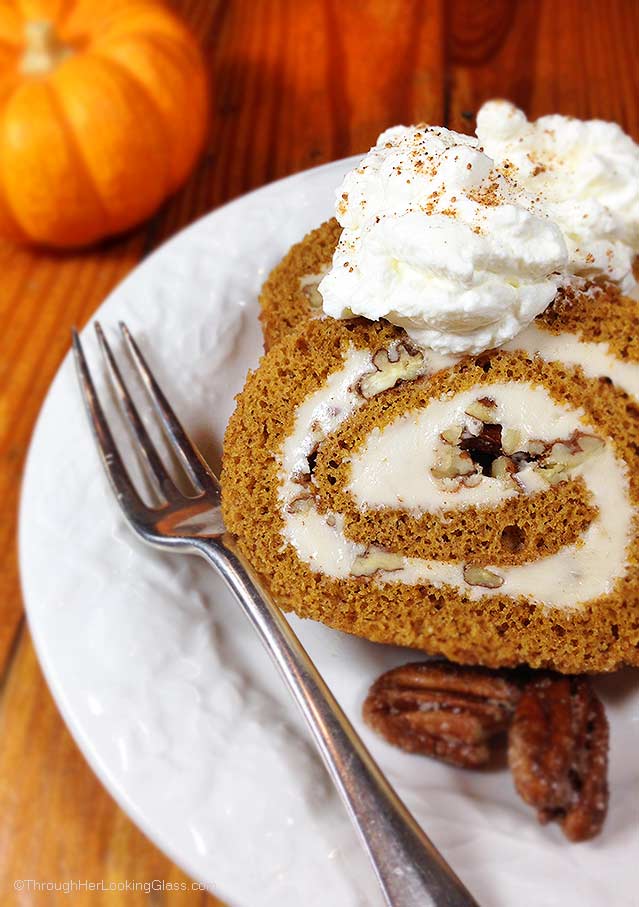 Or skip the nuts altogether. This pumpkin roll is so moist and delicious. Perfectly spiced. The dreamy maple filling complements the pumpkin perfectly. And those sugared pecans…
(Need I say more?)
So one of the younger taste testers at my house devoured his pumpkin roll slice in record time today. Left a neat little pile of sugared pecans on his plate. Excuse me and WHAT?????
So I said, "What kind of a kid leaves a pile of sugared pecans on their plate?"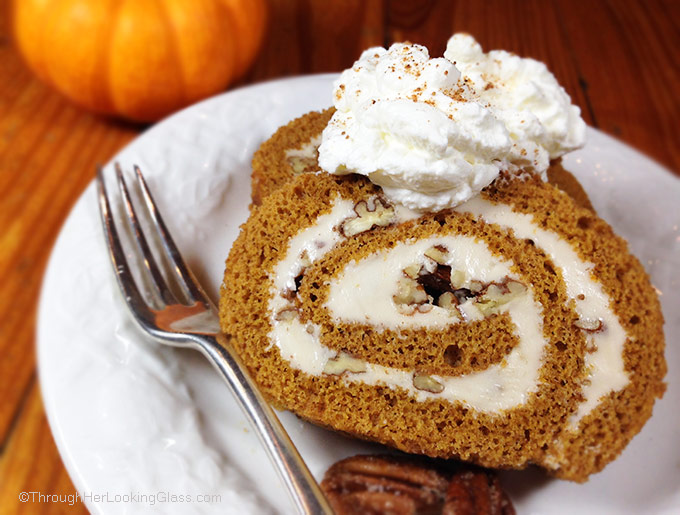 He says, "Oh, you didn't tell me they were the sugared pecans. I thought they were just regular pecans."
Guess I forgot to send the memo. Kids. Sigh.
I have a dear friend who makes pumpkin rolls in mass quantity at the holidays. Maybe ten or more. She wraps them well and freezes them. Later she adds a bow and gives them (frozen) as Christmas gifts.
Wish she lived a little closer, then I might get one! A pumpkin roll is a delicious, handmade gift to give or receive during the holidays, especially since they can be made ahead and frozen. It's easy to make them in quantity since they bake for only 15 minutes.
There are just a few simple steps in this Sugared Pecan Maple Pumpkin Roll Recipe. (Not rocket science.) If you make it once, you'll be a pro.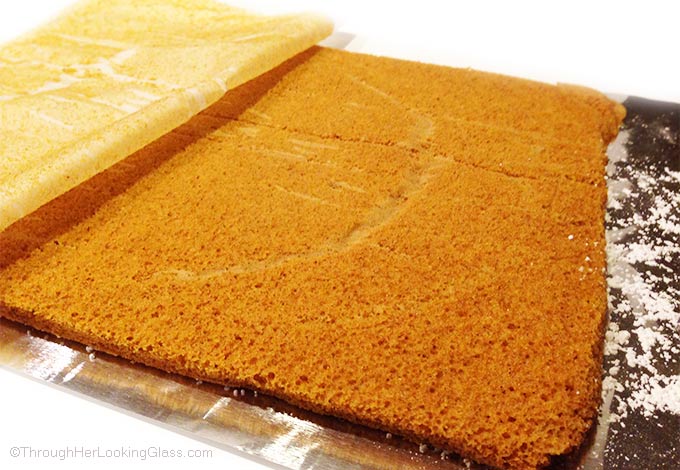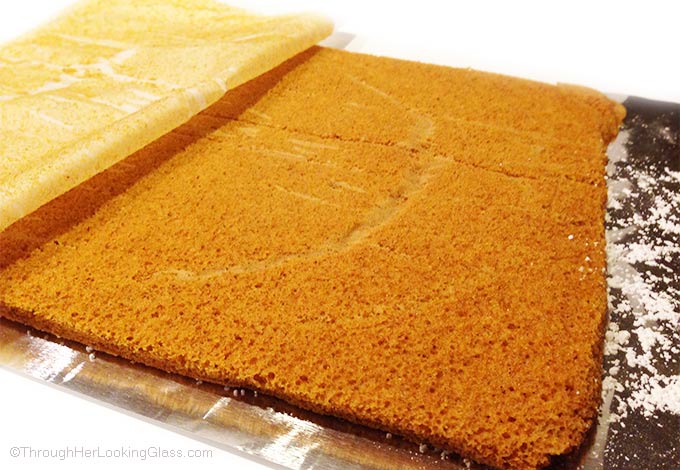 Bake cake in a parchment-lined jelly roll pan. Sprinkle powdered sugar on tin-foil, then turn the cake out on the foil. Peel off the parchment paper.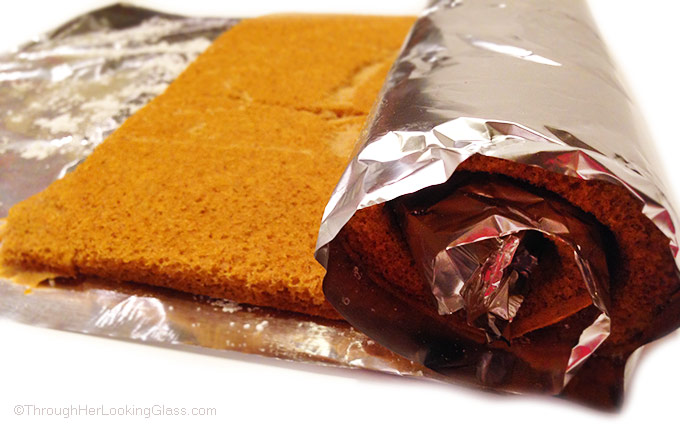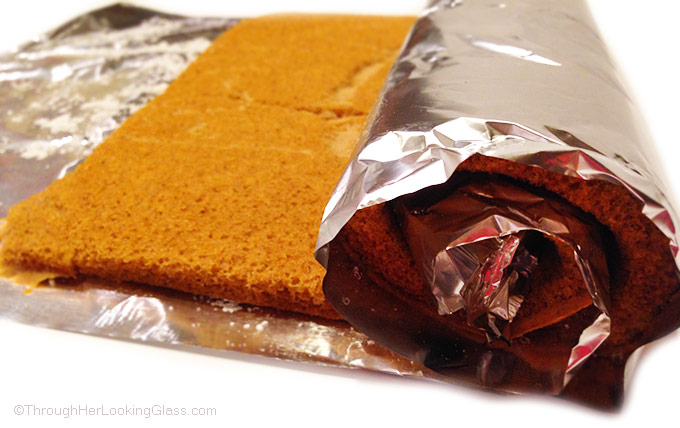 Roll it up (while still warm) in the foil.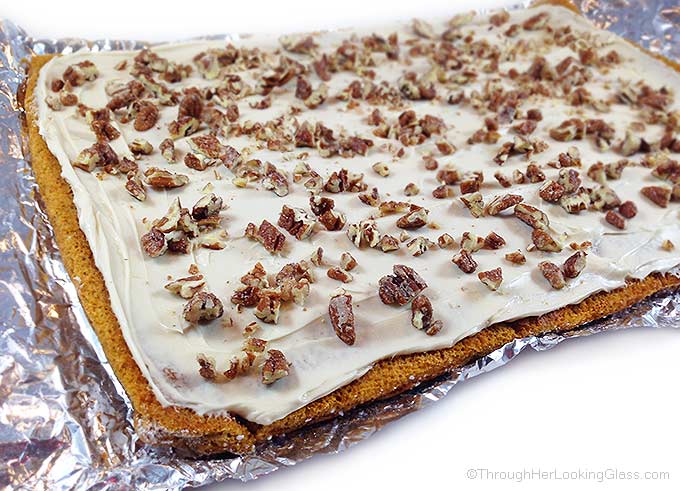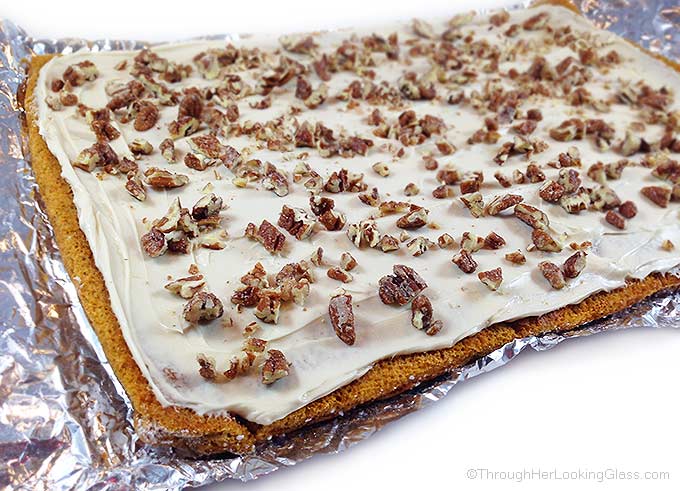 When cool, unroll and spread with maple filling, then top with sugared or toasted pecans. Re-roll (without foil) and sprinkle  top lightly with powdered sugar. Refrigerate.
Trim off both ends for a neat look to your amazing Sugared Pecan Maple Pumpkin Roll just before serving and garnish with a dollop of whipped dream and a dash of nutmeg if desired.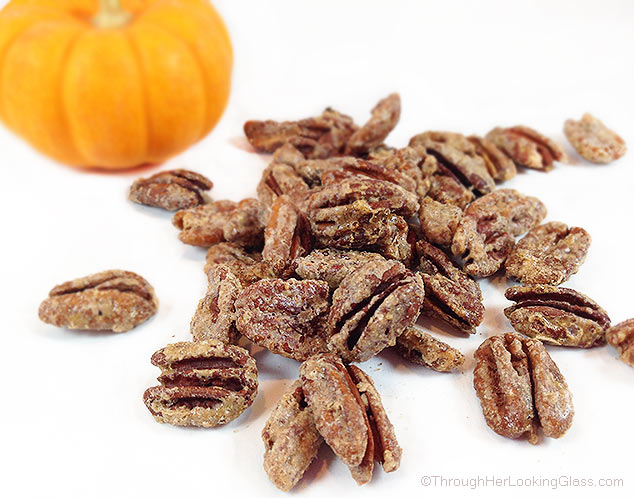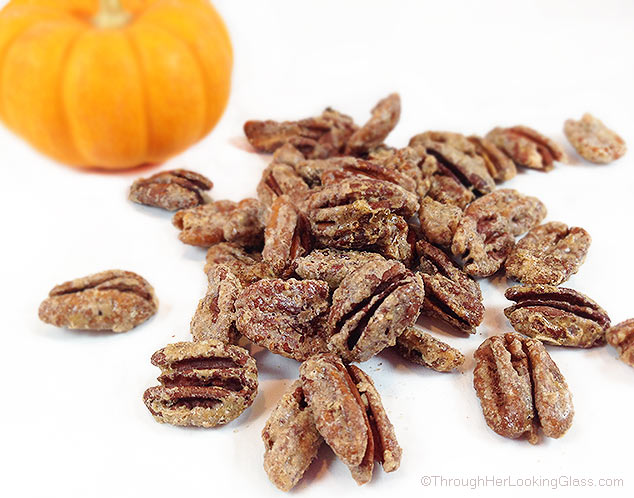 (Included below is a sugared pecan recipe that makes 2 pounds. You only need 1 cup of sugared pecans for this pumpkin roll recipe. Trust me: you'll find many uses at the holidays for the extra sugared pecans. Snacking and gifting at the top of the list. The sugared pecan recipe is easy halved or quartered for smaller quantities.)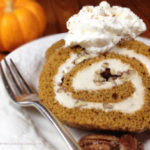 Print Recipe
Sugared Pecan Maple Pumpkin Roll
Love maple syrup? You'll love this ultimate fall dessert. Creamy maple filling & sugared pecans rolled up in perfectly spiced pumpkin cake. Wow!
Ingredients
Pumpkin Roll
3

eggs

1

cup

sugar

1

teaspoon

lemon juice

3/4

cup

self-rising flour

2

teaspoons

cinnamon

1/2

teaspoon

nutmeg

1

teaspoon

ginger

1/2

teaspoon

salt

2/3

cup

canned pumpkin

1

cup

sugared or toasted

chopped pecans (recipe below)

maple filling

recipe below

powdered sugar
Maple Filling
1

cup

powdered sugar

4

ounces

cream cheese

4

tablespoons

butter

1/4

teaspoon

natural maple flavoring
Sugared Pecans
2

pounds

shelled pecan halves

2

egg whites

2

teaspoons

cold water

1

cup

sugar

2

teaspoons

cinnamon

1/2

teaspoon

salt

1/2

teaspoon

freshly grated nutmeg
Instructions
Pumpkin Roll
In a mixing bowl, beat eggs.

Add sugar and lemon juice.

Beat in self-rising flour

Add cinnamon, nutmeg, ginger and salt.

Stir in canned pumpkin.

Pour onto greased and floured or parchment lined jelly-roll pan.

Bake at 375° for 15 minutes.

Sprinkle tinfoil with powdered sugar and turn out pumpkin roll flat onto tinfoil.

Roll tinfoil and cake together.

Place in refrigerator to cool.

Once cool, unroll pumpkin roll.

Spread filling on one side.

Sprinkle with sugared or toasted pecans.

Re-roll pumpkin roll without the foil this time.

Refrigerate.

Just before serving, carefully trim a thin slice off each end. (Prettier this way and you get to sample!)

Garnish with a dollop of whipped cream and a dash of nutmeg if desired.
Maple Filling
In a separate mixing bowl, beat cream cheese and butter together 'til light and fluffy.

Beat in powdered sugar and maple flavoring.

Beat 'til smooth.
Sugared Pecans
Place pecans in a large mixing bowl.

Separately, froth egg whites and cold water together.

Pour over pecans and mix thoroughly.

Stir in remaining ingredients: sugar, cinnamon, salt and nutmeg.

Transfer to a large baking or roasting pan.

Bake at 225 degrees, uncovered for one and a half hours.

Stir every thirty minutes.

Cool, then store in an airtight container.
Notes
If you don't have natural maple flavoring for the filling, just use 1/2 teaspoon vanilla.
This recipe doubles and quadruples easily.


You may also like: Famous Brick Street Chocolate Cake