Roasted Garlic Chicken Parm Skillet w/Roasted Red Peppers: Chicken thighs with roasted garlic and red bell peppers are smothered in mouthwatering Prego Farmers' Market® Roasted Garlic Sauce, then topped with melted parmesan and mozzarella cheeses for a simple gourmet meal the whole family will love. Buon appetito!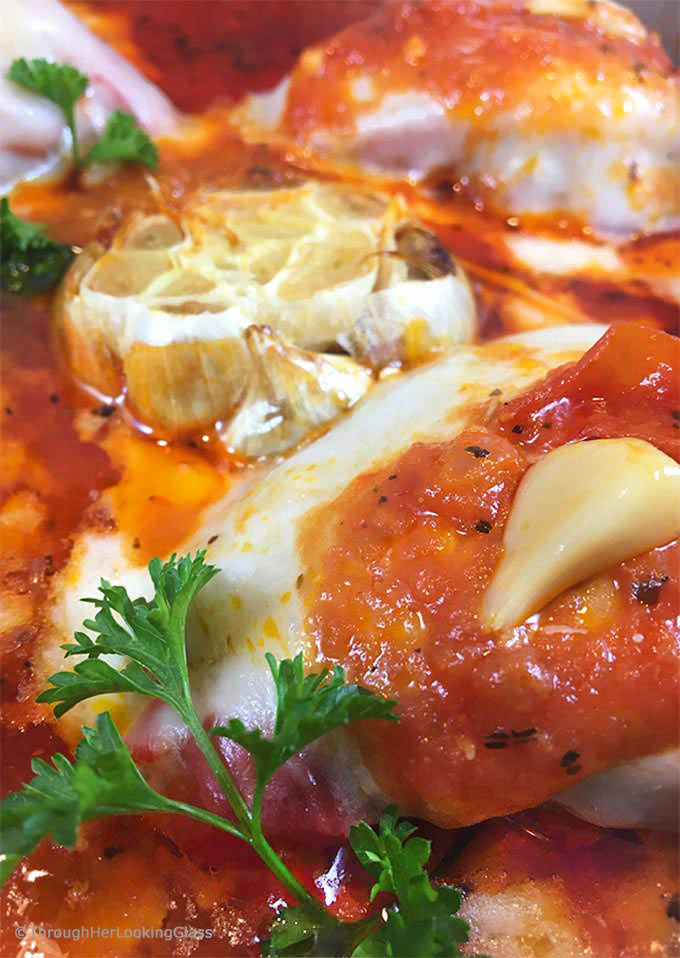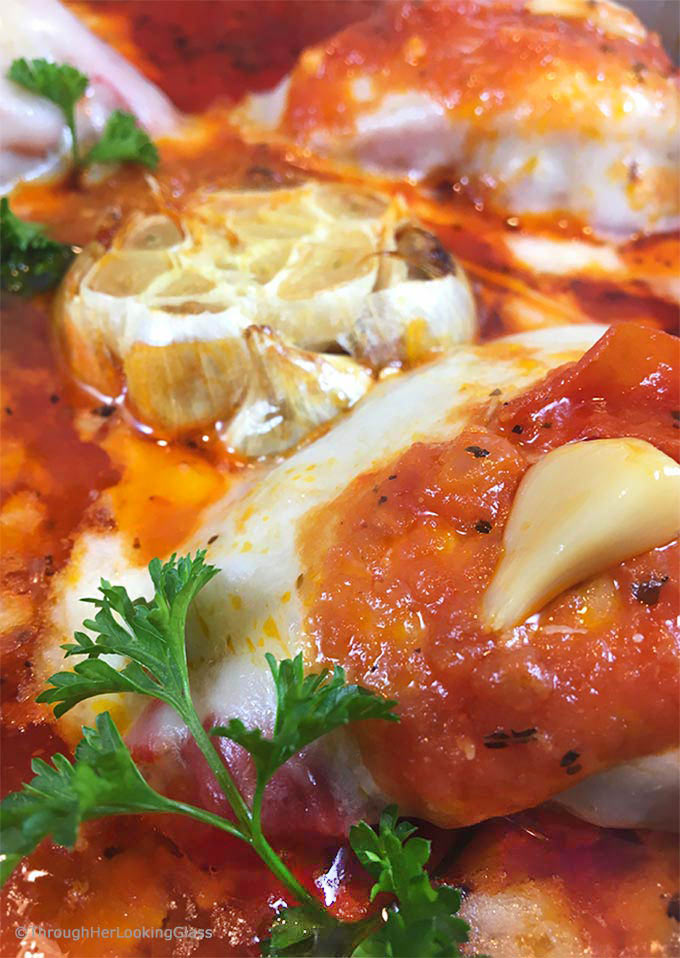 I love meandering the aisles of our local farmer's market downtown during the pleasant months. (In my dictionary, 'pleasant months': those that don't dump boatloads of snow on us. Ha.) The fresh garden produce at the farmer's market gets my gray cells percolating on all things fresh and delicious to create in the kitchen.
Speaking of garden bounty, we had an international high school student from Shanghai living with us a few years ago. I know he's seen some unusual things in America. But I don't think I've his eyes wider than when Jon and I raced out the door at 10:30 at night with flashlights and baskets in hand last week.
(We'd just read the first-frost weather report and headed out to salvage the last of the garden tomatoes from our little raised beds out front.)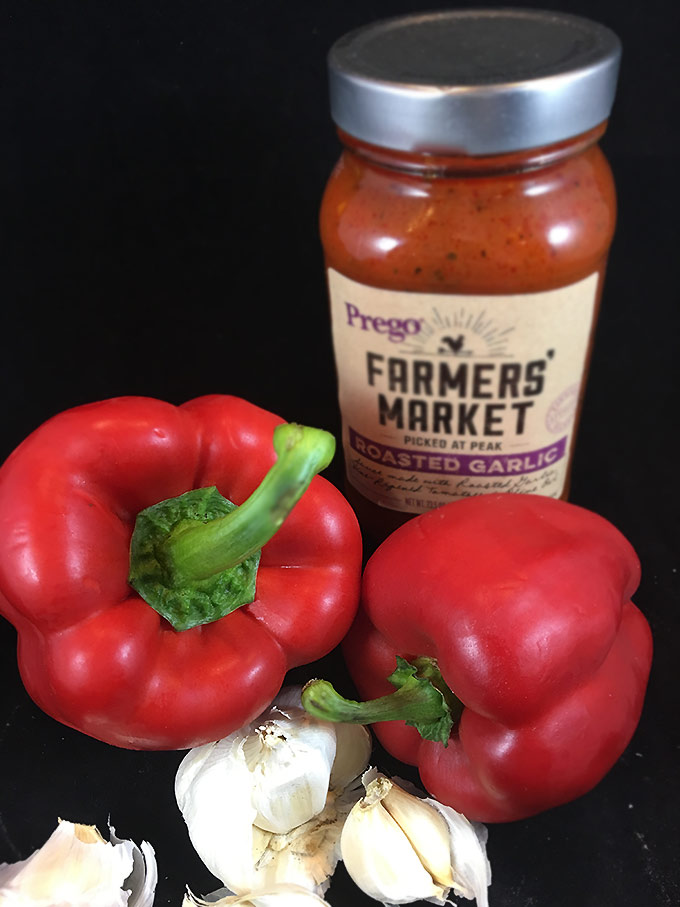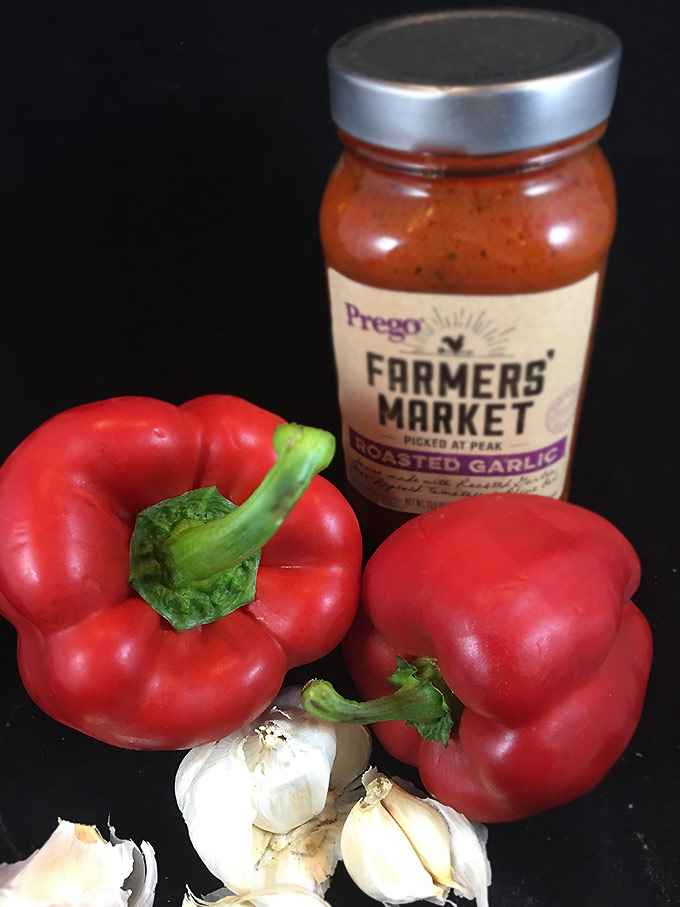 The good thing is I don't have to say farewell to fresh veggies and easy gourmet dinners when the farmer's market closes for the season or my garden gets hit with frost.
And I can still get creative in the kitchen, because the beautiful produce and Prego Farmers' Market® Roasted Garlic Sauce above were all purchased at my local Walmart! The flavor of this roasted garlic sauce is chunky and irresistible because it's loaded with vine-ripened tomatoes, fresh garlic and basil. And all roasted at the peak. Just the way I like it!
Click here for money-saving coupons on delicious Prego Farmers' Market® Sauces and learn more about the unique process of "Farm to Jar" here.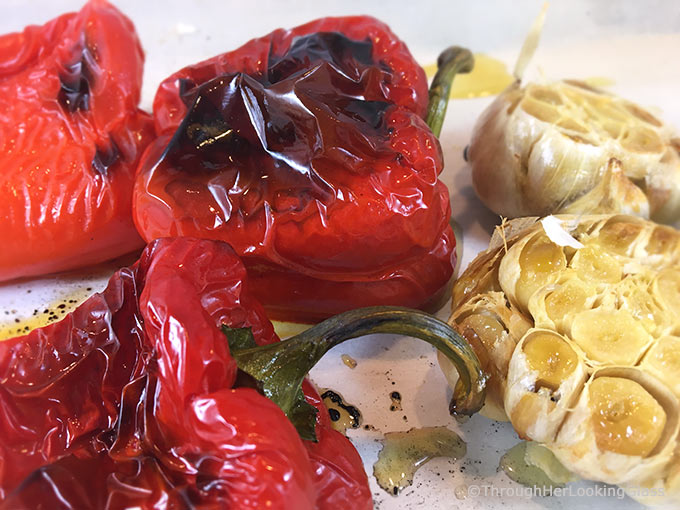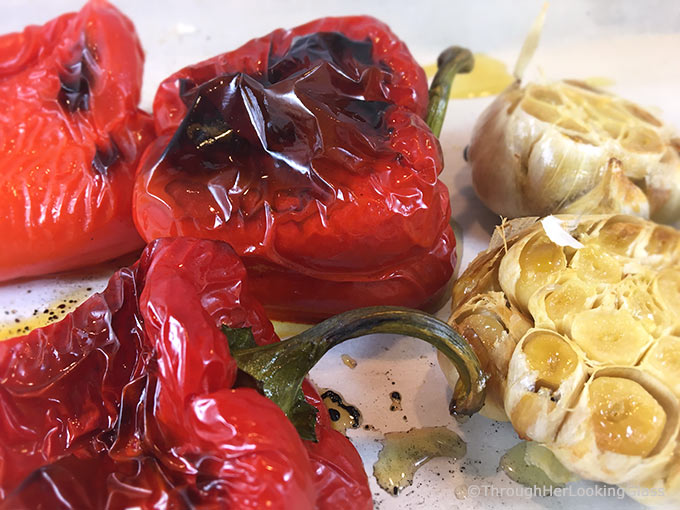 I roasted the red bell peppers and garlic heads in the oven. While they roasted, I browned the chicken thighs for a few minutes in a skillet on the stovetop. Next I added the Prego Farmers' Market® Roasted Garlic Sauce to the skillet and let it simmer as the garlic and red bell peppers continued roasting in the oven.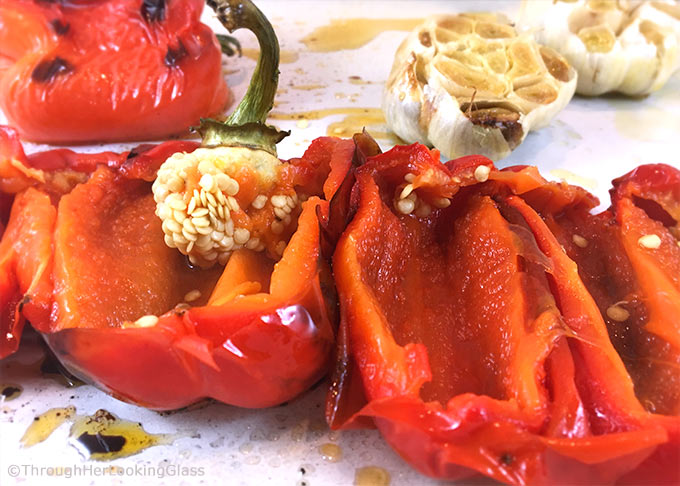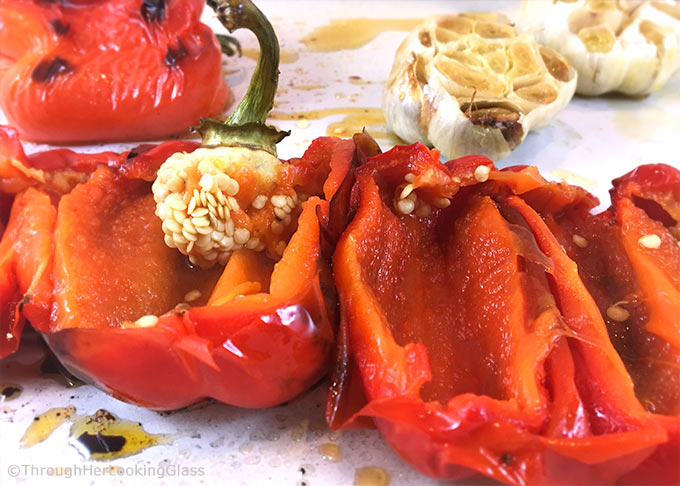 Once the red peppers were charred and collapsing, I removed them from the oven and let them cool slightly. The pepper skins peeled off easily enough and I scooped out the seeds. The roasted garlic cloves popped out of their skins easily and I added them to the simmering chicken.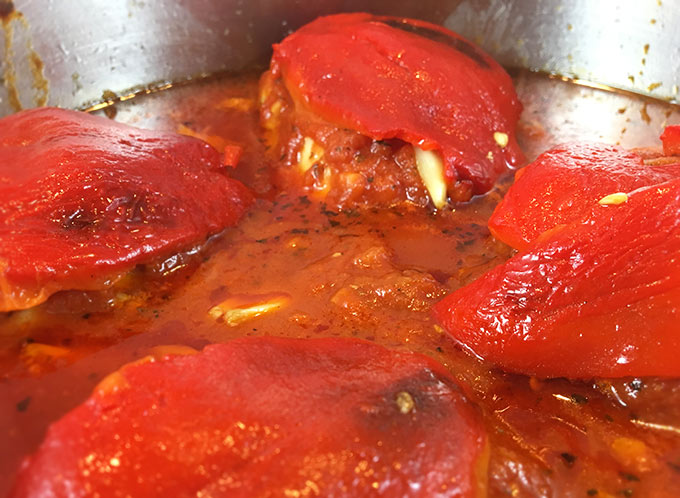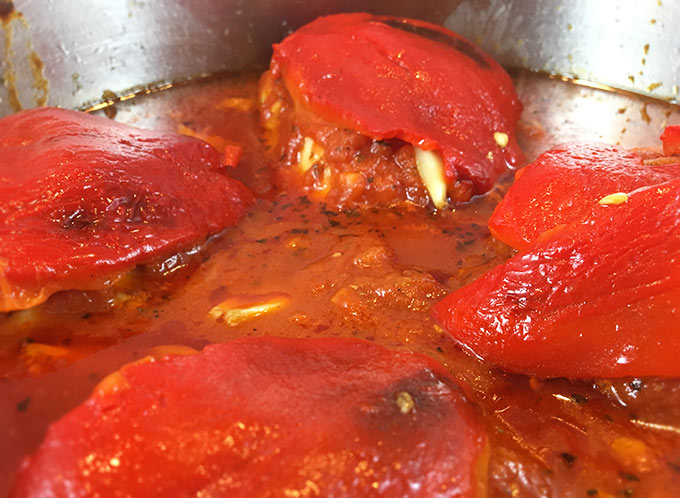 Next I draped the cooked chicken thighs with the sweet roasted red peppers. Sure I sneaked a little sample along the way, and the roasted red peppers had amazing flavor – sweet and smoky! Perfection. By now the aroma in my kitchen was incredible with simmering sauce!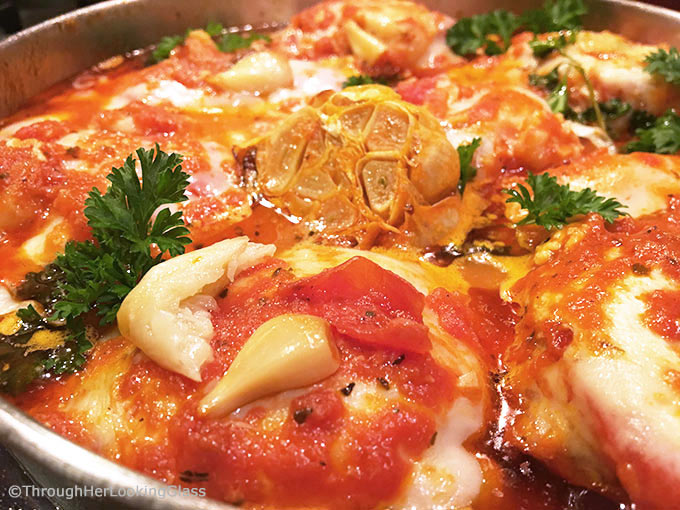 Next, I topped the red pepper draped chicken with a sprinkle of parmesan cheese and a slice of mozzarella. I covered the skillet and simmered just a little longer 'til the cheese melted. Then I spooned more delicious sauce on top and added roasted garlic cloves.
The chicken thighs were fork tender, and the sauce and veggies were bursting with fresh garden flavor. Serve this Roasted Garlic Chicken Parm Skillet w/Roasted Red Peppers alongside a fresh green salad and your favorite garlic bread for a nutritious and delicious gourmet meal the whole family will love!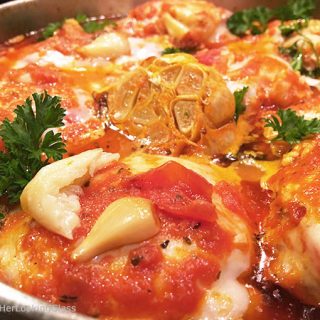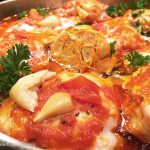 Print Recipe
Roasted Garlic Chicken Parm Skillet w/Roasted Red Peppers
Ingredients
2-3

tablespoons

olive oil

plus extra for roasting garlic heads

salt

pepper

1

jar Prego Farmers' Market® Roasted Garlic Sauce

4 - 6

boneless

skinless chicken thighs

2

heads garlic

2

medium size red bell peppers

4 - 6

slices

mozzarella cheese

1/4

cup

grated parmesan cheese

Optional: parsley sprigs for garnish
Instructions
Pre-heat oven to 400°.

Cut off top of garlic heads and place on parchment lined baking sheet.

Drizzle cut garlic heads with olive oil. Cover garlic heads with an oven safe bowl.

Place red bell peppers on the same prepared baking sheet, uncovered.

Roast garlic and red peppers in the oven for 40 minutes, turning the roasted red peppers once after 20 minutes.

As the garlic and red peppers oven roast, heat 2-3 tablespoons of olive oil in a medium-sized skillet over medium high heat.

Liberally season chicken thighs with salt and pepper.

Sear chicken for 2-3 minutes on both sides until lightly brown.

Turn heat down to low.

Pour Prego Farmer's Market Roasted Garlic Tomato sauce over chicken thighs.

Cover tightly and simmer on low for 20 - 25 minutes or until chicken is cooked through and no longer pink inside. (timing is based on size of chicken thighs.)

Meanwhile, when the garlic heads and red peppers are finished roasting, remove from oven.

When cool enough to hand, squeeze roasted garlic cloves out of skins and add to skillet.

Peel and seed roasted red peppers.

Cover each chicken thigh with roasted red pepper strips.

Top each chicken thigh with a sprinkle of parmesan cheese and a slice of mozzarella cheese.

Cover skillet until cheese is melted.

Spoon garlic cloves and sauce over melted cheese.

Garnish with parsley sprigs if desired.

Serve chicken and extra sauce hot over rice, quinoa or pasta.
You'll love this Chicken Scampi recipe too!