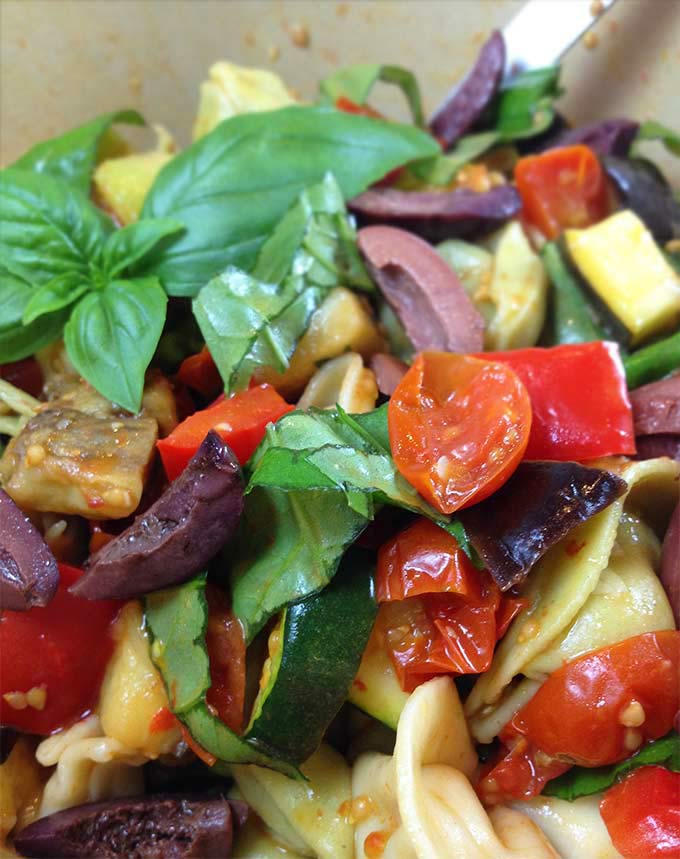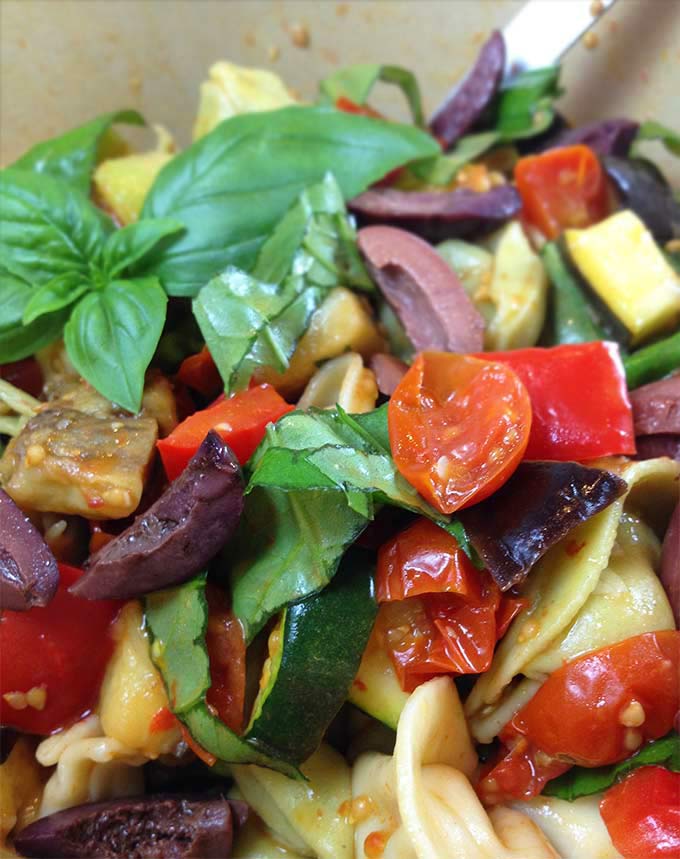 Roasted Veggie Mediterranean Tortellini
If you've been keeping up with the blog this summer, you know my basil plants are growing like weeds. (Unfortunately my weeds are also growing like weeds….) I don't necessarily attribute my stellar basil crop to a green thumb. I think it was the prayer. Generally speaking, I have a thumb the shade of midnight. It was formerly green, but that was before I brought four little children into the world. Now I don't have time to baby plants. So I pretty much get them in the ground, throw out a little compost, cross my fingers and hope for the best. Say a prayer.
Anywho, I've been on the lookout for recipes to use up my bountiful basil crop. And last week my King Arthur catalog arrived in the mailbox. It's always a good day when my King Arthur catalog arrives. (Check out my THLG field trip to King Arthur Flour in Norwich, Vermont here.)
It's  good day because:
#1 – the catalog is free
#2 – the photography is great
#3 – the recipes and products inspire me in the kitchen
#4 – it reminds me of many wonderful shopping memories at King Arthur Flour through the years, not to mention delicious lunches and treats in their newly renovated bakery and cafe
Just for the record, they're not even giving me a discount or anything for saying all that. I'm just a happy customer. (But I won't exactly weep and wail if you put in a good word for me.)
So the catalog arrived and on page #3 was a lovely recipe for a Fresh Macaroni Salad. The recipe involved mixing up pasta dough, making noodles with a pasta press and roasting veggies for a new flavor twist. Don't know about you, but I don't have time these days to make my own fresh pasta noodles. Some day, but not anytime soon.
But the recipe inspired me to create a similar salad using store bought fresh Buitoni tortellini instead. I found it in the refrigerated section at my grocery store. We had this Roasted Veggie Mediterranean Tortellini for dinner last night with grilled chicken on the side. Loved the fresh flavor combination of the tortellini, basil, garlic, Kalamata olives and roasted veggies.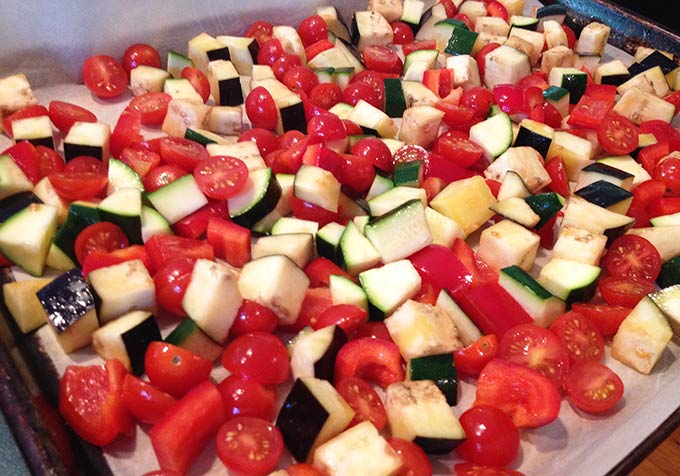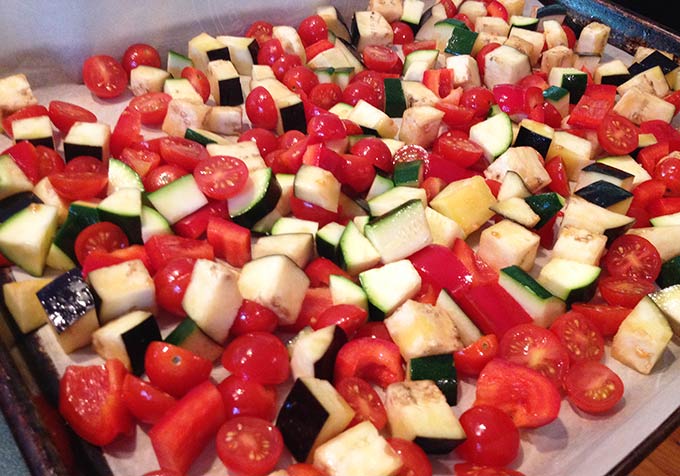 Toss fresh veggies with olive oil and salt, then oven roast.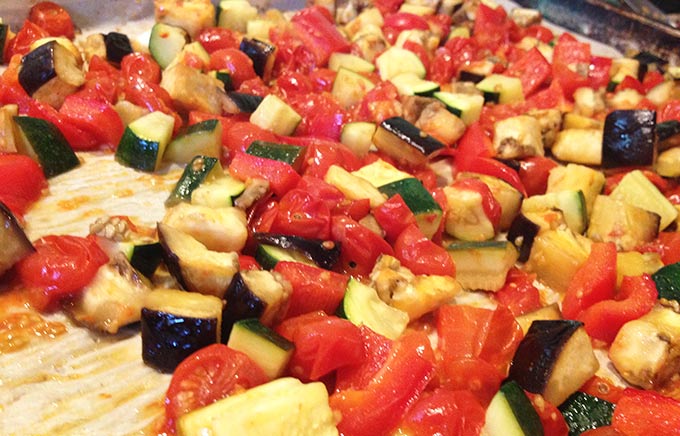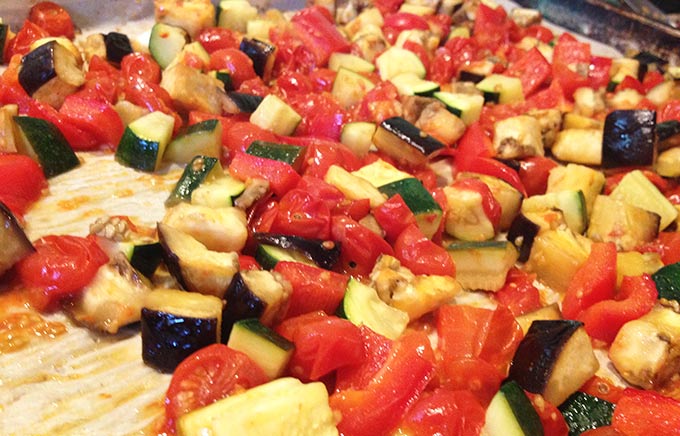 And just twenty minutes later you get this incredible deliciousness! Hold me back.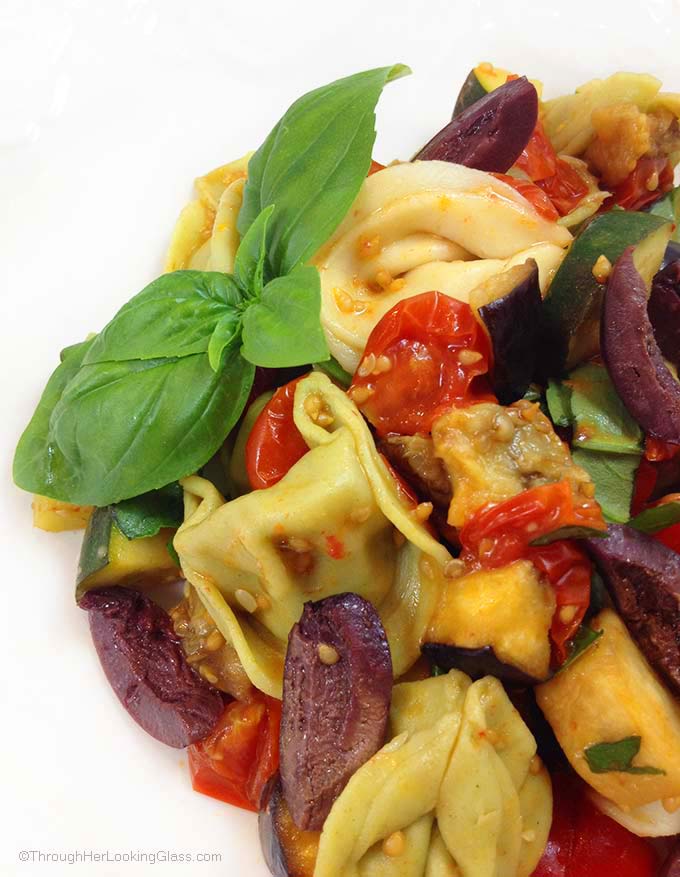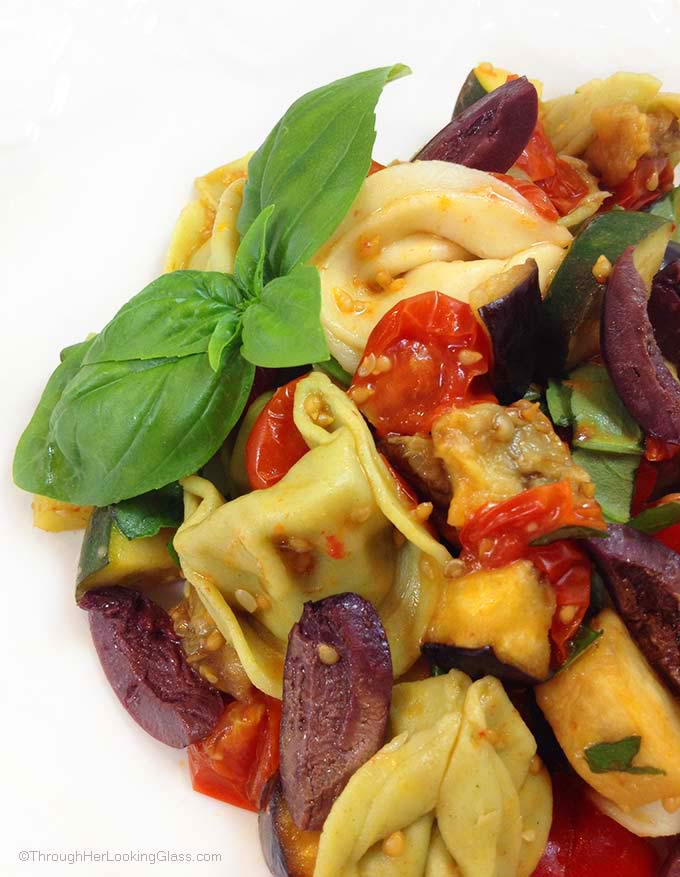 "Enlarged to show texture."
(I stole borrowed that line from the Raisin Bran box.)
Toss everything together and season to taste.
(So you don't like Kalamata olives? Well for the love of Peter, Paul and Mary. Just leave them out.) 
Hope you love this Roasted Veggie Mediterranean Tortellini like we do. Let me know what you think!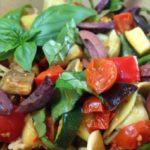 Print Recipe
Roasted Veggie Mediterranean Tortellini
Fresh pasta salad. Roasted eggplant, red pepper, tortellini, kalamata olives, cherry tomatoes, basil, zucchini.
Ingredients
3

cups

diced eggplant

1/2"

1 1/2

cups

diced zucchini

1/2"

1

cup

diced red pepper

1/2"

1

pint

cherry or grape tomatoes

halved

1

small clove fresh garlic

minced fine

2

tablespoons

olive oil

1/2

teaspoon

salt

10 -12

ounces

fresh cheese tortellini

cooked according to package instructions (I used Buitoni)

handful of fresh basil

roughly chopped

additional salt

pepper, olive oil to taste

Optional: 1 cup kalamata olives

pitted and quartered
Instructions
Preheat oven to 400 degrees.

Cook tortellini according to package directions.

Drain and set aside.

Toss all prepared vegetables in serving bowl with olive oil and 1/2 teaspoon salt.

Spread vegetables on parchment lined baking sheet and roast for 15-20 minutes at 400 degrees.

Remove vegetables from oven and let cool slightly.

In a large serving bowl toss roasted vegetables with tortellini.

Add in basil, minced garlic and Kalamata olives if you're using them

Season with salt and pepper to taste.

Drizzle with additional olive oil if needed.

Serve warm, refrigerate leftovers.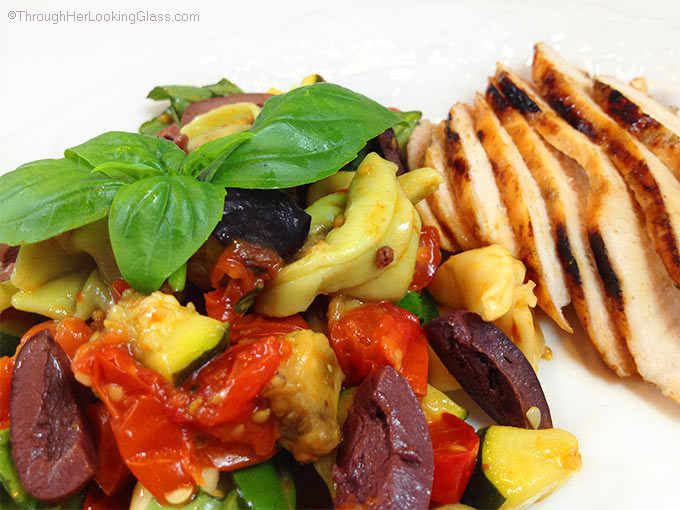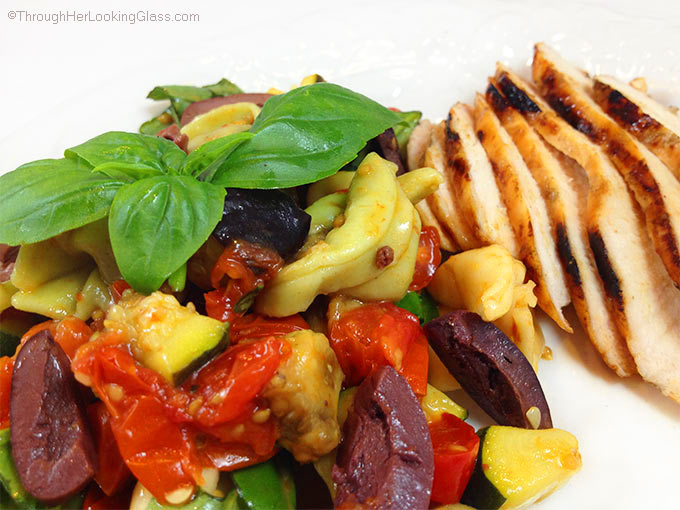 Roasted Veggie Mediterranean Tortellini is perfect served alongside grilled chicken.
You may also enjoy: Chicken Artichoke Pasta Salad