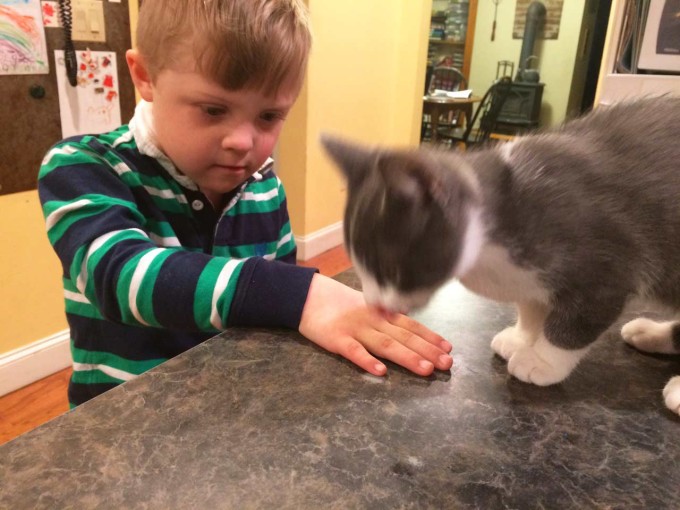 Well now that my heart rate's nearly back to normal, no thanks to Hudson, guess I can write my post. I had other things on my mind to talk about here today, but the events of the day won out as is often the case.
Hudson's actually a gentle little soul, Quiet, despite the unfortunate toddler finger bite of several weeks ago. (Hudson's five, my youngest of four boys. Has Down syndrome.) Yeah, he bit a sweet little girl's finger at church. She did place it in his mouth, which was kind of like an open invitation. But it's not like anyone forced him to chomp down or anything.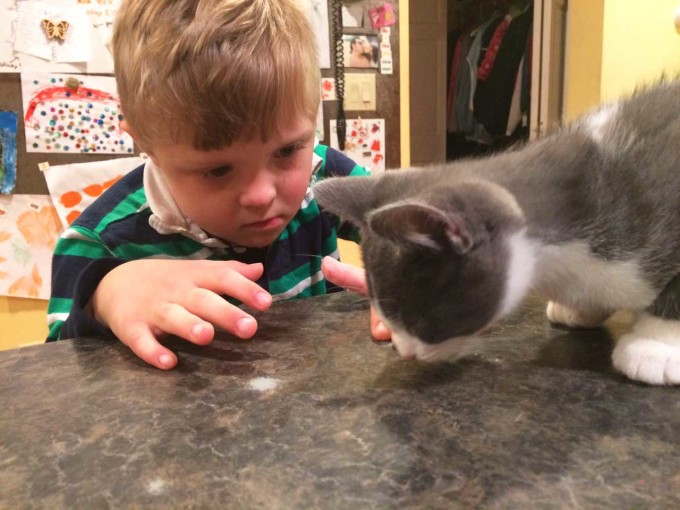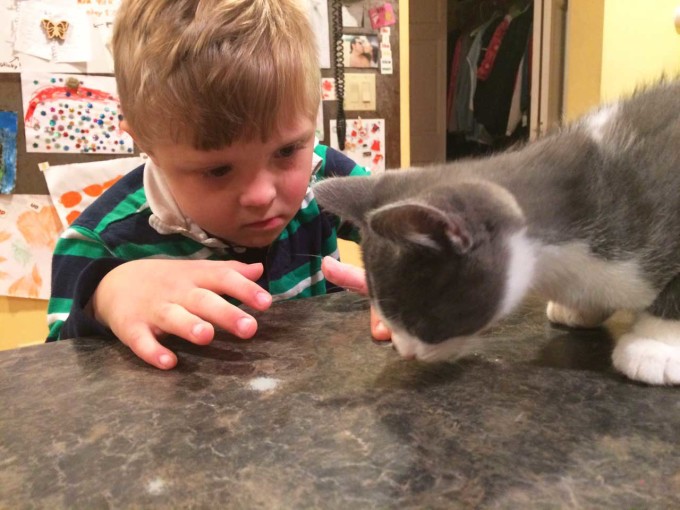 If you don't know Hudson, he can articulate precious few words. Communication is a significant challenge. But it's not like he doesn't know what he wants, it's just that he can't say it. So at home, he'll come over to me and ever so kindly and gently, loosely take hold of my hand, lead me to something he wants. It sounds simple, but not as easy as it sounds. For instance, he might bring me to the TV and point. Say "tho." (Show.) Well which "show" or DVD does he want? Trust me, your guess is as good as mine. So I'll guess, and he'll cry or whimper 'til I finally hold out the right DVD. Then he cheers. Or he might want music, and say "ic", lead me to the CD player. Well, there's a hundred CD's and only one he wants. So back to the guessing game and tears 'til together we finally figure out the right one. Frustrating for him and all of us. Think picking out cereal in the morning. Or which story to read at bedtime.
It's one giant game of charades around here.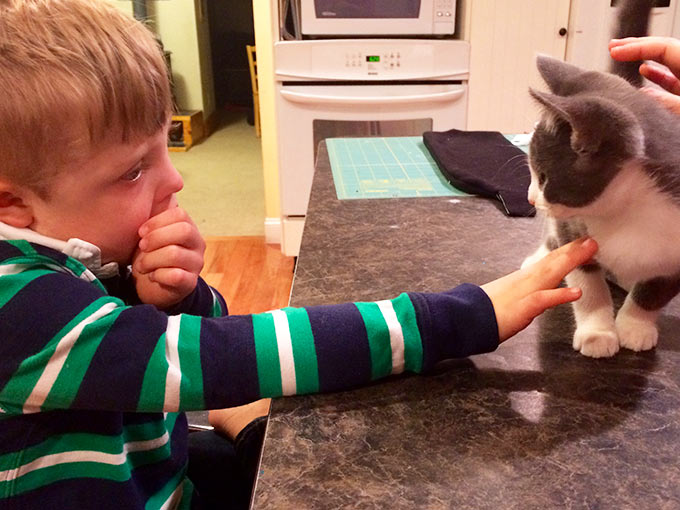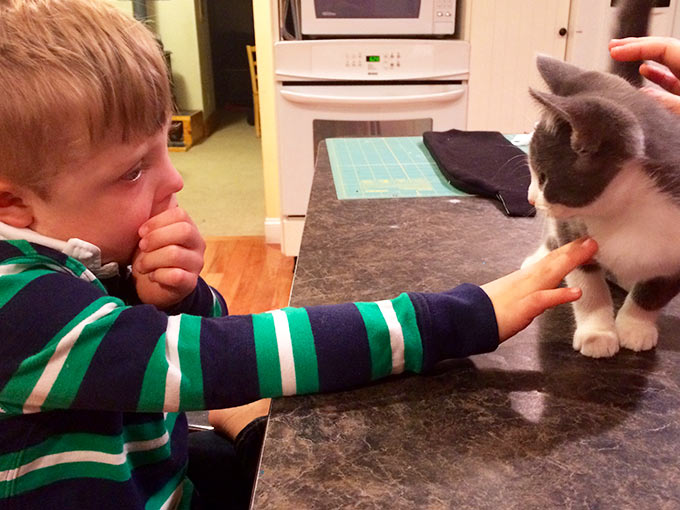 There's a Quiet sweetness though, a sense of wonder about Hudson. Several weeks ago he met a friend's little kitten for the first time. Julie snapped these adorable shots. (Thanks J.) Few words, but the wonder was written all over his precious little face.
So if you're curious why my heart rate was racing earlier today on account of Hudson, keep reading.
There was a special family night at the elementary school tonight. We pick up Charlie from school late afternoon and head over to Wendy's for a quick bite to eat before heading back to school. Having just lost an hour due to Daylight Savings Time, it's not yet 5 o'clock, but dark. We don't eat fast food often, but at least at Wendy's I can get a baked potato or salad. Of course Hudson loves it because he's all about those 5-pack chicken nuggets and fries, carb lover that he is. It's crowded, seems everybody and their brother at school got the memo to eat at Wendy's too. Imagine an excited crowd of 1st –  6th graders plus their families. The line is extra slow tonight and we wait a long time before sitting down, lucky to even get a table.
We grab ketchup and napkins, get situated. Hudson sits on his big brother's lap because we're short a chair. We're nearly finished eating, and Jonathan sets Hudson on his chair, heads to the register for a frosty. Chatting with friends at the adjacent table, I turn back around, see Hudson's chair, empty.
"Where's Hudson?" I say.
Not under the table. Not with any of his big brothers. Panic rises in my throat as we quickly scan the entire restaurant. No Hudson. Jon races to the hall by the entrance doors with the bathrooms. No Hudson. Jon races through two sets of exit doors,  me close on his heels. I must say, it feels a little crazy heading outside. Because how could a small-for-his-size five year old boy possibly heave open the heavy exit doors by himself? And without being noticed?
My heart's literally in my throat. If you're local, you know Loudon Road is one of the busiest roads in Concord and it's rush hour now. Wendy's is situated smack dab between two busy streets, cars coming into the drive-thru from both the front and rear entrances.
We're in the parking lot now and Jon is yards ahead of me, tearing towards the drive thru. It's pitch black, but in the distance by the light of the Wendy's sign, he spies a little overalled figure running towards the back entrance, passing right thru the drive-thru lane. It's Hudson. Jon's long stride catches up fast. His strong arms scoop up that little escapee love bug, bear hug him tight. Whispers in his ear: "If you want more fries, just tell daddy. You don't have to come to the drive-thru."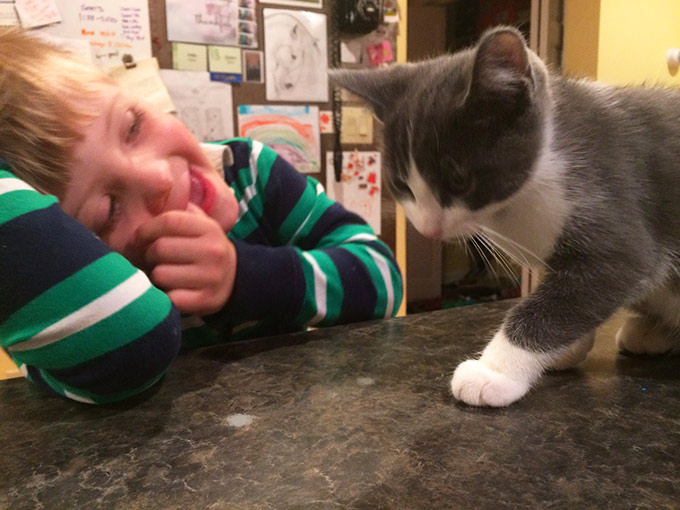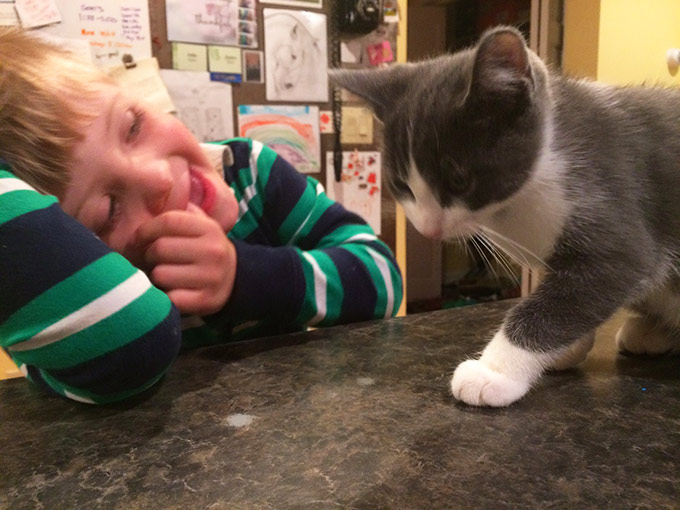 Our little Hudson, he pulled a Quiet Disappearing Act today. Scared his mama half to death. His daddy too. If you follow along here, you know Hudson has survived quite a few scary safety situations this past year. Never know what a day will bring. I'm reminded again of Hudson's guardian angel. That he (she?) deserves a big-time raise. Extra time off, increased benefits. Mixed drinks, a vacation in Tahiti. All that and more. Hudson's safety today is just one more blessing to be grateful for at the Thanksgiving table.
You may also enjoy: Glimpse of Sunshine