Pecan Crumble Blueberry Shortbread: buttery shortbread crust layered with blueberries and crunchy pecan crumble topping. These scrumptious shortbread bars are for all the blueberry lovers!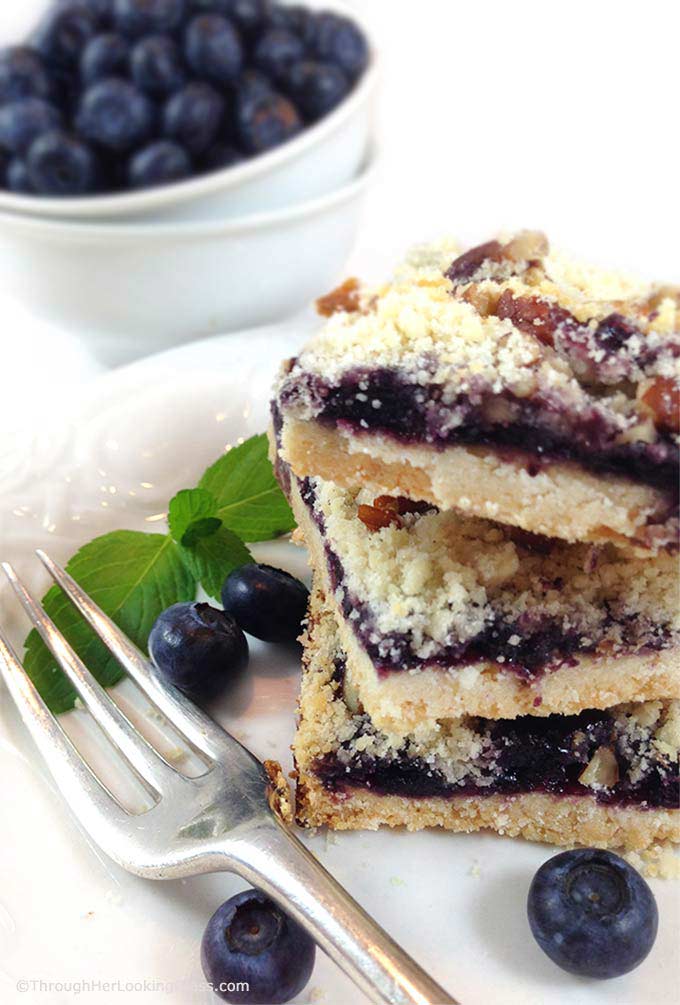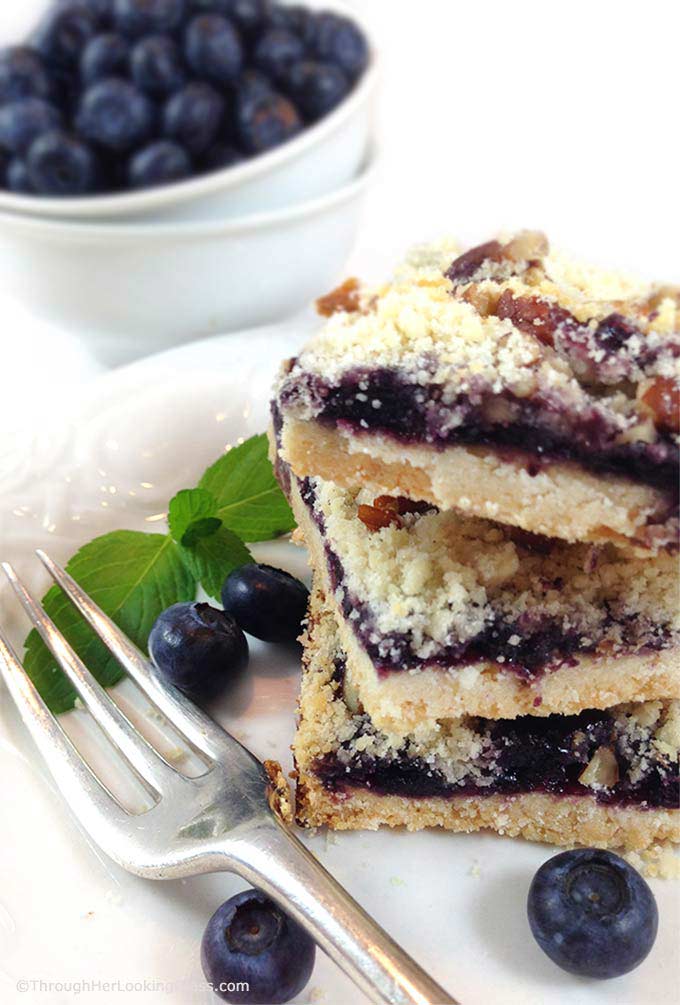 So Father's Day was just this past weekend and what a glorious day it turned out to be. At home it was sunny and over ninety degrees hot in the city. But we escaped to Maine for the afternoon and the temp dropped twenty-five degrees just an hour north on the coast.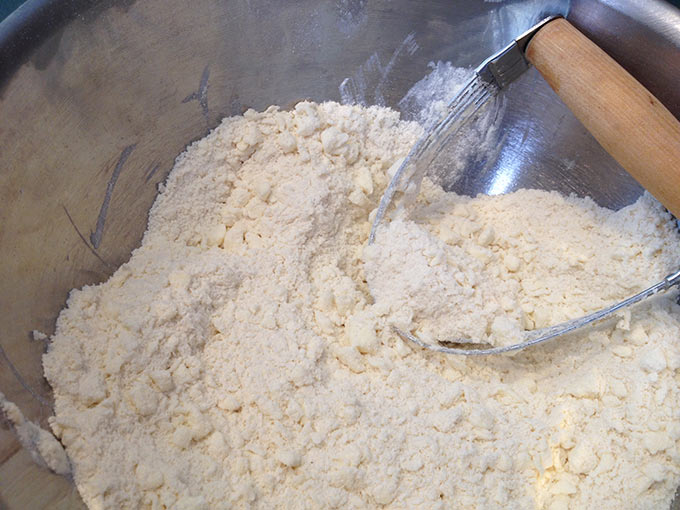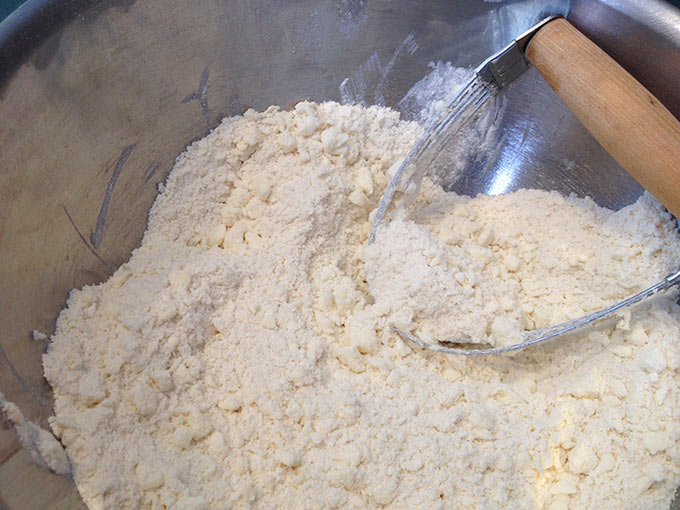 I picked Ogunquit for our Father's Day celebration because I adore the Marginal Way, the lovely cliff walk in Perkins Cove. And I also knew we needed big winds for kite flying since the boys and I surprised Jon with a new kite!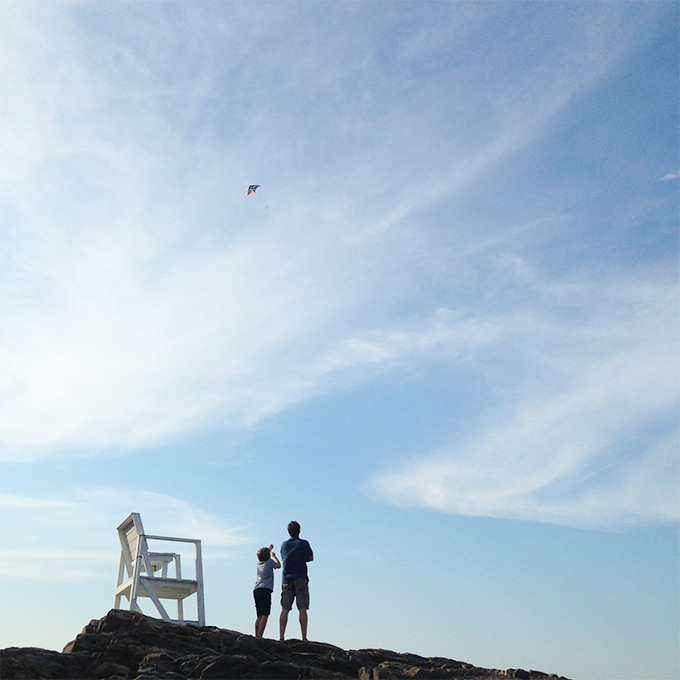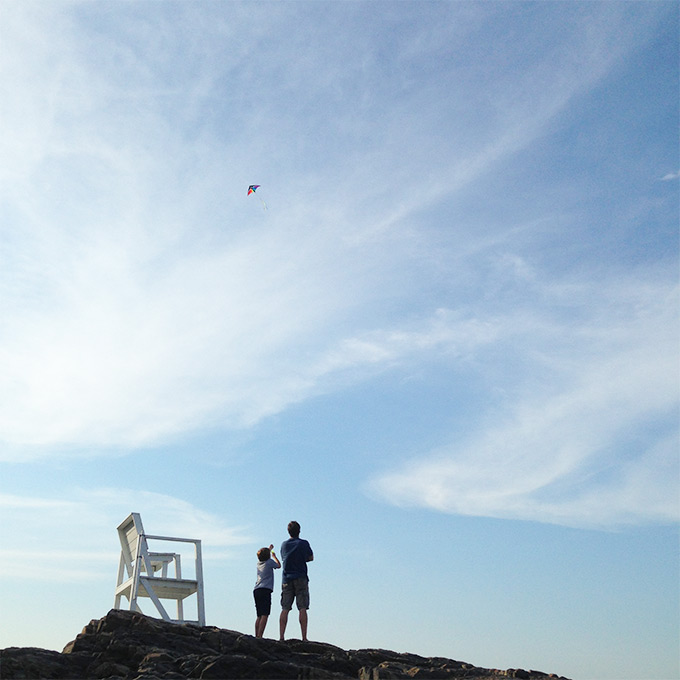 Initially they had trouble getting the kite airborne in the protected beach cove. But once they moved to the cliffs — it really took off, much to the delight of the boys and everyone walking the Marginal Way. So fun, ours was the only kite flying that day.
The kite was labeled a "stunt kite", and it definitely had the moves. At one point it was flying high, then dove to nearly a few feet off the ground, then headed back up.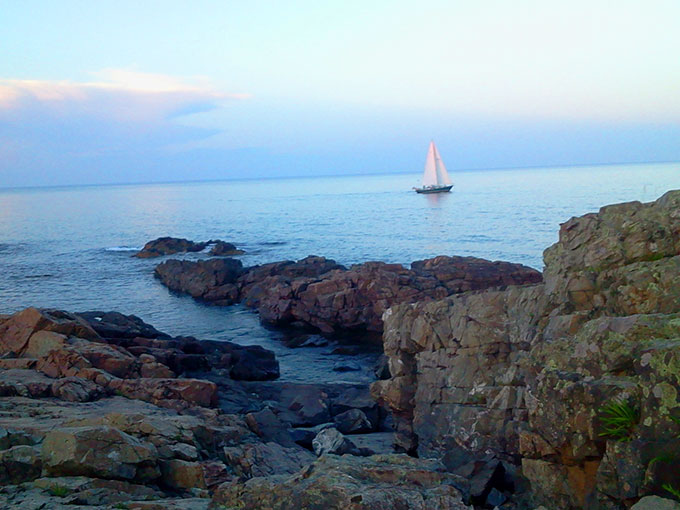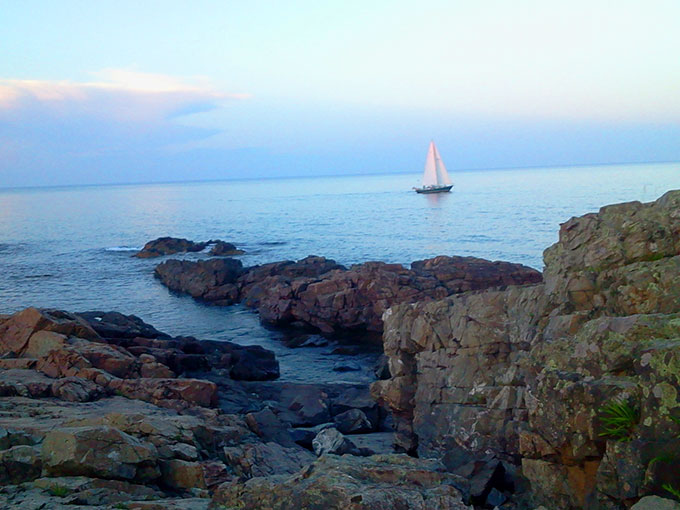 Such a pretty scene. Sailboats skimming the sparkling water and surfers galore. It was a gorgeous day to celebrate in Maine.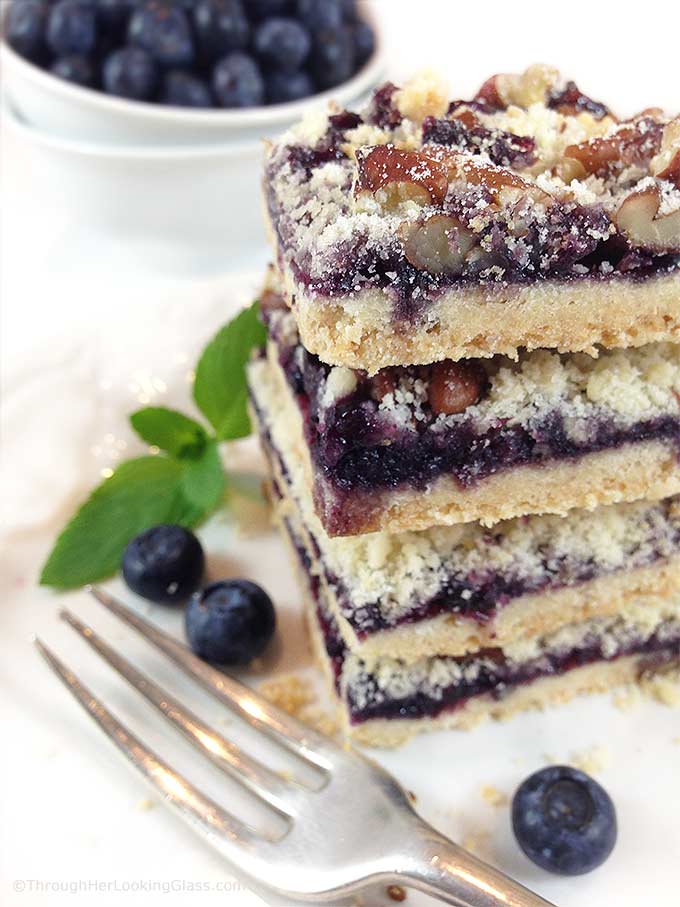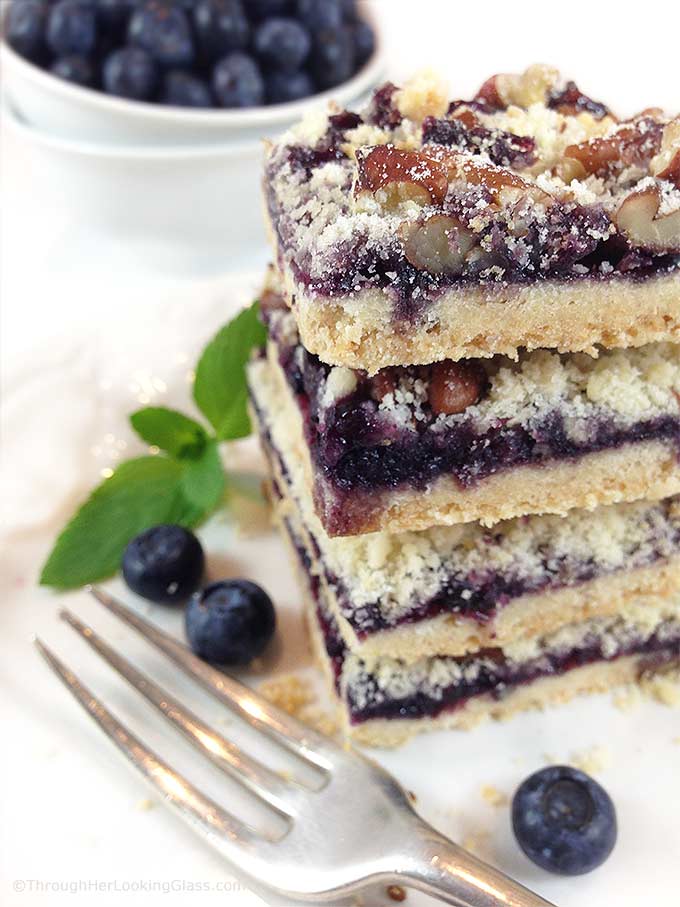 So Jon is definitely a blueberry lover. He likes blueberry ice cream and blueberry cobbler. Jordan Marsh Blueberry Muffins and blueberry pound cake.
I wanted to try something new for his Father's Day dessert. Something portable that wouldn't melt or need vanilla ice cream for our picnic. A dessert that would travel well and nicely round out the menu of fruit salad, Maple Glazed Ribs and Grilled Corn, Basil and Tomato Salad with Feta.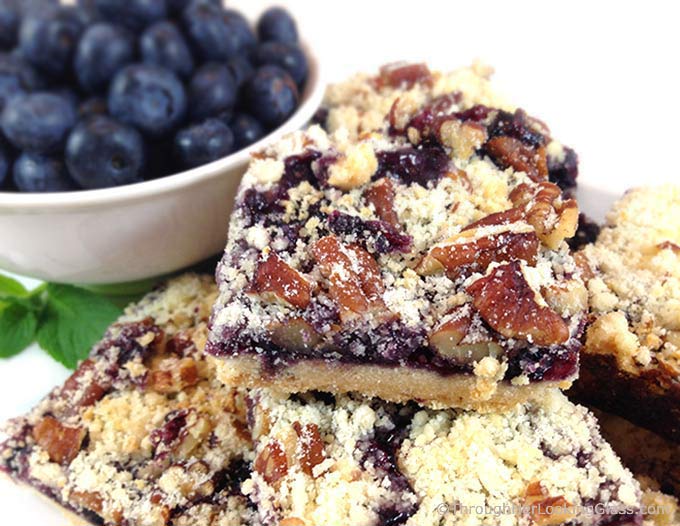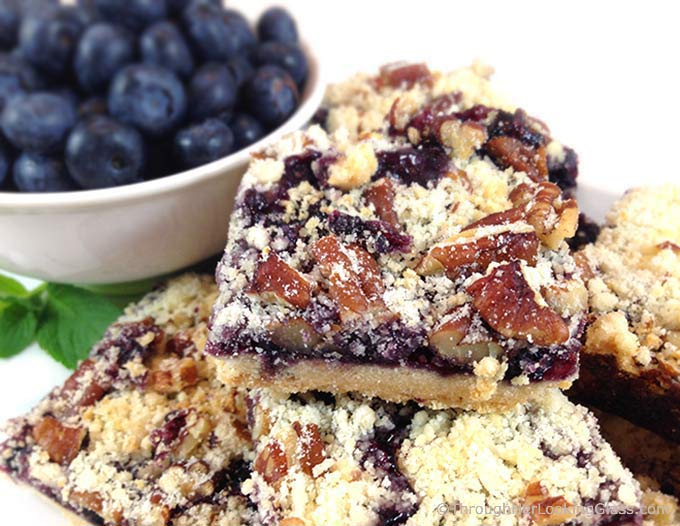 So I made these Pecan Crumble Blueberry Shortbread bars and they were a big hit all around. The toasted pecans complement the buttery shortbread beautifully.
I'd never made blueberry shortbread before but so glad I tried. The sweet blueberry jam was scrumptious with the crunchy pecan crumble topping.
I used Wild Maine Blueberry Jam from Stonewall Kitchen in these shortbread bars. But you could also use homemade blueberry jam or your favorite kind.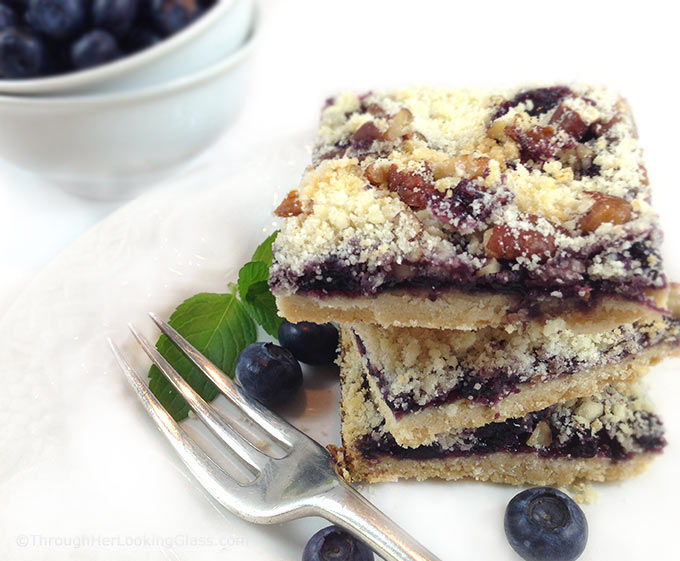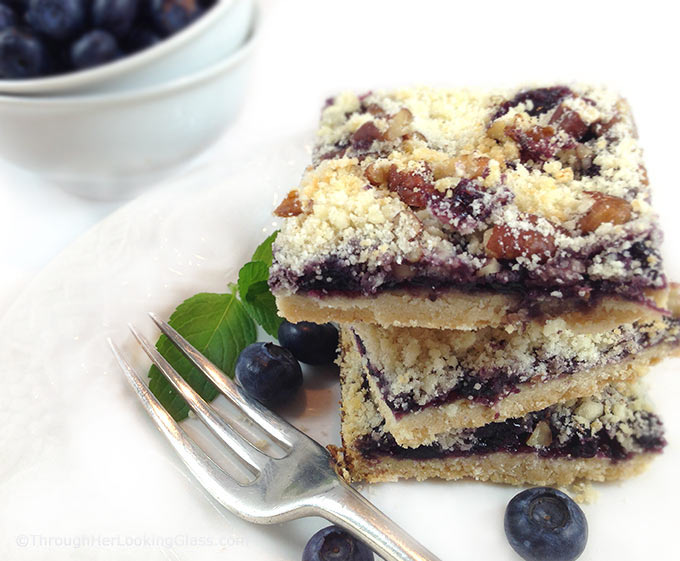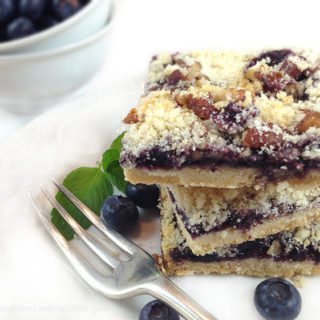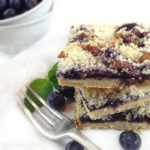 Print Recipe
Pecan Crumble Blueberry Shortbread Recipe
Buttery shortbread layered with blueberries and crunchy pecan crumble topping. For all the blueberry lovers!
Ingredients
2

cups

all purpose flour

1/2

cup

granulated sugar

1/4

teaspoon

salt

1

cup

cold butter

1

cup

blueberry jam

1/2

cup

broken pecan halves
Instructions
Preheat oven to 350 degrees.

In a medium bowl, combine flour, sugar and salt.

Cut in cold butter with a pastry blender until just crumbly.

Set aside 1 cup of this mixture to use as a topping later.

Lightly grease a 9 X 9" square baking pan or use parchment paper.

(An 11 X 7" pan also works fine.)

Press remaining flour mixture into the bottom of prepared pan.

Bake at 350° for 20-25 minutes or 'til lightly browned.

Cool crust.

Spread blueberry jam over crust.

Stir in broken pecan halves with the reserved 1 cup flour mixture.

Sprinkle on top of the blueberry jam.

Bake at 350 degrees for 25-35 minutes more or 'til golden brown.

Cool 1 hour on wire rack.

Cut into sixteen bars.


You may also like: Raspberry Peach Almond Shortbread Bars