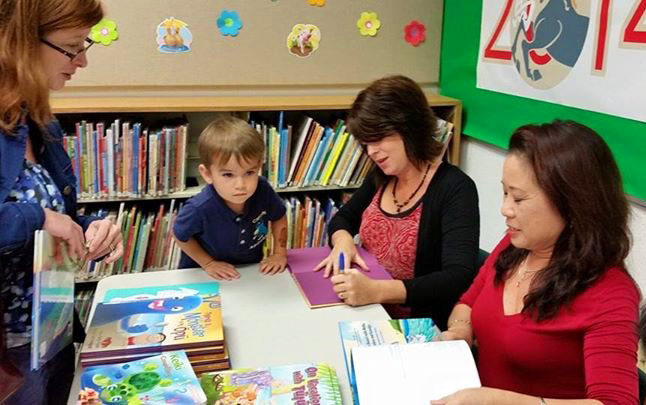 So what is an opu anyway? The cute Hawaiian children's book, There's a Monster in My Opu, by children's author Karyn Hopper will give you the scoop. Karyn, pictured above at a recent book signing, is a busy wife and mother of four who somehow finds time to write children's books on the side.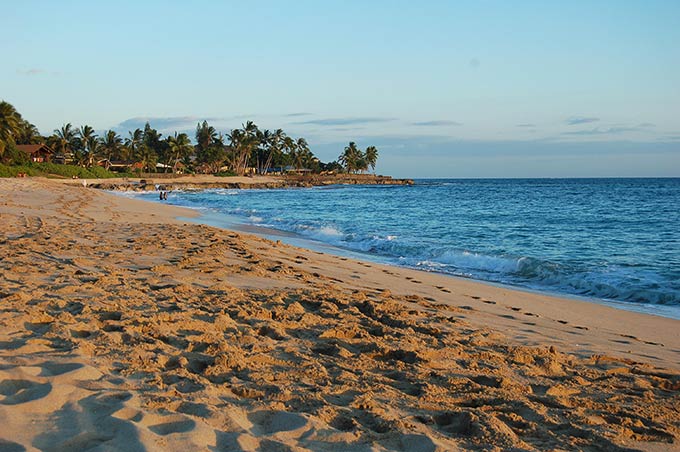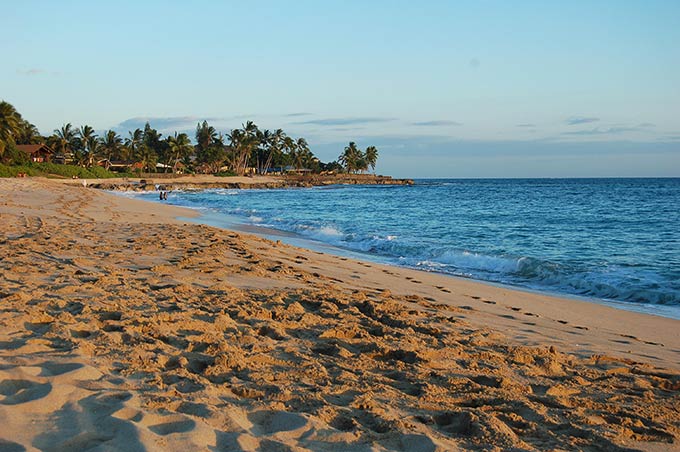 Originally from New England, Karyn and her family live in Hawaii on the main island of Oahu in Mililani.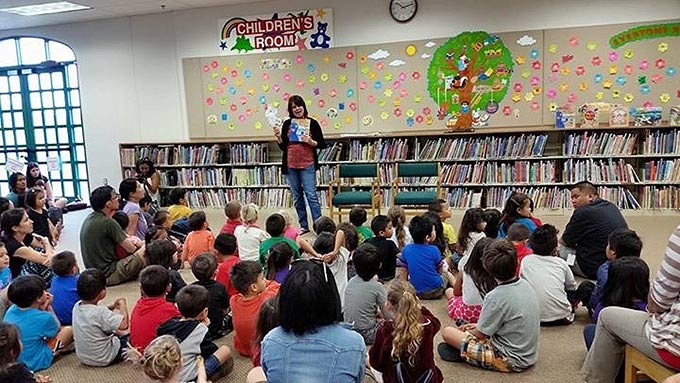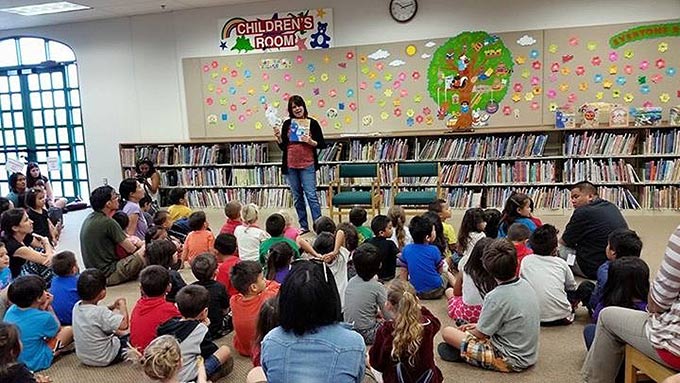 Karyn, sharing There's a Monster in My Opu with children at the local library.
Karyn's been a dear friend since grade school, always super talented in speech and music. So I was fascinated to hear of her new endeavor writing children's books.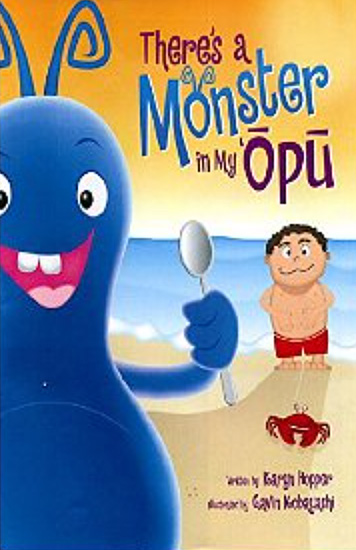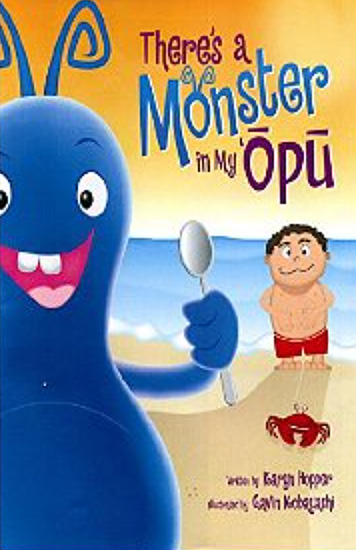 In 2006 she published There's a Monster in My Opu, a simple, fun and colorful introduction to local culture in Hawaii. And if you visit Oahu, you'll definitely recognize some of the local places mentioned in her book.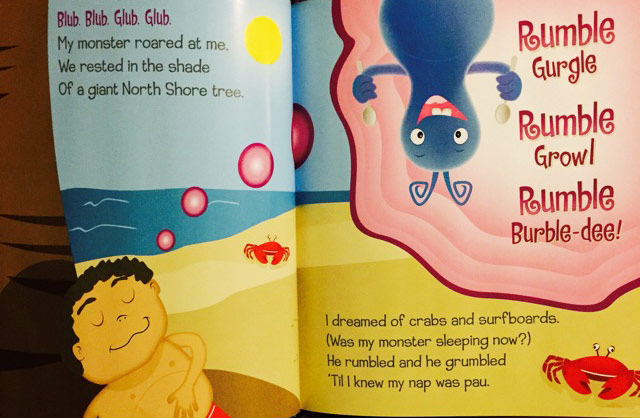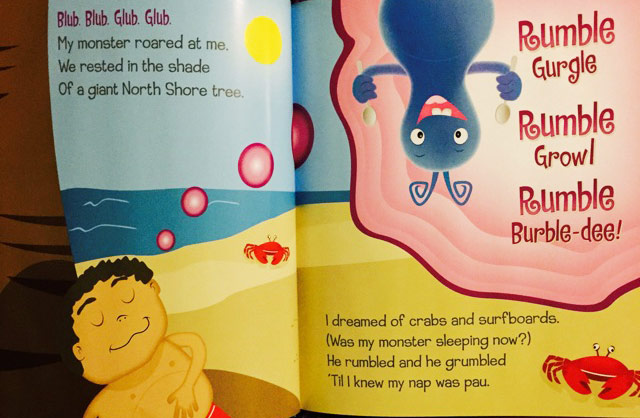 Here's a pronunciation/translation guide (courtesy of Ruth Miyagawa) for some words and places from There's A Monster in My Opu:
opu – (oh-poo) stomach
Haleiwa – (ha-lay-ee-vah) surfing town on the North Shore of Oahu
pau – (pow) finished
haku – (ha-koo) head
Matsumoto – (mot-sue-moe-toe) mom and pop store on the North Shore
lychee – (lie-chee) a sweet, small fruit with rough red skin, and tender white flesh surrounding a capsule-shaped brown seed
shave ice – ice shaved off a large frozen block into a paper cone; flavored syrup is poured over it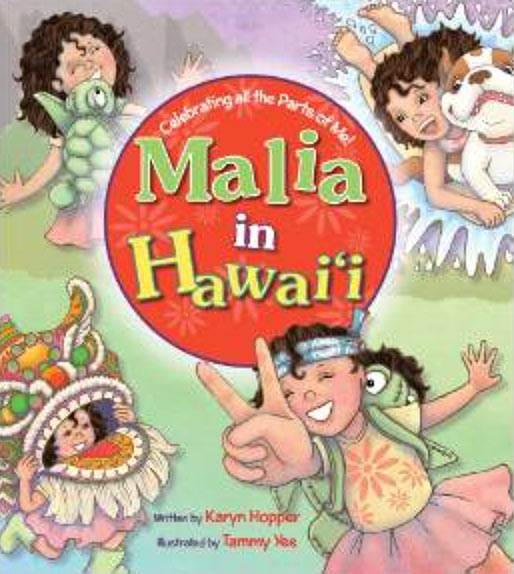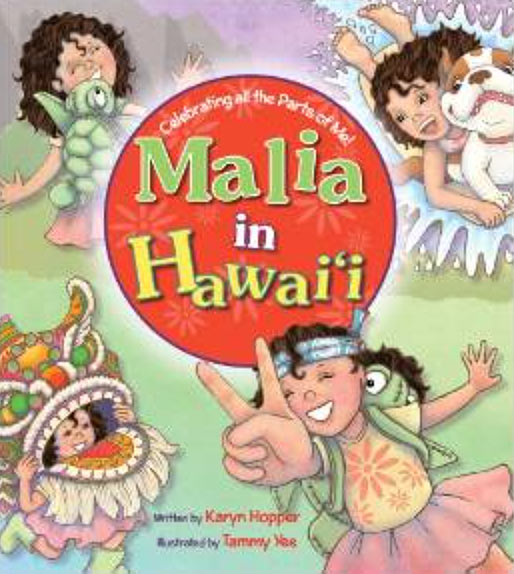 Then in 2013, Karyn published Malia in Hawaii: Celebrating All the Parts of Me. Surfing or dancing, parades or hula, noodles or sushi? Malia likes them all!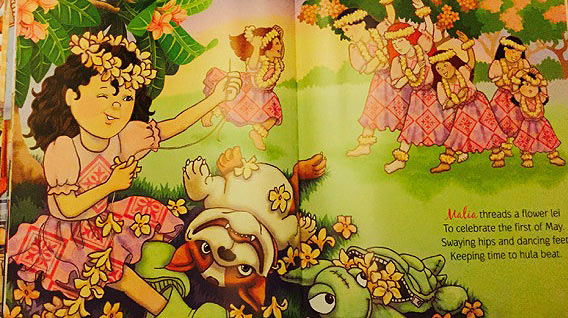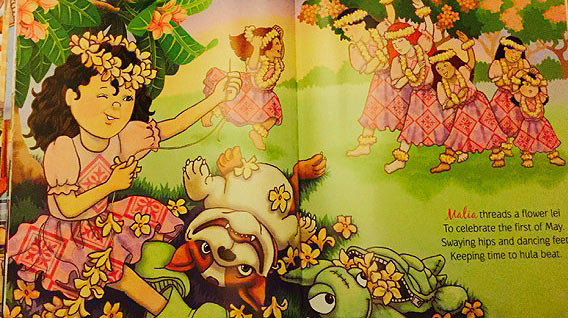 Malia in Hawaii is the story of a little girl with a long name, and an even longer list of things she likes to eat and do. The main character Malia Sachi Ging Ging Lee explores the food and fun of her Hawaii home.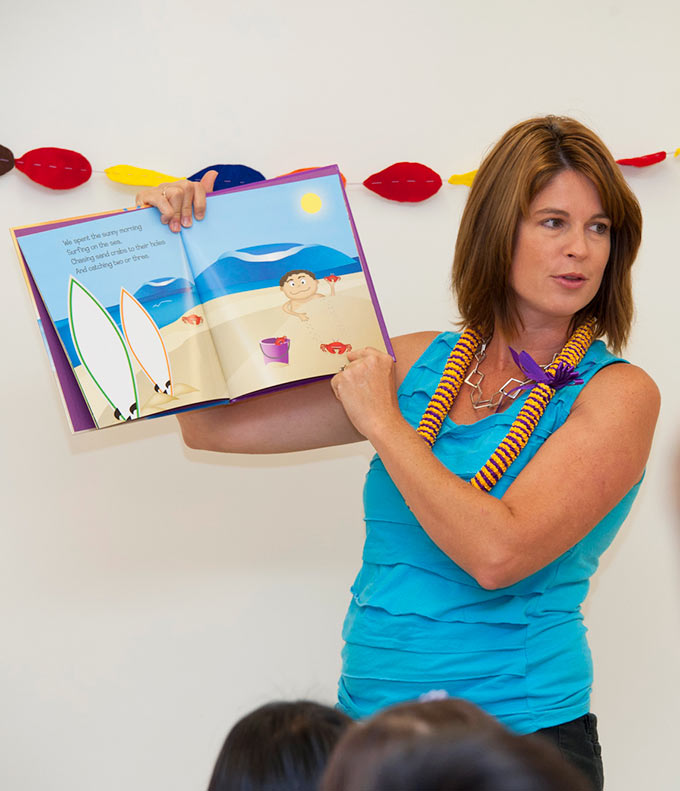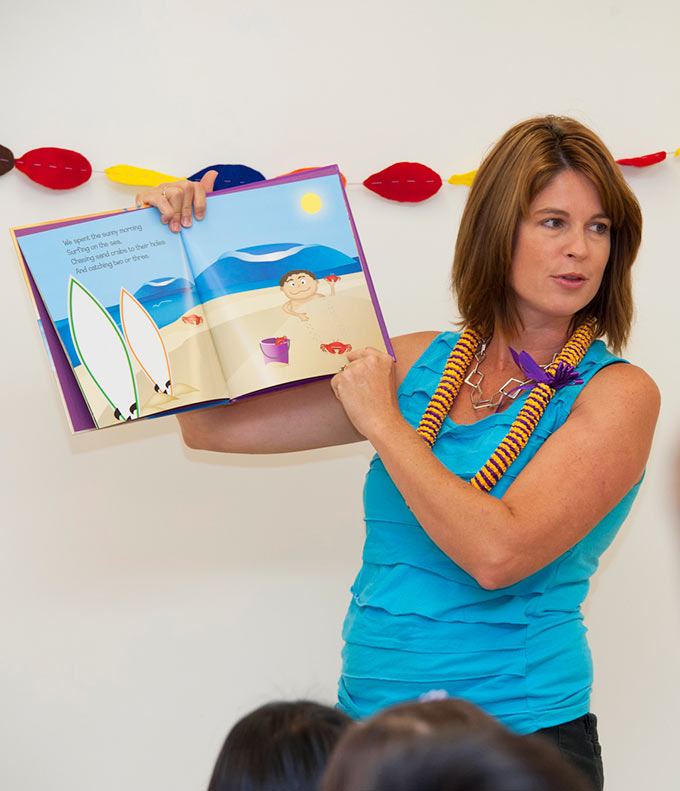 THLG: So Karyn, please tell us a little about yourself.
Karyn: I'm originally from New Hampshire — part Yankee, part island girl, a strange and marvelous mix.
THLG: What do you miss most about living on the mainland?
Karyn: I miss fall — I love the changing leaves. But more than that I love the fall culture — hay bales, fall flowers, hot apple cider, the pumpkin patch, and apple picking. Did I mention apple cider donuts?
THLG: Oh yes, apple cider donuts are high on my list too. So what do you enjoy doing with your family in Hawaii?
Karyn: Outdoor adventures: hiking, going to the beach, surfing, stand-up paddle boarding.
THLG: Sounds busy and decidedly tropical for a New Hampshire girl. Got any hobbies?
Karyn: I've been wondering about my hobbies lately — can that include car pools, kid sleepovers, and supervising homework?! I love to sing, write, play the piano, go on adventures with my family, travel.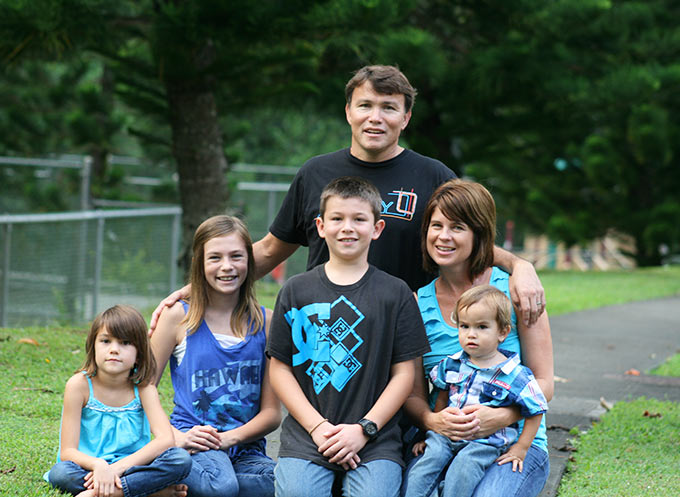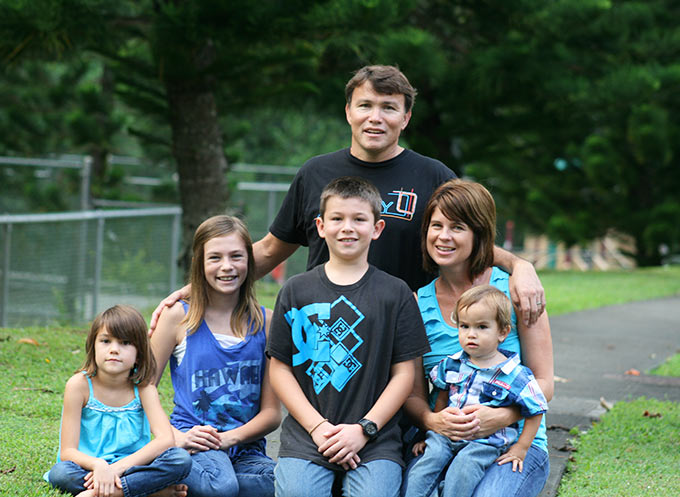 The Hopper Family
 THLG: So Karyn, tell us, how did you end up in Hawaii?
Karyn: I moved to Hawaii to teach at a Christian school in 1994, and fell in love with another teacher. We got married and have 4 kids, 2 girls and 2 boys.
THLG: So when did you publish your first book?
Karyn: In 2006, when I was pregnant with baby #3.
THLG: Ummm…wow. What made you decide to write a children's book?
Karyn: I specifically love children's rhyme — I get a rhyme and rhythm in my head, and can't get it out 'til I put it on paper. I tried writing a chapter book and it was a disaster. I don't think I have the attention-span for anything longer than 20 pages or so!
THLG: Anything interesting about the book writing process you want to share today?
Karyn: Books are a tough sell these days. With bookstores going out of business, and e-books on the rise, the children's publishing business is changing. People ask me how I got my first book published. I went to the local library and wrote down all the Hawaii publishers I could find. I sent out several copies of my script and got a publisher!
THLG: Good for you, love it. Anything else about the books or book writing advice?
Karyn: I think you have to find your niche, even in writing. There are so many types of writing—find the type that you enjoy, that you're good at, and start with that. Don't try to be something you aren't.
THLG: Don't try to be something you aren't. Good advice. Many thanks Karyn, for giving us a little snapshot of your life in Hawaii. I loved catching up on your family and your children's books. Sure hope you'll write more. (In your spare time.)
There's a Monster in My Opu is available for purchase at besspress.com (under Children's Picture Books)Malia in Hawaii: Celebrating All the Parts of Me  is available from Amazon.com
You may also enjoy: Virtual Safari in South Africa