This Charred Mexican Street Corn Recipe is so easy!!! Char local summer corn on the grill and top with the most delicious fresh ingredients for an authentic sweet and spicy Mexican treat. Great appetizer or side dish that's the talk of the party and keeps everyone coming back for seconds.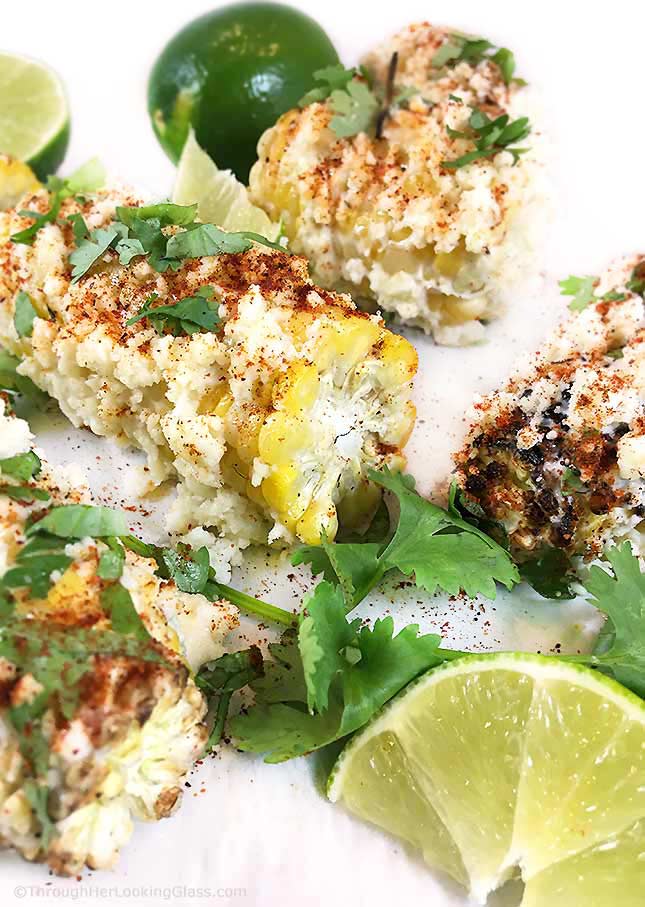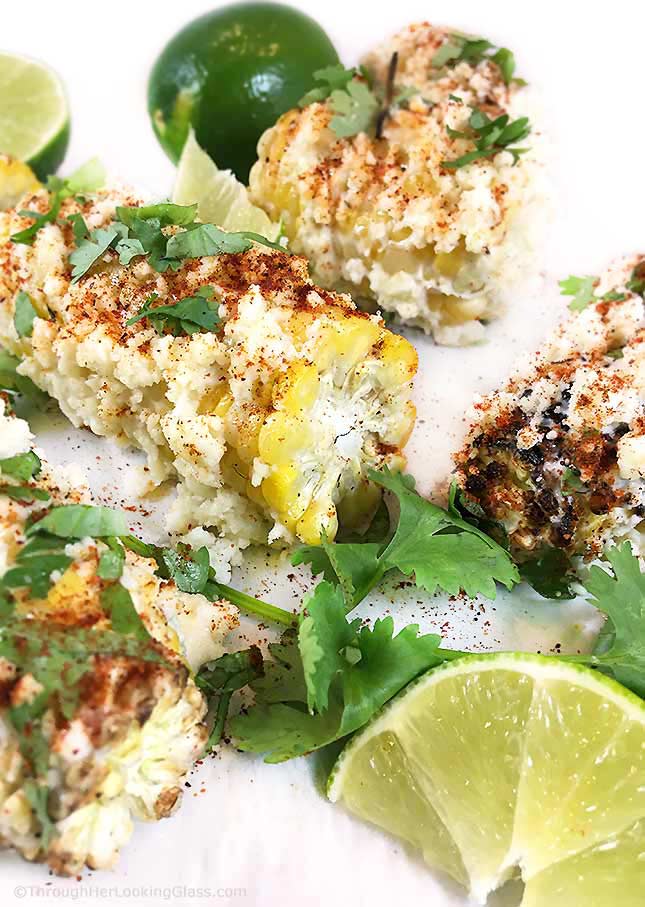 Folks – this Mexican street corn is the best thing I've tasted all summer. No kidding. Sweet local corn, charred, slathered in mayo, rolled in crumbled fresh cotija cheese. Sprinkled with chili powder and generously spritzed with lime juice. This is the easiest and sweetest side/app and you're gonna love it! (Yeah yeah, you'll be the judge of that!)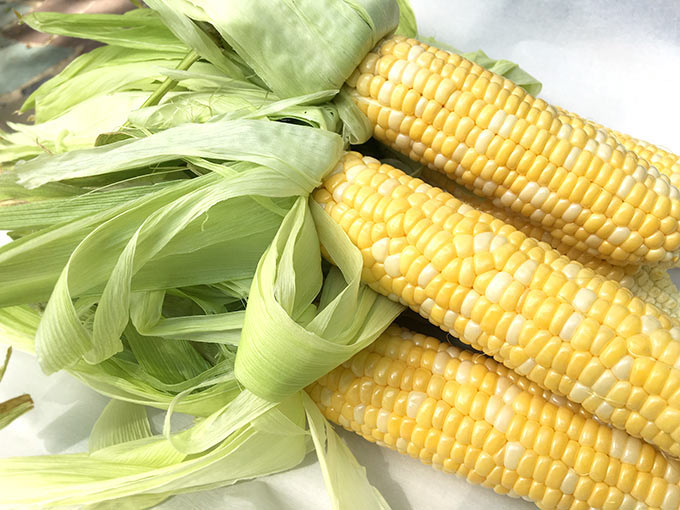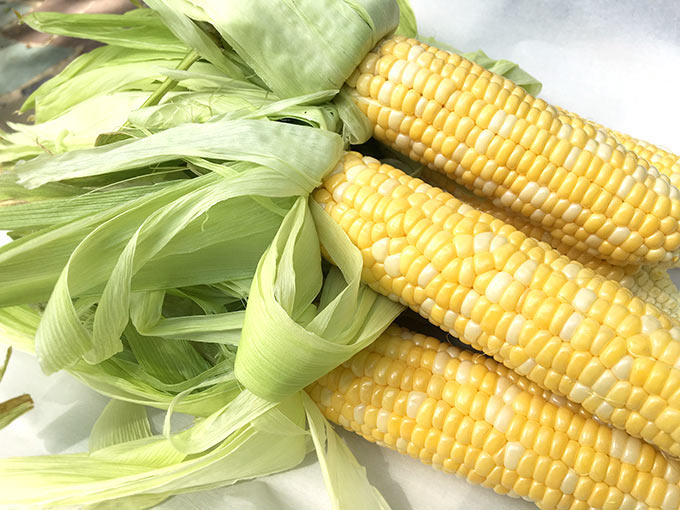 Fresh, sweet summer corn is just arriving here in New Hampshire. Finally. We've been waiting all summer long. Just last week at the grocery store I spied the produce man emptying jumbo bags of fresh corn in the husk into the produce bin. And I must've been a mile away when I saw the big sign: Fresh Local Corn. I got so excited. Seriously, I almost got goosebumps.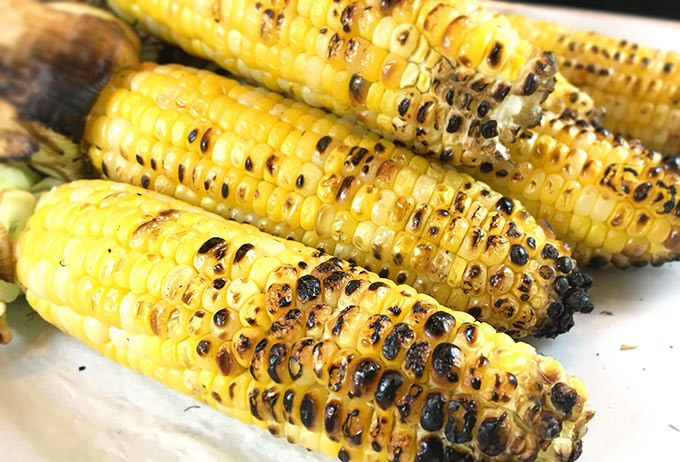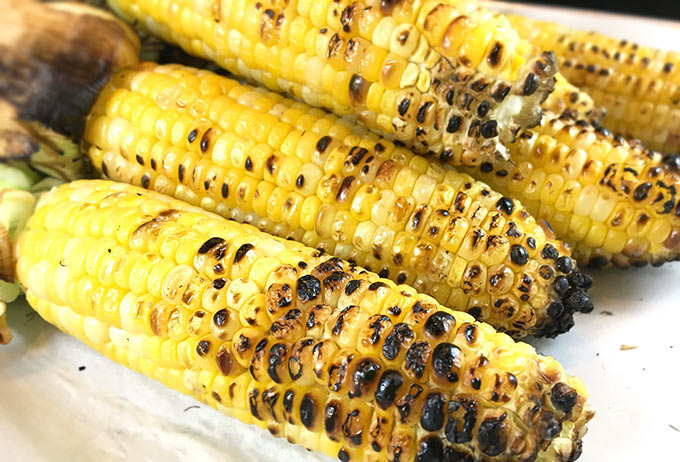 There's something magical about fresh, just-picked corn in New England. So sweet and tender. I have wonderful memories growing up in Rhode Island, buying the fresh-picked corn from the nearby fields at the many local farm stands near Comstock Parkway in Cranston.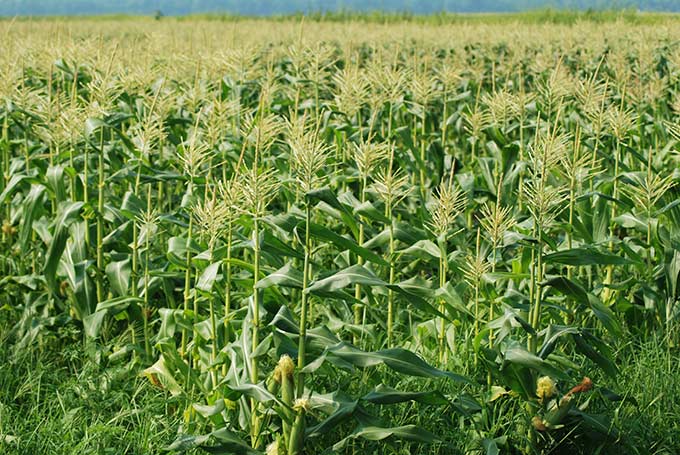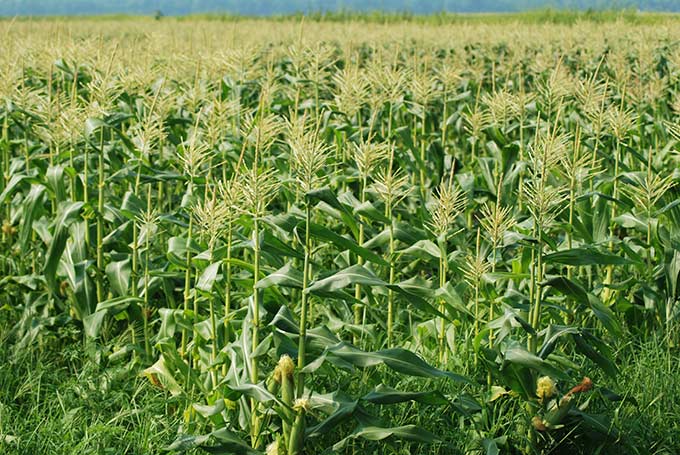 So back to the grocery store. I asked the produce man which local farm the corn was from and he said Windsor, Connecticut. WHATTT??? Windsor is 146 miles from here and a nearly three hour car ride. No offense if you're from Windsor, I'm sure the corn there is delicious the day it's picked, but not up here in NH, days (or weeks) later.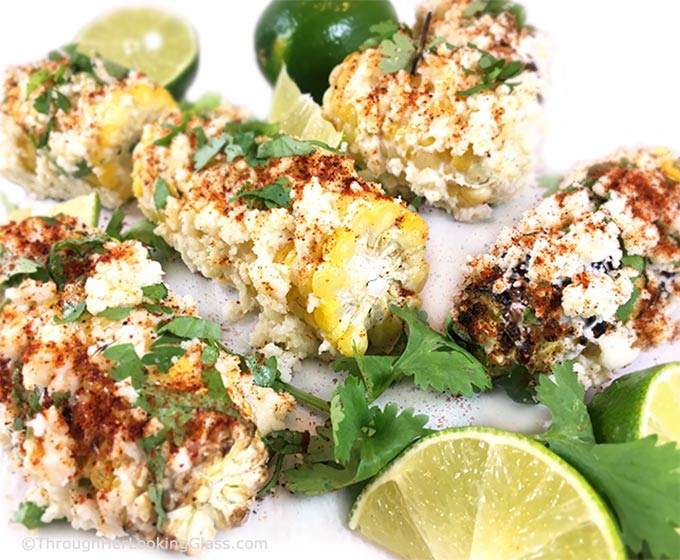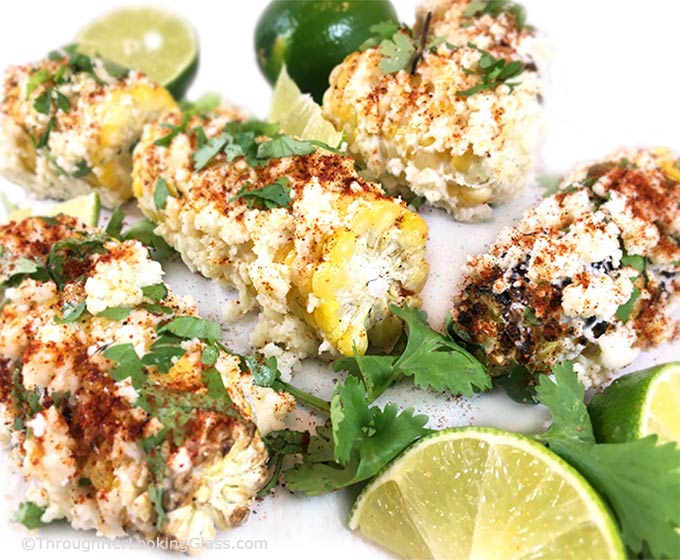 I wouldn't say I'm a corn snob or anything, but to me, fresh local corn means it's picked in a nearby field that day!!!! So I was in a big rush, didn't have time to stop at the farm stand, went ahead and bought the corn. Well that was a big mistake. It looked good, but was starchy and tough and I won't repeat that mistake again anytime soon.
Then yesterday, my husband, the biggest corn lover in our house, happened upon a little farm stand on his way home from the kids' soccer practice. It was closing time and the man at the stand had just a small box of corn left. Jon asked when it was picked, and the man said THAT MORNING!!! Oh yes!
So Jon was going to buy just eight ears, but the man said, heck, take the whole box, it's the end of the day and we're closing up shop! Our lucky day. This corn is hands down the sweetest corn we've tasted in a long time.
So what to do with a whole box of fresh, sweet local corn? We steamed the first round. And it was tender and delicious, salted and dripping with butter.
But the second round got really special treatment. I'd always wanted to try making a Mexican Street Corn Recipe. And it was so easy.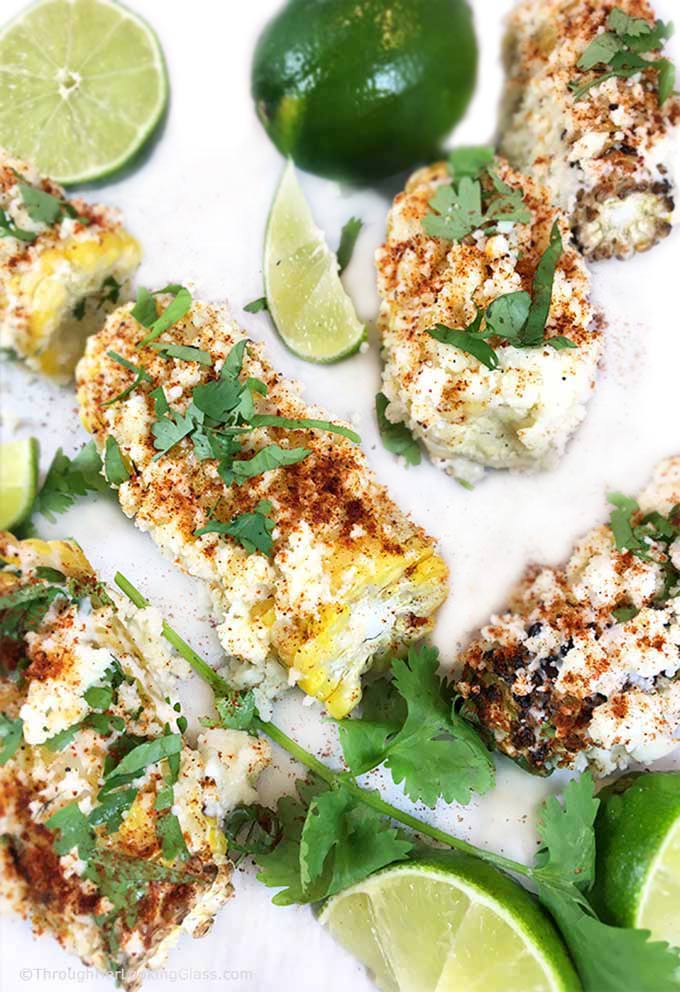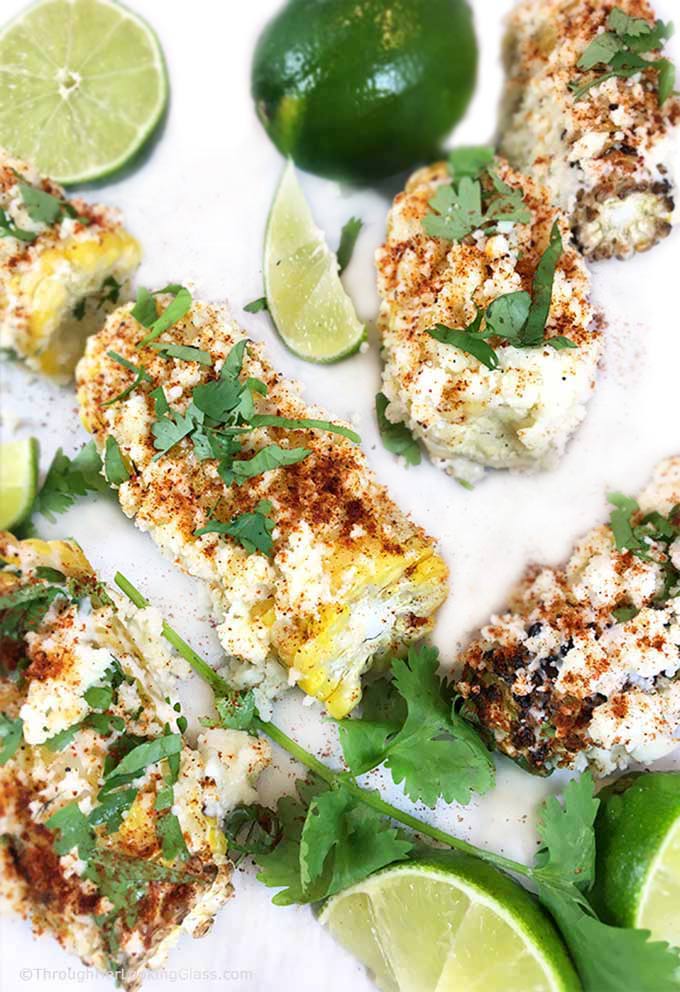 First, we grilled the corn on a hot grill, 'til it was charred. Then slathered it in mayonnaise. Rolled it in crumbly cotija cheese and fresh cilantro. Sprinkled it with chili powder and spritzed it with fresh squeezed lime juice. Out of this world.
This, my friends is the most heavenly summer appetizer or side dish you'll ever taste. You'll go gaga, especially if you love sweet, fresh corn. Side note: "elote" is the authentic name of this delightful dish!
(If you're not a mayo lover, I recommend you try this recipe anyway! The mayonnaise is virtually undetectable because it's covered in that salty crumbled Mexican cotija cheese. The mayo is what "glues" the cheese, cilantro and spices to the corn, so don't skip it.)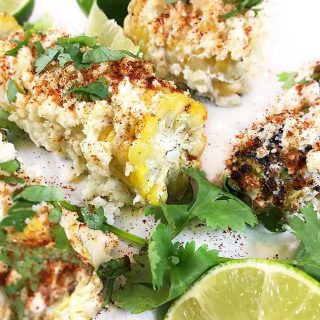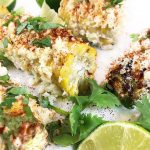 Print Recipe
Charred Mexican Street Corn Recipe
Ingredients
8

ears fresh

sweet corn on the cob, husked

10

ounce

package cotija cheese

crumbled

mayonnaise

I used Hellman's Light

chopped cilantro

chili powder

2-3

fresh limes

cut in wedges
Instructions
Leave corn cobs whole or snap in half before cooking for more manageable eating.

Grill corn on the cob on a hot grill 8-10 minutes, turning often.

Corn should have char marks.

(It's more authentic to grill the corn, but you can steam it if you don't have access to a grill.)

While still hot, use a butter knife to spread mayonnaise thickly on corn.

Quickly roll in crumbled cotija cheese.

Sprinkle with chili powder and chopped cilantro.

Spritz with lime wedges.

Serve immediately!


You may also like: Grilled Corn, Basil, Tomato & Feta Salad