(The Boy Who Cried Wolf is a story about Hudson, our beloved six year old who just happens to have an extra chromosome.)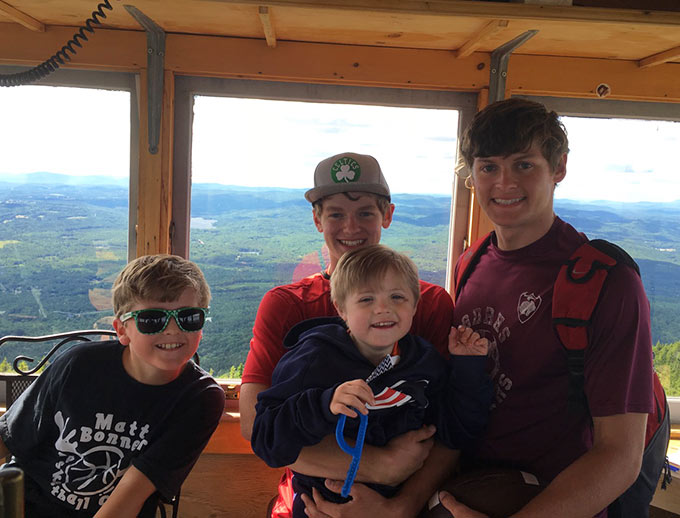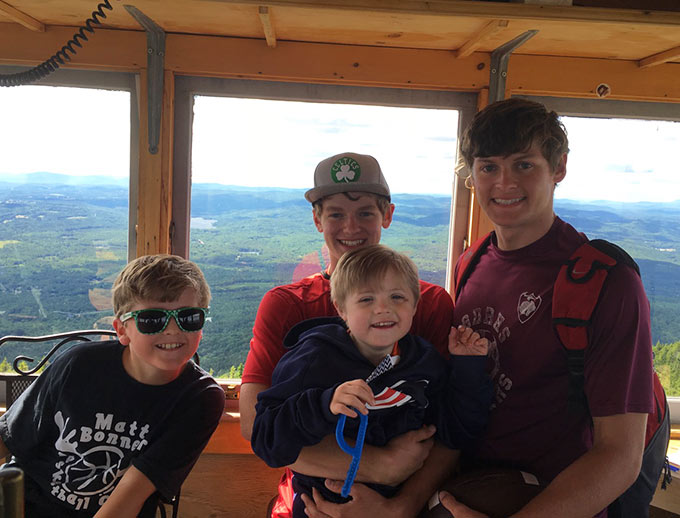 They say when the cat's away the mice will play. And last weekend I told you about my adventures in Whitefish Bay over July 4th weekend. While I was away at the wedding, my boys hiked Mt. Kearsarge, just 30 minutes north in Warner, NH.
It's a real challenge for our family finding summertime activities everyone can do together. On the mini-golf course, Hudson, cat-like, insists on sitting right in the middle of the green. Every. Single. Putt.
Hiking has always been tough because he walked late. And he'd rather sit than walk anyway. Beach, pool and lake trips are difficult because he's afraid of water, still hasn't figured out how to deal with sand. (As in keep it out of his mouth.)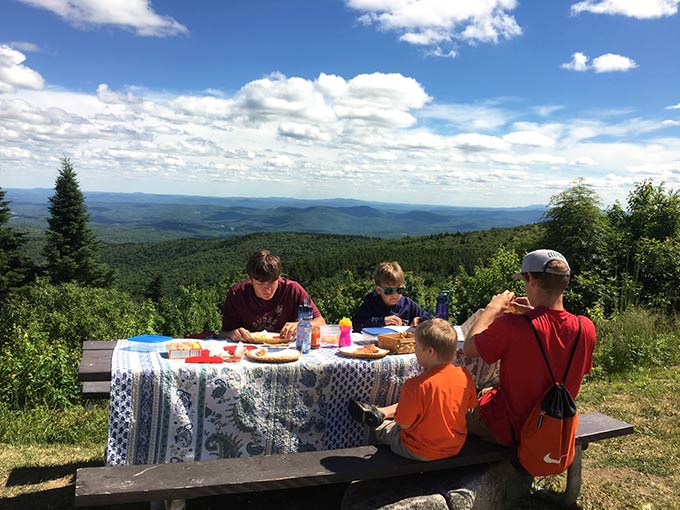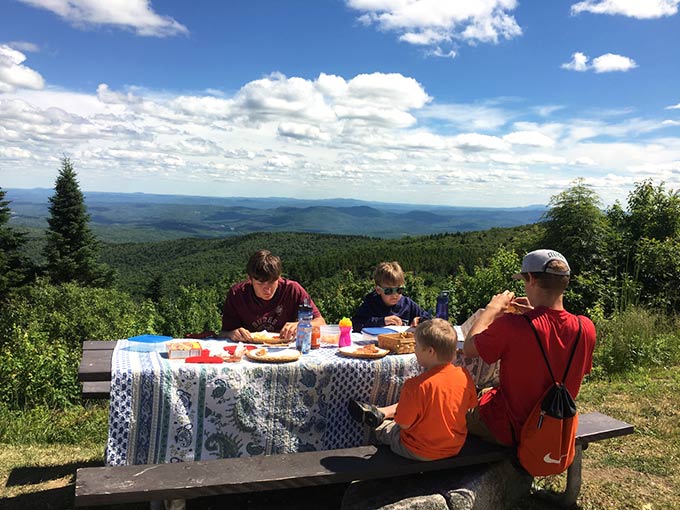 So Mt. Kearsarge seemed the perfect choice to hike with Hudson because you drive the first three and a half miles on the auto road to the picnic area. And from the picnic area it's an easy 1/2 mile hike to the summit.
Hudson is six now, mostly non-verbal. And while he didn't start walking 'til he was nearly four, he's getting steadier on his feet every day. Jon and the boys figured he'd be ok with the short hike.
So up the auto road they drove, picnicked first, then headed up the mountain on foot. After a couple minutes, Hudson tripped. Looked like a twisted ankle, though it didn't show swelling. Since Hudson can't talk, he can't say what hurts. But he refused to put weight on it, even with lots of encouragement.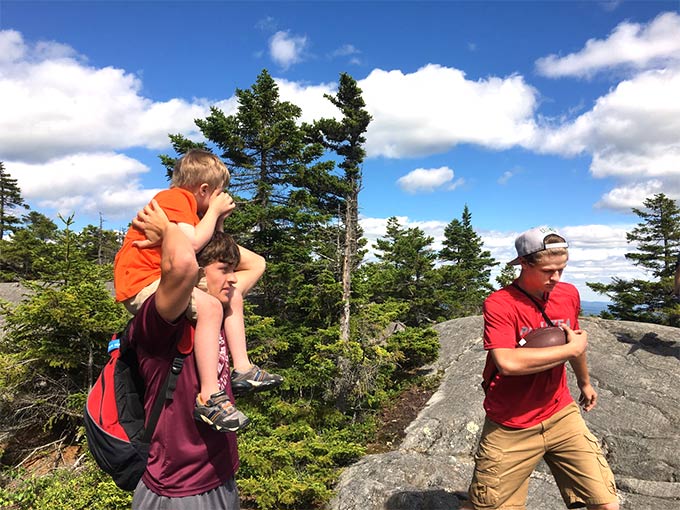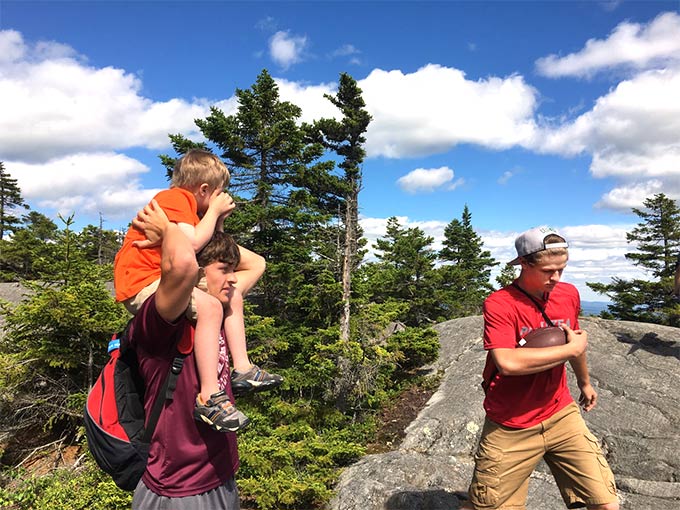 So the boys hoisted him on shoulders, passed him around 'til they made it to the top.
He ain't heavy, he's my brother.
You should know that Hudson is forty-three pounds. Forty-three pounds of completely dead weight. He's of no help, a virtual sack of potatoes. And carrying him up a mountain is no small feat.
When they got to the summit, he sat in one place, refused to walk there either. So they carried him on shoulders for the hike back down too.
When they get to the parking area, they set him down. And guess who races off to the car all smiles and ready to go? Hudson, that's who. The Boy Who Cried Wolf.  (True story.)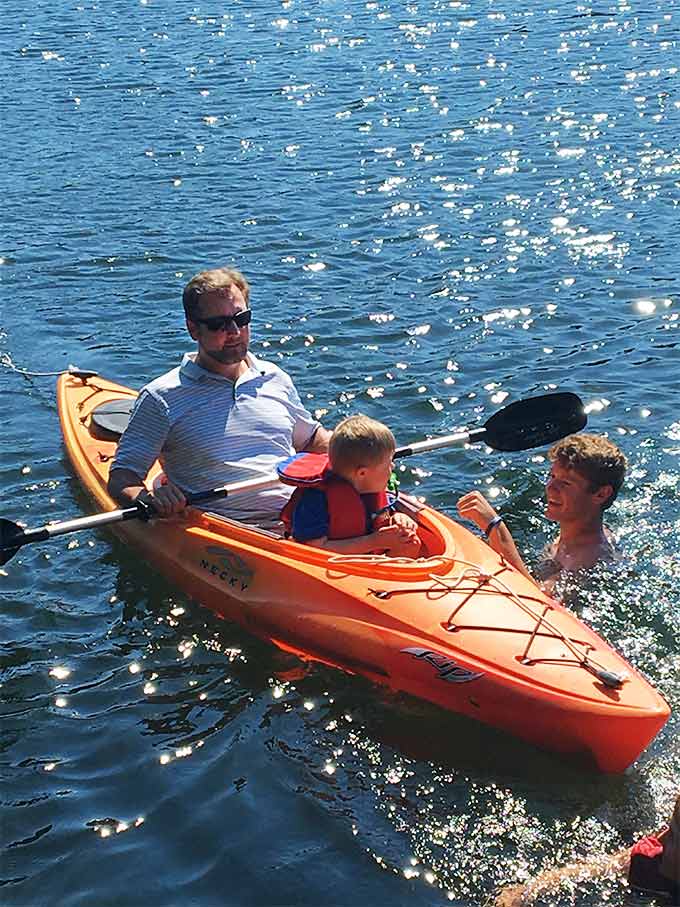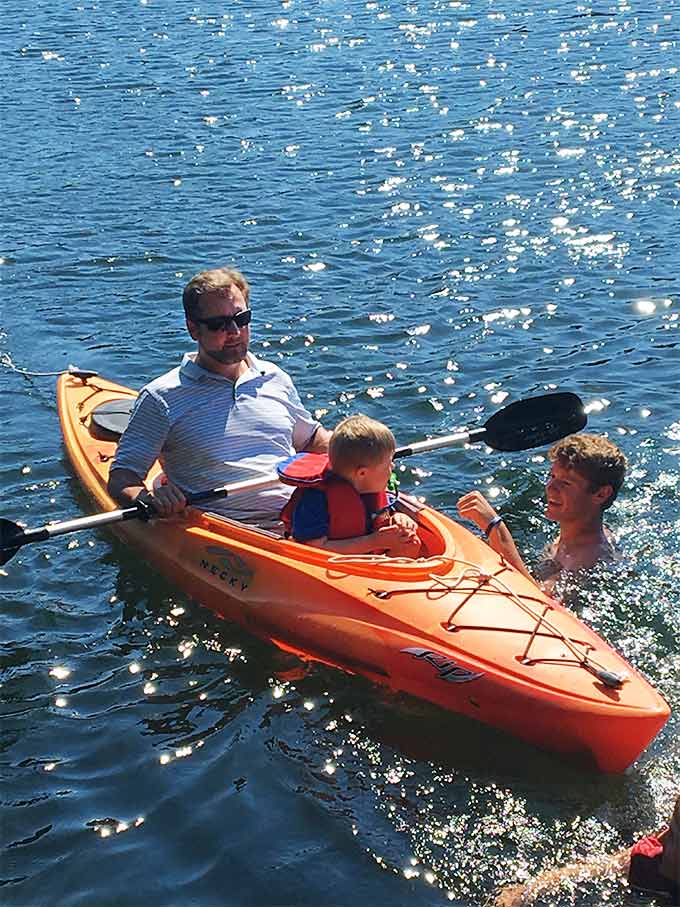 People often ask me if I think Hudson is making progress. And I say yes and no. Because progress is often so slow that it's nearly imperceptible on a daily basis.
Hudson's always been petrified of water. But just last week at my aunt and uncle's at the Cape, Hudson nervously (but willingly) got in a kayak with his dad, had a wonderful ride across the glassy pond. Then later that afternoon, he made his way back to the kayak, pointed to it. His way of asking for another ride. Progress. Baby steps.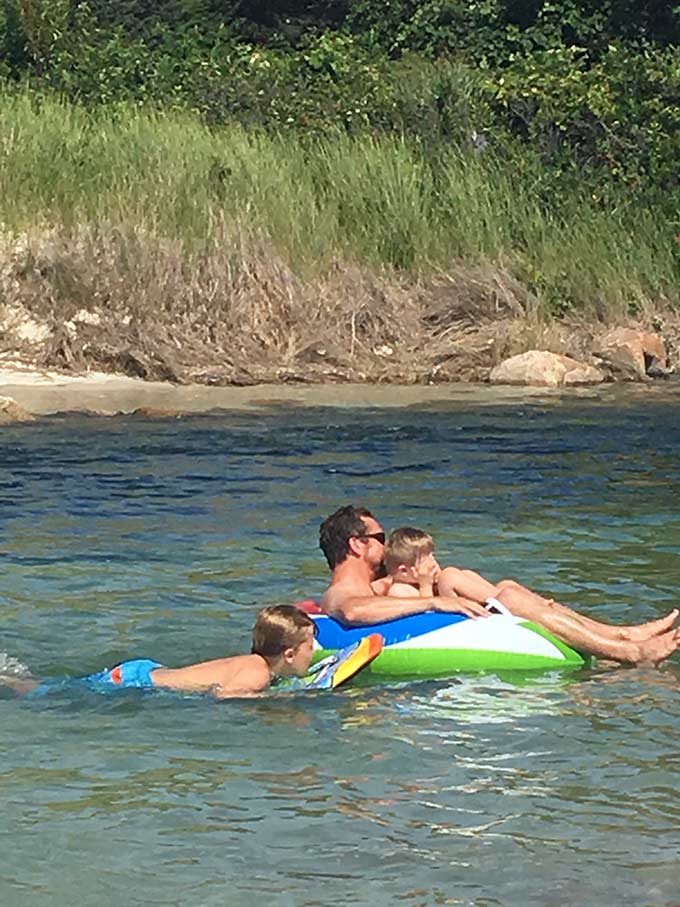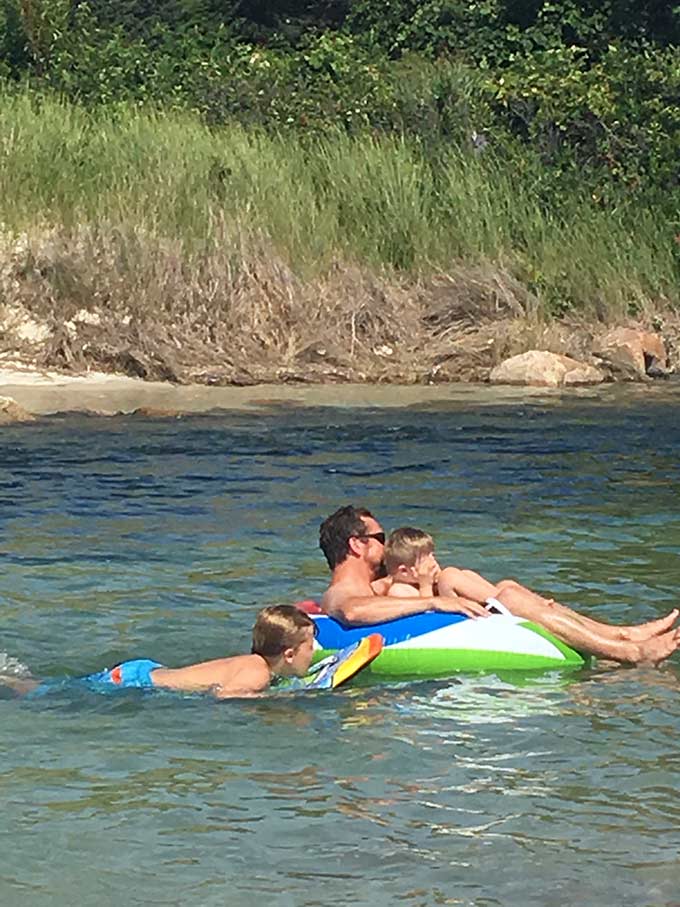 Later that week he rode a tube with his dad down the current of the natural lazy river at Woodneck Beach in Falmouth.
And this may sound like a crazy one. But Hudson won't eat ice cream. Nope. He's always had sensory issues eating cold things, and always refuses it.
But after mini-golfing at the Cape last week, one of the boys coaxed a reluctant Hudson to try a taste of vanilla ice cream. And guess what? Mikey liked it! And he's been sampling ice cream ever since. So YAY Hudson, and yay us! One more thing we can do together.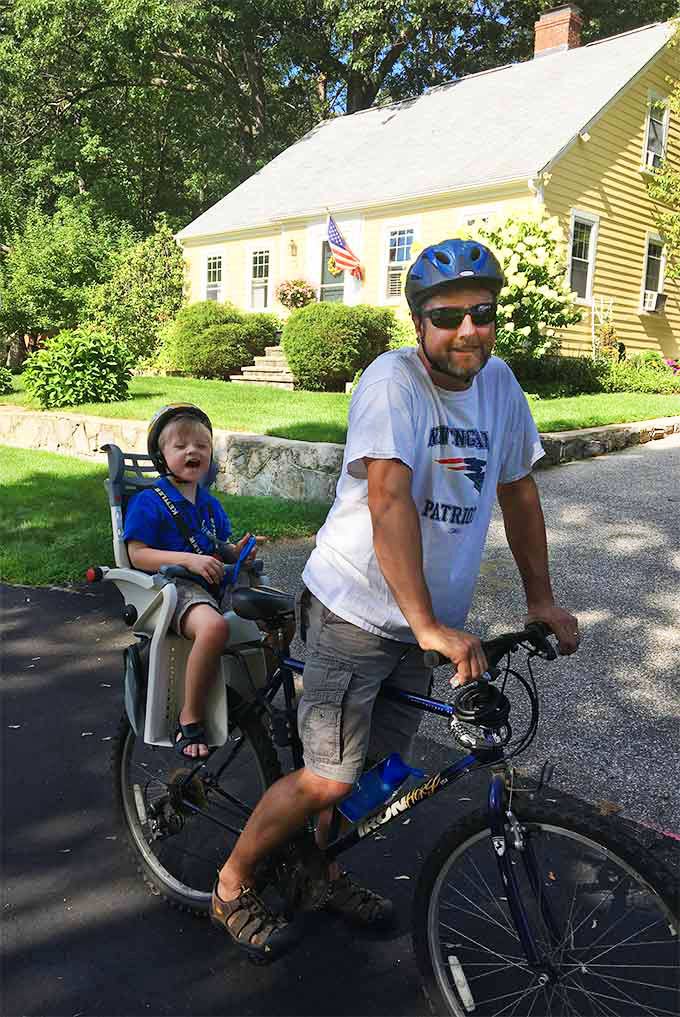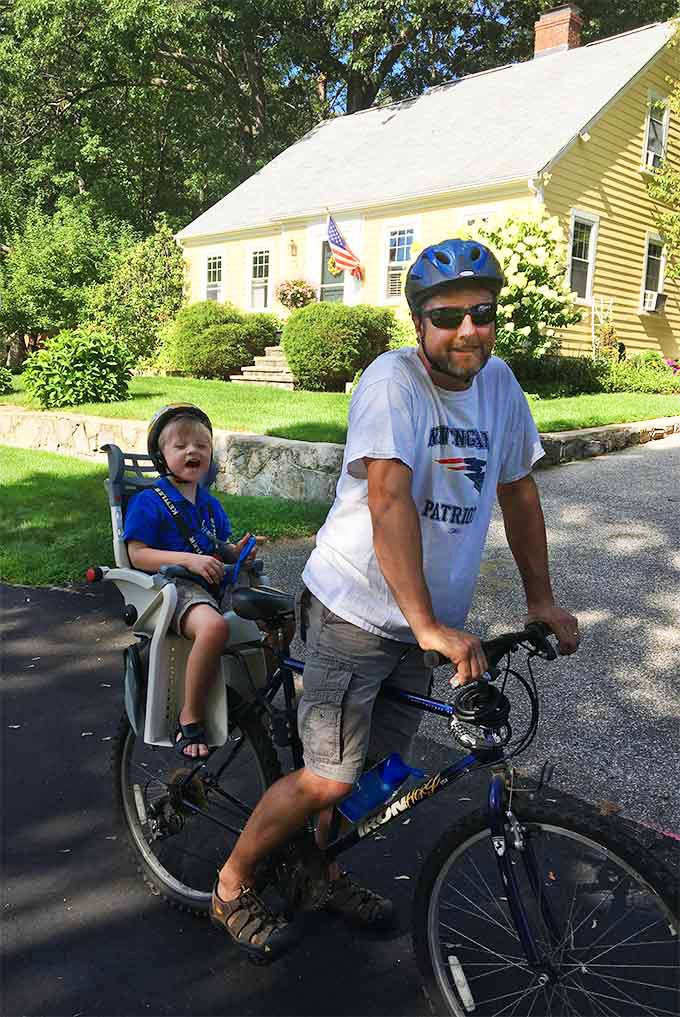 Each baby step forward reminds me that Hudson and all people with special needs are far more like the rest of us than they are different. Maybe they're just taking the scenic route.
You may also like: Going on a Bear Hunt