Lemon Slice Recipe: rich and lemony, these buttery Lemon Slice bars will take you back to the glass case at the old-fashioned bakery. Fresh lemon juice & zest give spectacular flavor!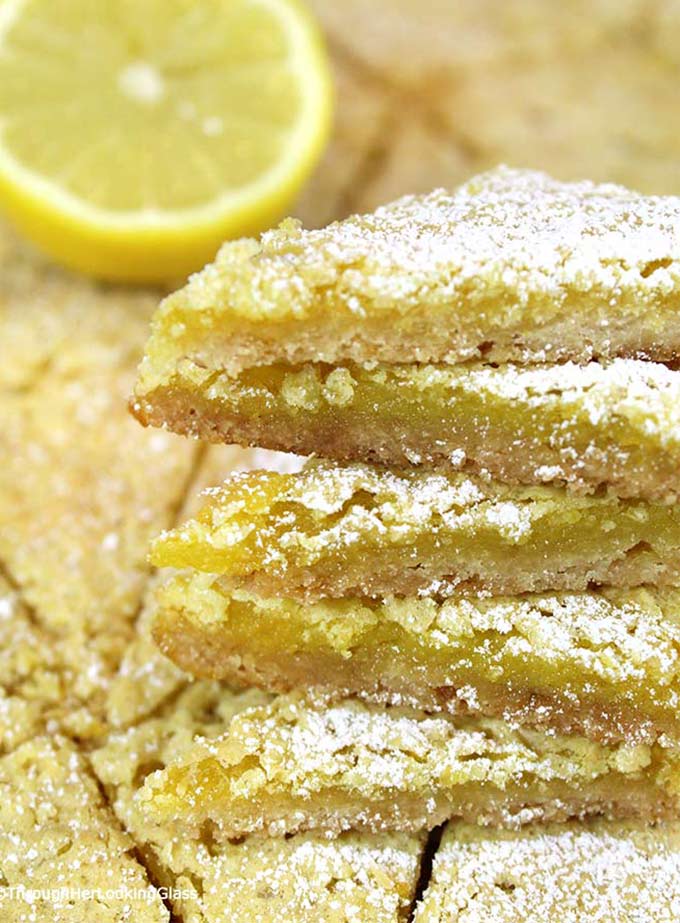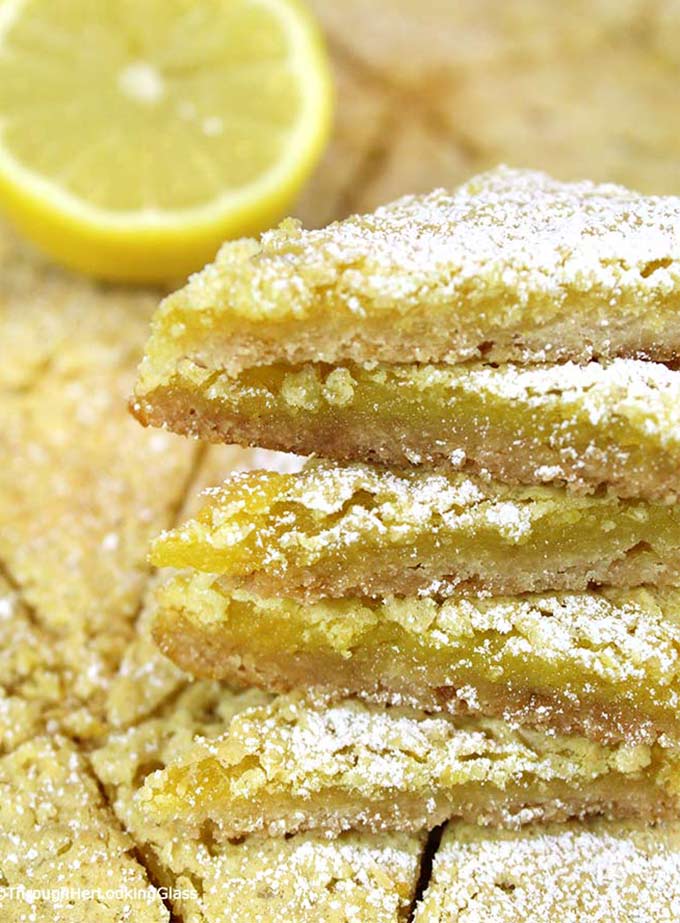 Well spring has finally sprung in New Hampshire and summer is not so far off. Fresh lemons and all things citrus remind me of springtime. Last week I had Old Fashioned Fresh Squeezed Limeade on the brain and this week I'm baking with fresh lemons. That mouth puckering tart and sweet, lemony flavor are irresistible this time of year.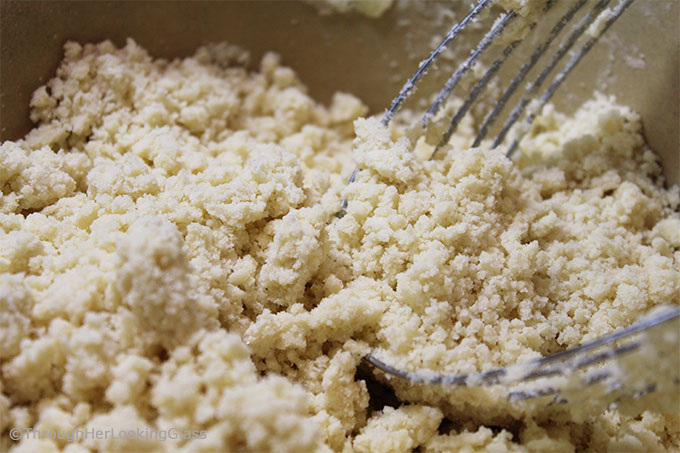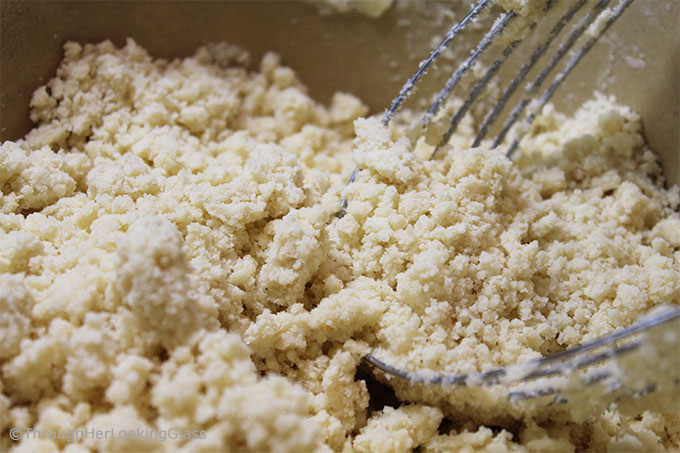 Do you have fond memories as I do of standing in front of a glass bakery case as a child? The glass case I remember most vividly was at Gregg's Restaurant in Warwick, RI. Gregg's has been voted many times "best desserts in all of Southern New England", and I don't doubt that is truth.
The glass dessert case at Gregg's was a round refrigerated one, taller than me, that slowly revolved. After dinner, every kid in the place would end up there, gawking and wide-eyed, as the immaculate case filled with whipped-cream dolloped slices of pie and cake, eclairs and every kind of cookie and bar known to man slowly revolved. Today, Gregg's is still most famous for their enormous eclairs – "large homestyle eclairs filled with our own fresh Bavarian cream and topped with thick, rich, dark chocolate fudge frosting." In a word, the eclairs at Gregg's are heavenly.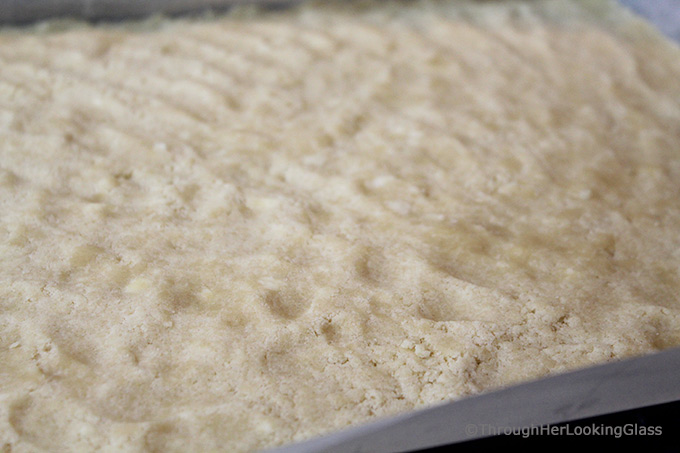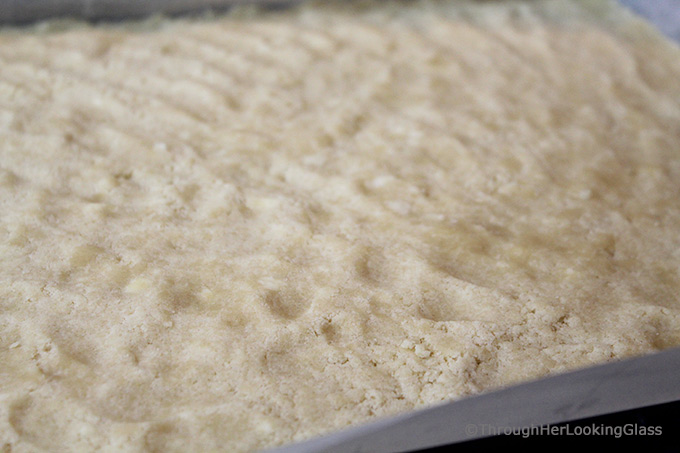 I don't find myself standing in front of a glass bakery case all that often these days. In fact, I avoid them like the plague – because I have great difficulty resisting the pies, cakes, cheesecakes and pastries that whisper my name. But if I do find myself in that delicate situation – I'm on the lookout for one of two things: Raspberry Crumble Shortbread Bars or these old-fashioned Lemon Slices. (FYI, The King Arthur Store in Norwich, VT has a lovely pastry case filled with irresistible fresh, homemade cookies and bars.)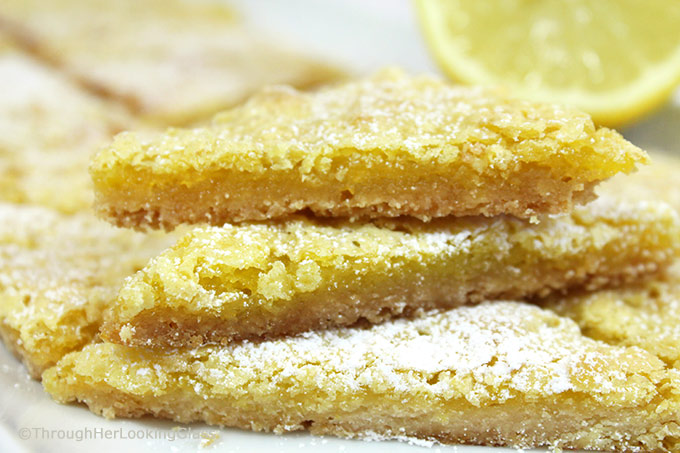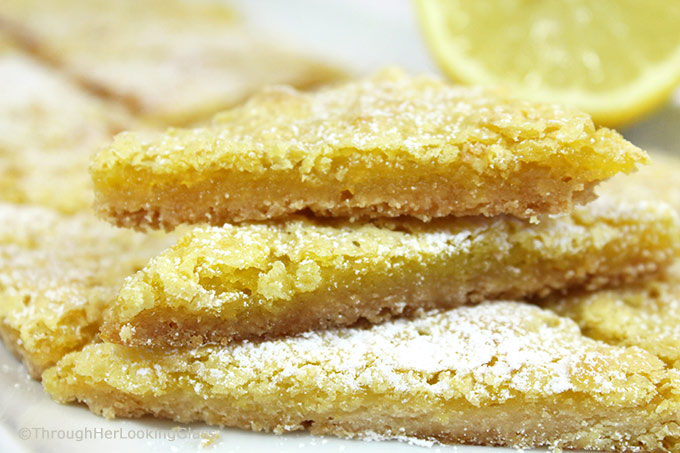 My mom and I have been been making this Lemon Slice Recipe for as long as I can remember and they're so easy to make too. This recipe makes a big panful. The slices are thin, buttery and crunchy and it's hard to stop at just one.
Cut the butter into the flour and sugar with a pastry blender as you do when making pie crust. When all the butter is incorporated evenly (but the mixture is still crumbly), press the dough evenly into the bottom of a parchment lined cookie sheet that has sides. Bake in the oven. Meanwhile, beat eggs together with sugar, lemon juice and zest. Remove crust from the oven and pour the lemony egg mixture over hot crust. Bake until the top is just turning golden brown. Cool, then cut into triangle shaped wedges. Dust with powdered sugar.


Tips for making this Lemon Slice Recipe:
Use a parchment-lined cookie sheet with sides – I used a jelly roll pan that is 11″ X 17″.
Pay close attention to the size of your baking pan. If it's smaller than mine – your bars will be thicker. And if the pan is larger, they'll be thinner. These bars are good thicker, but I don't think you'll want them much thinner, so I don't suggest using a larger pan. You'll definitely need to adjust baking times for a different size pan – a smaller pan will take longer to bake and a larger pan bakes faster.
Use fresh lemons for fresh squeezed lemon juice and lemon zest.
Once cool, cut into squares and then in half again for triangles.
Dust lightly with powdered sugar.
These freeze well – I make a panful and freeze half in a freezer zip-loc bag for later.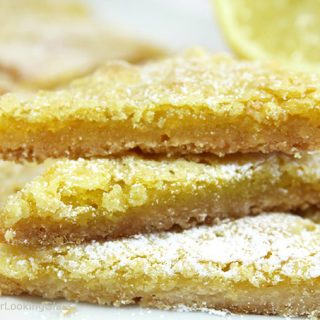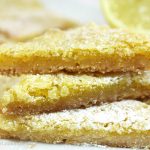 Print Recipe
Lemon Slice Recipe
Ingredients
Crust
2

cups

flour

1

cup

butter

1/2

cup

white granulated sugar
Lemon Filling
4

large eggs

well beaten

2

cups

white granulated sugar

6

tablespoons

fresh squeezed lemon juice

2 - 3

tablespoons

lemon zest

grated lemon rind

4

tablespoons

all-purpose flour

1

teaspoon

baking powder
Instructions
Crust
In a medium sized mixing bowl, mix together 2 cups flour and 1/2 cup sugar.

Cut in 1 cup butter with a pastry blender (or with a fork )as if for a pie crust.

When butter is evenly incorporated and mixture is still crumbly, press into a parchment-lined cookie sheet or jelly roll pan with sides. I used an 11" X 17" pan.

Bake for 20 minutes at 325° or until crust is just turning golden.
Lemon Filling
In a medium mixing bowl, beat eggs well. Add in sugar, lemon juice and lemon zest.

Fold in flour and baking powder.

Pour/spread lemony egg mixture evenly onto hot crust.

Bake an additional 25 minutes at 325° until bars are just turning golden.

Remove from oven and cool completely.

Cut bars into large squares and then in half into triangles.

Dust lightly with powdered sugar.
You may also like: Candied Lemon Cheesecake