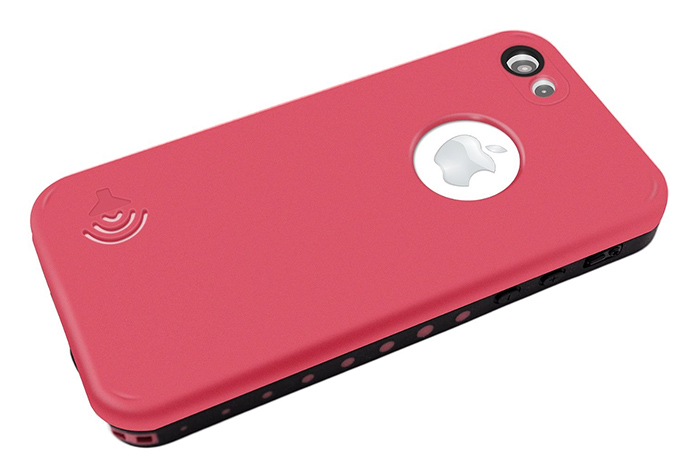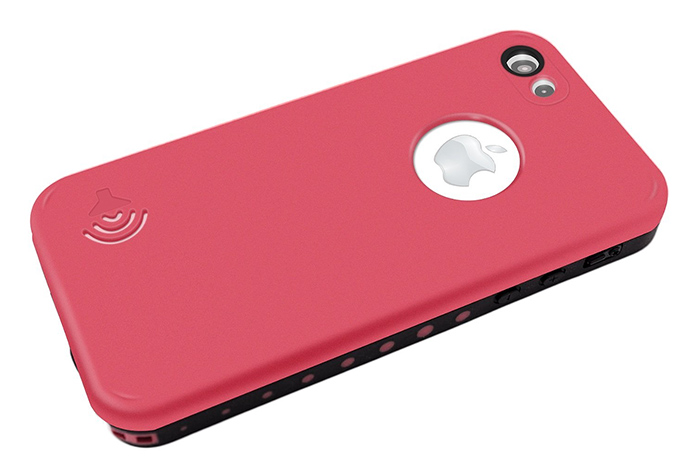 I got the biggest charge the other day, went to download pictures from my phone for the site, got quite a surprise. Oh yeah, Hudson was involved. Let me back up.
You remember Bil Keane's Family Circus comic strip, right? I sure do. Sunday mornings were always exciting when I was little. Why? I'd like to say it was because of church and all, but truthfully it was because the Sunday paper arrived. And tucked inside, with all the advertisements, coupons and Parade magazine, were the comics. Yes, the comics. Exciting to that little person. (Me.)
Just Like Billy by allie taylor


My favorite comic strip was Blondie, featuring that work-avoiding, sandwich-munching, nap-snatching, good for nothing Dagwood, along with Mr. Dithers and crew. I also loved Beetle Bailey. And the Family Circus. Little did I know how true to life the scenes in the Family Circus would prove to be one day. Ha. Lots of confusion, busyness, little boys and love featured in that Family Circus family.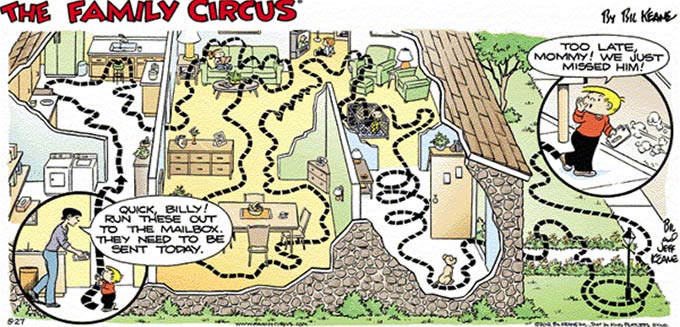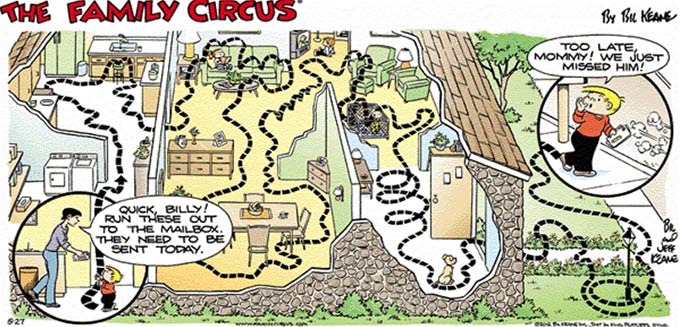 My favorite scenes were the ones where Bil Keane tracked little Billy on his myriad adventures, like the mail box adventure above. The dotted lines revealed the rapidly firing synapses in that curious, busy little Billy mind. I remember sitting on the blue family room sofa on Sunday mornings, the one with the picture windows facing out back towards the plum tree and bird feeders. My feet not quite touching the floor, I'd carefully trace those tiny black broken lines with my pointer finger. Genuinely entertained by each little stop on Billy's journey, what he was up to this time. Which was usually avoiding a task or job he'd been assigned. It wasn't that he was necessarily naughty, he was just easily distracted from the task at hand. (Hmmm….nothing like that ever happens in our house. Sigh.)
So last week Hudson and I are home alone for a few hours and I have to go out later, so I've got to sneak in a quick shower. I put Curious George on for Hudson, leave the bathroom door cracked in case there's an emergency. (Let me just say for starters that Curious George is probably not the best cartoon choice for Hudson. He doesn't exactly need any ideas or encouragement.) No sooner is the shower going and I'm in, than I hear the bathroom door creak open. Oh great. I sneak peek through the tiny crack between the wall and curtain. Hudson hasn't figured out yet that when the water's running, there's someone behind the shower curtain. He picks up a magazine, and that's good too, because I don't hear a bang or crash. (Hudson has history: Hudson's Guardian Angel .) And I hope for the best. A few moments later I hear the door creak again and he's toddled out.
So I get out fast, discover my phone's missing. Aha. That's what Hudson was up to, swiping my phone. I ask him where it is. He stares at me blankly for a second, ignores me, continues watching Curious George. If you don't know, Hudson has Down syndrome. He just turned five, doesn't verbalize much, though he gets his point across and understands a whole lot more than he can say. We do a lot of guessing around here.
I troll around the living room looking at Hudson's eye level, try to imagine what I'd do with a pink iPhone-4 if I were him…and in short order I find it stashed under a living room chair, screen still intact. This time. (Wish I could say the same for my iPad.) Phew.
Fast forward to a few days ago. I go to download pictures from my phone. This is what I find.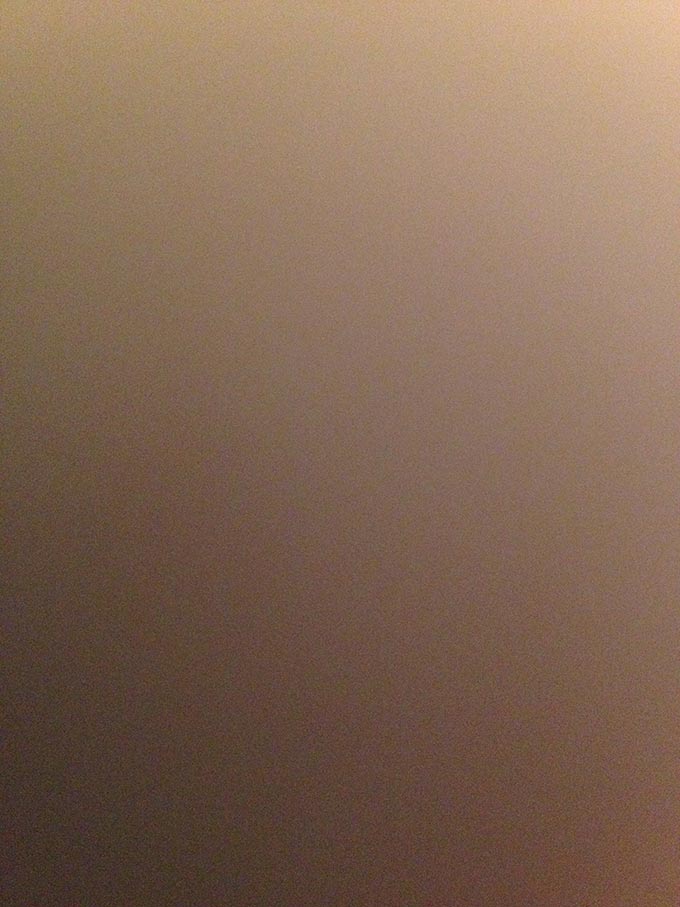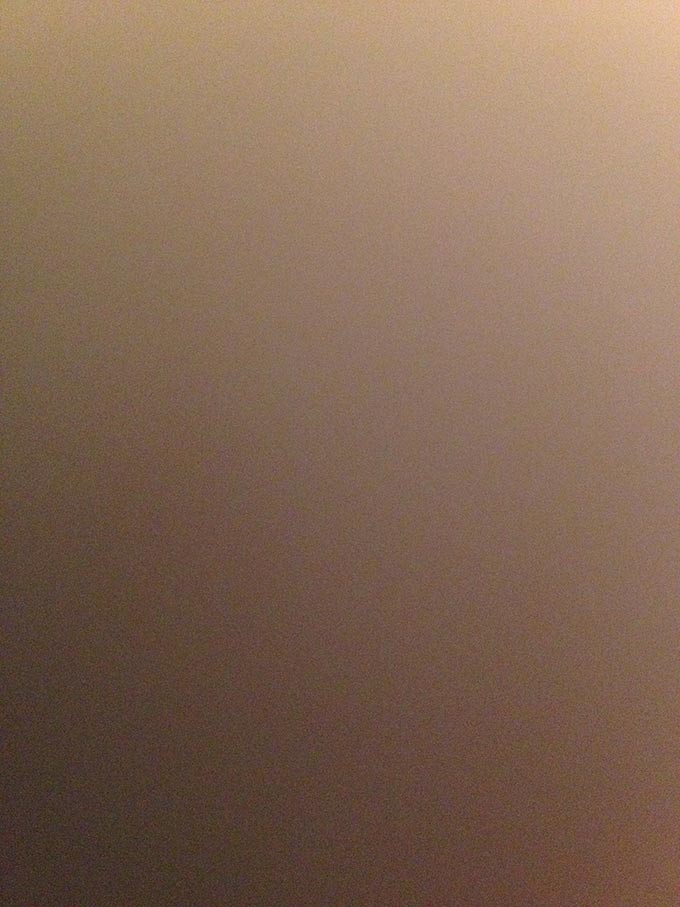 I think his hand is over the lense.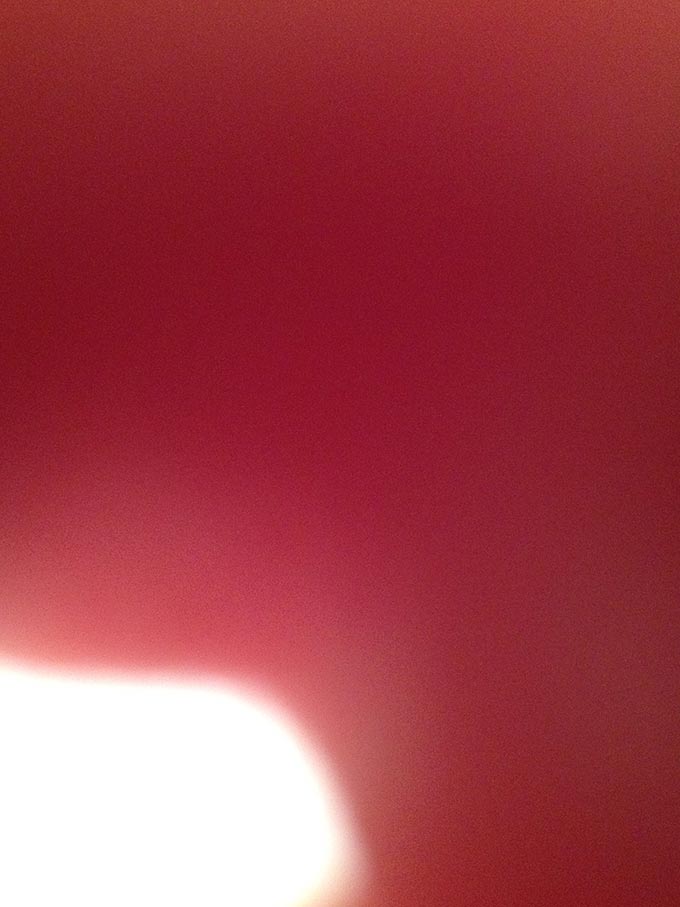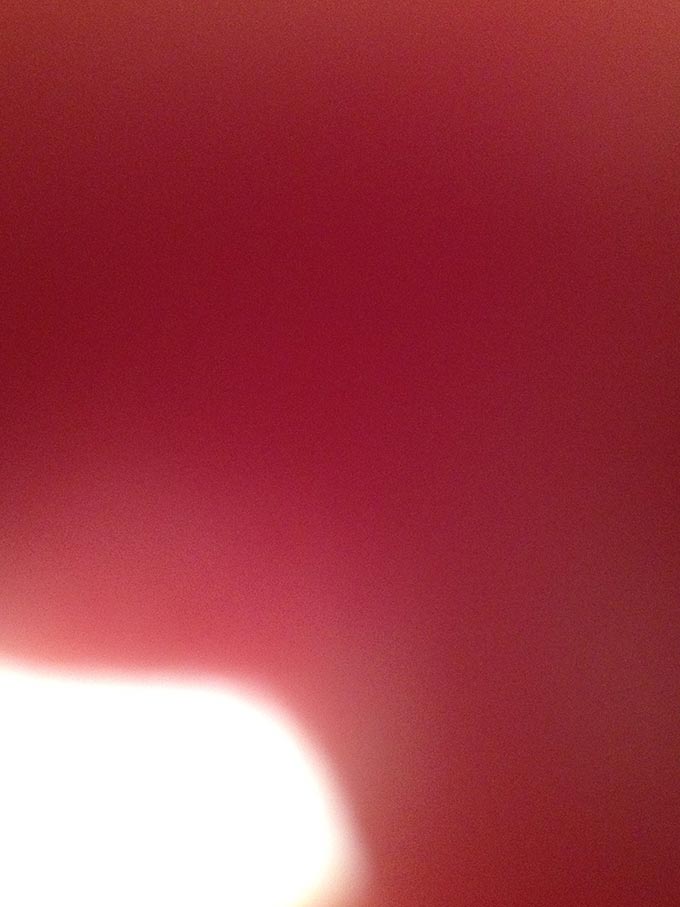 Now it's moving off the lense.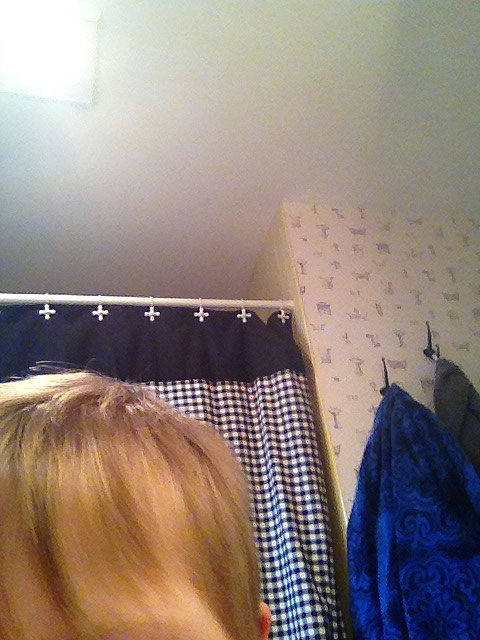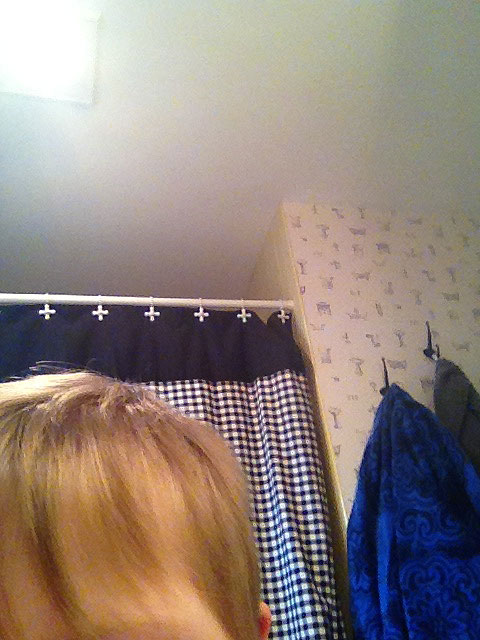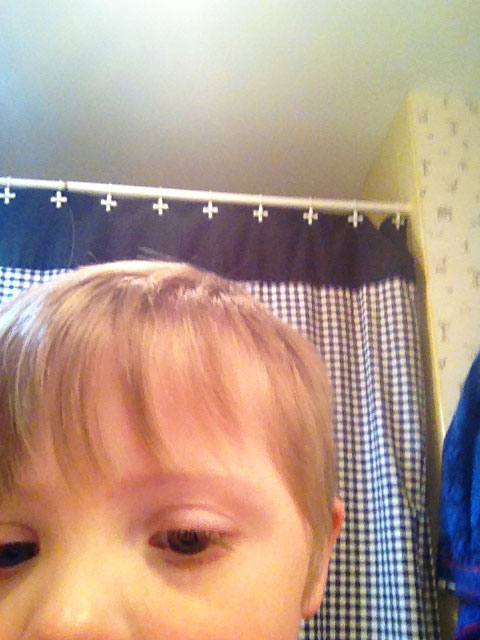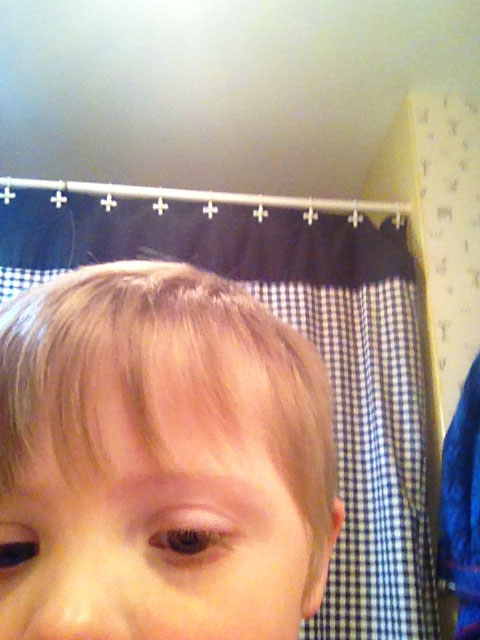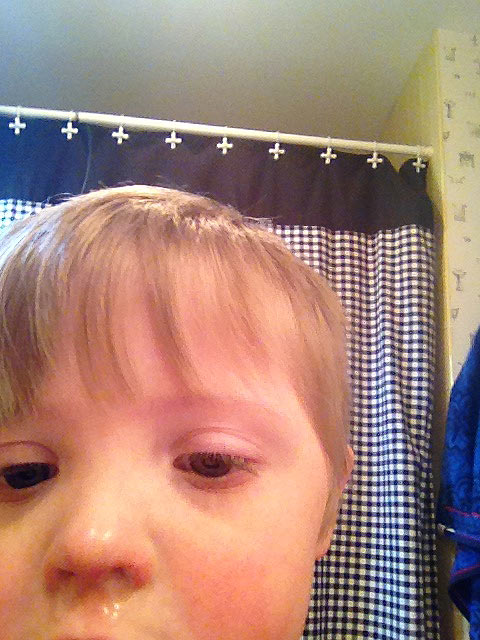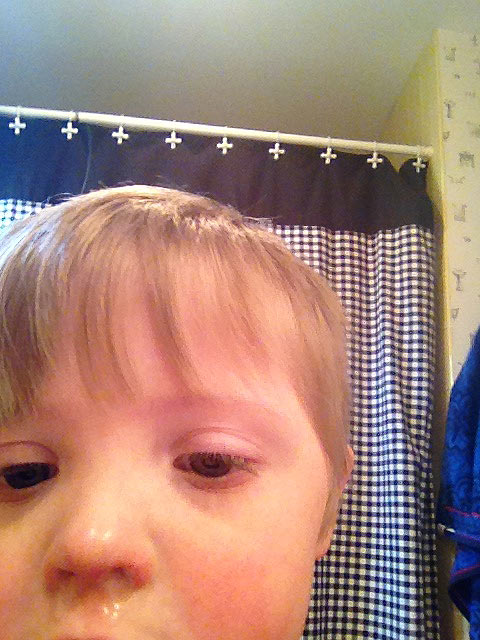 I know, would somebody please wipe this kid's nose???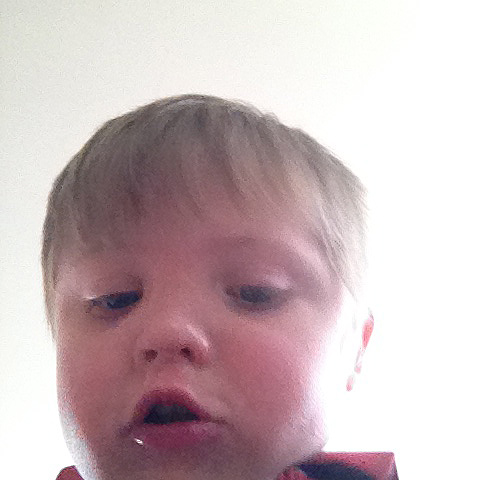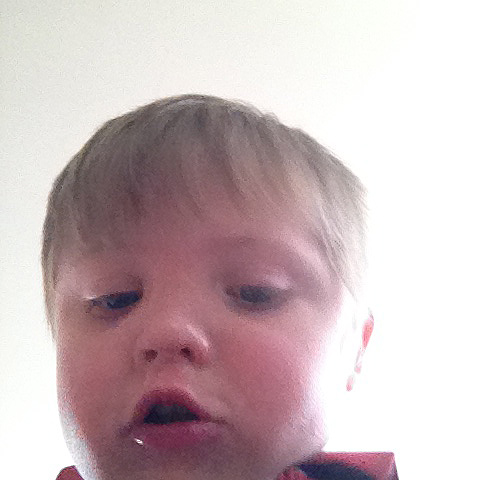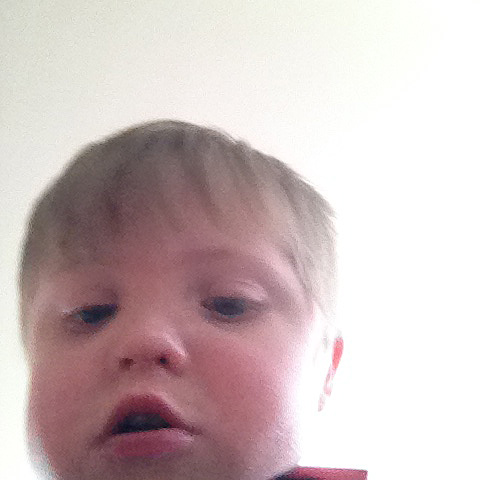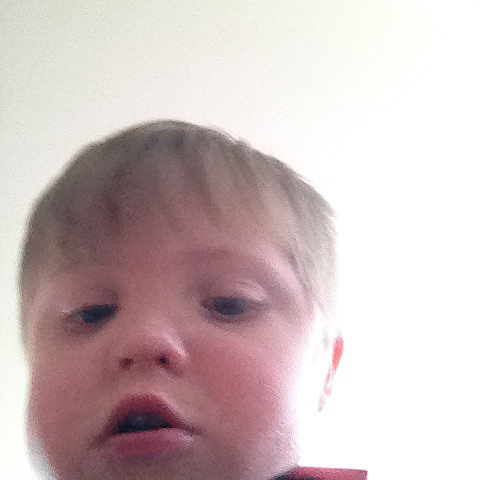 So apparently Hudson has discovered the art of the selfie. In all, he took 21 pictures, so I spared you the full photo gallery. (Your welcome.) These pictures are those little dotted lines revealing those firing synapses in that curious, busy little Hudson mind. Just like Billy.
Hudson makes me laugh.
You may also enjoy: Little Experiment