If you've ever tasted a hearty Homemade Turkey Soup, you know it's chock full of fresh flavor and nutrition. The tantalizing aroma of turkey soup simmering on the stove the day after a big holiday meal is mouthwatering! Follow my simple step by step instructions (with a few surprise ingredients!) for the best turkey soup recipe on the planet.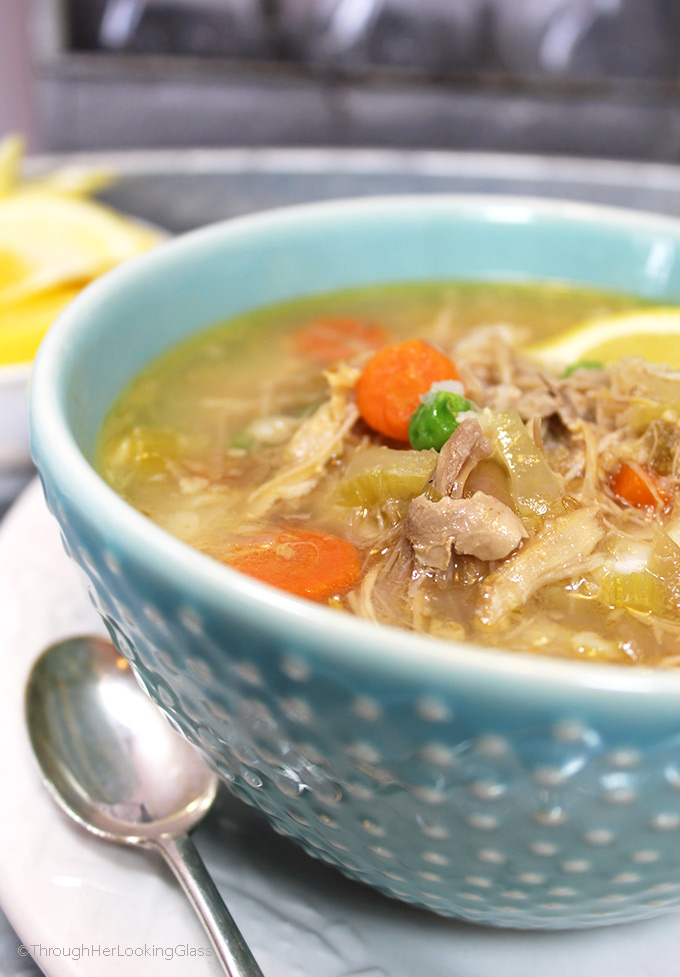 Keep in mind you won't need exact ingredient amounts, because turkeys come in all different sizes. (And don't let that intimidate you either. Trust yourself on this. And trust me too!!! I'll guide you through every step and share all the best tips I know.)
This soup boasts rich broth, tender turkey, brown rice and fresh vegetables. You can easily make this soup and you get to do some taste testing along the way!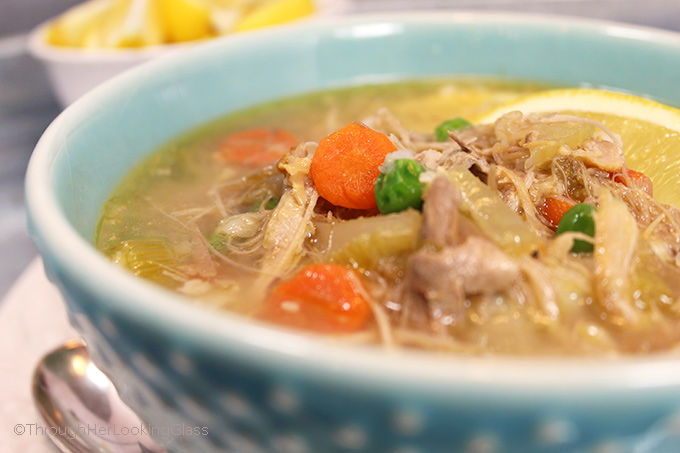 Making turkey soup is a multi-step process. It takes me about a day from start to finish. Most of that time the turkey bones are simmering, but there will be some hands on time at the end. Simple to do once you know the steps and oh so worth it!!!
Homemade Turkey Soup is a delicious and inexpensive meal. It stretches the dollar and freezes beautifully – great for last minute meals or sharing with others. It also makes great use of the turkey carcass, which is often just tossed in the trash these days. (Perish the thought.)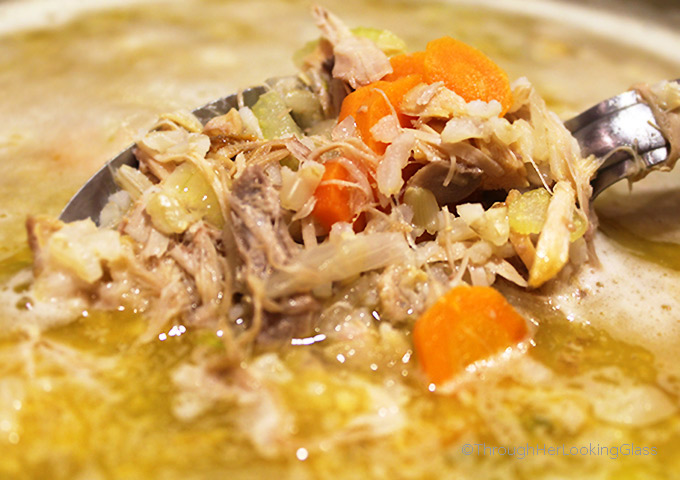 I've always loved the idea of stone soup…making something out of nothing. That's why making turkey soup is so appealing to me. It feeds a big crowd for very little, from something that many would consider trash. And everyone is happy, including my wallet.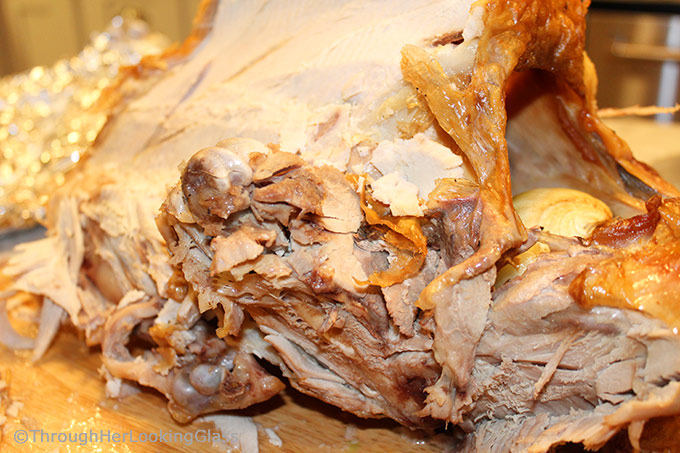 To make this delicious turkey soup, you will need:
A turkey carcass with some turkey meat left on the bones. (Sometimes I use the wings and drumsticks too.)
A large stock pot – big enough for the turkey carcass to fit into. (It's ok if it's on end.)
Two large mixing bowls and a frying pan
Chopped vegetables – celery, carrots, onions
Cooked brown rice or noodles
Small amount of olive oil (for sautéeing the veggies)
Water
lemon juice (fresh is better, bottled is fine)
white wine (cheap is fine)
frozen peas
salt & pepper
optional: lemon pepper seasoning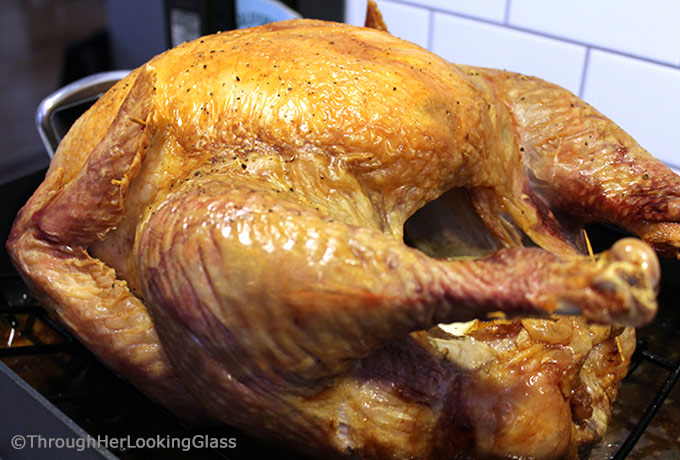 Step #1: Cook a turkey (or use a frozen turkey carcass)
So first off you'll need to cook a turkey or have a frozen turkey carcass on hand. Sometimes I cook a turkey for a big holiday, then freeze the carcass/bones for making soup later.
If you're freezing it, keep in mind that if it's a big turkey, you'll need to have a very large freezer bag or container on hand. (And lots of room in your freezer!)
If you've never cooked a turkey before or need a refresher, here's the simple version below. You can always google for more information or check out this post.
Remove the neck and giblets from the cavity.
Pat the turkey dry with paper towels.
Salt and pepper the bird thoroughly, inside and out.
Place in a large roasting pan and roast uncovered at 325° for approximately 15 minutes per pound. Or until an internal meat thermometer registers 165°. (Just be sure it isn't touching a bone, I place it in the thigh.)
Remove turkey from oven and let it rest for 30 minutes before carving. (This allows the juices to absorb back into the meat and keep it tender.)
Leave a small amount of turkey on the bone for making the soup.
The larger the turkey, the more soup it will make, so keep that in mind when purchasing your turkey. Last Thanksgiving I cooked a 33 lb. turkey and made (and froze!) over ten quarts of Homemade Turkey Soup. It's been wonderful having the soup on hand in the freezer whenever needed.
You can use the carcass/bones to make the soup immediately. Or refrigerate it for a few days before making the soup. Or freeze it for later use. I usually make the soup immediately or freeze it, since I never have lots of extra room in my refrigerator. If it's the right season and below 40° outside, use your back deck as a refrigerator. (I do that often when making this soup.)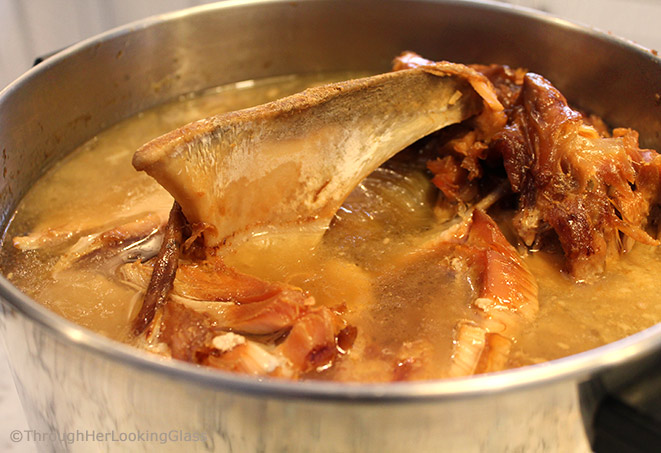 Step #2: Cover the the turkey carcass with water and simmer
Place the turkey carcass (and wings and drumsticks if you like) in a large stock pot. (You may have to place it on its side.) That's ok. It might stick up out of the pot. That's ok too. As it simmers, the bones will begin collapsing and it will eventually fall down into the pot.
Cover the carcass with water.
Cook on high heat on the stovetop until it comes to a full boil. (Be sure to stay nearby!)
Then turn the heat down to low, place the cover on the pot and simmer for 8-12 hours.
I often cook it on low through the night. I start the soup simmering at night before going to bed and let it simmer, covered, all night. You may be uncomfortable with doing that, so think about the timing. You may want to start early in the morning and simmer it all day.
Step #3: Optional – Refrigerate/chill the soup and skim off fat
This step takes a little time, but it makes the soup healthier and less greasy. You'll notice once the soup is chilled that the fat rises to the top and solidifies.
The soup itself will also become very thick and congealed. The soup is so thick because there is natural gelatin from the bones. That gelatin makes for a wonderfully thick and nutritious soup. (And don't worry, it will thin out again when re-heated.)
Skim off the top layer of fat with a large spoon and discard.
Step #4: Remove the skin and bones from the pot
This is probably the least pleasant part of the soup making process. (And note I did not provide pictures, lol.) You'll need to remove the skin and bones from the pot. After decades of making this soup, I finally have the process down to a science.
First, get a helper if you can. Sometimes Jon helps me. For this last pot of soup my son Jacob helped me. Doing this job with two people makes it go so much faster and helps me not miss anything. (Big tip: play pleasant music, listen to a podcast, or listen to the Funky Chicken Song. That's what I do. Makes the time fly by!)
Removing the bones is a very important process, because some of the bones are very tiny and others have may have disintegrated a bit while cooking. You'll want to be very careful to remove every single bone to minimize the possibility of choking.
Warm your soup slightly at this point, just enough so you can easily get to the bones and aren't fishing through cold, thick congealed soup. (Yuck.) Note: you may even want gloves for this process.
Put a large mixing bowl on either side of your stock pot.
Using a large slotted spoon or large pair of tongs, pick through the soup looking for meat and bones.
You will need to separate the meat from the bones.
Into one large bowl, put pieces of turkey.
Into the other bowl put skin, bones, cartilage, connective tissue and anything else that looks inedible.
Once all the meat, bones and skin have been removed from the broth, pour it through a fine mesh metal sieve into another large stock pot if you have one. (If you don't, use a slotted spoon to carefully find all the bones.)
Pick through what remains in the sieve to see if there is any good meat to add to the soup.
Discard the skin and bones.
Add the turkey meat back to the turkey soup in the stock pot.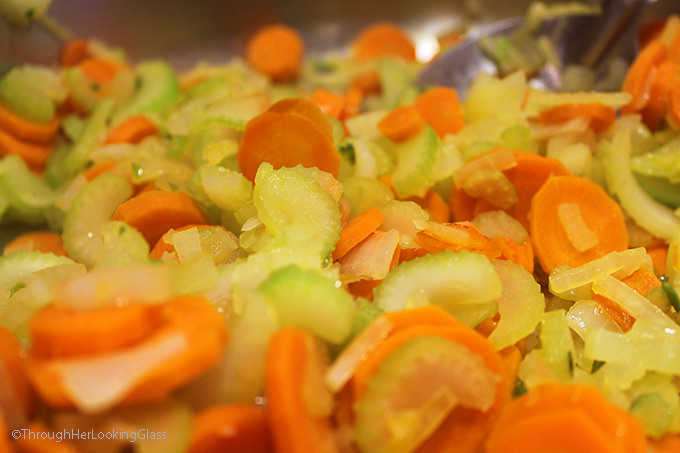 Step #5: Add sautéed vegetables and cooked rice
Now is the time to sautée the onions, carrots and celery in a bit of olive oil on the stove top in a frying pan over medium heat.
Once vegetables are softening and onions are translucent, add them to the soup.
I usually use a couple of large chopped carrots, two stalks of thinly sliced celery and a couple of medium onions diced. Add more vegetables for a larger soup, less for a smaller one.
I keep ziploc bags of cooked rice in my freezer most of the time so I can easily add to soups when needed.
If you don't have leftover rice on hand, cook some according to the package directions and add to the soup.
Be sure your rice is cooked before adding to the soup.
I usually add 1-3 cups of cooked rice to my soup, depending on the size of the turkey and soup.
Be aware that the rice will absorb some of the turkey broth, so don't add too much rice or you'll be short on broth later.
You can easily use cooked noodles instead of rice. This is a delicious alternative! I suggest cooking the noodles separately, then adding some noodles to each bowl individually before ladling the soup on top. This keeps the noodles from getting mushy and also absorbing too much of the turkey broth in the soup pot.
Step #6: Add lemon juice and white wine
This is definitely what sets this soup apart to me. A combination of lemon juice and white wine really deepens the flavor of the turkey broth. I usually add twice as much white wine as lemon juice. The combination of lemon juice and white wine gives great flavor, and allows you to use less salt when seasoning.
Try pinot grigio or any leftover white wine you may have on hand.
It doesn't need to be an expensive wine, a cheap one does the trick.
Add twice as much white wine as lemon juice.
Start with 1/2 cup of lemon juice and a 1 cup of white wine. Taste test and add more if needed.
Fresh lemon juice is great, but bottled works fine too. I've used both with great results.
The best way to know how much to add is by taste testing. Lucky you.(!)
Step #7: Season the soup and add frozen peas
Now it's time to season the soup with salt, pepper and maybe even lemon pepper!
Taste the soup to see if it needs seasoning.
You'll typically need less seasoning with this recipe because there will be great flavor with the lemon juice and wine.
Start by adding a teaspoon of salt and a half teaspoon of pepper.
Taste the soup, and add more seasoning incrementally in small amounts if needed.
Just a few minutes before serving, add frozen green peas to the mix.
I often add a 10 oz. frozen bag of peas to a large pot of soup and just half the bag for a smaller pot.
Adding peas at the last minute keeps their bright green color, retains the nutrients and keeps them from getting mushy and overcooked.

Extra tips for making Homemade Turkey Soup:
Freeze a turkey carcass for later if you can't make the soup right away – it will keep fine in the freezer for a few months.
If you make a big pot of soup and it doesn't get eaten right way, the rice or noodles will absorb a lot of the broth. Refresh your soup with extra store bought chicken or turkey stock if needed.
Add frozen sweet peas just before serving to preserve color and flavor.
Season with salt and pepper according to taste, lemon pepper seasoning is a nice option.
Other recipe ideas using fresh turkey: Southwest Leftover Turkey Soup, Thai Turkey Soup and Turkey Noodle Vegetable Soup.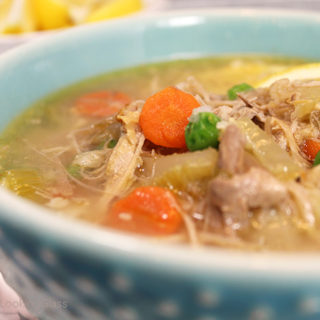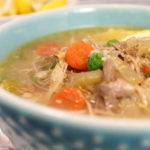 Print Recipe
How to make Homemade Turkey Soup
Ingredients
Turkey carcass with some meat left on the bones

water

2

carrots

or more peeled and chopped

2

celery stalks

or more chopped

2

medium onions

or more diced

a couple tablespoons of olive oil

or more if desired

1/2 - 1

cup

lemon juice

fresh or bottled

start with a 1/2 cup and add more to taste if desired

1-2

cups

white wine

pino grigio or whatever leftover white wine you have on hand

Start with one cup and add more to taste if desired

salt & pepper

optional: lemon pepper
Instructions
Place turkey carcass in large stock pot. (Fine if it's on end or sticking up out of the pot.)

Cover carcass with water.

Bring to a full boil, uncovered.

Reduce heat to low, cover pot, and simmer for 8-12 hours.

Add more water to keep carcass covered if needed.

Remove pot from heat and cool.

Chill/refrigerate soup until fat rises to the top and congeals.

Remove fat layer from the top of soup by skimming it off with a spoon and discarding.

Warm soup slightly over low heat on the stovetop.

Remove bones and skin from the soup and discard. See post above for tips to simplify this process.

Be very careful to remove all the tiny bones, as they are a potential choking hazard.

Once you think you've removed every bone, pour turkey broth through a woven metal strainer.

(For best results, see my tips above about the process.)

Heat soup on stovetop on medium high, stirring often.

Meanwhile, in a frying pan on the stovetop, sauté chopped celery, carrots and onions in a few tablespoons of olive oil over medium heat, until vegetables are just softening and onions are translucent.

Add sautéed vegetables to the soup and heat thoroughly.

Add cooked rice.

Add lemon juice and white wine.

Season with salt and pepper.

(I start with a teaspoon of salt and a 1/2 teaspoon of freshly ground pepper and taste test, then adjust if needed.)

A few minutes before serving, add frozen sweet peas.

Enjoy steaming hot with a slice of crusty fresh bread!
You may also like: Hearty Split Pea and Ham Soup