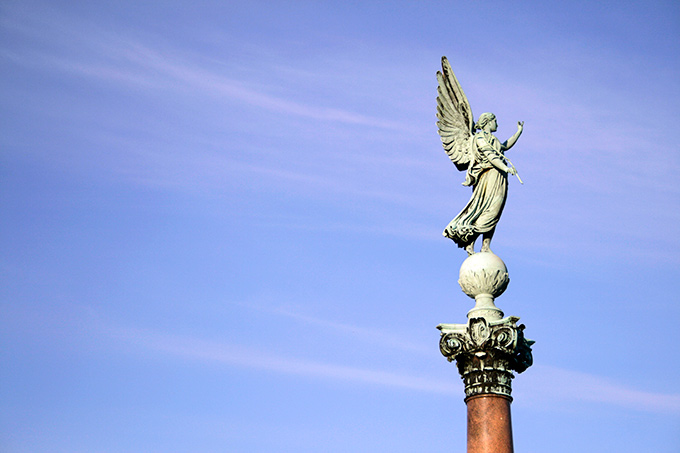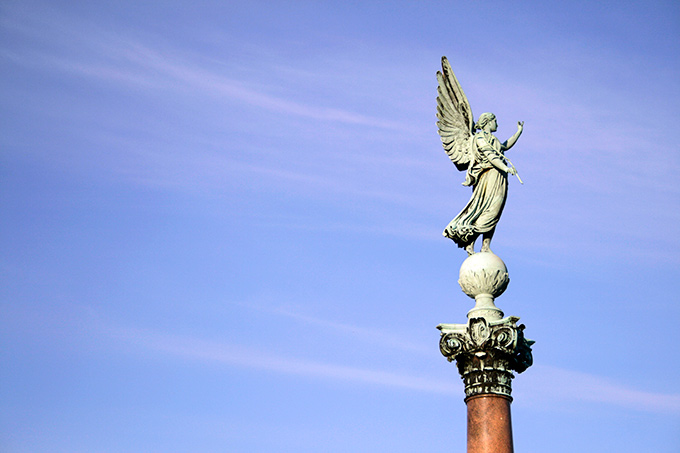 I like to imagine what it was like when our Hudson was born nearly five years ago and the search for his guardian angel began in earnest in the heavenly realms. (If you're new, Hudson has Down syndrome.)
Maybe God posted an announcement something like this: "We've got a new job opening. There's a precious baby about to be born by the name of Hudson. He's very special, got an extra chromosome, and it's gonna take an incredibly kind, focused and attentive angel for this job. One that has infinite patience, understands Hudson's little fixated ways, idiosyncrasies, mischief. His unpredictability, his curiosity. His sweet, happy nature. His lack of restraint. Only serious, dedicated, focused guardian angels need apply."
I'm sure the interviews were thorough and the perfect angel for Hudson was chosen. I'm confident of this, because his guardian angel works round the clock protecting Hudson, mostly from himself. We've seen his angel in action. Well we haven't actually SEEN him, just proof of his work.
There's the time I heard the big crash from Hudson's room last year. I knew he'd toddled up the stairs, heard him through the baby monitor, happily playing with toys, looking at books. When all of the sudden:
BANG!
CRASH!
And a blood curdling Hudson scream.
I raced up to find him pinned under his bureau. Never before had I seen Hudson touch his dresser, but he obviously did that day. The whole dresser with five drawers jammed full of clothes, the lamp and small book shelf on top crashed down onto him. His head and left arm were still free and I managed to pull the dresser off him with lightning speed. He was crying, scared. But not a scratch. This is how I know Hudson has a guardian angel.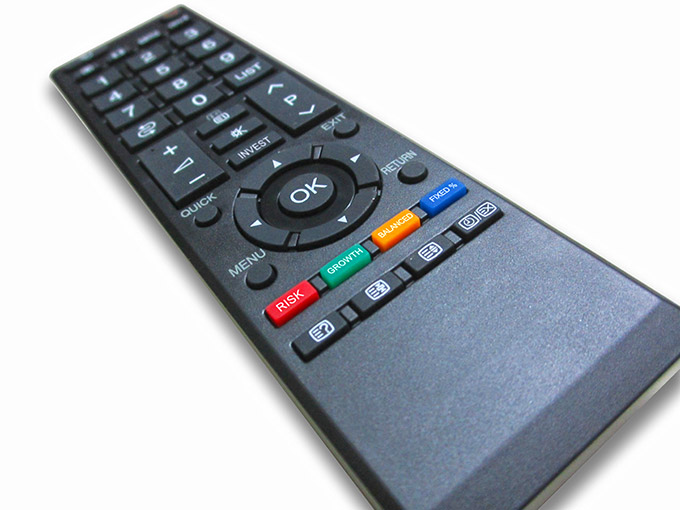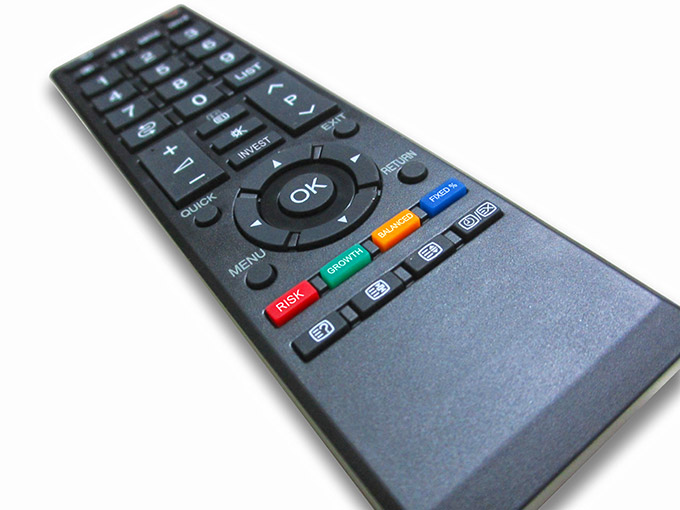 Hudson loves to watch cartoons, and for some unknown reason he's fixated on angling the TV screen that's inside our living room armoire. It's an older flat screen that swivels, and if he pulls on one edge, he can angle it one way or the other. It makes us nervous and he receives frequent instruction about not touching it. We're always there if he's watching something anyway. Until that time we weren't. I was around the corner in the kitchen, heard the crash. He'd somehow pulled the TV down out of the armoire where it crashed onto the floor, hung there by the cords. There's a big gouge in the wooden floor now, and sometimes we have to fiddle with the TV buttons to make it work. But Hudson? Not a scratch on him. Exhale. Thank God for Hudson's guardian angel.
So today's Friday. It's the morning I try to get out the door for Bible study. You know from past how Friday mornings seem to go for me. (Check out: Murphy's Law.) It's early and Jon and the boys are running late, still making lunches before heading out. I dash to get a quick shower, hear crying from the bathroom. I race to the kitchen, find Hudson sitting on the floor. The scene: he's mad, shaking a lidded plastic peanut butter jar he apparently wants open.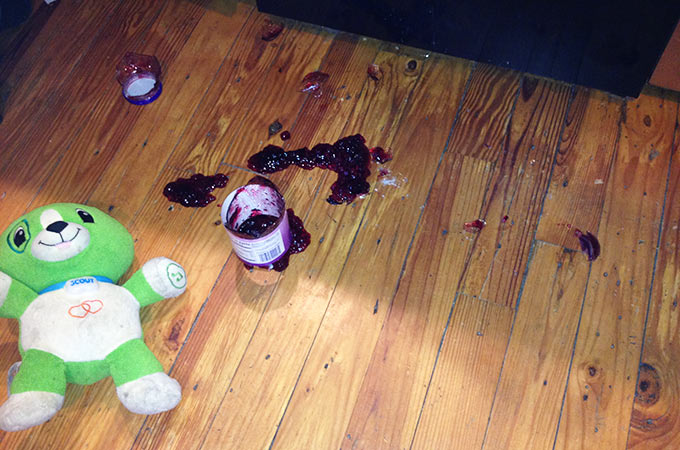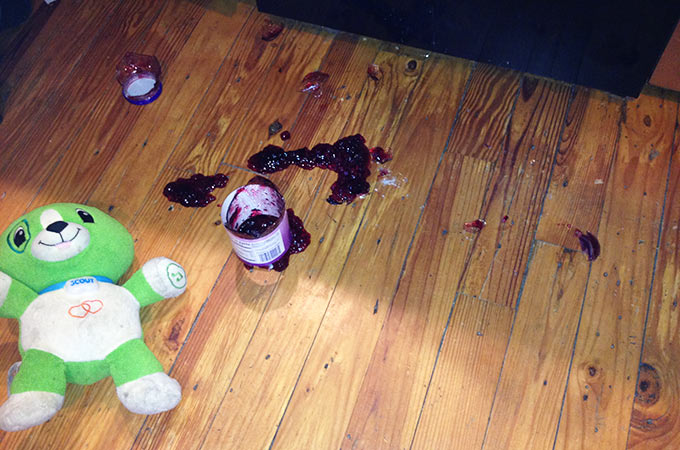 And I don't think he's mad about the jelly, that it even phases him. Yeah the jelly.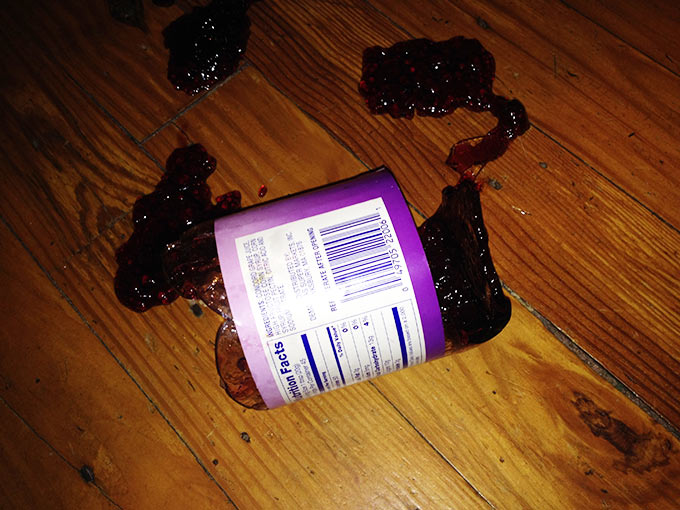 The jelly and the broken glass surrounding him and what's left of the big jelly jar, jagged on both ends. Yeah, Jon and the boys had to go, and in the hurry to get out the door on time, leave the lunch stuff out. And Hudson wanders in. Did I mention he likes to grab stuff off the counter? Does he ever. And he's a southpaw to boot. The rest is history. Just one teeny tiny scratch, drop of blood in the arch of his right foot. That's all. So thankful, relieved, grateful again for Hudson's guardian angel.
There are more stories I could tell you. Like the time he hucked his sippy cup during dinner, shattered Jon's tall drinking glass full of H20. And many more. We're all doing our best to work consistently with Hudson, teach him better ways. And you can see why he needs a very attentive, focused guardian angel.
Lunchtime arrives today and I explain to Hudson how sad it is that there's no jelly for his PB & J sandwich. (Ahem.)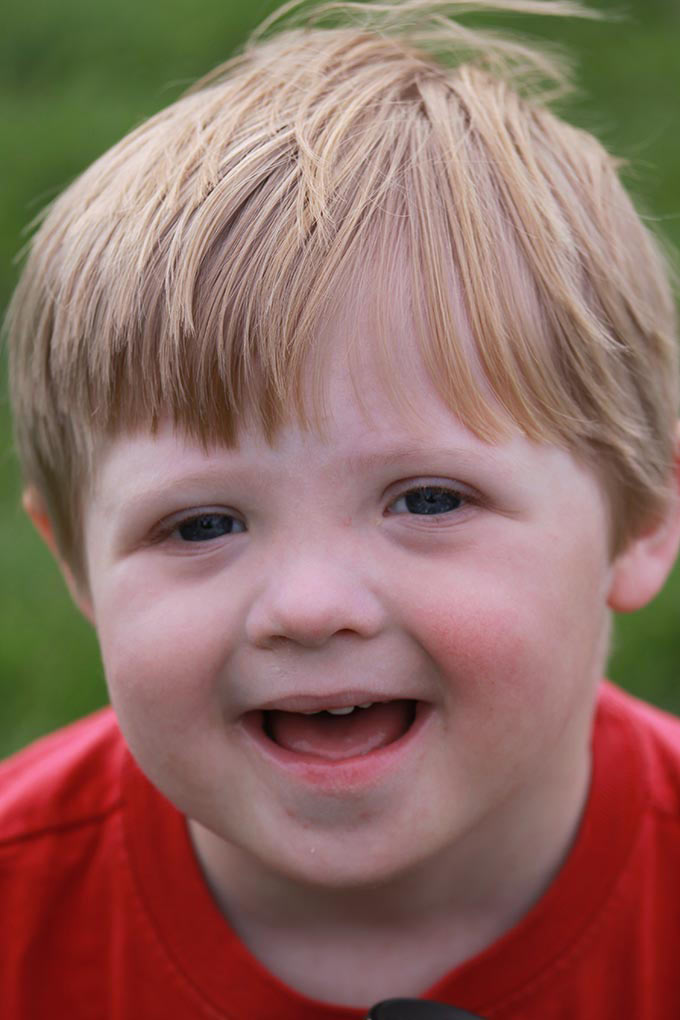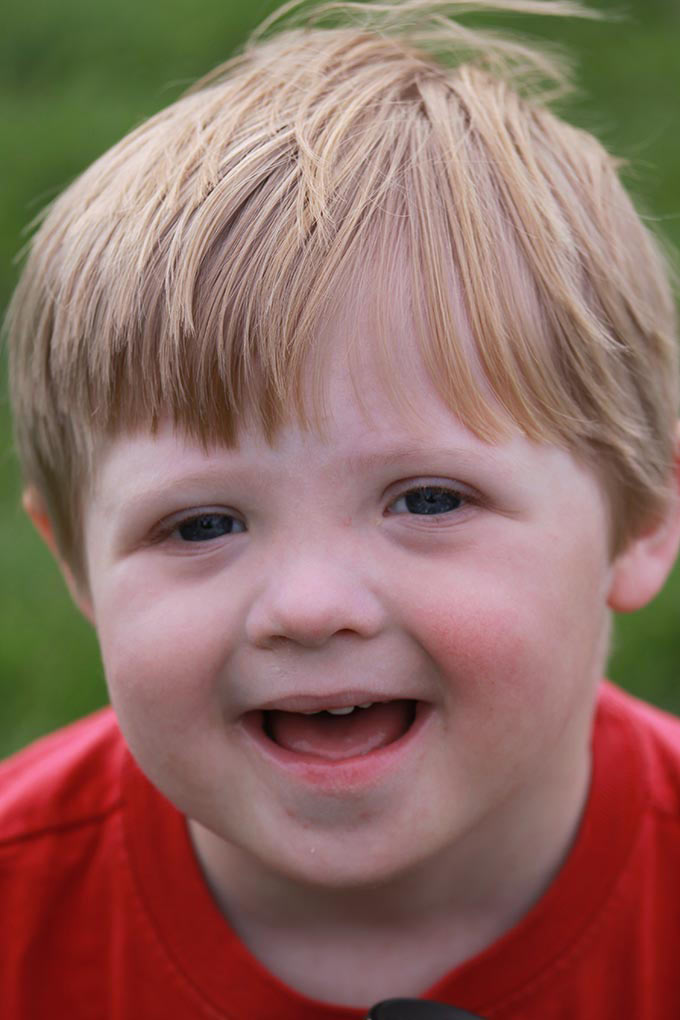 Photo courtesy of www.DesignbyLindaNee.com
Here's a heartfelt message to Hudson's guardian angel:
Thank you. We're so grateful God chose you. Please continue your excellent job protecting our little Hudson. He's very dear to us and we're all so very grateful. You deserve a raise. And wings too, if you're wanting them. (Though I'm guessing you've already earned several pairs on Hudson's watch.)
Related post: Glimpse of Sunshine