Hello friends, and a very happy weekend to you. Today we're having a virtual book discussion on the book Ghost Boy by Martin Pistorius. You may remember I invited you to read the book Ghost Boy six weeks ago in the post Life of a Secretly Lucid Vegetable. I love talking about real here. Real things that really matter.
(If you're a new subscriber, I post recipes during the week and muse on the weekends.)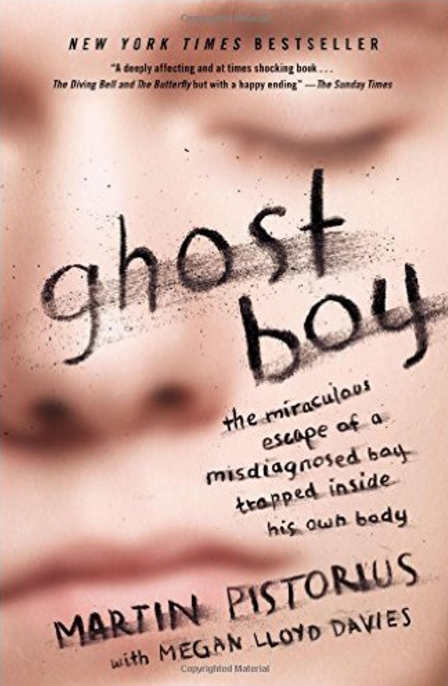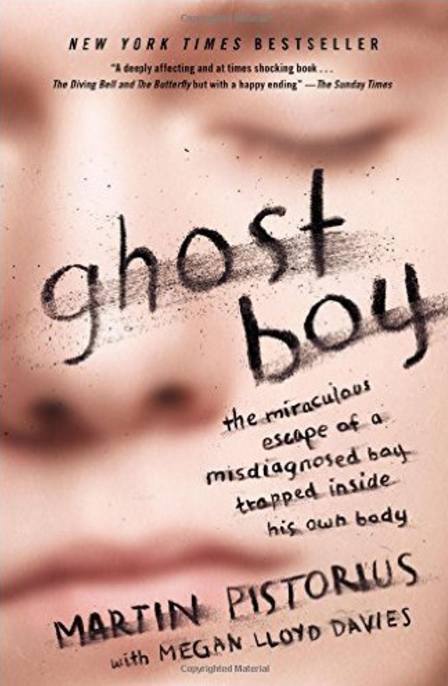 So what is a virtual book discussion? I don't have a textbook definition for you, but today I'll share thoughts on the book Ghost Boy and hope you will too. The discussion is obviously not live, but a safe place to bounce thoughts and impressions, see what others think about the book too.
Spoiler alert: If you haven't read the book and plan to, you may want to hold off on reading this post. Don't want to ruin it for you.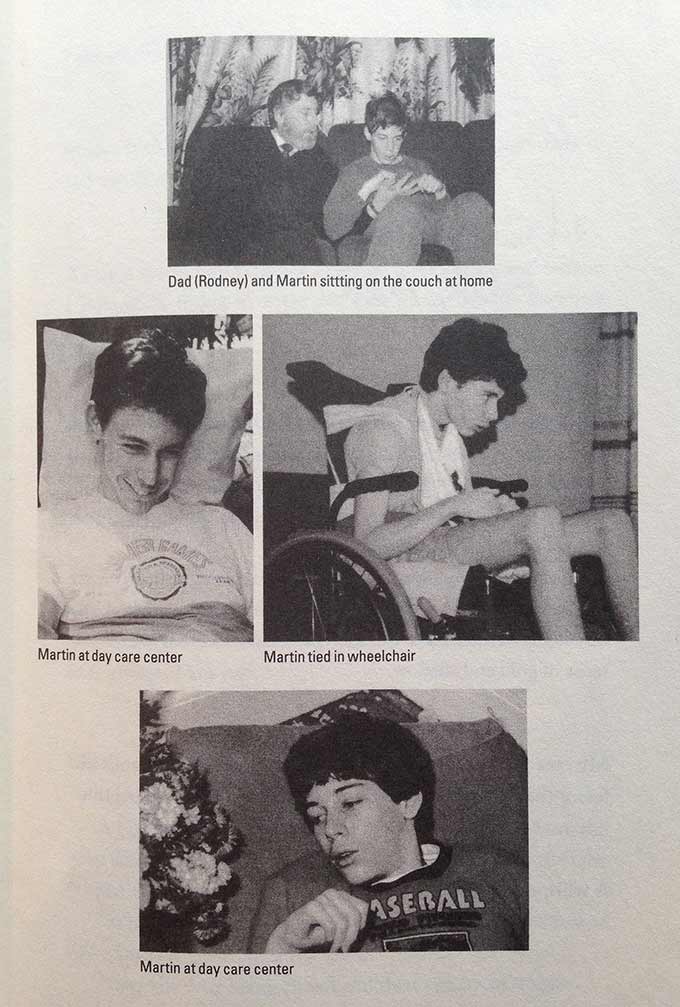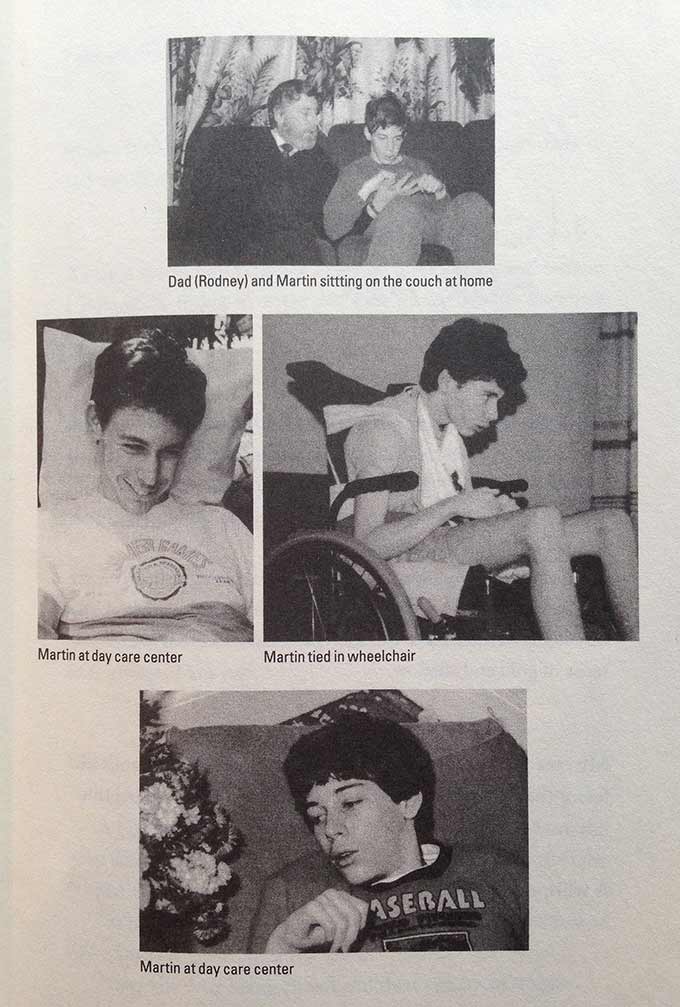 The truth is, when I mentioned Ghost Boy here six week ago, I hadn't yet read it. I don't generally recommend books I haven't read first, but the book really intrigued me and was suggested by a good friend whose recommendations I trust.
I'll be honest: this was a hard read. Really hard, but really good. I laughed. I was angry. I smiled. I cried. My horizons widened. But without further ado, let's begin.
Here's the gist of the story about Martin Pistorius from his website: 
In January 1988 Martin Pistorius, aged twelve, fell inexplicably sick. First he lost his voice and stopped eating. Then he slept constantly and shunned human contact. Doctors were mystified. Within eighteen months he was mute and wheelchair-bound. Martin's parents were told an unknown degenerative disease left him with the mind of a baby and less than two years to live.
Martin was moved to care centers for severely disabled children. The stress and heartache shook his parents' marriage and their family to the core. Their boy was gone. Or so they thought.
Ghost Boy is the heart-wrenching story of one boy's return to life through the power of love and faith. In these pages, readers see a parent's resilience, the consequences of misdiagnosis, abuse at the hands of cruel caretakers, and the unthinkable duration of Martin's mental alertness betrayed by his lifeless body.
We also see a life reclaimed—a business created, a new love kindled—all from a wheelchair. Martin's emergence from his own darkness invites us to celebrate our own lives and fight for a better life for others.
Was I glad I read the book? In a word, yes. Because I learned so much from Martin Pistorius about forgiveness, gratitude, hope and perseverance. And because he's a beautiful person who emerges triumphant and victorious from a horrific situation.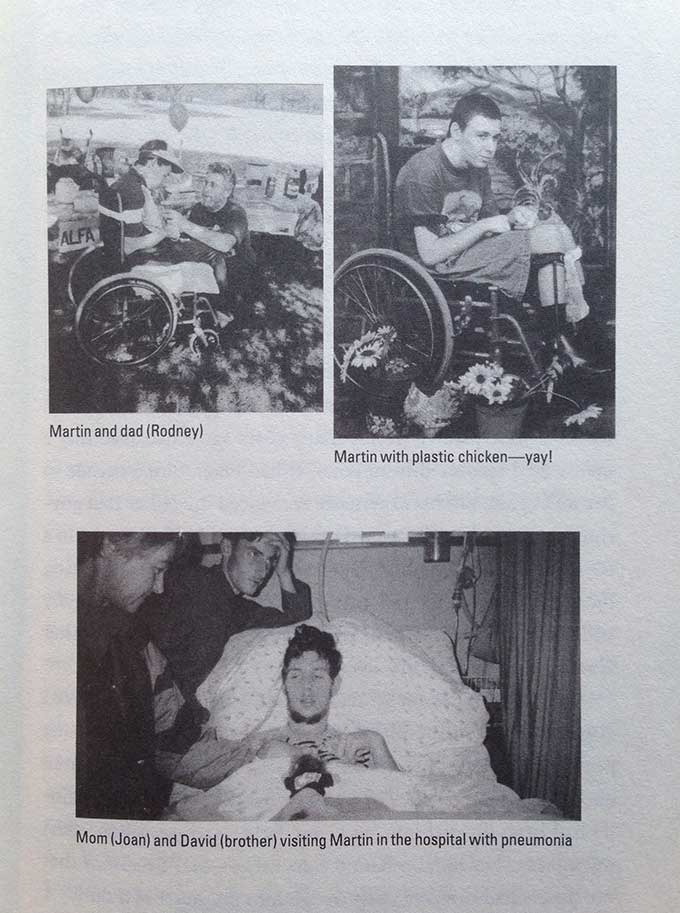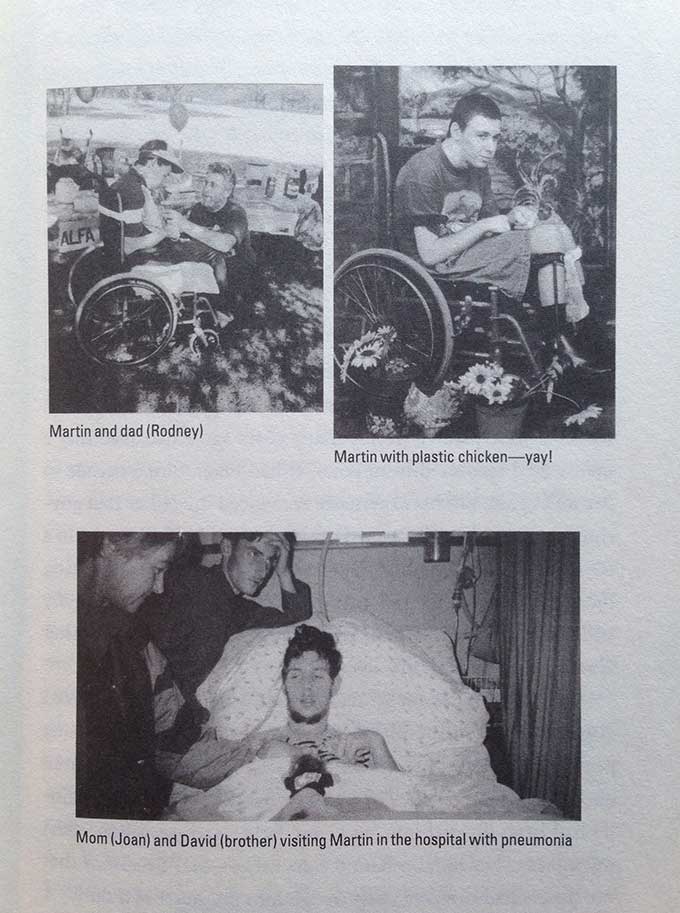 As you can imagine, there were quite a few poignant moments in the book. I felt for the Pistorius family, struggling to suddenly transition from being a "normal" family to a family with a disabled vegetative quadriplegic living in the home. Whether or not Martin should be placed in a care home 24-7 caused a great deal of tension between Martin's mother and father. The constant care-giving he required was taking quite a toll on the family. They fought about it often right in front of Martin, not realizing he could think and understand. If only they'd known. But they didn't.
One of the heart wrenching scenes in the book was when Martin's mother and father had a terrible fight. His dad storms out, his mom is left crying on the living room floor.
Says Martin: "She was wringing her hands, moaning, and I could feel the raw grief flowing out of her: she looked so alone, so confused and desperate. I wished I could reassure her, stand up from my wheelchair and leave behind this shell of a body that had caused so much pain. Mum looked up at me. Her eyes were filled with tears
"You must die," she said slowly as she looked at me. "You have to die."
Can you even imagine the intense stress that could drive a mother to say those horrible words to her very own son? I'm not here to judge, and I don't think Martin does either. None of us knows until we're there how we'd react under that intense moment by moment pressure. I think Martin's mother was terrified that his presence in their home would adversely affect her remaining two "whole" children. The pressure, work and stress must have been excruciating. In fact, she later tried to commit suicide and was hospitalized in a psychiatric ward for some time.
What amazes me most is how Martin loved (and forgave) his mother despite it all.
He says, pg.63: "Little by little I learned why it was so hard for my mother to live with such a cruel parody of the once healthy child she loved so much. Every time she looked at me she could see only the ghost boy he'd left behind."
I found Martin to be a funny guy and a talented writer. His observations about women in general were particularly humorous. And true. Imagine being in a day care center for ten years with mostly women caregivers who don't realize you're actually hearing and processing the whole time.
Says Martin, pg. 44: "Whatever else they talk about, though, I've come to know that there are three topics women will return to again and again in conversation: their husbands, who are often a disappointment; their children, who are usually wonderful; their weight, which is always too high. Again and again, I hear them commiserate with each other about how difficult it is to make men more responsible and diets more effective. While I don't understand their problems with their husbands, my heart always sinks whenever I hear them talk about calorie counting. Women seem to think they go on diets in order to feel happier, but I know from experience that this isn't true. In fact, I can safely say that the less women eat, the grumpier they get." Ha!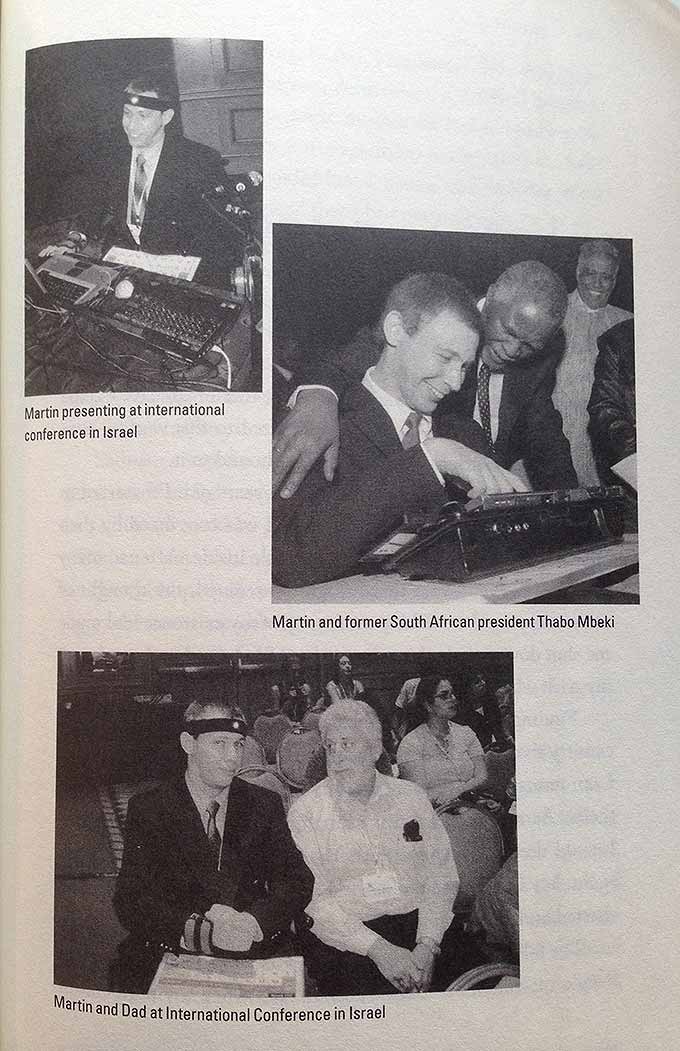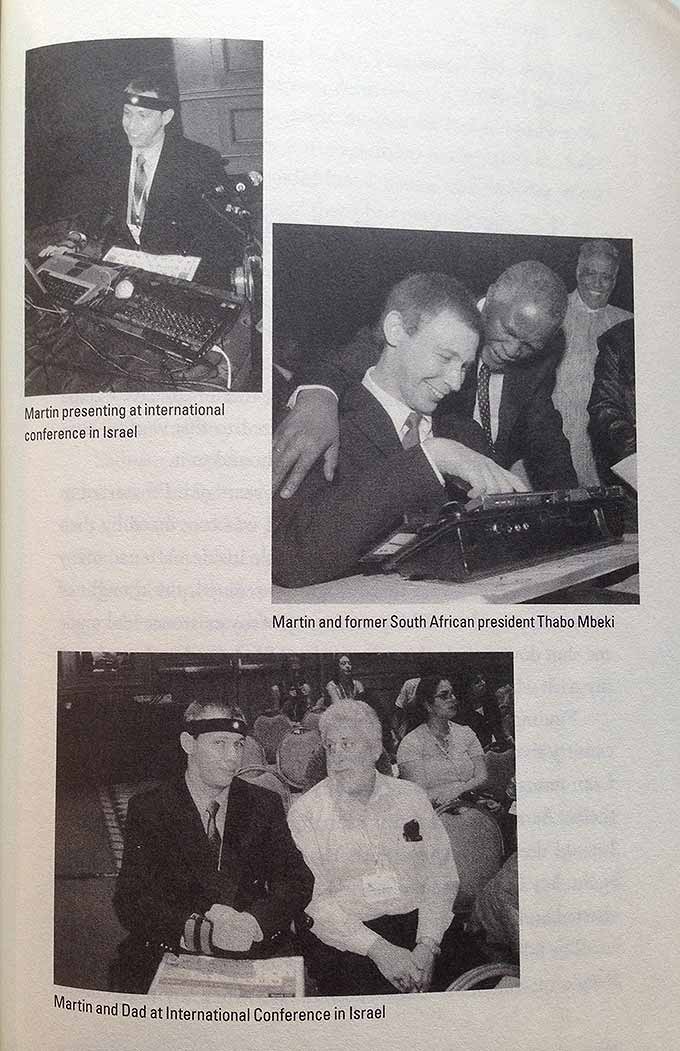 Another poignant part of the book recounts (with minimal detail) severe cruelty and repeated sexual abuse Martin endured at the hands of several women caretakers through the years. For the most part they worked at a respite care facility in the country where he sometimes went for weeks at a time when the rest of his family was on vacation. It's hard to fathom how any human being could be as cold, heartless, selfish, repulsive and perverse as these women. This really upset me. Martin so wanted to communicate to his parents what was going on but of course he couldn't.
Here's a brief excerpt of his thoughts on the way to the respite care facility one time, pg. 152:
"Even when I went home I found it hard not to be afraid because I would soon wonder when I'd have to go back again. I wasn't taken there often – maybe once or twice a year – but each time I was put into the car and driven out of the city, I'd start to cry as I realized where we were going. When we crossed over a railway line, I knew we were nearing the home and I'd listen to rocks ricocheting off the bottom of the car as we drove along a dirt road littered with them. As my heart beat and my throat tightened, I would long to scream and wondered if I could make my parents hear my thoughts if only I tried hard enough.
But the one thing I wished for more than anything as I sat strapped in a seat, powerless to tell anyone about what I knew would soon happen to me, was for someone to look at me. Surely then they would see what was written on my face? Fear. I knew where I was. I knew where I was going. I had feelings. I wasn't just a ghost boy. But no one looked."
Absolutely heartbreaking.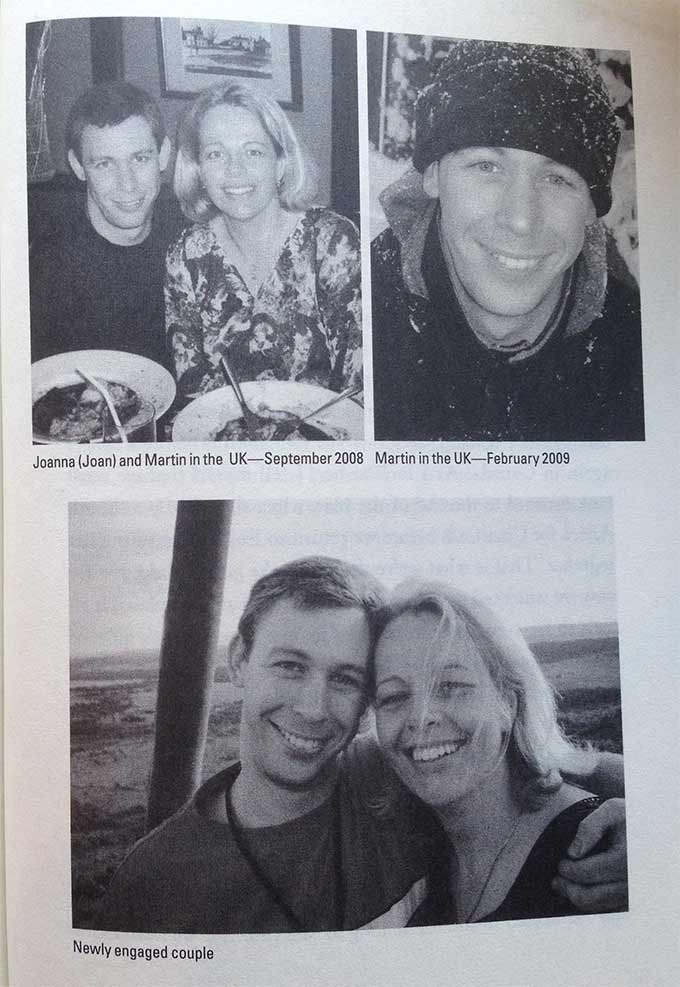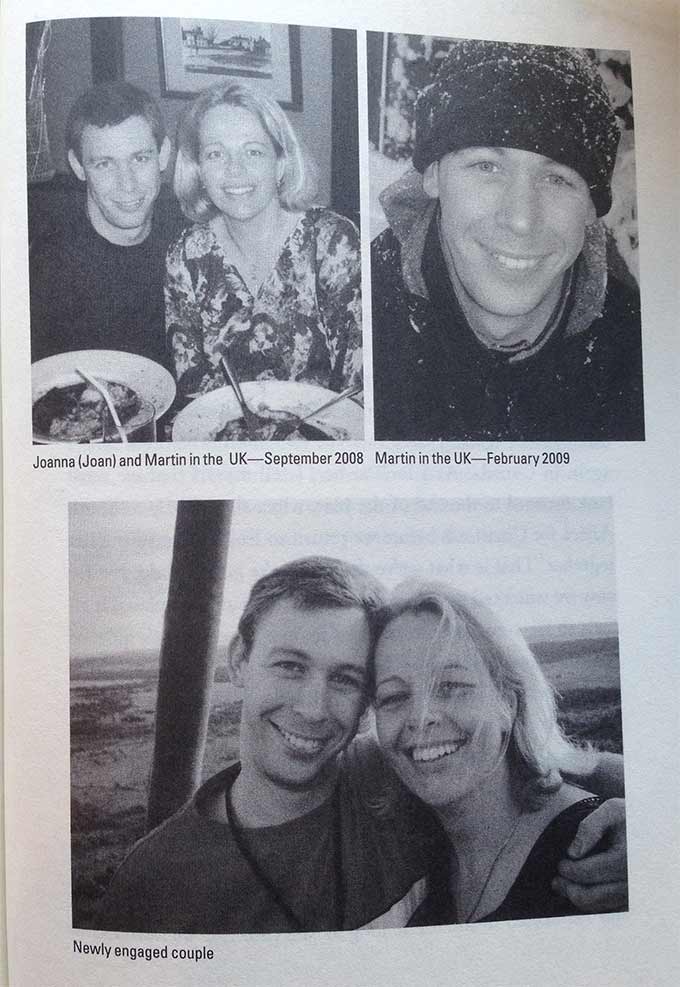 This post is already longer than I intended. Where to stop? But I'd like to conclude on a hopeful and positive note: Joanna.
Joanna was a dear friend of Martin's sister Kim in England. Though she lived a continent away, she and Martin met on-line and fell in love across the miles.
Says Martin as they began to get acquainted: "Until now my existence has been full of the straight corners and neat edges that come with order and routine. But suddenly it is full of unexpected curves and the kind of chaos that I'm learning another person can create. Joanna is uprooting everything I trained myself to expect and accept: I'd resigned myself to leading a serious life full of work and study, yet suddenly she makes me laugh until I cry; I believed I would never find a woman to love, and now I'm beginning to hope that I have. I'm usually so careful and considered, but Joanna is making me reckless. She doesn't see barriers but possibilities; she is utterly unafraid, and I'm beginning to feel that way too."
What a gift Joanna is to Martin. And Martin to Joanna. It cuts both ways. They married in June of 2009.
Says Martin on his wedding day:
"I look up at the church's ceiling and feel Him with me now… It is she (Joanna) who has taught me to understand the true meaning of the Bible passage we are having read during the service: 'There are three things that will endure – faith, hope and love – and the greatest of these is love.' My life has encompassed all three, and I know the greatest of all is indeed love – in all its forms. I've experienced it as a boy and man, as a son, brother, grandson, and friend. I've seen it between others, and I know it can sustain us through the darkest of times. Now it's lifting me closer to the sun than I ever thought I would fly…"
If you have a minute, watch this mesmerizing TED Talk by Martin: "My Way Back to Words".  You won't be disappointed. He speaks through his computer, says some amazing things he doesn't mention in Ghost Boy.
Martin Pistorius' book Ghost Boy is lovingly dedicated to Joanna:
"For my wife, Joanna, who listens to the whispers of my soul and loves me for who I am."
Friends, this was such a beautiful and meaningful book. Every soul matters. The condition of the shell (body) is irrelevant to a person's value. This book moved me and I'll never again look at a person with disabilities in the same way.
If you haven't read Ghost Boy, hope you do. If you did, were you glad you did? I found myself sad, angry, amazed and inspired at various points. How about you? Were you as amazed as I was about Martin's forgiveness and lack of bitterness after the horrific abuse he endured? Joanna is a shining example of what truly unconditional love looks like lived out. I'd love to hear your thoughts, even if you didn't get to read the book. Have a wonderful weekend!
You may also like: Hudson & The Little Yellow School Bus