Moist, buttery and dense, this pound cake cuts clean. Like a nice, well-behaved Fresh Peach Pound Cake ought to!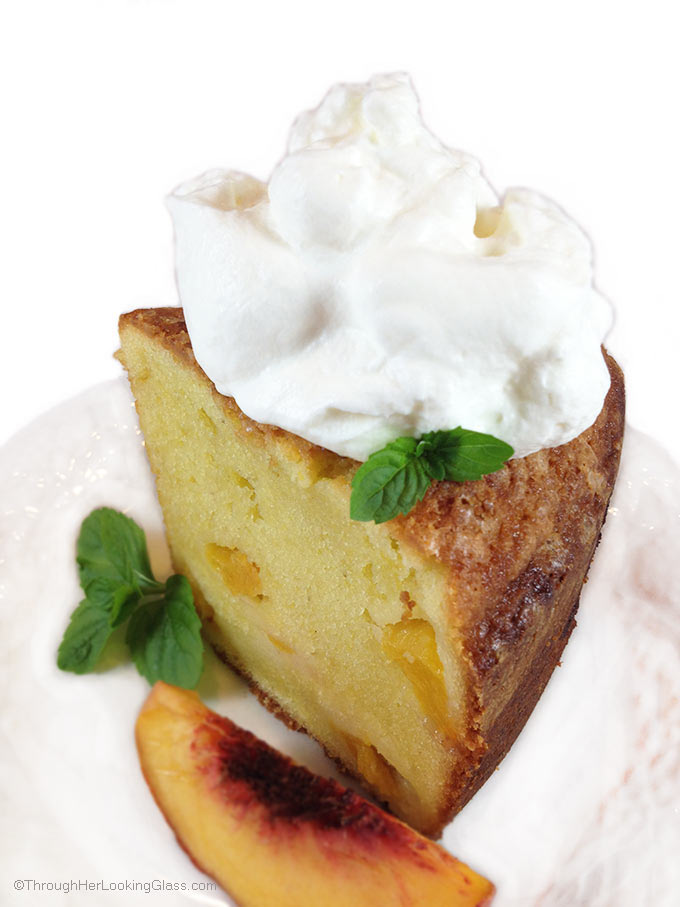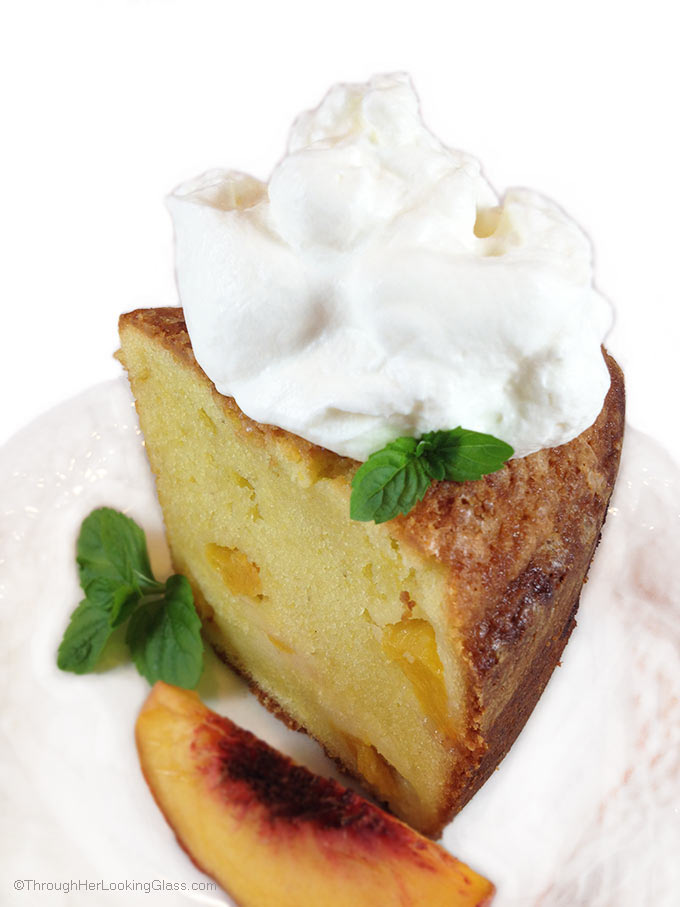 I can't think of anything more succulent than a freshly picked, juicy peach. We lived in the south for many years, and strangely never went peach picking. Why? Dunno.
Maybe it was because  there were mom and pop fruit stands on every corner, baskets overflowing with freshly picked, fragrant peaches. Makes sense, the south is the peach capital. And gahhh…that smell! Gets me every time.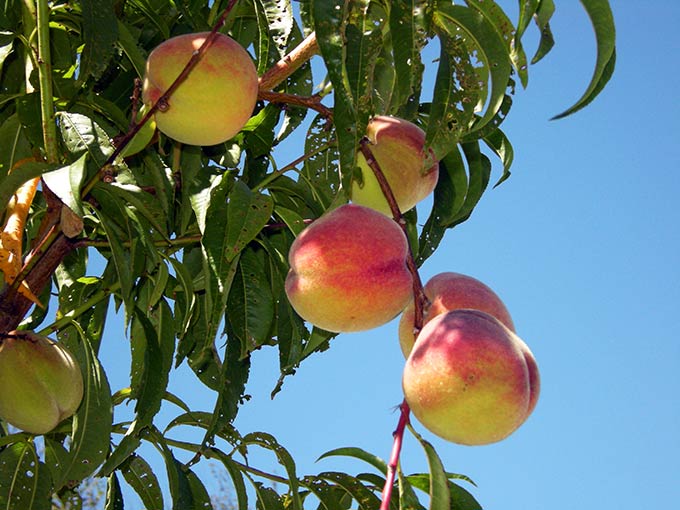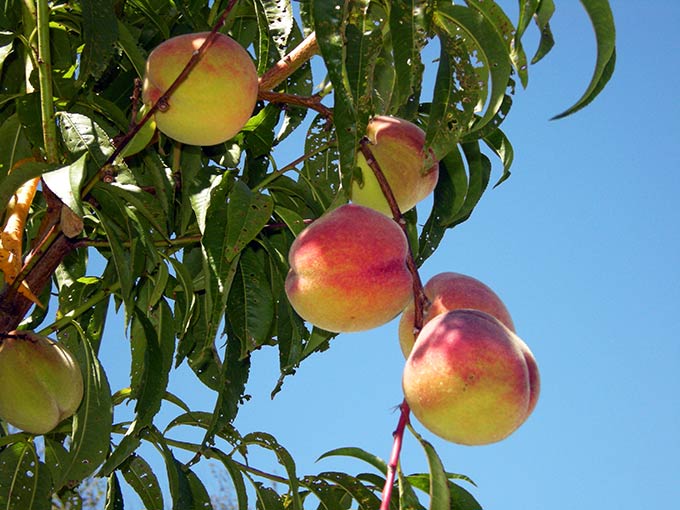 Then a number of years ago after moving back to New England, we finally went peach picking for the first time here in New Hampshire. We all thought we'd gone to heaven, even the baby who was sitting in the Radio Flyer wagon helping himself like Christmas….
Babies are smart, know a good thing.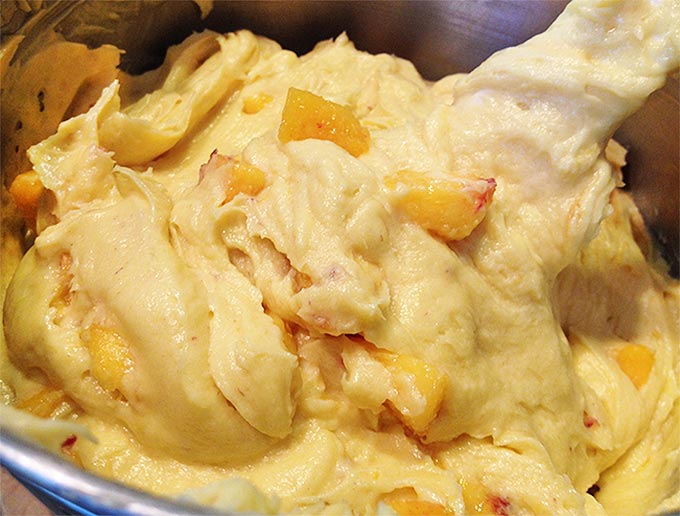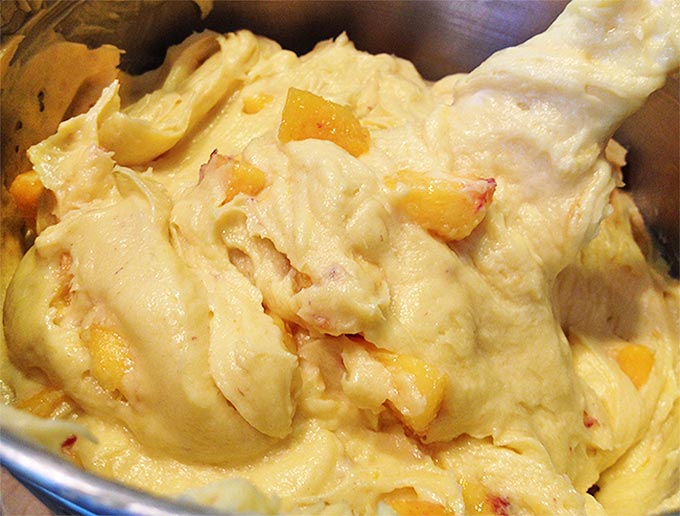 Ripe, juicy peaches are the best. You know, the kind that leave the trail dripping off your chin. And the thing is, by this point you're so delirious, you don't even know. (Or care.)
And then there's all the fabulous things to do with fresh, juicy peaches.
Peach pies
Brandied peaches
Peach ice cream
Peach cobbler
Peach Smoothies
Peach Jam
Grilled peaches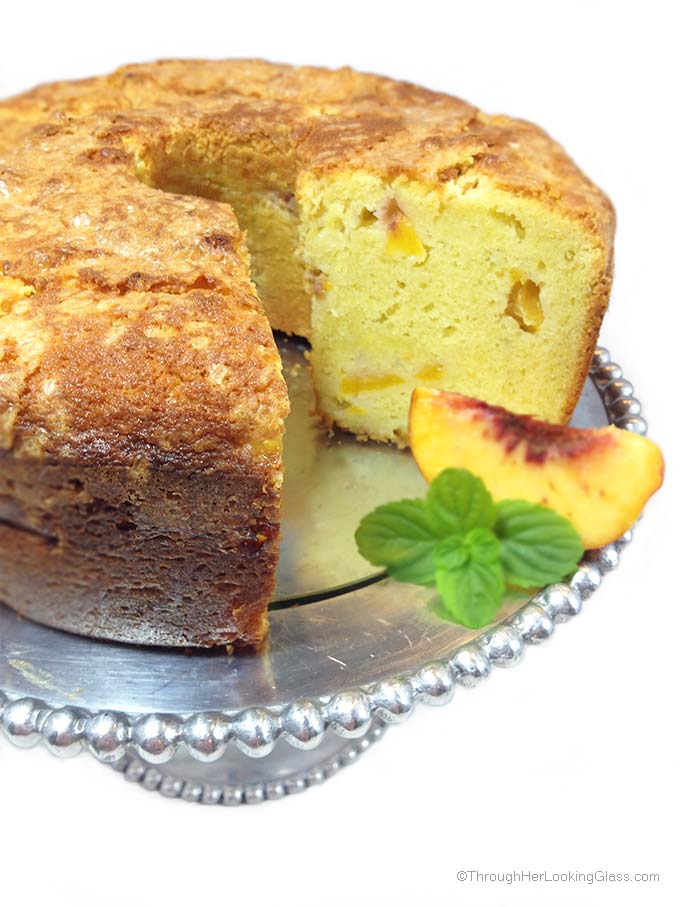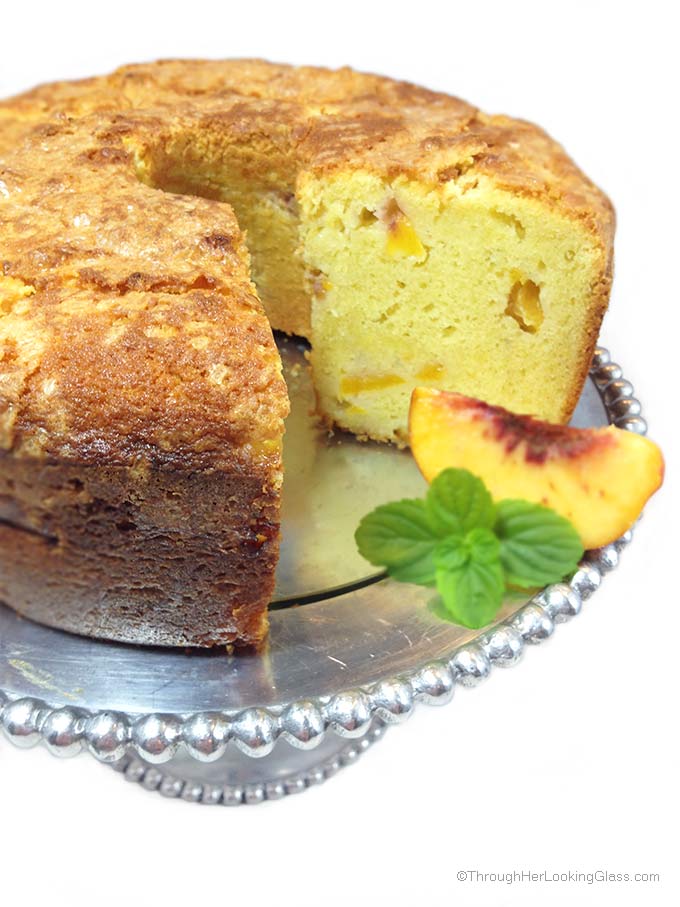 And we just can't leave out this amazing Fresh Peach Pound Cake. With fresh Land O' Lakes butter, sour cream, vanilla and almond extracts. And ripe, juicy peaches. I've never tasted a peach pound cake quite as decadent as this one. Moist, buttery and dense, it cuts clean. Like a nice, well-behaved pound cake ought to.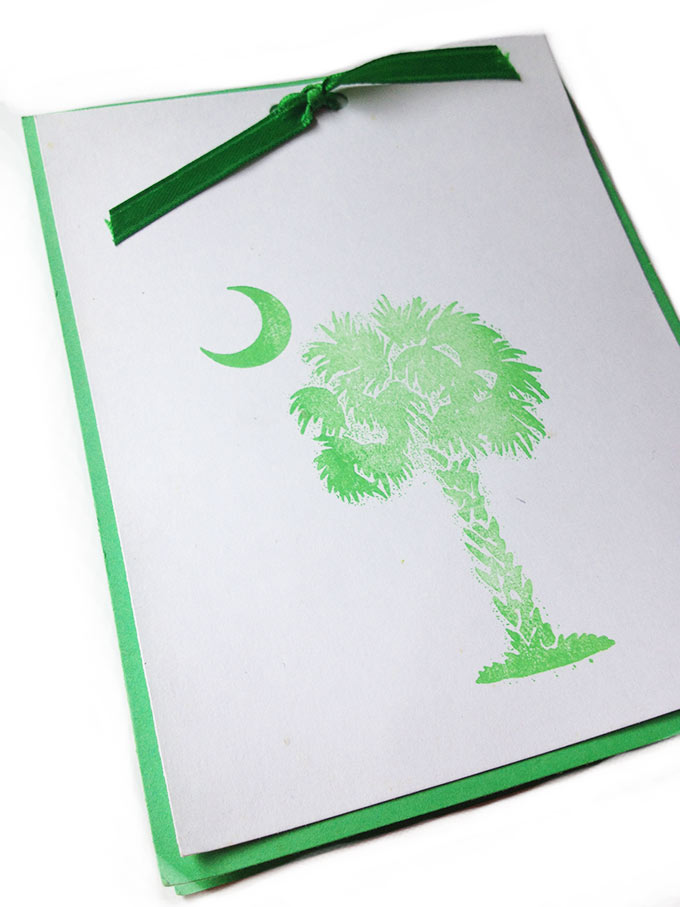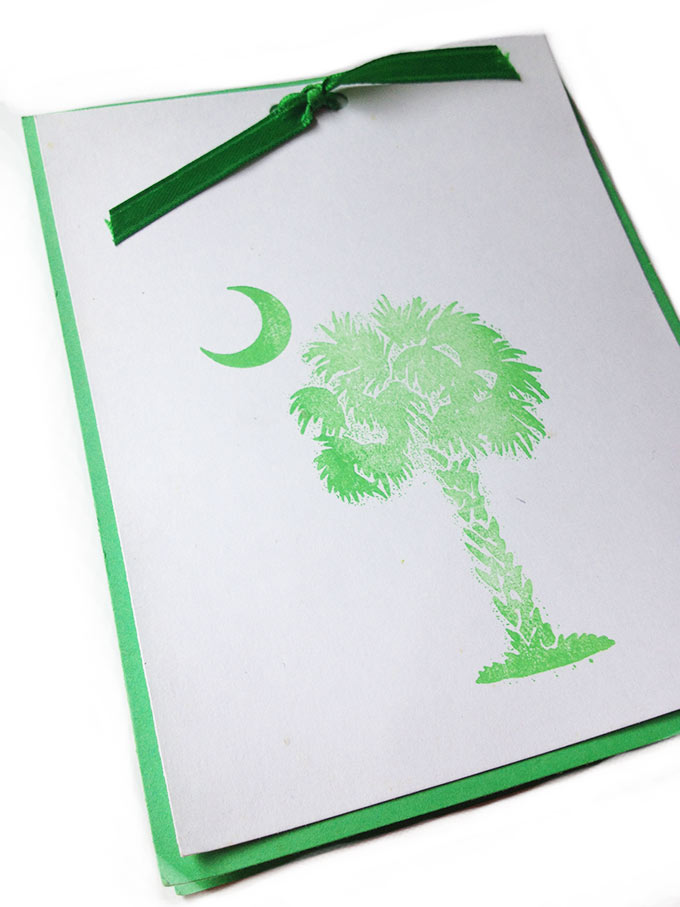 Several years ago we attended a denominational convention in South Carolina and I went to the women's luncheon. The tables were beautifully appointed with fresh flowers, and each place setting had this handmade recipe booklet with a palmetto tree stamped on the cover.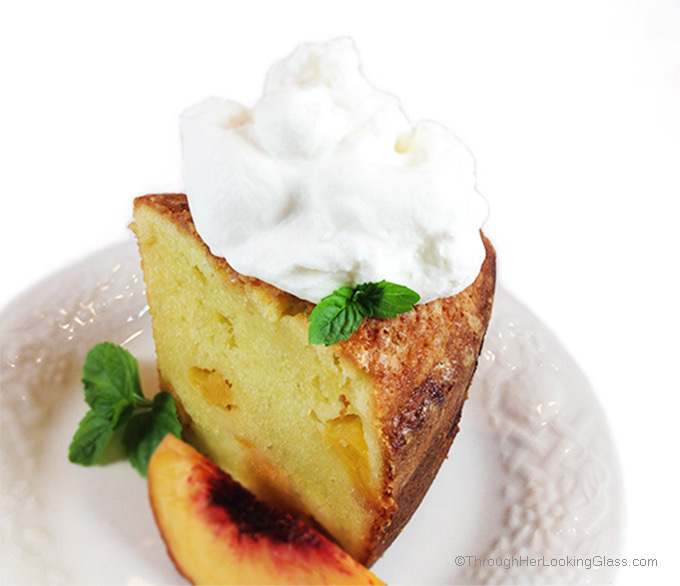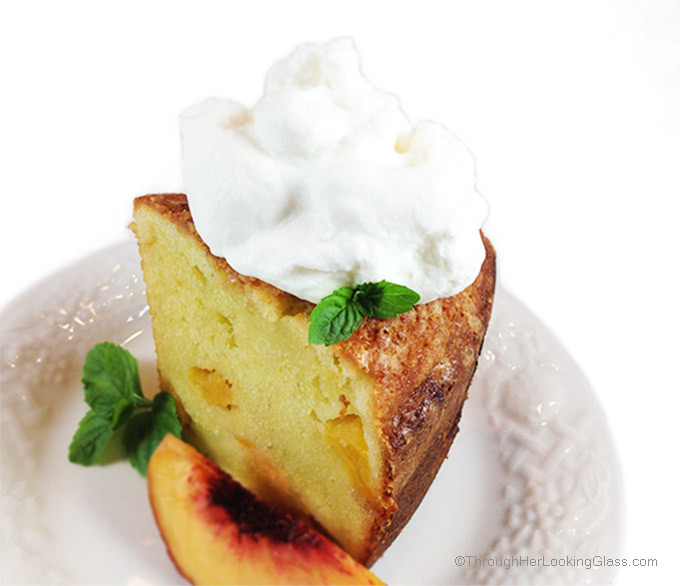 Inside were several southern classic recipes including this Fresh Peach Pound Cake. None of the recipes were credited, but I researched and discovered this pound cake recipe comes from the cookbook Come On In by Barbara Smith.
So thank you Barbara! We are truly indebted. This southern pound cake might even bring a southern drawl out of this northern girl. Meaning a y'all could just slip out at any second….
This Fresh Peach Pound Cake is a cinch to make and bakes in a tube pan for about an hour. Y'ALL! (it just squeaked out…)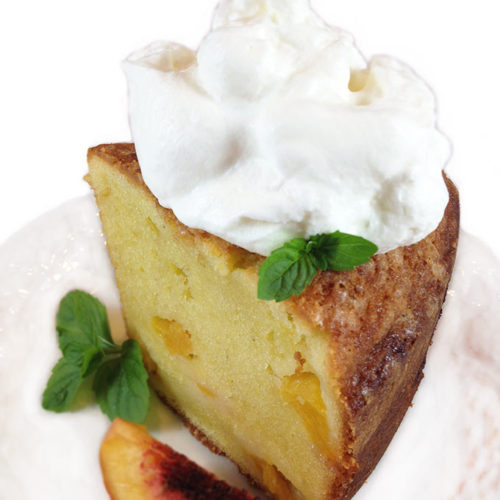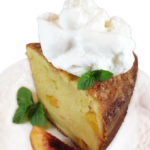 Print Recipe
Fresh Peach Pound Cake
You can't beat the flavor and dense texture of this moist and buttery peach pound cake. Sour cream and almond extract make this cake heavenly.
Ingredients
1

cup

butter

softened

2

cups

sugar

6

eggs

3

cups

flour

1/4

teaspoon

baking soda

1/4

teaspoon

salt

1/2

cup

sour cream

3

cups

peaches

peeled, chopped and well drained

1

teaspoon

vanilla extract

1

teaspoon

almond extract

Optional: 1 tablespoon white sugar or turbinado sugar

Optional: whipped cream for garnishing
Instructions
Preheat oven to 350 °.

Grease and flour a 10" tube pan.

Cream together butter and sugar until light and fluffy.

Add eggs individually, beating well after each one.

Mix together flour, soda and salt.

Add flour mixture to the creamed mixture alternately with sour cream, beginning and ending with flour.

Gently fold in chopped peaches and extracts.

Pour into prepared cake pan.

Sprinkle with 1 tablespoon sugar if desired.

Bake for 60-70 minutes 'til golden brown and cake tests done in the center.

Cool until cake is still warm, about 30 minutes.

Gently loosen the sides, edges and around the center tube with a sharp knife before turning out of the pan.

Garnish with whipped cream if desired.


You may also like this pound cake: Blueberry Pound Cake