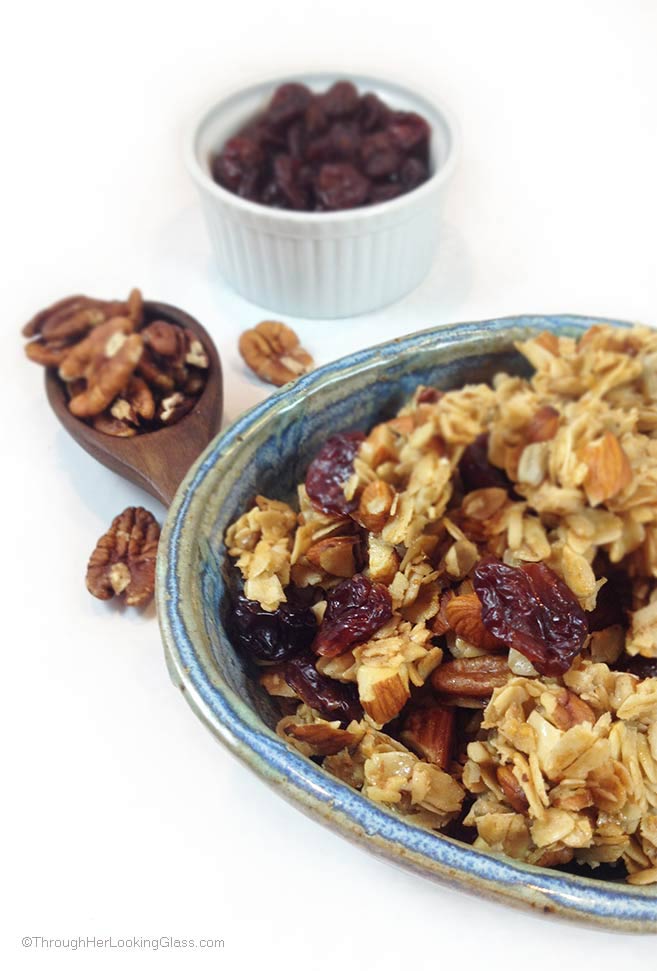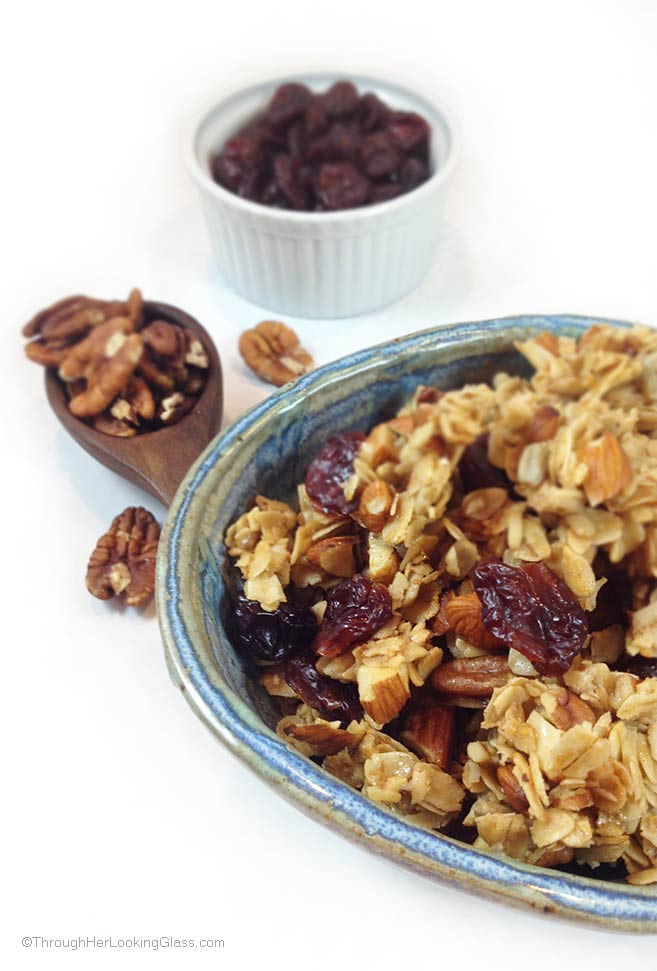 I can't tell you how long it's been since I've made Cherry Pecan Granola. And I'm not sure why. Because we all love granola at my house. For some unknown reason I've been on a granola strike. And that ends. TODAY!
Not many weeks ago I was on a fun girls' trip, staying in the mountains of North Carolina. One of my girlfriends made a ton of gourmet food ahead of time, toted it along. Bless her. One morning she pulled out a tupperware chock-full of homemade granola. And the memories flooded back from five years earlier when we (same girls) were on a different girls' trip. Staying at the Terrace Inn in Petoskey, Michigan. And the elegant breakfast buffet we savored each morning. The amazing granola we fell in love with. The owner of the inn who told us about their local supplier Daily De-lish in Grand Rapids making the homemade granola. Did we ever enjoy it. Every morning, sprinkled on top of yogurt. Fresh fruit on the side. Coffee. Basking on the front veranda. Yup.
The veranda. 
And then, drumroll please…the owner shared the recipe. Yup she did.
The Cherry Pecan Granola recipe I'm sharing with you today is similar to the granola we enjoyed at the Terrace Inn, but with a few healthy changes. Coconut oil replaces the vegetable oil. Honey replaces the sugar. Dried cherries are added in for a special treat. And boy is it ever delicious. All clean-eating ingredients, including sunflower seeds, almonds, pecans, rolled oats. And it's gluten-free to boot. (Provided the oats are not processed in a facility with other products containing gluten.)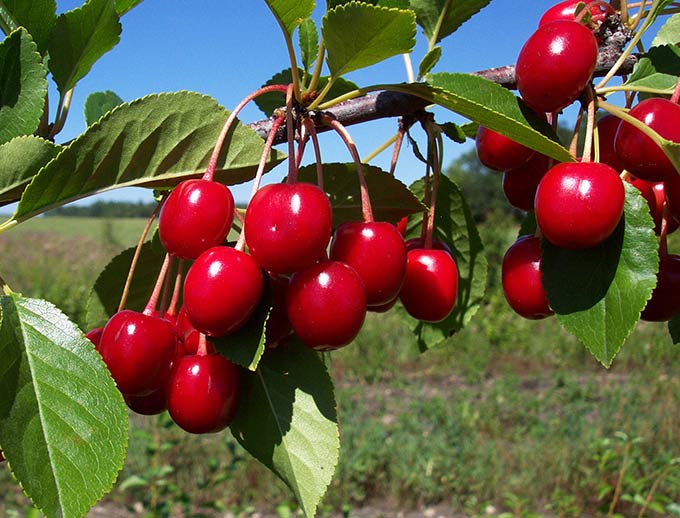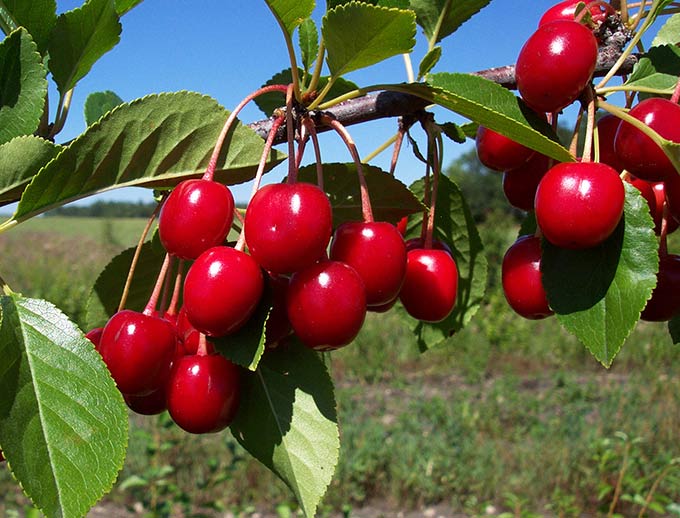 I decided to add dried cherries to this granola because first off, I love cherries. And while we girls were visiting Michigan, it was cherry season, a big deal around there. We also visited Cherry Republic, a beautiful retail store where everything is made from cherries: cider, wine, pie, jam, candy, salsa. You name it. If you're a cherry lover, you'll love this amazing store and you absolutely must visit. (There are four locations in Michigan.)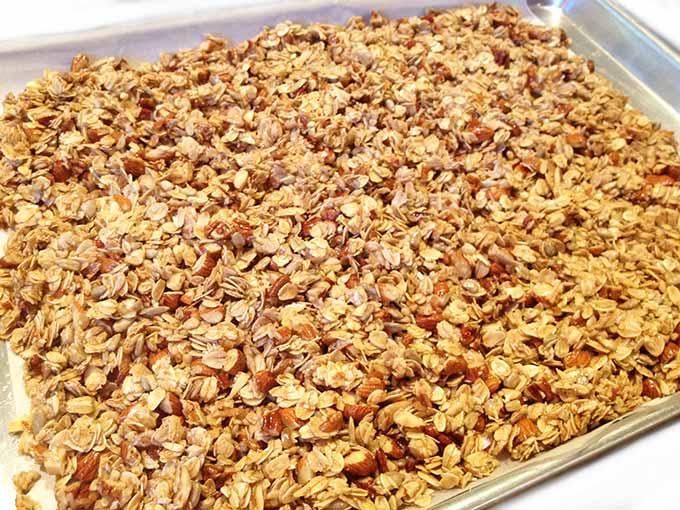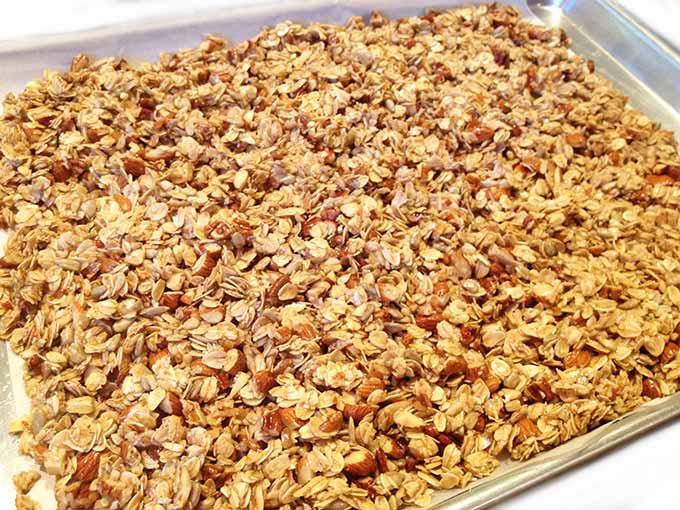 Mix all the ingredients except the dried fruit and spread on a parchment lined baking sheet.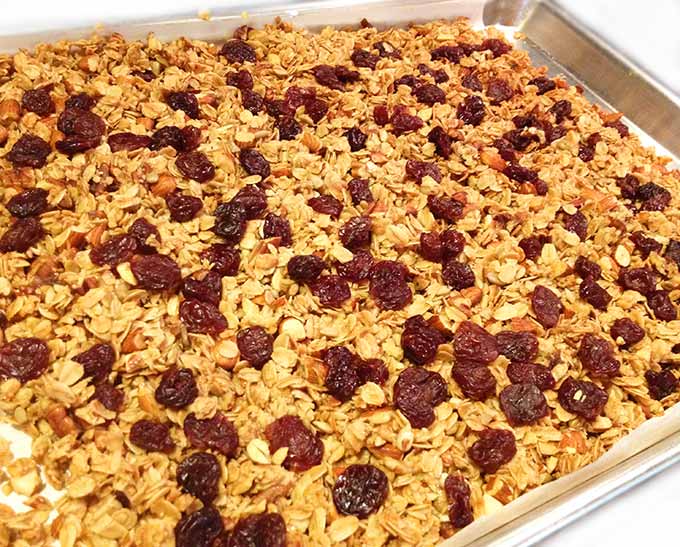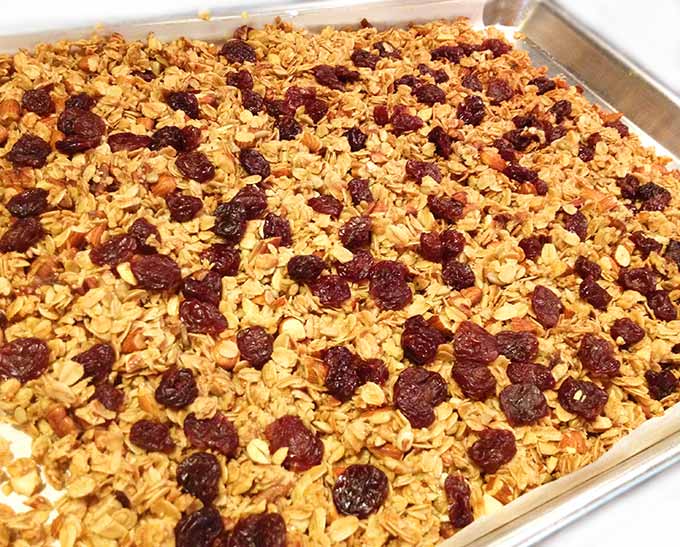 Bake for thirty minutes, then press dried fruit (I used cherries) into the cooling granola.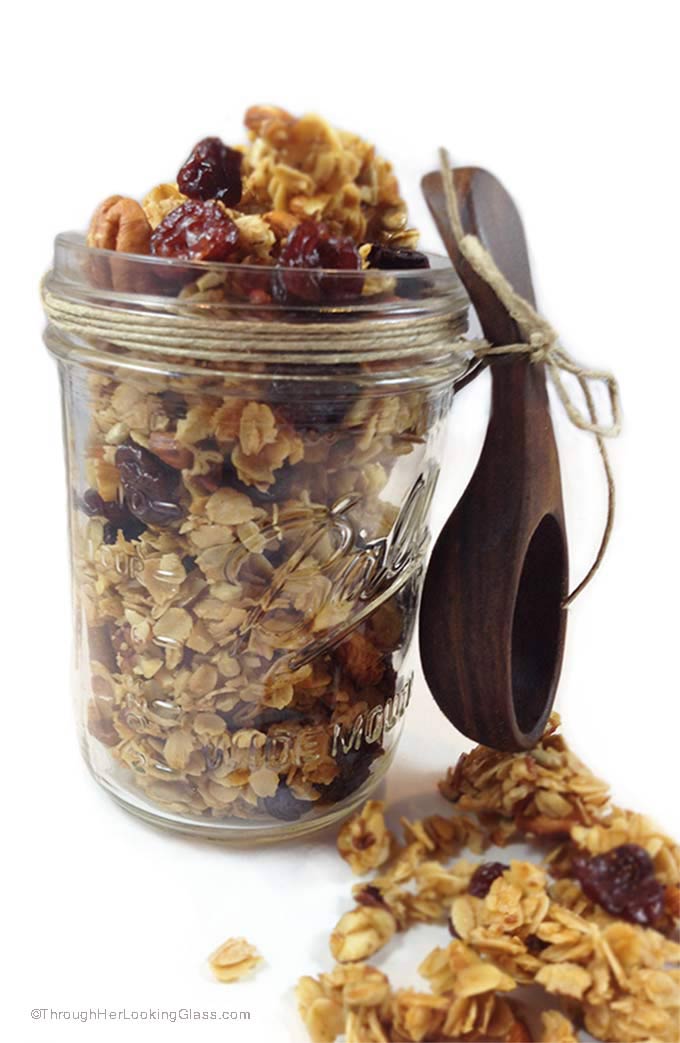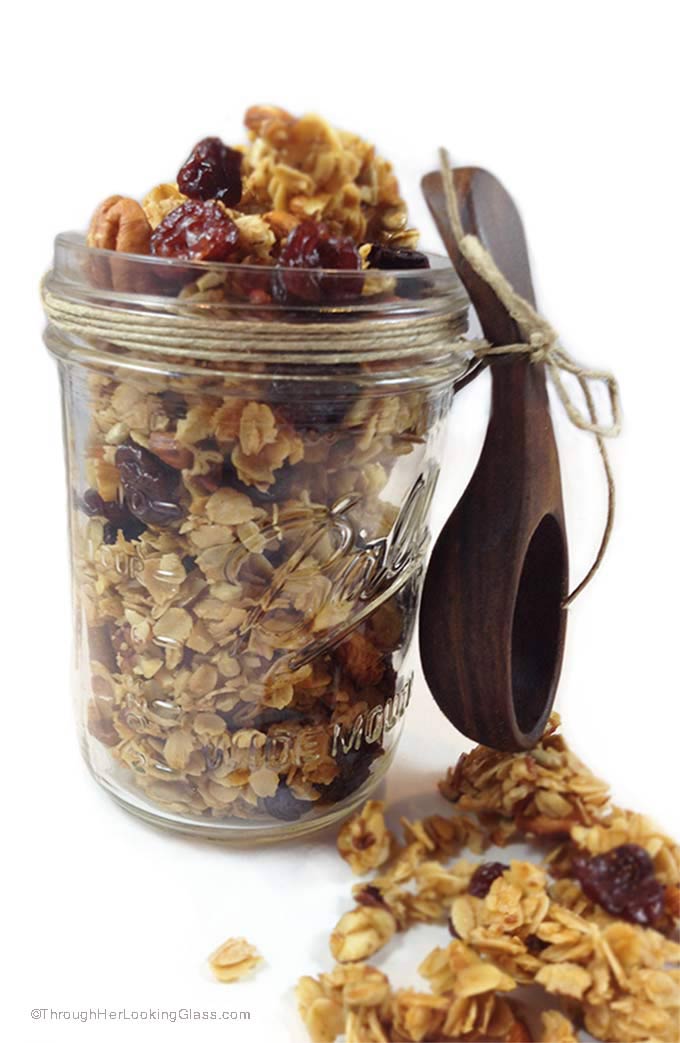 Store granola in an airtight container. A mason jarful and a scoop make a great gift!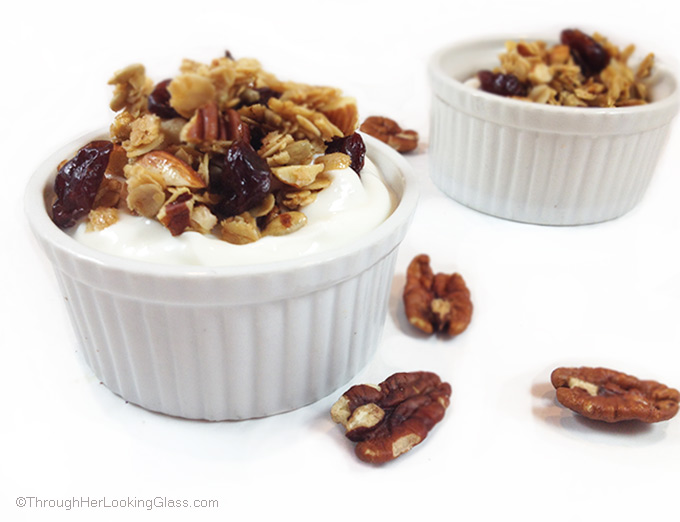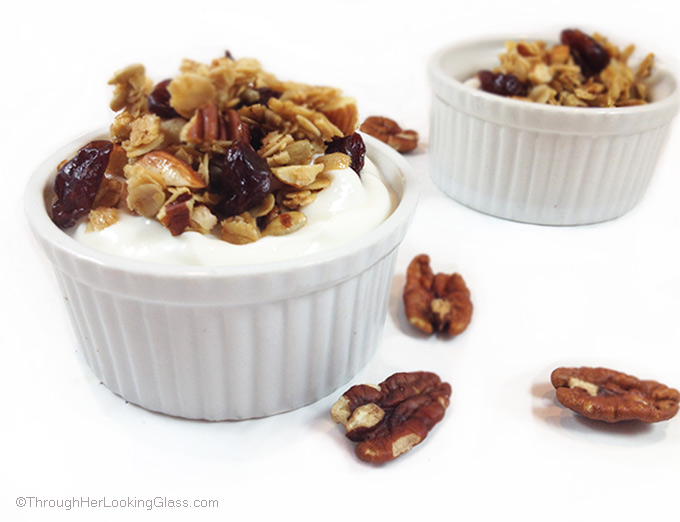 Serve alone as a snack. Or in a cereal bowl with milk. Or sprinkled atop a smoothie or greek yogurt.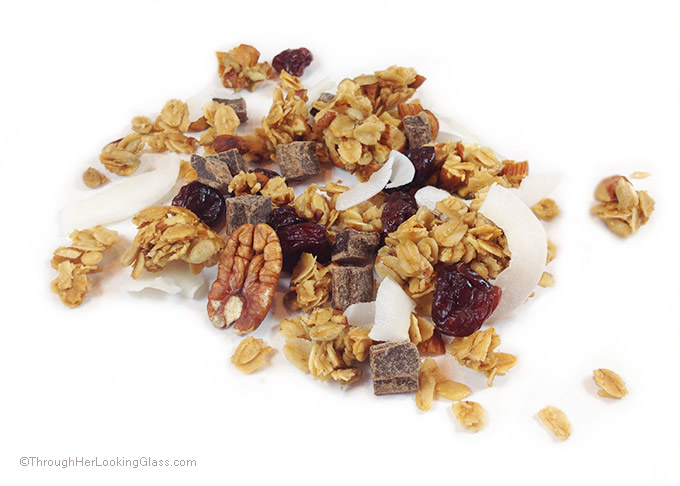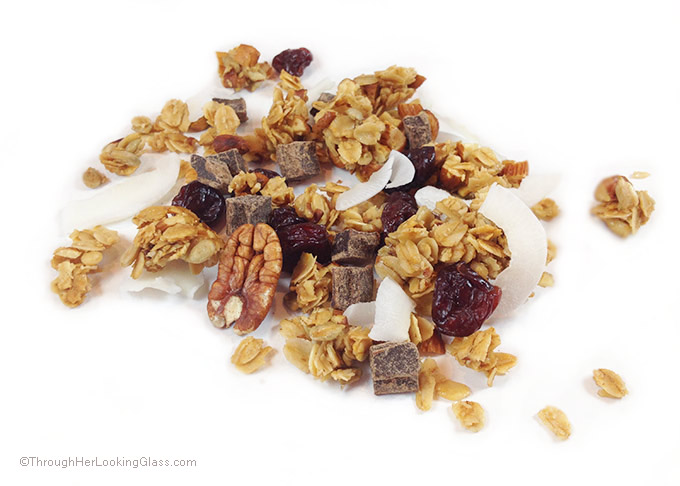 Or my favorite. Add chocolate chunks and coconut flakes for a substantial and yummy trail mix.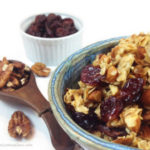 Print Recipe
Cherry Pecan Granola
Addictively sweet and clean-eating granola made with honey, oats, dried cherries and nuts.
Ingredients
1

cup

whole almonds

chopped

1

cup

pecan halves

chopped

3 1/2

cups

old-fashioned rolled oats

1/2

cup

sunflower seeds

1

teaspoon

sea salt

1

teaspoon

ground cinnamon

4

tablespoons

butter

melted

1/2

cup

honey

1/4

cup

coconut oil

1

cup

dried cherries

or dried currants, cranberries or raisins
Instructions
Preheat oven to 300 degrees.

Line a large baking sheet (with sides) with parchment paper.

Chop almonds and walnuts to the size you like, or process in a food processor.

Place oats and nut mixture in a large mixing bowl.

Stir in sunflower seeds, sea salt and cinnamon.

Separately in a small mixing bowl, stir together honey, melted butter and coconut oil.

Stir the wet ingredients into the dry ingredients until combined.

Spread onto prepared cookie sheet and bake for 30 minutes, stirring every ten minutes.

Remove from oven.

Sprinkle dried fruit on top of hot granola.

Press in with a wooden spoon.

Allow to cool, undisturbed.

(Granola crisps up after cooling.)

Store in an airtight container at room temperature.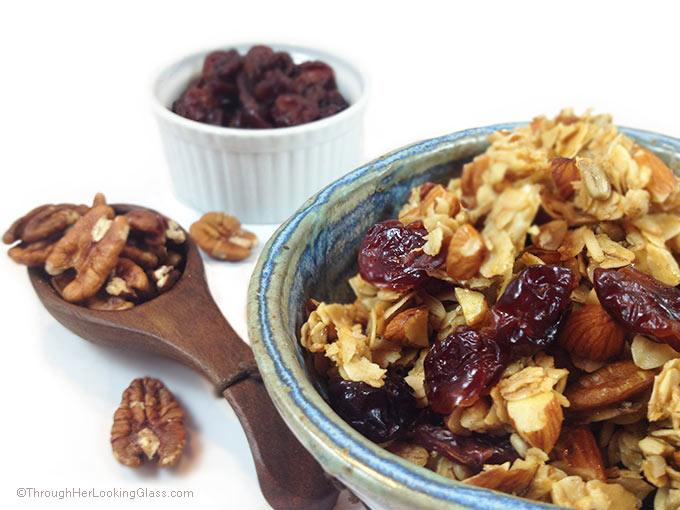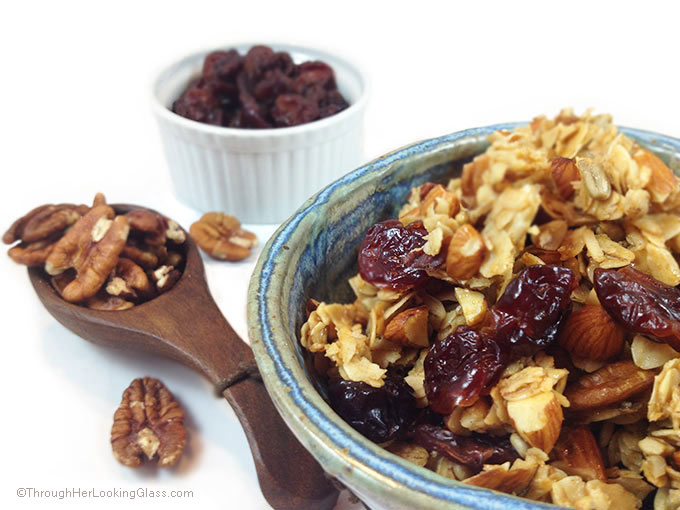 Cherry Pecan Granola…it's not just for breakfast anymore! 🙂
Another healthy breakfast option: Blueberry Coconut Almond Smoothie