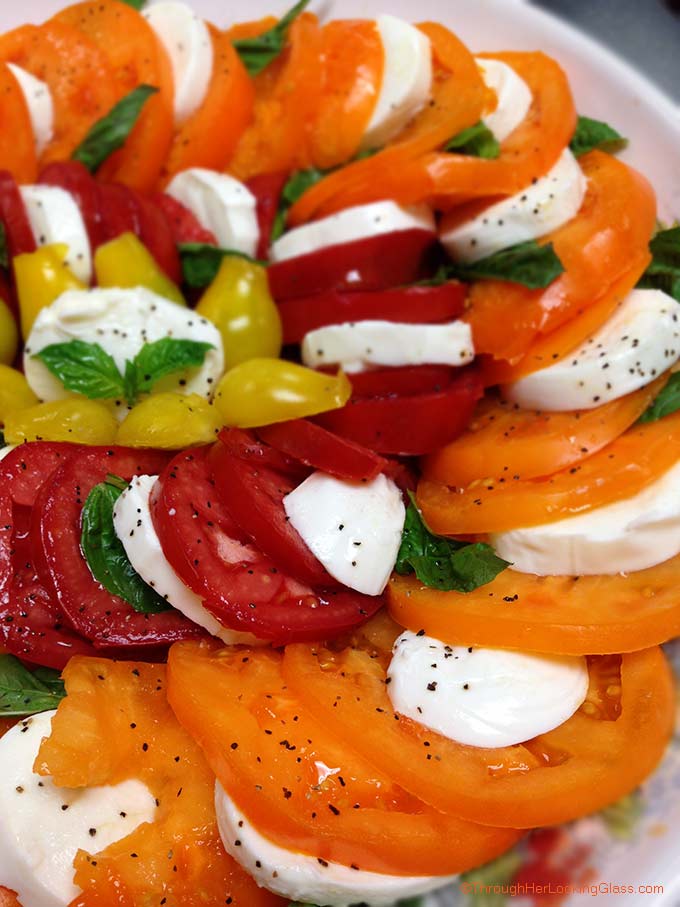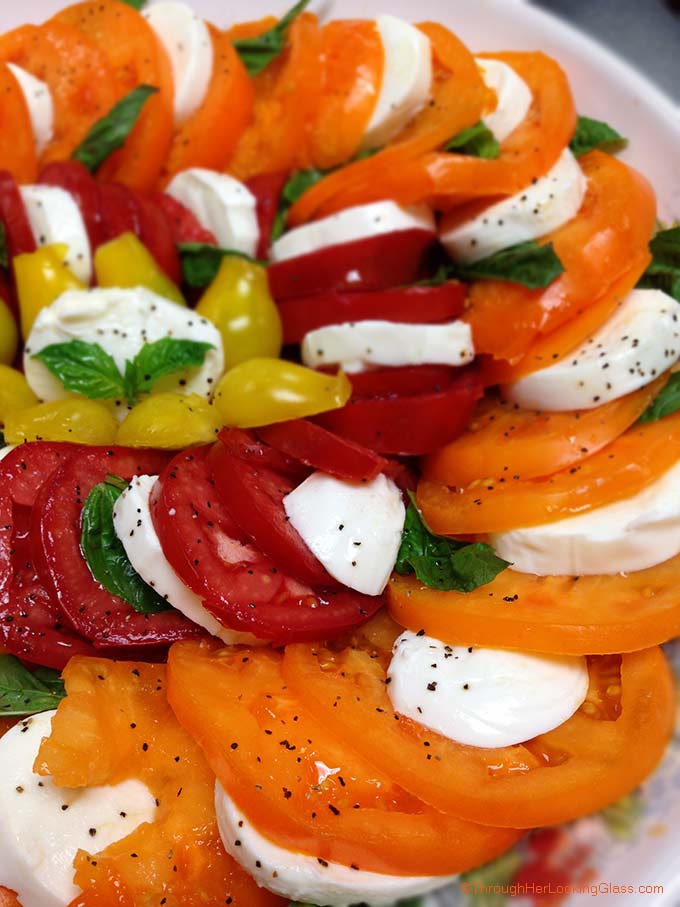 The gorgeous tomatoes in this Caprese Salad Tomatoes platter came from the prolific garden of a nearby friend. She walked into church last Sunday bearing this platter of beauties and it nearly took my breath away. (And I was not the only one.) If you're a tomato lover, there's nothing more appetizing than freshly-picked tomatoes straight from the garden.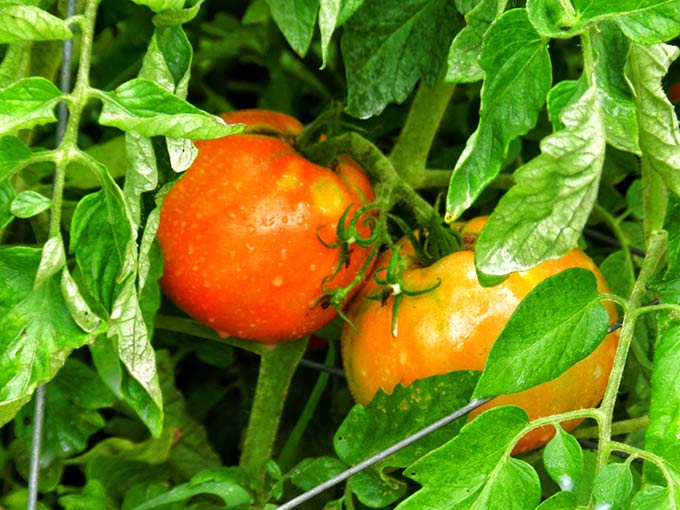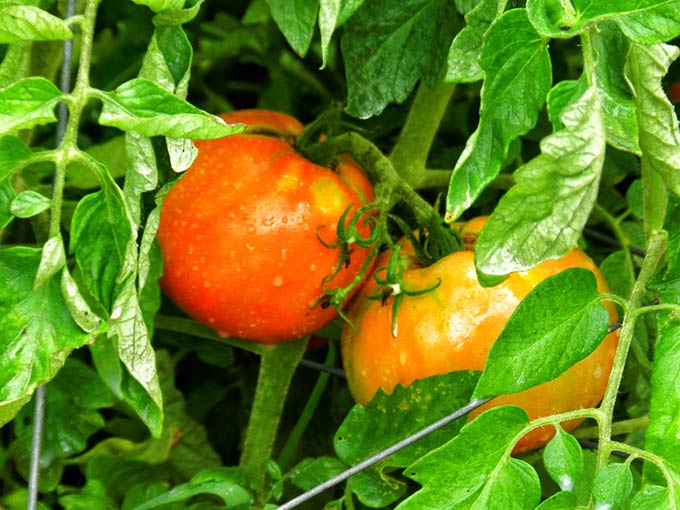 In northern New England, we start harvesting our tomatoes at the beginning of August. So the season is short, and that's why even though it's September, we're still enjoying garden tomatoes. Ooing and ahhing over them. You see, it won't be long and the frost will arrive, and that'll be THE END of our season. But 'til then, we're gonna enjoy every sweet and juicy tomato we can.
I learned an interesting and useful tip online a few years ago. When frost is predicted, pick the remaining green tomatoes off the vine. Wrap them individually in newspaper and store all together in a dark sealed place, like a cooler. Check on them every day or so and replace the newspaper wrappings which will become soggy over time. The science behind it is the tomatoes give off some kind of a gas that helps them ripen in the darkness! Isn't that cool? I've done it several times now and we've had garden tomatoes all the way into November using this method. The trick is you can't just leave 'em. You've got to faithfully check on them daily or every other day, change out the damp, soggy newspaper and use the tomatoes as they ripen. A few rotten ones in the bunch can ruin the whole batch.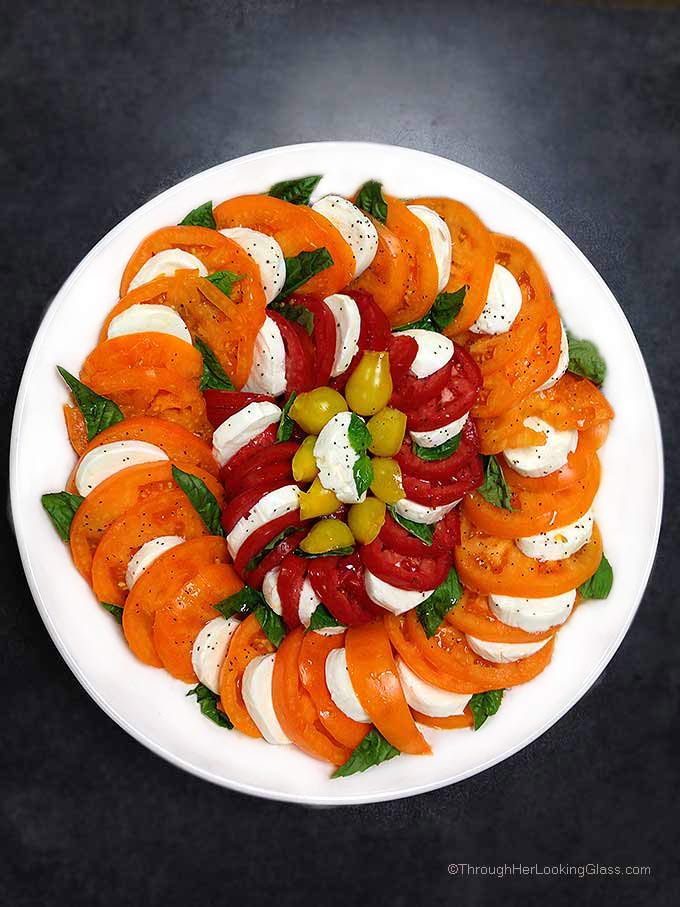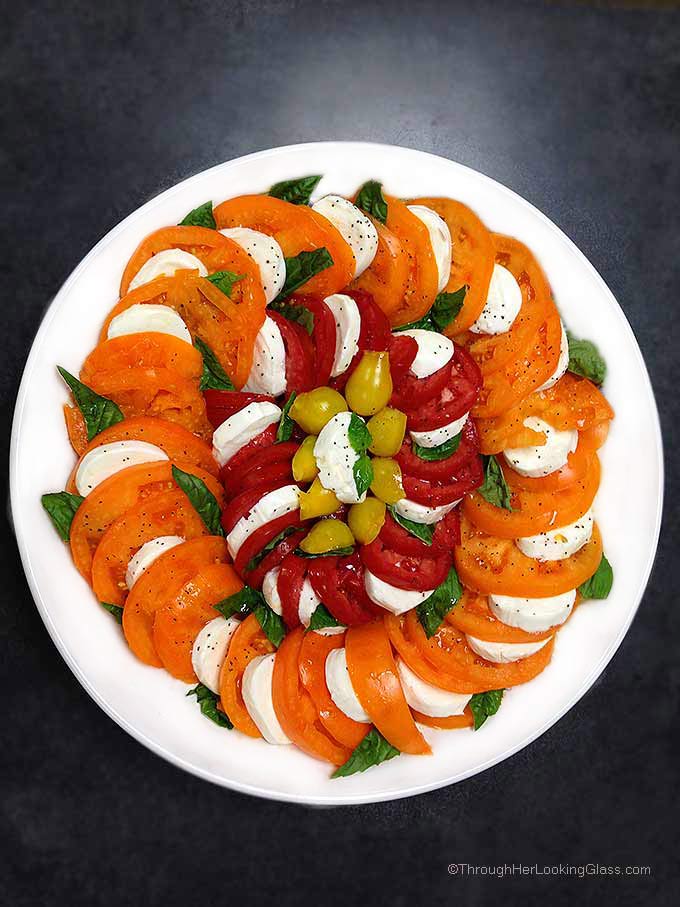 So these Caprese Salad Tomatoes are spectacular and easy to make. The tomatoes used for this gorgeous platter are Orange Wellington, Opalka, and Yellow Pear. But just find the prettiest, ripe tomatoes you can in your garden or at the farmer's market. It's nice to use a mix of bright colors. Then slice 'em and layer with fresh Galbani mozzarella cheese slices. Tuck in basil leaves. Drizzle with cold-pressed olive oil. (Or balsamic vinegar.) Sprinkle with sea salt and freshly ground pepper. A simple dressing really lets the true tomato flavors shine through. Now grab a fork and go to town. Nothing better than a platter of sweet sun-ripened garden tomatoes with fresh mozzarella and basil. Makes a great salad or side dish.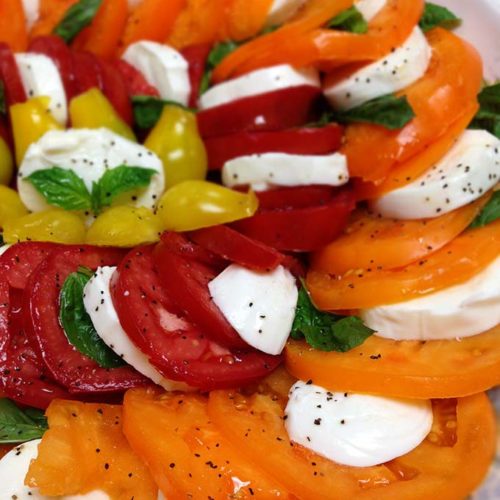 Print Recipe
Caprese Salad Tomatoes
Spectacular & easy to make. This platter features Orange Wellington, Opalka, and Yellow Pear tomatoes. Sweet and delicious.
Ingredients
Orange Wellington tomatoes

sliced in rounds

Opalka tomatoes

sliced in rounds

Green Pear tomatoes

halved

fresh basil leaves

washed

Fresh mozzarella cheese

sliced in rounds

Cold-pressed olive oil or balsamic vinegar

Sea salt and freshly ground pepper
Instructions
Layer sliced tomatoes and mozzarella.

Tuck basil leaves in.

Drizzle with olive oil or balsam vinegar.

Sprinkle with sea salt and freshly ground pepper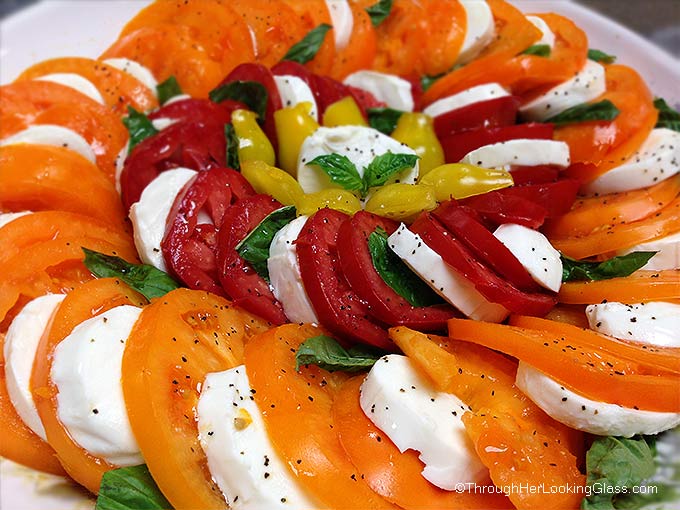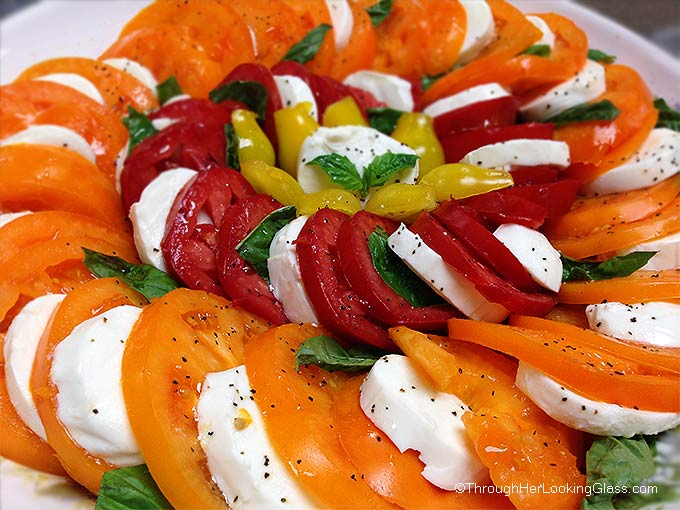 Caprese Salad Tomatoes