Maple Roasted Butternut Squash & Pomegranate Harvest Salad makes a colorful and delicious presentation during the drab of winter! Golden roasted butternut squash sits atop a bed of leafy greens. Add pecans, gorgonzola and pomegranate seeds, then drizzle with a zippy blender dressing!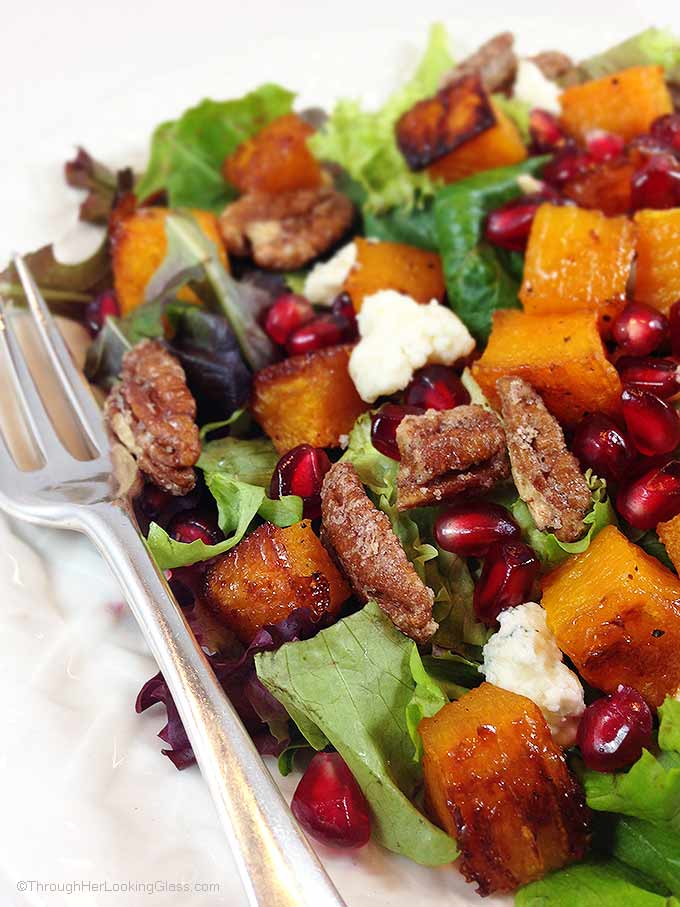 Today I'm sharing the recipe for a beautiful and delicious salad: Maple Roasted Butternut Squash & Pomegranate Harvest Salad. I've been hankering to roast butternut squash all season long and have procrastinated. I'll tell you why. I've got flexor tendonitis in my right wrist. And the thought of peeling and chopping the butternut squash makes me cringe.
So I was out grocery shopping for the week the other day and came upon already-peeled butternut squash in the produce section. Well, that did it for me. I bought it then and there and the rest is history.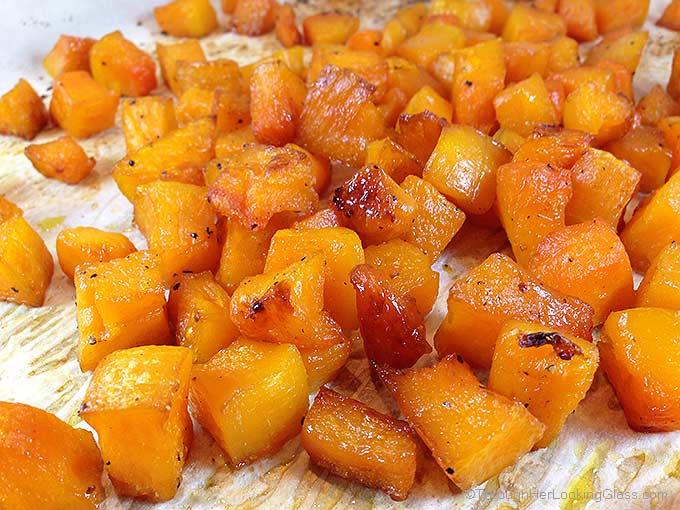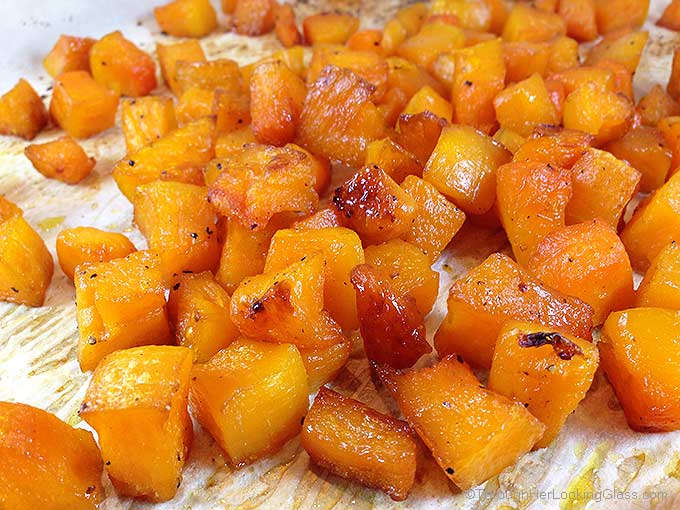 First, roast the butternut squash in the oven at 400°
When I work on a lot of baking recipes during the holidays especially I find myself craving greens. It's easy to miss out on the greens during the winter months when salads get upstaged by heavier fare. But after I roasted the butternut squash with maple syrup and it was so beautifully golden, I knew it was the perfect salad topper. Such a wonderful aroma in my kitchen!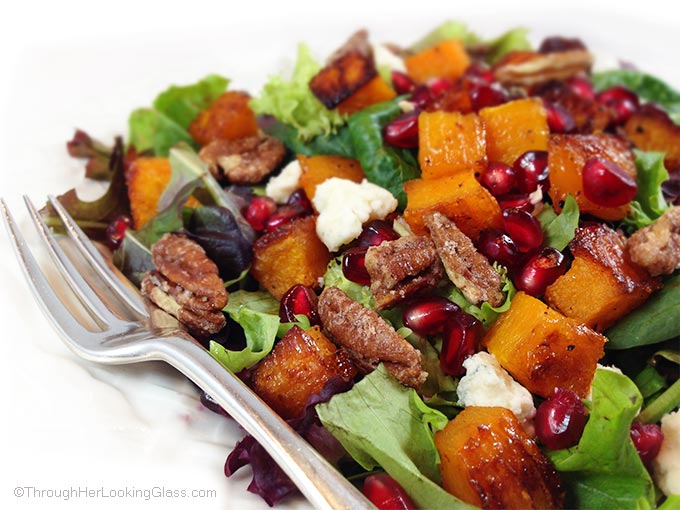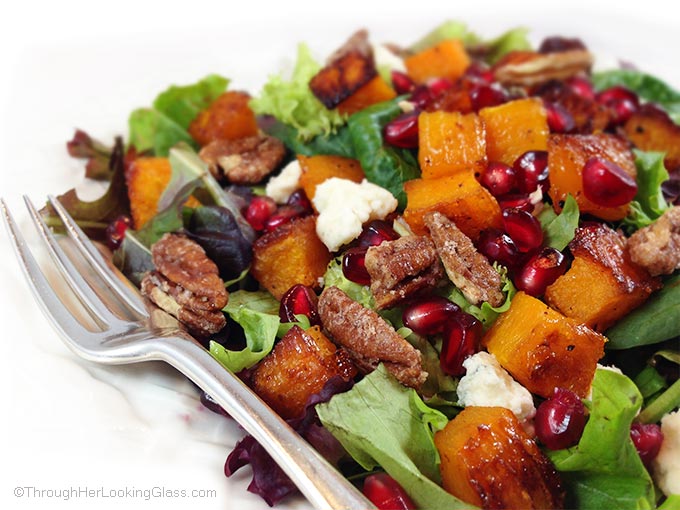 This Maple Roasted Butternut Squash & Pomegranate Harvest Salad is a nice change-up for the fall and winter menu, with vibrant colors and textures. Caramelized maple roasted butternut squash. Crunchy toasted (or try sugared!) pecans. Juicy pomegranate seeds. Leafy greens. Gorgonzola cheese. All drizzled with a zippy homemade pomegranate blender dressing. This salad is perfect on its own or with a steaming cup of soup.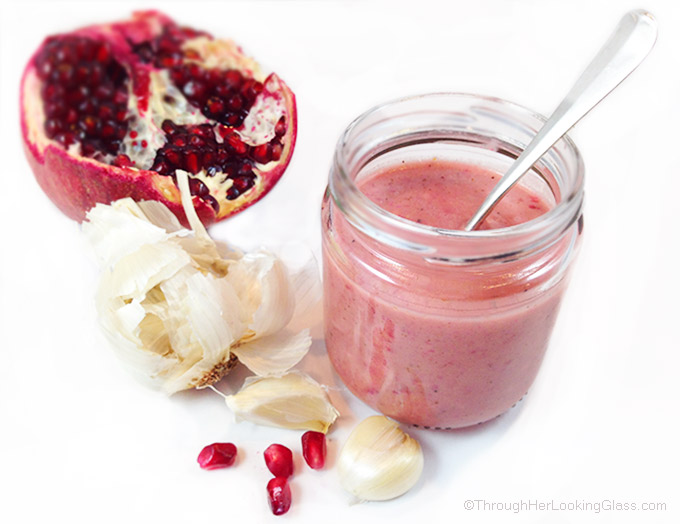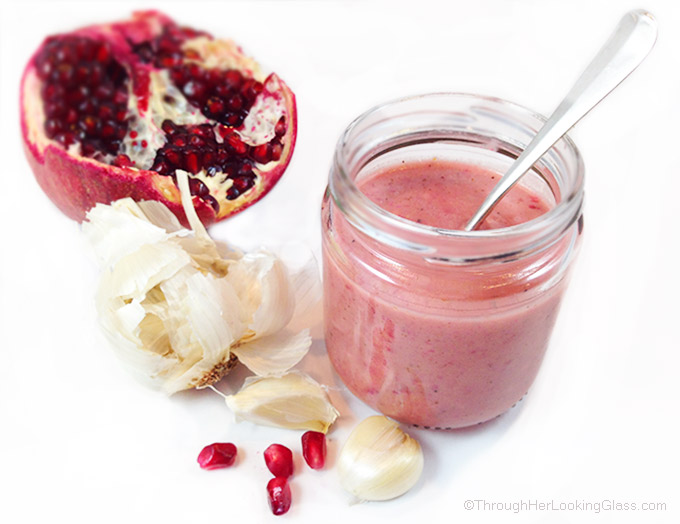 While the squash roasts in the oven, whip up the homemade pomegranate dressing in the blender.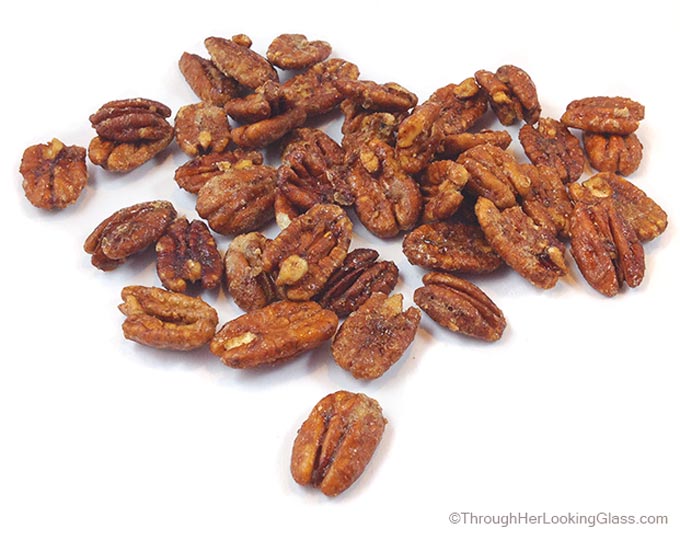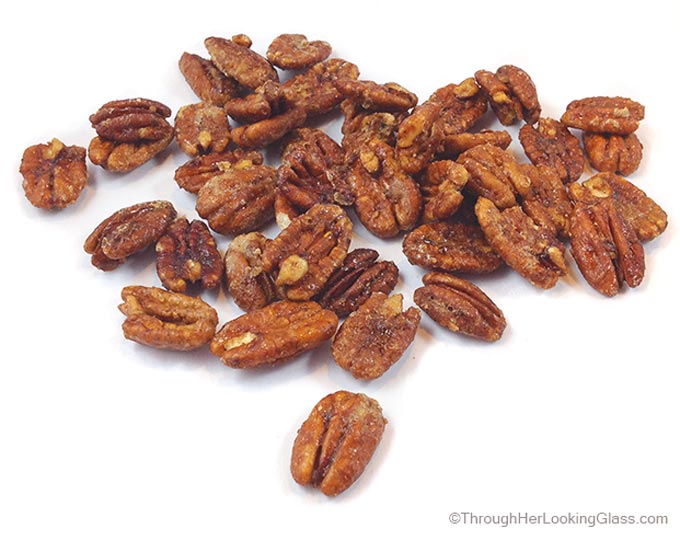 Toast the pecans or use my easy recipe for Sugared Pecans, a real treat on this salad. I used sugared pecans because that's what I had on hand. And also what I wanted. Ha. Hope you enjoy this harvest salad!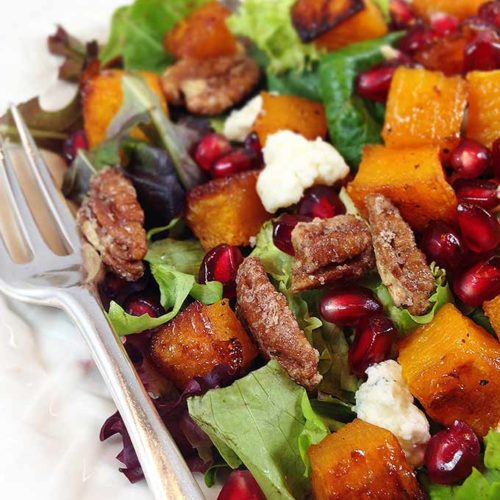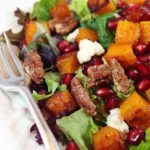 Print Recipe
Maple Roasted Butternut Squash & Pomegranate Harvest Salad
Ingredients
Maple Roasted Butternut Squash:
1/2

butternut squash

peeled and cubed

1

tablespoon

olive oil

2

tablespoons

pure maple syrup

salt and freshly ground pepper
Pomegranate Dressing
1/2

cup

olive oil

1/2

cup

fresh pomegranate seeds

1/4

cup

red wine vinegar

2

teaspoons

dijon mustard

1

large garlic clove

minced

1/4

teaspoon

black pepper

2

pinches

salt
Salad:
1/2

cup

fresh pomegranate seeds

5

cups

spring mix greens

washed

1/2

cup

toasted or sugared pecan halves

1/4

cup

gorgonzola cheese
Instructions
Maple Roasted Butternut Squash
Preheat oven to 400°.

In a mixing bowl, combine olive oil, maple syrup and cubed butternut squash.

Sprinkle with salt and pepper to taste.

Bake on parchment-lined, foil covered baking sheet for 20 minutes.

Remove foil and bake 20 more minutes 'til squash is tender and beginning to brown on the bottom.

Remove from oven and cool to room temperature.
Pomegranate Dressing
Add all ingredients in blender and process 'til smooth.
Assemble Salad
Place greens onto plates.

Layer with maple roasted butternut squash, gorgonzola cheese, toasted or sugared pecans, and pomegranate seeds.

Drizzle with homemade Pomegranate Dressing just before serving.
This salad is perfect with a steaming cup of New England Bacon Corn Chowder